The dark horse India is ready to strike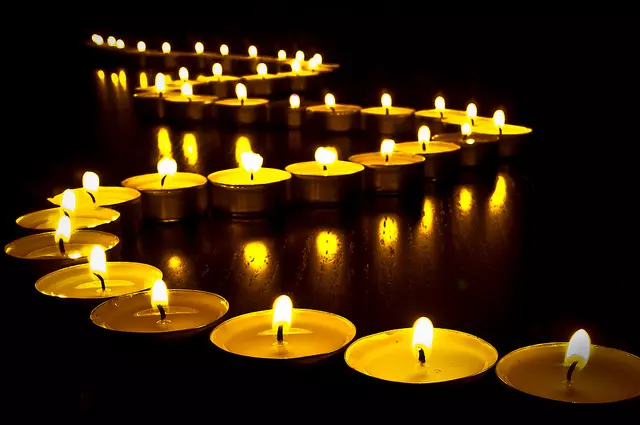 While the eyes of the many music industry observers are focused on the Chinese and Latin American markets development, the real action now is actually happening in India. Streaming platforms already count there with more than 150 million active users. This led both Spotify and YouTube Music giants to deploy their service in India over the last month.
India is the second most populated country and the 19th largest music market in the world. The potential of increase in a streaming world is obviously massive even if subscription prices are 6 times lower than in the US. In spite of the huge presence of local platforms and the tiny impact of international stars there, Spotify gained over 1 million users in it's first week of availability.
If the market has the potential to become one of the most predominant globally, it's also likely the most obscur out of all for chart followers. Who's big and who's unknown there remains a mistery. In a time when this country can seriously impact the list of most popular artists globally we wonder who is going to benefit the most from a streaming growth in this market?
To answer this question, we retrieved the number of followers of most local and international artists on Gaana. This is India's largest streaming service with over 80 million users, which are growing as rampantly as the country's internet access. This article will present lists of the most followed international acts in several categories and an overall list. Get ready to see some real big surprises!
Boys Bands / Girls Groups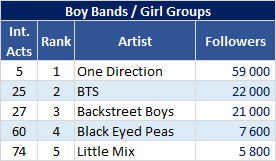 We start our ride in India with the most followed boys bands and girls groups. Historically, artists like the Backstreet Boys and Westlife smashed hard in Asian countries. For the former, we can clearly see it as with 21,000 fans, they rank #27 among all foreign acts right now. One can only imagine how hot they were 20 years ago.
The lead is taken by a more recent group yet. One Direction enjoys a massive 59,000 followers, the 4th biggest foreign artist in Gaana. The teen pop sensation was truly global.
Speaking about teen pop sensations, BTS is climbing hard. They just made it to #2 position in this boys bands / girl groups list. One Direction are still far away, but the Korean superstars are now gaining 1,000 followers almost every week.
Bands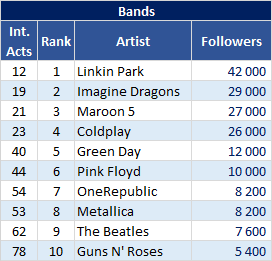 If teen pop music has always been loved in Asia, Pop / Rock bands can do well too. Linkin Park was a truly global act and Gaana confirms India was no exception with 42,000 followers for them. They are the biggest rock band of the country.
Behind them are Imagine Dragons, Maroon 5 and Coldplay, all with 26,000-29,000 followers. The fact that the former leads this trio is fairly impressive considering the Asian popularity of the last two has been demonstrated again and again since many years.
Green Day is lower at 12,000 but that's still a number healthy enough to make the overall Top 40 among foreign artists.
We notice that no deep catalog band appears in this Top 5, although they impact the Top 10. More on that below.
Male singers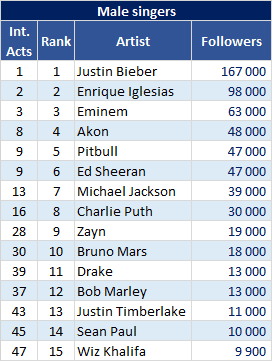 Several shocking results in this list. The most amazing number is no doubt Justin Bieber's followers which stand at 167,000. The Canadian icon is the biggest international artist of the platform by a large margin.
In fact, the runner up is also a male artist, Enrique Iglesias. Claimed by Universal as the greatest selling foreign artist of all-time in the country more than 15 years ago, the latin singer is indeed massive. It's a matter of weeks before he reaches 100,000 fans.
Eminem comes at 3 in both this list and the overall list of international acts. The biggest artist of the last 20 years globally is also incredibly successful in India. He records 63,000 followers.
A string of surprises follow him, most notably Akon and Pitbull. It appears that Hip Hop that features reggaeton or dancehall elements are widely popular there. In the same league, Sean Paul is #14.
The ground breaking success of Ed Sheeran also made it past Indian boundaries as the British singer stands on 47,000 followers and raising fast. More youngsters are doing well too including Charlie Puth and Zayn.
Recent Pop / R&B cross overs are also present with Bruno Mars and Justin Timberlake featuring the Top 15. Hip hop is definitely a big genre as illustrated with Drake and Wiz Khalifa. The former does disappoint a bit still considering how successful he is elsewhere at the moment.
Among shocks is also the ranking of Michael Jackson. To see the legendary pop star perform well in a list is no surprise, but to see him seriously challenging the hottest singers of our day and age is beyond incredible.
With 39,000 followers, he is the 13th biggest foreign artist and easily the biggest legacy act. In this category Bob Marley does well too with 13,000 fans.
Female singers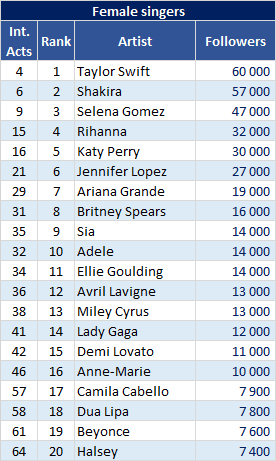 It's a fierce battle to get the top spot among female artists with half a dozen of them posting incredible results.
The crown is taken by Taylor Swift who validates once again her amazing Asian popularity, including in markets that are harder to reach as India. With 60,000 followers, she is also 4th overall.
Shakira is a very close second with 57,000 subscribers to her page. This isn't a surprise as she got several multi-Platinum albums in this country.
Foreign acts with a Latin vibe happen to do extremely well. After the Colombian diva and Iglesias, we also met with Selena Gomez (#3), Jennifer Lopez (#6), Ariana Grande (#7), Demi Lovato and Camila Cabello (#17).
Ironically, pure Spanish stars like Alejandro Sanz, Luis Miguel or Mana are completely unknown. Latin-related acts still need to sing in English to make it big in India.
Rihanna and Katy Perry, with over 30,000 followers each, easily best the likes Lady Gaga and Beyoncé. Among the big female stars of the last two decades the big loser is P!nk with only 2,300 followers but her at #141 among foreign artists.
The former strong popularity of Britney Spears remains visible with 16,000 followers. It's impressively more than Adele who, just like Drake, doesn't quite match her global domination there.
We notice here too the absence of pre-2000 artists which shows that the market remained very closed to foreign music until recently.
Focus on urban music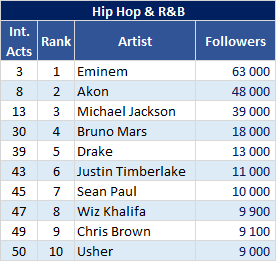 After going through gender lists, we focus here on a few successful genres. The most obvious of them is Hip Hop and R&B music.
We can learn from this top 10 that an artist like Akon is as big as the biggest divas of our time, that Sean Paul and Wiz Khalifa aren't that far from a mega star like Adele and that Usher tops Madonna and Celine Dion.
Focus on DJs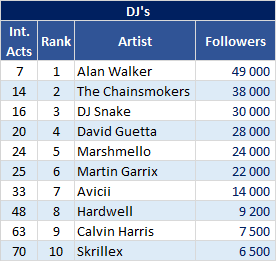 Excluded from the male ranking since they don't sing themselves, and often work with female singers, DJs are surprisingly hot in India.
It's not only one or another DJ. As many as 6 of them crack 20,000 followers, the same number than for female artists and bands merged with groups.
Alan Walker tops the list with an healthy 49,000 lovers. Yes, he is bigger than Rihanna and Bruno Mars. How unique is that?
Big ones also include the Chainsmokers, DJ Snake, David Guetta, Martin Garrix and Marshmello.
How do legacy artists perform?
For the purpose of this list, we called legacy artists the ones who released a great share of their successful records before mid-90s since it's when the Indian market started to welcome a bit foreigners.
Among them, Michael Jackson is the unquestioned leader. He tops his runner up, Reggae legend Bob Marley, by 3 to 1.
Pink Floyd, often considered not so strong in Asia, is third among legacy artists, first among legacy bands. They edge out Metallica, the Beatles, Guns N' Roses, Nirvana, and Queen.
Led Zeppelin (2,500 followers), ABBA (1,900), AC/DC (1,400), and the Bee Gees (715), among others, fail to impress.
The very best international artists
Here is the most followed international artists in Gaana. Justin Bieber is easily the winner with an impressive lead.
In fact, he tops artists #2 and #3, respectively Enrique Iglesias and Eminem, combined. Hot on their wheels in the first female artist, Taylor Swift.
As we go down the ranking, we meet patterns previously mentioned inside the article. What we may point out again is that these are the very highest international artists, so they are all performing incredibly well in India, relatively speaking.
The Local music scene
If you take a look at the most streamed artists globally on YouTube, you'll see a ranking flooded with Indian artists. Alka Yagnik, who's currently pacing at 10 billion yearly views, isn't even among the most followed ones on Gaana as she appears below the top 20.
It's because nearly all artists higher than her on Gaana also record streams in billions on YouTube.
Among them, the massively popular Arijit Singh. He has virtually never left the video platforms' Top 10 since more than 2 years. He isn't shy on Gaana either with more than half a million followers.
Have you ever wondered why some artists have immense views on YouTube, even bigger than on audio streaming platforms, like Justin Bieber, Taylor Swift, and Alan Walker? Don't ask anymore, the #1 reason is India.
Expected names fill the ranking with local legends like Kishore Kumar and Lata Mangeshkar, fresh hot new stars like Neha Kakkar and Atif Aslam, and Bollywood movies composers like A.R. Rahman.
You all noticed that there is roughly a 3 to 1 lead between local supestars and foreign superstars. While that's a significant gap, we can't say that global singers are completely ignored there either. Plus, they are getting bigger and bigger.
How much India will impact the CSPC top artists in the long run? Only time will tell!