CSPC requests leaderboard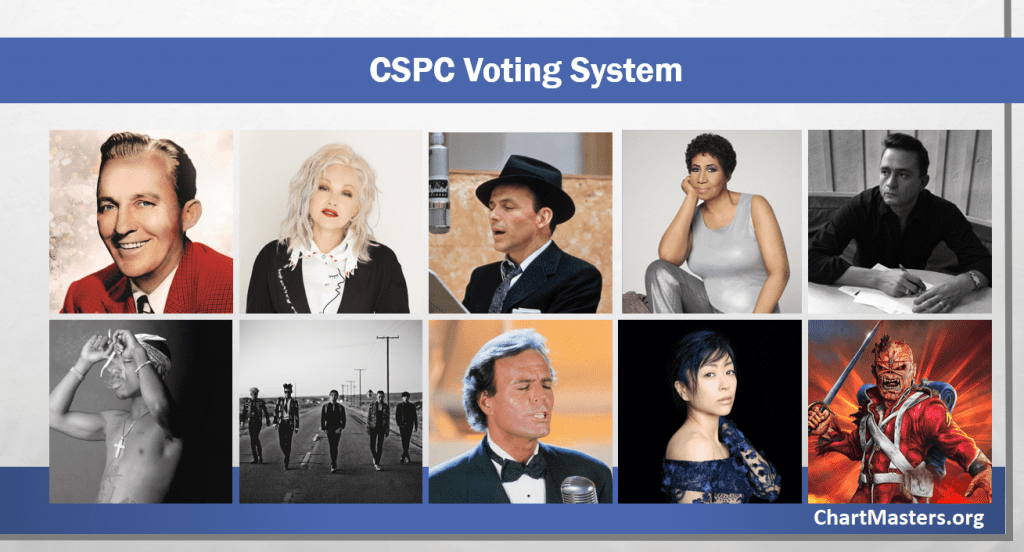 Below ranking lists the votes of our users to know artists to be treated next on our CSPC series.
The weight of artists is based on expected sales. Weight 4 represents the biggest omissions up to date, 1 the weakest ones.
If you would like to vote too, please follow this link.
CSPC votes: the leaderboard
| # | Artist | Weight | Votes | Score |
| --- | --- | --- | --- | --- |
| 1 | Roberto Carlos | 3 | 218 | 654 |
| 2 | Aretha Franklin | 3 | 197 | 591 |
| 3 | Ace Of Base | 2 | 195 | 390 |
| 4 | Def Leppard | 3 | 109 | 327 |
| 5 | EXO | 2 | 141 | 282 |
| 6 | Tina Turner | 3 | 86 | 258 |
| 7 | Jay-Z | 2 | 122 | 244 |
| 8 | Diana Ross | 3 | 81 | 243 |
| 9 | Depeche Mode | 3 | 71 | 213 |
| 10 | Hikaru Utada | 2 | 97 | 194 |
| 11 | Pearl Jam | 3 | 63 | 189 |
| 12 | Cliff Richard | 3 | 56 | 168 |
| 13 | Boyz II Men | 2 | 78 | 156 |
| 14 | Julio Iglesias | 4 | 35 | 140 |
| 15 | Luis Miguel | 3 | 46 | 138 |
| 16 | Vladimir Vysotsky | 3 | 41 | 123 |
| 17 | B'z | 3 | 41 | 123 |
| 18 | Earth, Wind & Fire | 3 | 38 | 114 |
| 19 | Foreigner | 3 | 38 | 114 |
| 20 | Johnny Cash | 3 | 37 | 111 |
| 21 | Neil Diamond | 4 | 27 | 108 |
| 22 | Ricky Martin | 2 | 48 | 96 |
| 23 | Cyndi Lauper | 1 | 94 | 94 |
| 24 | Blondie | 2 | 44 | 88 |
| 25 | Marvin Gaye | 3 | 28 | 84 |
| 26 | Carpenters | 4 | 21 | 84 |
| 27 | The Beach Boys | 4 | 20 | 80 |
| 28 | 50 Cent | 2 | 40 | 80 |
| 29 | BigBang | 2 | 38 | 76 |
| 30 | Lynyrd Skynyrd | 2 | 37 | 74 |
| 31 | Jay Chou | 2 | 36 | 72 |
| 32 | Namie Amuro | 2 | 36 | 72 |
| 33 | Scorpions | 3 | 22 | 66 |
| 34 | Lionel Richie | 3 | 21 | 63 |
| 35 | Juan Gabriel | 2 | 30 | 60 |
| 36 | New Kids On The Block | 2 | 27 | 54 |
| 37 | Dr Dre | 2 | 26 | 52 |
| 38 | Bing Crosby | 4 | 13 | 52 |
| 39 | Rush | 3 | 17 | 51 |
| 40 | A-ha | 2 | 25 | 50 |
| 41 | Offspring | 2 | 23 | 46 |
| 42 | Adriano Celentano | 2 | 23 | 46 |
| 43 | The Who | 3 | 15 | 45 |
| 44 | Toni Braxton | 2 | 22 | 44 |
| 45 | Lil Wayne | 2 | 22 | 44 |
| 46 | Will Smith | 2 | 22 | 44 |
| 47 | Kiss | 3 | 14 | 42 |
| 48 | Beastie Boys | 2 | 19 | 38 |
| 49 | Duran Duran | 2 | 19 | 38 |
| 50 | Dolly Parton | 1 | 35 | 35 |
| 51 | Paula Abdul | 1 | 33 | 33 |
| 52 | Alan Jackson | 3 | 11 | 33 |
| 53 | Gloria Estefan | 3 | 10 | 30 |
| 54 | Alejandro Sanz | 2 | 14 | 28 |
| 55 | Lenny Kravitz | 2 | 13 | 26 |
| 56 | Alabama | 3 | 8 | 24 |
| 57 | A.R. Rahman | 2 | 11 | 22 |
| 58 | ZZ Top | 3 | 7 | 21 |
| 59 | Chicago | 4 | 5 | 20 |
| 60 | Arashi | 2 | 9 | 18 |
| 61 | Kanye West | 3 | 6 | 18 |
| 62 | Alla Pugacheva | 2 | 8 | 16 |
| 63 | Linda Ronstadt | 3 | 5 | 15 |
| 64 | Simply Red | 3 | 5 | 15 |
| 65 | Reba McEntire | 3 | 5 | 15 |
| 66 | Andrea Bocelli | 3 | 5 | 15 |
| 67 | Whitesnake | 1 | 13 | 13 |
| 68 | Tom Petty | 3 | 4 | 12 |
| 69 | Limp Bizkit | 1 | 12 | 12 |
| 70 | James Brown | 3 | 4 | 12 |
| 71 | Kenny Rogers | 4 | 3 | 12 |
| 72 | Barry White | 3 | 4 | 12 |
| 73 | REO Speedwagon | 2 | 6 | 12 |
| 74 | Jethro Tull | 2 | 6 | 12 |
| 75 | Billy Ray Cyrus | 1 | 11 | 11 |
| 76 | Motley Crue | 1 | 11 | 11 |
| 77 | Matchbox 20 | 2 | 5 | 10 |
| 78 | R.Kelly | 2 | 5 | 10 |
| 79 | Dixie Chicks | 2 | 5 | 10 |
| 80 | George Strait | 3 | 3 | 9 |
| 81 | Miles Davis | 3 | 3 | 9 |
| 82 | Mina | 2 | 4 | 8 |
| 83 | Demis Roussos | 2 | 4 | 8 |
| 84 | MC Hammer | 2 | 4 | 8 |
| 85 | Carole King | 2 | 4 | 8 |
| 86 | Willie Nelson | 4 | 2 | 8 |
| 87 | Janis Joplin | 2 | 3 | 6 |
| 88 | Dreams Come True | 2 | 3 | 6 |
| 89 | Nana Mouskouri | 1 | 5 | 5 |
| 90 | Aqua | 2 | 2 | 4 |
| 91 | Yumi Matsutoya | 2 | 2 | 4 |
| 92 | Jewel | 2 | 2 | 4 |
| 93 | Eros Ramazzotti | 2 | 2 | 4 |
| 94 | Tim McGraw | 2 | 2 | 4 |
| 95 | Boney M | 2 | 2 | 4 |
| 96 | Luciano Pavarotti | 2 | 2 | 4 |
| 97 | John Denver | 3 | 1 | 3 |
| 98 | The Cars | 1 | 3 | 3 |
| 99 | Herb Alpert | 3 | 1 | 3 |
| 100 | Ray Charles | 3 | 1 | 3 |
| 101 | Bob Seger | 3 | 1 | 3 |
| 102 | Nat King Cole | 3 | 1 | 3 |
| 103 | Zard | 2 | 1 | 2 |
| 104 | Kid Rock | 2 | 1 | 2 |
| 105 | Glay | 2 | 1 | 2 |
| 106 | Herbert Grönemeyer | 2 | 1 | 2 |
| 107 | Creed | 2 | 1 | 2 |
| 108 | Jimmy Buffett | 2 | 1 | 2 |
| 109 | Luther Vandross | 2 | 1 | 2 |
| 110 | Jacky Cheung | 2 | 1 | 2 |
| 111 | Grateful Dead | 1 | 1 | 1 |