Lady Gaga albums and songs sales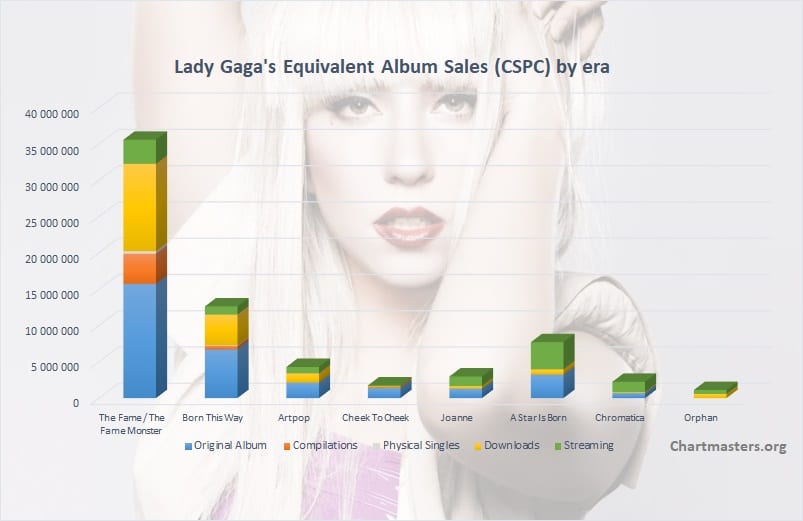 Starting her career so strongly, the popularity of Lady Gaga inevitably began to diminish album by album. As the years passed by, that's exactly how her career was being painted but then out of the blue, the singer decide to change her landscape and ended up proving a lot of people wrong.
On a downward trajectory for many years, her career was reinvigorated when she starred and sang in the Box Office smash, A Star Is Born OST.
But has she managed to solidify this revival in fortune, with her lastest pop effort, Chromatica?
Before we answer that or get there, let's jump back in time to the very beginning of her career.
It's 2008 and Just Dance is starting to gain heavy rotation, but essentially, it is just another dance hit, by some unknown singer.
It's 2009 and Lady Gaga is the hottest popstar on the planet. The impact she has had from nothing, to such success and popularity, in such a short time, is phenomenal and illustrates just how deeply she managed to crossover into the mainstream.
Up until the Born This Way single, everything she had released was an out of this world smash. Judas, broke this trend completely and suddenly getting a hit, seemed to become more difficult, with each subsequent release.
In 2017 and in spite of her career having been in steady decline, she was still a very recognisable star, whose public image, had undergone a definite improvement. Positive comments, for once, were starting to outweigh the usually far greater in number, disparaging and negative ones.
So, what a perfect time for a career up turn and that is exactly what happened, with the #1 hit single, Shallow. Her name was everywhere again in 2020 and for the right reasons, thanks to songs like Stupid Love and Rain On Me.
As usual, I'll be using the Commensurate Sales to Popularity Concept in order to relevantly gauge her results.
This concept will not only bring you sales information for all Lady Gaga's albums, physical and download singles, as well as audio and video streaming, but it will also determine their true popularity.
If you are not yet familiar with the CSPC method, the next page explains it with a short video. I fully recommend watching the video before getting into the sales figures. Of course, if you are a regular visitor feel free to skip the video and get into the figures.
The Commensurate Sales to Popularity Concept (CSPC)
There are two ways to understand this revolutionary concept. The first is the Scribe video posted below. If you are unaware of the CSPC method, you will get the full idea within just a few minutes.
If you are a mathematical person, and want to know the full method as well as formulas, you can read the full introduction article.
Now let's get into the artist's sales figures in detail in order to apply this concept and define the act's true popularity!
Lady Gaga Albums Sales

Original Album Sales – Comments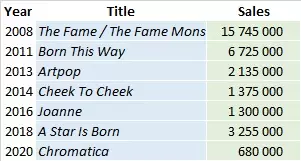 Starting with a monster seller as big as The Fame can be hard to follow up.
At 15.75 million, without counting both successful side albums The Fame Monster EP and The Remix, Lady Gaga has set the criteria for success, insanely high.
Therefore, even a great success in our day and age, like Born This Way looks someway disappointing, despite 6.73 million albums sold.
If Tony Bennett-paired Jazz album Cheek To Cheek had obvious reasons to sell in lower amounts, Artpop had none and its 2.14 million sales, pale in comparison to her debut album, yet released, only a few years earlier.
With Joanne, optimistic people will say that it stopped the decreasing trend, while pessimistic ones, will point out, it failed to regain her old fans. It sold 1.3 million pure units to date.
A Star Is Born is a flashy return to form, with 3.26 million sales so far, an outstanding figure in this format by 2018/2019 standards.
2020 output Chromatica hasn't been defying market dynamics with sales coming mostly from fans preorders, something that is the norm nowadays. It is up to 680,000 units.
A total of 31.22 million studio albums, after 6 releases, is a very good figure, especially considering, all her ups and downs.
Lady Gaga Songs Sales

Physical Singles Sales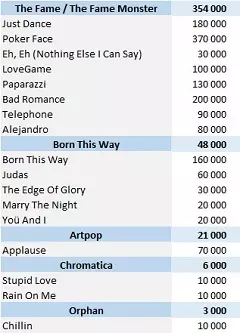 As a reminder, the weighting is done with a 10 to 3 ratio between one album and one physical single.
Lady Gaga is yet another artist, who emerged when physical sales were already dead.
Still, most of her singles were issued in various countries, even in the US, with many fans building their collection.
Combining this situation, with decent sales in France and Germany, brings her over 470,000 equivalent album sales from physical singles sales.
Digital Songs
As a reminder, the weighting is done with a 10 to 1,5 ratio between one album and one digital single.
As we review the most successful artists of our digital era, we have studied several acts with more than 100 million downloads sold. At more than 129 million, Lady Gaga is one of them.
The most striking illustration of the huge weight The Fame owns over her catalog, can be seen with its 80 million tracks sold, an unmatchable total.
Everything from this record turned into gold, including its deep cuts that sold incredibly well. We do not even need to mention how big Poker Face, Just Dance and Bad Romance have been. The former is one of the highest selling digital titles of all-time at 20.1 million.
Born This Way hits started strong too but slowed down much faster than singles from previous album. There are still 4 singles, at 3 million sales and more inside this LP.
In the same way, Artpops first two singles did OK-ish but subsequent extracts bombed so much, that I'm putting them among the Remaining Tracks category.
About the Joanne era, the lead single Perfect Illusion failed to gain traction but its follow up Million Reasons did well enough by 2016 standards, at 1.72 million units sold.
Songs from A Star Is Born are even greater sellers once we consider the context. Both ringtones and downloads are now close to their death, yet Shallow posts an incredible 2.55 million sales.
Both Stupid Love and Rain On Me are good sellers among 2020 songs, but the market is so weak at the moment, that it's only good enough for 700,000 units.

Streaming
Streaming is made up of audio and video streams. Our CSPC methodology includes both to better reflect the real popularity of each track. The main source of data for each avenue is respectively Spotify and YouTube. To factor in the growing impact of multiple Asian countries where these platforms aren't always the go-to site for music streaming, more sources have been added.
In order to account for their real popularity in each relevant country, the below sources have been used along with the mentioned ratios that reflect the market share of each area.
Audio Streams
– South Korea : Genie streams * 3.05 (consistent with Gaon streaming numbers)
– Japan : AWA streams * 100/5.5 (AWA has 5.5% of the Japanese streaming market)
– Elsewhere : Spotify streams * (370 – 8.5 – 9.5 – 33 – 9) / 207 (370 million global subscribers minus 8.5 million from South Korea minus 9.5 million from Japan minus 33 million from China divided by the number of Spotify only users minus 9 million more Asian users) + Genie streams * 3.05 (uses Genie rather than Spotify to extrapolate markets like Taiwan, Thailand and Vietnam)
Video Streams
– China* : Xiami streams * 125/6.5 (Xiami has just over 5% of the Chinese streaming market)
– Elsewhere : Youtube views
*since 96.4% of Chinese streaming platforms are free users, that paid-for users pay less than $2 a month and that they are also used as video streaming platforms, their streams are weighted in par with YouTube streams.
Audio Stream value – 1500 plays equal 1 album unit
Video Stream value – 11,750 views equal 1 album unit
Equivalent Albums Sales (EAS) = ( Spotify * 310/207 + Genie * 3.05*2 + AWA * 100/5.5 ) / 1500 + ( Xiami * 125/6.5 + YouTube ) / 11750
Top Hits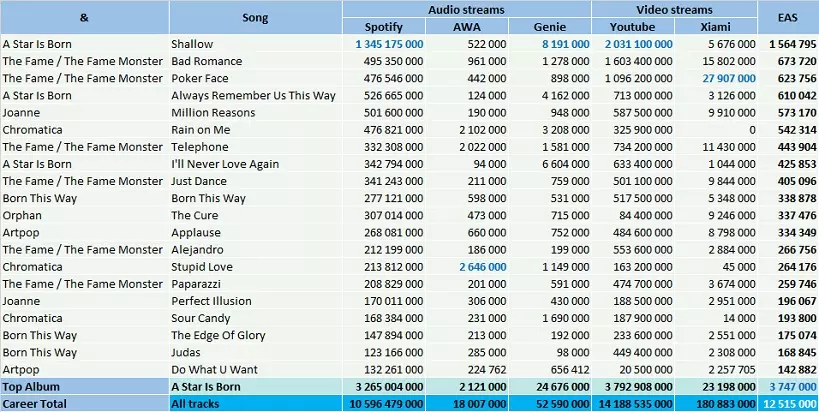 Considering how many years later streaming exploded, it is pretty insane to see Paparazzi barely 6th among the biggest songs from The Fame, in spite of a massive 209 million plays on Spotify and 475 million on YouTube
Bad Romance, Poker Face, Telephone, and Just Dance are all absolutely huge, with an average of 537,000 EAS apiece. The album stands at 3.3 million and keeps rising very fast.
Born This Way songs are undoubtedly on a lower scale but it still lands 3 songs in her top 20, most notably the title track at 339,000 EAS. It's an increase of 101,000 units in 16 months since our last update.
Applause leads tracks from Artpop while the now controversial Do What U Want is quickly vanishing from her top songs.
Impressively, Million Reasons climbed all the way to #5 among her top streaming hits. Of course, the market was healthier, but with the strong ongoing streams of her catalog hits, plus its own soft start, it was hard to expect such a nice conclusion.
As many as 4 songs from A Star Is Born joined this top 20, with Shallow dominating. The track records more than 1.3 billion streams on Spotify, 2 billion on YouTube and large numbers in Asian platforms as well, good for 1.56 million EAS.
There are 3 songs from Chromatica which sneaked in the ranking as well, led by Rain On Me at 542,000 EAS, the 6th largest streaming hit of the singer, a ranking that is poised to improve soon.
A Star Is Born has now moved ahead of The Fame's total as it stands at 3,747,000 EAS, it gained 1.4 million since August 2019.
Full catalog breakdown
If you are familiar with the artist's catalog and want to check details of each and every song, you can access to all of them right here.
Keep yourself up to date
Our website provides you a fantastic tool which fetchs updated Spotify streams as you request them, use it to watch these results grow day after day!
Lady Gaga compilations sales
It sounds fairly logical to add together weighted sales of one era – studio album, physical singles, downloads, streams – to get the full picture of an album's popularity. For older releases though, they also generate sales of various live, music videos and compilation albums.
All those packaging-only records do not create value, they exploit the value originating from the parent studio album of each of its tracks instead. Inevitably, when such compilations are issued, this downgrades catalog sales of the original LP.
Thus, to perfectly gauge the worth of these releases, we need to re-assign sales proportionally to its contribution of all the compilations which feature its songs. The following table explains this method.
The distribution process

How to understand this table? If you check this example of Monster Ball Tour Live, those figures mean it sold 550,000 units worldwide. The second statistics column means all versions of all the songs included on this package add for 3,612,363 equivalent album sales from streams of all types.
The second part at the right of the table shows how many streams are coming from each original album plus the share it represents on the overall package streams. Thus, streaming figures tell us The Fame songs are responsible for 87% of the Monster Ball Tour Live tracklist attractiveness, which means it generated 479,000 album sales. We then apply this concept to all compilations, live albums, music videos and EPs.
Compilations sales figures listing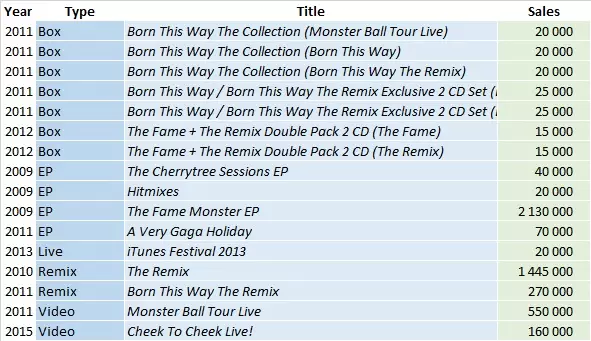 Most of these releases are themed around her first era, including the top two sellers, one more sign of the terrific success of The Fame.
As a bonus, below is the breakdown of the million sellers.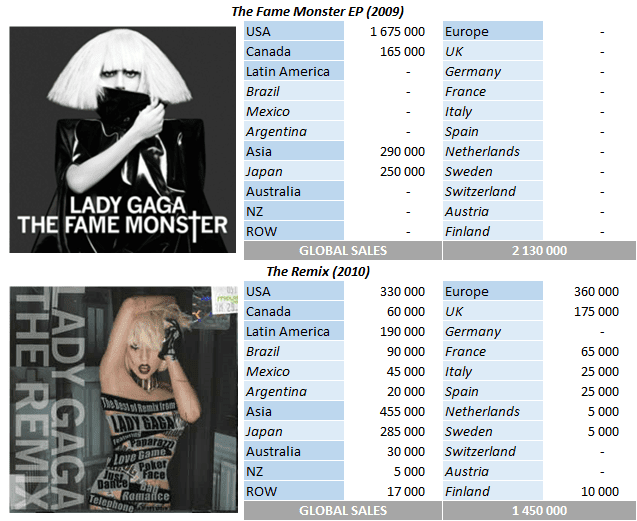 Total Album (all types) Sales per Country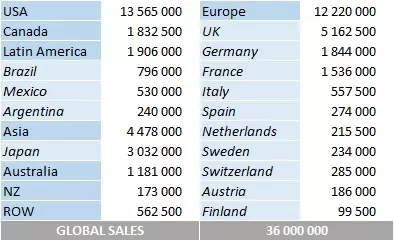 Lady Gaga Career CSPC Results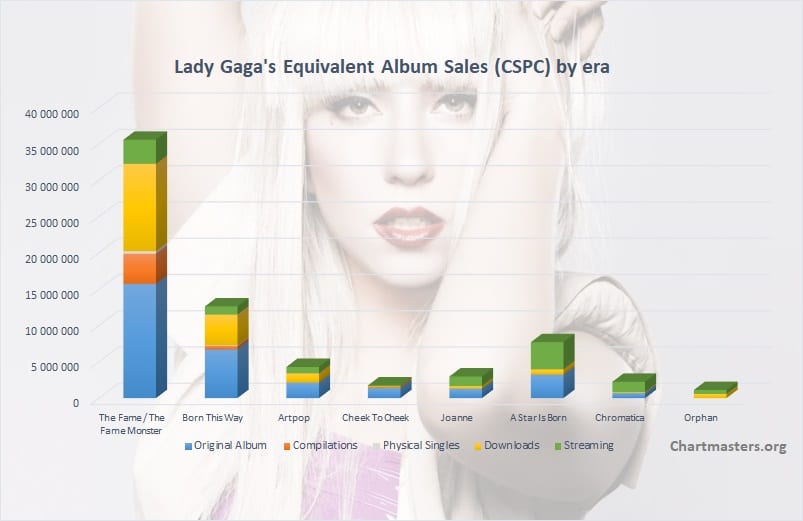 So, after checking all the figures, how many overall equivalent album sales has each album by Lady Gaga achieved? Well, at this point we hardly need to add up all of the figures defined in this article!
In the following results table, all categories display figures in equivalent album sales. If different, pure sales are listed between parentheses.
| artist_spotify_id | # | Cover | Album | Studio albums (EAS) | sales_update_date | Other LPs (EAS) | Physical singles (units sold) | Digital singles (units sold) | Streams | Streams increase | Total EAS | valid_as_of | streams_updated_value | album_id |
| --- | --- | --- | --- | --- | --- | --- | --- | --- | --- | --- | --- | --- | --- | --- |
| 1HY2Jd0NmPuamShAr6KMms | 1 | | The Fame / The Fame Monster | 15,745,000 | 22.12.20 | 4,141,000 | 354,000(1,180,000) | 11,903,000(79,360,000) | 7,264,000 (11/29/23) | Av.: 3,680LD: 5,410 | 39,543,000 | 20,231,129 | 7,264,000 | 189 |
| 1HY2Jd0NmPuamShAr6KMms | 2 | | Born This Way | 6,725,000 | 22.12.20 | 468,000 | 87,000(290,000) | 4,224,000(28,160,000) | 2,922,000 (11/29/23) | Av.: 1,670LD: 2,290 | 14,426,000 | 20,231,129 | 2,922,000 | 190 |
| 1HY2Jd0NmPuamShAr6KMms | 3 | | Artpop | 2,135,000 | 22.12.20 | 20,000 | 21,000(70,000) | 1,236,000(8,240,000) | 1,484,000 (11/29/23) | Av.: 560LD: 840 | 4,896,000 | 20,231,129 | 1,484,000 | 191 |
| 1HY2Jd0NmPuamShAr6KMms | 4 | | Cheek To Cheek | 1,375,000 | 22.12.20 | 158,000 | 0(0) | 92,000(610,000) | 178,000 (11/29/23) | Av.: 50LD: 50 | 1,803,000 | 20,231,129 | 178,000 | 192 |
| 1HY2Jd0NmPuamShAr6KMms | 5 | | Joanne | 1,300,000 | 22.12.20 | 0 | 0(0) | 359,000(2,390,000) | 1,836,000 (11/29/23) | Av.: 480LD: 510 | 3,495,000 | 20,231,129 | 1,836,000 | 193 |
| 1HY2Jd0NmPuamShAr6KMms | 6 | | A Star Is Born | 3,255,000 | 22.12.20 | 0 | 0(0) | 707,000(4,710,000) | 6,135,000 (11/29/23) | Av.: 2,230LD: 2,350 | 10,097,000 | 20,231,129 | 6,135,000 | 194 |
| 1HY2Jd0NmPuamShAr6KMms | 7 | | Chromatica | 680,000 | 22.12.20 | 0 | 3,000(10,000) | 130,000(870,000) | 2,861,000 (11/29/23) | Av.: 1,320LD: 730 | 3,666,000 | 20,231,129 | 2,861,000 | 195 |
| 1HY2Jd0NmPuamShAr6KMms | 8 | | Orphan | 0 | 22.12.20 | 3,000 | 3,000(10,000) | 555,000(3,700,000) | 553,000 (12/22/20) | N/A | 1,114,000 | 20,231,129 | 553,000 | 1,689 |
'Av.' stands for Average, 'LD' for Last Day.
As a reminder:
Studio Album: sales of the original album
Other Releases: sales of compilations generated thanks to the album
Physical Singles: sales of physical singles from the album (ratio 3/10)
Download Singles: sales of digital singles from the album (ratio 1,5/10)
Streaming: equivalent album sales of all the album tracks (ratio 1/1500 for Audio stream and 1/6750 for Video stream)
Artist career totals
| All-Time Rank | Studio albums (EAS) | Other LPs (EAS) | Physical singles (units sold) | Digital singles (units sold) | Streams | Total EAS |
| --- | --- | --- | --- | --- | --- | --- |
| 79 | 31,215,000 | 4,790,000 | 1,570,000 | 128,860,000 | 27,159,000 (11/29/23) | 82,966,000 |
See where the artist ranks among remaining singers
This is it! The Fame / The Fame Monster achieves the massive total of 35.6 million equivalent album sales, way higher than anything released since 2000, by anyone minus Adele.
Incredibly, this era leads all five format categories but one. The other releases section in particular means a lot.
In fact, as Lady Gaga's debut album was hugely successful, we notice how many side albums got milked during this era.
A Polar opposite, Artpop bombed so badly, that her label quickly moved to something else, as there was nothing to exploit, in any profitable way.
When we first studied the diva's discography, The Fame was responsible for more than 65% of her sales, which was worrying for her future.
A Star Is Born is changing the story though. At 7.7 million, it gives more consistency to her results. The share of her debut is still huge, but down to 52.0% at the moment.
Born This Way is a very successful album as well with over 12.6 million EAS plus solid ongoing streams.
At 2.25 million, results of Chromatica are mixed. They prove that Lady Gaga is still very relevant, more than a decade into her career, but the album failed to produce any truly big hits. It will keep climbing though.
That career total of Lady Gaga is up to 68.3 million equivalent album sales.
This total is up by 5.7 million since our last review on August 2019 and up by 14.0 million March 2018.
Singles CSPC results
The list is compiled in album equivalent sales generated by each song. Therefore, these figures are not merged units of singles formats. Instead, it includes weighted sales of the song's physical single, download, ringtone and streaming as well as its share among sales of all albums on which it is featured.
1. 2008 – Lady Gaga – Poker Face [The Fame / The Fame Monster] – 7,140,000
2. 2009 – Lady Gaga – Bad Romance [The Fame / The Fame Monster] – 7,100,000
3. 2009 – Lady Gaga ft. Beyoncé – Telephone [The Fame / The Fame Monster] – 4,880,000
4. 2008 – Lady Gaga ft. Colby O'Donis – Just Dance [The Fame / The Fame Monster] – 4,710,000
5. 2011 – Lady Gaga – Born This Way [Born This Way] – 4,120,000
6. 2018 – Lady Gaga & Bradley Cooper – Shallow [A Star Is Born] – 3,310,000
7. 2009 – Lady Gaga – Alejandro [The Fame / The Fame Monster] – 3,010,000
8. 2008 – Lady Gaga – Paparazzi [The Fame / The Fame Monster] – 2,770,000
9. 2011 – Lady Gaga – The Edge Of Glory [Born This Way] – 2,220,000
10. 2013 – Lady Gaga – Applause [Artpop] – 1,860,000
11. 2011 – Lady Gaga – Judas [Born This Way] – 1,730,000
12. 2008 – Lady Gaga – LoveGame [The Fame / The Fame Monster] – 1,640,000
13. 2011 – Lady Gaga – Yoü And I [Born This Way] – 1,510,000
14. 2016 – Lady Gaga – Million Reasons [Joanne] – 1,400,000
If you feel inspired by this list, we just created this CSPC Lady Gaga playlist on Spotify!
Discography results
Thanks to our new ASR (Artist Success Rating) concept, we know that her sales represent 23.04 million times the purchase of her entire discography. Coupled with her total sales, it translates into an ASR score of 225.
She is just below Coldplay but ahead of Rihanna.
Records & Achievements
At 35,603,000 EAS, The Fame / The Fame Monster is the most successful album of the 2000s.
At 12,635,000 EAS, Born This Way is the 4th most successful album from 2011.
At 7,140,000 EAS, Poker Face is the 2nd most successful song from 2008.
At 7,100,000 EAS, Bad Romance is the most successful song from 2009.
At 1,265,000 pure album sales, The Fame / The Fame Monster (inc. EP) is the last million selling international album in Japan.
At 80,260,000 downloads and ringtones, the era The Fame / The Fame Monster is the biggest ever in terms of digital singles sales.
At 20,110,000 downloads and ringtones, the single Poker Face is among the 10 highest selling digital single of all-time.
At 150 weeks in 2009, Lady Gaga broke the record for most weeks charted inside the UK Single Chart during a calendar year. She also led 2010 with 123 weeks.
At 10 weeks, Shallow is the longest running #1 hit in US Digital Song Sales chart for a female artist.
At 24 weeks, Shallow is the longest running #1 hit in Canadian Digital Song Sales chart. It holds the same record in France at 22 weeks.
NB: EAS means Equivalent Album Sales.
As usual, feel free to comment and / or ask a question!
Sources: IFPI, Spotify, YouTube, Discogs.
You may be interested in…
… Lady Gaga's streaming masters analysis
… checking out the upcoming artists or even voting for them!
… best-selling artists, albums, and singles
We have created amazing cross-artists tops. Click to see all CSPC and raw sales results compiled so far!
… similar artists
To put Lady Gaga's figures into perspective, click to reach career breakdowns of pop star divas: