Selena Gomez albums and songs sales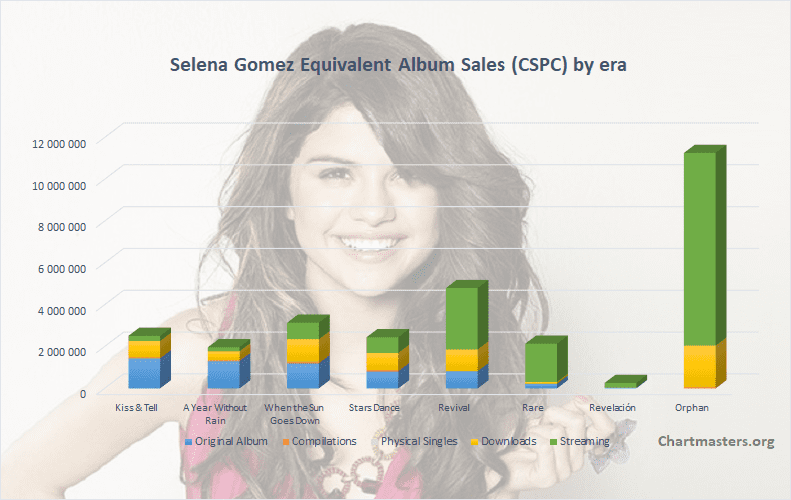 Selena Gomez is back with her first ever Spanish-language project, Revelacíon.
This comes just a little over a year since the release of Rare, the star's sixth studio album overall.
Surprisingly enough, the Disney alumni has been a consistent hit maker for a little over a decade now. How does she compare to her peers and A-League stars? Stick around to find out!
In the late 2000s, Selena Gomez rose to fame alongside fellow Disney stars Miley Cyrus and Demi Lovato.
The star made a few soundtrack appearances before forming her own band Selena Gomez & the Scene in 2009.
Their debut album Kiss & Tell debuted at #9 on the US Billboard 200, with its lead single Falling Down charting on the lower end of the Hot 100.
Although not a bad result, this was a slower start than the debut albums from Miley Cyrus and Demi Lovato, which debuted at #1 and #2, respectively.
The second single Naturally gave the band some credibility and ended up becoming a Top 40 hit major markets like the US, Germany, Canada, New Zealand and Spain. In the UK, the song became their first Top 10 hit.
As a result, the album ended up going Gold within a few months of its release.
In 2010, they released their second album A Year Without Rain, which performed similarly to its predecessor, although no song was as big as Naturally.
Released less than a year later, When the Sun Goes Down was her third and final album as Selena Gomez & the Scene. It spawned the hits Who Says & Love You Like a Love Song.
Selena Gomez launched her solo career in 2013 with Stars Dance. She scored her first #1 album, as well as her first Top 10 hit with its lead single Come & Get It.
In 2015, the former teen star released her second studio album, Revival. It also debuted at #1 and spawned Top 10 hits Good for You, Same Old Love and Hands to Myself.
Between 2016 and 2018, the star released a series of collaborations, starting with Charlie Puth's We Don't Talk Anymore and the Kygo assisted It Ain't Me, both which became big hits all around the world. Taki Taki with DJ Snake, Ozuna and Cardi B followed shortly after.
After many pushbacks due to health issues, Gomez released her third studio album Rare at the beginning of 2020. Its lead single Lose You to Love Me became her first #1 hit on the US Billboard Hot 100.
The former teen star's first Spanish-language project Revelacíon dropped this month and things are looking promising with Baila Conmigo becoming a Top 10 hit in Spain and Mexico's streaming chart.
As usual, I'll be using the Commensurate Sales to Popularity Concept in order to relevantly gauge her results. This concept will not only bring you sales information for all Selena Gomez's albums, physical and download singles, as well as audio and video streaming. In fact, it will also determine their true popularity.
If you are not yet familiar with the CSPC method, below is a nice and short video of explanations. I fully recommend watching it before getting into the sales figures. Of course, if you are a regular visitor feel free to skip the video and get into the numbers directly.
The Commensurate Sales to Popularity Concept (CSPC)
There are two ways to understand this revolutionary concept. The first is the Scribe video posted below. If you are unaware of the CSPC method, you will get the full idea within just a few minutes.
If you are a mathematical person, and want to know the full method as well as formulas, you can read the full introduction article.
Now let's get into the artist's sales figures in detail in order to apply this concept and define the act's true popularity!
Selena Gomez Album Sales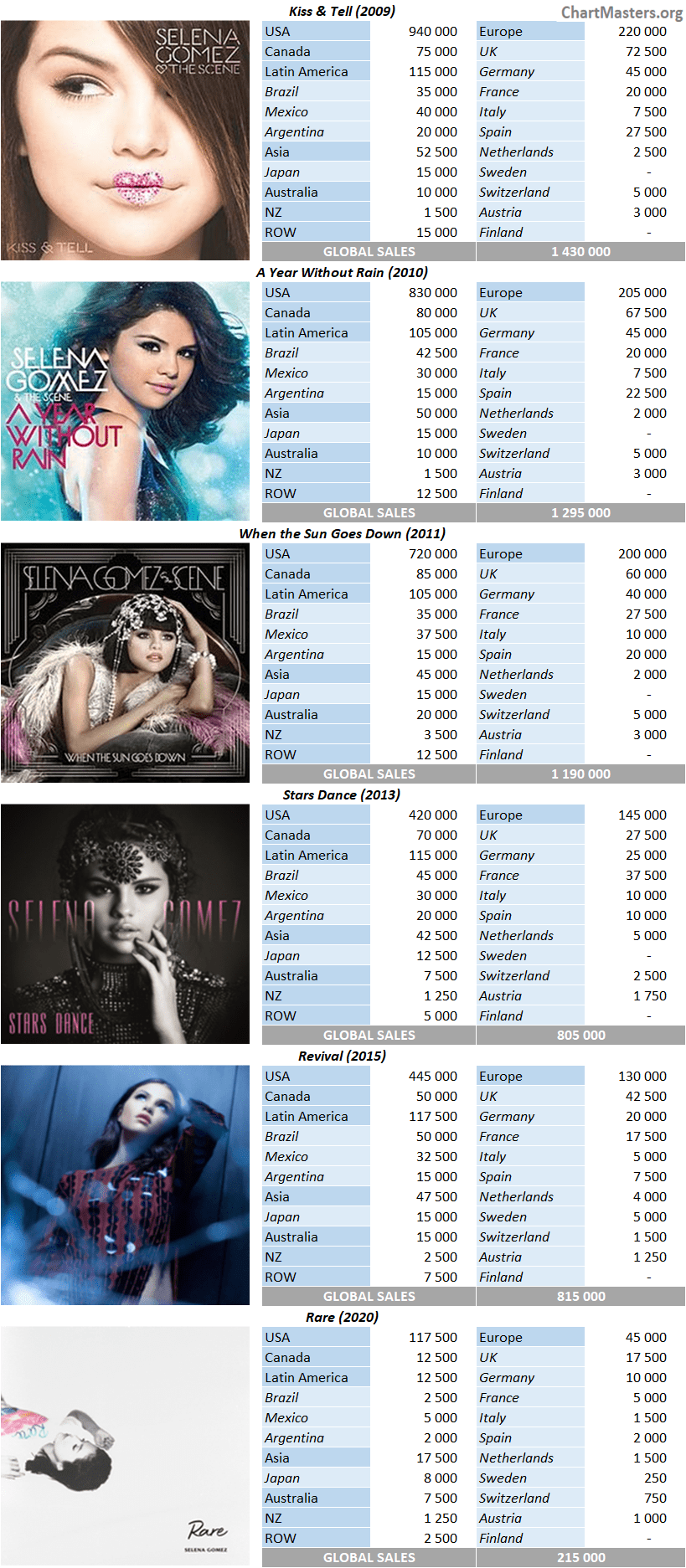 Original Album Sales – Comments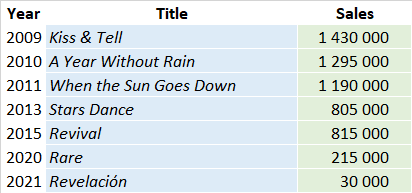 Selena Gomez's 6 English-speaking studio albums have sold a combined 5.7 million albums to date. This is less than 1 million per release.
These figures are underwhelming even taking the market decline into account.
In comparison, fellow Disney star Miley Cyrus sold nearly 9 million copies with her first two releases alone.
On a more positive note, Gomez's first three albums were incredibly consistent, shifting between 1.4 million and 1.2 million each.
Stars Dance and Revival perform similarly at 805,000 and 815,000, respectively.
At 215,000 sales, Rare marks a new career low for the pop star. Keep in mind the market has changed drastically since Revival.
As you know, nowadays it's all about digital performance, so let's review results of these eras on remaining formats!
Selena Gomez songs sales

Physical Singles
As a reminder, the weighting is done with a 10 to 3 ratio between albums and physical singles.
With a market dedicated to collectors, her sales of physical singles are very low. Gomez issued 7 songs in physical formats. Naturally was issued in most of Europe reaching #2 on the UK physical singles chart. Round & Round remains her only track issued as a CD in the US. It was also available in Europe peaking at #4 in the UK.
The remaining songs had even more limited releases. A Year Without Rain sold some copies in Europe, Who Says came out in GSA countries while Slow Down enjoyed a Chinese release that was then available for import online.
Lose You to Love Me and Taki Taki appear on this list thanks to limited vinyl releases.
Selena Gomez has sold a total of 83,000 physical singles to date.
Digital Songs

As a reminder, the weighting is done with a 10 to 1.5 ratio between albums and digital singles.
The strength of the Disney Channel isn't the same everywhere. This channel is especially big across the American continent.
That's why Gomez's early songs sold better there than elsewhere. Songs from her albums with The Scene sold nearly 85% of their digital units in the US alone!
More than 1 billion downloads were sold every year in the US from 2009 to 2011. This context enabled songs like Naturally, Who Says and Love You Like A Love Song to top 2 million units there in spite of never reaching the Top 20.
Among all units sold by tracks from Stars Dance, slightly less than 80% came from the US. Her impact elsewhere was growing but her sales were still heavily axed around her native country.
The expansion continued with the Revival era. Download sales abroad represented 32% of this era's 6,77 million units. It was also her first era with 3 individual million selling singles. It wasn't her top selling period as songs from When the Sun Goes Down achieved over 7.1 million, but when we factor in the switch of the market from downloads to streaming those figures are undoubtedly better.
This improvement is visible in her chart history. The highest charting song of each of Gomez's albums in the US peaked at #29, #24, #21, #6, #5 and #1, meaning she outperformed her previous best each and every time.
By the time the star returned with Rare, streaming had fully taken over the industry thus resulting in low sales and a big decline from Revival. Still, Lose You to Love Me pulls a respectable 360,000.
In her attempt to grow more and more she paired with artists like Zedd, Charlie Puth, Kygo, DJ Snake, Ozuna, Cardi B and BLACKPINK. The resulting songs, I Want You To Know, We Don't Talk Anymore, It Ain't Me and Taki Taki and Ice Cream, all reached the Top 20 in the US and several markets.
Ice Cream has sold a massive 1.48 million downloads since its release in August 2020, mostly thanks to Chinese downloads. It's far and away her biggest seller in this format since 2017's It Ain't Me.
In total, that's 40 million units sold in downloads and ringtones combined for Selena Gomez. A very solid total given the fact most of her biggest hits have been released during the streaming era.
Streaming
Streaming is made up of audio and video streams. Our CSPC methodology includes both to better reflect the real popularity of each track. The main source of data for each avenue is respectively Spotify and YouTube. To factor in the growing impact of multiple Asian countries where these platforms aren't always the go-to site for music streaming, more sources have been added.
In order to account for their real popularity in each relevant country, the below sources have been used along with the mentioned ratios that reflect the market share of each area.
Audio Streams
– South Korea : Genie streams * 3.05 (consistent with Gaon streaming numbers)
– Japan : AWA streams * 100/5.5 (AWA has 5.5% of the Japanese streaming market)
– Elsewhere : Spotify streams * (370 – 8.5 – 9.5 – 33 – 9) / 207 (370 million global subscribers minus 8.5 million from South Korea minus 9.5 million from Japan minus 33 million from China divided by the number of Spotify only users minus 9 million more Asian users) + Genie streams * 3.05 (uses Genie rather than Spotify to extrapolate markets like Taiwan, Thailand and Vietnam)
Video Streams
– China* : QQ video streams * 50 if the song is available for audio stream, QQ video streams * 5 elseway (scale built based on known figures for several major artists)– Elsewhere : Youtube views
*since 96.4% of Chinese streaming platforms are free users, that paid-for users pay less than $2 a month and that they are also used as video streaming platforms, their streams are weighted in par with YouTube streams.
Audio Stream – 1500 plays equal 1 album unit
Video Stream – 11,750 views equal 1 album unit
Equivalent Albums Sales (EAS) = ( Spotify * 310/207 + Genie * 3.05*2 + AWA * 100/5.5 ) / 1500 + ( QQ views* 50(or 5) + YouTube ) / 11750
Top Hits
It should come as no surprise that Gomez's three most streamed songs are all collaborations, as she's been joining forces with streaming juggernauts such as Charlie Puth, Ozuna, Cardi B and Kygo in recent years.
On top of being her biggest song on Spotify at 1.17 billion, We Don't Talk Anymore has a massive 931 million views in China and 3.2 billion on YouTube. It is also her top song in South Korea. Stunning totals all around.
Taki Taki has nearly the same amount of Spotify streams at 1.12 billion, but with considerably less views on YouTube and lack of support from Asian markets, it will most likely not surpass the former.
It Ain't Me is Gomez's third song with 1 billion streams. Wolves is not too far off at 956 million. Both are responsible for 1 million EAS.
Despite not being attached to an album, Back to You is Selena's biggest solo track at 764 million Spotify streams and 826K EAS.
The biggest song from her albums is the #1 hit Lose You to Love Me at 653 million Spotify streams and 738K EAS for Rare.
The 1-2-3-4 punch from Revival becomes even more clear here with nearly all singles hitting 500 million Spotify streams. Same Old Love is the only exception, but it's very close at 479 million.
The singles add up to a massive 2.34 million EAS for Revival..
Orphan songs Bad Liar, The Heart What It Wants, Ice Cream and Fetish all perform very well, averaging 400-300 million Spotify streams.
Love You Like a Love Song is unsurprisingly Selena Gomez & the Scene's biggest song at nearly 300 million Spotify streams and over 402K EAS.
Full catalog breakdown
If you are familiar with the artist's catalog and want to check details of each and every song, you can access to all of them right here.
Keep yourself up to date
Our website provides you a fantastic tool which fetchs updated Spotify streams as you request them, use it to watch these results grow day after day!
Selena Gomez compilations sales
It sounds fairly logical to add together weighted sales of one era – studio album, physical singles, downloads, streams – to get the full picture of an album's popularity. For older releases though, they also generate sales of various live, music videos and compilation albums.
All those packaging-only records do not create value, they exploit the value originating from the parent studio album of each of its tracks instead. Inevitably, when such compilations are issued, this downgrades catalog sales of the original LP.
Thus, to perfectly gauge the worth of these releases, we need to re-assign sales proportionally to its contribution of all the compilations which feature its songs. The following table explains this method.
The distribution process

How to understand this table? If you check this example of the For You line, those figures mean it sold 215,000 units worldwide. The second statistics column means all versions of all the songs included on this package add for 2,048,446 equivalent album sales from streams of all types.
The second part on the right of the table shows how many equivalent streams are coming from each original album, plus the share it represents on the overall package.
Thus, streaming figures tell us songs from When the Sun Goes Down are responsible for 33% of For You tracklist attractiveness, which means it generated 72,000 of its 215,000 album sales and so on for the other records.
Compilations sales figures listing

Full Length related records Sales – Summary

Here is the most underestimated indicator of an album's success – the amount of compilation sales of all kinds it generated. Due to the dependency of sales of the original studio albums on these releases, they are a key piece of the jigsaw.
These numbers are obtained by applying the method from the section The distribution process to all packages listed under Compilation sales figures listing category.
Total Album (all types) Sales per Country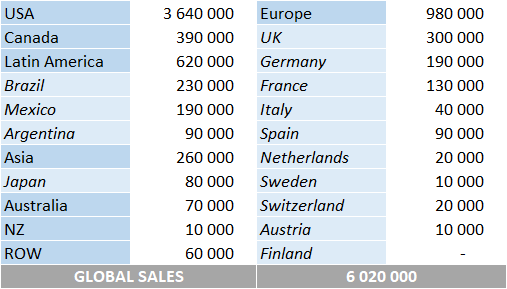 Please note country-specific numbers may miss sales of a few minor releases, although totals are complete.
Selena Gomez Career CSPC Results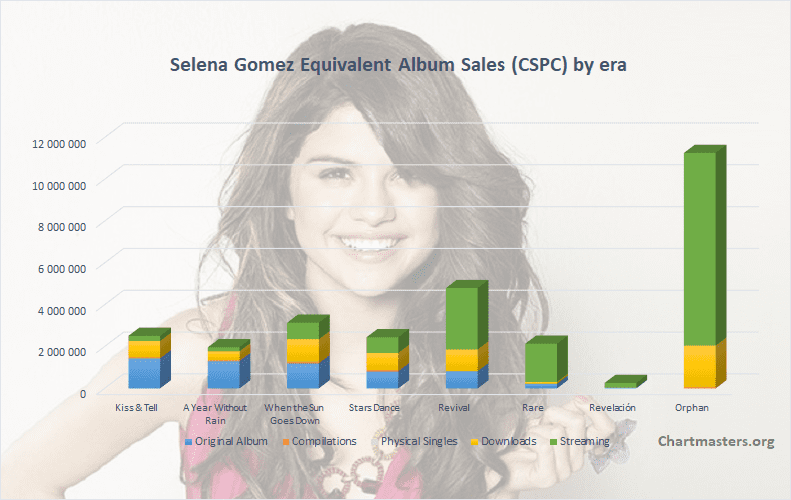 So, after checking all the figures, how many overall equivalent album sales has each Selena Gomez album achieved? Well, at this point we hardly need to add up all of the figures defined in this article!
Albums CSPC results
In the following results table, all categories display figures in equivalent album sales. If different, pure sales are listed between parentheses.
| artist_spotify_id | # | Cover | Album | Studio albums (EAS) | sales_update_date | Other LPs (EAS) | Physical singles (units sold) | Digital singles (units sold) | Streams | Streams increase | Total EAS | valid_as_of | streams_updated_value | album_id |
| --- | --- | --- | --- | --- | --- | --- | --- | --- | --- | --- | --- | --- | --- | --- |
| 0C8ZW7ezQVs4URX5aX7Kqx | 1 | | Kiss & Tell | 1,430,000 | 22.03.21 | 43,000 | 6,000(20,000) | 788,000(5,250,000) | 401,000 (12/07/23) | Av.: 160LD: 200 | 2,668,000 | 20,231,207 | 401,000 | 117 |
| 0C8ZW7ezQVs4URX5aX7Kqx | 2 | | A Year Without Rain | 1,295,000 | 22.03.21 | 40,000 | 11,000(35,000) | 429,000(2,860,000) | 315,000 (12/07/23) | Av.: 130LD: 160 | 2,090,000 | 20,231,207 | 315,000 | 118 |
| 0C8ZW7ezQVs4URX5aX7Kqx | 3 | | When the Sun Goes Down | 1,190,000 | 22.03.21 | 83,000 | 3,000(10,000) | 1,074,000(7,160,000) | 1,821,000 (12/07/23) | Av.: 1,040LD: 1,180 | 4,171,000 | 20,231,207 | 1,821,000 | 119 |
| 0C8ZW7ezQVs4URX5aX7Kqx | 4 | | Stars Dance | 805,000 | 22.03.21 | 56,000 | 2,000(5,000) | 825,000(5,500,000) | 1,061,000 (12/07/23) | Av.: 310LD: 310 | 2,750,000 | 20,231,207 | 1,061,000 | 120 |
| 0C8ZW7ezQVs4URX5aX7Kqx | 5 | | Revival | 815,000 | 22.03.21 | 0 | 0(0) | 1,041,000(6,940,000) | 3,673,000 (12/07/23) | Av.: 740LD: 760 | 5,529,000 | 20,231,207 | 3,673,000 | 121 |
| 0C8ZW7ezQVs4URX5aX7Kqx | 6 | | Rare | 215,000 | 22.03.21 | 0 | 1,000(3,000) | 90,000(600,000) | 3,102,000 (12/07/23) | Av.: 1,290LD: 1,360 | 3,408,000 | 20,231,207 | 3,102,000 | 122 |
| 0C8ZW7ezQVs4URX5aX7Kqx | 7 | | Revelación | 30,000 | 22.03.21 | 0 | 0(0) | 5,000(30,000) | 862,000 (12/07/23) | Av.: 650LD: 170 | 897,000 | 20,231,207 | 862,000 | 123 |
| 0C8ZW7ezQVs4URX5aX7Kqx | 8 | | Orphan | 0 | 22.03.21 | 48,000 | 3,000(10,000) | 2,009,000(13,390,000) | 9,217,000 (03/22/21) | N/A | 11,259,000 | 20,231,207 | 9,217,000 | 1,731 |
'Av.' stands for Average, 'LD' for Last Day.
As a reminder:
Studio Album: sales of the original album
Other Releases: sales of compilations generated thanks to the album
Physical Singles: sales of physical singles from the album (ratio 3/10)
Download Singles: sales of digital singles from the album (ratio 1,5/10)
Streaming: equivalent album sales of all the album tracks (ratio 1/1500 for Audio stream and 1/6750 for Video stream)
Artist career totals
| All-Time Rank | Studio albums (EAS) | Other LPs (EAS) | Physical singles (units sold) | Digital singles (units sold) | Streams | Total EAS |
| --- | --- | --- | --- | --- | --- | --- |
| 132 | 5,780,000 | 270,000 | 80,000 | 41,610,000 | 29,529,000 (12/07/23) | 41,849,000 |
See where the artist ranks among remaining singers
And there we have it! After more than a decade in the industry, can Selena Gomez be considered an A-League artist? The answer is not yet.
Besides Revival, which should get there fairly soon at 4.79 million, no album is anywhere near 5 million EAS.
This doesn't mean she hasn't been successful, though. In reality, Gomez has been incredibly consistent through all of her career.
Despite being barely a year old, Rare is well past 2 million and on its way to surpass the majority of her previous albums, which definitely bodes well for the future.
With the exception of A Year Without Rain at 1.96 million, all her albums shifted 2 million equivalent album sales once combining and weighting all formats together.
When the Sun Goes Down is Selena Gomez & the Scene's biggest effort at a respectable 3.1 million.
Her highly successful collaborations in recent years are responsible for a massive 11.3 million EAS, which is a bigger total than all her albums. This also includes stand-alone singles such as Back to You, Bad Liar and Fetish.
Just released, Revelación Spanish EP is up to 254,000 EAS and it seems this release has a great potential.
All in all, Selena Gomez has accumulated 28.3 million EAS through her career. While she's not on the level of Miley Cyrus or Ariana Grande, the star has clearly done very well for herself.
Singles CSPC results
The list is compiled in album equivalent sales generated by each song. Therefore, these figures are not merged units of singles formats. Instead, it includes weighted sales of the song's physical single, download, ringtone and streaming as well as its share among sales of all albums on which it is featured.
1. 2016 – Charlie Puth ft. Selena Gomez – We Don't Talk Anymore [Orphan] – 2,080,000
2. 2011 – Selena Gomez & the Scene – Love You Like A Love Song [When The Sun Goes Down] – 1,550,000
3. 2017 – Kygo & Selena Gomez – It Ain't Me [Orphan] – 1,520,000
4. 2018 – DJ Snake ft. Selena Gomez, Ozuna & Cardi B – Taki Taki [Orphan] – 1,410,000
5. 2009 – Selena Gomez & the Scene – Naturally [Kiss & Tell] – 1,300,000
5. 2013 – Selena Gomez – Come & Get It [Stars Dance] – 1,300,000
7. 2017 – Selena Gomez & Marshmello – Wolves [Orphan] – 1,200,000
8. 2015 – Selena Gomez ft. A$AP Rocky – Good For You [Revival] – 1,170,000
If you feel inspired by this list, we just created this CSPC Selena Gomez playlist on Spotify!
Discography results
Thanks to our new ASR (Artist Success Rating) concept, we know that her sales represent 7.66 million times the purchase of their discography. Coupled with her total sales, it translates into an ASR score of 84.
The ranking of all artists studied so far is available too at this link.
Records & Achievements
At 13.51 billion streams on Spotify, Selena Gomez is the 9th most streamed female artist of the platform.
At 217 million followers, Selena Gomez is the 2nd most followed singer on Instagram.
NB: EAS means Equivalent Album Sales.
As usual, feel free to comment and / or ask a question!
Sources: IFPI, Spotify, YouTube, Discogs, Billboard, SPIN, Rolling Stone.
You may be interested in…
… Selena Gomez' streaming masters analysis
… checking out the upcoming artists or even voting for them!
… best-selling artists, albums, and singles
We have created amazing cross-artists tops. Click to see all CSPC and raw sales results compiled so far!
… similar artists
To put Selena Gomez' figures into perspective, click to reach career breakdowns of pop star divas: