Metallica albums and songs sales
From the Four Horsemen to the Metal Kings, the road has been very long for rock legends Metallica. Currently in the final phase of their 159-dates WorldWired Tour, the band proved with their last album Hardwired… to Self-Destruct that they remain hugely popular. Let's review their impressive numbers from the very start up to date.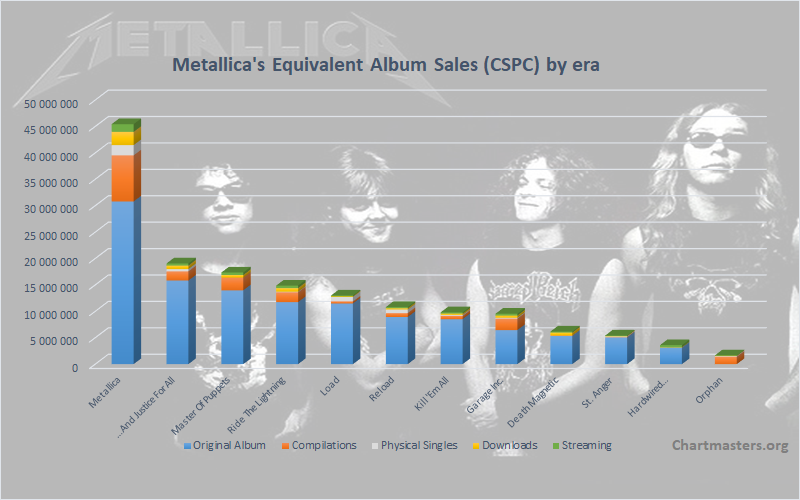 Commercially speaking, Metallica's career is especially remarkable for their huge back catalogue sales since the 90s. Most things converged in their favor and allowed the American group to become one of the biggest sellers in the entire world. In fact, the band never put a compilation on the market, making it an imperative for their fans and casual listeners to buy multiple studio albums. Additionally, they still get big airplay, even more so in North America. Lastly, they are an absolute reference for the metal world, meaning that any teenager who wants to get into this music genre will most likely do so by buying one of their LPs. These factors, in combination with the big market numbers of the 90s, shot Metallica's sales through the roof.
It's still insanely huge to continue to hit #1 with massive sales with every new album 36 years after they issued their debut album, 1983's Kill 'Em All. Their longevity is brilliant and even flops like St. Anger and Lulu, which alienated a good part of their entire fanbase, haven't prevent them from continuing to comeback and be successful once again. How does this stack in terms of cumulative sales up to date?
As usual, I'll be using the Commensurate Sales to Popularity Concept in order to relevantly gauge their results. This concept will not only bring you sales information for all Metallica's albums, physical and download singles, as well as audio and video streaming. In fact, it will also determine their true popularity.
If you are not yet familiar with the CSPC method, below is a nice and short video of explanations. I fully recommend watching it before getting into the sales figures. Of course, if you are a regular visitor feel free to skip the video and get into the numbers directly.
The Commensurate Sales to Popularity Concept (CSPC)
There are two ways to understand this revolutionary concept. In the first place, there is this Scribe video posted below. If you are unaware of the CSPC method, you will get the full idea within just a pair of minutes.
If you are a mathematical person, and want to know the full method as well as formulas, you can read the full introduction article.
Now let's get into the artist's sales figures in detail in order to apply this concept and define the act's true popularity!
Metallica's Album Sales
Original Album Sales – Comments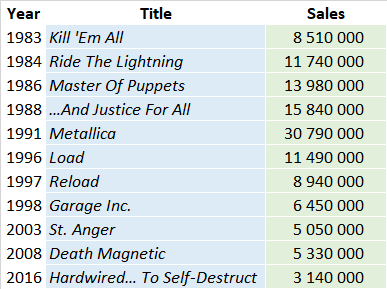 Well, what can we say? A total of 121 million album sales across 11 records, some 11 million per release, with albums spread over 4 decades. The consistency of Metallica's sales are mind blowing.
It took time for Kill 'Em All to rack up a million. It's now on 8.5 million and counting. The same scenario happened for each of their first 4 albums, which sold a few at first, although with a growing impact, but ended up as best sellers thanks to many years of lasting appeal.
The mainstream success of Metallica in 1991 obviously boosted their catalog sales, but the fact that nearly 30 years later they are still going strong shows that there is more to that. Metal fans, and also a good chunk of rock fans in general, simply love these early records. They are always featured very high in best Metal albums ever lists, especially Master Of Puppets which often out-ranks even Metallica. This latter LP is also an evergreen seller with a total now easily over the 30 million threshold.
The true-false double album Load and Reload weren't as successful, nor commercially neither critically, but still combine for over 20 million pure album sales. Standards of the band are so high that even St. Anger, widely regarded as a major failure, still sold 5 million units, while a compilation of covers sold 6.45 million.
In spite of the broken momentum and the decreasing album market Death Magnetic managed to outsell its predecessor at 5.33 million. Then, once everyone stopped purchasing physical records because of streaming, Metallica made a flashy comeback with the 3.14 million selling album Hardwired… to Self-Destruct.
Metallica's songs sales

Physical Singles

As a reminder, the weighting is done with a 10 to 3 ratio between one album and one physical single and 10 to 5 ratio between one album and one EP of 4 to 5 tracks, while 6+ tracks EPs are weighted on par with albums.
Hard Rock and Metal bands are hardly known for their physical singles sales. Metallica did sell its share of Maxi singles, EPs, and collectors of every kind, on top of traditional mainstream singles during the 90s.
Singles from the first 3 albums charted virtually nowhere. They quickly gained a cult following though and many went on to look after them even various years later. The best example is Creeping Death which went Gold in the UK for 200,000 units shipped without ever entering the singles chart thanks to 5 years of continuous sales.
Then came One, the first single to be issued in a more usual way, with a video clip and a single widely available in the US and the UK. It sold nearly a million, including more than half in the former country. The song was reissued under 2 versions in 1993/1994, one for the US the other for the rest of the world, adding 260,000 new sales.
In-between, singles from Metallica got successful. Enter Sandman quickly shipped 500,000 units in the US and went on to sell twice that number thanks to 8 months inside the Top 75 sales chart in spite of never making the Top 10 of the Hot 100. The song also sold a bit here and there abroad but without the general public impact it had in the US, ultimately shifting 1.39 million globally. Nothing Else Matters failed to go Gold in the band's homeland but did better in Europe, hitting 1 million worldwide. The third big hit of the era, The Unforgiven, came close too, even if it stopped its way on 810,000 sales. In 1999, Nothing Else Matters was released a second time under its symphonic version. It was a smash in central and northern Europe, moving 420,000 copies. Both Wherever I May Roam and Sad But True also sold relevant numbers.
Until It Sleeps was heavily anticipated as the first new single to come out after the massive Metallica era and thus shot directly to #10 in the US. It charted inside the Top 5 or even at #1 in multiple countries, but hasn't got the same legs as previous singles, selling just over 1 million when all was said and done.
From that point, the fanbase of Metallica was incredibly big while the mainstream impact of their new singles was fairly limited. As a result, most of their singles got very similar runs on charts with high debuts and fast drops, as well as similar final sales. Hero Of the Day, The Memory Remains and The Unforgiven II all sold around half a million copies. Then, King Nothing in the US and Fuel, Turn The Page, Whiskey In The Jar, I Disappear, and St. Anger abroad were all equally successful but since they have been released only in one side of the Atlantic, their global sales are lower, in the 140,000-210,000 units range per title.
The disappointment caused by St. Anger led some fans to step back. The decreasing number of collectors is visible in their sales. Frantic sold 100,000 units, then The Unnamed Feeling 80,000, etc. During these 1996-2004 years of heavy release schedule for the band, nearly all singles were also issued as 7/8 tracks double EPs in Japan, selling a few thousands each.
In recent years, the physical singles market disappeared. Death Magnetic extracts have been issued in several countries still but sales were already very low. Lately, a few specific products popped up for Record Store Day or Black Friday like Lords Of Summer and No Life 'Till Leather.
All told, the band moved a respectable 10.8 million singles. They are worth 4,643,000 albums, nearly 0.43 per singles. This higher than usual conversion rate is obtained thanks to their numerous singles which were effectively EPs rather than traditional 2-tracks singles.
Digital Songs
As a reminder, the weighting is done with a 10 to 1,5 ratio between one album and one digital single.
Metallica have been such a force in selling albums for so long that one could expect the public to not be interested by their stand-alone tracks. Their downloads and ringtones figures show that the format isn't selected by consumers but instead dictated by labels. People have bought their albums in huge quantities because there was no compilation available. Once they've got the choice, tons went on to download their biggest hits.
And that's why each of their first 5 albums continued to sell so well, because they all contain hits. From Kill 'Em All, the biggest asset is Seek & Destroy, a track up to 930,000 digital sales. The Four Horsemen, the song that gave this nickname to the band, follows with 390,000 units. Former single Jump In The Fire is now nowhere near as popular as several album cuts. In total, the LP's songs moved 1.66 million units.
That's a healthy number, but still each of the following 4 albums did better, just like they previously sold more pure units throughout the 90s. Ride The Lightning impressively records a pair of million sellers. They are Fade To Black and For Whom the Bell Tolls, two classic tracks of the band. The latter is even closing in 2 million sales. The title track at 660,000 and Creeping Death at 380,000 still receive a large amount of love too.
Speaking about title tracks, the one of Master Of Puppets, moved from cult to mass appeal through years with a solid 1.57 million sales. That's more than countless of former Hot 100 #1 hits. Both Welcome Home and Battery top 600,000.
…And Justice For All appears to be less consistent than its predecessors. It has their biggest 80s hit yet. One, which is now over 3 million combined sales in the US, is up to 3.83 million globally. It's worth noting that most of their 80s songs enjoy a significant part of their digital sales in the US, a situation that is different for later releases. Remaining tracks from the 1988 LP don't add that much, slightly more than half a million in total.
Expectedly, the big one is Metallica. Enter Sandman is the leader thanks to its near 4.5 million US sales out of a 6 million total. It's only one of the 3 songs from the album which feature more often than not inside iTunes' extended Top 1500. The other two are Nothing Else Matters and The Unforgiven, which post 4 million and 2.3 million global sales, respectively. Here is an interesting point about Metallica: they do not have the same signature song everywhere. In fact, while Enter Sandman wins hands down in the US and in Japan, Nothing Else Matters is way bigger in Germany, Italy, France, Brazil, Argentina, among others. Music fans from the UK, Australia, and South Korea have yet to decide which one of these two they prefer.
There is more on Metallica as both Sad But True and Wherever I May Roam easily top a million sales. Album cuts are also all fairly strong with sales averaging 260,000 units for 7 songs. Incredibly, that's more than the 220,000 units sold by Until It Sleeps, former much hyped lead single of Load which got the band's highest peak on singles chart of most countries. The general public believes there isn't that much to remember from this album with no track selling more than 230,000 copies.
ReLoad wasn't that much more praised by critics either but at least it contains one track widely popular to this day, Fuel. The 3rd and last single of the era back then, it was ironically the only one to miss completely the US Hot 100 ranking. Time changed its status and now it's a million selling digital song globally, with a large part of these sales coming from the US. Former lead single The Memory Remains doesn't remain all that much with only 170,000 sales while The Unforgiven II stands on 350,000.
Their weakest selling album from the 90s because of its specific nature, Garage Inc. ends up with two big hits on it. Whiskey In The Jar is among the group's Top 5 songs in most European countries while Turn The Page is almost as strong.
St. Anger is now running fairly slowly, but its early sales, especially from ringtones, put it on a decent 320,000 units. The rest of the album does very poorly. The Day That Never Come reversed this trend. It sold nearly 1.5 million units, fully enjoying the sizable US download market of 2008. Multiple tracks from Death Magnetic were released before the album, shifting great numbers in the meantime, although their awareness among the general public is low. As for tracks from Hardwired… to Self-Destruct, they sold tiny numbers, as tiny as the current market for this format.
The final total for the band is of 40.75 million digital sales, a tremendous number for songs which have been mostly catalog items since the arrival of iTunes.
Streaming
Streaming is made up of audio and video streams. Our CSPC methodology now includes both to better reflect the real popularity of each track. The main source of data for each avenue is respectively Spotify and YouTube. As detailed in the Fixing Log article, Spotify represents 157 million of the 272 million users of streaming platforms, while YouTube is pretty much the only video platform generating some revenue for the industry. Below is the equivalence set on the aforementioned article:
Audio Stream – 1500 plays equal 1 album unit
Video Stream – 11,750 views equal 1 album unit
Equivalent Albums Sales (EAS) = 272/157 * Spotify streams / 1500 + YouTube views / 11750
Top Hits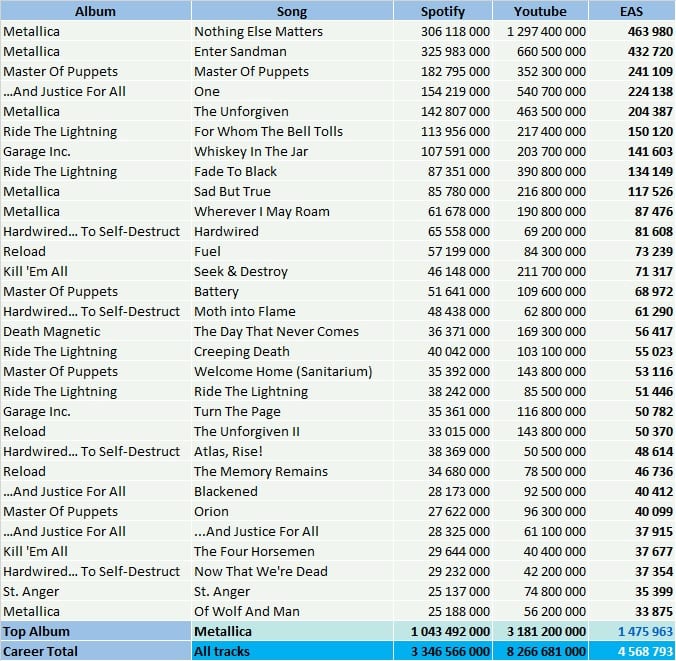 The album Metallica registers the 2 biggest hits of the band with both Nothing Else Matters and Enter Sandman netting well over 400,000 EAS. It's worth noting that the latter leads Spotify's results thanks to its bigger success in the US while the former, more popular in Latin America, has the edge on YouTube.
The 1991 blockbuster also records a third song in the Top 5 and a total of 5 inside the Top 10. It's the top album overall too with over 1 billion streams on Spotify and 3 billion on YouTube for a grand total of 1.48 million EAS.
These unbelievable numbers still let room for their remaining tracks. Both Master Of Puppets and One crack 200,000 EAS, while For Whom The Bell Tolls, Whiskey In The Jar, and Fade To Black are all well over 100,000.
Below the Top 10 we can found songs from various albums, like Seek & Destroy which performs well for their debut, or The Day That Never Comes which continues to be streamed. Load happens to be their only album which fails to land a one song inside their Top 30. It's no wonder if its catalog sales have been nowhere near the ones of its predecessor ever since it moved to catalog status.
Hardwired… To Self-Destruct came out during the streaming era, so it had to be expected to see several of its songs make the list. There is 4 so far, led by Hardwired. It has yet to be seen if they will remain popular through the years.
While all numbers of these songs are great, I strongly recommend checking the full catalog breakdown below. In fact, the band's consistency is remarkable and streaming figures bring one more evidence of it since they amass 86 different titles over 10,000 EAS.
Full catalog breakdown
If you are familiar with the artist's catalog and want to check details of each and every song, you can access to all of them right here.
Metallica's compilations sales
It sounds fairly logical to add together weighted sales of one era – studio album, physical singles, downloads, streams – to get the full picture of an album's popularity. For older releases though, they also generate sales of various live, music videos and compilation albums.
All those packaging-only records do not create value, they exploit the value originating from the parent studio album of each of its tracks instead. Inevitably, when such compilations are issued, this downgrades catalog sales of the original LP. Thus, to perfectly gauge the worth of these releases, we need to re-assign sales proportionally to its contribution of all the compilations which feature its songs. The following table explains this method.
The distribution process
How to understand this table? In this example of S&M, these figures mean it sold 7,320,000 units worldwide. The second statistics column means all versions of all the songs included on this package add for 2,128,059 equivalent album sales from streams of all types.
The second part on the right of the table shows how many equivalent streams are coming from each original album, plus the share it represents on the overall package. Thus, streaming figures tell us songs from the Metallica album are responsible for 53% of the S&M track list attractiveness. This means it generated 3,906,000 of its 7,320,000 album sales and so forth for the other records. We then apply this process to all compilations present on below table.
Compilations sales figures listing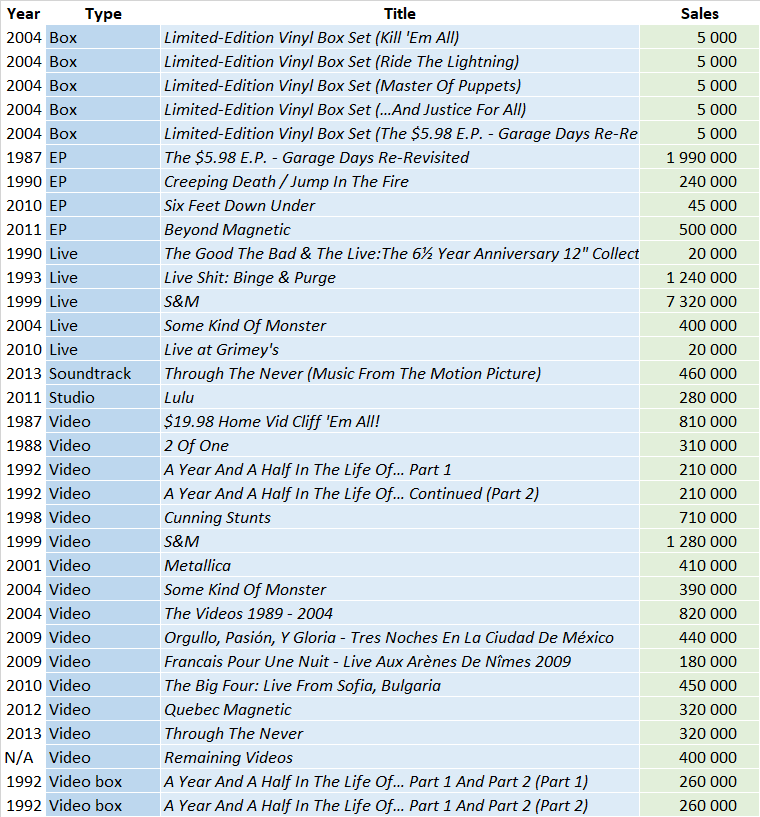 While Metallica are famous for never releasing a compilation album in nearly 40 years, they did drop multiple side projects, live albums, box sets, and music videos. Among them is the duet album with Lou Reed, Lulu, which completely bombed. Then, there is also heavily successful products. One of them is S&M, one of the best selling live albums of all-time, along with its top selling music video too. Both sets combine for 8.6 million sales.
The band always issued plenty of EPs, some of which sold very well. Their renditions on the $5.98 E.P. got a cult reputation very early and were available only through this EP, which thus went on to sell nearly 2 million copies. These songs were later included into the Garage Inc. album. We can also highlight the 7.8 million sales of music videos, a number that easily puts them among the very top sellers of all-time in this format.
As a bonus, below is the breakdown of their top selling live set.

Full Length related records Sales – Summary

Here is the most underestimated indicator of an album's success – the amount of compilation sales of all kinds it generated. Due to the dependency of sales of the original studio albums on these releases, they are a key piece of the jigsaw. These numbers are obtained by applying the method from the section The distribution process to all packages listed under Compilation sales figures listing category.
Logically, Metallica is the main helper of their catalog having powered 8.7 million sales of live sets, music videos, etc. Their first 4 albums follow, with also a nice contribution from ReLoad thanks to the popularity of Fuel. The main surprise, which isn't really one, is the 2 million plus sales linked to Garage Inc., which come almost in full from the similarly titled EP from 1987.
Total Album (all types) Sales per Country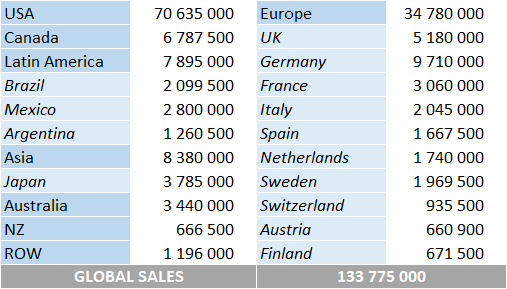 Please note country-specific numbers may miss sales of a few minor releases, although totals are complete.
Metallica Career CSPC Results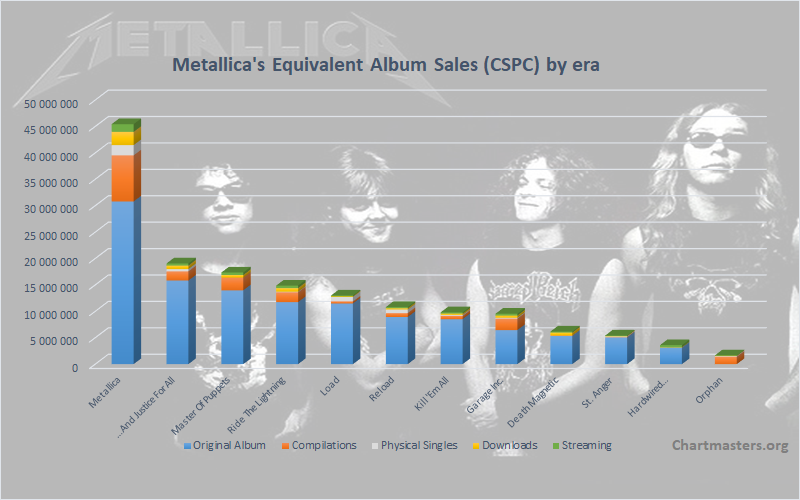 So, after checking all the figures, how many overall equivalent album sales has each album by Metallica achieved? Well, at this point we hardly need to add up all of the figures defined in this article!
Albums CSPC results
In the following results table, all categories display figures in equivalent album sales. If different, pure sales are listed between parentheses.
| artist_spotify_id | # | Cover | Album | Studio albums (EAS) | sales_update_date | Other LPs (EAS) | Physical singles (units sold) | Digital singles (units sold) | Streams | Streams increase | Total EAS | valid_as_of | streams_updated_value | album_id |
| --- | --- | --- | --- | --- | --- | --- | --- | --- | --- | --- | --- | --- | --- | --- |
| 2ye2Wgw4gimLv2eAKyk1NB | 1 | | Kill 'Em All | 8,510,000 | 13.02.19 | 640,000 | 201,000(669,000) | 249,000(1,660,000) | 927,000 (12/01/23) | Av.: 390LD: 560 | 10,501,000 | 20,231,201 | 927,000 | 549 |
| 2ye2Wgw4gimLv2eAKyk1NB | 2 | | Ride The Lightning | 11,740,000 | 13.02.19 | 1,879,000 | 333,000(1,111,000) | 695,000(4,630,000) | 1,806,000 (12/01/23) | Av.: 760LD: 1,250 | 16,213,000 | 20,231,201 | 1,806,000 | 550 |
| 2ye2Wgw4gimLv2eAKyk1NB | 3 | | Master Of Puppets | 13,980,000 | 13.02.19 | 2,397,000 | 108,000(361,000) | 492,000(3,280,000) | 1,943,000 (12/01/23) | Av.: 830LD: 1,200 | 18,815,000 | 20,231,201 | 1,943,000 | 551 |
| 2ye2Wgw4gimLv2eAKyk1NB | 4 | | ...And Justice For All | 15,840,000 | 13.02.19 | 1,725,000 | 495,000(1,651,000) | 659,000(4,390,000) | 1,397,000 (12/01/23) | Av.: 560LD: 840 | 20,056,000 | 20,231,201 | 1,397,000 | 552 |
| 2ye2Wgw4gimLv2eAKyk1NB | 5 | | Metallica | 30,790,000 | 13.02.19 | 8,707,000 | 1,934,000(6,446,000) | 2,501,000(16,670,000) | 5,463,000 (12/01/23) | Av.: 2,280LD: 3,360 | 49,405,000 | 20,231,201 | 5,463,000 | 553 |
| 2ye2Wgw4gimLv2eAKyk1NB | 6 | | Load | 11,490,000 | 13.02.19 | 388,000 | 694,000(2,313,000) | 125,000(830,000) | 545,000 (12/01/23) | Av.: 220LD: 370 | 13,391,000 | 20,231,201 | 545,000 | 554 |
| 2ye2Wgw4gimLv2eAKyk1NB | 7 | | Reload | 8,940,000 | 13.02.19 | 732,000 | 273,000(909,000) | 248,000(1,650,000) | 843,000 (12/01/23) | Av.: 360LD: 620 | 11,436,000 | 20,231,201 | 843,000 | 555 |
| 2ye2Wgw4gimLv2eAKyk1NB | 8 | | Garage Inc. | 6,450,000 | 13.02.19 | 2,165,000 | 126,000(421,000) | 405,000(2,700,000) | 1,152,000 (12/01/23) | Av.: 460LD: 670 | 10,351,000 | 20,231,201 | 1,152,000 | 556 |
| 2ye2Wgw4gimLv2eAKyk1NB | 9 | | St. Anger | 5,050,000 | 13.02.19 | 53,000 | 52,000(174,000) | 69,000(460,000) | 251,000 (12/01/23) | Av.: 90LD: 110 | 5,568,000 | 20,231,201 | 251,000 | 557 |
| 2ye2Wgw4gimLv2eAKyk1NB | 10 | | Death Magnetic | 5,330,000 | 13.02.19 | 71,000 | 13,000(43,000) | 540,000(3,600,000) | 551,000 (12/01/23) | Av.: 210LD: 260 | 6,527,000 | 20,231,201 | 551,000 | 558 |
| 2ye2Wgw4gimLv2eAKyk1NB | 11 | | Hardwired... to Self-Destruct | 3,140,000 | 13.02.19 | 0 | 1,000(3,000) | 72,000(480,000) | 802,000 (12/01/23) | Av.: 240LD: 240 | 4,015,000 | 20,231,201 | 802,000 | 559 |
| 2ye2Wgw4gimLv2eAKyk1NB | 12 | | 72 Seasons | 0 | | 0 | 0(0) | 0(0) | 293,000 (12/01/23) | Av.: 0LD: 0 | 293,000 | 20,231,201 | 293,000 | 0 |
| 2ye2Wgw4gimLv2eAKyk1NB | 13 | | Orphan | 0 | 13.02.19 | 1,407,000 | 119,000(397,000) | 60,000(400,000) | 83,000 (02/13/19) | N/A | 1,669,000 | 20,231,201 | 83,000 | 1,702 |
'Av.' stands for Average, 'LD' for Last Day.
As a reminder:
Studio Album: sales of the original album
Other Releases: sales of compilations generated thanks to the album
Physical Singles: sales of physical singles from the album (ratio 3/10)
Download Singles: sales of digital singles from the album (ratio 1,5/10)
Streaming: equivalent album sales of all the album tracks (ratio 1/1500 for Audio stream and 1/6750 for Video stream)
Artist career totals
| All-Time Rank | Studio albums (EAS) | Other LPs (EAS) | Physical singles (units sold) | Digital singles (units sold) | Streams | Total EAS |
| --- | --- | --- | --- | --- | --- | --- |
| 20 | 121,260,000 | 20,164,000 | 15,480,000 | 40,770,000 | 16,106,000 (12/01/23) | 168,290,000 |
See where the artist ranks among remaining singers
Just like Creedence Clearwater Revival, the trajectory of Metallica's career appears to be a wave. The difference is that this wave went much higher and also lasted much longer.
Indeed, the American Metal icons have yet to release an album that sells less than 3 million units. Hardwired… to Self-Destruct is their weakest so far, and it still moved a very nice 3.6 million equivalent album sales. Considering the lasting appeal of their catalog, this record is actually in line with many of its predecessors, now time will tell if it will be able to amass larger numbers in the future.
Both St. Anger and Death Magnetic stand at 5.4-6.2 million, healthy numbers as well even if below 90s' sales beasts of the band. There is still zillions of successful groups which would like to have these albums as part of their discography. You can already open your records book to see who else managed to score 8 10-million sellers in a row. They are not there right now, but it won't be long before it gets real.
Some albums are also comfortably over that mark. Load is now on 13 million, while Ride The Lightning impresses at nearly 15 million. Master Of Puppets keeps climbing fast, now showing well over 17 million sales to date across all formats. On its side, …And Just For All is up to 19 million.
There was no suspense about the leader, but we are still amazed at numbers achieved by Metallica. The absolute classic from 1991 stands on 45.4 million, the plateau of historical blockbusters. Give or take a million, that's how much albums like Guns N' Roses' Appetite For Destruction, Celine Dion's Let's Talk About Love, Dire Straits' Brothers In Arms, Michael Jackson's Dangerous, and Shania Twain's Come On Over have sold. It's also more than the Beatles' top seller Abbey Road. This is how big Metallica is. It also illustrates that while it's easy to fall into the "top selling metal band" resume, Metallica are not only big inside their genre, their crossover success is just as massive.
With new releases still selling extremely well and a back catalog that is as buoyant as ever, the total of the band will keep on climbing. As for now, it is already up to 156.7 million. This makes Metallica the second best selling American band of all-time, only topped by the Eagles.
Singles CSPC results
The list is compiled in album equivalent sales generated by each song. Therefore, these figures are not merged units of singles formats. Instead, it includes weighted sales of the song's physical single, download, ringtone and streaming as well as its share among sales of all albums on which it is featured.
1. 1991 – Metallica – Nothing Else Matters [Metallica] – 14,620,000
2. 1991 – Metallica – Enter Sandman [Metallica] – 14,510,000
3. 1988 – Metallica – One […And Justice For All] – 11,220,000
4. 1986 – Metallica – Master Of Puppets [Master Of Puppets] – 9,170,000
5. 1991 – Metallica – The Unforgiven [Metallica] – 5,600,000
6. 1984 – Metallica – For Whom The Bell Tolls [Ride The Lightning] – 5,500,000
7. 1984 – Metallica – Fade To Black [Ride The Lightning] – 3,940,000
8. 1997 – Metallica – Fuel [Reload] – 3,690,000
9. 1991 – Metallica – Sad But True [Metallica] – 3,670,000
10. 1998 – Metallica – Whiskey In The Jar [Garage Inc.] – 3,100,000
11. 1983 – Metallica – Seek & Destroy [Kill 'Em All] – 2,980,000
12. 1996 – Metallica – Until It Sleeps [Load] – 2,900,000
13. 1991 – Metallica – Wherever I May Roam [Metallica] – 2,800,000
14. 1986 – Metallica – Battery [Master Of Puppets] – 2,510,000
15. 1997 – Metallica – The Unforgiven II [Reload] – 2,370,000
If you feel inspired by this list, we just created this CSPC Metallica playlist on Spotify!

Discography results
Thanks to our new ASR (Artist Success Rating) concept, we know that their sales represent 29.0 million times the purchase of their entire discography. Coupled with their total sales, it translates into an ASR score of 382. This puts them above bands like Dire Straits and Aerosmith, but just below the Guns N' Roses. The ranking of all artists studied so far is available too at this link.
Records & Achievements
At 156,706,000 EAS, Metallica is the best selling metal act of all-time.
At 156,706,000 EAS, Metallica is the second best selling US band of all-time.
Metallica is one of only 4 acts with 6 consecutive 10 million sellers (EAS).
At 45,433,000 EAS, Metallica is the 3rd most successful album from 1991.
At 19,070,000 EAS, …And Justice For All is the 4th most successful album from 1988.
At 17,350,000 EAS, Master Of Puppets is the 6th most successful album from 1986.
At 16,900,000 US Soundscan sales, Metallica is the highest selling album over this panel in this country since 1991.
At 27 years and 6 months, Metallica has the longest span ever of consecutive US #1 studio albums.
Master Of Puppets was the 2nd fastest album from the 80s to hit 10 million stream with all its tracks. …And Justice For All and Ride The Lightning will soon become the 4th and 5th, respectively.
Metallica is one of the only 3 albums from the 90s with 2 tracks over 300 million streams in Spotify.
NB: EAS means Equivalent Album Sales.
As usual, feel free to comment and / or ask a question!
Sources: IFPI, Spotify, YouTube, Discogs.
You may be interested in…
… Metallica's streaming masters analysis
… best-selling artists, albums, and singles
We have created amazing cross-artists tops. Click to see all CSPC and raw sales results compiled so far!
… similar artists