New BTS album is 32nd top Spotify debut ever with only 7 songs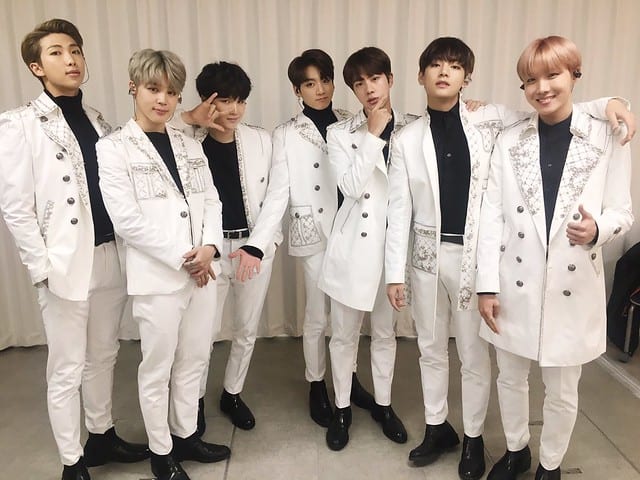 Map of the Soul: Persona, the new bomb from K-Pop masters BTS, records an absolutely impressive first week on Spotify at 98 million streams with a mere 7 songs. How does that compete against the top performers ever?
Since Spotify became a thing, you likely heard a lot of times how streaming was killing the album format. In truth, it's surely way more loyal to this art form than downloads ever where.
When you downloaded a single, you still had no right to take a look at the rest of the album. With streams, all you need to do is go to the album page and play it in full. On top of that, Spotify links to you these pages for new releases by artists you follow. You don't need to go to the album, it comes to you.
The first indication that long playing discs may do well in a streaming world came in November 2015. That month, two major teen pop stars, Justin Bieber and One Direction, clashed when they dropped their new efforts at the same time. The winner? Both of them.
Up to that point, no album had ever amassed 100 million streams on Spotify in its first week. The latter's Made In The A.M. reached that incredible milestone, while at the same time the former's Purpose went through the roof, topping 200 million.
By then, the platform had 86 million monthly active users, a number that has now increased to over 200 million. This led 300 million, 400 million, and 500 million first week streams barriers to be broken.
In total, 31 albums out-streamed Map Of The Soul: Persona. It's time to review them with this full list of top streaming records.
Spotify top album debuts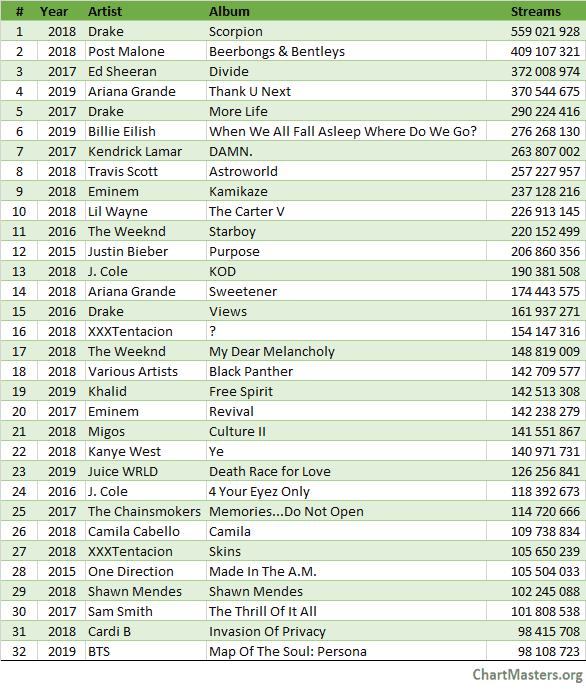 The list is obviously US-dominated, with 21 albums coming from the Hip Hop / R&B branch. It would be easy to jump on the conclusion that this genre is bigger in streaming.
When we go deeper on numbers, we notice these records are often stronger thanks to high streams from the entire tracklist. Rap fans give more credit to the album format as a whole.
Other genres, like latin music, get healthy streams, but no latin album is even close to this list. That's because the album format has very little impact in markets like Mexico and Brazil, with popular artists releasing very frequently stand-alone songs rather than LPs as a result.
Naturally, the leader of urban music comes on top. Drake's Scorpion posted an insane 559 million streams on its first week last year.
It comes as no surprise. Nothing Was The Same, If You're Reading This It's Too Late, Views, and More Life all broke the US record for first week streams, showing that the Canadian singer has been a monster force for many years.
As many as 3 pop albums feature inside the Top 6 with Ed Sheeran and 2019 hyped releases from Ariana Grande and Billie Eilish.
Obviously, while it seems to come way down on the list, BTS' score is far and away the top performance ever for a non-English speaking album, topping Ozuna's Aura by 25 million.
Maybe the most impressive result is that it does so with only 7 songs against 20 for the previous record holder.
This leads us to wonder how does the list look like if we factor in the number of songs into the picture?
Spotify top album debuts by song average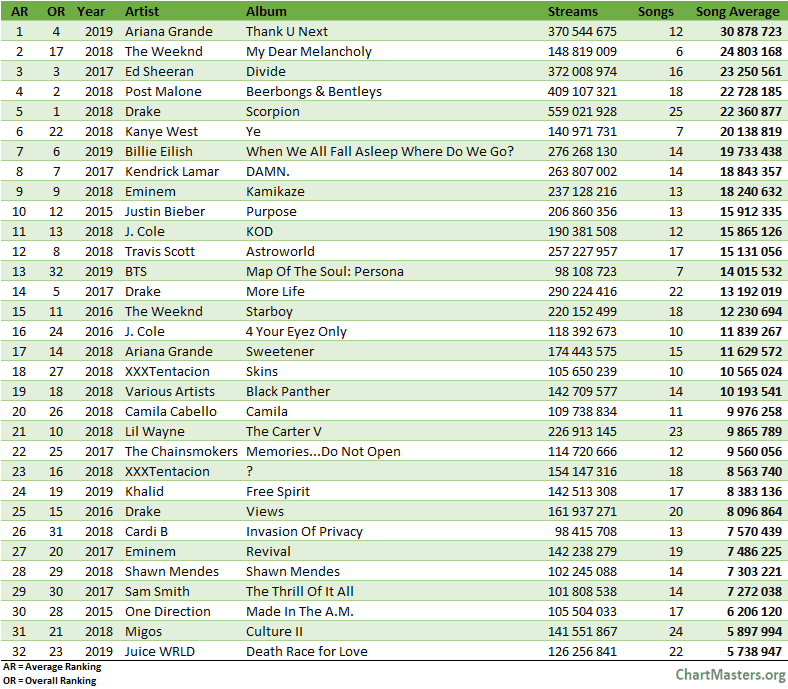 Interestingly, the list appears to be fairly different once we display an average per song. Scorpion, More Life, and Views by Drake all drop a lot of spots as they include from 20 to 25 songs each.
Numbers behind streams of The Weeknd's My Dear Melancholy, Kanye West's Ye and BTS' Map Of The Soul: Persona take another feel when we see that they are so short.
Of course, it's easier to repeat a 7-songs album than a 25-songs album, but it's still a worthy element to factor in.
Thank U, Next by Ariana Grande shots to the top spot with this view. Her record is the only album to ever reach a 30-million average per song.
Speaking about relevant factors, another one is the number of MAU (Monthly Active Users) of Spotify. The last Grande effort was available to way more people than Purpose, for example. Let's add this information to the table.
Spotify top album debuts by streams per user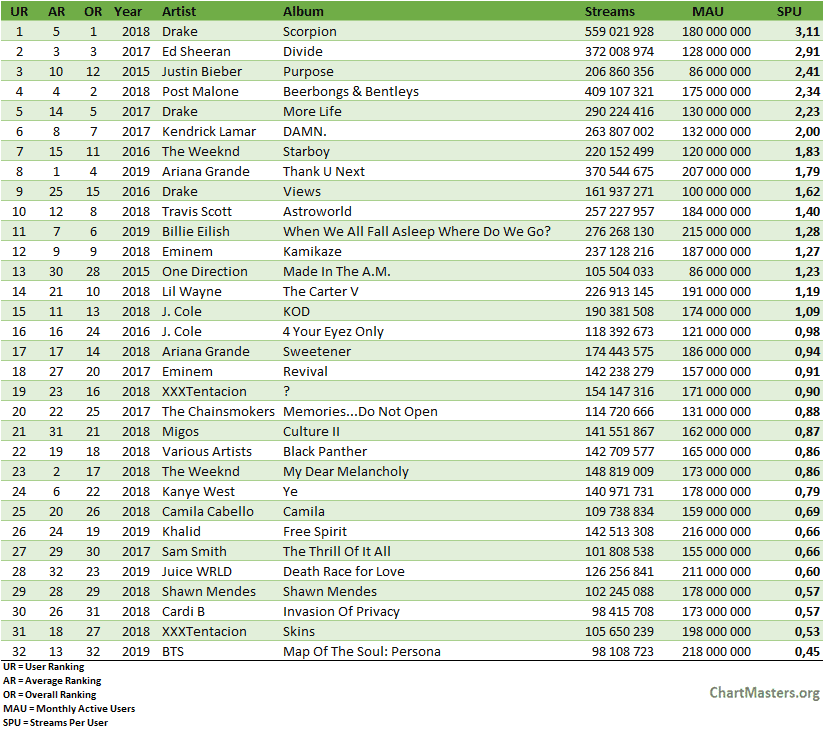 As you can guess, the MAU is the number of users by the time each album was released. With this view, Scorpion takes back its crown. On average, each Spotify user streamed slightly over 3 songs from the album during its first week.
Divide by British superstar Ed Sheeran is a close runner up with almost 3 streams per user. The record continues to be so strong on weekly charts today that we tend to miss the fact that Spotify had almost 100 million less users when it came out than now.
The one which impresses the most is maybe Purpose by Justin Bieber. The 2015 album jumps to the 3rd spot with 2.41 streams per user. It's one of only 6 albums which hit 2 SPU.
Just like older albums are higher on this list, the recent ones are lower. The bottom 5 are all releases from the last 12 months.
Then, what happens when we mix both factors, the number of songs by album and Spotify's MAU?
Spotify top album debuts by album reach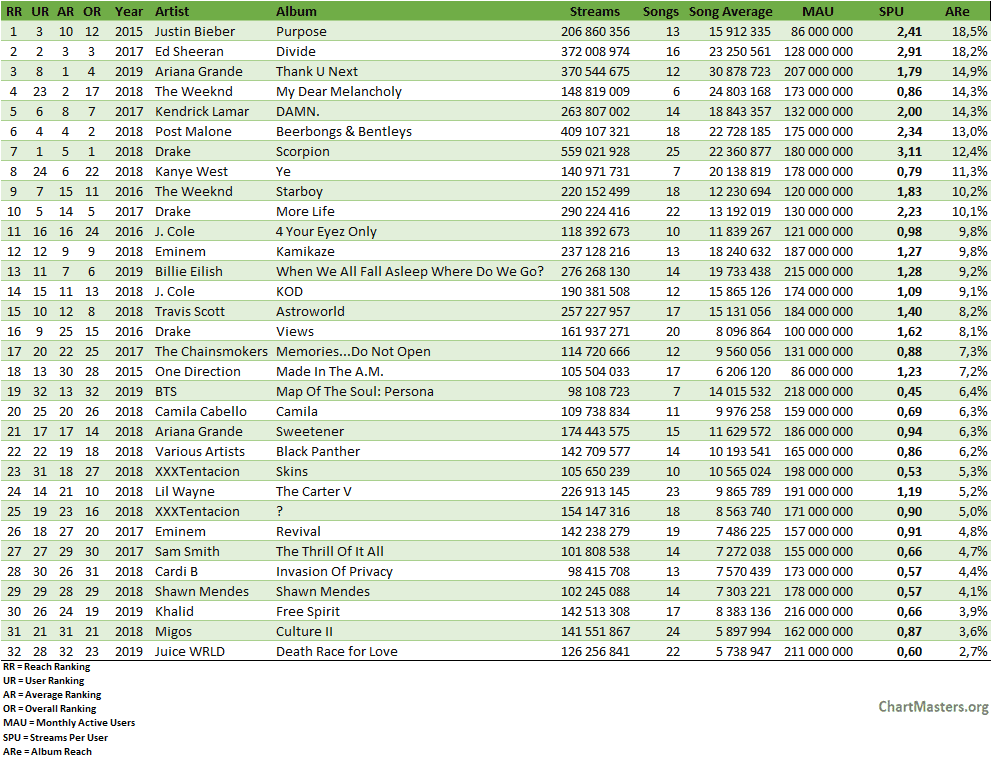 Streams of Purpose were equivalent to 18.5% of Spotify active users streaming it in full one time during its debut week. It's the best performance out of all.
Divide is once again a close second. Thank U, Next confirms that no matter how you look at it, it did very well. Same for Scorpion as well as Kendrick Lamar's DAMN. and Post Malone's Beerbongs & Bentleys, they belong to the top 10 in every metric.
While we are getting results which are closer and closer to something truly meaningful, it's still arguably better to get 25 songs streamed one time by 12.4% of the users than 6 songs played by 14.3% of the users since that logically includes way more repeat streams.
Basically, longer albums have their raw streams inflated while shorter albums have their average streams inflate. We added a simple formula* to get a an indicator in-between both views to get the top performing debuts of all-time on Spotify.
*ARe multiplied by (100 + 4 times the number of songs) divided by 100 and brought to a base 100.
Spotify top performing album debuts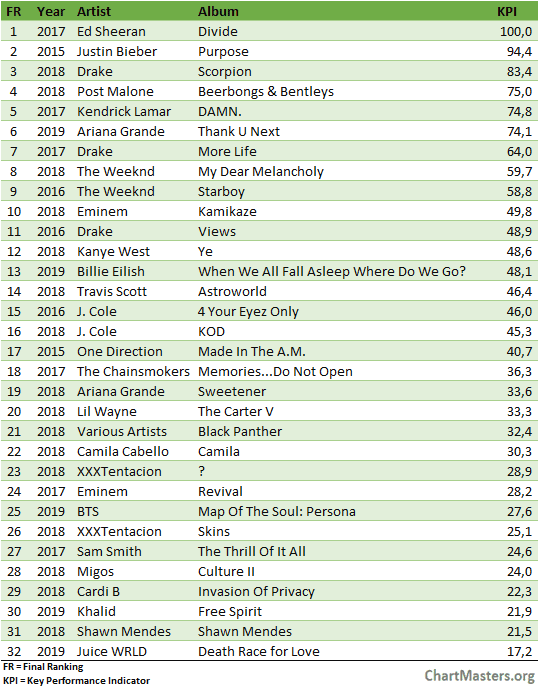 While it topped none of the previous lists, Divide's debut was Top 3 in every ranking, so it's little surprise to see that once we account for everything it happens to be the top performer out of all.
Purpose and Scorpion are comfortably inside the Top 3, while Post Malone, Lamar and Grande record similar results one step behind, which was also expected.
This performance indicator has been applied only to the initial list of 32 albums. There are albums which got less than 98 million streams a long time ago that could have done well in a weighted list. None would have trouble the very top end of the ranking yet.
As a matter of fact, the highest score before Purpose was obtained by The Weeknd with Beauty Behind the Madness. With 90 million streams out of 14 tracks on a 80-million MAU platform, its performance indicator is 42.1, that would have put it at #18 only.
With new albums by Rihanna, Justin Bieber, Adele, and Taylor Swift expected in 2019, will someone outperform scores of Divide?