Bruno Mars' albums and songs sales
With only three albums to his name, Bruno Mars has become one of the most played artists of the millennium. He got famous thanks to his massive debut single Just the Way You Are, as well as a large string of hits all around the world.
How have his albums performed, though? Is he more than just a singles artist? This article might answer your questions.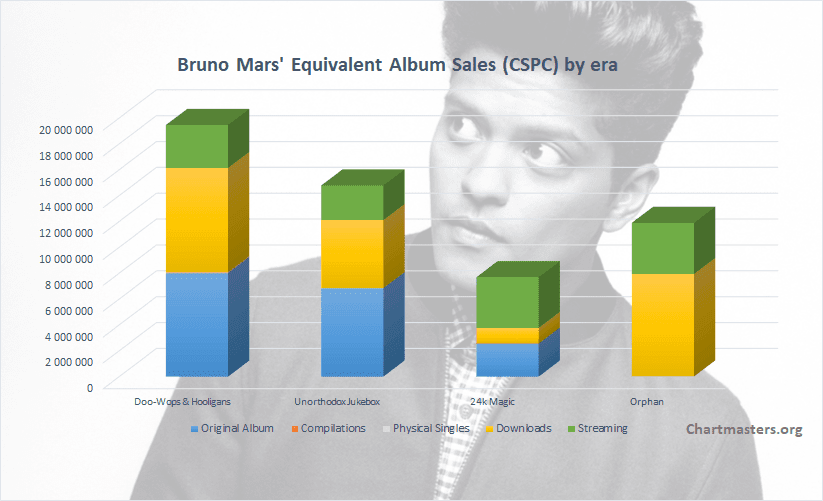 After releasing an EP that failed to achieve commercial success, Bruno Mars dropped his debut single in the summer of 2010. Just the Way You Are became a huge hit around the world, becoming his first US Hot 100 #1 hit.
His debut album, Doo-Wops & Hooligans, was released later that year, debuting at #3 in the US before achieving 5x Platinum status by 2016.
The album spawned another massive #1 hit, Grenade, as well as a third Top 5 hit, The Lazy Song.
In 2012, at the height of the digital era, Bruno Mars released his second studio album, Unorthodox Jukebox. Like his debut, it spawned two massive #1 hits that would end up becoming some of the biggest hits of the decade.
Locked Out of Heaven and When I Was Your Man are certified 8x Platinum and 7x Platinum by the RIAA, respectively. The third single from the album, Treasure, also managed to become a Top 5 hit.
In late 2014, the singer was featured on Mark Ronson's Uptown Funk, a song that would end up topping the US Hot 100 for 14 weeks and achieving a 11x Platinum certification. In a list published in 2018, Billboard ranked it as the fourth biggest song of all time on the US Hot 100.
A couple of years later in 2016, he came back with his third studio album, 24K Magic. Coming off one of the biggest hits of all time, as well as two massive albums, there was a lot of hype for this release.
The lead single, also titled 24K Magic, peaked at #4. While not a failure by any means, it became his first lead single to not reach #1. Luckily for him, the second single, That's What I Like, became a much bigger hit, reaching the top spot and becoming his seventh #1 hit.
It became one of the very few songs in history to spend half a year inside the US Hot 100 Top 10. With the help of Cardi B, the album spawned a second Top 3 hit, Finesse.
Bruno Mars returned in early 2019 with another Cardi B duet, Please Me. Like their previous collaboration, it peaked at #3 in the US Hot 100. The song had disappointing results in most international markets though, such as the UK, Canada and Australia, where it missed the Top 10.
As usual, I'll be using the Commensurate Sales to Popularity Concept in order to relevantly gauge his results. This concept will not only bring you sales information for all Bruno Mars' albums, physical and download singles, as well as audio and video streaming. In fact, it will also determine their true popularity.
If you are not yet familiar with the CSPC method, below is a nice and short video of explanations. I fully recommend watching it before getting into the sales figures. Of course, if you are a regular visitor feel free to skip the video and get into the numbers directly.
UPDATE DATES:
– Sales (albums, singles): 2017/10/18
– Streaming (audio, video): 2019/06/05
The Commensurate Sales to Popularity Concept (CSPC)
There are two ways to understand this revolutionary concept. In the first place, there is this Scribe video posted below. If you are unaware of the CSPC method, you will get the full idea within just a pair of minutes.
If you are a mathematical person, and want to know the full method as well as formulas, you can read the full introduction article.
Now let's get into the artist's sales figures in detail in order to apply this concept and define the act's true popularity!
Bruno Mars' Album Sales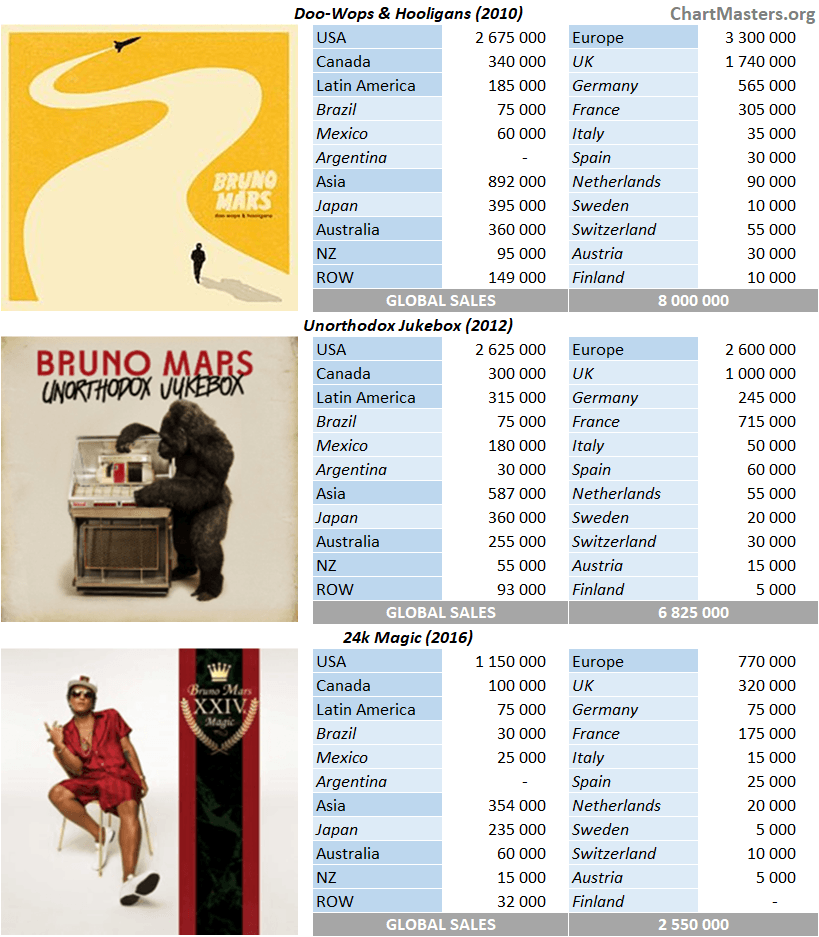 Original Album Sales – Comments

Despite only releasing 3 studio albums so far and debuting during a time when digital sales had already pretty much overtaken physical albums, Bruno Mars is already up to 17.4 million pure album sales – simply a great total for an artist of his nature.
With an average of 5.8 million per album, one can only wonder how much higher he'd be if he released albums as often as Ariana Grande or Drake.
The debut album, Doo-Wops & Hooligans, is among the very top selling albums of the 2010s decade. It debuted at #3 in the US with only 55k copies sold.
Clearly, that wasn't the end of it, as it ended up selling more than 2.6 million pure copies as of 2017.
Internationally, Doo-Wops was a big success as well, achieving 6x Platinum status in countries like the UK and New Zealand.
His sophomore effort, Unorthodox Jukebox, also sold 2.6 million in his native US, although it fell short from matching its predecessor due to weaker sales in the UK.
It remains his best-selling effort in France, becoming one of the few international albums in recent years to score a Diamond certification.
24K Magic was released during the streaming era, unlike his first two efforts, which were released during a healthier period for album sales. For this reason, it registers a massive -62% decline from its predecessor.
Still, 2.55 million is most certainly a healthy figure for 2016, making it one of the very top selling albums of that year.
Bruno Mars' songs sales

Physical Singles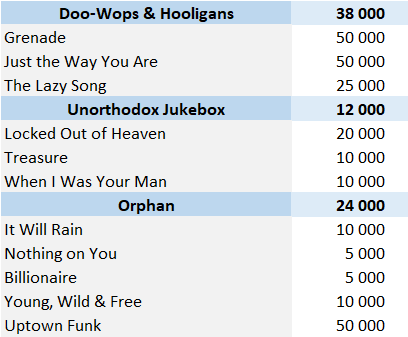 As a reminder, the weighting is done with a 10 to 3 ratio between one album and one physical single.
I'm sure you have started to be familiar with the evolution of the physical market of singles!
The market was dead every nation but in Japan and GSA countries (Germany, Switzerland, Austria) by 2010.
International stars sold virtually no physical singles in Japan so it is all down to Germany which remained somewhat relevant there with 4,3 million CDs sold in 2010.
To give you a rough idea, that's a market good enough to hit 100,000 with one of the biggest hits of the year, 50,000 units with a #1 single, 20,000 units for a solid Top 5 smash and 10,000 units for most tracks that made the Top 10 various weeks.
A total of 11 of Bruno's singles were issued physically in at least one market with nearly 250,000 sales overall. A small part of Uptown Funk's sales come from elsewhere thanks to its 12″ European release.
Digital songs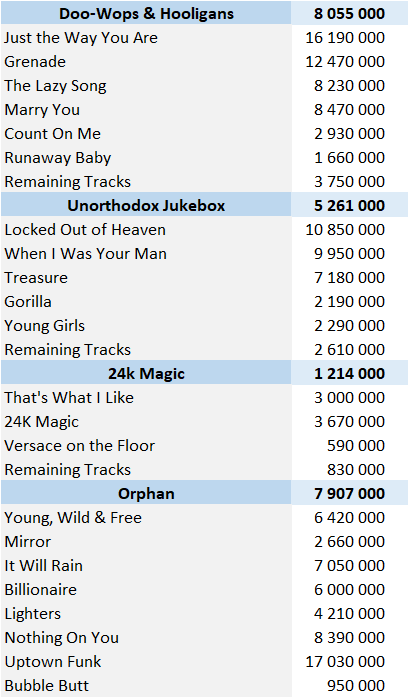 As a reminder, the weighting is done with a 10 to 1,5 ratio between one album and one digital single.
It is hard to find a list of singles from one artist which is so packed with gigantic hits. Runaway Baby wasn't even a global single and it still sold 1,66 million units.
Low-key songs like Count On Me, Gorilla and Young Girls all sold in excess of 2 million downloads and ringtones. What about the hits then? Well, it's simple, they all sold 7 million copies or more!
As many as 7 songs topped that threshold with only two eras, an immense result. Just The Way You Are tops 16 million thanks to 7,1 million US downloads, more than 2,8 million in South Korea and over 1,33 million in the UK. It was also strong by 2010 standards in the ringtones segment with 850,000 sales in the US alone.
Grenade sold similar amounts in English-speaking countries, although it was 2 million short in South Korea. Ironically, the top selling song from this album in this latter country is neither of the aforementioned songs. That accolade goes to Marry You which is now up to 2,85 million sales there.
Locked Out of Heaven and When I Was Your Man are two 5-million sellers in the US. They combined for 1,5 million sales in the UK.
The latter along with Treasure sold around 1,5 million copies in South Korea. I could continue to wax lyrical for a while. The amount of unreal numbers is so big that figures like 1 million in South Korea or 5 million in the US seem commonplace. They are not.
The total shows how unusual those sales are.. Tracks from Doo-Wops & Hooligans sold 53,7 million units. That's the third greatest success ever for an album in this format, topped only by Lady Gaga's The Fame and Katy Perry's Teenage Dream, two albums which surge ahead thanks to the additional hits from their reissues.
There is more positivity with singles from Unorthodox Jukebox having now crossed the 35 million mark. That's 88 million singles from just two albums. Incredible!
From 35 to 8 million, the drop in singles sales seems terrible for 24K Magic. It really is, but two 3 million selling singles in 2017 is magnificent. The title track and That's What I Like are two of the very best selling singles from the last 3 years.
Then comes the Orphan songs which include Bruno's popular collaborations and stand-alone tracks. Their average level of success is just insane with the first six averaging nearly 6 million sales!
That is ignoring the juggernaut that was Uptown Funk. This late 2014 hit released when downloads were already becoming old-fashioned. It still sold absurd numbers.
The song is up to 7,85 million downloads in the US while currently crossing 2 million in South Korea. It sold well over 800,000 copies in each of Australia and Canada and more than twice as much in the UK.
Uptown Funk is quite simply the biggest selling song since it came out, a record that looks unlikely to be beaten now.
All those songs push the total of Bruno Mars to nearly 150 million. Not bad for someone who has a personal catalog of just under 45 songs
Streaming
Streaming is made up of audio and video streams. Our CSPC methodology includes both to better reflect the real popularity of each track. The main source of data for each avenue is respectively Spotify and YouTube. To factor in the growing impact of multiple Asian countries where these platforms aren't always the go-to site for music streaming, more sources have been added.
In order to account for their real popularity in each relevant country, the below sources have been used along with the mentioned ratios that reflect the market share of each area.
Audio Streams
– South Korea : Genie streams * 3.05 (consistent with Gaon streaming numbers)
– Japan : AWA streams * 100/5.5 (AWA has 5.5% of the Japanese streaming market)
– Elsewhere : Spotify streams * (370 – 8.5 – 9.5 – 33 – 9) / 207 (370 million global subscribers minus 8.5 million from South Korea minus 9.5 million from Japan minus 33 million from China divided by the number of Spotify only users minus 9 million more Asian users) + Genie streams * 3.05 (uses Genie rather than Spotify to extrapolate markets like Taiwan, Thailand and Vietnam)
Video Streams
– China* : Xiami streams * 125/6.5 (Xiami has just over 5% of the Chinese streaming market)
– Elsewhere : Youtube views
*since 96.4% of Chinese streaming platforms are free users, that paid-for users pay less than $2 a month and that they are also used as video streaming platforms, their streams are weighted in par with YouTube streams.
Audio Stream value – 1500 plays equal 1 album unit
Video Stream value – 11,750 views equal 1 album unit
Equivalent Albums Sales (EAS) = ( Spotify * 310/207 + Genie * 3.05*2 + AWA * 100/5.5 ) / 1500 + ( Xiami * 125/6.5 + YouTube ) / 11750
Top Hits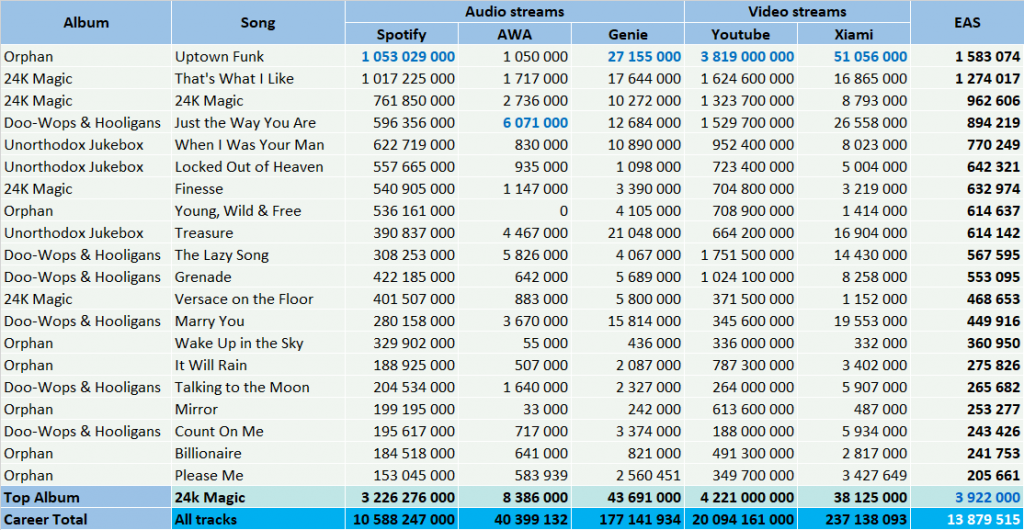 Seeing Uptown Funk as Bruno Mars' top song should come off as no surprise, as it did spend 14 weeks at #1 after all. It is by far his most viewed music video with a massive 3.8 billion views.
The song has over 1 billion streams on Spotify as well, making it one of the oldest songs to reach this milestone.
Another monster in this format is That's What I Like from his latest album, 24K Magic. The track racks up 1,274,000 EAS. It is his second song to reach 1 billion streams on Spotify. The title track, 24K Magic, is his third biggest song with nearly 1 million EAS.
Despite being released in 2010 before streaming blew up, Just the Way You Are racks up nearly 600 million streams on Spotify – a massive total for a song that was released nearly 10 years ago. With huge numbers on YouTube as well (1.5 billion), it is responsible for 894,219 EAS.
Rounding up the pop star personal Top 5, When I Was Your Man is the top track from his sophomore effort, racking up a massive 622 million on Spotify and just under 1 billion views on YouTube. The two biggest tracks from this album make up for over 1.4 million EAS.
24K Magic's is his most streamed album overall with 3.22 billion streams on Spotify, as well as 4.2 billion views on YouTube. The album is up to nearly 4 million equivalent album sales from streams and is still climbing.
Full catalog breakdown
If you are familiar with the artist's catalog and want to check details of each and every song, you can access to all of them right here.
Bruno Mars' compilations sales
It sounds fairly logical to add together weighted sales of one era – studio album, physical singles, downloads, streams – to get the full picture of an album's popularity. For older releases though, they also generate sales of various live, music videos and compilation albums.
All those packaging-only records do not create value, they exploit the value originating from the parent studio album of each of its tracks instead. Inevitably, when such compilations are issued, this downgrades catalog sales of the original LP.
Thus, to perfectly gauge the worth of these releases, we need to re-assign sales proportionally to its contribution of all the compilations which feature its songs. The following table explains this method.
The distribution process

Up to now though, Bruno never released live albums nor compilation albums, but there is still a missing piece. The only uncovered product in this article so far is It's Better If You Don't Understand, a 80,000 units selling EP issued a few months before the artist debut album Doo-Wops & Hooligans. The four songs on this EP were very precisely part of that album track listing. Thus, 40,000 sales will be granted to the LP as an EP is weighted at 1/2 an album.
Total Album (all types) Sales per Country
Please note country-specific numbers may miss sales of a few minor releases, although totals are complete.
Bruno Mars Career CSPC Results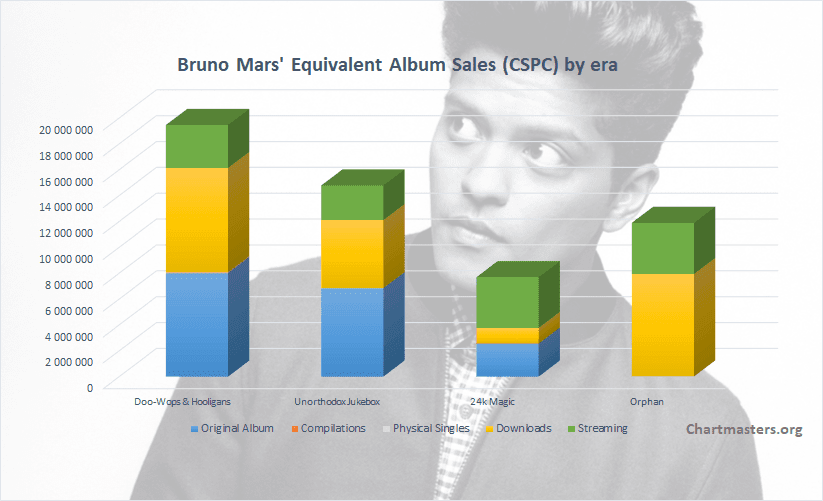 So, after checking all the figures, how many overall equivalent album sales has each album by Bruno Mars achieved? Well, at this point we hardly need to add up all of the figures defined in this article!
Albums CSPC results
In the following results table, all categories display figures in equivalent album sales. If different, pure sales are listed between parentheses.
| artist_spotify_id | # | Cover | Album | Studio albums (EAS) | sales_update_date | Other LPs (EAS) | Physical singles (units sold) | Digital singles (units sold) | Streams | Streams increase | Total EAS | valid_as_of | streams_updated_value | album_id |
| --- | --- | --- | --- | --- | --- | --- | --- | --- | --- | --- | --- | --- | --- | --- |
| 0du5cEVh5yTK9QJze8zA0C | 1 | | Doo-Wops & Hooligans | 8,000,000 | 27.06.19 | 40,000 | 38,000(125,000) | 8,181,000(54,540,000) | 10,356,000 (09/20/23) | Av.: 4,550LD: 7,580 | 26,489,000 | 20,230,920 | 10,356,000 | 479 |
| 0du5cEVh5yTK9QJze8zA0C | 2 | | Unorthodox Jukebox | 6,825,000 | 27.06.19 | 0 | 12,000(40,000) | 5,261,000(35,070,000) | 6,575,000 (09/20/23) | Av.: 2,520LD: 5,820 | 18,673,000 | 20,230,920 | 6,575,000 | 480 |
| 0du5cEVh5yTK9QJze8zA0C | 3 | | 24K Magic | 2,550,000 | 27.06.19 | 0 | 0(0) | 1,299,000(8,660,000) | 7,236,000 (09/20/23) | Av.: 2,140LD: 3,760 | 11,000,000 | 20,230,920 | 7,236,000 | 481 |
| 0du5cEVh5yTK9QJze8zA0C | 4 | | An Evening With Silk Sonic | 0 | | 0 | 0(0) | 0(0) | 3,411,000 (09/20/23) | Av.: 0LD: 0 | 3,411,000 | 20,230,920 | 3,411,000 | 0 |
| 0du5cEVh5yTK9QJze8zA0C | 5 | | Orphan | 0 | 27.06.19 | 0 | 24,000(80,000) | 7,798,000(51,990,000) | 3,956,000 (06/27/19) | N/A | 11,887,000 | 20,230,920 | 3,956,000 | 1,638 |
'Av.' stands for Average, 'LD' for Last Day.
As a reminder:
Studio Album: sales of the original album
Other Releases: sales of compilations generated thanks to the album
Physical Singles: sales of physical singles from the album (ratio 3/10)
Download Singles: sales of digital singles from the album (ratio 1,5/10)
Streaming: equivalent album sales of all the album tracks (ratio 1/1500 for Audio stream and 1/6750 for Video stream)
See where the artist ranks among remaining singers
And there we have it! Bruno Mars' huge selling power isn't limited to just singles. He's one of those rare artists that somehow manage to smash in every metric – pure album sales, downloads and streaming.
His biggest album to date remains his debut, Doo-Wops & Hooligans. With huge recurrent streaming numbers, it's only a matter of time before it reaches the magical 20 million mark, joining other smash albums from the 2010s such as Adele's 21 & 25, Ed Sheeran's Multiply & Divide, and Katy Perry's Teenage Dream, which recently surpassed the 20 million mark in 2019.
At over 14.7 million, Bruno's sophomore album, Unorthodox Jukebox, proves his incredible success was far from being a fluke.
While 24K Magic is indeed a decline from its predecessor, the drop isn't as big as pure album sales would suggest.
It racks up nearly 4 million EAS from streaming alone, which is a very good sign for future releases. As the album is still pulling great streaming numbers, the drop % will only get smaller.
What about the Orphan tracks? They include true blockbusters in the digital field. Those songs are so strong that even without album sales to account for they still break the 10 million overall figure.
With albums released at the fall of 2010, 2012 and 2016 while Uptown Funk smashed the fall of 2014, one may wonder how strong would sales of a Bruno Mars album have been with this song as a lead single.
No disrespect to the truly talented Mark Ronson, but no doubt this scenario would have brought even more success overall to this song than it already had.
The career total of over 53.8 million equivalent album makes for one of the biggest averages for all acts studied thus far.
It's more than artists who have been in the music industry for over 20 years, such as Christina Aguilera, Enrique Iglesias & Paul Simon.
Singles CSPC results
The list is compiled in album equivalent sales generated by each song. Therefore, these figures are not merged units of singles formats. Instead, it includes weighted sales of the song's physical single, download, ringtone and streaming as well as its share among sales of all albums on which it is featured.
1. 2010 – Bruno Mars – Just the Way You Are [Doo-Wops & Hooligans] – 5,490,000
2. 2012 – Bruno Mars – When I Was Your Man [Unorthodox Jukebox] – 4,230,000
3. 2014 – Mark Ronson ft. Bruno Mars – Uptown Funk [Orphan] – 4,150,000
4. 2012 – Bruno Mars – Locked Out of Heaven [Unorthodox Jukebox] – 3,910,000
5. 2010 – Bruno Mars – Grenade [Doo-Wops & Hooligans] – 3,770,000
6. 2012 – Bruno Mars – Treasure [Unorthodox Jukebox] – 3,260,000
7. 2010 – Bruno Mars – The Lazy Song [Doo-Wops & Hooligans] – 3,180,000
8. 2010 – Bruno Mars – Marry You [Doo-Wops & Hooligans] – 2,800,000
9. 2016 – Bruno Mars – That's What I Like [24K Magic] – 2,550,000
10. 2016 – Bruno Mars – 24K Magic [24K Magic] – 2,140,000
If you feel inspired by this list, we just created this CSPC Bruno Mars playlist on Spotify!

Discography results
Thanks to our new ASR (Artist Success Rating) concept, we know that his sales represent 19.75 million times the purchase of his entire discography. Coupled with his total sales, it translates into an ASR score of 185.
It is similar to the score of artists like Rihanna, Taylor Swift, and Ed Sheeran. The ranking of all artists studied so far is available too at this link.
Records & Achievements
At 20,60 million EAS, Bruno Mars is the artist who produced the most value during the year 2010.
At 19,46 million equivalent album sales, Doo-Wops & Hooligans is the sixth most successful album of the decade.
At 14,78 million equivalent album sales, Unorthodox Jukebox is among the Top 15 most successful albums of the decade.
With 5, Bruno Mars is the male artist with the most 10-million selling songs.
Bruno Mars has the most prolific year of all-time in terms of digital sales. His songs from 2010 sold a combined 62,09 million units.
At 149,6 million, Bruno Mars is among the five highest selling digital artists of all-time.
At 149,6 million, Bruno Mars is third among the highest selling digital artists since he first debuted in December 2009.
In 2011, Bruno Mars made the US Hot 100 annual Top 10 both as a singer on Grenade at #6 and as a writer on Cee-Lo Green's Fuck You at #7.
From 2009 to 2015, Bruno Mars was involved in the highest US debut ever for a digital single. He co-wrote Flo Rida's Right Round.
At 14 weeks, Uptown Funk is the third longest running #1 in the US of all-time.
Uptown Funk and That's What I Like are 4th and 7th respectively among the longest running US Top 10 hits of all-time. They sat inside the top tier for 31 and 28 weeks respectively.
At 345 weeks, Doo-Wops & Hooligans is the 5th longest running studio album ever inside the US BB200 Album chart, 1st among solo male artists.
NB: EAS means Equivalent Album Sales.
As usual, feel free to comment and / or ask a question!
Sources: IFPI, Spotify, YouTube, Discogs.
You may be interested in…
… Bruno Mars's streaming masters analysis
… best-selling artists, albums, and singles
We have created amazing cross-artists tops. Click to see all CSPC and raw sales results compiled so far!
… similar artists