Maroon 5 albums and songs sales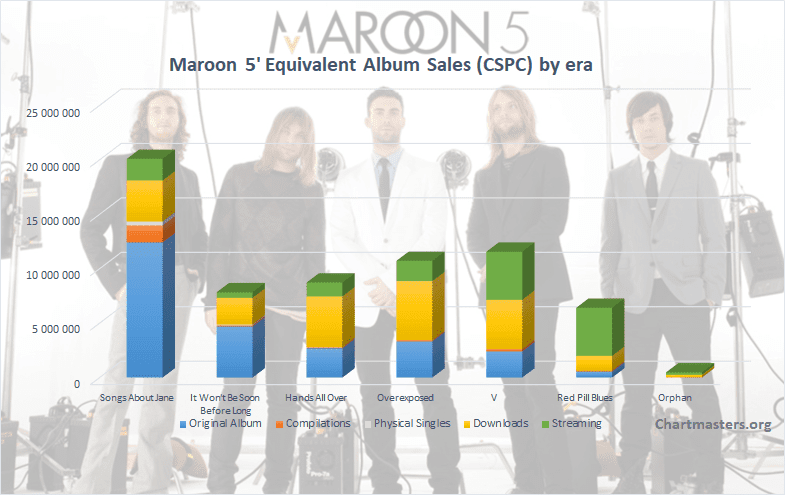 How many times are we going to bury Maroon 5 only to see them comeback as strong as ever?
Rare are the artists who exploded during the hey-days of CDs who are still making some serious waves on streaming platforms with new songs.
The Adam Levine band is clearly one of them. Their name is enough to bring back memories, and the memories bring them back, again.
Who are Maroon 5?
Maroon 5 are an American rock band which became pop hit makers through the years. The band, led by Adam Levine, formed in Los Angeles way back in 1994.
When did they become famous?
They got their first hit in late 2003 thanks to the song Harder to Breath, a #18 hit in the US. It's the back to back release of smashes This Love and She Will Be Loved during the summer of 2004 that made them superstars.
Are they really so good at making hits?
No doubt. Since 2002 to date, all their studio albums included at least one Top 10 hit. If their current hit Memories is part of their next LP, they will own the second longest streak of studio albums home to US top 10 hits after Michael Jackson's 22 years.
It all started very slow for the band. We tend to believe they died several times before coming back. In truth, they died a pair of times even before they were born.
In fact, the group started under another name, Kara's Flowers. They bombed with an independent album of grunge music in 1995.
A year later, they got a label contract with Reprise Records that led to the release of the album The Fourth World in 1997. It bombed again and the group was dropped. End of story? Not really.
Close to give up, Levine and his colleagues started it all over again, renaming themselves to Maroon 5. In June 2002, they issued their first album, Songs About Jane.
At first, it got completely unnoticed. It took almost one year, until May 2003, to ultimately manage to reach the US Top 200 Album Chart.
Some 12 weeks later, the album broke the Top 100, after 7 more weeks it was Top 50. It is only in April 2004 and the success of This Love that Songs About Jane got into the Top 10, ultimately peaking at #6 in September, a mere 27 months after its release.
Their success was rather big from that point although following albums It Won't Be Soon Before Long and Hands All Over saw the band popularity fade.
From mid-2007 to mid-2011, all their singles missed the top 10, the last 3 completely missing the top 50.
It was the traditional trajectory of most artists. Slow rise to the top and then steady decrease of popularity until having only a fan-base restricted reach.
Then came Moves Like Jagger single which was a monster radio hit.
Since then, it feels like they found both the recipe for success as well as the elixir of life. Everything they came out with for 8 years is a smash hit.
How much have they sold then? What's their biggest hit? How do they compete with bands like Coldplay?
As usual, I'll be using the Commensurate Sales to Popularity Concept in order to relevantly gauge their results. This concept will not only bring you sales information for all Maroon 5's albums, physical and download singles, as well as audio and video streaming, but it will also determine their true popularity.
If you are not yet familiar with the CSPC method, the next page explains it with a short video. I fully recommend watching the video before getting into the sales figures. Of course, if you are a regular visitor feel free to skip the video and get into the figures.
The Commensurate Sales to Popularity Concept (CSPC)
There are two ways to understand this revolutionary concept. The first is the Scribe video posted below. If you are unaware of the CSPC method, you will get the full idea within just a few minutes.
If you are a mathematical person, and want to know the full method as well as formulas, you can read the full introduction article.
Now let's get into the artist's sales figures in detail in order to apply this concept and define the act's true popularity!
Maroon 5 Albums Sales
Original Album Sales – Comments
Although the market of album sales was healthy during the first half of the 00s, 12.41 million units sold is huge by anyone's standards.
The success of Songs About Jane was hard to replicate. Their second album, It Won't Be Soon Before Long, sold only 38% of it, although 4.69 million is still a great number in absolute terms.
Hands All Over was then on its way to sell under 1 million units by the end of its run. Their career was going downhill by early 2011.
It's when Moves Like Jagger came out. This new song was added to a reissue of the album in mid-2011.
This huge smash was a 180° turnaround for the band which not only saved this album, but also paved the way for future successes.
Considering the ever-lower share of pure album sales in the music industry market lately, the consistency in sales of both Overexposed and V highlights how well they did.
Red Pill Blues is much more modest at only 540,000. Even by 2017 standards, it's not really that good.
It reflects something that followed the band for long: they never had a sizable fan base. Their albums often recorded soft debuts, ultimately selling well thanks to their hits.
At 26 million, their total studio album sales aren't record breaking but still pretty solid.
An interesting point is the distribution of the group sales. Their last five albums averaged an awful 240,000 units in continental Europe while their Asian and Latin American sales are incredible.
As an example, the album V struggled to hit Gold in most European countries despite going from 3 to 5 times Platinum in almost all Latin American markets.
No need to say that the norm for international artists is exactly the opposite. Does this atypical success distribution impact their singles sales too?
Maroon 5 Songs Sales

Physical Singles Sales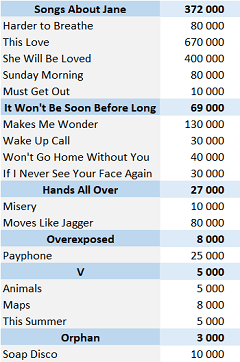 As a reminder, the weighting is done with a 10 to 3 ratio between one album and one physical single.
By 2004, the physical single market was already completely dead in the US, arguably the band biggest country. By 2007, things were only worst while by 2010 even Europe and Australia had completely given up on this format.
Maroon 5 physical singles sales are indeed more telling about the market state than the success of the group.
The only singles which sold well are This Love and She Will Be Loved, at more than 1 million combined.
After that, the format became irrelevant, with only Makes Me Wonder shifting more than 100,000 copies.
Digital Songs

As a reminder, the weighting is done with a 10 to 1,5 ratio between one album and one digital single.
She Will Be Loved, along with Outkast's hit Hey Ya! and Britney Spears' Toxic, was one of the very first songs to reach 100,000 US digital sales a few months after their 2003 introduction.
Obviously, the market boomed in later years. Something that never changed is Maroon 5's incredible strength in this area.
In fact, each of their five first albums contains at least one 3-million seller in the US and each has from two to four million sellers.
The group massive popularity in Asia was also translated into out-of-this-world single sales in South Korea too.
At more than 6.1 million, Moves Like Jagger results there are surreal. This Love, Sunday Morning, One More Night, Payphone, Lucky Strike, Sugar, Maps and Lost Stars are all between 2 and 4 million sales.
Their gigantic success in the US and in South Korea was also verified in most other markets with their most global hits.
As a result, Moves Like Jagger posts one of the highest figures of all-time with 20.14 million units.
Payphone is terrific as well at 14 million while One More Night easily secures 10 million sales.
Their singles off V were possibly their biggest. The market was already largely divided into sales and streams, but Sugar still shifted 9.2 million units.
The album was responsible for 3 more singles which moved over 5 million on average, Maps, Animals and Lost Stars.
Their incredible run continued after this era. They managed to get 4 million sellers globally out of Red Pill Blues, while in 2017/2018 this was a fairly difficult target.
Don't Wanna Know tops 3 million which is immense, while Girls Like You despite discontinued South Korean sales is still at 1.84 million.
Each month the global market is lower than the previous one, but even in late 2019 they still sell much more than others as Memories is already at 310,000 units.
Overall, Maroon 5 stands at 149.2 million downloads and ringtones sold, the highest number ever for a group.

Streaming
Streaming is made up of audio and video streams. Our CSPC methodology includes both to better reflect the real popularity of each track. The main source of data for each avenue is respectively Spotify and YouTube.
To factor in the growing impact of multiple Asian countries where these platforms aren't always the go-to site for music streaming, more sources have been added.
In order to account for their real popularity in each relevant country, the below sources have been used along with the mentioned ratios that reflect the market share of each area.
Audio Streams
– South Korea : Genie streams * 3.05 (consistent with Gaon streaming numbers)
– Japan : AWA streams * 100/5.5 (AWA has 5.5% of the Japanese streaming market)
– Elsewhere : Spotify streams * (370 – 8.5 – 9.5 – 33 – 9) / 207 (370 million global subscribers minus 8.5 million from South Korea minus 9.5 million from Japan minus 33 million from China divided by the number of Spotify only users minus 9 million more Asian users) + Genie streams * 3.05 (uses Genie rather than Spotify to extrapolate markets like Taiwan, Thailand and Vietnam)
Video Streams
– China* : Xiami streams * 125/6.5 (Xiami has just over 5% of the Chinese streaming market)
– Elsewhere : Youtube views
*since 96.4% of Chinese streaming platforms are free users, that paid-for users pay less than $2 a month and that they are also used as video streaming platforms, their streams are weighted in par with YouTube streams.
Audio Stream value – 1500 plays equal 1 album unit
Video Stream value – 11,750 views equal 1 album unit
Equivalent Albums Sales (EAS) = ( Spotify * 310/207 + Genie * 3.05*2 + AWA * 100/5.5 ) / 1500 + ( Xiami * 125/6.5 + YouTube ) / 11750
Top Hits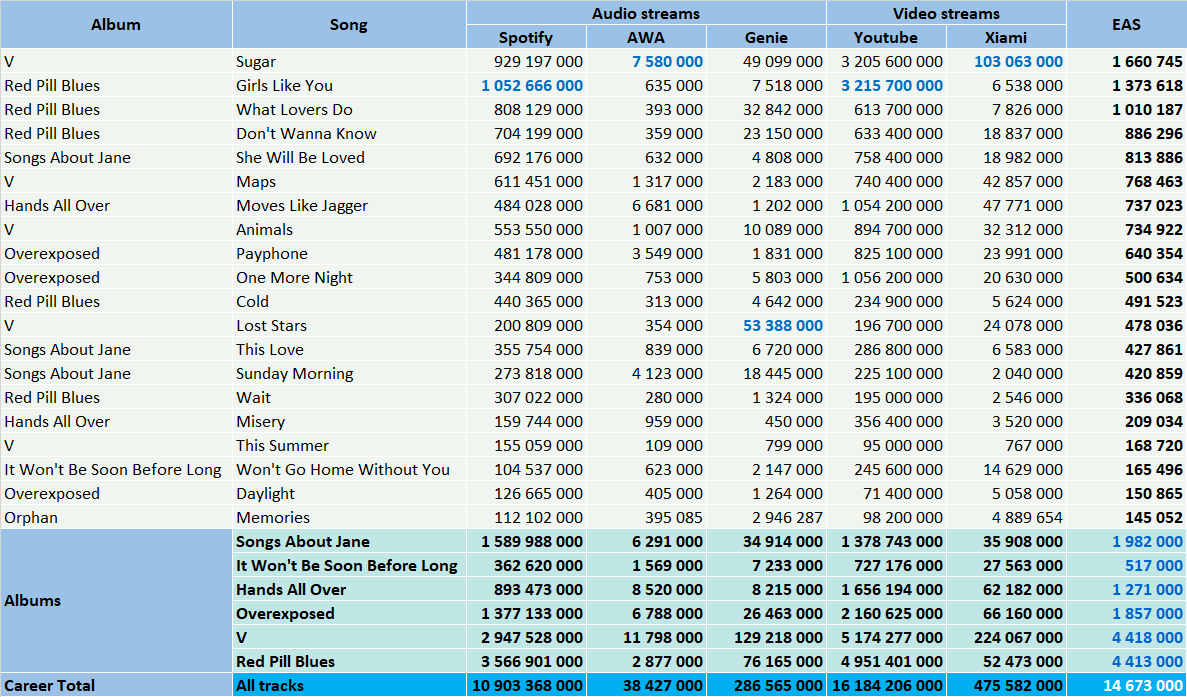 Out of all their hits, Sugar uses its all-around five stars performance to take the lead.
The single is at 929 million streams on Spotify, but also 3.2 billion (!) on YouTube.
It's popularity in Asia is mind-blowing. It has over 100 million streams in China and nearly 50 million from South East Asian markets reflected by Genie. It's also their top song in Japan.
This is good enough for 1.66 million EAS, one of their 3 songs over a million. The other two are Girls Like You and What Lovers Do.
The former is their best performing song on both Spotify and YouTube while the latter is another all-around force.
Behind this outstanding top 3, there is 5 songs at 7-900,000 EAS from streams, Don't Wanna Know, She Will Be Loved, Maps, Moves Like Jagger and Animals.
While these numbers are stunning for recent singles, they are even more impressive for She Will Be Loved and Moves Like Jagger, two songs which were done before the explosion of streaming.
Memories has now entered this top 20 and will no doubt climb up the ladder in upcoming months.
The density of their catalog is unmatched as shown by This Love and Sunday Morning, two more hits from their 2002 debut album, topping 420,000 EAS each.
Speaking about it, Songs About Jane records nearly 2 million EAS from streams. It's the second most streamed album from 2000-2005, only topped by Eminem's The Eminem Show.
What can we say about V and Red Pill Blues? They are virtually tied at 4.4 million EAS from streams, two of the most successful albums of all-time on this format.
In total, their discography amasses 14.67 million EAS on this format. They are 90,000 units away from Coldplay, a gap that Memories can fill soon.
Full catalog breakdown
If you are familiar with the artist's catalog and want to check details of each and every song, you can access to all of them right here.
Keep yourself up to date
Our website provides you a fantastic tool which fetches updated Spotify streams as you request them, use it to watch these results grow day after day!
Maroon 5 compilations sales
It sounds fairly logical to add together weighted sales of one era – studio album, physical singles, downloads, streams – to get the full picture of an album's popularity. For older releases though, they also generate sales of various live, music videos and compilation albums.
All those packaging-only records do not create value, they exploit the value originating from the parent studio album of each of its tracks instead. Inevitably, when such compilations are issued, it downgrades catalog sales of the original LP.
Thus, to perfectly gauge the worth of these releases, we need to re-assign sales proportionally to its contribution of all the compilations which feature its songs. The following table explains this method.
The distribution process

How to understand this table? If you check this example of Singles, these figures mean it sold 420,000 units worldwide. The second statistics column means all versions of all the songs included on this package add for 6,808,371 equivalent album sales from streams of all types.
The second part on the right of the table shows how many equivalent streams are coming from each original album, plus the share it represents on the overall package.
Thus, streaming figures tell us songs from Songs About Jane are responsible for 18% of the Singles tracklist attractiveness, which means it generated 77,000 of its 420,000 album sales, and so on for the other records.
Compilations sales figures listing
Full Length related records Sales – Summary

Here is the most underestimated indicator of an album's success – the amount of compilation sales of all kinds it generated. Due to the dependency of sales of the original studio albums on these releases, they are a key piece of the jigsaw
These numbers are obtained by applying the method from the section The distribution process to all packages listed under Compilation sales figures listing category.
Total solo Album (all types) Sales per Country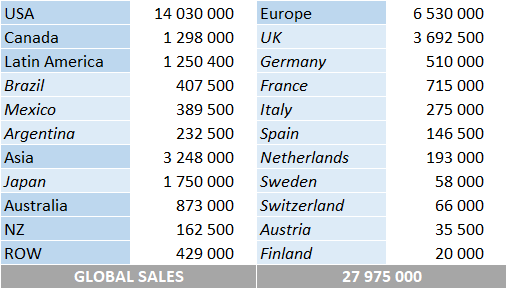 Please note country-specific numbers may miss sales of some minor releases, although continental and global totals are complete.
Maroon 5 Career CSPC Results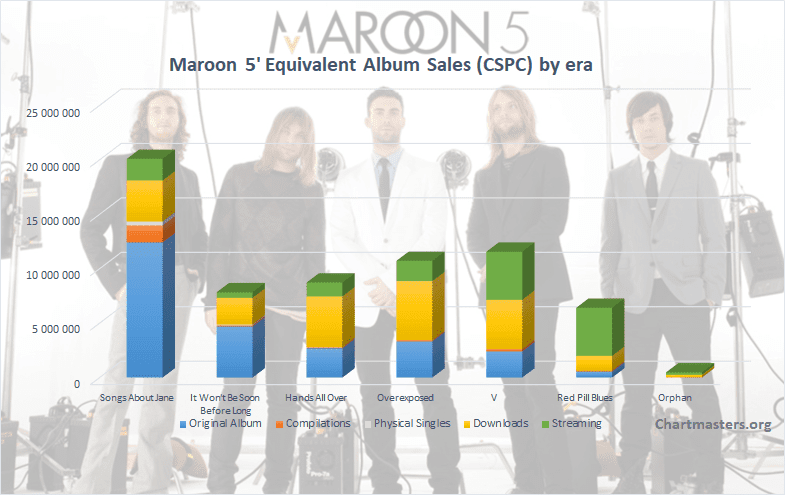 So, after checking all the figures, how many overall equivalent album sales has each album by Maroon 5 achieved? Well, at this point we hardly need to add up all the figures defined in this article!
In the following results table, all categories display figures in equivalent album sales. If different, pure sales are listed between parentheses.
| artist_spotify_id | # | Cover | Album | Studio albums (EAS) | sales_update_date | Other LPs (EAS) | Physical singles (units sold) | Digital singles (units sold) | Streams | Streams increase | Total EAS | valid_as_of | streams_updated_value | album_id |
| --- | --- | --- | --- | --- | --- | --- | --- | --- | --- | --- | --- | --- | --- | --- |
| 04gDigrS5kc9YWfZHwBETP | 1 | | Songs About Jane | 12,410,000 | 02.12.19 | 1,551,000 | 369,000(1,230,000) | 3,765,000(25,100,000) | 4,529,000 (12/02/23) | Av.: 1,740LD: 2,420 | 22,627,000 | 20,231,202 | 4,529,000 | 374 |
| 04gDigrS5kc9YWfZHwBETP | 2 | | It Won't Be Soon Before Long | 4,690,000 | 02.12.19 | 104,000 | 69,000(230,000) | 2,453,000(16,350,000) | 1,137,000 (12/02/23) | Av.: 420LD: 470 | 8,453,000 | 20,231,202 | 1,137,000 | 375 |
| 04gDigrS5kc9YWfZHwBETP | 3 | | Hands All Over | 2,690,000 | 02.12.19 | 79,000 | 27,000(90,000) | 4,751,000(31,680,000) | 2,928,000 (12/02/23) | Av.: 1,130LD: 1,720 | 10,378,000 | 20,231,202 | 2,928,000 | 376 |
| 04gDigrS5kc9YWfZHwBETP | 4 | | Overexposed | 3,320,000 | 02.12.19 | 95,000 | 8,000(25,000) | 5,429,000(36,200,000) | 4,699,000 (12/02/23) | Av.: 1,950LD: 2,980 | 13,551,000 | 20,231,202 | 4,699,000 | 377 |
| 04gDigrS5kc9YWfZHwBETP | 5 | | V | 2,400,000 | 02.12.19 | 199,000 | 4,000(13,000) | 4,530,000(30,200,000) | 8,653,000 (12/02/23) | Av.: 2,900LD: 4,010 | 15,787,000 | 20,231,202 | 8,653,000 | 378 |
| 04gDigrS5kc9YWfZHwBETP | 6 | | Red Pill Blues | 540,000 | 02.12.19 | 105,000 | 0(0) | 1,308,000(8,720,000) | 7,022,000 (12/02/23) | Av.: 1,790LD: 1,650 | 9,004,000 | 20,231,202 | 7,022,000 | 379 |
| 04gDigrS5kc9YWfZHwBETP | 7 | | JORDI (Deluxe) | 0 | | 0 | 0(0) | 0(0) | 4,846,000 (12/02/23) | Av.: 0LD: 0 | 4,846,000 | 20,231,202 | 4,846,000 | 0 |
| 04gDigrS5kc9YWfZHwBETP | 8 | | Orphan | 0 | 02.12.19 | 5,000 | 0(0) | 214,000(1,430,000) | 214,000 (12/02/19) | N/A | 435,000 | 20,231,202 | 214,000 | 1,700 |
'Av.' stands for Average, 'LD' for Last Day.
As a reminder:
Studio Album: sales of the original album
Other Releases: sales of compilations generated thanks to the album
Physical Singles: sales of physical singles from the album (ratio 3/10)
Download Singles: sales of digital singles from the album (ratio 1,5/10)
Streaming: equivalent album sales of all the album tracks (ratio 1/1500 for Audio stream and 1/6750 for Video stream)
Artist career totals
| All-Time Rank | Studio albums (EAS) | Other LPs (EAS) | Physical singles (units sold) | Digital singles (units sold) | Streams | Total EAS |
| --- | --- | --- | --- | --- | --- | --- |
| 74 | 26,050,000 | 2,138,000 | 1,600,000 | 149,190,000 | 35,464,000 (12/02/23) | 86,550,000 |
See where the artist ranks among remaining singers
Rock bands which move to pop sounds are often heavily criticized and Maroon 5 are no exception.
Looking at their numbers through, it seems that the general public loves their pop tunes.
Songs About Jane moves past 20 million EAS. It has been a great catalog seller ever since it came out, now with its insane strength on streaming it finally breaks this impressive milestone.
Makes Me Wonder was a hit upon release, but subsequent singles of It Won't Be Soon Before Long haven't done much, and the lead itself is not so strong anymore.
It explains why this album is quite a lot lower than its predecessor, but that is still good enough for 7.8 million EAS.
Hands All Over ended up even bigger thanks to Moves Like Jagger. The album shows 8.7 million sales to date, with 10 million more than possible in a few years.
Overexposed managed to out-do both of its predecessors, reaching the 10 million mark in the process.
Impressively, the band improved an already big performance for a 3rd time in a row with V. The 2014 album is up to 11.55 million.
Red Pill Blues found a market where selling albums and singles was a difficult task. It's all about streams now, streams which take longer to add up.
The era has been hugely successful still, enough to register 6.4 million EAS up to date and keep climbing fast.
At the moment, the new song Memories is increasing the Orphan line, but it may end up as the lead single of their new era. If that happens, we can already state it will be a successful one.
On the back of mostly 6 albums, Maroon 5 score a massive total of 65.76 million equivalent album sales. Almost 11 million by era. How look will their hot streak continue?
Singles CSPC results
The list is compiled in album equivalent sales generated by each song. Therefore, these figures are not merged units of singles formats. Instead, it includes weighted sales of the song's physical single, download, ringtone and streaming as well as its share among sales of all albums on which it is featured.
1. 2004 – Maroon 5 – She Will Be Loved [Songs About Jane] – 7,850,000
2. 2010 – Maroon 5 ft. Christina Aguilera – Moves Like Jagger [Hands All Over] – 5,390,000
3. 2004 – Maroon 5 – This Love [Songs About Jane] – 4,630,000
4. 2004 – Maroon 5 – Sunday Morning [Songs About Jane] – 4,520,000
5. 2014 – Maroon 5 – Sugar [V] – 4,050,000
6. 2012 – Maroon 5 ft. Wiz Khalifa – Payphone [Overexposed] – 3,940,000
7. 2012 – Maroon 5 – One More Night [Overexposed] – 3,030,000
8. 2014 – Maroon 5 – Maps [V] – 2,240,000
9. 2007 – Maroon 5 – Won't Go Home Without You [It Won't Be Soon Before Long] – 2,200,000
10. 2014 – Maroon 5 – Animals [V] – 1,960,000

If you feel inspired by this list, we just created this CSPC Maroon 5 playlist on Spotify!
Discography results
Thanks to our new ASR (Artist Success Rating) concept, we know that their sales represent 19.07 million times the purchase of their entire discography. Coupled with their total sales, it translates into an ASR score of 201.
Records & Achievements
At 65,758,000 EAS, Maroon 5 are the 3rd most successful band since 2000.
At 20,079,000 EAS, Songs About Jane is the 3rd most successful album of 2002.
At 7,833,000 EAS, It Won't Be Soon Before Long is among the 10 most successful albums of 2006.
At 8,721,000 EAS, Hands All Over is among the 10 most successful albums of 2010.
At 10,709,000 EAS, Overexposed is among the 10 most successful album of 2012.
At 11,553,000 EAS, V is among the 5 most successful albums of 2014.
At 6,395,000 EAS, Red Pill Blues is among the 10 most successful albums of 2017.
At 7,850,000 EAS, She Will Be Loved is among the 5 most successful songs of 2002.
At 5,390,000 EAS, Moves Like Jagger is among the 10 most successful songs of 2010.
At 3,940,000 EAS, Payphone is among the 10 most successful songs of 2012.
At 4,050,000 EAS, Sugar is among the 10 most successful songs of 2014.
At 1,982,000 EAS, Songs About Jane is the 2nd most successful streamed album from years 2000-2005.
At 15 years, Maroon 5 have one of the longest streaks of all-time of albums containing a US Top 10 hit.
At 33 weeks, Girls Like You has the longest run inside the US Top 10 of all-time.
At 149,920,000 downloads and ringtones, Maroon 5 are the best selling group of digital singles of all-time.
At 20,140,000 downloads and ringtones, Moves Like You is one of the 10 best selling singles of all-time.
NB: EAS means Equivalent Album Sales.
You may be interested in…
… best-selling artists, albums, and singles
To improve your navigation we created several amazing cross-artists lists posted inside the CSPC: Data Collector article. Click on it to see the full listing of all CSPC results compiled so far!
… similar artists
To put figures from this article into perspective, click on the images below to reach career breakdowns of similar artists: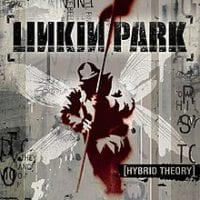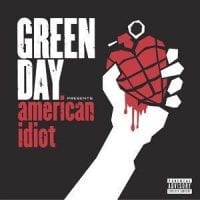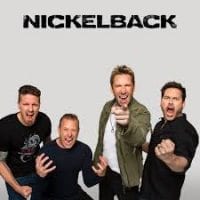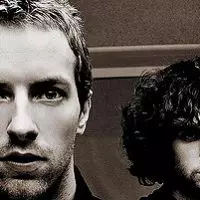 As usual, feel free to comment and / or ask a question!
Sources: IFPI, Spotify, YouTube, Discogs.