Rihanna albums and songs sales
Barbadian superstar Rihanna has been the ultimate hit machine since she began her career in the mid 2000s. No matter what your age is, you know songs like Umbrella, Don't Stop the Music and We Found Love. It's hard to believe this woman is only 33 years old!
Since 2006, all of her studio albums have featured at least one massive number one hit. Often regarded as a singles artist, we'll now find out how true (or false) this claim is!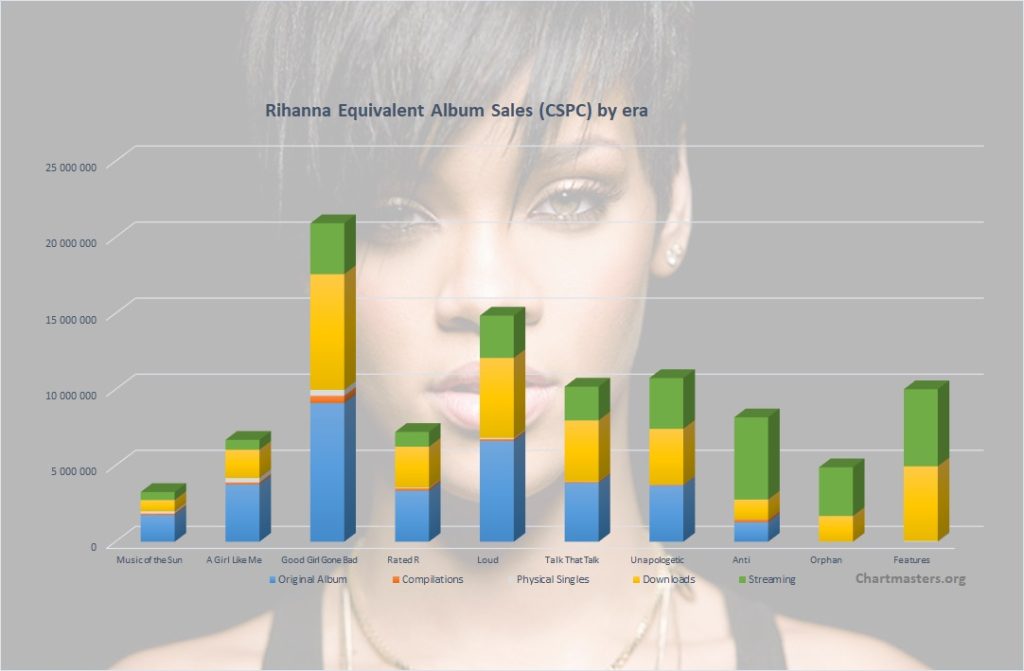 Rihanna started career in 2005 with Music of the Sun, a record that to this day remains her worst performing one. Her debut single, Pon de Replay, peaked at #2 in the US Hot 100.
The icon's sophomore album, A Girl Like Me, was released only 8 months after its predecessor, pulling far better numbers on top of spawning her first US Hot 100 #1 hit, SOS.
But her growth didn't quite stop there. It wasn't until 2007 that she would truly become a global superstar, with the help of huge hits such as Umbrella and Don't Stop the Music.
Since then, the singer has become a force to be reckoned with. She has accumulated a total of 14 #1 singles in the US Hot 100, the most for any woman that is not Mariah Carey.
Her unmatched digital sales become an argument for her haters to argue she can't sell albums. How true is this? Can Rihanna actually sell an album? We'll find out her strengths shortly enough!
As usual, I'll be using the Commensurate Sales to Popularity Concept in order to relevantly gauge her results. This concept will not only bring you sales information for all Rihanna's albums, physical and download singles, as well as audio and video streaming. In fact, it will also determine their true popularity.
If you are not yet familiar with the CSPC method, below is a nice and short video of explanations. I fully recommend watching it before getting into the sales figures. Of course, if you are a regular visitor feel free to skip the video and get into the numbers directly.
The Commensurate Sales to Popularity Concept (CSPC)
There are two ways to understand this revolutionary concept. In the first place, there is this Scribe video posted below. If you are unaware of the CSPC method, you will get the full idea within just a pair of minutes.
If you are a mathematical person, and want to know the full method as well as formulas, you can read the full introduction article.
Now let's get into the artist's sales figures in detail in order to apply this concept and define the act's true popularity!
Rihanna's Album Sales

Original Album Sales – Comments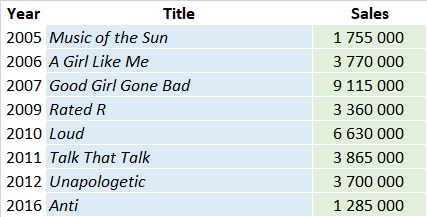 While Rihanna's album sales aren't massive, one has to applaud her consistency. Her albums have managed to outsell their predecessor on three different occasions, which is rare for a pop star.
Her debut album, Music of the Sun, was a moderate success by 2005 standards, selling about 1.76 million units. Oddly enough, it remains her second best selling effort in Japan.
The singer's sophomore album, A Girl Like Me, was definitely an improvement over Music of the Sun at 3.77 million units.
Good Girl Gone Bad is the closest the pop diva has gotten to a blockbuster album, selling over 9.1 million units. This album benefited from being reissued with two major hits.
Rated R was Rihanna's first major decline, only selling about 37% of its predecessor at 3.36 million units.
The Barbadian pop diva once again showed her consistency, as Loud was a triumphant return to form with over 6.6 million units sold to date – a fairly huge amount for a 2010 album.
Talk That Talk and Unapologetic performed very similarly. The former has the edge in the UK at over 1 million units while the latter has the edge in the US at over 1.3 million units.
As it was her first album to be released during the streaming era and after a four year break, ANTI was a big drop from Unapologetic, becoming her lowest selling album at roughly 1.29 million units.
All in all, Rihanna's 8 studio albums have sold a total of 33.5 million for an average of 4.2 million per album. Certainly not a bad number by any means, eve nif not as big as the likes Taylor Swift or Adele.
Rihanna's songs sales
Below, we list down results from the artist through physical sales, digital sales and streaming.
Please be aware that when the artist is regarded as the lead act, he is rewarded with 100% of these units, while featured acts share among them a 50% piece of the totals.
Physical Singles

As a reminder, the weighting is done with a 10 to 3 ratio between one album and one physical single.
With US sales already dead when she first arrived, Rihanna sold virtually no physical single in that country except a couple of her duets with rappers that came out in 12″.
Instead, she sold CDs in the UK, in continental Europe and in Australia. She did so during her first 3 eras listed here.
Pon de Replay, SOS, Unfaithful, Umbrella and Don't Stop The Music all sold 380,000 units or more, a tremendous figure for songs from 2005-2008.
Russian Roulette marks a break in Rihanna's discography of physical singles. With the market being ever lower, it was her last single to be fully released in Australia.
Everything comes to an end, and even Germanic countries stopped releasing the main stars' singles from 2015, which means sales of physical singles are now restricted to a few collectors.
In the meantime, Rihanna also released various successful collaborations. Most of them came in the late 00s / early 10s though with once again a very difficult era in which to sell physical singles. In total, she still sold 3.6 million units in this format, a huge feat for someone who debuted so late.
Digital Songs

The US music industry association, the RIAA, was still awarding a Gold plaque for digital sales of 100,000 units when both Music of the Sun and A Girl Like Me were released.
This shows how low the market was. Thanks to their initial impact, but also thanks to their ongoing appeal on later years songs like Pon de Replay, SOS and Unfaithful, all sold over 3.6 million units still.
The status of Rihanna was still uncertain when the era Good Girl Gone Bad was announced. Umbrella cleared all doubts in a second. It has sold 12.4 million units to date.
Don't Stop The Music confirmed this success with 7.3 million sales. The era was already massive with two blockbusters and two strong songs when the expanded edition was released in late 2008.
It added among others the songs Take A Bow and Disturbia, two more groundbreaking smashes. The album moved an insane total of 51.66 million digital singles sales!
Rated R started poorly in comparison but Rude Boy turned things around. It is a pivotal song for the singer as her label could safely fully push her next album after it went on to sell quickly more than 5 million units and 7.4 million in total to date.
The first three songs released from Loud sold in the 6-9 million units range while the remaining four 'moderate' hits are all in the 2-3 million range.
Talk That Talk had only one monster hit, We Found Love, but it broke all her previous records among her solo singles. It is almost on 12.7 million units by now.
At the peak of downloads nobody could stop Rihanna. Diamonds sold over 9 million units worldwide while Stay is close to 8 million.
The rest of the era wasn't as strong but the job was already done with 3.6 million equivalent album sales, almost the same tally as the original album sales.
Ironically, ANTI too reproduced in downloads and ringtones the same total as in pure album sales, which is surprising giving the very different era. Downloads dropped by 50% from 2012 to 2016, so the 3.6 million sales of Work are fairly massive nowadays.
If singles extracted from her albums already sold the insane total of 181.8 million units, Rihanna has also been busy featuring on songs from various artists.
She paired up with almost every major act of the last 20 years, including the Top 3 – Britney Spears, Eminem, and Coldplay.
The most unreal success was the one of Love The Way You Lie, now at 18.6 million without the 2 million sales from her solo title Part II.
Almost all her collaborations sold 2 million or more with Live Your Life and The Monster climbing to 8 million a piece.
FourFiveSeconds has sold over 4 million units since 2015 while This Is What You Came For was one of the top selling songs from 2016 with 3.6 million.
All those massive stand-alone songs / features sold over 75 million units combined. This pushes her career total to date up to a record-breaking 257.6 million sales of downloads and ringtones. The ultimate hit machine, indeed.

Streaming
Streaming is made up of audio and video streams. Our CSPC methodology includes both to better reflect the real popularity of each track. The main source of data for each avenue is respectively Spotify and YouTube. To factor in the growing impact of multiple Asian countries where these platforms aren't always the go-to site for music streaming, more sources have been added.
In order to account for their real popularity in each relevant country, the below sources have been used along with the mentioned ratios that reflect the market share of each area.
Audio Streams
– South Korea: Genie streams * 2.20 (consistent with Gaon streaming numbers)
– Japan: AWA streams * 68 / 4 (AWA has 4% of the Japanese streaming market, and 32% are already considered through Spotify's extrapolation)
– Arabic world: Anghami streams
– Sub-Saharan Africa: Boomplay + Audiomack streams
– Elsewhere: Spotify streams * 649 / 406 (649 million subscribers of global platforms like Spotify, Apple Music, Amazon Music, YouTube Music, Deezer, etc. against 406 million from Spotify itself) + Genie streams * 2.20 (uses Genie rather than Spotify to extrapolate markets like Taiwan, Thailand and Vietnam)
Video Streams
– China* : QQ video streams * 50 if the song is available for audio stream, QQ video streams * 5 elseway (scale built based on known figures for several major artists)
– Elsewhere : Youtube views increased by 10% to account for various local platforms
*since Chinese streaming platforms are mostly video streaming platforms, their streams are weighted on par with YouTube streams.
Audio Stream value – 1,500 plays equal 1 album unit
Video Stream value – 6,750 views equal 1 album unit
Equivalent Albums Sales (EAS) = ( Spotify * 649/406 + Genie * 2.20 * 2 + AWA * 68 / 4 + Anghami + Boomplay + Audiomack ) / 1500 + ( QQ views* 50(or 5) + YouTube * 1.1 ) / 6750
Top hits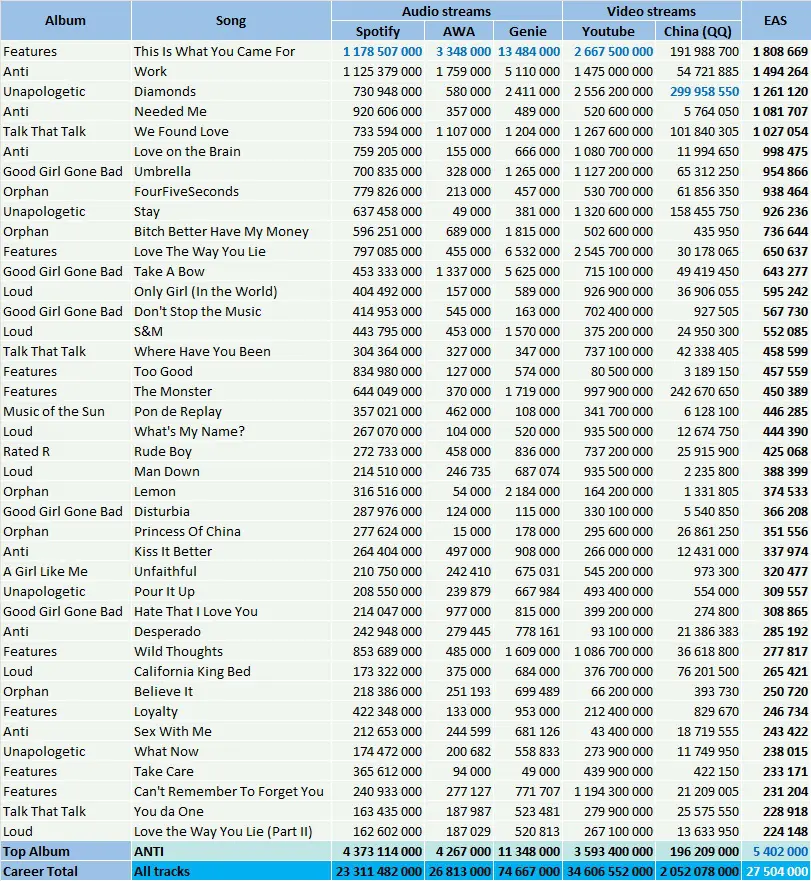 Streaming results for Rihanna are just as impressive as her digital sales. The singer successfully transitioned into the streaming era which made her latest album, ANTI, such a big hit.
The biggest song here is Calvin Harris' This Is What You Came For, in which Rihanna sings all vocals. The 2016 smash is responsible for 1.8 million EAS.
Work is a strong runner-up with 1.5 million EAS. Both songs have hit 1 billion streams on Spotify.
Love The Way You Lie and Diamonds both pre-date the streaming era, yet they score unbelievable streams, the latter over a million EAS so far and growing fast, while the former would be there too if it wasn't for its featuring status.
Needed Me and We Found Love perform similarity at over a million EAS as well.
Many more songs crack 800,000 EAS, a number that would lead the table of most successful artists. They are Love on the Brain, FourFiveSeconds, Umbrella and Stay.
All these numbers make them seem random. The singer performed so well with so many songs that it would be easy vulgarize her extraordinary success.
In fact, her entire top 40 is well over 200,000 EAS. She has 11 songs over 700 million Spotify streams and 14 at 900 million YouTube views or more.
These results are so spectacular that songs like SOS, Run This Town, Rehab, Russian Roulette or Shut Up and Drive completely miss her top 40 despite performing well too.
If we remove some pre-fame collabs and such, Rihanna discography is made of 141 songs. As many as 61 of them are at 100,000 EAS from streams alone or more. Her 83th top song is a US top 10 hit.
It leads us to wonder how much sense it makes to pretend someone is a "singles artist" when effectively more than half of her discography are hits.
We can go deeper, looking at some of her deep cuts. The least streamed song from Loud is over 27 million streams on Spotify. Out of the 33 albums over 500 million streams from that year, only Eminem's Recovery is more consistant.
Full catalog breakdown
If you are familiar with the artist's catalog and want to check details of each and every song, you can access to all of them right here.
Keep yourself up to date
Our website provides you a fantastic tool which fetchs updated Spotify streams as you request them, use it to watch these results grow day after day!
Rihanna's compilations sales
It sounds fairly logical to add together weighted sales of one era – studio album, physical singles, downloads, streams – to get the full picture of an album's popularity. For older releases though, they also generate sales of various live, music videos and compilation albums.
All those packaging-only records do not create value, they exploit the value originating from the parent studio album of each of its tracks instead. Inevitably, when such compilations are issued, this downgrades catalog sales of the original LP. Thus, to perfectly gauge the worth of these releases, we need to re-assign sales proportionally to its contribution of all the compilations which feature its songs. The following table explains this method.
The distribution process

How to understand this table? In the example of Good Girl Gone Bad Live these figures mean it sold 285,000 units worldwide. The second statistics column means all versions of all the songs included on this package add for 2,770,398 equivalent album sales from streams of all types.
The second part on the right of the table shows how many equivalent streams are coming from each original album, plus the share it represents on the overall package. Thus, streaming figures tell us songs from the Good Girl Gone Bad album are responsible for 69% of the Good Girl Gone Bad Live track list attractiveness. This means it generated 198,000 of its 285,000 album sales and so forth for the other records. We then apply this process to all compilations present on the table.
Full Length related records Sales – Summary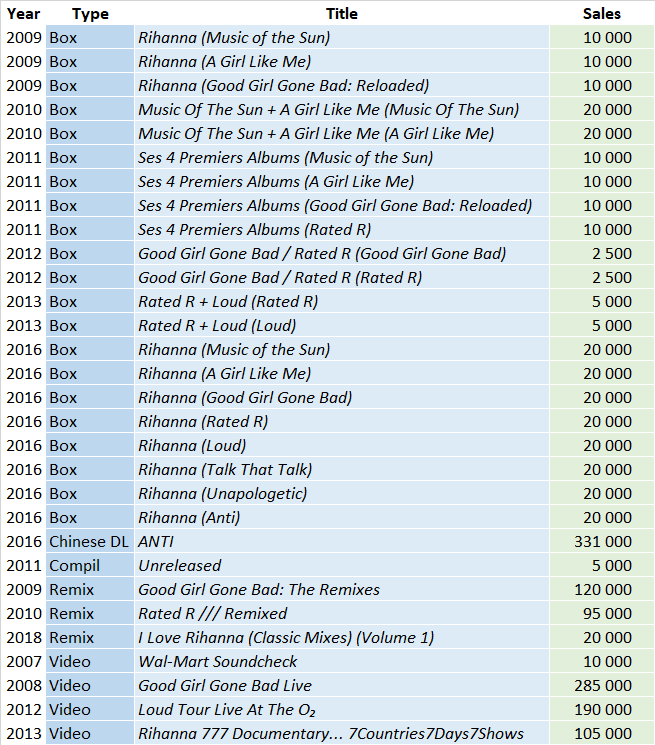 Here is the most underestimated indicator of an album's success – the amount of compilation sales of all kinds it generated. Due to the dependency of sales of the original studio albums on these releases, they are a key piece of the jigsaw.
Total Album (all types) Sales per Country
Please note country-specific numbers may miss sales of a few minor releases, although totals are complete.
Rihanna Career CSPC Results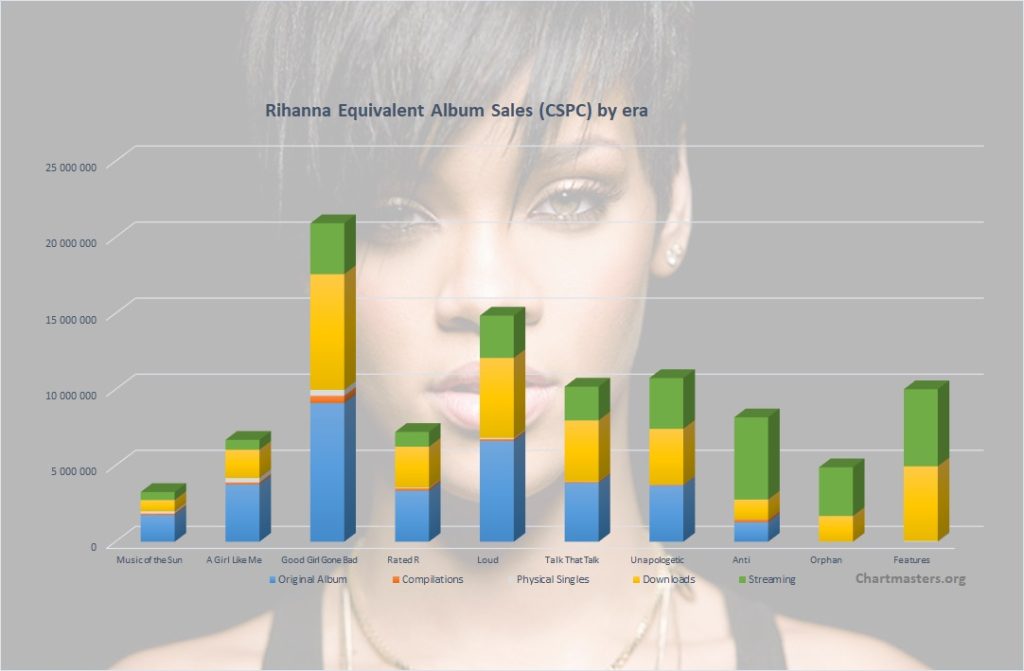 So, after checking all the figures, how many overall equivalent album sales has each album by Rihanna achieved? Well, at this point we hardly need to add up all of the figures defined in this article!
Albums CSPC results
In the following results table, all categories display figures in equivalent album sales. If different, pure sales are listed between parentheses.
| artist_spotify_id | # | Cover | Album | Studio albums (EAS) | sales_update_date | Other LPs (EAS) | Physical singles (units sold) | Digital singles (units sold) | Streams | Streams increase | Total EAS | valid_as_of | streams_updated_value | album_id |
| --- | --- | --- | --- | --- | --- | --- | --- | --- | --- | --- | --- | --- | --- | --- |
| 5pKCCKE2ajJHZ9KAiaK11H | 1 | | Music Of The Sun | 1,755,000 | 02.06.21 | 99,000 | 116,000(385,000) | 735,000(4,900,000) | 1,057,000 (12/04/23) | Av.: 580LD: 820 | 3,795,000 | 20,231,204 | 1,057,000 | 32 |
| 5pKCCKE2ajJHZ9KAiaK11H | 2 | | A Girl Like Me | 3,770,000 | 02.06.21 | 126,000 | 287,000(955,000) | 1,857,000(12,380,000) | 1,166,000 (12/04/23) | Av.: 560LD: 650 | 7,207,000 | 20,231,204 | 1,166,000 | 33 |
| 5pKCCKE2ajJHZ9KAiaK11H | 3 | | Good Girl Gone Bad | 9,115,000 | 02.06.21 | 482,000 | 377,000(1,255,000) | 7,749,000(51,660,000) | 6,260,000 (12/04/23) | Av.: 3,190LD: 4,190 | 23,845,000 | 20,231,204 | 6,260,000 | 34 |
| 5pKCCKE2ajJHZ9KAiaK11H | 4 | | Rated R | 3,360,000 | 02.06.21 | 147,000 | 51,000(170,000) | 2,687,000(17,910,000) | 1,646,000 (12/04/23) | Av.: 740LD: 870 | 7,891,000 | 20,231,204 | 1,646,000 | 35 |
| 5pKCCKE2ajJHZ9KAiaK11H | 5 | | Loud | 6,630,000 | 02.06.21 | 115,000 | 74,000(245,000) | 4,308,000(28,720,000) | 5,024,000 (12/04/23) | Av.: 2,450LD: 3,240 | 17,102,000 | 20,231,204 | 5,024,000 | 36 |
| 5pKCCKE2ajJHZ9KAiaK11H | 6 | | Talk That Talk | 3,865,000 | 02.06.21 | 72,000 | 23,000(75,000) | 4,016,000(26,770,000) | 3,872,000 (12/04/23) | Av.: 1,810LD: 2,790 | 11,848,000 | 20,231,204 | 3,872,000 | 37 |
| 5pKCCKE2ajJHZ9KAiaK11H | 7 | | Unapologetic | 3,700,000 | 02.06.21 | 49,000 | 21,000(70,000) | 3,651,000(24,340,000) | 5,908,000 (12/04/23) | Av.: 2,810LD: 4,230 | 13,329,000 | 20,231,204 | 5,908,000 | 38 |
| 5pKCCKE2ajJHZ9KAiaK11H | 8 | | Anti | 1,285,000 | 02.06.21 | 173,000 | 2,000(5,000) | 1,313,000(8,750,000) | 8,335,000 (12/04/23) | Av.: 3,210LD: 4,320 | 11,108,000 | 20,231,204 | 8,335,000 | 39 |
| 5pKCCKE2ajJHZ9KAiaK11H | 9 | | Orphan | 0 | 02.06.21 | 2,000 | 5,000(15,000) | 1,679,000(11,190,000) | 3,204,000 (06/02/21) | N/A | 4,891,000 | 20,231,204 | 3,204,000 | 1,725 |
| 5pKCCKE2ajJHZ9KAiaK11H | 10 | | Features | 0 | 02.06.21 | 0 | 77,000(255,000) | 9,740,000(64,940,000) | 5,067,000 (06/02/21) | N/A | 10,024,000 | 20,231,204 | 5,067,000 | 10,000,015 |
'Av.' stands for Average, 'LD' for Last Day.
As a reminder:
Studio Album: sales of the original album
Other Releases: sales of compilations generated thanks to the album
Physical Singles: sales of physical singles from the album (ratio 3/10)
Download Singles: sales of digital singles from the album (ratio 1,5/10)
Streaming: equivalent album sales of all the album tracks (ratio 1/1500 for Audio stream and 1/6750 for Video stream)
Artist career totals
| All-Time Rank | Studio albums (EAS) | Other LPs (EAS) | Physical singles (units sold) | Digital singles (units sold) | Streams | Total EAS |
| --- | --- | --- | --- | --- | --- | --- |
| 47 | 33,480,000 | 1,265,000 | 3,600,000 | 257,560,000 | 44,896,000 (12/04/23) | 114,397,000 |
See where the artist ranks among remaining singers
And there we have it! For artists who debuted during or after the digital era, pure album sales aren't truly representative of their overall success and Rihanna is the living proof of this.
At 3.27 million EAS, Music of the Sun was a nice start, but it remains a mixed success for 2005 and the diva's later standards even with the help of digital sales and streams. It goes without saying that this is her least successful effort.
A Girl Like Me manages to pull a very respectable 6.7 million, which marks a tremendous 105% increase from its predecessor.
Good Girl Gone Bad finishes at the top with a massive 20.93 million. It still racks up 1 million EAS per year, an impressive catalog appeal that has now pushed it past 20 million.
Relatively speaking, Rated R might be the biggest failure in Rihanna's career. While 7.22 million isn't a bad number by any means, it registers a 65% decline from its predecessor, which is unusual for her.
Oops, she did it again! The pop star's fifth studio album managed to turn things around with 14.86 million EAS. Loud marks yet another 100% plus increase for the singer.
Talk That Talk and Unapologetic pull similar numbers both in pure album sales and equivalent album sales. Both have now join the 10 million club, her 3rd and 4th albums there.
While ANTI only sold about 33% of its predecessor in original album format, huge streaming numbers are enough to take it to 8.18 million – it thus tops both Rated R and A Girl Like Me!
But the Barbadian superstar's success doesn't stop here, as she amasses 14.91 million EAS from orphan and featured songs, such as Love The Way You Lie and This Is What You Came For.
At 97,006,000 EAS, Rihanna is on a virtual tie with Taylor Swift as the successful female act that debuted this millennium.
Singles CSPC results
The list is compiled in album equivalent sales generated by each song. Therefore, these figures are not merged units of singles formats. Instead, it includes weighted sales of the song's physical single, download, ringtone and streaming as well as its share among sales of all albums on which it is featured.
1. 2007 – Rihanna ft. Jay-Z – Umbrella [Good Girl Gone Bad] – 5,690,000
2. 2011 – Rihanna ft. Calvin Harris – We Found Love [Talk That Talk] – 4,790,000
3. 2012 – Rihanna – Diamonds [Unapologetic] – 4,070,000
4. 2008 – Rihanna – Take A Bow [Good Girl Gone Bad] – 4,040,000
5. 2010 – Rihanna – Only Girl (In the World) [Loud] – 3,450,000
6. 2007 – Rihanna – Don't Stop the Music [Good Girl Gone Bad] – 3,400,000
7. 2010 – Rihanna – S&M [Loud] – 3,190,000
8. 2006 – Rihanna – Unfaithful [A Girl Like Me] – 3,150,000
9. 2012 – Rihanna ft. Mikky Ekko – Stay [Unapologetic] – 3,150,000
10. 2009 – Rihanna – Rude Boy [Rated R] – 3,100,000
11. 2005 – Rihanna – Pon de Replay [Music of the Sun] – 2,680,000
12. 2008 – Rihanna – Disturbia [Good Girl Gone Bad] – 2,650,000
13. 2010 – Rihanna ft. Drake – What's My Name? [Loud] – 2,490,000
14. 2016 – Rihanna ft. Drake – Work [Anti] – 2,440,000
15. 2016 – Calvin Harris ft. Rihanna – This Is What You Came For [Features] – 2,360,000

If you feel inspired by this list, we just created this CSPC Rihanna playlist on Spotify!

Discography results
Thanks to our new ASR (Artist Success Rating) concept, we know that her sales represent 16.28 million times the purchase of her entire discography. Coupled with her total sales, it translates into an ASR score of 225.
It is similar to the score of artists like Lady Gaga, Green Day and Sting. The ranking of all artists studied so far is available too at this link.
Records & Achievements
At 97,006,000 EAS, Rihanna is head to head with Coldplay and Taylor Swift as the biggest artist that first emerged since 2000.
At 20,931,000 EAS, Good Girl Gone Bad is the most successful album released in 2007.
At 257.6 million downloads and ringtones sold, Rihanna is the highest selling digital artist of all-time. She holds that distinction in most countries specifically, including the US and the UK.
At 23.3 billion, Rihanna is the second most streamed female artist in the history of Spotify.
With 14, Rihanna has had more US Hot 100 #1 hits than anyone else during the last 25 years.
With 4, Rihanna is tied-second for the most US Hot 100 #1 hits inside a calendar year behind only the Beatles.
With 9, Rihanna has had more UK Singles Chart #1 hits than anyone else during the last 20 years.
Rihanna is the only artist in history with distinct songs hitting the Top for 10 weeks or more in the US (We Found Love) and in the UK (Umbrella).
Rihanna has at least 30 Top 10 hits in each of the US, the UK and Australia.
NB: EAS means Equivalent Album Sales.
As usual, feel free to comment and / or ask a question!
Sources: IFPI, Spotify, YouTube, Discogs.
You may be interested in…
… Rihanna's streaming masters analysis
… best-selling artists, albums, and singles
We have created amazing cross-artists tops. Click to see all CSPC and raw sales results compiled so far!
… similar artists