Spotify: Most Streamed Albums of 2001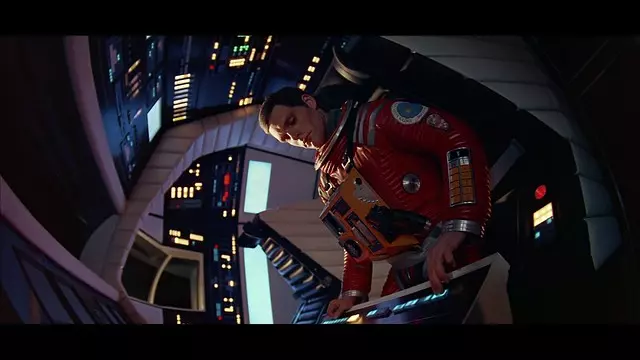 After a small break, we now find ourselves in 2001, a year intrisically linked to the horrific events that occurred in New York on the 9th September. But let's not dwell on that and instead look at what acts, albums and songs from 2001 are still proving to be hugely popular with the general public.
10. RAMMSTEIN – MUTTER

Mutter, Mother in English, is the 3rd studio album from German Industrial/Hard rock masters Rammstein.
Released in April 2001 it found instant success in continental Europe, hitting #1 in Austria, Germany & Switzerland and going top 10 in Sweden #2, Holland #4, Belgium #7, Finland #7, Spain #9, as well as in Australia #10.
It didn't fare quite as well though, in either the UK #86 or the US #77.
The album has seen an unprecedented 6 singles released form it, by far the most of any Rammstein album to date. Lead single Sonne, was a German #2 and a top 10 in Austria #5 & Finland #9. It stands on 80 million streams to date.
Next up was Links 2 3 4, which records 35 million streams on Spotify. Back then it didn't quite replicate the success of Sonne, managing only one top 20 placing, in Finland #15.
Third single Ich Will is at 57 million, it went the same way, securing only one top 20 placing, again in Finland #19.
Mutter, recording 28 million streams, was the single #4 and performed poorly everywhere except, yes you've guessed it, Finland, where it reached a commendable #7.
Their 2nd most popularly streamed track from Mutter is their 5th single Feuer Frei! at 63 million. It pretty much failed on release with a highest placing of #28 in Belgium.
The 6th single Mein Herz Brennt was released over 10 years later in 2012, to promote their upcoming video collection Videos 1995-2012 and returned them to the top 10 in Germany #7, their last single to do so anywhere. It continues to be widely popular with 50 million streams.
All these singles added to consistent album cuts add for a total of 356 million streams, enough to make Mutter a surprising #10 among most streamed albums from 2001.
9. BLINK 182 – TAKE OFF YOUR PANTS AND JACKET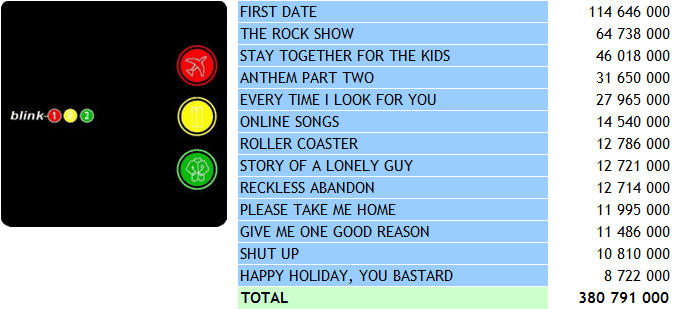 Released in June 2001, Take Off Your Pants And Jacket is Blink 182's first US #1 album, entering at that position, with 350,000 sales. It also topped the charts in Canada and Germany and went top 5 in Australia #2, New Zealand #2, Austria, #3, Italy #4, UK #4 and Switzerland #4.
The album was promoted with 3 singles, The Rock Show, First Date, and Stay Together For The Kids. They were nowhere near as popular as All the Small Things from their previous album. In general, they made a few Top 40s at best.
All 3 made the Top 10 Alternative Chart in the US yet, doing extremely well on rock radio stations. They were never really removed from playlists, securing recurrent appeal through the years.
First Date is now the most popular song of the pack with 115 million streams. The remaining pair of singles add for nearly as much combined.
The LP is a modern day classic. It charted for over a year in both the US and the UK, while its appeal lasted much longer. All its songs but one crack 10 million streams, which is a tremendous showing for a catalog record. It is the 9th biggest from 2001 in total at 381 million.
8. JIMMY EAT WORLD – BLEED AMERICAN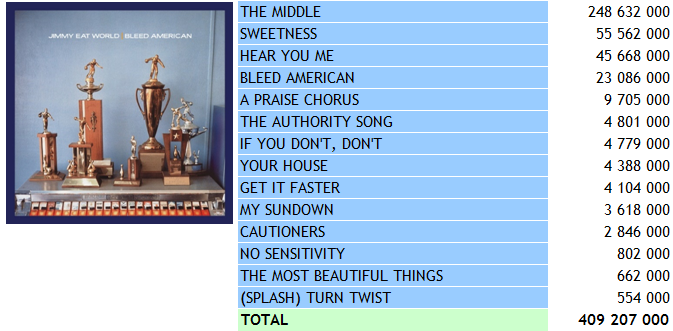 Bleed American was Jimmy Eat World's fourth album, which was their mainstream breakthrough after three studio LPs.
None of them had managed to make the main world charts during their initial runs, not even in their home country, United States.
While this wasn't a Top 10 album in this latter country, it put this act on the map and granted the much better peak positions achieved afterwards, always during the first decade of this century.
Bleed American peaked at number 31 on the Billboard Top 200 but, nonetheless, it eventually reached RIAA platinum status. Platinum was achieved in Canada too and also Gold in the UK, in spite of its modest presence on their respective charts.
Despite the above charts statistics, which seem modest to a large extent, its main tracks have cemented an enduring appeal that allow American Bleed to rank at a stunning #8 position among the biggest studio albums released in 2001 as far as the Spotify platform goes.
This level of popularity is sustained most notably by the track The Middle, which now has almost 249 million streams. The rest of the album isn't shabby either, bringing the cumulative tally to over 400 million.
7. DESTINY'S CHILD – SURVIVOR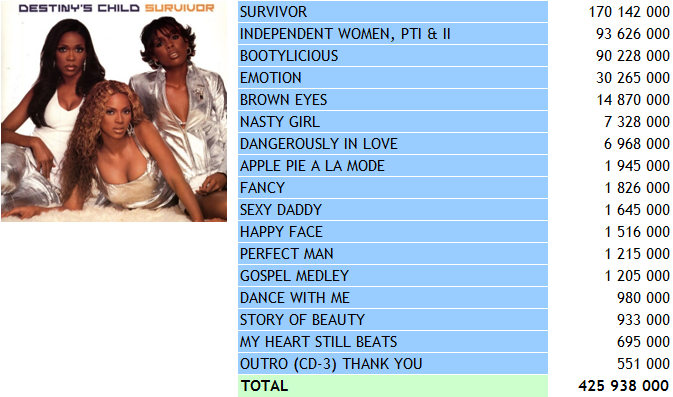 Survivor was the biggest album by Destiny's Child, on the back of the track that gave this LP a name, which was enough to fuel not only massive sales in the USA but also in much of the world back in 2001.
In fact, whilst this album went as high as 5x platinum in the USA according to the RIAA, it also provided the female group with platinum or multi-platinum status in several other key markets, such as Canada, UK, Germany, Japan, Netherlands or Belgium, apart from making them famous in some markets that are more difficult to crack like, for instance, Brazil or Poland.
As the years went by, the song Survivor is still predictably the most popular, amassing 170 million streams out of almost 426 million on Spotify alone.
As proven by this last figure, this also means that this album's success is less concentrated on the title track that many observers would probably have assumed.
Independent Woman, PTI & II and Bootylicious, in particular, are both on course to reaching 100 million this year.
While this album was massive in its right back in 2001, its sustained popularity has plenty to do with the fact that one of the band's members, Beyoncé, has become one of the biggest popstars in the world during the past two decades.
The solo careers of Kelly Rowland and Michelle Williams have served to the same purposes since they disbanded, enabling Survivor to rank as one of the biggest catalogue albums off that year.
6. JOHN MAYER – ROOM FOR SQURES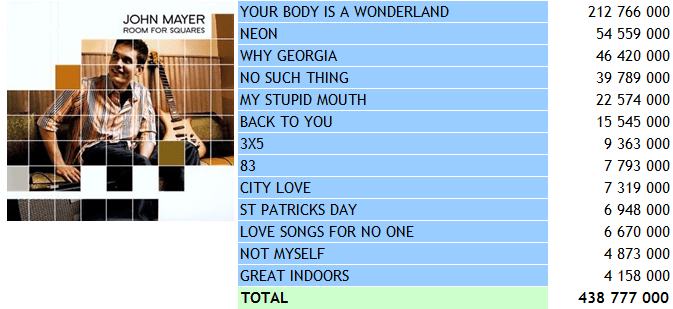 Room For Squares, John Meyer's debut album, remains as his best selling title in the USA, where it peaked at number 8 but achieved a long run in the Billboard Top 200 and ended up selling in excess of 4 million copies, according to Soundscan.
It was also a Top 10 record in other English-speaking countries, such as Canada, Australia and New Zealand.
This record maintains a high level of popularity to this day, as proven by its presence in our 2001 Top 10 ranking, with almost 439 million streams on Spotify alone.
It is largely driven by the track Your Body Is A Wonderland, which takes slightly more than half of this LP's output.
With five other tracks above the 10 million mark, one of which has managed to reach the 50 million figure yet, this is possibly his signature album.
As usual in cases like this, subsequent albums accumulated better peak positions and even better initial sales, but that was all cemented with Room For Squares.
5. GORILLAZ – GORILLAZ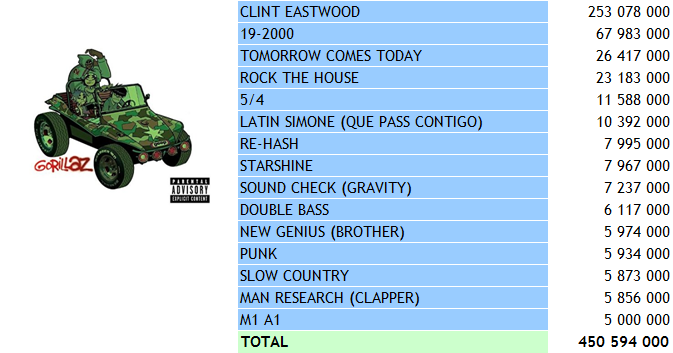 Gorillaz's self titled album provided some nice fresh air in 2001, with a somehow surprising success, marking Damon Albarn's second big project after Blur.
Quite predictably, this debut album was most successful in the UK where it peaked at number 3 and went on selling enough to reach triple platinum status as per the BPI.
It also had very solid charts stats in other parts of the world, even if it failed to make number 1 in any major country, and a number of platinum awards in several countries.
Spotify's modern stats prove that this album is far from forgotten and, leaded by the track Clint Eastwood (which was the first and biggest single of this era), it has maintained a very strong level of popularity.
Out of 450 million streams across the music platform, more than 253 million come from this song, although the whole of it is fairly big.
4. AMELIE POULAIN – SOUNDTRACK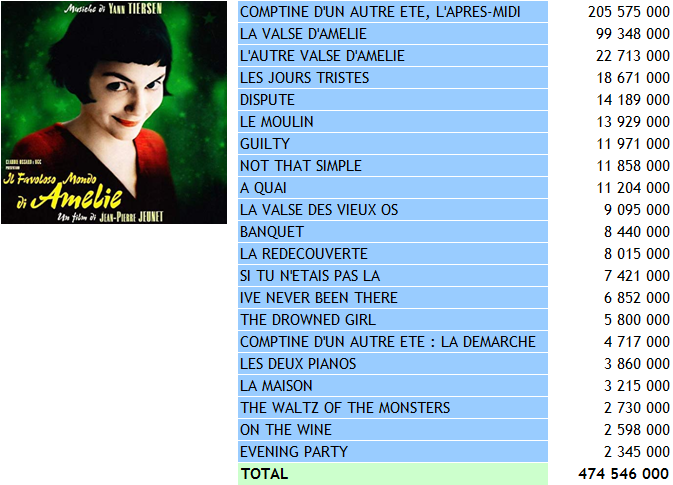 The soundtrack to the French film Le Fabuleux Destin d'Amélie Poulain, with most of its sung in that language, has become yet another evergreen seller represented -in modern times- by its strong Spotify stats.
It is made up of 21 tracks that add up a total of over 474 million stream, catapulting it to #4 of the year.
The Yann Tiersen composed LP is led by Comptine D'Un Autre Ete, L'Apres-Midi, with almost 205 million, and La Valse D'Amelie, which is up to 100 million very. Both tracks are among the most streamed instrumental songs of all-time.
Back in 2001, this album was unsurprisingly most popular in France and other countries related to the French culture, like Belgium and Canada.
It was also quite successful chart-wise in some other countries, but not so much in the main English-speaking countries, including the USA and the UK. On the whole, this soundtrack is set to keep increasing its equivalent sales as year go by.
3. THE STROKES – IS THIS IT


As we climb in this Top 10, here up to the Top 3, we find more titles that were successful back in the day but not quite as much as the real huge ones during that year.
They still gained strong reputation over the years, in this case boosted by the Strokes' subsequent albums and tours. Nothing new: many catalogue albums from the sixties and seventies weren't particularly dominant at the time but they are among the most revered now.
The peak positions for Is This It were mixed at best, with Top 5 entries in the UK, part of Scandinavia and Australia but its results elsewhere were far more modest, even though it is up to gold and platinum levels in many of them, proving its enduring appeal.
From that point of view, its Spotify stats are a further testimony of this long lasting effect with 521 million streams.
Last Nite, its signature tune, is responsible for almost 210 million of them. Someday is a huge runner up at 133 million.
One of the most critically acclaimed albums of the last 20 years, it continues to be enjoyed in full as all tracks are above 10 million.
2. DAFT PUNK – DISCOVERY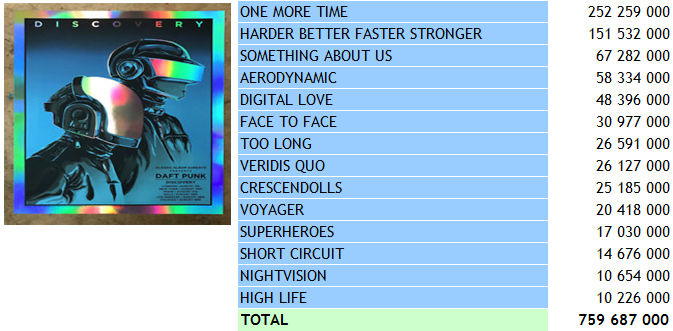 Discovery marked Daft Punk's worldwide breakthrough with strong results almost everywhere, including number 2 positions in their home country France, UK and Canada, Top 10 in Germany and Switzerland and even number 1 in Belgium (Flanders).
It only made it to number 23 in the United States, but it sold enough for a gold award and Soundscan sales are in excess of 800,000 units for this LP.
The group maintained a great level of popularity all over the last two decades and their current Spotify stats are equally strong, in spite of the fact that their last studio album came up in 2013 -it may seem recent, but it's already been 6 six years-.
Yet they are proving to have a long lasting appeal that transcends most of the aforementioned stats.
Well above the number 3 album, Discovery holds more than 760 million streams to rank at #2, meaning that the albums below are highly unlikely to close the gap.
Not surprisingly, One More Time ranks as the strongest song off it, approaching 252 million. Harder Better Faster Stronger is another iconic electronic songs. It has 152 million streams on Spotify.
The album manages two more impressive feats. It has all its cuts over 10 million, which is in itself amazing. It also has various deep tracks with more than 20 or even 30 million streams. Quite stunning.
1. SYSTEM OF A DOWN – TOXICITY (1,000,092,000)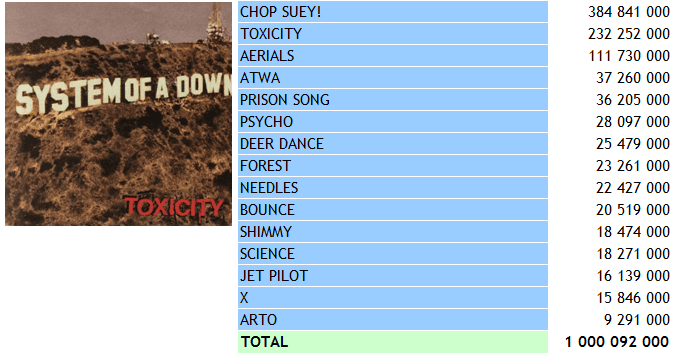 In a similar vein to the last two albums, especially The Strokes' Is This It, Toxicity ranks as the absolute winner of 2001 despite not having that massive results during that calendar year.
It shows once again how, many times, initial perceptions are different from those that prevail in the very long run.
So whilst this album by legendary band System Of A Down was outsold by many other titles at the time, most of the public sees things in different way now.
To prove the above, we can put it this way: with over 1 billion streams overall, Toxicity is ahead of the number 2 by about 240 million, it almost doubles the third one in this ranking and is naturally ahead of all others by a far stronger margin.
And of course, it will take a while until Discovery, the second album of the years, gets as high as that.
All tracks have solid totals, but Chop Suey! stands out with around 385 million streams. So does Toxicity with 232 million, whereas as third track, Aerials, also cross the 100 million total (112 million, to be more specific).
No need to say that the three of them are highlights of the whole 2000-2009 decade as individual tracks, although the whole LP brings it all together.
And finally, here is a list with the biggest songs of 2001:
1. System Of A Down – Chop Suey! [Toxicity] – 384,840,000
2. Nickelback – How You Remind Me [Silver Side Up] – 276,200,000
3. Train – Drops of Jupiter [Drops of Jupiter] – 264,560,000
4. Gorillaz – Clint Eastwood [Gorillaz] – 253,080,000
5. Daft Punk – One More Time [Discovery] – 252,260,000
6. Jimmy Eat World – The Middle [Bleed American] – 248,630,000
7. System of a Down – Toxicity [Toxicity] – 232,250,000
8. John Mayer – Your Body Is a Wonderland [Room for Squares] – 212,770,000
9. The Calling – Wherever You Will Go [Camino Palmero] – 211,500,000
10. The Strokes – Last Nite [Is This It] – 210,040,000
11. Yann Tiersen – Comptine d'un autre été : L'après-midi [Amélie] – 205,580,000
12. Weezer – Island in the Sun [Weezer] – 203,280,000
13. Alicia Keys – Fallin' [Songs in A Minor] – 180,370,000
14. Shakira – Whenever, Wherever [Laundry Service] – 176,380,000
15. Nelly ft. St. Lunatics – Ride Wit Me [Country Grammar] – 175,300,000
16. Destiny's Child – Survivor [Survivor] – 170,140,000
17. Enrique Iglesias – Hero [Escape] – 155,930,000
18. Daft Punk – Harder Better Faster Stronger [Discovery] – 151,530,000
19. Alien Ant Farm – Smooth Criminal [Anthology] – 140,170,000
20. Crazy Town – Butterfly [The Gift of Game] – 136,140,000
21. The Shins – New Slang [Oh, Inverted World] – 134,010,000
22. The Strokes – Someday [Is This It] – 132,940,000
23. Usher – U Remind Me [8701] – 130,510,000
24. Missy Elliott – Get Ur Freak On [Miss E… So Addictive] – 129,910,000
25. Eve ft. Gwen Stefani – Let Me Blow Ya Mind [Scorpion] – 122,430,000
26. Fat Joe ft. Ashanti – What's Luv? [Jealous Ones Still Envy] – 117,010,000
27. Blink 182 – First Date [Take Off Your Pants and Jacket] – 114,650,000
28. Ja Rule ft. Ashanti – Always On Time [Pain Is Love] – 111,920,000
29. System Of A Down – Aerials [Toxicity] – 111,730,000
30. Mary J Blige – Family Affair [No More Drama] – 111,450,000
31. Uncle Kracker – Follow Me [Double Wide] – 110,200,000
32. Usher – U Got It Bad [8701] – 104,650,000
33. Staind – It's Been Awhile [Break the Cycle] – 102,160,000