Demi Lovato's albums and songs sales
From Disney to X Factor, from acting to singing, from sexiest female lists to depression, from comedy to bipolar disorder, the least we can say is that at barely 26 the life of Demi Lovato has been a true rollercoaster. Now up to six solo albums, the former teen act is trying to confirm herself as a real pop star.
Your perception of Demi Lovato's global success is wrong. In fact, her results have been so different on each market, that depending on where you live, you will see her as much bigger or much weaker than she really is. Nobody knows who she is in various countries like France or Japan. In Brazil though, she is at the top of the game. How does that transfer into total career sales in the world?
As usual, I'll be using the Commensurate Sales to Popularity Concept in order to relevantly gauge her results. This concept will not only bring you sales information for all Demi Lovato's albums, physical and download singles, as well as audio and video streaming. In fact, it will also determine their true popularity. If you are not yet familiar with the CSPC method, below is a nice and short video of explanations. I fully recommend watching it before getting into the sales figures. Of course, if you are a regular visitor feel free to skip the video and get into the numbers directly.
Please be aware that I'll be including both Camp Rock Soundtracks she starred in during this study to provide as much information as possible. Since both Soundtracks weren't credited to her – indeed, the Jonas Brothers were their main attraction – they will not be included in her final results, except of course downloads and streams of her own songs.
The Commensurate Sales to Popularity Concept (CSPC)
There are two ways to understand this revolutionary concept. The first is the Scribe video posted below. If you are unaware of the CSPC method, you will get the full idea within just a few minutes.
If you are a mathematical person, and want to know the full method as well as formulas, you can read the full introduction article.
Now let's get into the artist's sales figures in detail in order to apply this concept and define the act's true popularity!
Demi Lovato's Album Sales

Original Album Sales – Comments
2008 Camp Rock – 2,640,000
2008 Don't Forget – 840,000
2009 Here We Go Again – 800,000
2010 Camp Rock 2: The Final Jam – 690,000
2011 Unbroken – 770,000
2013 Demi – 1,160,000
2015 Confident – 510,000
2017 Tell Me You Love Me – 400,000
Ignoring the Camp Rock albums, Demi Lovato sold 4,48 million LPs in total from her six releases. An unimpressive total for sure, this remains an interesting figure when we take a closer look.
These six albums sold 540,000 units combined in Europe – against 495,000 in Brazil. This reveals both an incredible success in the latter country and terrible performances in Europe. Enlarging the picture, some 81% of her sales come from the American continent. This means a mere 855,000 units sold in Europe, Asia, Oceania and Africa altogether!
On a more positive note, Demi Lovato has been enjoying a great consistency. She sold steady amounts of each album in spite of the decreasing market. Her last two albums failed to confirm the improving trend she was in, but as you know nowadays it's all about digital performances so let's review results of these eras on remaining formats.
Demi Lovato's singles sales
Physical Singles

A true 21st century singer, Demi Lovato sold irrelevant numbers of physical singles. Her breakthrough hit This Is Me was already a digital only single. Apart from We Rock that was 8 weeks #1 in US physical singles sales back in 2008 as it often happens with these teen releases, the few songs like La La Land and Cool for the Summer which had a CD release remained highly limited, realistically restricted to 1,000 to 3,000 units per single. We Rock sold an estimated 30,000 units, good enough for 9,000 equivalent album sales. Each of her remaining albums minus her last one get 1,000 EAS since they all got at least 1 physical single, all of which sold at most a pair of thousands.
Digital Singles
As a reminder, the weighting is done with a 10 to 1,5 ratio between albums and digital singles.

After studying examples of Justin Bieber, Miley Cyrus and One Direction, the pattern of download sales of Demi Lovato won't come as a surprise to you. Just like them, her results are noticeable by their consistency with album tracks selling a relevant share of her biggest hits.
Give Your Heart a Break and Skyscraper are the only songs selling more than 1,4 million from her first three albums, shifting a million more than that each. Nevertheless the aforementioned situation creates a total of 12,35 million units sold by those tracks.
We've already met various artists selling way more download singles in absolute terms. Putting things into their context, the 5,9 million singles sold by tunes from Unbroken represent close to 1 million equivalent album sales, more than the 770,000 copies sold in album format, thus this format brings the diva a tremendous addition to the strength of her discography.
The 2013 Demi era was definitely super successful by the her standards. Her strongest seller in original album format, it also produced four million selling hits including the biggest of her career, Heart Attack at almost 3 million.
Undoubtedly weaker, the Confident era still registered two million sellers. Considering how much downloads dropped in recent years, sales of Sorry Not Sorry are definitely huge at 1,5 million. In total, the era Tell Me You Love Me almost matched its predecessor, a strong feat in this day and age. Inside the Orphan section, which combine all songs outside of her proper studio albums, there is more and more hits. To past songs Let It Go and Somebody To You, new great selling singles have been added like Echamé La Culpa and Solo, with Luis Fonsi and Clean Bandit, respectively.
In order to fully complete Demi Lovato's discography, we need to check her contribution on both Camp Rock soundtracks. Her first hit was very precisely from one of these soundtracks, This Is Me, a 1,25 million seller.
Remaining songs from the singer issued through those two soundtracks sold 1,7 million copies, pushing her career total on this format upwards of 36 million.
Streaming
Streaming is made up of audio and video streams. Our CSPC methodology now includes both to better reflect the real popularity of each track. The main source of data for each avenue is respectively Spotify and YouTube. As detailed in the Fixing Log article, Spotify represents 157 million of the 272 million users of streaming platforms, while YouTube is pretty much the only video platform generating some revenue for the industry. Below is the equivalence set on the aforementioned article:
Audio Stream – 1500 plays equal 1 album unit
Video Stream – 11,750 views equal 1 album unit
Equivalent Albums Sales (EAS) = 272/157 * Spotify streams / 1500 + YouTube views / 11750
Streaming Part 1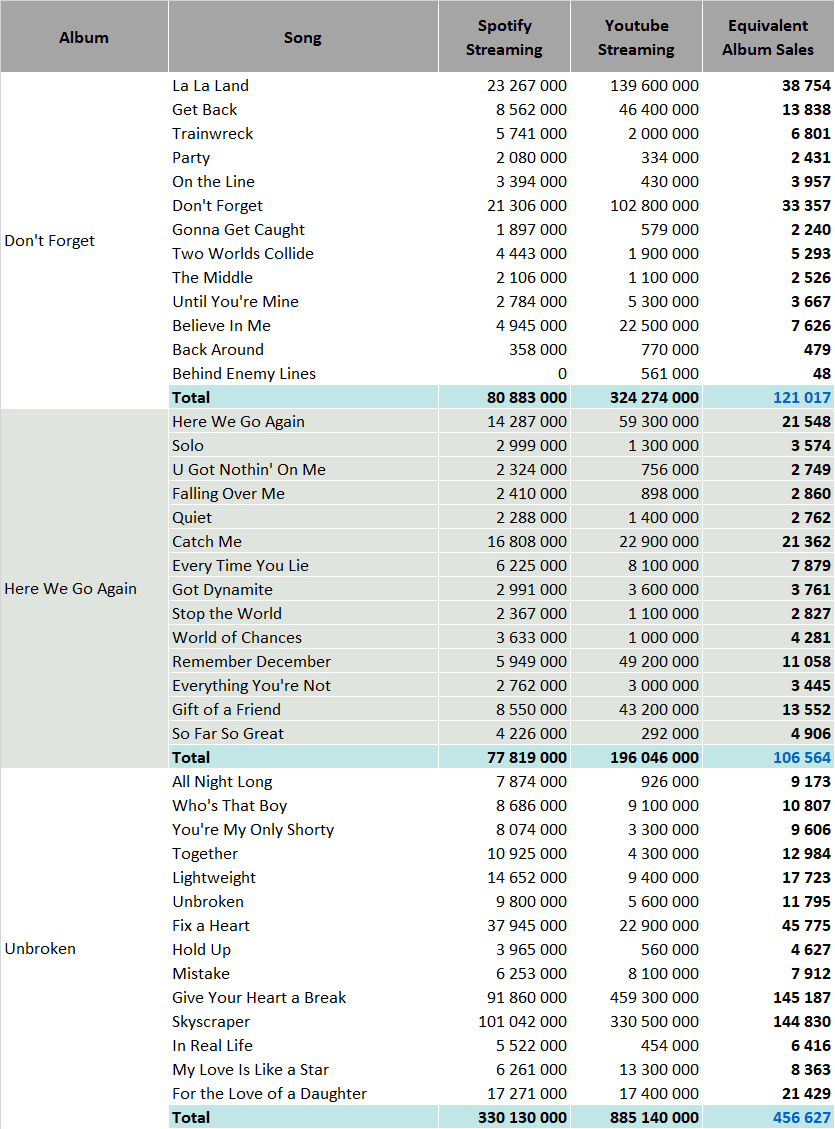 A very interesting pattern comes out from streaming results of these three albums. Each of them had very similar sales in album format. That being said, their streaming results are completely different.
Don't Forget and Here We Go Again streams represent respectively 121,000 and 107,000 units in equivalent album sales, while Unbroken far surpasses that total at 457,000 copies. Obviously, Spotify grew from 2008 to 2011 but the platform was still pretty much irrelevant, especially in the US, meaning these numbers have been achieved mostly as catalog plays. Skyscraper and Give Your Heart A Break are both over 90 million Spotify plays and 330 million YouTube views, basically more than her first two albums individual totals.
Streaming Part 2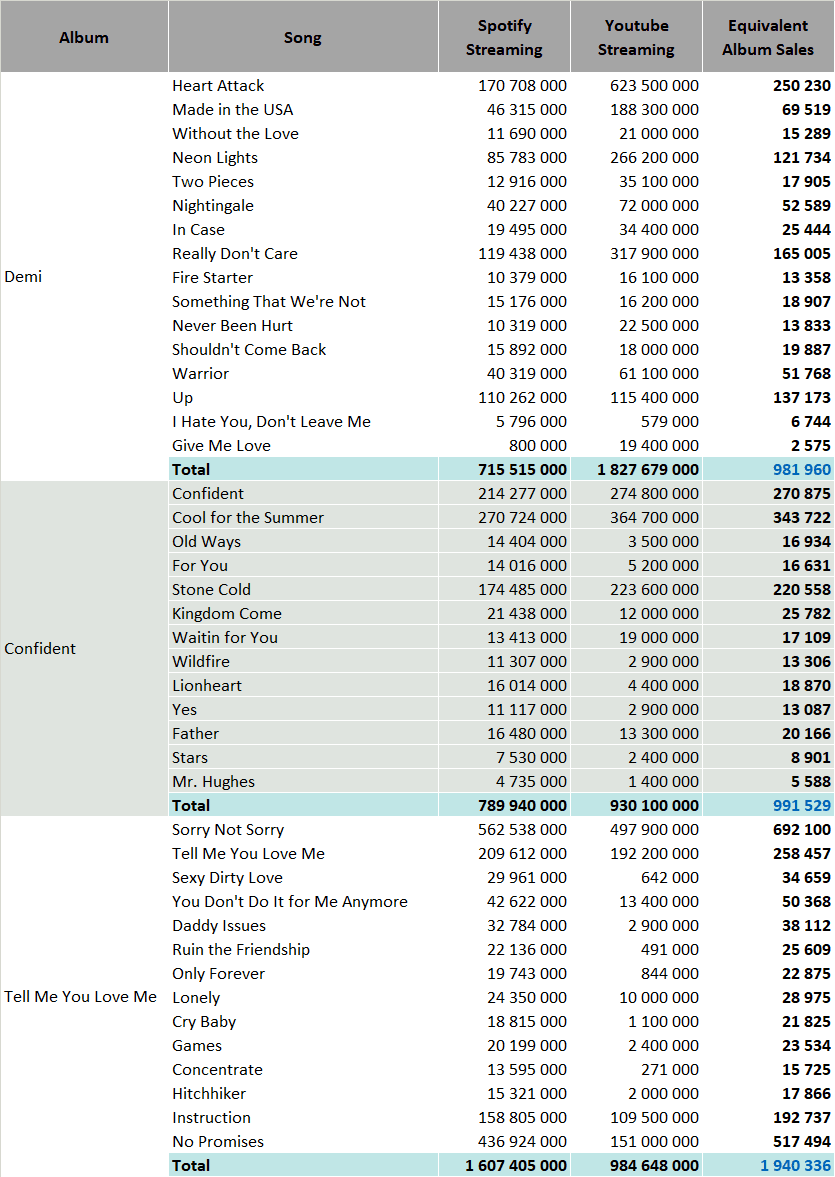 The digital smash of the Demi album is confirmed again with outstanding streaming tallies. Heart Attack is at 170 million Spotify streams and 623 million on YouTube. It isn't alone in the success column as Up, Neon Lights and Really Don't Care all break the 100 million plateau on both audio and video streaming avenues. Strong album tracks too build a cumulative tally of 982,000 equivalent album units from streams.
Confident's total is just as high at 992,000 units, although it should be seen as a weaker result. In fact, from 2013 to 2015 the streaming market exploded. It isn't the only reason to be slightly disappointed, since album tracks and secondary singles are clearly weaker overall than the Demi album too. Its big hits, Confident, Cool for the Summer and Stone Cold completely counterbalance them with solid showings.
Tell Me You Love Me confirms Demi Lovato is incredibly popular among the youngest generation. Sorry Not Sorry and No Promises combine for a billion streams on Spotify, a figure that is no more a niche success but indeed the result of a real hit from a proper global star. These high streams logically translate into impressive EAS: nearly 2 million to date.
Streaming Part 3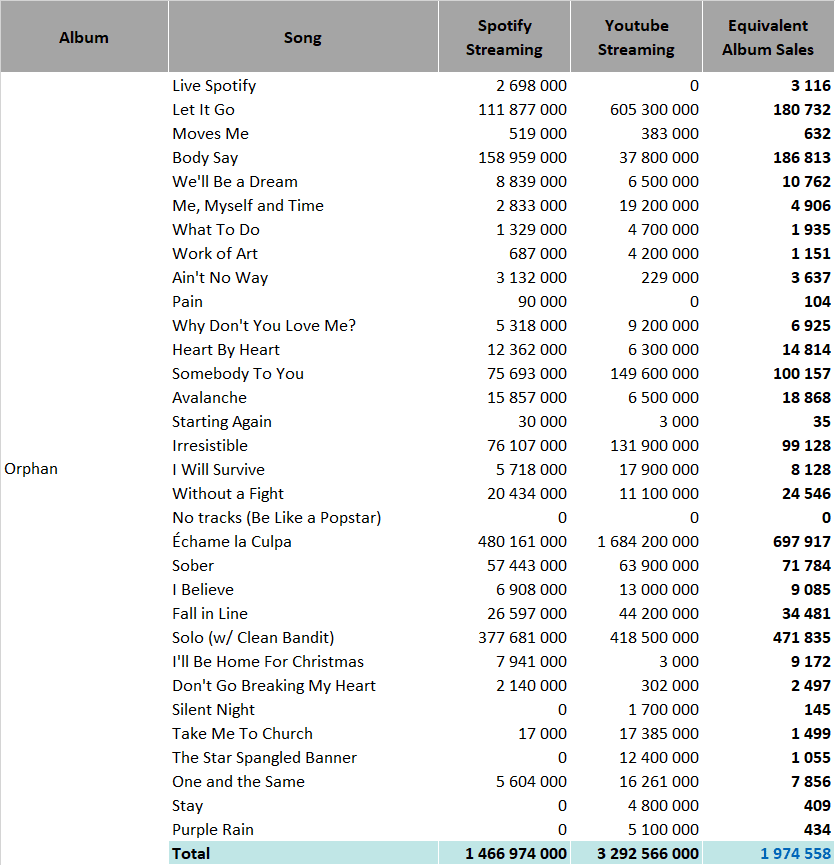 Various hits fulfil this Orphan tracks category among which the singer's rendition of Let It Go. This song, as well as the recent Body Say, registered enough streams to account for over 180,000 EAS each. Echamé La Culpa is Demi Lovato's top song on streams so far with nearly 700,000 EAS although Solo is coming into its wheels with already close to half a million. These successes add for nearly 2 million sales in total.
Streaming Part 4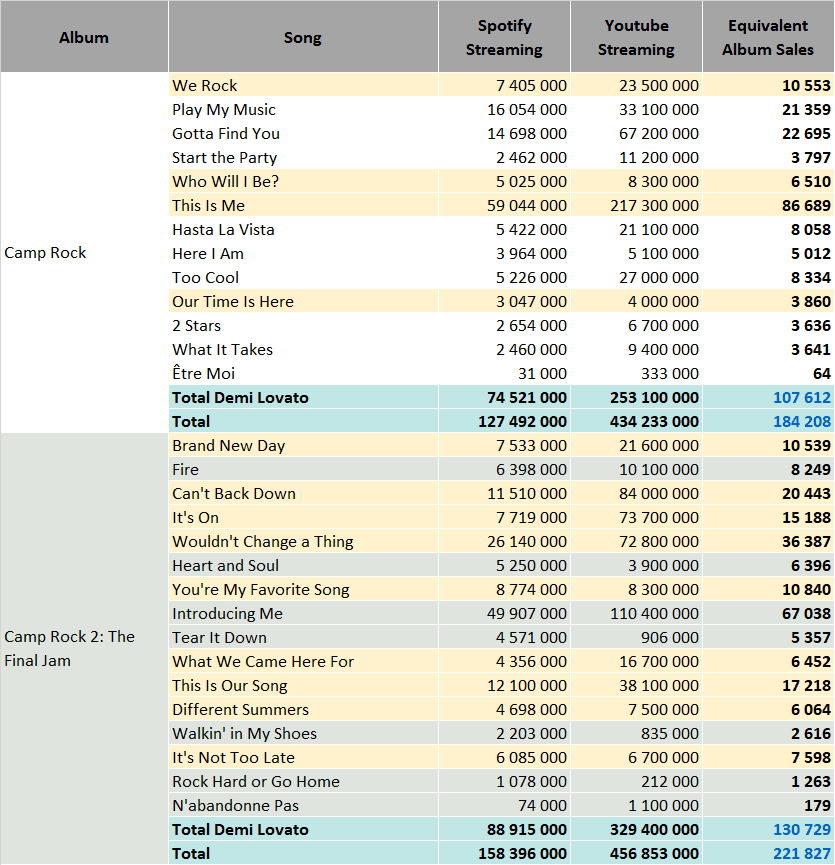 Both Camp Rock Soundtracks include various songs from artists other than Lovato. To highlight them, tracks performed by her are displayed in yellow. These soundtracks did moderately well in streaming numbers, with around 200,000 EAS a piece, with Demi Lovato contributing 108,000 and 131,000 units, respectively.
Demi Lovato's compilations sales
It sounds fairly logical to add together weighted sales of one era – studio album, physical singles, downloads, streams – to get the full picture of an album's popularity. For older releases though, they also generate sales of various live, music videos and compilation albums.
All those packaging-only records do not create value, they exploit the value originating from the parent studio album of each of its tracks instead. Inevitably, when such compilations are issued, this downgrades catalog sales of the original LP. Thus, to perfectly gauge the worth of these releases, we need to re-assign sales proportionally to its contribution of all the compilations which feature its songs. The following table explains this method.

How to understand this table? If you check for example the Live Walmart Soundcheck CD+DVD line, those figures mean it sold 20,000 units worldwide. The second statistics column means all versions of all the songs included on this package add for 122,000 equivalent album sales from streams of all types.
The second part on the right of the table shows how many equivalent streams are coming from each original album, plus the share it represents on the overall package. Thus, streaming figures tell us songs from Don't Forget are responsible for 70% of Live Walmart Soundcheck tracklist attractiveness, which means it generated 14,000 of its 20,000 album sales and so on for the other records.
Total Album (all types) Sales per Country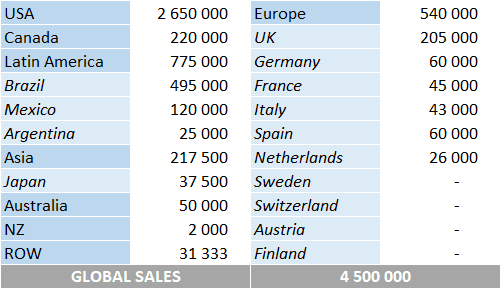 Please note that some of the countries totals may be slightly incomplete when the figure is N/A for minor releases. Countries with too much missing information to be precise enough are listed as N/A.
Demi Lovato Career CSPC Results
So, after checking all the figures, how many overall equivalent album sales has each Demi Lovato album achieved? Well, at this point we hardly need to add up all of the figures defined in this article!
Albums CSPC results
In the following results table, all categories display figures in equivalent album sales. If different, pure sales are listed between parentheses.
| artist_spotify_id | # | Cover | Album | Studio albums (EAS) | sales_update_date | Other LPs (EAS) | Physical singles (units sold) | Digital singles (units sold) | Streams | Streams increase | Total EAS | valid_as_of | streams_updated_value | album_id |
| --- | --- | --- | --- | --- | --- | --- | --- | --- | --- | --- | --- | --- | --- | --- |
| 6S2OmqARrzebs0tKUEyXyp | 1 | | Camp Rock | 2,640,000 | 09.10.18 | 0 | 197,000(30,000) | 471,000(3,140,000) | 588,000 (09/29/23) | Av.: 220LD: 300 | 3,896,000 | 20,230,929 | 588,000 | 631 |
| 6S2OmqARrzebs0tKUEyXyp | 2 | | Don't Forget | 840,000 | 09.10.18 | 19,000 | 1,000(3,000) | 611,000(4,070,000) | 276,000 (09/29/23) | Av.: 90LD: 90 | 1,747,000 | 20,230,929 | 276,000 | 632 |
| 6S2OmqARrzebs0tKUEyXyp | 3 | | Here We Go Again | 800,000 | 09.10.18 | 6,000 | 2,000(3,000) | 353,000(2,350,000) | 235,000 (09/29/23) | Av.: 70LD: 80 | 1,395,000 | 20,230,929 | 235,000 | 633 |
| 6S2OmqARrzebs0tKUEyXyp | 4 | | Camp Rock 2: The Final Jam | 690,000 | 09.10.18 | 0 | -187,000(3,000) | 405,000(2,700,000) | 654,000 (09/29/23) | Av.: 240LD: 230 | 1,562,000 | 20,230,929 | 654,000 | 634 |
| 6S2OmqARrzebs0tKUEyXyp | 5 | | Unbroken | 770,000 | 09.10.18 | 0 | 1,000(3,000) | 884,000(5,890,000) | 1,013,000 (09/29/23) | Av.: 310LD: 370 | 2,668,000 | 20,230,929 | 1,013,000 | 635 |
| 6S2OmqARrzebs0tKUEyXyp | 6 | | Demi | 1,160,000 | 09.10.18 | 0 | 1,000(3,000) | 1,169,000(7,790,000) | 2,407,000 (09/29/23) | Av.: 780LD: 1,330 | 4,737,000 | 20,230,929 | 2,407,000 | 636 |
| 6S2OmqARrzebs0tKUEyXyp | 7 | | Confident | 510,000 | 09.10.18 | 0 | 1,000(3,000) | 497,000(3,310,000) | 2,522,000 (09/29/23) | Av.: 840LD: 1,110 | 3,530,000 | 20,230,929 | 2,522,000 | 637 |
| 6S2OmqARrzebs0tKUEyXyp | 8 | | Tell Me You Love Me | 400,000 | 09.10.18 | 0 | 0(0) | 434,000(2,890,000) | 3,570,000 (09/29/23) | Av.: 900LD: 610 | 4,404,000 | 20,230,929 | 3,570,000 | 638 |
| 6S2OmqARrzebs0tKUEyXyp | 9 | | HOLY FVCK | 0 | | 0 | 0(0) | 0(0) | 273,000 (09/29/23) | Av.: 0LD: 0 | 273,000 | 20,230,929 | 273,000 | 0 |
| 6S2OmqARrzebs0tKUEyXyp | 10 | | Dancing With The Devil…The Art of Starting Over (Expanded Edition) | 0 | | 0 | 0(0) | 0(0) | 1,580,000 (09/29/23) | Av.: 0LD: 0 | 1,580,000 | 20,230,929 | 1,580,000 | 0 |
| 6S2OmqARrzebs0tKUEyXyp | 11 | | Orphan | 0 | 09.10.18 | 10,000 | 324,000(3,000) | 675,000(4,500,000) | 1,975,000 (10/09/18) | N/A | 2,984,000 | 20,230,929 | 1,975,000 | 1,649 |
'Av.' stands for Average, 'LD' for Last Day.
As a reminder:
Studio Album: sales of the original album
Other Releases: sales of compilations generated thanks to the album
Physical Singles: sales of physical singles from the album (ratio 3/10)
Download Singles: sales of digital singles from the album (ratio 1,5/10)
Streaming: equivalent album sales of all the album tracks (ratio 1/1500 for Audio stream and 1/6750 for Video stream)
See where the artist ranks among remaining singers
Never making it truly big, Demi Lovato has proved to be incredibly consistent for various years now. All her albums shifted past 1 million equivalent album sales once combining and weighting all formats together. A favorable indicator for her future is the distribution of those sales. In pure album format she sold 4,5 million units while her digital total, made up of both downloads and streaming, amounts for almost 12,3 million. Considering the latter format is massively taking over the former one, the fact she is stronger there is a very good sign.
More than a sign, it is an accomplishment that she achieved with Demi, easily topping her first three albums. Its great streaming results push it over 3,3 million. This is very telling as 3 million in 2013 is a result that puts her in a much higher league than 1 million in 2008. The recent Tell Me You Love Me confirmed her appeal is now larger than in the past. A year after its release, the album is closing in Demi's total with 2,8 million EAS as of now. Factor in the recent smash of orphan songs Echamé La Culpa and Solo and you get an artist that is definitely growing. There is still some way to go before reaching A-League star status but Demi Lovato is surely much closer today than she was six years ago.
In total, she sold a combined 16,8 million equivalent album sales, up from 11,9 million by the time of the last update less than 18 months ago. Since some downloads figures were revised slightly downwards, the number of sales added in that timeframe tops 5 million.
Singles CSPC results
The list is compiled in album equivalent sales generated by each song. Therefore, these figures are not merged units of singles formats. Instead, it includes weighted sales of the song's physical single, download, ringtone and streaming as well as its share among sales of all albums on which it is featured.
1. Sorry Not Sorry [Tell Me You Love Me] – 1,060,000
2. Heart Attack [Demi] – 980,000
3. Give Your Heart a Break [Unbroken] – 770,000
4. Skyscraper [Unbroken] – 740,000
4. Échame la Culpa [Orphan] – 740,000
If you feel inspired by this list, we just created this CSPC Demi Lovato playlist on Spotify!
Discography results
Thanks to our new ASR (Artist Success Rating) concept, we know that her sales represent 3,52 million times the purchase of her discography. Coupled with her total sales, it translates into an ASR score of 43 which ranks her last among the all-time ranking.
As usual, feel free to comment and / or ask a question!
Sources: IFPI, Spotify, YouTube, Discogs.
You may be interested in…
… checking out the upcoming artists or even voting for them!
… best-selling artists, albums, and singles
We have created amazing cross-artists tops. Click to see all CSPC and raw sales results compiled so far!
… similar artists
To put Demi Lovato's figures into perspective, click to reach career breakdowns of pop star divas: