Why Spotify's Monthly Listeners stat is irrelevant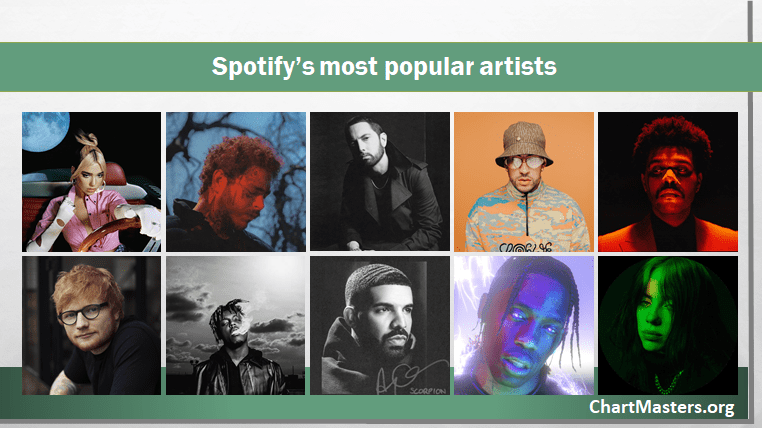 The query "monthly listeners" spotify, with the double quotes, gives you over 2 million results on Google, the perfect illustration of a statistic that is more and more popular. Yet, it's irrelevant.
Get to know why so and why the unrecognized Popularity Index, that we now share with this page updated daily, makes a whole lot more sense instead.
All about Monthly Listeners
Mass misinterpretation of its meaning
It's not difficult to understand why the Monthly Listeners figure has taken such a huge spot in mass media.
In fact, it's the only number shared by Spotify which reflects streams for an artist, rather than for a song. Thus, it's seen as the perfect shortcut to know who are the most popular artists.
A quick test instantly reveals this situation. If we go back to our Google search "monthly listeners" spotify, right after the first result which is Spotify's site itself, comes a Statista link.
This link is named "Spotify: most streamed artists worldwide 2019" on Google. When we open it though, the title of the page is "Artists with the most monthly listeners of all time on Spotify worldwide as of July 2019".
The problem is that most streamed artists and artists with the most monthly listeners are two completely different concepts.
Most websites and articles take the same wrongful route.
The definition of Monthly Listeners
Spotify is very transparent about the method used to build this statistic. It's defined as below:
Monthly listeners are unique listeners who play the music of an artist during a 28-day period

Spotify FAQ
They go further and explain why they use these rules:
2 important things to clarify about your monthly listeners:
They've listened within a rolling window of 28 days. We use a rolling window of 28 days because the number of days in a calendar month can vary, and because people listen to music differently depending on the day of the week. This means an equal number of days of the week are included—so, the same number of Mondays, Tuesdays, Wednesdays, etc.
They are unique listeners. If someone plays your music multiple times in a 28-day period, they only get counted once.

Spotify FAQ
In concrete words, as soon as someone listens to an artist, it adds to his Monthly Listeners tally, but then no matter how many songs the user streams, it won't impact anymore the statistic until 28 days later.
I'm sure you can see the huge error it is to consider artists with the most listeners the most streamed artists overall. To make it even clearer, let's point out a few striking examples.
Hit-driven figures
If you look at Spotify's latest weekly global chart, you'll notice the Travis Scott & Kid Cudi project THE SCOTTS is leading the way.
Their artist page reveals 14,902,226 monthly listeners. With only 8 days of availability, it's already more than K-Pop superstars BTS (13,000,719) in a month. The former duet is getting 6 million streams a day, while the latter group registers 13 million new plays every day.
The case is even worst for one-hit wonders who have got a full 28-days window.
SAINt JHN, currently enjoying the Roses wave, and Powfu, smashing with death bed, score 34.7 million and 29.0 million monthly listeners, respectively. They thus feel much bigger than Lil Uzi Vert who stands at 22.8 million. They do so with 4 to 5 million streams per day, though, while the US rapper is gaining 15 million during the same time frame.
A statistic heavily impacted by playlists
Old school music fans love to deflate the success of current artists by reducing it to strong playlists presence.
The fact is that the huge majority of Spotify playlists are curated on the back of solid data. A song isn't successful because it's part of large playlists, it gets into large playlists when it is successful.
Both singles Roses and death bed perfectly reflect this. They came out of nowhere, shook viral rankings until ultimately making the most famous playlists.
This being said, when a statistic is entirely based on how many unique users stream a song, it's obvious that being part of Today's Top Hits, to name the biggest one, helps tremendously.
A lot of people would have heard Roses on it – indeed, the playlist has 3 million monthly listeners itself and this track is currently the 5th song there. Many of them haven't heard it more than one time, and most are unlikely to have even noticed the name of the singer.
Legacy artists numbers are just as wrong
If fresh new hits corrupt Monthly Listeners of artists, one would expect the data to still be relevant for legacy acts. They are impacted just as much though.
Journey have 1.7 billion streams to date, out of which 821 million come from their classic Don't Stop Believin'. They have over 10 million monthly listeners.
Iron Maiden have less than half, yet their cumulative streams are at 1.8 billion. Their top song is at 160 million though, with way less presence on classic rock heavy playlists.
Their total of streams is on par with the Spice Girls and TLC combined, while both female groups easily lead in listeners thanks to super hits Wannabe and No Scrubs.
Monthly listeners also suggest that Nirvana, Oasis and Aerosmith are equally popular at 13 million something each. Cumulatively, they register fairly different results instead at 3.8 billion, 2.8 billion and 2.4 billion, respectively.
With 12 million users streaming him, Bob Marley seems weaker than them all but in truth he is up to a massive 4.4 billion streams. You got it.
Features further downgrade the statistic value
Once you know the rule, you can consider that monthly listeners numbers aren't 100% useless, even if their interpretation is often inaccurate.
Features make these results feel not only not too relevant yet, but also wrong.
In fact, all artists credited in a song get all its monthly listeners.
Ever heard about Imanbek? He is a music producer from Kazakhstan. He has less than 15,000 followers, but posts 31.2 million monthly listeners. How? Simply by being the remixer of SAINt JHN's Roses.
The same happens with beabadoobee, featured on death bed. The irony is that she gets more listeners than Powfu at 29.4 million since her back catalog is larger.
Paul McCartney records more listeners than the Beach Boys thanks to his guitar play on Rihanna's FourFiveSeconds.
Examples go on and on and on.
The Popularity Rating
Nowhere near as known is the Popularity Rating. It's no surprise why it isn't well known as Spotify doesn't display this statistic in their web application nor in their client.
It's also natural that this data is hidden. In fact, it's an index, with the top artist fixed at 100 and others noted relatively to this top scorer.
This is much less telling as a statistic than monthly listeners. But so much more meaningful.
Numbers in line with cumulative streams
For a few weeks the artist rated at 100 has been Latin superstar Bad Bunny. The artist from Puerto Rico is the owner of the most streamed album of the year globally, YHLQMDLG, at nearly 1.9 billion. Over 2 months after the release of this album, the artist still gains in excess of 24 million daily streams, which explains why he leads the way.
Streaming godfather Drake is runner up with a score of 99. After recording over 20 million streams daily since the release of Toosie Slide, he has shot up to 70 million yesterday thanks to the mixtake Dark Lane Demo Tapes. The Canadian star seems poised to claim the lead in the next few days.
At 3 is Travis Scott. During the last 10 days, he went from 94 to 95 to 96 to 97 to 98.
Since his virtual concert on Fortnite video game, seen by 27.7 million unique players, he rocketed from over 10 million streams per day to over 30 million.
The Weeknd is at 98 too thanks to the super hit Blinding Lights plus a healthy catalog. He records 20 million streams daily.
With similar streams is J Balvin, the 5th highest Popularity index at 97.
At 94-96 ratings are various highly popular artists like Juice WRLD, Post Malone, Dua Lipa, Billie Eilish, Lil Uzi Vert, Eminem, Justin Bieber, DaBaby, Khalid, Ed Sheeran, BTS, and Roddy Ricch.
They all claim from 13 to 19 million streams every day across their catalog.
The methodology
The exact method behind the popularity index is unknown. It's a calculation based on tracks' popularity as mentioned by the Spotify API:
The popularity of the artist. The value will be between 0 and 100, with 100 being the most popular. The artist's popularity is calculated from the popularity of all the artist's tracks.

Spotify API documentation for artists
Digging into this documentation, the tracks page tells us a bit more:
The popularity of a track is a value between 0 and 100, with 100 being the most popular. The popularity is calculated by algorithm and is based, in the most part, on the total number of plays the track has had and how recent those plays are.
Generally speaking, songs that are being played a lot now will have a higher popularity than songs that were played a lot in the past. Duplicate tracks (e.g. the same track from a single and an album) are rated independently. Artist and album popularity is derived mathematically from track popularity. Note that the popularity value may lag actual popularity by a few days: the value is not updated in real time.

Spotify API documentation for tracks
While no formula is mentioned, this draws a good picture of the indicator, it reflects the strength of an artist catalog, weighting higher the most recent streams.
The fact that the data lags a few days behind the current situation is also visible in our numbers which suggest that both Drake and Travis Scott are now hotter than Bad Bunny, something the popularity index may illustrate soon enough.
Another important element appears when analyzing the data. The index is not linear. For a few days, Bad Bunny led by about 20% in streams artists with a 98 score, and he was about 30% over artists at 97.
In these days where flattening the curve is so important, you understood what it means: the popularity index is a logarithmic scale. A gap of 5 points for example is quite massive.
The results
This little indicator appears to be so relevant that at ChartMasters we decided both to add it at the top of all results in our streaming numbers tool, as well as adding a unique page portraying the highest popularity indexes of the moment.
To make these results more concrete, we went on saving all streaming numbers of the top performers day after day so that we can display their daily plays.
This is how the top 15 looks like today:
The correlation between the index and total streams of each artists is striking. By the way, these daily streams include songs on which artists are featured.
While this table already provides a unique view of the true heavy weights of today's music industry, there are much more to learn from this index.
If we want to scale female singers for example, here is the top 10, the ones who crack 90:
96 Dua Lipa, Billie Eilish
92 Nicki Minaj, Ariana Grande, Taylor Swift
91 Rihanna, Halsey, Doja Cat
90 Selena Gomez, Camila Cabello
What about the most popular bands?
94 BTS
90 Queen, Maroon 5, Imagine Dragons, Beatles
89 One Direction, Coldplay
88 Chainsmokers, 5 Seconds of Summer
87 Linkin Park, Twenty One Pilots
Biggest legacy artists?
90 Queen, Beatles
85 Elton John
84 Pink Floyd, Michael Jackson, Bob Marley, Metallica, AC/DC, Rolling Stones
83 Fleetwood Mac, Nirvana
Where do 60s-90s divas stand?
81 Whitney Houston
80 Madonna, Mariah Carey
79 Celine Dion
75 Aretha Franklin
74 Shania Twain
73 Tracy Chapman
72 Alanis Morissette, Tina Turner
71 Kylie Minogue, Diana Ross
70 Janet Jackson, Barbra Streisand
66 Björk
As if it was written, the big 4 remains the big 4.
We can even get more creative and wonder who are the top performing classical legends!
82 Johann Sebastian Bach
81 Wolfgang Amadeus Mozart
80 Ludwig van Beethoven
76 Frédéric Chopin
Everyone else is below 72.
In a nutshell
While at first glance the popularity index seems to be a very abstract concept, we quickly notice that this simple scale basically resumes the biggest names in the history of music.
Even for today's music, the most interesting part is that you can't get near the top with one hit only.
It takes an incredible catalog to routinely reach 15 million daily streams. This means that artists who get to 95 or more for more than a few weeks are a lock as stars that will be remembered for decades to come.
I suggest you to both keep following our daily ranking, while also looking at your favorites artists' rating through the search tool now that we provided you with enough examples to scale the values.
You may be interested in…