Pink albums and songs sales
All artists face ups and downs. Some are more familiar with the former yet, one of them is American pop star Pink.
We are almost 20 years after her first solo UK #1 hit, Just Like A Pill. At that point, she had already amassed multiple top 10 smashes in both the US and the UK. It was barely the start, as two decades later her new releases are still making the headlines.
Popularity-wise though, she has never been put on the same level as the likes of Britney Spears or Adele, let alone the historical divas which include A-League stars like Madonna and Celine Dion.
Her albums haven't been debuting with record breaking figures, she has had relatively few chart toppers in most countries, she isn't famous in some markets like Southeast Asia, and she doesn't even seem to have one real signature song.
Still, her songs have been in the air for so long that she must have sold well. Where is the truth then? What's the real popularity of each of her songs, her albums and herself overall? Where does she rank among the divas and among the biggest artists of the current millennium?
As usual, I'll be using the Commensurate Sales to Popularity Concept in order to relevantly gauge her results. This concept will not only bring you sales information for all Pink's albums, physical and download singles, as well as audio and video streaming. In fact, it will also determine their true popularity.
If you are not yet familiar with the CSPC method, below is a nice and short video of explanations. I fully recommend watching it before getting into the sales figures. Of course, if you are a regular visitor feel free to skip the video and get into the numbers directly.
The Commensurate Sales to Popularity Concept (CSPC)
There are two ways to understand this revolutionary concept. In the first place, there is this Scribe video posted below. If you are unaware of the CSPC method, you will get the full idea within just a pair of minutes.
If you are a mathematical person, and want to know the full method as well as formulas, you can read the full introduction article.
Now let's get into the artist's sales figures in detail in order to apply this concept and define the act's true popularity!
Pink Album Sales
Original Album Sales – Comments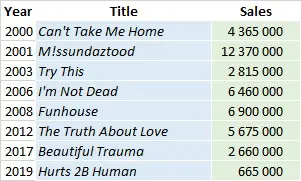 After 8 efforts, Pink is up to 41.9 million studio albums sold. The average of 5.2 million is solid, even more so considering that every record had consistent sales until the last.
Even Try This, arguably the flop of the first half of her career, still sold nearly half of that average, with especially good showings in Europe.
Experienced readers of our website should instantly notice how close sales are for several of her albums, most notably from I'm Not Dead to The Truth About Love.
The overall market dropped a lot from 2006 to 2008 to 2012. Selling roughly the same in those deeply different contexts is a trademark of continuous success. The same can be said about Beautiful Trauma, which appears to be quite strong at 2.66 million despite a pure sales market that had collapsed.
If you are aware of its total from the official international body, the IFPI, this album was claimed to be at 3.0 million sales by the end of 2018, with very solid sales in 2018, not that far behind 2017 sales.
National numbers prove this is incorrect though, with the IFPI once again being guilty of blindly accepting figures that majors report to them. In this case, it seems that every available CD + tour ticket bundle available for the second US leg was counted as a sale in this IFPI total, while only redeemed units must be registered.
Nevermind, Beautiful Trauma is among the strongest pure sellers from the last 5 years. Results from Hurts 2B Human, still far away from a million, aren't as positive, although the lack of bundle reduced its chances.
Obviously, although M!ssundaztood sold a strong 12.4 million, P!nk has no true blockbuster. Many would argue, correctly, that selling very well various times is better than selling extraordinarily only once!
Pink songs sales
Below, we list down results from the artist through physical sales, digital sales and streaming.
Please be aware that when the artist is regarded as the lead act, he is rewarded with 100% of these units, while featured acts share among them a 50% piece of the totals.

Physical Singles

As a reminder, the weighting is done with a 10 to 3 ratio between one album and one physical single.
As usual, artists from this millennium years suffered with the disappearance of this sales avenue. As an example, among the first three albums from Pink only There You Go was issued commercially in the US.
This is the reason why it did much better than the remaining singles from her debut record Can't Take Me Home, which weren't truly big in Europe in spite of the market being in great shape.
Despite no single from M!ssundaztood issued in the US, they were still high sellers overall. Most notably Get the Party Started sold over 250,000 copies in each of the UK, Germany and France, pushing its global tally up to 1.27 million units, the biggest solo title of her career in this format.
While the difficulties of the market explain a part of the drop in sales from singles of M!ssundaztood to Try This, the real explanation is quite simply the lack of success with the latter era which had no big hit.
By 2006, downloads were seriously taking over from physical singles as the main sales format.
Pink had the good idea to become a major seller in both Germany and Australia, two of the countries that continued to sell 2-track CDs well into the 00s.
In fact, she continued well into the 10s to sell physical singles in GSA – Germany, Switzerland, Austria – with many of her songs released physically there, including What About Us. Consequently, if figures of her more recent eras look weak, the truth is that Pink pushed that segment of the market to its limits.
A last word about the collaboration Lady Marmalade. This 2001 single sold very well upon release hitting #1 in the US, the UK, Germany and Australia among other nations. That success was good enough to secure 1.42 million sales.
Her career total is of 7.7 million units, a pretty nice figure for someone who debuted in the 00s in Europe and with only one US release.
Digital Songs

As a reminder, the weighting is done with a 10 to 1.5 ratio between one album and one digital single.
Before the I'm Not Dead era, iTunes had yet to be created. Then, the Apple platforms naturally took years to grow up to its full potential.
With this in mind, downloads of songs from the first three albums do not represent the songs' initial success, but instead their lasting appeal.
Some tracks faced the test of time better than others. Get the Party Started cracks 2 million catalog units, while Just Like a Pill is over 1.5 million.
In the 730,000-830,000 range are Don't Let Me Get Me, Family Portrait, and Trouble. Songs from M!ssundaztood are easily ahead, with 5.7 million combined.
Already much older when downloads took over, earlier songs like Most Girls and There You Go haven't been as successful, with sales around 300,000 units per title.
At the start of 2006, it was still possible to be #1 of the top Digital songs chart with less than 60,000 units, while by 2013 in almost every week over 200,000 copies were needed to sit there.
Elsewhere, downloads were even less developed. In France (5.9 million sales in 2006, 44.1 million in 2012), or Australia (11 million in 2006, 110.4 million in 2012), they were just getting started.
Sales were booming so much during these earlier stages of the market that even inside one specific album era the difference is notable from one single to another. For example, From the release of Stupid Girls in February 2006 to the peak of Who Knew in October 2007, sales registered a 65% increase.
This era really turned things around for P!nk. The norm after the disappointment of Try This would have been sales dropping even more.
She wasn't going to leave anytime soon though, as despite the market limitations, hits from I'm Not Dead performed very well. Both Who Knew and U + Ur Hand went on to clear 3 million units, while the lead single Stupid Girls stands at 2.1 million.
This second youth was confirmed with singles from Funhouse. The lead single So What, a transatlantic #1 smash, sold a huge 9.0 million units.
Both Sober (4.1 million) and Please Don't Leave Me (3.1 million) moved strong numbers too while four more songs achieved reasonable totals in spite of releases restricted to some countries.
In total, the album generated more than 20 million sales in downloads and ringtones, an impressive tally for an artist mostly regarded as an album seller.
If Blow Me (One Last Kiss) and Try were both undoubtedly successful hits, Just Give Me A Reason was on a different level.
This duet with Fun. singer Nate Ruess sold 9.11 million units, an incredible amount for a song promoted while the market had passed its peak and with relatively few years of catalog sales.
Even more impressively, it became the pop star's biggest selling hit after nearly one decade and a half of presence. It was also her first true breakthrough in various markets such as Spain, Italy and Mexico.
Just like with physical singles some years earlier, Pink continued to sell great volumes of downloads while everyone else was suffering the death of this market. The recent releases Just Like Fire, A Million Dreams, Setting the World on Fire, What About Us, Walk Me Home, One Too Many, and Cover Me In Sunshine all sold especially well combining for 6.9 million units.
A few years before, Raise Your Glass and F**kin' Perfect promoted the Greatest Hits… So Far!!! compilation perfectly with respectively over 7.1 million and 5.6 million units.
All told, the diva has now sold 85.6 million downloads and ringtones with this latter format accounting for less than 10% of the total.
Streaming
Streaming is made up of audio and video streams. Our CSPC methodology includes both to better reflect the real popularity of each track. The main source of data for each avenue is respectively Spotify and YouTube. To factor in the growing impact of multiple Asian countries where these platforms aren't always the go-to site for music streaming, more sources have been added.
In order to account for their real popularity in each relevant country, the below sources have been used along with the mentioned ratios that reflect the market share of each area.
Audio Streams
– South Korea: Genie streams * 2.20 (consistent with Gaon streaming numbers)
– Japan: AWA streams * 68 / 4 (AWA has 4% of the Japanese streaming market, and 32% are already considered through Spotify's extrapolation)
– Arabic world: Anghami streams
– Sub-Saharan Africa: Boomplay + Audiomack streams
– Elsewhere: Spotify streams * 649 / 406 (649 million subscribers of global platforms like Spotify, Apple Music, Amazon Music, YouTube Music, Deezer, etc. against 406 million from Spotify itself) + Genie streams * 2.20 (uses Genie rather than Spotify to extrapolate markets like Taiwan, Thailand and Vietnam)
Video Streams
– China* : QQ video streams * 50 if the song is available for audio stream, QQ video streams * 5 elseway (scale built based on known figures for several major artists)
– Elsewhere : Youtube views increased by 10% to account for various local platforms
*since Chinese streaming platforms are mostly video streaming platforms, their streams are weighted on par with YouTube streams.
Audio Stream value – 1,500 plays equal 1 album unit
Video Stream value – 6,750 views equal 1 album unit
Equivalent Albums Sales (EAS) = ( Spotify * 649/406 + Genie * 2.20 * 2 + AWA * 68 / 4 + Anghami + Boomplay + Audiomack ) / 1500 + ( QQ views* 50(or 5) + YouTube * 1.1 ) / 6750
Top Hits
For someone who has been so successful in the 00s, Pink manages the impressive feat of landing a trio of 10s songs inside her personal top 3.
Just Give Me a Reason leads the way with impressive numbers. It's coming for a billion streams on Spotify soon, while it will break 2 billion on YouTube. In total, it adds for 1.3 million EAS.
Also from The Truth About Love, Try is third overall with 650,000 EAS. It's her strongest track on Chinese platform QQ.
In-between is What About Us. Of course, this song had the advantage to come during the streaming era, being released as the lead single of Beautiful Trauma in 2017. Still, nearly 700 million streams on Spotify is very impressive for someone so deep into her career.
More recent tunes record about 300 million streams, they are Walk Me Home, Just Like Fire and Cover Me In Sunshine.
All told, she has 23 songs over 100 million streams on Spotify and YouTube, although not necessarily the same ones.
Through the years, Pink also issued many hits outside of her traditional studio albums. In fact, orphan songs, led by Raise Your Glass, occupy 5 spots inside her top 10.
Nevertheless, 6 of her studio albums enjoy at least 4 tracks each inside the top 40, which reflects a well balanced and consistent discography.
These albums are The Truth About Love, her biggest at 2.61 million EAS from streams in total, followed by Beautiful Trauma (1.57 million), Funhouse (1.20 million), Hurts 2B Human (1.05 million), I'm Not Dead (659,000), and M!ssundaztood (608,000).
Try This (127,000) and Can't Take Me Home (111,000) can't compete, with only Trouble making the top 40, barely, while the latter album top hit There You Go is outside of the listing (#45 with 41,000 EAS).
With a career totalling 8.66 billion streams on Spotify and 9.65 billion on YouTube, Pink has now topped the 10 million EAS milestone, standing at 10.85 million as I'm writting down these lines.
Full catalog breakdown
If you are familiar with the artist's catalog and want to check details of each and every song, you can access to all of them right here.
Keep yourself up to date
Our website provides you a fantastic tool which fetchs updated Spotify streams as you request them, use it to watch these results grow day after day!
Pink compilations sales
It sounds fairly logical to add together weighted sales of one era – studio album, physical singles, downloads, streams – to get the full picture of an album's popularity. For older releases though, they also generate sales of various live, music videos and compilation albums.
All those packaging-only records do not create value, they exploit the value originating from the parent studio album of each of its tracks instead. Inevitably, when such compilations are issued, this downgrades catalog sales of the original LP. Thus, to perfectly gauge the worth of these releases, we need to re-assign sales proportionally to its contribution of all the compilations which feature its songs. The following table explains this method.
The distribution process

How to understand this table? In the example of Greatest Hits… So Far!!!, these figures mean it sold exactly 5,000,000 units worldwide. The second statistics column means all versions of all the songs included on this package add for 3,101,437 equivalent album sales from streams of all types.
The second part on the right of the table shows how many equivalent streams are coming from each original album, plus the share it represents on the overall package.
Thus, streaming figures tell us songs from the Funhouse album are responsible for 33% of the Greatest Hits… So Far!!! track list attractiveness. This means it generated 1,640,000 of its 5,000,000 album sales and so forth for the other records. We then apply this process to all compilations present on the table.
Compilations sales figures listing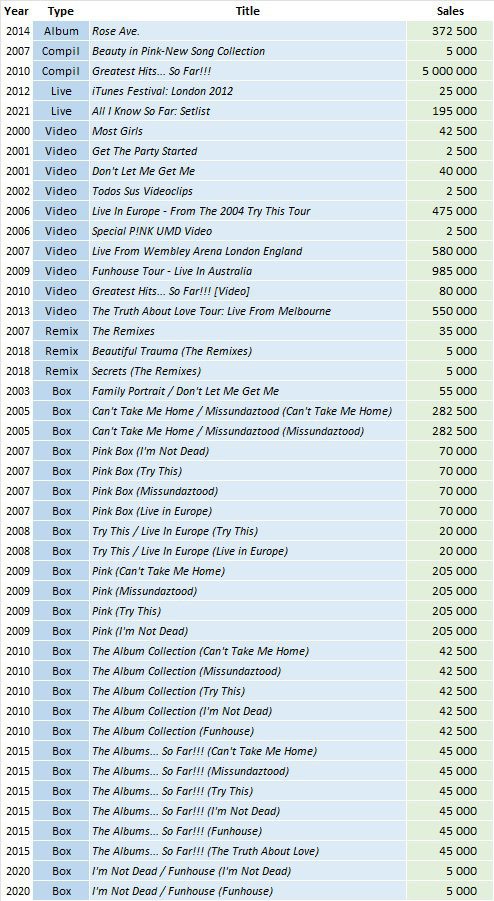 On top of her good studio album sales, Pink also moved a notable amount of units with additional items.
The prime example is clearly her 2010 Greatest Hits… So Far!!! package which has now shifted 5 million pure copies.
Her videos are amazing sellers as well, with Funhouse Tour nearing a million while more lives from Europe, Wembley, and Melbourne register an average of half a million sales. This is in part due to the presence of covers from remaining artists on these live albums, covers which aren't available elsewhere.
Through the years, many box sets have been sold too, in total, they grant the artist 2.2 million sales.
Another highlight of this list is the side project You+Me, a duet with Dallas Green, who released the studio set rose ave.
Bonus: best-selling compilations' breakdowns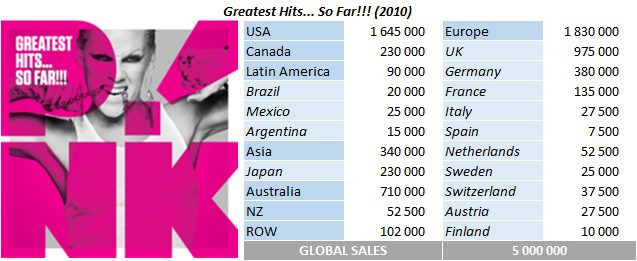 Full Length related records Sales – Summary

Here is the most underestimated indicator of an album's success – the amount of compilation sales of all kinds it generated.
Due to the dependency of sales of the original studio albums on these releases, they are a key piece of the jigsaw.
These numbers are obtained by applying the method from the section The distribution process to all packages listed under Compilation sales figures listing category.
Total Album (all types) Sales per Country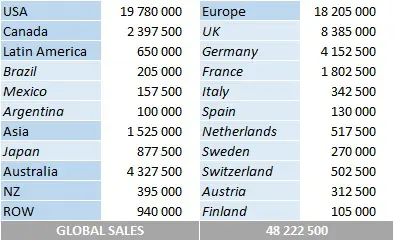 Please note country-specific numbers may miss sales of a few minor releases, although totals are complete.
Pink Career CSPC Results
So, after checking all the figures, how many overall equivalent album sales has each album by Pink achieved? Well, at this point we hardly need to add up all of the figures defined in this article!
Albums CSPC results
In the following results table, all categories display figures in equivalent album sales. If different, pure sales are listed between parentheses.
| artist_spotify_id | # | Cover | Album | Studio albums (EAS) | sales_update_date | Other LPs (EAS) | Physical singles (units sold) | Digital singles (units sold) | Streams | Streams increase | Total EAS | valid_as_of | streams_updated_value | album_id |
| --- | --- | --- | --- | --- | --- | --- | --- | --- | --- | --- | --- | --- | --- | --- |
| 1KCSPY1glIKqW2TotWuXOR | 1 | | Can't Take Me Home | 4,365,000 | 23.06.22 | 768,000 | 486,000(1,620,000) | 177,000(1,180,000) | 138,000 (09/27/23) | Av.: 60LD: 60 | 6,096,000 | 20,230,927 | 138,000 | 1,948 |
| 1KCSPY1glIKqW2TotWuXOR | 2 | | M!ssundaztood | 12,370,000 | 23.06.22 | 2,420,000 | 781,000(2,603,000) | 855,000(5,700,000) | 773,000 (09/27/23) | Av.: 360LD: 420 | 17,459,000 | 20,230,927 | 773,000 | 1,949 |
| 1KCSPY1glIKqW2TotWuXOR | 3 | | Try This | 2,815,000 | 23.06.22 | 601,000 | 102,000(340,000) | 183,000(1,220,000) | 154,000 (09/27/23) | Av.: 60LD: 60 | 3,996,000 | 20,230,927 | 154,000 | 1,950 |
| 1KCSPY1glIKqW2TotWuXOR | 4 | | I'm Not Dead | 6,460,000 | 23.06.22 | 1,834,000 | 235,000(783,000) | 1,652,000(11,010,000) | 847,000 (09/27/23) | Av.: 410LD: 490 | 11,106,000 | 20,230,927 | 847,000 | 1,951 |
| 1KCSPY1glIKqW2TotWuXOR | 5 | | Funhouse | 6,900,000 | 23.06.22 | 2,413,000 | 116,000(385,000) | 3,135,000(20,900,000) | 1,495,000 (09/27/23) | Av.: 630LD: 680 | 14,081,000 | 20,230,927 | 1,495,000 | 1,952 |
| 1KCSPY1glIKqW2TotWuXOR | 6 | | The Truth About Love | 5,675,000 | 23.06.22 | 375,000 | 26,000(85,000) | 3,125,000(20,830,000) | 3,245,000 (09/27/23) | Av.: 1,380LD: 1,630 | 12,446,000 | 20,230,927 | 3,245,000 | 1,953 |
| 1KCSPY1glIKqW2TotWuXOR | 7 | | Beautiful Trauma | 2,660,000 | 23.06.22 | 49,000 | 5,000(15,000) | 408,000(2,720,000) | 1,776,000 (09/27/23) | Av.: 450LD: 540 | 4,898,000 | 20,230,927 | 1,776,000 | 1,954 |
| 1KCSPY1glIKqW2TotWuXOR | 8 | | Hurts 2B Human | 665,000 | 23.06.22 | 19,000 | 0(0) | 183,000(1,220,000) | 1,195,000 (09/27/23) | Av.: 330LD: 280 | 2,062,000 | 20,230,927 | 1,195,000 | 1,955 |
| 1KCSPY1glIKqW2TotWuXOR | 9 | | TRUSTFALL | 0 | | 0 | 0(0) | 0(0) | 515,000 (09/27/23) | Av.: 0LD: 0 | 515,000 | 20,230,927 | 515,000 | 0 |
| 1KCSPY1glIKqW2TotWuXOR | 10 | | Orphan | 0 | 23.06.22 | 2,111,000 | 440,000(1,468,000) | 2,804,000(18,690,000) | 2,762,000 (06/23/22) | N/A | 8,407,000 | 20,230,927 | 2,762,000 | 1,956 |
| 1KCSPY1glIKqW2TotWuXOR | 11 | | Features | 0 | 23.06.22 | 0 | -160,000(20,000) | 323,000(2,150,000) | 159,000 (06/23/22) | N/A | 322,000 | 20,230,927 | 159,000 | 1,957 |
'Av.' stands for Average, 'LD' for Last Day.
As a reminder:
Studio Album: sales of the original album
Other Releases: sales of compilations generated thanks to the album
Physical Singles: sales of physical singles from the album (ratio 3/10)
Download Singles: sales of digital singles from the album (ratio 1,5/10)
Streaming: equivalent album sales of all the album tracks (ratio 1/1500 for Audio stream and 1/6750 for Video stream)
See where the artist ranks among remaining singers
The key to long relationships isn't love, it is respect. When you truly respect the person that is your partner, and your partner truly respects you, you don't need go crazy nor to put a lot of drama in to claim how strong your supposed love is. You know that, whatever happens, you team together, and that you are both so much stronger, wiser, better together than when you are alone.
Pink never had a crazy fanbase screaming to the world how much she is the best. Instead, her talent, her commitment for so many causes, her hard work, her political statements, her authenticity, her relationship with her children, have been commanding respect for over 20 years.
Her sales figures highlight this situation. She hasn't got the typical 4-to-6 years of heydays and disappeared. Some of her albums won't resonate as much, but the general public is always willing to give her songs a chance.
22 years after he debut, she will soon have all her albums in multi-million selling waters. That includes even Hurts 2B Human, widely seen as a big disappointment.
The second album seen as some kind of a flop, Try This, is ever closer to 4 million, which is a very decent number in absolute terms.
It's only a matter of time until Beautiful Trauma hits 5 million. Once again, there aren't that many albums in history that made it to this number while being so deep in the artist's career.
Can't Take Me Home was a very successful debut, now its sales almost look average considering Pink's subsequent success. It stands at 6 million sales overall.
After that, we get into her fab four. M!ssundaztood, Funhouse, The Truth About Love, and I'm Not Dead are all in 8 digits, amassing a total of 53.8 million sales among them.
On top of that, the various hits issued apart add for over 8 million sales.
The career total of Pink is up to 79.18 million units. As an all-around force, who did well on every sales avenue since she debuted, we can safely expect that it won't be long until she hits 80 million.
Singles CSPC results
The list is compiled in album equivalent sales generated by each song. Therefore, these figures are not merged units of singles formats. Instead, it includes weighted sales of the song's physical single, download, ringtone and streaming as well as its share among sales of all albums on which it is featured.
1. 2008 – Pink – So What [Funhouse] – 6,370,000
2. 2012 – Pink ft. Nate Ruess – Just Give Me a Reason [The Truth About Love] – 5,760,000
3. 2001 – Pink – Get the Party Started [M!ssundaztood] – 5,620,000
4. 2001 – Pink – Just Like a Pill [M!ssundaztood] – 5,350,000
5. 2006 – Pink – Who Knew [I'm Not Dead] – 4,190,000
6. 2012 – Pink – Try [The Truth About Love] – 2,930,000
7. 2001 – Pink – Don't Let Me Get Me [M!ssundaztood] – 2,710,000
8. 2010 – Pink – Raise Your Glass [Orphan] – 2,550,000
9. 2017 – Pink – What About Us [Beautiful Trauma] – 2,550,000
10. 2006 – Pink – U + Ur Hand [I'm Not Dead] – 2,430,000
11. 2000 – Pink – There You Go [Can't Take Me Home] – 2,420,000
12. 2001 – Pink – Family Portrait [M!ssundaztood] – 2,320,000

If you feel inspired by this list, we just created this CSPC Pink playlist on Spotify!

Discography results
Thanks to our new ASR (Artist Success Rating) concept, we know that her sales represent 17.98 million times the purchase of her entire discography. Coupled with their total sales, it translates into an ASR score of 214.
It is similar to the score of artists like Robbie Williams and Cher. The ranking of all artists studied so far is available too at this link.
Records & Achievements
At 17.29 million EAS, M!ssundaztood is the second most successful album released in 2001.
At 10.92 million EAS, I'm Not Dead is among the Top 10 most successful albums released in 2006.
At 13.79 million EAS, Funhouse is among the Top 10 most successful albums released in 2008.
At 11.81 million EAS, The Truth About Love is among the Top 10 most successful albums released in 2012.
At 5.76 million EAS, Just Give Me A Reason is the most successful song released in 2012.
At 5.0 million pure album sales, Greatest Hits… So Far!!! is tied with Bon Jovi's Greatest Hits as the best selling compilation of the 10s.
At 56.5xPlatinum albums, representing 3,885,000 sales, P!nk is the most certified female singer ever in Australia.
P!nk sat a record-breaking 8 times inside the Top 2 Year End Album chart in Australia (2006 & 2007 I'm Not Dead #2 ; 2008 & 2009 Funhouse #2, 2010 Greatest Hits… So Far!!! #1, 2012 & 2013 The Truth About Love #1, 2017 Beautiful Drama #2).
P!nk's last 3 2006-2012 studio albums combine for 173 weeks inside the Australian Top 10, including 75 inside the Top 3. Greatest Hits… So Far!!! spent 13 weeks at #1.
At 32xPlatinum / 480,000 units, Funhouse Tour: Live In Australia is the greatest selling music DVD ever in Australia. It has a lead of 9 Platinum awards over the runner up, Michael Jackson's Number Ones.
NB: EAS means Equivalent Album Sales.
Dynamic Spotify Key Performance Indicators
Please note that numbers below are retrieved automatically, so they will evolve day by day unlike previously listed data which is valid as of the publication date of the article.
P!nk
Current followers count: 15,936,098
15,000,000 followers have been reached on 04/25/23 14,000,000 followers have been reached on 11/14/22 13,000,000 followers have been reached on 04/26/22 12,000,000 followers have been reached on 11/02/21 11,000,000 followers have been reached on 05/28/21 10,000,000 followers have been reached on 01/06/21
>> Daily breakdown
P!nk is #106 among the most followed artists of all-time
>> Visit our Top 200 most followed artists ranking
Current streams count: 10,170,192,544
10,000,000,000 streams have been reached on 08/25/23
>> Daily breakdown
P!nk is #103 among the most streamed artists of all-time Popularity Rating: /100
>> Visit our Top 1,000 most streamed artists ranking
>> Visit our Top 20 highest rated artists ranking
Current monthly listeners: 33,334,372
(Trend:
-1,117,887
)
Global chart position: #97
The artist top 50 cities come from
24 distinct countries
>> Global impact breakdown
Sources: IFPI, Spotify, YouTube, Discogs.
As usual, feel free to comment and / or ask a question!
You may be interested in…
… Pink's streaming masters analysis
… checking out the upcoming artists or even voting for them!
… best-selling artists, albums, and singles
We have created amazing cross-artists tops. Click to see all CSPC and raw sales results compiled so far!
… similar artists
To put Pink's figures into perspective, click to reach career breakdowns of pop star divas: