Best selling artists of the 2010s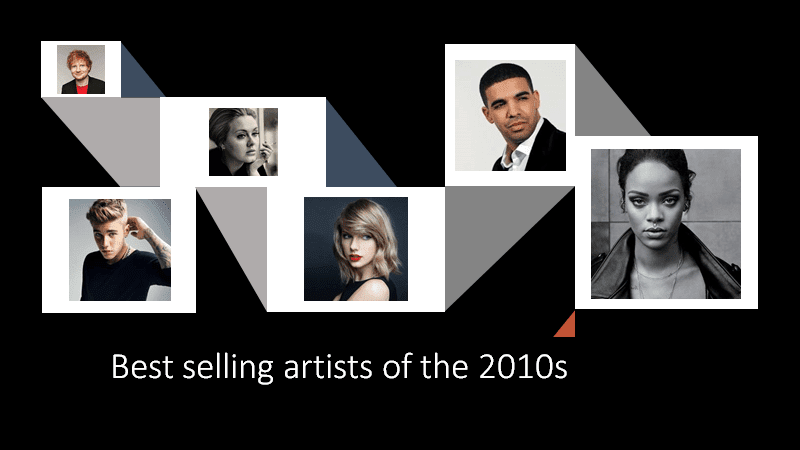 So, are you ready to see a countdown of the best selling artists of the 2010s?
A decade ago, the music industry was completely different. We still had record players at home, downloads was the big thing, Adele and Drake were promising newcomers at best and nobody had heard about streaming platforms.
For artists, that's the tricky part. A decade is long enough to see a completely new generation of music consumers replace the former one.
That's why it takes you a lot of appeal to remain on top and why this list is made of the truly biggest artists in the World…
The method
All numbers posted on this article use the Commensurate Sales to Popularity Concept.
To make it short, sales of every format are added together with appropriate weightings. This includes physical albums and singles, downloads of albums and tracks, ringtones, music videos and audio and video streams.
Only sales of material that first came out in the 2010s is factored in. Since our target is to catch which artist was the most relevant to the decade, catalog sales are excluded.
Figures reflect global units.
Artists ranked 11-20
We start our top 20 of the decade from the bottom with a Frenchman. David Guetta scored tons of hits for many years, amassing nearly 25 million CSPC units from his 2010s material.
This is enough to edge out of the list American rapper Kanye West.
At 19 comes American superstar Beyoncé with 26.9 million units. Aged 38, she is the oldest female from the top 20, a trademark of her enduring appeal.
Spots 15 to 18 are occupied by 4 acts spread over a mere 400,000 units.
US critically acclaimed rapper Kendrick Lamar is 18th at 28.6 million, on a virtual tie with Lady Gaga who finished the decade as strong as she started it.
At 28.8 million comes Coldplay. Their last album is performing poorly, but before that their decade was truly impressive.
Another rock band ranks 15th, Imagine Dragons confirmed their super successful album with a string of hits in recent years. They don't seem to be slowing down and stand at 29.0 million currently.
We step up several millions to meet Ariana Grande at 14 with 34.5 million. The young icon is climbing up the ladder extremely fast and nobody knows where her limit is.
Two more female US singers are listed at 12 and 13 among the highest selling artists of the decade globally, although in completely different styles.
Nicki Minaj records 37.1 million units to take over the former position, while the latter is occupied by Katy Perry at 37.0 million.
They made a last push at the end of the decade to enter the top 10, but Maroon 5 will be no doubt satisfied still with their 11th spot along with their 37.8 million units sold.
The 10 best selling artists of the 2010s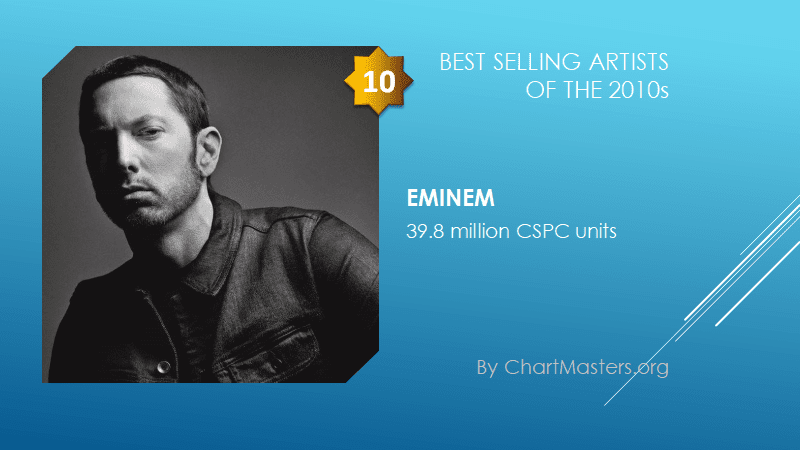 At 47, Eminem is far and away the oldest artist of this list. It's no surprise that he belongs to the very best selling acts of all-time. He scores nearly 40 million units with his 2010s material only.
After a disappointing end of the 2000s, he returned very strong in 2010 with the smash album Recovery. It moved over 17 million units to make it the 9th strongest record of the decade.
The Marshall Mathers LP 2 was a solid success as well, while Revival and Kamikaze kept illustrating his relevancy more than 20 years into the game.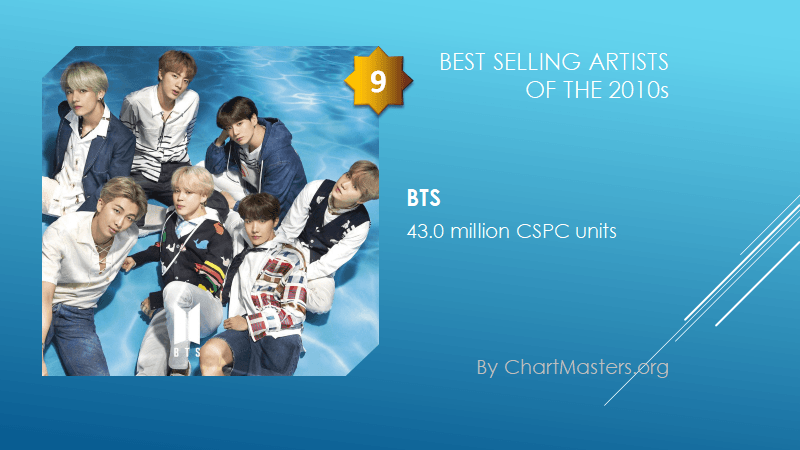 K-Pop monsters BTS came out of nowhere to be responsible of what may be the biggest shocker in the history of the music industry.
Who would have expected in 2010 that a Korean act would belong to the 10 highest selling artists of the decade in the World?
They showed such an insane strength during the last years of the decade that their 9th place and 43.0 million sales come almost as no surprise.
As recently as 3 years ago though their sales wouldn't have put them in the top 100 of the decade. The question now is, how long can they maintain their outstanding popularity?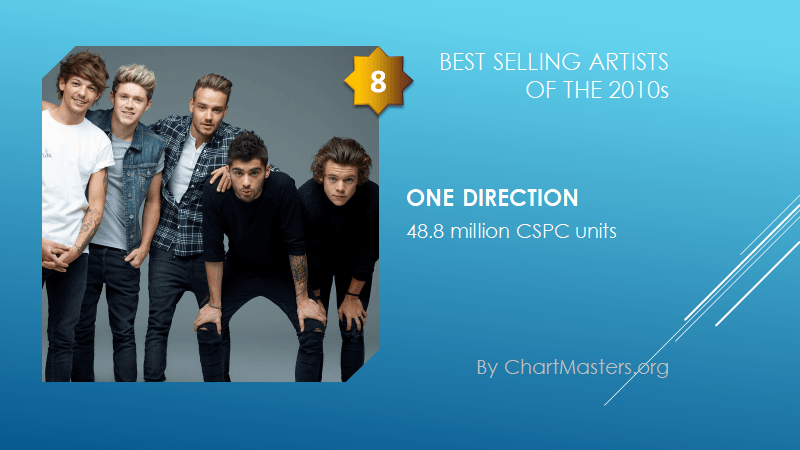 They got huge instantly and remained huge to the last minute. One Direction land at #8 with a tremendous total of 48.8 million sales.
From 2011 to 2015, the pop band dropped one album every fall, smashing with all of them.
Their debut Up All Night is among the top 20 albums of the decade, and incredibly continues to do wonders in streaming, as does everything they issued.
As solo artists, they are facing some up and downs, but the place of the group is already safe in the history of the music industry, in fact they have been the most successful band of the decade.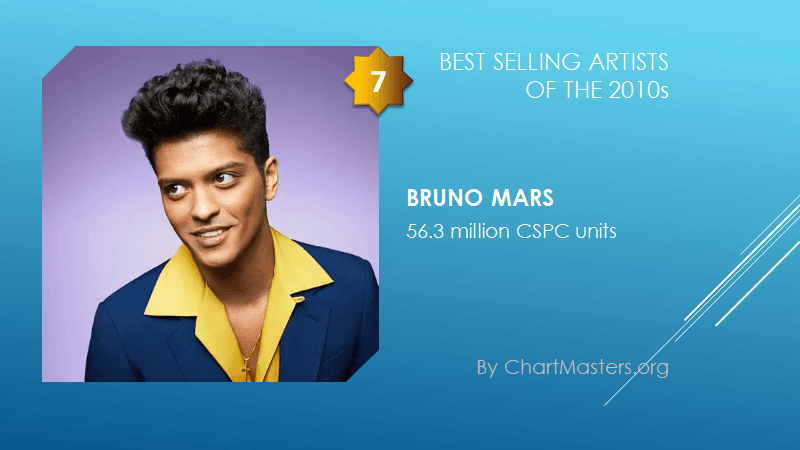 Bruno Mars is one of a kind. He isn't the most active artist around and his fans are also fairly discreet online. Yet, he turns everything he touches into gold.
He issued a mere 3 albums so far, but they have all become groundbreaking hits.
They sell tons of pure units, his singles are downloaded like crazy and his catalog remains fire on streaming. It's hard to point out a signature song from him, he has just too many top hits.
Doo-Wops & Hooligans and Unorthodox Jukebox are respectively the 6th and 13th biggest releases of the 2010s.
This winning formula puts him on 56.3 million units so far, the 7th highest total of the decade.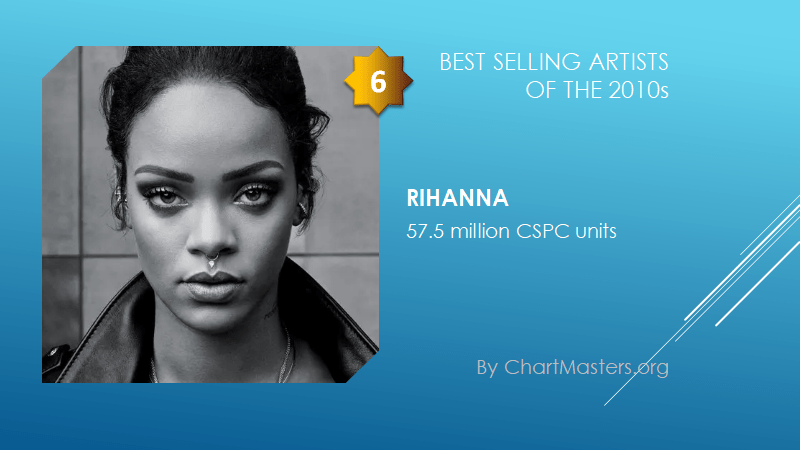 It's worth noting that Rihanna's debut hit, Pon De Replay, was released in 2005, when Madonna was issuing Hung Up.
Retrospectively, we can almost look at it as a handover considering how the former replaced the latter as the perfect definition of a hit machine.
Starting the decade as she ended the previous one, Rihanna dropped of three-peat of smash albums from 2010 to 2012.
Afterwards, she has been way less productive, with only one album, ANTI, in 2016. Just like the previous ones, it was huge.
These 4 releases along with multiple gigantic collaborations, which include the 7th biggest hit of the decade Love the Way You Lie, shot her to 57.5 million sales and 6th overall of the decade.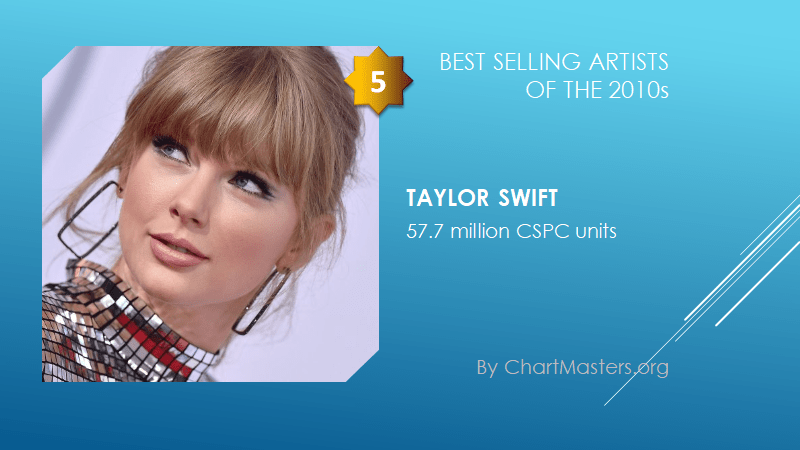 During the 2010s, Taylor Swift took the risk of changing her sound in spite of massive success in the US with her country recordings.
Her switch to pure pop music succeeded better than anyone could have hoped.
In 2014, her album 1989 ended to make her a top performer all over the globe. It sold over 18 million units, the 8th largest selling era of the decade.
Red is also among the top 20 albums of the last 10 years while Speak Now is close. With Lover, she confirmed one more time that she is here to stay.
Her decade total is 57.7 million, just enough to feature inside the top 5.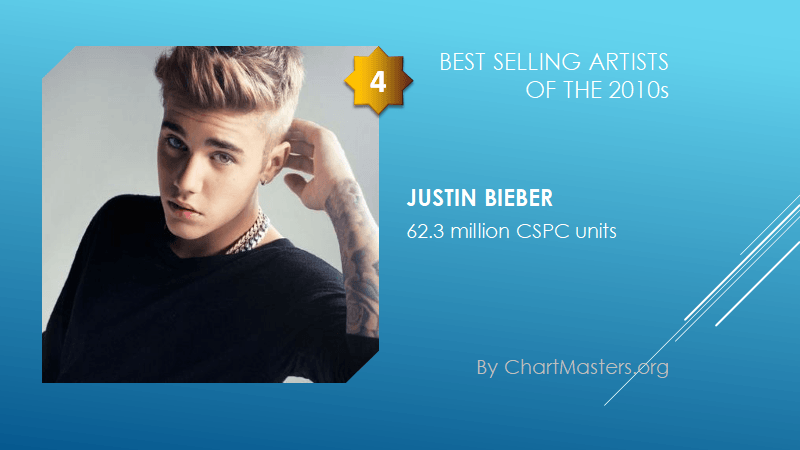 Can you believe that Justin Bieber is still only 25? The way he ranks 4th among the top sellers of the decade is simply incredible.
He was a teenager when he debuted 10 years ago, after a lot of hype his album Believe was seen as a flop and since then he only released one LP, Purpose in 2015.
He is this singer that is insanely popular though. His "flops" do wonders, his hits are massive, his fan base is global, and his aura means all artists in the industry want him to feature on their songs.
Purpose is the 11th biggest album of the decade, Baby the 8th biggest song, while nobody forgot his participation on songs like Despacito and Let Me Love You.
The Canadian idol owns 6 of the top 45 tracks of all-time on Spotify, and his comeback is getting closer than ever.
While how he will do during the 2020s is yet to be seen, for the 2010s he registers a mind-blowing 62.3 million units sold.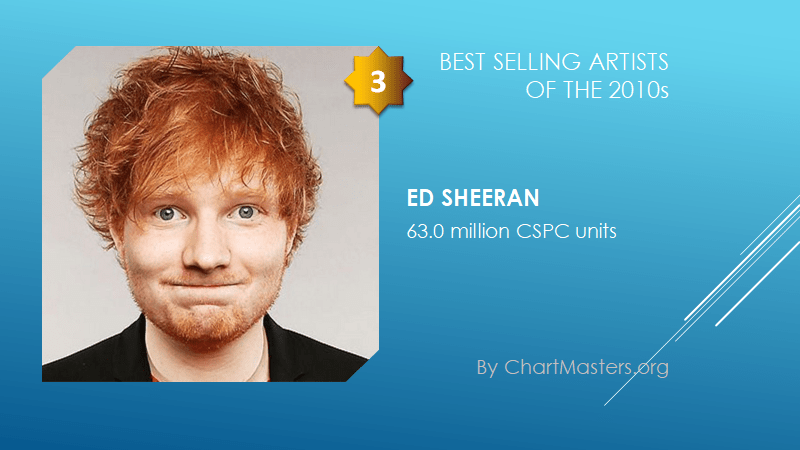 There are very few words to describe the level of success that Ed Sheeran has been enjoying lately.
While his 4th album is still building up, he scores 63.0 million sales for the decade.
He made it big in the US in 2014 only, and turned truly global in 2017, which makes these numbers even more impressive.
Shape of You is the 5th biggest song of the decade, and the biggest one from 2016 to date.
The hit performed insanely well everywhere, in Europe, in the US, in Oceania, in China, in Latin America, in Japan, in South Korea. He owns all-time records in virtually every market on Earth.
He is most recognized for the success of his albums though with ÷ (Divide) and x (Multiply) moving way past 20 million units, 2 of the only 4 albums which did it during the 2010s.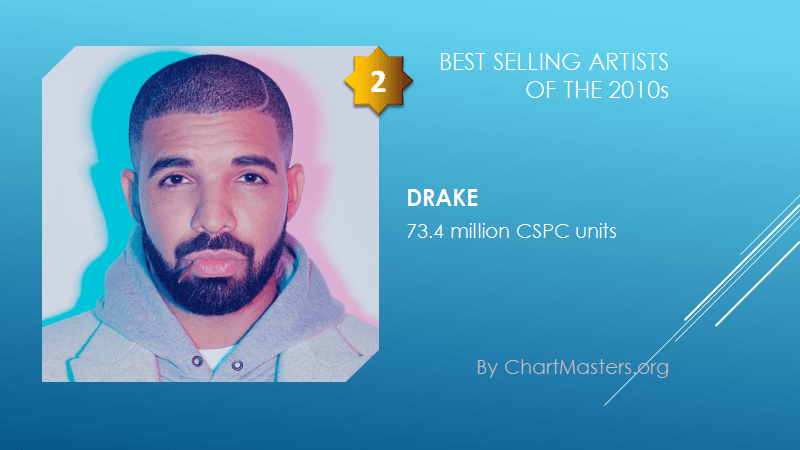 Drake started the decade very strong in the US, quickly shifting over 500,000 pure units in a week with his new albums.
This North American success was soon to become wider and wider until become an inevitable figure every time we list the World's top performers.
It's easy to jump into streaming units, saying they aren't so valuable. It isn't about listening to one song randomly from a playlist. The man has nearly 40 billion streams on Spotify alone.
That's billions and billions hours listening to his music. The way he built an utterly dense and precious catalog in such a short time is something unseen in decades.
He has no album nor single inside the top 20 of the decade, a sign of his amazing consistency.
With 73.4 million units, he has a comfortable lead of 10 million over his pursuer. The 2nd biggest artist overall, he is the biggest male act of the 2010s.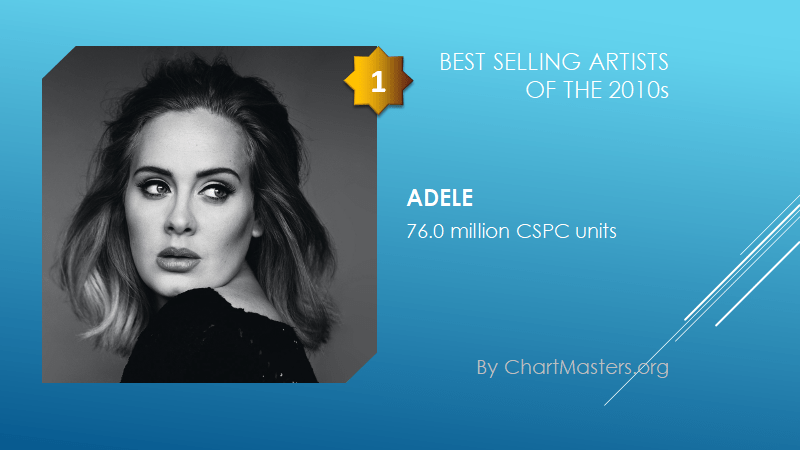 Don't search anymore, the best selling artist of the 2010s is her.
The impressive success of Drake and Ed Sheeran in recent years while Adele has been off the radar since 2015 almost made us doubt that she would top the decade. She did, still.
This shows the magnitude of her success. With a mere 2 albums, basically no collaboration, close to no orphan project, she holds off the stiff competition.
21 and 25 are respectively the #1 and #2 albums of the decade, the former with 46 million sales.
In the songs' list, she owns 6 of the 20 biggest songs of the decade, including the #1, #2, #3 and #6, with Someone Like You, Rolling In The Deep, Hello, and Set Fire To The Rain, respectively.
We don't know what will happen in the future, when looking at her achievements so far though all we can do is clap our hands and say congratulations to the Queen of the decade.