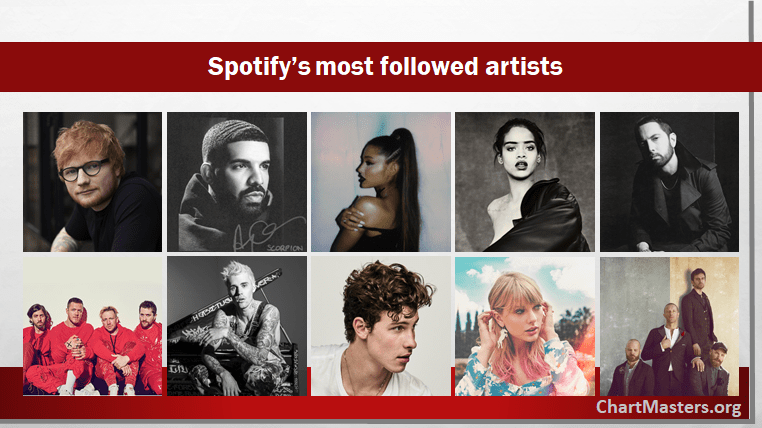 If you are looking for the highest gaining artists in terms of followers, please visit this page. Our various streaming tools are available here.
Most Followed Artists – Methodology
Our most followed artists listing goes down to the #200 position. It's updated daily, just like the statistic is on Spotify.
To build this list, we automatically retrieve the information for more than 2,000 major artists.
We will be adding newly increasing stars to make sure we remain comprehensive.
Having a lot of followers doesn't guarantee your releases will always be hits. If you got 20, 30, 50 million subscribers though, it's safe to say you'll remain relevant for many years.
So, weither it comes from new songs or past hits, these most followed artists are the ones whivh are building the most robust discographies, ultimately climbing up the ladder in our CSPC rankings.
Most Followed Artists - Totals
Rank
Artist
Followers
1
Ed Sheeran
100,851,557
2
Ariana Grande
82,119,330
3
Billie Eilish
67,155,159
4
Drake
65,934,874
5
Justin Bieber
64,124,889
6
Eminem
58,092,843
7
Taylor Swift
56,546,456
8
Arijit Singh
54,239,985
9
BTS
53,194,260
10
Bad Bunny
52,853,056
11
Rihanna
49,658,070
12
The Weeknd
48,204,230
13
Queen
42,716,723
14
Bruno Mars
42,277,693
15
Imagine Dragons
41,704,927
16
Adele
40,952,077
17
Shawn Mendes
38,790,887
18
XXXTentacion
37,836,501
19
Post Malone
37,752,072
20
Maroon 5
37,342,400
21
Coldplay
37,325,366
22
Selena Gomez
36,656,529
23
Neha Kakkar
36,045,008
24
Dua Lipa
35,522,787
25
J Balvin
34,771,068
26
Alan Walker
34,558,536
27
Marshmello
34,071,084
28
Ozuna
32,945,877
29
Beyoncé
31,972,020
30
Maluma
31,769,597
31
BLACKPINK
31,380,629
32
Daddy Yankee
28,834,732
33
Camila Cabello
27,604,292
34
Karol G
27,021,236
35
One Direction
26,852,022
36
Nicki Minaj
25,788,094
37
Marília Mendonça
25,663,229
38
Guns N' Roses
25,327,880
39
Juice WRLD
25,113,079
40
David Guetta
24,613,035
41
Shakira
24,379,428
42
Sia
24,075,283
43
AC/DC
24,071,030
44
Michael Jackson
23,647,198
45
The Beatles
23,305,087
46
Anuel Aa
23,028,417
47
Calvin Harris
22,940,266
48
Demi Lovato
22,933,619
49
Lady Gaga
22,850,975
50
Twenty One Pilots
22,839,933
51
Harry Styles
22,473,417
52
Linkin Park
22,274,588
53
Metallica
22,177,723
54
Katy Perry
22,037,782
55
Avicii
21,972,204
56
A.R. Rahman
21,766,930
57
Kendrick Lamar
21,187,037
58
Travis Scott
21,120,793
59
Doja Cat
20,980,106
60
ZAYN
20,947,878
61
Cardi B
20,565,969
62
Sam Smith
19,907,645
63
Badshah
19,769,664
64
Sebastian Yatra
19,618,432
65
Olivia Rodrigo
19,346,799
66
The Chainsmokers
19,323,708
67
Miley Cyrus
18,823,785
68
Red Hot Chili Peppers
18,492,407
69
Halsey
18,341,610
70
Kanye West
17,926,842
71
Paulo Londra
17,779,027
72
J. Cole
17,523,373
73
Nicky Jam
17,407,118
74
Pink Floyd
17,365,324
75
Lana Del Rey
17,328,692
76
Jorge & Mateus
17,014,562
77
Charlie Puth
16,982,819
78
Ze Neto & Cristiano
16,867,138
79
Gusttavo Lima
16,667,448
80
Chris Brown
16,490,770
81
Henrique & Juliano
16,089,458
82
Romeo Santos
15,995,286
83
Camilo
15,971,368
84
Nirvana
15,873,788
85
Martin Garrix
15,608,268
86
Banda Sinaloense MS De Sergio Lizarraga
15,571,590
87
Khalid
15,453,284
88
Arctic Monkeys
15,314,421
89
Armaan Malik
14,911,955
90
Melanie Martinez
14,724,193
91
Fifth Harmony
14,658,493
92
Twice
14,376,951
93
OneRepublic
14,086,151
94
Lil Uzi Vert
13,670,334
95
Farruko
13,661,054
96
Green Day
13,529,755
97
P!nk
13,472,518
98
2pac
13,268,361
99
Rauw Alejandro
12,978,639
100
Shreya Ghoshal
12,794,596
101
Migos
12,506,306
102
Aerosmith
12,481,057
103
Led Zeppelin
12,462,008
104
Lil Wayne
12,439,809
105
Justin Timberlake
12,406,755
106
Jennifer Lopez
12,178,247
107
The Rolling Stones
12,000,682
108
Future
11,955,902
109
Becky G
11,955,604
110
Anitta
11,945,985
111
Diljit Dosanjh
11,891,015
112
Guru Randhawa
11,662,857
113
Alok
11,662,442
114
Christian Nodal
11,630,184
115
Lil Nas X
11,594,164
116
21 Savage
11,558,798
117
Meghan Trainor
11,542,564
118
A$AP Rocky
11,538,975
119
Panic! at the Disco
11,495,035
120
Jason Derulo
11,418,605
121
j-hope
11,410,111
122
Cartel De Santa
11,371,846
123
Britney Spears
11,206,169
124
Lil Baby
11,173,086
125
Anirudh Ravichander
11,096,422
126
Ellie Goulding
11,054,758
127
Bon Jovi
11,034,778
128
Wesley Safadão
11,017,565
129
Sech
11,013,585
130
Maiara & Maraisa
11,007,976
131
Enrique Iglesias
10,862,517
132
Pop Smoke
10,744,459
133
Bob Marley
10,732,838
134
Wiz Khalifa
10,682,987
135
Little Mix
10,585,100
136
RM
10,566,144
137
Alessia Cara
10,552,110
138
Luis Fonsi
10,478,368
139
Zara Larsson
10,298,011
140
Rahat Fateh Ali Khan
10,292,271
141
Jessie J
10,205,381
142
Luis Miguel
10,121,788
143
Foo Fighters
10,110,720
144
James Arthur
10,100,089
145
Matheus & Kauan
10,089,200
146
U2
10,034,681
147
Manuel Turizo
9,997,125
148
DaBaby
9,958,368
149
Big Sean
9,902,376
150
Usher
9,876,156
151
Alicia Keys
9,869,473
152
Lorde
9,816,498
153
Anne-Marie
9,807,814
154
Frank Ocean
9,806,043
155
Elton John
9,802,460
156
The Neighbourhood
9,793,918
157
Lewis Capaldi
9,757,528
158
Liam Payne
9,701,343
159
Childish Gambino
9,687,566
160
Fall Out Boy
9,596,330
161
Ricardo Arjona
9,538,912
162
Pitbull
9,477,856
163
Lil Peep
9,361,870
164
Agust D
9,352,976
165
Tyler the Creator
9,350,830
166
YoungBoy Never Broke Again
9,318,599
167
50 Cent
9,258,020
168
EXO
9,204,207
169
Myke Towers
9,198,234
170
Daft Punk
9,097,693
171
Gorillaz
9,091,537
172
CNCO
9,037,979
173
V
9,020,751
174
Sidhu Moose Wala
9,019,662
175
Kelly Clarkson
9,013,315
176
Atif Aslam
9,005,230
177
Avril Lavigne
8,996,737
178
Yo Yo Honey Singh
8,911,053
179
Sonu Nigam
8,828,380
180
Stray Kids
8,773,417
181
Niall Horan
8,743,798
182
5 Seconds Of Summer
8,735,765
183
Slipknot
8,722,291
184
Flo Rida
8,629,595
185
Arcangel
8,580,992
186
Snoop Dogg
8,550,204
187
Fleetwood Mac
8,546,676
188
ABBA
8,513,623
189
System Of A Down
8,437,240
190
Eagles
8,430,959
191
David Bowie
8,429,960
192
Kodak Black
8,388,048
193
Piso 21
8,301,581
194
Maná
8,275,422
195
Lil Yachty
8,257,440
196
Nick Jonas
8,249,056
197
Roddy Ricch
8,234,975
198
Whitney Houston
8,227,079
199
SZA
8,182,750
200
Natti Natasha
8,158,045