Katy Perry's albums and songs sales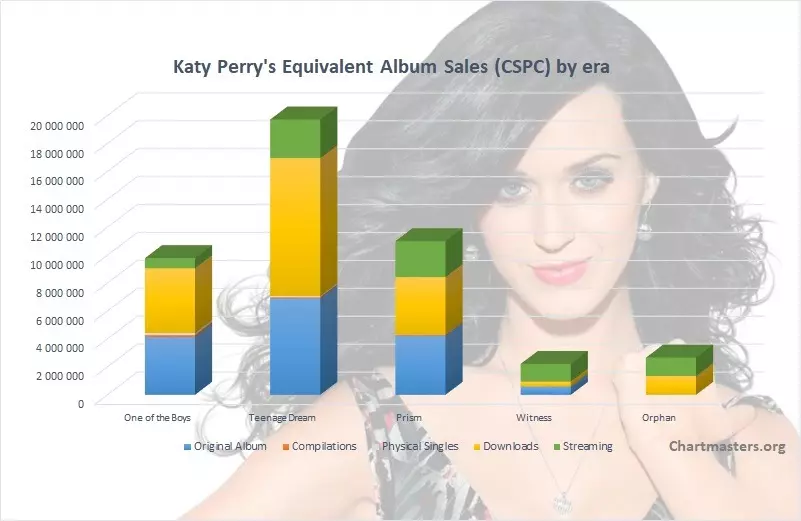 With 9 number one singles in her native country, Katy Perry is undoubtedly one of the biggest hit makers of the past 10 years. She shaped the digital era alongside artists like Rihanna, Adele, Taylor Swift, Bruno Mars & Maroon 5.
Has this success managed to translate into other metrics? We'll find out shortly enough!
Katy Perry started her mainstream career in 2008 after multiple unsuccessful attempts. She was dropped from two different record labels which resulted in multiple albums getting scrapped.
One of the Boys turned things around for the pop diva, shifting multiple smash hits such as I Kissed a Girl and Hot n Cold. The album sold well enough, but not enough to turn her into a household name just yet.
Two years later in 2010, she released her second mainstream effort, Teenage Dream.
This album remains the most successful released by the singer and broke several records, most notably becoming the first woman, and second artist overall following Michael Jackson, in the history of the Billboard Hot 100 to send five songs from an album to No. 1.
Together with its release, the record spawned a total of six number one hits, most notably signature hits like California Gurls, Firework and the title track, Teenage Dream.
In 2013, the pop diva released her third mainstream effort, PRISM. The album, while considerably less successful than its predecessor, was still among the top albums of the year and managed to spawn multiple number one hits for Katy Perry, including signature hits like Roar and Dark Horse.
Four years later in 2017, the pop star came back with a new record, as well as a new image. Her fourth mainstream effort, Witness, was widely considered as one of the biggest flops of the year. Did it bomb as badly as has been claimed? We'll find out below.
UPDATE DATES:
– Sales (albums, singles): 2018/03/07
– Streaming (audio, video): 2019/06/05
The Commensurate Sales to Popularity Concept (CSPC)
There are two ways to understand this revolutionary concept. In the first place, there is this Scribe video posted below. If you are unaware of the CSPC method, you will get the full idea within just a pair of minutes.
If you are a mathematical person, and want to know the full method as well as formulas, you can read the full introduction article.
Now let's get into the artist's sales figures in detail in order to apply this concept and define the act's true popularity!
Katy Perry's Album Sales
Original Album Sales – Comments

Often, Katy Perry's success has been disregarded because of her relatively weak album sales against her incredible single sales. Her peers, such as Adele, Lady Gaga, Taylor Swift and Rihanna, are all past 30 million pure album sales compared to Perry's 15.28 million.
While it's true that pure album sales aren't exactly Katy Perry's biggest strength, her first three mainstream efforts didn't sell badly by any means, as they're among the best sellers of their respective years.
Witness was a massive decline for the pop diva, selling only 14% of its predecessor, PRISM, in spite of ticket concert bundles in North America.
Katy Perry's songs sales

Physical Singles
As a reminder, the weighting is done with a 10 to 3 ratio between one album and one physical single.
As with all stars from her generation, Perry sold the huge majority of her singles in digital format leaving very little space for physical sales.
As a prime example her debut single, I Kissed A Girl, sold a mere 28,000 CD singles in the UK out of an overall 750,000 units total, less than 4% of its sales.
And that's her debut single, the one with the most favorable market context!
Digital Songs

Along with the likes Taylor Swift and Rihanna, Katy Perry is one of the leading artists among the digital sellers.
Up to an incredible 135 million digital downloads, the most unbelievable fact is that she did so with mostly three album eras.
Her main 12 singles from them add for a whopping 108 million.
I Kissed A Girl, Hot N Cold, California Girls, Firework and Roar sold over 10 million each, making the diva the only female artist ever with 5 songs past 10 million units sold. Teenage Dream, E.T. and Dark Horse are all fairly close too.
The era of Teenage Dream as a whole is up to a stunning 65,85 million copies, the second most prolific era of all-time in this format, only topped by Lady Gaga's The Fame.
Witness fails to do well in this format with only one million selling song, Chained To The Rhythm.
Streaming
Streaming is made up of audio and video streams. Our CSPC methodology includes both to better reflect the real popularity of each track. The main source of data for each avenue is respectively Spotify and YouTube. To factor in the growing impact of multiple Asian countries where these platforms aren't always the go-to site for music streaming, more sources have been added.
In order to account for their real popularity in each relevant country, the below sources have been used along with the mentioned ratios that reflect the market share of each area.
Audio Streams
– South Korea : Genie streams * 3.05 (consistent with Gaon streaming numbers)
– Japan : AWA streams * 100/5.5 (AWA has 5.5% of the Japanese streaming market)
– Elsewhere : Spotify streams * (370 – 8.5 – 9.5 – 33 – 9) / 207 (370 million global subscribers minus 8.5 million from South Korea minus 9.5 million from Japan minus 33 million from China divided by the number of Spotify only users minus 9 million more Asian users) + Genie streams * 3.05 (uses Genie rather than Spotify to extrapolate markets like Taiwan, Thailand and Vietnam)
Video Streams
– China* : Xiami streams * 125/6.5 (Xiami has just over 5% of the Chinese streaming market)
– Elsewhere : Youtube views
*since 96.4% of Chinese streaming platforms are free users, that paid-for users pay less than $2 a month and that they are also used as video streaming platforms, their streams are weighted in par with YouTube streams.
Audio Stream value – 1500 plays equal 1 album unit
Video Stream value – 11,750 views equal 1 album unit
Equivalent Albums Sales (EAS) = ( Spotify * 310/207 + Genie * 3.05*2 + AWA * 100/5.5 ) / 1500 + ( Xiami * 125/6.5 + YouTube ) / 11750
Top Hits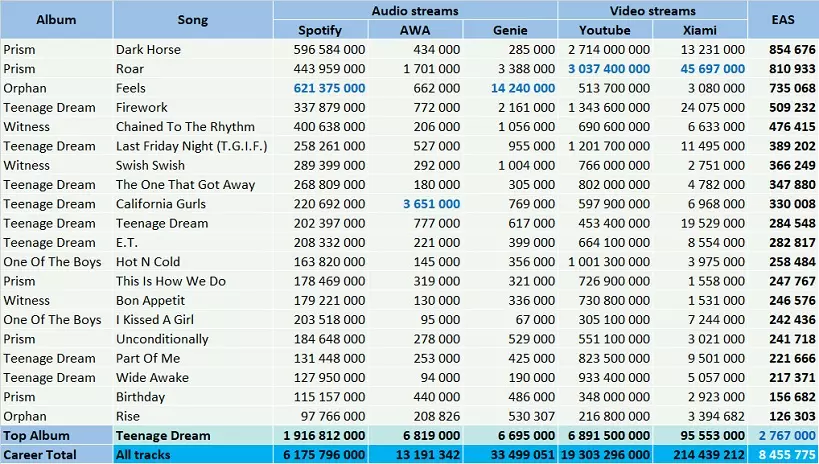 Streaming is one metric Katy Perry heavily benefits from, besides digital sales. As we can see in the breakdown above, 19 of her Top 20 tracks have reached at least 100 million plays on Spotify and no less than 300 million views on YouTube.
Her two biggest tracks, Dark Horse and Roar, are responsible for 1.6 million EAS for PRISM.
Surprisingly enough, her third biggest track is not a song from Teenage Dream or One of the Boys, but a collaboration with Calvin Harris, Pharrell Williams, and Big Sean instead.
Despite only charting at No. 20 in the US, the track was big enough globally to become the American artist's most streamed track on Spotify to date, with 621 million streams.
Firework is the top track from Teenage Dream and her fourth biggest song overall, accumulating over half a million EAS. Three more tracks from the album are inside the pop diva's personal Top 10 – all ranging from 500k to no less than 284k EAS.
Witness was the first of these albums to be released during the streaming era, so it's not surprising to see the three singles rank high, with the lead single, Chained to the Rhythm, accumulating nearly half a million EAS for the album.
As the record was released in 2008, tracks from One of the Boys do not rank as high as the rest, for obvious reasons. I Kissed a Girl and Hot N Cold still manage to do well in this format with 258k and 242k EAS, respectively.
Full catalog breakdown
If you are familiar with the artist's catalog and want to check details of each and every song, you can access to all of them right here.
Katy Perry's compilations sales
It sounds fairly logical to add together weighted sales of one era – studio album, physical singles, downloads, streams – to get the full picture of an album's popularity. For older releases though, they also generate sales of various live, music videos and compilation albums.
All those packaging-only records do not create value, they exploit the value originating from the parent studio album of each of its tracks instead. Inevitably, when such compilations are issued, this downgrades catalog sales of the original LP.
Thus, to perfectly gauge the worth of these releases, we need to re-assign sales proportionally to its contribution of all the compilations which feature its songs. The following table explains this method.
The distribution process

Here is the most underestimated indicator of an album's success – the amount of compilation sales of all kinds it generated. Due to the dependency of sales of the original studio albums on these releases, they are a key piece of the jigsaw.
How to understand this table? In the example of MTV Unplugged, these figures mean it sold 125,000 units worldwide. The second statistics column means all versions of all the songs included on this package add for 336,031 equivalent album sales from streams of all types.
The second part on the right of the table shows how many equivalent streams are coming from each original album, plus the share it represents on the overall package. Thus, streaming figures tell us songs from the One of the Boys album are responsible for 99% of the MTV Unplugged track list attractiveness. This means it generated 124,000 of its 125,000 album sales and so forth for the other records.
Total Album (all types) Sales per Country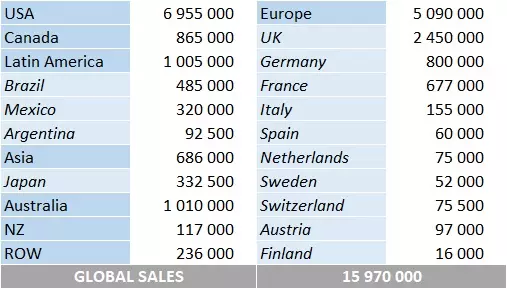 Please note country-specific numbers may miss sales of a few minor releases, although totals are complete.
Katy Perry Career CSPC Results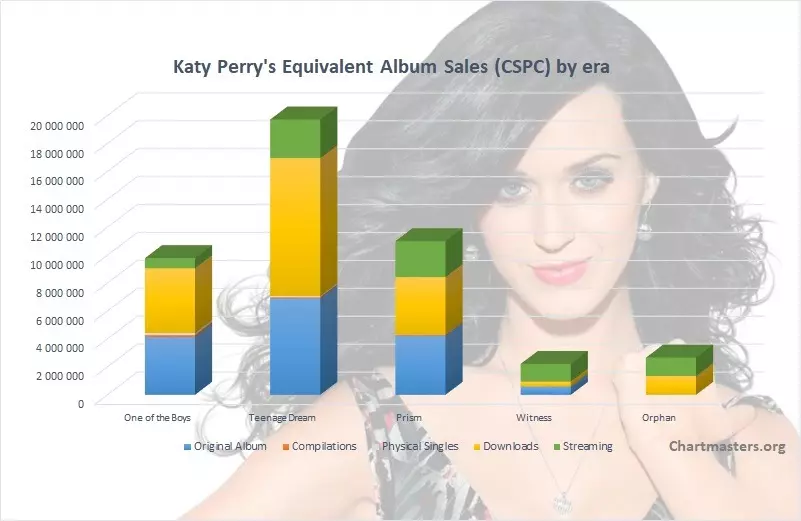 So, after checking all the figures, how many overall equivalent album sales has each album by Katy Perry achieved? Well, at this point we hardly need to add up all of the figures defined in this article!
Albums CSPC results
In the following results table, all categories display figures in equivalent album sales. If different, pure sales are listed between parentheses.
| artist_spotify_id | # | Cover | Album | Studio albums (EAS) | sales_update_date | Other LPs (EAS) | Physical singles (units sold) | Digital singles (units sold) | Streams | Streams increase | Total EAS | valid_as_of | streams_updated_value | album_id |
| --- | --- | --- | --- | --- | --- | --- | --- | --- | --- | --- | --- | --- | --- | --- |
| 6jJ0s89eD6GaHleKKya26X | 1 | | One Of The Boys | 4,140,000 | 16.06.19 | 143,000 | 144,000(480,000) | 4,643,000(30,950,000) | 2,524,000 (09/27/23) | Av.: 1,150LD: 1,710 | 11,594,000 | 20,230,927 | 2,524,000 | 490 |
| 6jJ0s89eD6GaHleKKya26X | 2 | | Teenage Dream | 6,910,000 | 16.06.19 | 80,000 | 88,000(293,000) | 9,878,000(65,850,000) | 8,293,000 (09/27/23) | Av.: 3,530LD: 5,660 | 25,249,000 | 20,230,927 | 8,293,000 | 491 |
| 6jJ0s89eD6GaHleKKya26X | 3 | | Prism | 4,230,000 | 16.06.19 | 76,000 | 12,000(40,000) | 4,116,000(27,440,000) | 5,281,000 (09/27/23) | Av.: 1,730LD: 2,580 | 13,715,000 | 20,230,927 | 5,281,000 | 492 |
| 6jJ0s89eD6GaHleKKya26X | 4 | | Witness | 600,000 | 16.06.19 | 0 | 1,000(3,000) | 348,000(2,320,000) | 1,857,000 (09/27/23) | Av.: 380LD: 360 | 2,806,000 | 20,230,927 | 1,857,000 | 493 |
| 6jJ0s89eD6GaHleKKya26X | 5 | | Smile | 0 | | 0 | 0(0) | 0(0) | 2,610,000 (09/27/23) | Av.: 0LD: 0 | 2,610,000 | 20,230,927 | 2,610,000 | 0 |
| 6jJ0s89eD6GaHleKKya26X | 6 | | Orphan | 0 | 16.06.19 | 1,000 | 15,000(50,000) | 1,329,000(8,860,000) | 1,318,000 (06/16/19) | N/A | 2,664,000 | 20,230,927 | 1,318,000 | 1,685 |
'Av.' stands for Average, 'LD' for Last Day.
As a reminder:
Studio Album: sales of the original album
Other Releases: sales of compilations generated thanks to the album
Physical Singles: sales of physical singles from the album (ratio 3/10)
Download Singles: sales of digital singles from the album (ratio 1,5/10)
Streaming: equivalent album sales of all the album tracks (ratio 1/1500 for Audio stream and 1/6750 for Video stream)
See where the artist ranks among remaining singers
It isn't surprising to see Teenage Dream as Katy Perry's top album. What may be surprising to some is the fact it's now nearing 20 million sales across all formats.
Since the last update in March 2018, it has gone from barely 19 million to over 19.7 million, proving tracks from this album are still relevant in 2019. Teenage Dream is the 5th most successful album of the decade only topped by Adele's and Ed Sheeran's last two outputs and we can expect it to hit the magical 20 million mark before the end ot the year.
Another record that will soon reach is a new important milestone is her mainstream debut, One of the Boys, at nearly 9.8 million EAS to date.
Since the last update, PRISM has now reached 11 million EAS. It remains to this day the most successful non-soundtrack album of 2013, overtaking records that sold more in original album format, such as Midnight Memories by One Direction.
Katy Perry's latest record, Witness, was saved from being a complete bomb by strong streaming numbers. It finally reaches the 2 million mark, exactly 2 years after its release. Still, this record marks a massive 80% decline from its predecessor, PRISM.
With a new album being allegedly on the way, one can only wonder if her career can fully recover.
The cumulative tally of Katy Perry is up to 45.4 million equivalent album sales – more than 2 million since the last update. This now puts her ahead of Avril Lavigne, NSYNC, One Direction and The Cranberries.
Singles CSPC results
The list is compiled in album equivalent sales generated by each song. Therefore, these figures are not merged units of singles formats. Instead, it includes weighted sales of the song's physical single, download, ringtone and streaming as well as its share among sales of all albums on which it is featured.
1. 2013 – Katy Perry – Roar [Prism] – 3,940,000
2. 2010 – Katy Perry – Firework [Teenage Dream] – 3,740,000
3. 2013 – Katy Perry ft. Juicy J – Dark Horse [Prism] – 3,710,000
4. 2008 – Katy Perry – Hot N Cold [One Of The Boys] – 3,570,000
5. 2008 – Katy Perry – I Kissed A Girl [One Of The Boys] – 3,560,000
6. 2010 – Katy Perry ft. Snoop Dogg – California Gurls [Teenage Dream] – 2,870,000
7. 2010 – Katy Perry – E.T. [Teenage Dream] – 2,360,000
8. 2010 – Katy Perry – Last Friday Night (T.G.I.F.) [Teenage Dream] – 2,350,000
9. 2010 – Katy Perry – Teenage Dream [Teenage Dream] – 2,290,000
10. 2010 – Katy Perry – The One That Got Away [Teenage Dream] – 1,970,000
If you feel inspired by this list, we just created this CSPC Katy Perry playlist on Spotify!

Discography results
Thanks to our new ASR (Artist Success Rating) concept, we know that her sales represent 16.63 million times the purchase of her entire discography. Coupled with their total sales, it translates into an ASR score of 156.
It is similar to the score of artists like Shakira, Usher and Nickelback. The ranking of all artists studied so far is available too at this link.
Records & Achievements
At 5, Teenage Dream original edition tied the record for most US #1 in the US of Michael Jackson's Bad.
At 69 weeks, Katy Perry holds the longest streak of weeks with at least one song inside the US Hot 100 Top 10.
At 5, Katy Perry holds the highest number of 10-million selling digital singles. She is tied with Bruno Mars.
At 65,850,000 downloads and ringtones, the era Teenage Dream is the second biggest ever in terms of digital singles sales.
At 19,723,000 equivalent album sales, Teenage Dream is the most successful album from 2010 and fifth from the 2010s.
At 11,003,000 equivalent album sales, Prism is the most successful female album from 2013.
NB: EAS means Equivalent Album Sales.
As usual, feel free to comment and / or ask a question!
Sources: IFPI, Spotify, YouTube, Discogs.
You may be interested in…
… Katy Perry's streaming masters analysis
… checking out the upcoming artists or even voting for them!
… best-selling artists, albums, and singles
We have created amazing cross-artists tops. Click to see all CSPC and raw sales results compiled so far!
… similar artists
To put Katy Perry's figures into perspective, click to reach career breakdowns of pop star divas: