The most streamed International artists in the MENA region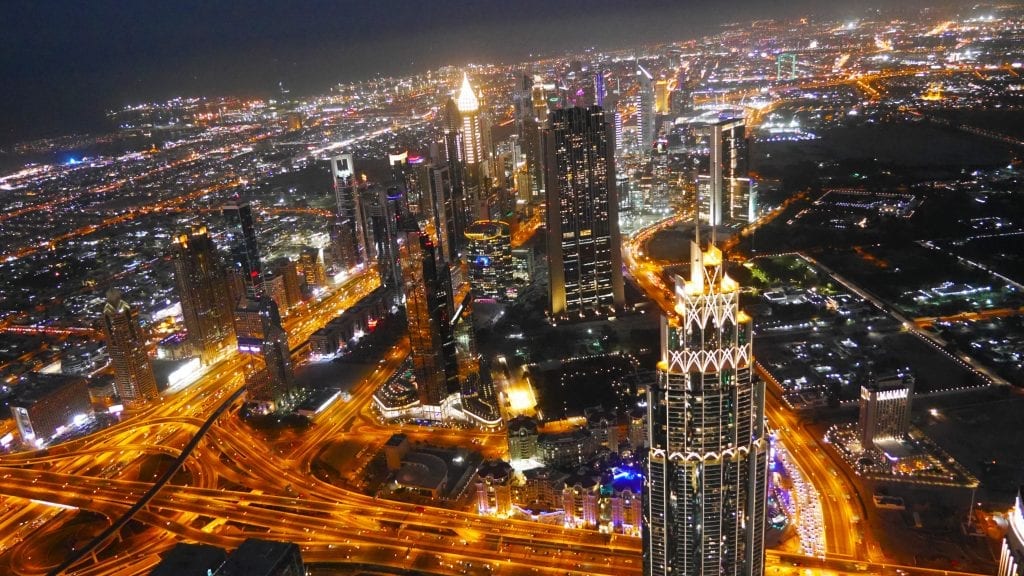 The MENA region (short for Middle East and North Africa) has been a place of mystery for very long with no official charts and very few certifications ever coming out.
This resulted in very little awareness of sales happening there. Luckily these days are now over with streaming taking over the industry.
In this article, we will list the most popular international stars in the region, where does your favorite one lands?
MENA streaming market
French platform Deezer has been available for a couple of years in the region and some might know that Spotify launched in many countries there in late 2018. Both still have very few users there yet.
The reason for this is simply that they are not in demand cause the MENA region has its own streaming service, Anghami.
This Lebanese service is now not too far from 100 million users that ever logged in total, although monthly active users are closer to 30 million at the moment.
Just like a few other services do, they do not show only streams of individual songs but also the total streams for an artist. So the obvious question would be who's on top?
After treating both China and India in a similar way, here we compile the most streamed artists in MENA list!
NB: All artists singing in French have been excluded from these lists since it's a heavily used language in North Africa, thus these songs can't be grouped with purely international artists.
To give you a point of reference, the top local artists on Anghami are Amir Diab, Elissa and Fayrouz. They range from 460-600m streams each.
Male Singers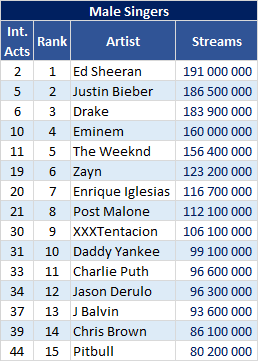 The two top spots, very close from each other, are Ed Sheeran and Justin Bieber. This is a surprise to none as they are both regarded as global megastars.
Drake on the other hand is viewed by many as a quite local North American artist but his ranking here really shows otherwise.
He is followed by Eminem and The Weeknd. Zayn is known for having many fans in this region, his placing here confirms it pretty well.
Urban music continues to shine further down the list with Post Malone and XXXTentacion inside the top 10.
Latin music is doing very well too with 4 artists inside the top 15 with Enrique Iglesias in in the lead at 7th.
Female Singers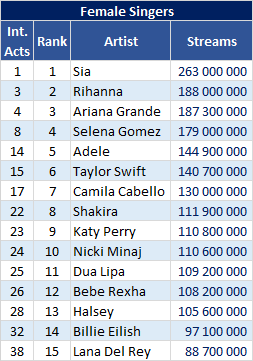 This one is a big shocker! Sia isn't only the most streamed female artist but the most streamed overall among foreigners by a very good margin too.
Another surprising pattern here is that the top 15 female singers are doing better than the top 15 male singers. The situation is usually the total opposite on most streaming platforms.
The follow ups were to be expected with Rihanna and Ariana Grande at 2nd and 3rd with a tiny margin between them.
The list keeps on with global names like Selena Gomez, Adele and Taylor Swift.
Unlike the male ranking is Shakira the only Latin artist here.
Bands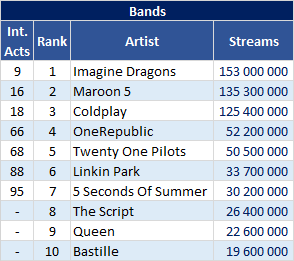 MENA really likes Imagine Dragons it seems, they are usually outperformed by Maroon 5 and Coldplay on most regions but in this one they take the top spot with a good lead.
The two latter come in at 2nd and 3rd, both with solid streams too.
The rest of the list is quite a lot lower, with the 4th band at 52 million streams, only 40% of Coldplay.
This lower part of the list is dominated by very recent bands with Queen sneaking in as the only pre-2000s band to make the top 10.
Boy Bands / Girl Groups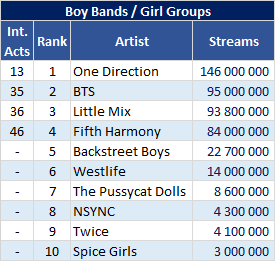 One Direction were to be expected on top considering the high ranking of Zayn inside the male list.
BTS at 2nd is quite impressive, this ranking confirms their big Middle Eastern popularity shown in their global heatmap.
Then there are Little Mix and Fith Harmony right behind at 3rd and 4th.
After them there's a big drop in streams with the Backstreet Boys in the lead of many older boy and girl groups.
One would think if any other K-pop group than BTS made this list it would be Blackpink. But they are oudone by Twice by 3 to 1. This is because only their Japanese material is available.
DJs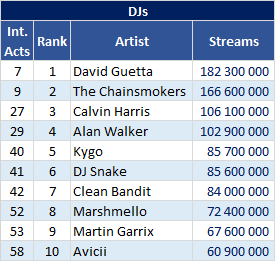 Even if we excluded artists singing in French we still get a list topped by a Frenchman.
David Guetta is no stranger in this region! He leads a list dominated by stars from all over Europe with only 2 Americans making the top 10.
These are The Chainsmokers and Marshmello at 2nd and 9th respectively.
Hip Hop & R&B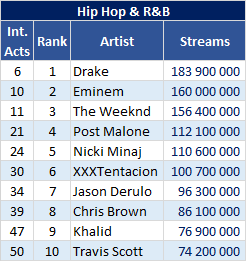 As mentioned earlier is Urban music very popular in MENA with Drake on top. He is followed by Eminem.
Legacy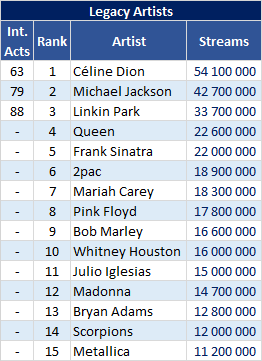 This list is perhaps the most diverse genre wise. It's still led by two pop artists.
These are Céline Dion and Michael Jackson. You could make the argument that Dion is only on top due to her French material but even without it she would still be good enough for 2nd.
They are followed by Linkin Park, Queen and quite surprisingly Frank Sinatra.
Two other surprises down the list are Julio Iglesias and Scorpions. Julio could be a sign that Latin music have been popular there for very long.
Non-English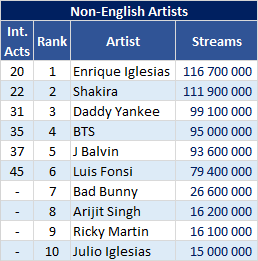 I felt the need to make this a category too just to highlight how linguistically diverse the music consumption in MENA is, and French acts aren't even included!
The biggest shocker here is the Arijit Singh, a streaming monster from Bollywood who is dominating global YouTube lists 24/7.
Brazilian superstar Anitta would have been here too if we extended the list to a top 11.
100 most streamed International artists in MENA