Gwen Stefani albums and songs sales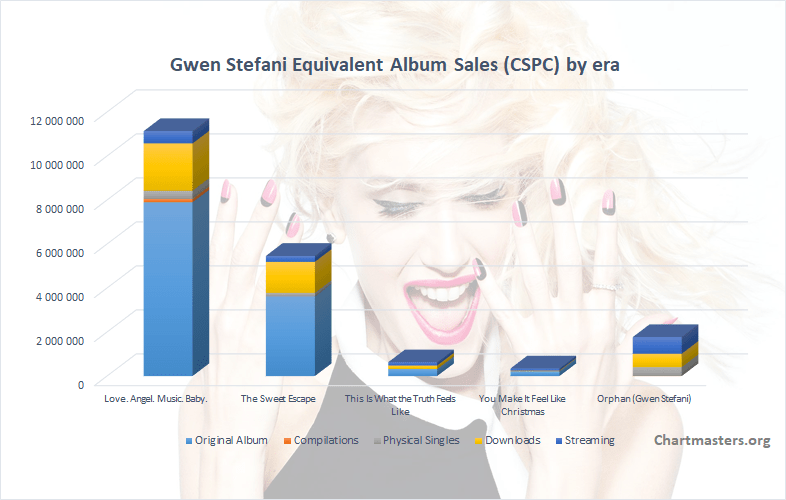 After posting multiple hits as part of No Doubt, Gwen Stefani decided to embark a solo career from 2004.
With instant hits like What You Waiting For?, Rich Girl and Hollaback Girl, she obviously did the right move.
She hasn't been much productive through, so what's left from her legacy nowadays?
Get to know Gwen Stefani
Who is Gwen Stefani?
Gwen Stefani is an American singer-songwriter born in October, 3, 1969 in the state of California. Her life partner is country singer Blake Shelton since 2015.
How has her career path been going?
She debuted as part of the rock band No Doubt in 1986, although it took them an entire decade until crossing over the general public with singles Just a Girl and Don't Speak.
After some up and downs with her band mates, she issued her debut solo album at 35, in 2004. A long hiatus from 2006 to 2012 was followed by albums from both, No Doubt and herself as a solo artist, including her first Christmas record in 2017.
Since 2014 she appeared as a full-time coach on 4 seasons of the US program The Voice.
What's her style of music?
If No Doubt navigated through multiple pop-rock sounds through their career, Gwen Stefani debuted her solo career with pure pop tunes.
She stood to this natural genre for most of her releases, although her most recent releases have been more adult-friendly with one Christmas album plus a few country collaborations with her life partner.

What about her discography?
Gwen Stefani issued 4 studio albums so far, Love. Angel. Music. Baby. in 2004, The Sweet Escape in 2006, This is What the Truth Feels Like in 2016 and You Make it Feel Like Christmas in 2017.
Although No Doubt sold a lot of records, there weren't that many reasons to expect Gwen Stefani to do well as a solo artist.
Firstly, the band faced multiple flop eras and struggled to sell albums when lacking big hits, which suggest a low fan base.
Secondly, rock bands are less about persona than teen pop groups. Even if Don't Speak flooded airwaves ever since coming out, Gwen Stefani wasn't a household name during the 90s.
Thirdly, at 35, the singer was almost too old to give it a try in a very competitive and very young pop scene.
Fourthly, by 2004 the US, easily the largest market of No Doubt, had massively moved to urban music, a genre that was dominating radio stations.
For all these reasons, it wasn't a surprise to see her first solo song What You Waiting For? struggle to reach a modest #47 peak inside the US Hot 100. Yet, her career was a success. How?
As usual, I'll be using the Commensurate Sales to Popularity Concept in order to relevantly gauge her results. This concept will not only bring you sales information for all Gwen Stefani's albums, physical and download singles, as well as audio and video streaming, but it will also determine their true popularity.
If you are not yet familiar with the CSPC method, the next page explains it with a short video. I fully recommend watching the video before getting into the sales figures. Of course, if you are a regular visitor feel free to skip the video and get into the figures.
The Commensurate Sales to Popularity Concept (CSPC)
There are two ways to understand this revolutionary concept. The first is the Scribe video posted below. If you are unaware of the CSPC method, you will get the full idea within just a few minutes.
If you are a mathematical person, and want to know the full method as well as formulas, you can read the full introduction article.
Now let's get into the artist's sales figures in detail in order to apply this concept and define the act's true popularity!
Gwen Stefani Albums Sales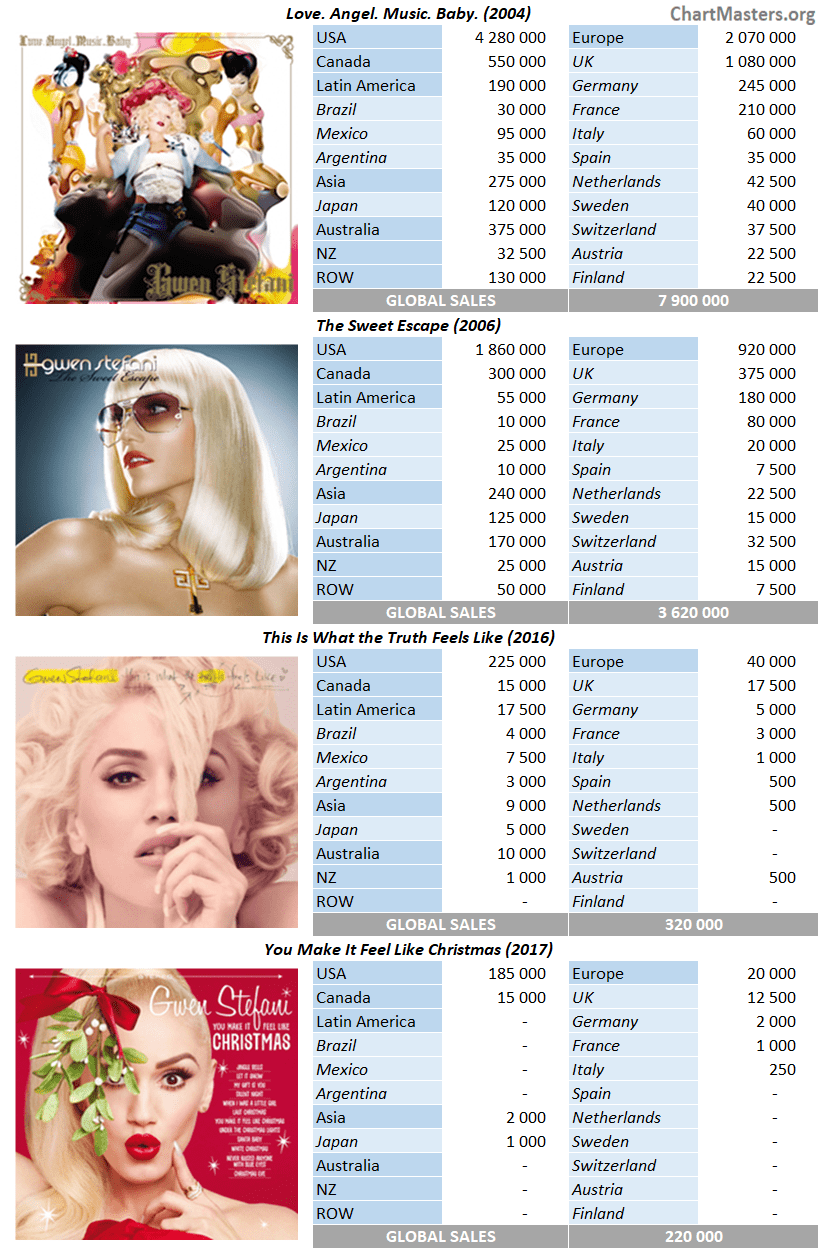 Original Album Sales – Comments

Love. Angel. Music. Baby. moved 7.9 million copies to date. All things considered, this is one hell of a figure.
In fact, it's exactly the same total as all 5 No Doubt studio albums minus Tragic Kingdom put together.
The era was a success story. Everything was positively received, from the cover to the songs. Even its title, often shortened LAMB online, became iconic.
After the classic divas from the 80s-90s, the new generation from late 90s which included Britney Spears, Christina Aguilera, P!nk and Alicia Keys among others, at 35 Gwen Stefani managed to build the 3rd golden generation of female divas along with artists like Norah Jones, Beyoncé, Kelly Clarkson, and soon Taylor Swift.
Half a year after the end of the promotion of her debut, the star returned with the sophomore effort The Sweet Escape.
The lead single Wind It Up failed to become a real organic hit, breaking her momentum. The title track soon came out to reverse the trend, supporting extremely well the LP which sold 3.62 million units to date.
At 46 and after a 10-years leave, she came back with a third album This Is What the Truth Feels Like. In-between, in 2012, she issued Push and Shove with her band No Doubt, flopping at 400,000 units sold.
Her new solo singles failed to gain traction too, with the album ending up at 320,000 sales only.
You Make It Feel Like Christmas, a 2017 holiday release, hasn't done too bad giving its background, selling 220,000 units as of now.
Gwen Stefani Songs Sales

Physical Singles Sales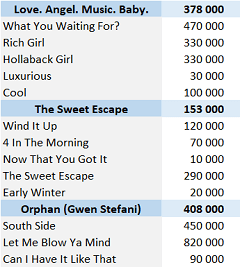 As a reminder, the weighting is done with a 10 to 3 ratio between one album and one physical single.
Chronologically speaking, the first solo single on which Gwen Stefani participated is South Side as a featuring for Moby.
Surprisingly, the song became the largest US hit of the DJ's career with extremely high sales for 2000 standards at 450,000 units.
It remains the only CD single released by Gwen Stefani in this country, as her subsequent songs enjoyed at best limited vinyl releases.
2001 #2 US hit Let Me Blow Ya Mind, a feature for rap singer Eve, was a smash in most markets.
The song sold well past 100,000 in Germany, France and Australia while getting close to 250,000 UK sales, en route for a global total of 820,000.
Then came her proper solo releases. As they started to be released in 2004, the market for physical singles was ever more limited. They were still selling in Europe and Oceania, but numbers were shrinking every year.
This is the only reason why What You Waiting For? hasn't sold more than half a million units.
The song was #1 in Australia and top 5 in both the UK and France, getting into 6 digits sales in all these markets.
Rich Girl and Hollaback Girl both sold a third of a million. Both made the top 10 in most relevant markets, with the latter hitting #1 in the US and in Australia.
During her years with her band, the singer rarely recorded a similar string of sizable hits.
Things cooled down with 4th and 5th singles, respectively Cool and Luxurious, as the album was already milked a lot.
The following era The Sweet Escape lacked consistency in comparison, getting only 1 proper hit.
It wasn't a minor one though. The title track recorded an extensive top 10 run everywhere, peaking at #2 in the US, the UK, Australia and Canada, while even reaching the top on pan-European listing.
Of course, 290,000 sales don't look like that much, but we are speaking about an era where less than 3 million CD singles were sold per year in the US.
The singer hasn't released a physical format for a single since 2007.
Digital Songs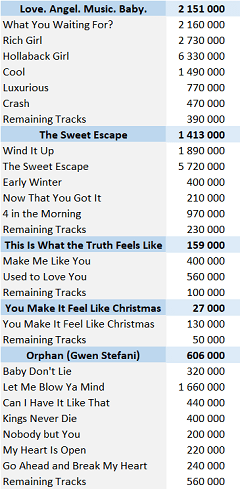 As a reminder, the weighting is done with a 10 to 1,5 ratio between one album and one digital single.
By 2004, digital singles were barely starting to take off. To illustrate this situation, when LAMB came out, the iTunes Store was still not available in Canada.
The market in Europe was virtually non-existent too. In the US, it was minimal, with 19.2 million downloads in 2004, some 70 times less than the 1.34 billion peak of 2012.
With these statistics in mind, hit singles from Gwen Stefani did wonders in this format.
In fact, back then she broke multiple records with Hollaback Girl. She song shifted 58,328 units in the US the week ending 05/07/2005, then the highest ever 1-week tally.
A fortnight later, it raised the bar to 61,531 in a 8-weeks run at the top of the digital chart.
The song made history once more on Billboard chart dated 10/22/2005. Selling 12,265 downloads that week, this pushed its release to date tally to 1,005,280 units, to effectively make Hollaback Girl the first million selling download ever in the US according to Soundscan.
The RIAA also appropriately awarded it the first Platinum Digital disk ever.
On 06/14/2006, when the RIAA introduced awards for mastertones, the song was part of the first batch of million sellers too.
The song's sales elsewhere are lower mainly because of the atrocious market environment. It still posts a healthy total of 6.33 million digital sales.
At their level, remaining songs from LAMB are all pretty healthy too. What You Waiting For? and Rich Girl add for nearly 5 million combined, while Cool and Luxurious top 1 million together.
Although short lived, Wind It Up ended up as a million seller in US downloads, plus nearly half a million mastertones, to hit 1.9 million global sales.
The Sweet Escape had a much bigger impact in the US and abroad. With both digital formats, the hit moved past 4 million copies stateside, and 5.7 million in total.
It comes as a surprise, but The Sweet Escape isn't that strong anymore, overshadowed by Hollaback Girl. This is why its up to date sales aren't more impressive, because it suffers all the more the limited market from its initial years.
Subsequent singles from this era failed to make an impact, even if 4 in the Morning is close to 1 million copies.
Ironically, while very few people continue to download, and while very few people continue to buy Gwen Stefani products, both pools of persons appear to have a strong overlap.
As a result, several recent songs that failed to trouble the highest region of charts still sold relevant numbers for our day and age, this is the case of songs like Make Me Like You, Used to Love You and 2020's Nobody but You.
If the market doesn't disappear too fast, the artist has a shot to hit 30 million digital sales as she stands over 29 million to date.


Streaming
Streaming is made up of audio and video streams. Our CSPC methodology includes both to better reflect the real popularity of each track. The main source of data for each avenue is respectively Spotify and YouTube.
To factor in the growing impact of multiple Asian countries where these platforms aren't always the go-to site for music streaming, more sources have been added.
In order to account for their real popularity in each relevant country, the below sources have been used along with the mentioned ratios that reflect the market share of each area.
Audio Streams
– South Korea : Genie streams * 3.05 (consistent with Gaon streaming numbers)
– Japan : AWA streams * 100/5.5 (AWA has 5.5% of the Japanese streaming market)
– Elsewhere : Spotify streams * (370 – 8.5 – 9.5 – 33 – 9) / 207 (370 million global subscribers minus 8.5 million from South Korea minus 9.5 million from Japan minus 33 million from China divided by the number of Spotify only users minus 9 million more Asian users) + Genie streams * 3.05 (uses Genie rather than Spotify to extrapolate markets like Taiwan, Thailand and Vietnam)
Video Streams
– China* : Xiami streams * 125/6.5 (Xiami has just over 5% of the Chinese streaming market)
– Elsewhere : Youtube views
*since 96.4% of Chinese streaming platforms are free users, that paid-for users pay less than $2 a month and that they are also used as video streaming platforms, their streams are weighted in par with YouTube streams.
Audio Stream value – 1500 plays equal 1 album unit
Video Stream value – 11,750 views equal 1 album unit
Equivalent Albums Sales (EAS) = ( Spotify * 310/207 + Genie * 3.05*2 + AWA * 100/5.5 ) / 1500 + ( Xiami * 125/6.5 + YouTube ) / 11750
Top Hits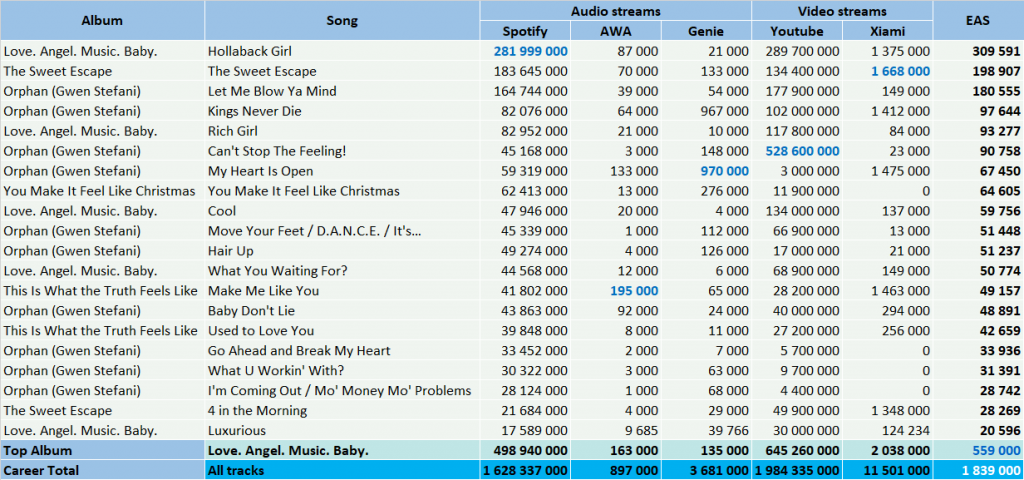 The situation of Gwen Stefani is quite unique as 5 different songs lead our 5 key performance indicators from streaming platforms.
Her tiny discography also concludes on a lot of features popping up inside her personal top 20.
Starting with the leaders, Hollaback Girl takes the crown with over 300,000 EAS thanks to more than 280 million streams on Spotify.
The Sweet Escape is a solid runner up, at 200,000 EAS, notably leading on Chinese platform Xiami, although half a dozen of songs are close.
Shockingly, YouTube's leader for the artist is Can't Stop the Feeling. Indeed, the Justin Timberlake hit includes Gwen Stefani in Trolls' original film soundtrack version, with its video being very popular.
So are videos for several more songs from this soundtrack on which the diva performs, this includes Move Your Feet and Hair Up.
In Japan's AWA, the strongest song is another shocker, Make Me Like You. It was a #47 hit on their Hot 100 chart.
As for the South Korean platform Genie, the gold medal goes to My Heart Is Open. The super mega popularity of Maroon 5 there made this lead almost inevitable.
The second there is Kings Never Die, a feature for Eminem, with everything else quite a lot lower, which shows that the singer isn't very popular on her own there.
Both collaborations with Eve, Let Me Blow Ya Mind and Rich Girl, aren't local leaders but their great numbers on Spotify and YouTube give them ranks #3 and #5, respectively.
Full catalog breakdown
If you are familiar with the artist's catalog and want to check details of each and every song, you can access to all of them right here.
Keep yourself up to date
Our website provides you a fantastic tool which fetches updated Spotify streams as you request them, use it to watch these results grow day after day!
Gwen Stefani compilations sales
It sounds fairly logical to add together weighted sales of one era – studio album, physical singles, downloads, streams – to get the full picture of an album's popularity. For older releases though, they also generate sales of various live, music videos and compilation albums.
All those packaging-only records do not create value, they exploit the value originating from the parent studio album of each of its tracks instead. Inevitably, when such compilations are issued, it downgrades catalog sales of the original LP.
Thus, to perfectly gauge the worth of these releases, we need to re-assign sales proportionally to its contribution of all the compilations which feature its songs. The following table explains this method.
The distribution process

How to understand this table? If you check this example of Harajuku Lovers Live, these figures mean it sold 150,000 units worldwide.
The second statistics column means all versions of all the songs included on this package add for 579,255 equivalent album sales from streams of all types.
The second part on the right of the table shows how many equivalent streams are coming from each original album, plus the share it represents on the overall package.
Thus, streaming figures tell us songs from Love. Angel. Music. Baby are responsible for 96% of the Harajuku Lovers Live tracklist attractiveness, which means it generated 145,000 of its 150,000 album sales, and so on for the remaining record.
Total solo Album (all types) Sales per Country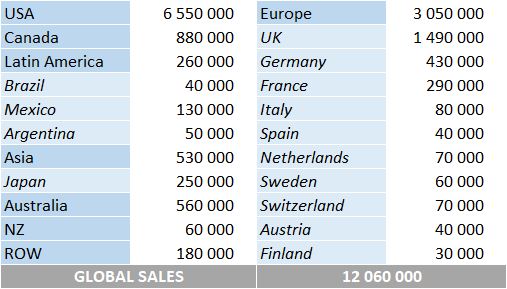 Please note country-specific numbers may miss sales of some minor releases, although continental and global totals are complete.
Gwen Stefani Career CSPC Results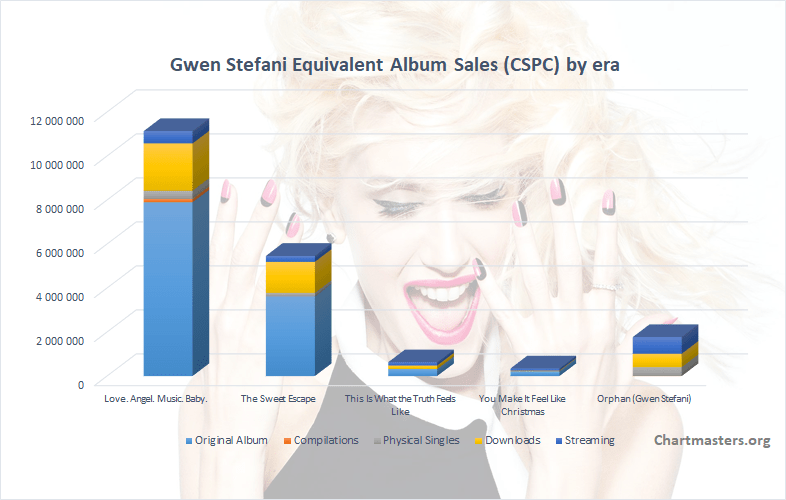 So, after checking all the figures, how many overall equivalent album sales has each album by Gwen Stefani achieved? Well, at this point we hardly need to add up all the figures defined in this article!
In the following results table, all categories display figures in equivalent album sales. If different, pure sales are listed between parentheses.
| artist_spotify_id | # | Cover | Album | Studio albums (EAS) | sales_update_date | Other LPs (EAS) | Physical singles (units sold) | Digital singles (units sold) | Streams | Streams increase | Total EAS | valid_as_of | streams_updated_value | album_id |
| --- | --- | --- | --- | --- | --- | --- | --- | --- | --- | --- | --- | --- | --- | --- |
| 4yiQZ8tQPux8cPriYMWUFP | 1 | | Love. Angel. Music. Baby. | 7,900,000 | 12.04.20 | 147,000 | 369,000(1,230,000) | 2,151,000(14,340,000) | 1,446,000 (09/22/23) | Av.: 710LD: 950 | 12,022,000 | 20,230,922 | 1,446,000 | 292 |
| 4yiQZ8tQPux8cPriYMWUFP | 2 | | The Sweet Escape | 3,620,000 | 12.04.20 | 6,000 | 144,000(480,000) | 1,413,000(9,420,000) | 698,000 (09/22/23) | Av.: 340LD: 500 | 5,890,000 | 20,230,922 | 698,000 | 293 |
| 4yiQZ8tQPux8cPriYMWUFP | 3 | | This Is What the Truth Feels Like | 320,000 | 12.04.20 | 0 | 0(0) | 159,000(1,060,000) | 189,000 (09/22/23) | Av.: 30LD: 20 | 668,000 | 20,230,922 | 189,000 | 294 |
| 4yiQZ8tQPux8cPriYMWUFP | 4 | | You Make It Feel Like Christmas | 220,000 | 12.04.20 | 0 | 0(0) | 27,000(180,000) | 268,000 (09/22/23) | Av.: 130LD: 20 | 515,000 | 20,230,922 | 268,000 | 295 |
| 4yiQZ8tQPux8cPriYMWUFP | 5 | | Orphan | 0 | 12.04.20 | 1,000 | 246,000(820,000) | 606,000(4,040,000) | 759,000 (04/12/20) | N/A | 1,774,000 | 20,230,922 | 759,000 | 1,673 |
'Av.' stands for Average, 'LD' for Last Day.
As a reminder:
Studio Album: sales of the original album
Other Releases: sales of compilations generated thanks to the album
Physical Singles: sales of physical singles from the album (ratio 3/10)
Download Singles: sales of digital singles from the album (ratio 1,5/10)
Streaming: equivalent album sales of all the album tracks (ratio 1/1500 for Audio stream and 1/6750 for Video stream)
See where the artist ranks among remaining singers
Of course, raw numbers can feel not that impressive, and the career of Gwen Stefani seems short lived.
One can't ignore though that at 45 she had released 2 albums only. It's natural to see only these two do well.
And they really did well, adding for 16.6 million units combined.
Love. Angel. Music. Baby emerges as her strongest solo record, mainly thanks to the support of more hits than later records.
At 11.1 million equivalent album sales, it's one of the most successful female albums of the 00s.
Not as eye-catching results of The Sweet Escape are great nevertheless at 5.5 million.
Both records perform decently well on streaming platforms, which suggest their total will keep rising in the future.
The same can't be said of This Is What the Truth Feels Like. All told, the album is at 628,000 units so far with little chances to see further relevant climbs.
You Make It Feel Like Christmas is at 347,000, but it's Christmas tag should enable it to build sales in a longer scale of time.
Up to date, Gwen Stefani stands at 19.35 million equivalent album sales, on top of her 35.3 million sales along with No Doubt.
Singles CSPC results
The list is compiled in album equivalent sales generated by each song. Therefore, these figures are not merged units of singles formats.
Instead, it includes weighted sales of the song's physical single, download, ringtone and streaming as well as its share among sales of all albums on which it is featured.
1. 2004 – Gwen Stefani – Hollaback Girl [Love. Angel. Music. Baby.] – 5,820,000
2. 2006 – Gwen Stefani ft. Akon – The Sweet Escape [The Sweet Escape] – 3,790,000
3. 2004 – Gwen Stefani ft. Eve – Rich Girl [Love. Angel. Music. Baby.] – 1,940,000
4. 2004 – Gwen Stefani – What You Waiting For? [Love. Angel. Music. Baby.] – 1,250,000
5. 2004 – Gwen Stefani – Cool [Love. Angel. Music. Baby.] – 1,170,000
If you feel inspired by this list, we just created this CSPC Gwen Stefani playlist on Spotify!
Discography results
Thanks to the ASR (Artist Success Rating) concept, we know that her sales represent 11.89 million times the purchase of her entire discography. Coupled with the total sales, it translates into an ASR score of 86.
Records & Achievements
At 11,135,000 EAS, Love. Angel. Music. Baby. is the 9th most successful album from 2004.
At 61,531 units, Hollaback Girl broke the then record for highest 1-week downloads sales ever in the US.
Hollaback Girl was the first song ever to break 1 million paid-for downloads in the US.
NB : EAS means Equivalent Album Sales
As usual, feel free to comment and / or ask a question!
Sources: IFPI, Spotify, YouTube, Discogs.
You may be interested in…
… Gwen Stefani's streaming masters analysis
… checking out the upcoming artists or even voting for them!
… best-selling artists, albums, and singles
We have created amazing cross-artists tops. Click to see all CSPC and raw sales results compiled so far!
… similar artists
To put Gwen Stefani's figures into perspective, click to reach career breakdowns of pop star divas: