Post Malone albums and songs sales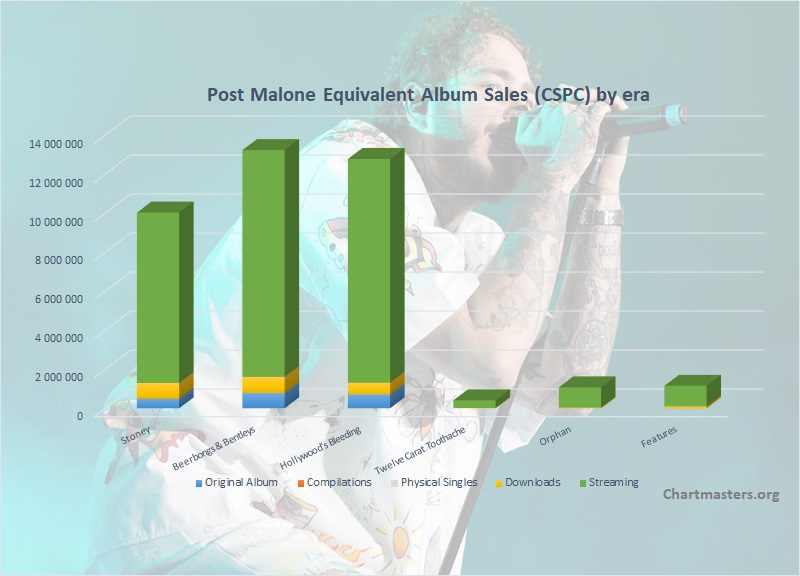 By mid-2017, Post Malone was barely getting a name in North America while still unknown elsewhere.
From the explosion of Rockstar in late 2017 yet, nothing has been able to slow him down.
His last output Hollywood's Bleeding proved that the singer was here to stay. Fresh off his third consecutive nomination for Grammy's Record of the Year we review his sales figures to celebrate his comeback Twelve Carat Toothache.
Get to know Post Malone
Who's Post Malone?
Post Malone's real name is Austin Richard Post. Born in July 4, 1995 in the state of New-York, U.S., he raised in Texas from the age of 9. Surrounded by music from a very young age, he started recording during his teenage years.
What's his style of music?
Post Malone is regarded as a rapper. He actually began playing rock music, but started to break through in 2015 with a hip hop / pop crossover sound.
How many albums has he released?
4. Post Malone issued his debut album Stoney in 2016, follow up Beerbongs & Bentleys in 2018 and Hollywood's Bleeding in 2019. In 2022, he returns with Twelve Carat Toothache.
It's not easy to follow up a breakthrough success as big as Rockstar. The song went to #1 in virtually every English-speaking market, the US, the UK, Canada, Australia, Ireland, New-Zealand, but also all over Scandinavia and multiple more countries.
He confirmed this success with ease still. Psycho, Better Now, Sunflower, Wow, Goodbyes, and Circles all went on to become highly popular.
It raises questions as to how big the American artist really is.
As usual, I'll be using the Commensurate Sales to Popularity Concept in order to relevantly gauge his results.
This concept will not only bring you sales information for all Post Malone's albums, physical and download singles, as well as audio and video streaming, but it will also determine their true popularity.
If you are not yet familiar with the CSPC method, the next page explains it with a short video. I fully recommend watching the video before getting into the sales figures. Of course, if you are a regular visitor feel free to skip the video and get into the figures.
The Commensurate Sales to Popularity Concept (CSPC)
There are two ways to understand this revolutionary concept. The first is the Scribe video posted below. If you are unaware of the CSPC method, you will get the full idea within just a few minutes.
If you are a mathematical person, and want to know the full method as well as formulas, you can read the full introduction article.
Now let's get into the artist's sales figures in detail in order to apply this concept and define the act's true popularity!
Post Malone Albums Sales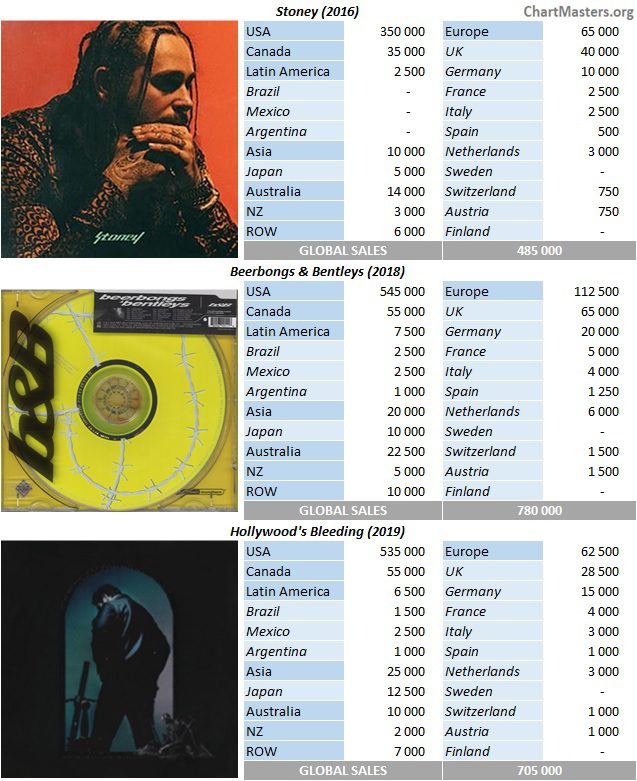 Original Album Sales – Comments
Artists who have been able to build a fan base before the collapse of pure sales can enjoy some purchases. It's rarely the case of true newcomers though.
This is ever truer for urban artists as their followers have made the transition to streaming services for many years already.
Results of Post Malone's pure sales are thus not outstanding, although they are definitely gaining traction as they are now getting collected thanks to their highly positive critical reception.
Combined, in spite of limited releases in many markets, they add up for nearly 2 million, up from 1.7 million 18 months ago.
Post Malone Songs Sales
Below, we list down results from the artist through physical sales, digital sales and streaming.
Please be aware that when the artist is regarded as the lead act, he is rewarded with 100% of these units, while featured acts share among them a 50% piece of the totals.

Physical Singles Sales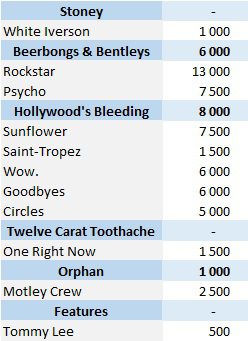 As a reminder, the weighting is done with a 10 to 3 ratio between one album and one physical single.
To the surprise of nobody, Post Malone did next to nothing there. One could have expected that none of his songs ever came out in physical formats.
Many of them did though, mostly as collectors. Sales in absolute terms remain tiny.
Digital Songs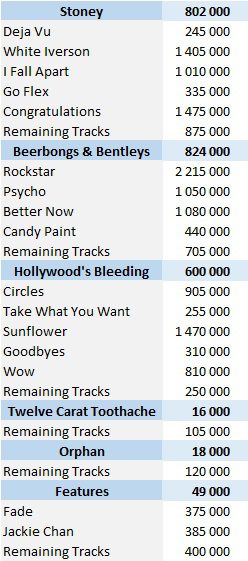 As a reminder, the weighting is done with a 10 to 1,5 ratio between one album and one digital single.
The career of the rap star is so young that even downloads were dying when he started making some noise.
Giving this context, it's quite impressive to see Rockstar at 2.2 million sales. It is his top seller up to date.
From his debut, there are 3 singles with similar sales, all over a million, these are White Iverson, I Fall Apart and Congratulations.
Songs from Hollywood's Bleeding have been immense too. Sunflower is up to almost 1.5 million, one of the greatest selling songs outside of China since its release to date.
Circles and Wow are both very strong as well, at over 900,000 and over 800,000, respectively.
All singles plus album cuts register nice scores, with a career total which stands at 16.5 million sales in this format.

Streaming
Streaming is made up of audio and video streams. Our CSPC methodology includes both to better reflect the real popularity of each track. The main source of data for each avenue is respectively Spotify and YouTube. To factor in the growing impact of multiple Asian countries where these platforms aren't always the go-to site for music streaming, more sources have been added.
In order to account for their real popularity in each relevant country, the below sources have been used along with the mentioned ratios that reflect the market share of each area.
Audio Streams
– South Korea: Genie streams * 2.20 (consistent with Gaon streaming numbers)
– Japan: AWA streams * 68 / 4 (AWA has 4% of the Japanese streaming market, and 32% are already considered through Spotify's extrapolation)
– Arabic world: Anghami streams
– Sub-Saharan Africa: Boomplay + Audiomack streams
– Elsewhere: Spotify streams * 649 / 406 (649 million subscribers of global platforms like Spotify, Apple Music, Amazon Music, YouTube Music, Deezer, etc. against 406 million from Spotify itself) + Genie streams * 2.20 (uses Genie rather than Spotify to extrapolate markets like Taiwan, Thailand and Vietnam)
Video Streams
– China* : QQ video streams * 50 if the song is available for audio stream, QQ video streams * 5 elseway (scale built based on known figures for several major artists)
– Elsewhere : Youtube views increased by 10% to account for various local platforms
*since Chinese streaming platforms are mostly video streaming platforms, their streams are weighted on par with YouTube streams.
Audio Stream value – 1,500 plays equal 1 album unit
Video Stream value – 6,750 views equal 1 album unit
Equivalent Albums Sales (EAS) = ( Spotify * 649/406 + Genie * 2.20 * 2 + AWA * 68 / 4 + Anghami + Boomplay + Audiomack ) / 1500 + ( QQ views* 50(or 5) + YouTube * 1.1 ) / 6750
Top Hits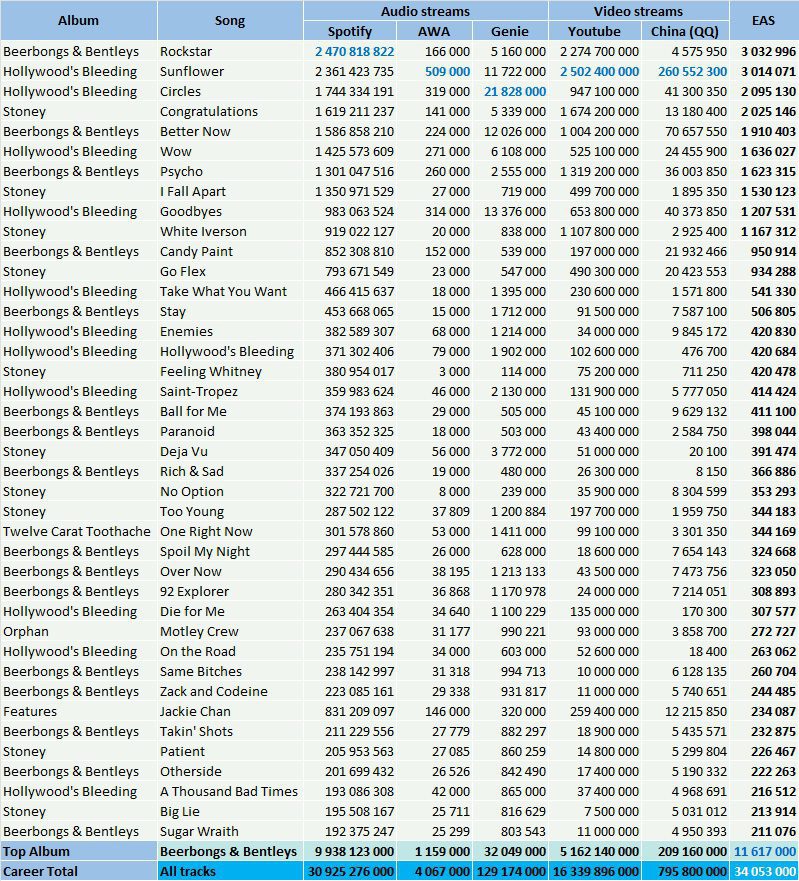 Post Malone records the incredible feat of having 8 hits at 1.3+ billion streams on Spotify alone. No other artist does that well.
Rockstar has been leading for long, now with 2.47 billion, plus 2.27 billion on YouTube. It's the 6th most streamed song of all-time in the former platform.
Late 2018 hit Sunflower is now ready to take over the first place in the artist list yet. The 11th of all-time on Spotify, it's Post Malone's most global hit, with the best scores in Japan, China as well as YouTube at 2.5 billion.
Both songs are over 3 million equivalent album sales from streams. Only Ed Sheeran can claim the same feat.
The song ended up being part of Hollywood's Bleeding tracklist as well as early hits Wow and Goodbyes.
The former is one more large billionaire while the latter will get there soon. Circles, issued just before the album release, stands at 1.74 billion on Spotify.
Both Sunflower and Circles are among the 5 longest running Top 10 hits of all-time in the US, with 33 and 39 weeks, respectively.
From Beerbongs & Bentleys, two more songs do wonders, Better and Psycho add for 3.53 million EAS from streams alone.
His success remains more modest in Asian platforms so far although it is improving as time goes by.
In terms of albums, Beerbongs & Bentleys leads the way with a stunning 11.62 million equivalent album sales. Hollywood's Bleeding is very close now at 11.46 million.
Full catalog breakdown
If you are familiar with the artist's catalog and want to check details of each and every song, you can access to all of them right here.
Keep yourself up to date
Our website provides you a fantastic tool which fetchs updated Spotify streams as you request them, use it to watch these results grow day after day!
Post Malone Career CSPC Results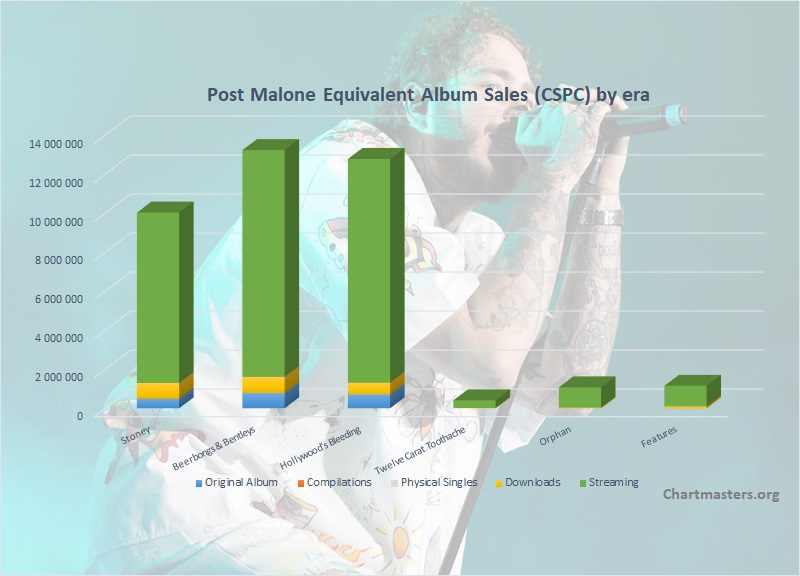 So, after checking all the figures, how many overall equivalent album sales has each album by Post Malone achieved? Well, at this point we hardly need to add up all of the figures defined in this article!
In the following results table, all categories display figures in equivalent album sales. If different, pure sales are listed between parentheses.
| artist_spotify_id | # | Cover | Album | Studio Album* | sales_update_date | Other LPs* | Physical Singles* | Digital Singles* | Streams | Daily Increase | Total CSPC | valid_as_of | streams_updated_value | album_id |
| --- | --- | --- | --- | --- | --- | --- | --- | --- | --- | --- | --- | --- | --- | --- |
| 246dkjvS1zLTtiykXe5h60 | 1 | | Stoney | 485,000 | 31.05.22 | 10,000 | 231,000(1,000) | 572,000(3,810,000) | 9,486,000 (03/27/23) | Av.: 2,510LD: 2,630 | 10,783,000 | 20,230,327 | 9,486,000 | 1,942 |
| 246dkjvS1zLTtiykXe5h60 | 2 | | Beerbongs & Bentleys | 780,000 | 31.05.22 | 0 | 172,000(21,000) | 659,000(4,390,000) | 12,505,000 (03/27/23) | Av.: 2,940LD: 2,980 | 14,115,000 | 20,230,327 | 12,505,000 | 1,943 |
| 246dkjvS1zLTtiykXe5h60 | 3 | | Hollywood's Bleeding | 705,000 | 31.05.22 | 0 | 124,000(15,000) | 485,000(3,230,000) | 12,880,000 (03/27/23) | Av.: 4,720LD: 4,980 | 14,193,000 | 20,230,327 | 12,880,000 | 1,944 |
| 246dkjvS1zLTtiykXe5h60 | 4 | | Twelve Carat Toothache | 0 | 31.05.22 | 0 | 0(2,000) | 16,000(110,000) | 1,971,000 (03/27/23) | Av.: 5,260LD: 2,910 | 1,987,000 | 20,230,327 | 1,971,000 | 1,945 |
| 246dkjvS1zLTtiykXe5h60 | 5 | | Orphan | 0 | 31.05.22 | 0 | -19,000(3,000) | 38,000(250,000) | 1,039,000 (05/31/22) | N/A | 1,058,000 | 20,230,327 | 1,039,000 | 1,946 |
| 246dkjvS1zLTtiykXe5h60 | 6 | | Features | 0 | 31.05.22 | 0 | -125,000(1,000) | 174,000(1,160,000) | 1,055,000 (05/31/22) | N/A | 1,104,000 | 20,230,327 | 1,055,000 | 1,947 |
'Av.' stands for Average, 'LD' for Last Day.
As a reminder:
Studio Album: sales of the original album
Other Releases: sales of compilations generated thanks to the album
Physical Singles: sales of physical singles from the album (ratio 3/10)
Download Singles: sales of digital singles from the album (ratio 1,5/10)
Streaming: equivalent album sales of all the album tracks (ratio 1/1500 for Audio stream and 1/6750 for Video stream)
See where the artist ranks among remaining singers
It would be easy, but highly wrong, to claim that Post Malone sales aren't impressive because they are made mostly of streams.
The fact is that streams take longer to amass large numbers than sales. It takes billions of plays, and even more minutes of people listening to them.
To reach numbers as incredible as 10.03 million for Stoney and 13.23 million for Beerbongs & Bentleys in a relatively short time is then pretty outstanding.
The release Hollywood's Bleeding has been an unreal success story as well. It is closing in on its predecessor, registering 12.78 million sales so far.
That career total of Post Malone is up to 38.61 million equivalent album sales.
Singles CSPC results
The list is compiled in album equivalent sales generated by each song. Therefore, these figures are not merged units of singles formats. Instead, it includes weighted sales of the song's physical single, download, ringtone and streaming as well as its share among sales of all albums on which it is featured.
1. 2017 – Post Malone ft. 21 Savage – Rockstar [Beerbongs & Bentleys] – 3,570,000
2. 2018 – Post Malone & Swae Lee – Sunflower [Hollywood's Bleeding] – 3,420,000
3. 2018 – Post Malone – Circles [Hollywood's Bleeding] – 2,360,000
4. 2016 – Post Malone ft. Quavo – Congratulations [Stoney] – 2,360,000
5. 2018 – Post Malone – Better Now [Beerbongs & Bentleys] – 2,200,000
6. 2018 – Post Malone ft. Ty Dolla $ign – Psycho [Beerbongs & Bentleys] – 1,890,000
7. 2018 – Post Malone – Wow [Hollywood's Bleeding] – 1,860,000
8. 2016 – Post Malone – I Fall Apart [Stoney] – 1,770,000

If you feel inspired by this list, we just created this CSPC Post Malone playlist on Spotify!
Discography results
Thanks to our new ASR (Artist Success Rating) concept, we know that his sales represent 15.25 million times the purchase of his entire discography. Coupled with his total sales, it translates into an ASR score of 137.
Records & Achievements
At 10,031,000 EAS, Stoney is among the 5 most successful albums from 2016.
At 13,232,000 EAS, Beerbongs & Bentleys is the most successful album from 2018.
At 12,777,000 EAS, Hollywood's Bleeding is the 2nd most successful album from 2019.
At 2,472,194,000 streams, Rockstar is the 6th most streamed song of all-time on Spotify.
At 8, Post Malone has the second most songs over 1.3 billion streams on Spotify.
At 39 weeks, Circles has the 4th longest run ever inside the US Hot 100 Top 10.
At 33 weeks, Sunflower has the 5th longest run ever inside the US Hot 100 Top 10.
All 3 Post Malone albums are among the 15 most streamed ever on Spotify (in release order at 13, 2 and 4).
NB: EAS means Equivalent Album Sales.
You may be interested in…
… best-selling artists, albums, and singles
To improve your navigation we created several amazing cross-artists lists posted inside the CSPC: Data Collector article. Click on it to see the full listing of all CSPC results compiled so far!
… similar artists
To put figures from this article into perspective, click on the images below to reach career breakdowns of similar artists: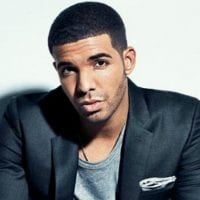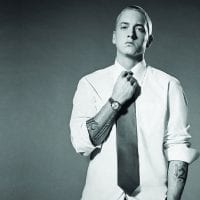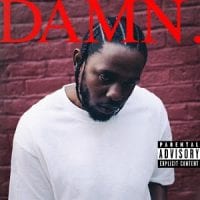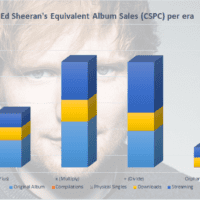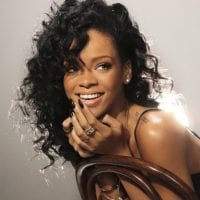 As usual, feel free to comment and / or ask a question!
Sources: IFPI, Spotify, YouTube, Discogs.