Looking at China's most popular international artists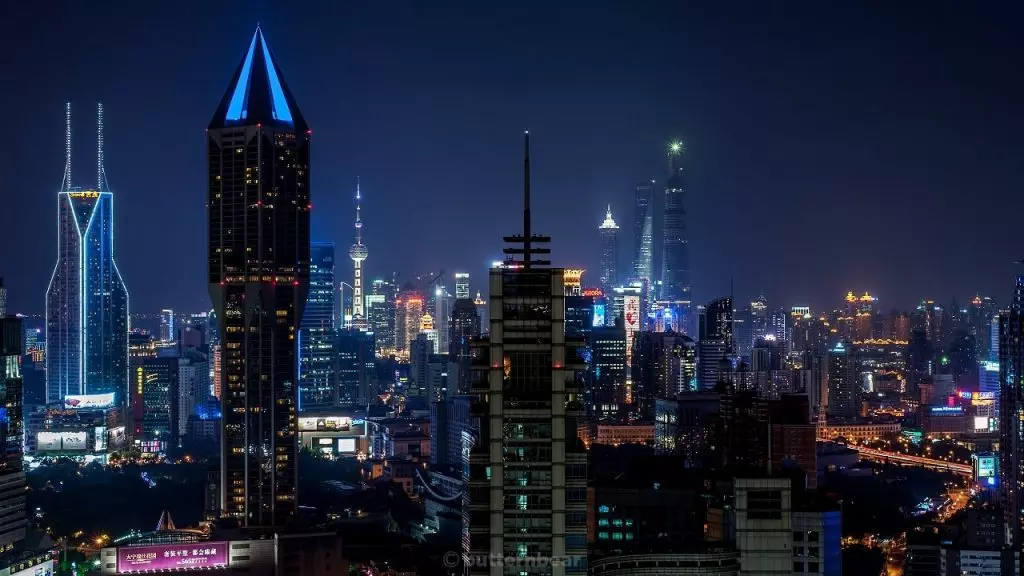 Every year China seems to be climbing several positions on IFPI's top music market's ranking and the growth doesn't seem to be slowing down anytime soon.
In just a few years we could see this country overtake markets like the UK, France and Germany and seriously challenging Japan! So who is benefiting the most from this? Just like we did with Gaana earlier this year we're now looking at the most followed international artists on QQ Music, China's biggest streaming service.
Boy Bands / Girl Groups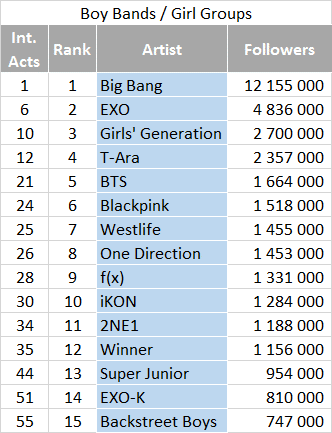 It's no secret that Asia really loves idol groups, China is no exception!
Another thing China really loves is K-pop which is taking as many 12 of the 15 spots on this list with Big Bang as the clear leader of the pack with over 12 million followers! EXO places safely at the second spot with the advantage of having Chinese members.
BTS and Blackpink might seem to rank a bit low from a western viewpoint, but K-pop have been massive in China for much longer giving older groups such as Girls' Generation, T-Ara and Super Junior a big boost.
When it comes to western groups One Direction at 8th is not number one among them, but in fact second to no other than Westlife at 7th which is very telling on just how big they were back in their day. The Backstreet Boys also make the list at 15th.
Bands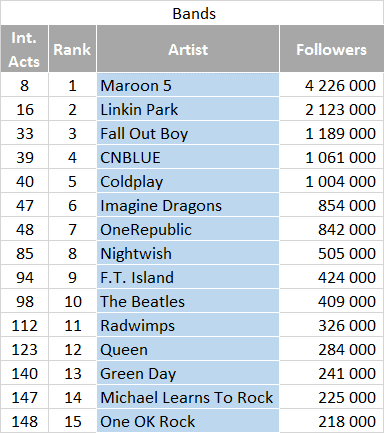 Although boy bands and girl groups seem to be the big thing at the moment bands are definitely not irrelevant with Maroon 5 in the lead with 4.2 million followers.
Linkin Park comes at 2nd highlighting their huge following in Asia. Fall Out Boy is often seen as very local to the US but a number 3 ranking on this list is definitely showing that it's not the case.
CNBLUE and F.T. Island are two South Korean rock bands making the list at 4th and 9th respectively. There are two other Asian rock bands here, they are Radwimps and One OK Rock from Japan at 11th and 15th.
The Beatles ranks at number 10 here with Queen 2 spots behind at 12th. They are the top legacy bands here. Nightwish at 8th and Michael Learns To Rock at 14th might come as a pleasant surprise for some.
Female Singers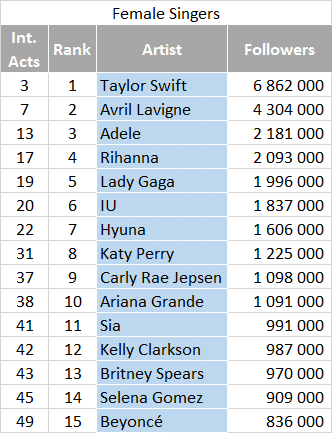 For female singers the number one spot was to be expected with Taylor Swift in the lead with 6.8 million followers, a number which is growing fast.
Safely at number two we have no other than Avril Lavigne which despite losing relevancy in the US and Europe have maintained a massive following in Asia.
Adele was to be expected on this list at 3rd with Rihanna and Lady Gaga right behind.
Two South Korean singers made the list too with IU at 6th followed by Hyuna at 7th. Another surprise here might be Carly Rae Jepsen at 9th outdoing no other than Ariana Grande at 10th.
Britney Spears is the oldest diva in the list, meaning that all of the big 4 from the 90s miss the list.
Male Singers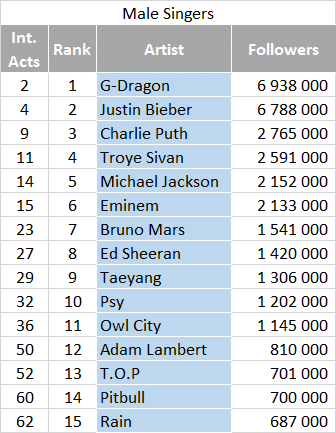 For male singers the race is much closer with South Korean rapper and Big Bang member G-Dragon in the lead at the moment who's 150,000 followers ahead of Justin Bieber at 2.
Two big surprises for some might be Charlie Puth and Troye Sivan ranking very high at 3rd and 4th. At the 5th spot we have no other than the king of pop himself, Michael Jackson.
Eminem takes the second spot among rappers as well as ranking 6th overall among male singers. Bruno Mars and Ed Sheeran were expected here at 7th and 8th.
Going down the list we have 2 more Big Bang members! These are Taeyang and T.O.P at 9th and 13th. Other surprises here are Psy, Owl City and Adam Lambert all making the the top 15.
DJ's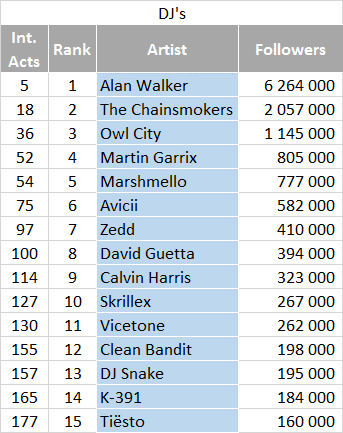 Despite being a one hit wonder in many countries, Alan Walker's status in China is no joke despite only getting popular there very recently. Out of all artists on this list he is gaining the most followers so don't be surprised if he's above the likes of Taylor Swift and Justin Bieber very soon.
Moving on to number 2 we have The Chainsmokers which is not a big surprise since they are massive all over Asia. A bigger shocker might be Owl City at 3rd above the likes of Martin Garrix and Marshmello at 4th and 5th. Avicii comes in at 6th.
Some unexpected appearances here might be the Dutch duo Vicetone and K-391, a Norwegian DJ mostly know for his Alan Walker collaborations.
Legacy Acts
For legacy acts Michael Jackson at number one doesn't come as a surprise.
The 2nd spot on the other hand might be a big shock for many. Richard Clayderman is a French pianist that was popular in Europe and especially his home country France during the 70s and 80s. Although his lasting appeal is nowhere as big in these regions.
If you got the impression China is into classical music you are no wrong. At 5th and 6th we have no other than Ludwig van Bethoven and Wolfgang Amadeus Mozart, they are by far the oldest artists on this list.
As mentioned before The Beatles and Queen are the top legacy bands at 3rd and 4th. Among bands they are followed by the Eagles at 9th.
Whitney Houson at 7th and The Carpenters at 10th are in line with their huge results in Japan. Bob Dylan at 8th on the other hand was not expected.
Japanese Artists
J-pop might not be as popular as K-pop at the moment but the impression it have no fans outside Japan is simply not correct since there are 9 Japanese artists in the top 200. In the lead we have Kenshi Yonezu who is insanely popular in Japan at the moment. He is followed by Aimer.
At 3rd we have the biggest Japanese female artist of all time, Ayumi Hamasaki. AKB48 takes the 5th spot as well as the first wen it comes to Idol groups. Other artists include Hikaru Utada, Mika Nakashima and Ikimonogakari.
The Overall List