Little Mix albums and songs sales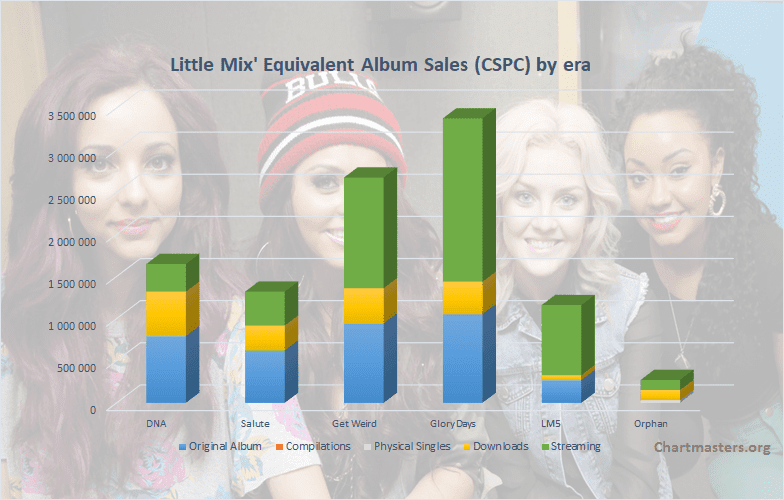 In 2011, Little Mix became the first group to win the UK TV competition X Factor, managing to out-do the 3rd position One Direction registered one year earlier.
Since then, the 4-members set has been building a large discography with several hit singles. This led various media and fans to claim that they belong to the bestselling girl groups of all-time.
They have never got a top 50 single in markets like Germany and France though, so this makes us wonder how valid are these affirmations?
Who are Little Mix?
Little Mix are a British girl group made of 4 members. They formed in 2011 during the series of the X Factor after failing to qualify individually.
Who are the group members?
Jade Thirlwall, Jesy Nelson, Leigh-Anne Pinnock and Perrie Edwards compose the group line-up. They are all British, born in 1991-1993. They share the spotlight as none of them is regarded as a leader of the group.
What's their style of music?
Little Mix are a pure UK Pop girl group in the vain of the Spice Girls, Atomic Kitten, Sugababes and Girls Aloud.
Their introductory single Cannonball was a #1 hit at Christmas in 2011 in the UK. It came as no surprise as all X Factor winners' single was a surefire chart topper back then.
The group started to impress when their first proper single Wings also shot to the top a few months later. It also made the US Hot 100.
The next shock came in November 2012 when their debut album DNA entered in the Top 5 not only in the UK, but also in the US.
Since then they issued 4 more albums and countless of singles, so how many units have they sold up to date?
As usual, I'll be using the Commensurate Sales to Popularity Concept in order to relevantly gauge their results. This concept will not only bring you sales information for all Little Mix' albums, physical and download singles, as well as audio and video streaming, but it will also determine their true popularity.
If you are not yet familiar with the CSPC method, the next page explains it with a short video. I fully recommend watching the video before getting into the sales figures. Of course, if you are a regular visitor feel free to skip the video and get into the figures.
The Commensurate Sales to Popularity Concept (CSPC)
There are two ways to understand this revolutionary concept. The first is the Scribe video posted below. If you are unaware of the CSPC method, you will get the full idea within just a few minutes.
If you are a mathematical person, and want to know the full method as well as formulas, you can read the full introduction article.
Now let's get into the artist's sales figures in detail in order to apply this concept and define the act's true popularity!
Little Mix Albums Sales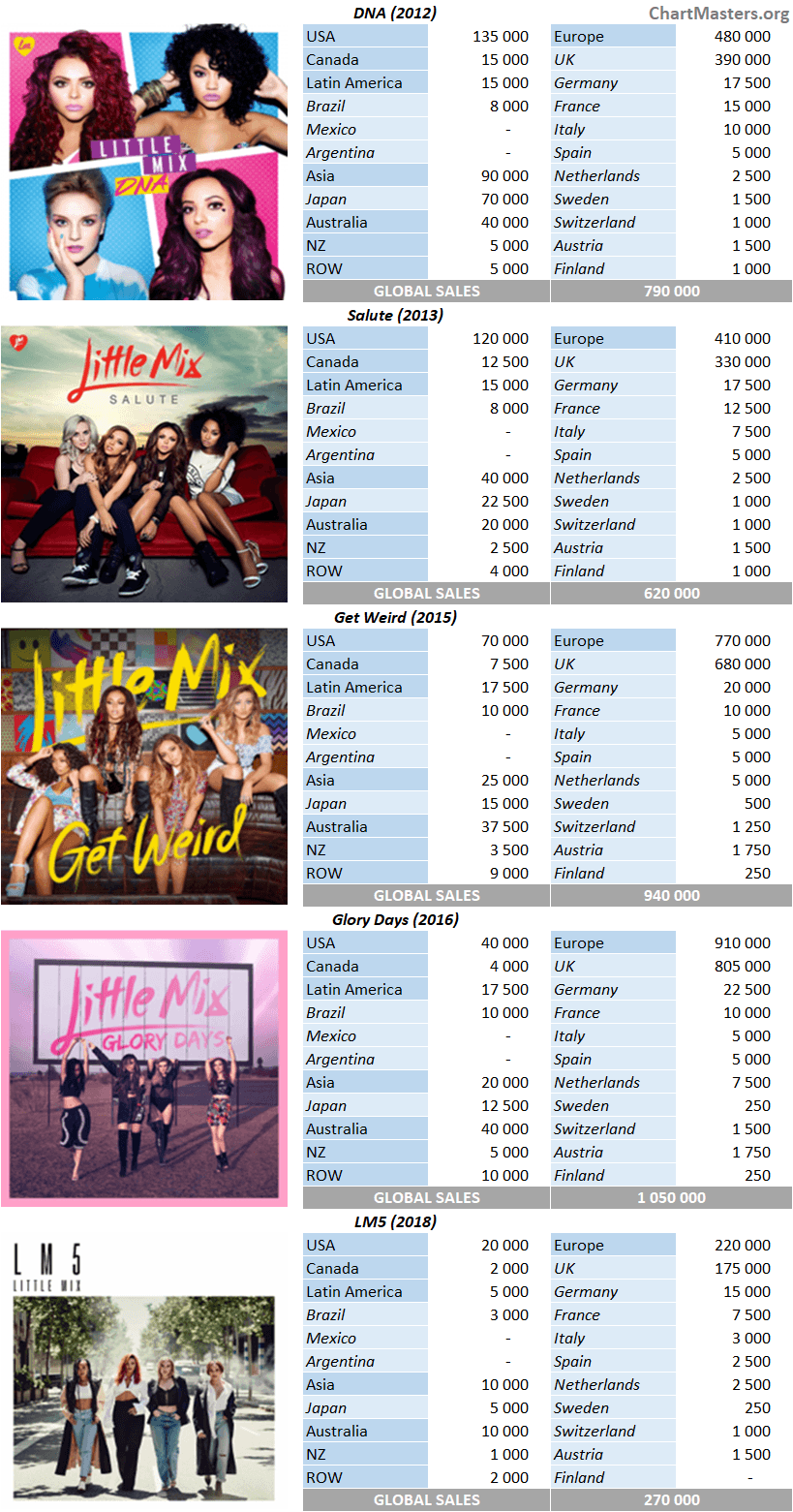 Original Album Sales – Comments

If pure album sales were still acceptable by 2012, it was already difficult for new artists to move large numbers.
With sales of 790,000 units, it's clear that DNA wasn't a global top seller, but it surely did well here and there, most notably in the UK.
Salute had similar sales, a bit lower which had to be expected with the hype going down along with the market.
That's why sales of 940,000 units for Get Weird are especially good since the group managed to improve when teen pop groups tend to vanish quickly.
Glory Days confirmed this trend. The 2016 release moved over a million units, which is a number much larger than 790,000 in 2012. Their uptick was even more notable in the UK.
LM5 failed to gather that much attention with singles that haven't been performing as well.
Up to date, the group sold 3.67 million albums, a good but not that big number all considered.
Total solo Album (all types) Sales per Country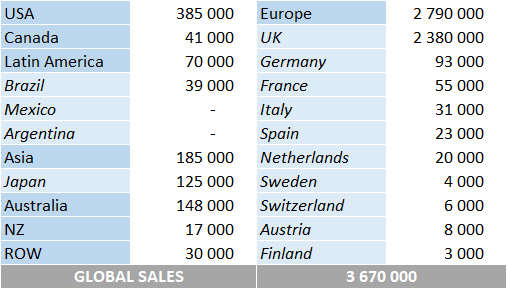 Please note country-specific numbers may miss sales of some minor releases, although continental and global totals are complete.
Little Mix Songs Sales

Physical Singles Sales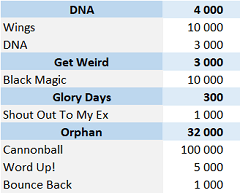 As a reminder, the weighting is done with a 10 to 3 ratio between one album and one physical single.
It's no news that physical singles are dead for many years, many years even before Little Mix debuted.
As every X Factor winner's single though the distribution of Cannonball CDs was large in the UK. The record stormed to #1 with as many as 62,733 physical singles sold in its first week.
Sales were naturally frontloaded and after this initial madness things felt back in their right place with only a few physical releases, all of which were limited to collectors, adding in low numbers.
Digital Songs

As a reminder, the weighting is done with a 10 to 1,5 ratio between one album and one digital single.
Since their beginning, Little Mix have been decently (or strongly) popular in great downloads markets, namely the US, the UK, South Korea, Japan and Australia.
These concludes on some good numbers in this format as illustrated by the 1.7 million sales of Wings. The songs remain their best performer, the only one which topped half a million units in the US.
With DNA, Change Your Life and How Ya Doin' their sales went down single after single although they retained decent numbers.
It has to be said that these are good scores for an artist who's not that global. In fact, true worldwide hits from 2012 were selling way, way more.
Their strength remained good locally and weak globally with the Salute era. Move shifted 890,000 units, nearly half of which in the UK. The next two singles did themselves less than half this number.
Black Magic became their 3rd UK chart topper after Cannonball and Wings, which largely contributed to its 1.28 million sales.
The single also dented charts of most European countries, their first one to do so, but with generally low peaks (#73 in Austria, #155 in France, #86 in Italy, #82 in the Netherlands, #58 in Sweden).
The next extracts from Get Weird went #6-11 in the UK and #10-27 in Australia but with little impact elsewhere, selling over 400,000 copies in average.
Songs from Glory Days were bigger with #1, #4, #5, #6 and #15 UK hits but streaming was already eating a large chunk of the market.
The #1 was the lead single Shout Out to My Ex which sold 800,000 copies with again half of the sales coming from the UK.
While most successful local acts tend to get more and more success abroad through the years, Little Mix increased more locally. The share of their sales coming from their homeland went from 30% for their first era to over 60% in recent years.
Career-wise, the group stands at 12 million downloads and ringtones sold, a low number for an act with 4 #1s, 14 top 10 and 23 top 40 hits in the UK.

Streaming
Streaming is made up of audio and video streams. Our CSPC methodology includes both to better reflect the real popularity of each track. The main source of data for each avenue is respectively Spotify and YouTube.
To factor in the growing impact of multiple Asian countries where these platforms aren't always the go-to site for music streaming, more sources have been added.
In order to account for their real popularity in each relevant country, the below sources have been used along with the mentioned ratios that reflect the market share of each area.
Audio Streams
– South Korea : Genie streams * 3.05 (consistent with Gaon streaming numbers)
– Japan : AWA streams * 100/5.5 (AWA has 5.5% of the Japanese streaming market)
– Elsewhere : Spotify streams * (370 – 8.5 – 9.5 – 33 – 9) / 207 (370 million global subscribers minus 8.5 million from South Korea minus 9.5 million from Japan minus 33 million from China divided by the number of Spotify only users minus 9 million more Asian users) + Genie streams * 3.05 (uses Genie rather than Spotify to extrapolate markets like Taiwan, Thailand and Vietnam)
Video Streams
– China* : Xiami streams * 125/6.5 (Xiami has just over 5% of the Chinese streaming market)
– Elsewhere : Youtube views
*since 96.4% of Chinese streaming platforms are free users, that paid-for users pay less than $2 a month and that they are also used as video streaming platforms, their streams are weighted in par with YouTube streams.
Audio Stream value – 1500 plays equal 1 album unit
Video Stream value – 11,750 views equal 1 album unit
Equivalent Albums Sales (EAS) = ( Spotify * 310/207 + Genie * 3.05*2 + AWA * 100/5.5 ) / 1500 + ( Xiami * 125/6.5 + YouTube ) / 11750
Top Hits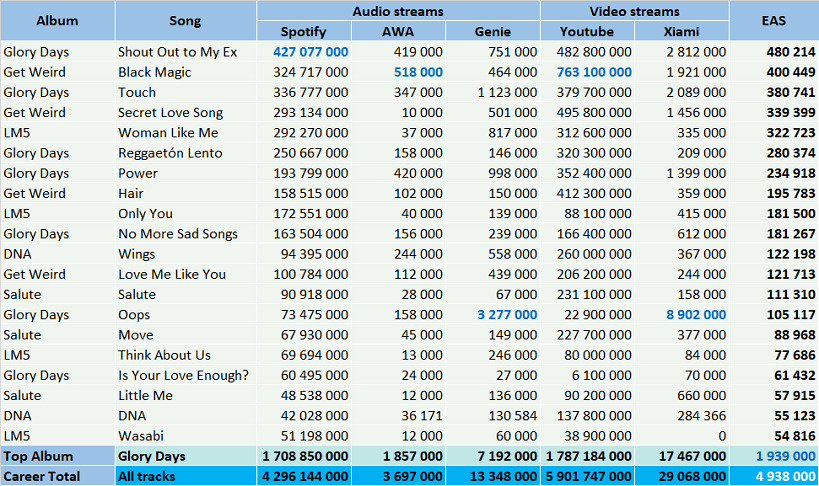 The 2016 hit Shout Out to My Ex emerges as their biggest streaming hit to date. It's helped by its lead on Spotify where the track stands at 427 million streams.
With a similar number on YouTube, the song totals 480,000 EAS.
The top 5 is packed as Black Magic, Touch, Secret Love Song and Woman Like Me all register more than two thirds of Shout Out to My Ex's EAS score.
The former is their top track by a mile on YouTube while also doing a great job in Japan as illustrated by AWA data.
Surprisingly, in both South Korea and China, Oops is far and away their biggest hit. This has a lot to do with the immense popularity of Charlie Puth there.
In the album front, Glory Days leads the way with a notable 1.94 million EAS. If the group's pure sales are somewhat disappointing, this number is no doubt the reflection of a global impact.
Full catalog breakdown
If you are familiar with the artist's catalog and want to check details of each and every song, you can access to all of them right here.
Keep yourself up to date
Our website provides you a fantastic tool which fetches updated Spotify streams as you request them, use it to watch these results grow day after day!
Little Mix Career CSPC Results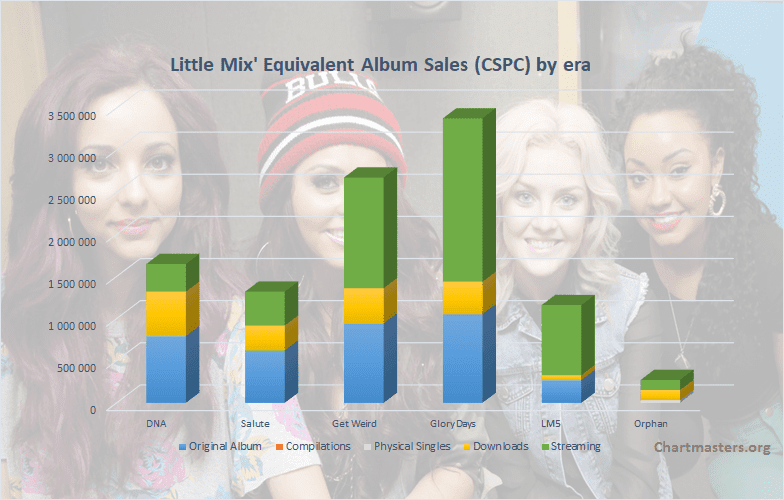 So, after checking all the figures, how many overall equivalent album sales has each album by Little Mix achieved? Well, at this point we hardly need to add up all the figures defined in this article!
In the following results table, all categories display figures in equivalent album sales. If different, pure sales are listed between parentheses.
| artist_spotify_id | # | Cover | Album | Studio albums (EAS) | sales_update_date | Other LPs (EAS) | Physical singles (units sold) | Digital singles (units sold) | Streams | Streams increase | Total EAS | valid_as_of | streams_updated_value | album_id |
| --- | --- | --- | --- | --- | --- | --- | --- | --- | --- | --- | --- | --- | --- | --- |
| 3e7awlrlDSwF3iM0WBjGMp | 1 | | DNA | 790,000 | 02.02.20 | 0 | 3,000(10,000) | 525,000(3,500,000) | 552,000 (09/25/23) | Av.: 170LD: 130 | 1,871,000 | 20,230,925 | 552,000 | 334 |
| 3e7awlrlDSwF3iM0WBjGMp | 2 | | Salute | 620,000 | 02.02.20 | 0 | 0(0) | 297,000(1,980,000) | 630,000 (09/25/23) | Av.: 170LD: 120 | 1,547,000 | 20,230,925 | 630,000 | 335 |
| 3e7awlrlDSwF3iM0WBjGMp | 3 | | Get Weird | 940,000 | 02.02.20 | 0 | 3,000(10,000) | 417,000(2,780,000) | 2,616,000 (09/25/23) | Av.: 980LD: 860 | 3,976,000 | 20,230,925 | 2,616,000 | 336 |
| 3e7awlrlDSwF3iM0WBjGMp | 4 | | Glory Days | 1,050,000 | 02.02.20 | 0 | 0(1,000) | 387,000(2,580,000) | 3,081,000 (09/25/23) | Av.: 860LD: 700 | 4,518,000 | 20,230,925 | 3,081,000 | 337 |
| 3e7awlrlDSwF3iM0WBjGMp | 5 | | LM5 | 270,000 | 02.02.20 | 0 | 0(0) | 57,000(380,000) | 1,502,000 (09/25/23) | Av.: 500LD: 260 | 1,829,000 | 20,230,925 | 1,502,000 | 338 |
| 3e7awlrlDSwF3iM0WBjGMp | 6 | | Confetti (Expanded Edition) | 0 | | 0 | 0(0) | 0(0) | 1,115,000 (09/25/23) | Av.: 0LD: 0 | 1,115,000 | 20,230,925 | 1,115,000 | 0 |
| 3e7awlrlDSwF3iM0WBjGMp | 7 | | Orphan | 0 | 02.02.20 | 0 | 32,000(106,000) | 120,000(800,000) | 121,000 (02/02/20) | N/A | 273,000 | 20,230,925 | 121,000 | 1,694 |
'Av.' stands for Average, 'LD' for Last Day.
As a reminder:
Studio Album: sales of the original album
Other Releases: sales of compilations generated thanks to the album
Physical Singles: sales of physical singles from the album (ratio 3/10)
Download Singles: sales of digital singles from the album (ratio 1,5/10)
Streaming: equivalent album sales of all the album tracks (ratio 1/1500 for Audio stream and 1/6750 for Video stream)
See where the artist ranks among remaining singers
There are several ways of interpreting these numbers.
The first one is to point out how fanciful claims putting Little Mix among the top selling girl groups ever are.
Their career to date stands at 10.45 million equivalent album sales, nowhere near the likes Supremes, Spice Girls, Destiny's Child, TLC, Dixie Chick, etc.
These claims are often based on the "50 million records sold" tag attributed to the group.
They sold 3.67 million albums, 130,000 physical singles and 12 million downloads and ringtones which adds for less than 16 million in total.
Their streams though are up to nearly 5 million EAS, which, converted into equivalent singles sales, creates the illusion of a 50-million selling group.
While technically true, this 50 million figure weighted on par with singles doesn't compete at all with near 50 million pure sales as totaled by several previously mentioned girl groups.
Also, these older groups do get streams too so if we add them using equivalent singles sales, they would be well past 50 million anyway.
Little Mix aren't the biggest girl group of the 10s either. They are beaten by several South Korean sets like Girl's Generation and TWICE. We do not consider Japanese franchise AKB48 for this purpose.
The other way of interpreting the numbers is forgetting about clickbait claims and focus in the results as they stand, and they are good.
To start with, five consecutive albums over 1 million EAS is nothing to be ashamed of.
Then, the group's consistency is great, so is the fact they went out to out-peak their debut two times.
Near 3.4 million for Glory Days is also a huge number when we consider their lack of impact in many markets. Even if they do not rank high on charts, they no doubt have fans all over the world who enjoy their music on high rotation.
Also, to be successful locally is hardly a bad thing, it's surely better than being truly successful nowhere. Their success in the UK is notable since day 1.
Manufactured pop groups rarely last longer than 5 albums and 9 years so the real test for Little Mix now will be to keep going. Will they be able to stay together and continue posting new hits?
Singles CSPC results
The list is compiled in album equivalent sales generated by each song. Therefore, these figures are not merged units of singles formats. Instead, it includes weighted sales of the song's physical single, download, ringtone and streaming as well as its share among sales of all albums on which it is featured.
1. 2015 – Little Mix – Black Magic [Get Weird] – 880,000
2. 2016 – Little Mix – Shout Out to My Ex [Glory Days] – 860,000
3. 2012 – Little Mix – Wings [DNA] – 680,000
4. 2016 – Little Mix – Touch [Glory Days] – 660,000
4. 2015 – Little Mix ft. Jason Derulo – Secret Love Song [Get Weird] – 660,000

If you feel inspired by this list, we just created this CSPC Little Mix playlist on Spotify!
Discography results
Thanks to our new ASR (Artist Success Rating) concept, we know that their sales represent 3.36 million times the purchase of their entire discography. Coupled with their total sales, it translates into an ASR score of 34.
Records & Achievements
At 10,450,000 EAS, Little Mix are the biggest UK girl group of the 10s.
At 4,310,887,729 streams, Little Mix are the most streamed girl group on Spotify.
At 14, Little Mix are 3rd ever among the most UK Top 10 singles for a girl group.
NB : EAS means Equivalent Album Sales
You may be interested in…
… best-selling artists, albums, and singles
To improve your navigation we created several amazing cross-artists lists posted inside the CSPC: Data Collector article. Click on it to see the full listing of all CSPC results compiled so far!
… similar artists
To put figures from this article into perspective, click on the images below to reach career breakdowns of similar artists: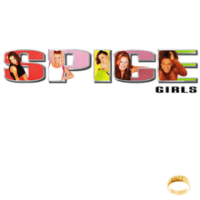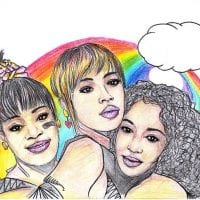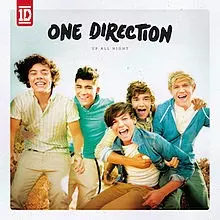 As usual, feel free to comment and / or ask a question!
Sources: IFPI, Spotify, YouTube, Discogs.