Most popular artists on Spotify
How do you know which artists are the most popular on Spotify? Monthly listeners hardly tell you the truth of it and Spotify's popularity index alone isn't so easy to read. Here is a feel of artist popularity.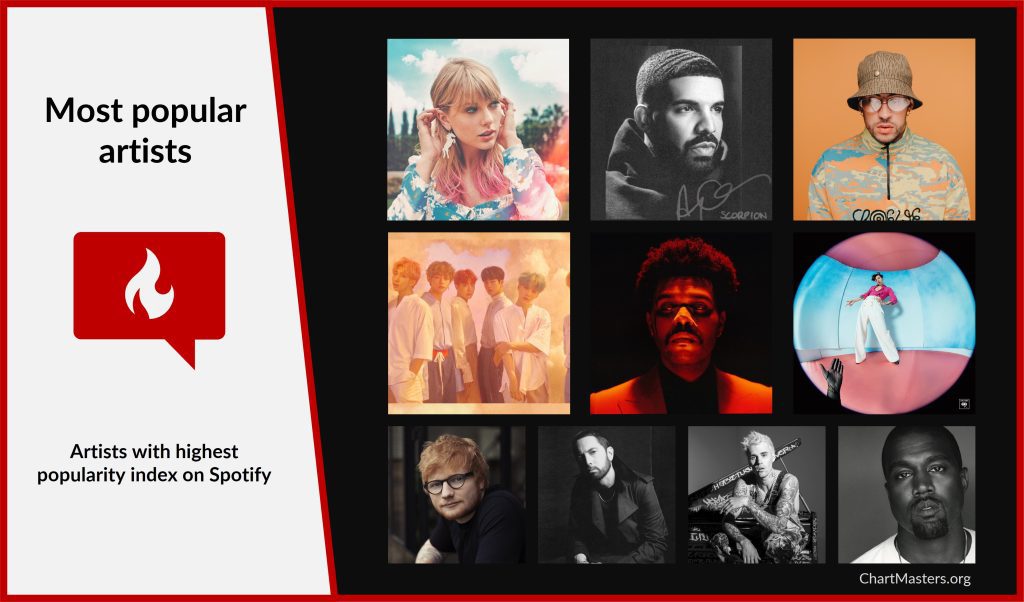 If you are looking for detailed streaming numbers of each artist, please use this tool. Our various streaming tools are available here.
Most popular artists – Methodology
What does this top mean?
View more
We know that the popularity index is both poorly known and not so user friendly as it's an index rather than raw data.
Convinced of its importance though, we developed this page to retrieve the top 15 best performers of the platform, but also how many daily streams they recorded.
This last statistic, unique online, adds to the popularity index the concrete meaning it lacks.
In general, an artist will need 10 million daily streams to hit a score of 90, about twice as many streams as the global #1 hit usually gets.
You have read this correctly. An artist noted 90 gains a lot more streams than the current #1 smash. This just goes on to show how much a healthy catalog matters to become one of the most popular arstists on Spotify.
How do we build this top?
View more
The daily streaming total includes streams on which an artist is featured. The page also displays the 1-week evolution of the index.
We may miss the daily streams total for new entries in this list. No worries, this will last only 24 hours.
In fact, we store the data of the top 50, so it requires one more day of activity so that we can compare the last two daily totals.
Top 50 most popular artists on Spotify
Last updated on 10/04/23
Rank
Artist
Popularity
Weekly +/-
Daily Streams
1
Taylor Swift
100
=
82,688,256
2
Drake
95
=
37,436,413
3
The Weeknd
94
=
39,524,704
4
Bad Bunny
94
=
35,107,475
5
Peso Pluma
93
=
31,851,541
6
Travis Scott
93
=
23,038,875
7
Olivia Rodrigo
91
=
24,098,357
8
Karol G
91
=
22,680,096
9
Feid
90
+1
24,622,193
10
Lana Del Rey
90
=
22,099,356
11
Kanye West
90
=
20,823,525
12
Doja Cat
89
=
20,186,781
13
Arijit Singh
89
=
19,572,277
14
Zach Bryan
89
=
19,224,653
15
SZA
89
=
17,924,356
16
Post Malone
89
=
17,210,085
17
Eminem
89
=
17,056,513
18
Rihanna
89
+1
16,232,218
19
21 Savage
89
=
11,528,752
20
Future
89
=
9,824,574
21
Ed Sheeran
88
=
20,971,636
22
Billie Eilish
88
=
18,543,388
23
Junior H
88
=
17,763,157
24
Justin Bieber
88
=
16,157,004
25
Bruno Mars
88
=
14,632,241
26
Ariana Grande
87
=
15,931,387
27
Metro Boomin
87
=
15,703,769
28
Coldplay
87
=
15,116,943
29
Morgan Wallen
87
=
15,095,057
30
BTS
87
=
13,750,324
31
Shakira
87
+1
13,547,048
32
Kendrick Lamar
87
=
13,402,164
33
Dua Lipa
87
=
13,262,627
34
David Guetta
87
=
13,160,704
35
Rauw Alejandro
87
=
12,961,283
36
Myke Towers
87
=
11,943,663
37
Jung Kook
86
=
20,382,649
38
Pritam
86
=
15,782,003
39
Anirudh Ravichander
86
=
14,698,118
40
Imagine Dragons
86
=
13,763,025
41
Arctic Monkeys
86
+1
13,645,145
42
Fuerza Regida
86
+1
13,068,170
43
Natanael Cano
86
+1
12,992,876
44
Grupo Frontera
86
=
12,593,285
45
Mora
86
=
12,100,168
46
Anuel Aa
86
=
11,909,156
47
Juice WRLD
86
=
10,892,438
48
Ozuna
86
=
9,523,853
49
Nicki Minaj
86
=
9,140,171
50
Lil Baby
86
=
8,506,844
You may be interested in…