Streaming Masters – Katy Perry
Katy Perry is one of the most successful artist of the digital era, thanks to the incredible success of her second album Teenage Dream. Is she also impressive on the streaming area?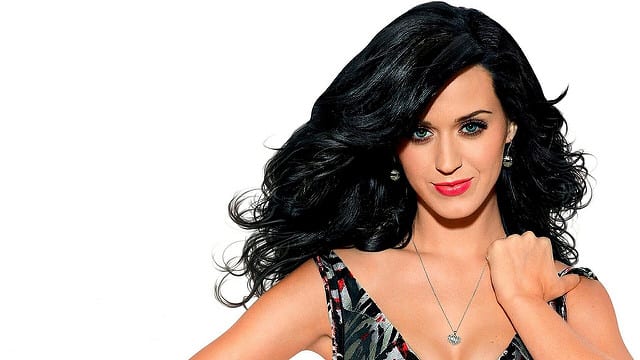 Updated on June 5, 2019
Announcement
CSPC articles require time to compile. It may be frustrating to wait for them too long, especially when various new artists, and even more and more catalog acts, enjoy the large majority of their sales through streaming only these days. To make sure to provide much more frequent updates, we are going to publish Streaming Masters sheets from now on, detailing the complete streaming section of artists.
Method
Streaming is made up of audio and video streams. Our CSPC methodology now includes both to better reflect the real popularity of each track. The main source of data for each avenue is respectively Spotify and YouTube. To factor in the growing impact of multiple Asian countries where these platforms aren't always the go-to site for music streaming, more sources have been added.
In order to account for their real popularity in each relevant country, the below sources have been used along with the mentioned ratios that reflect the market share of each area.
Audio Streams
– South Korea : Genie streams * 3.05 (consistent with Gaon streaming numbers)
– Japan : AWA streams * 100/5.5 (AWA has 5.5% of the Japanese streaming market)
– Elsewhere : Spotify streams * (370 – 8.5 – 9.5 – 33 – 9) / 207 (370 million global subscribers minus 8.5 million from South Korea minus 9.5 million from Japan minus 33 million from China divided by the number of Spotify only users minus 9 million more Asian users) + Genie streams * 3.05 (uses Genie rather than Spotify to extrapolate markets like Taiwan, Thailand and Vietnam)
Video Streams
– China* : Xiami streams * 125/6.5 (Xiami has just over 5% of the Chinese streaming market)
– Elsewhere : Youtube views
*since 96.4% of Chinese streaming platforms are free users, that paid-for users pay less than $2 a month and that they are also used as video streaming platforms, their streams are weighted in par with YouTube streams.
Audio Stream value – 1500 plays equal 1 album unit
Video Stream value – 11,750 views equal 1 album unit
Equivalent Albums Sales (EAS) = ( Spotify * 310/207 + Genie * 3.05*2 + AWA * 100/5.5 ) / 1500 + ( Xiami * 125/6.5 + YouTube ) / 11750
Results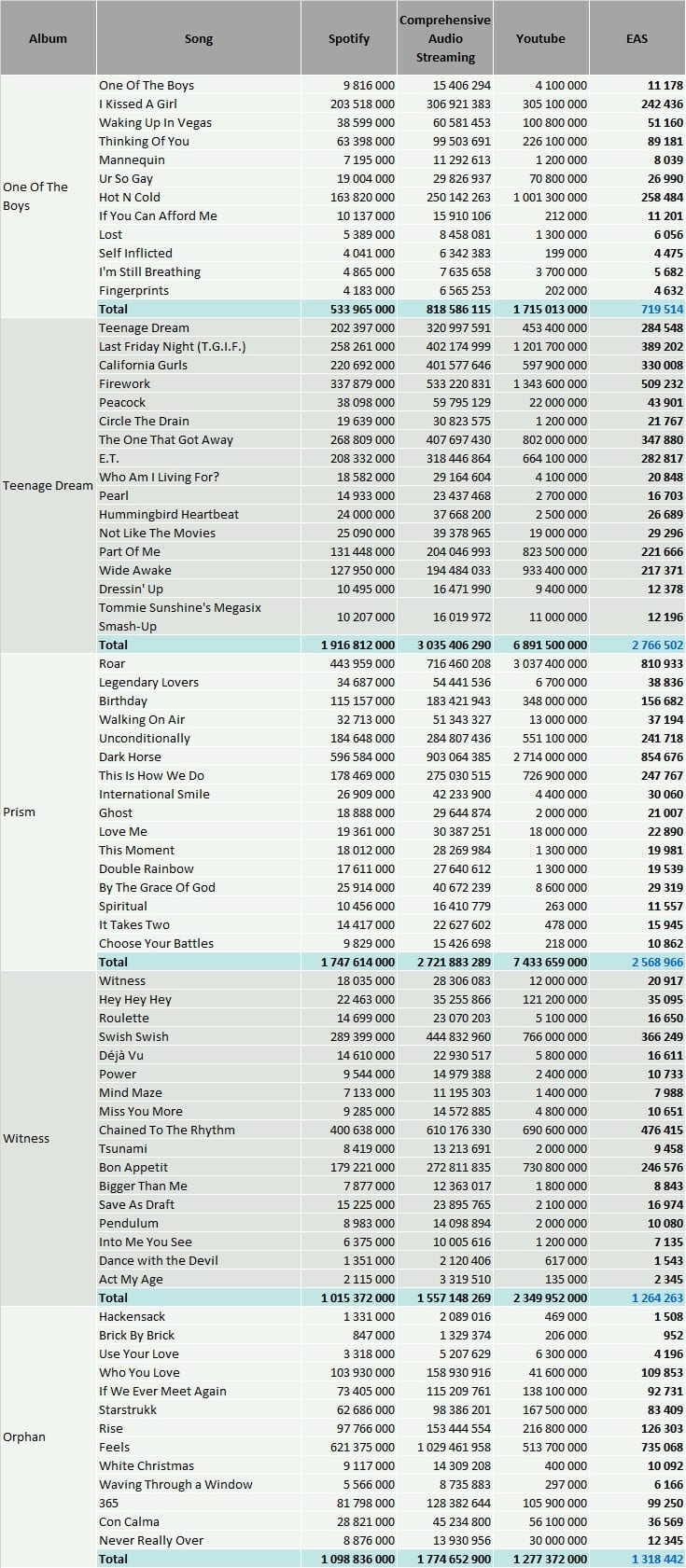 Total: 8,637,687 EAS
Most streamed tracks (EAS)
1. Dark Horse [Prism] – 855,000
2. Roar [Prism] – 811,000
3. Feels [Orphan] – 735,000
4. Firework [Teenage Dream] – 509,000
5. Chained To The Rhythm [Witness] – 476,000
6. Last Friday Night (T.G.I.F.) [Teenage Dream] – 389,000
7. Swish Swish [Witness] – 366,000
8. The One That Got Away [Teenage Dream] – 348,000
9. California Gurls [Teenage Dream] – 330,000
10. Teenage Dream [Teenage Dream] – 285,000
11. E.T. [Teenage Dream] – 283,000
12. Hot N Cold [One Of The Boys] – 258,000
13. This Is How We Do [Prism] – 248,000
14. Bon Appetit [Witness] – 247,000
15. I Kissed A Girl [One Of The Boys] – 242,000
16. Unconditionally [Prism] – 242,000
17. Part Of Me [Teenage Dream] – 222,000
18. Wide Awake [Teenage Dream] – 217,000
19. Birthday [Prism] – 157,000
20. Rise [Orphan] – 126,000
You may be interested in…
… Katy Perry's full CSPC analysis
… streaming tops and tools
… streaming masters analyses for similar artists