Streaming Sales
Streaming is made up of two families – audio and video. Our CSPC methodology now includes both to better reflect the real popularity of each track. The main source of data for each avenue is respectively Spotify and YouTube. As detailed in the Fixing Log article, Spotify represents 132 million of the 212 million users of streaming platforms, while YouTube is pretty much the only video platform generating some revenue for the industry. Below is the equivalence set on the aforementioned article:
Audio Stream – 1500 plays equal 1 album unit
Video Stream – 11,750 views equal 1 album unit
Equivalent Albums Sales = 212/132 * Spotify streams / 1500 + YouTube views / 11750
Streaming Part 1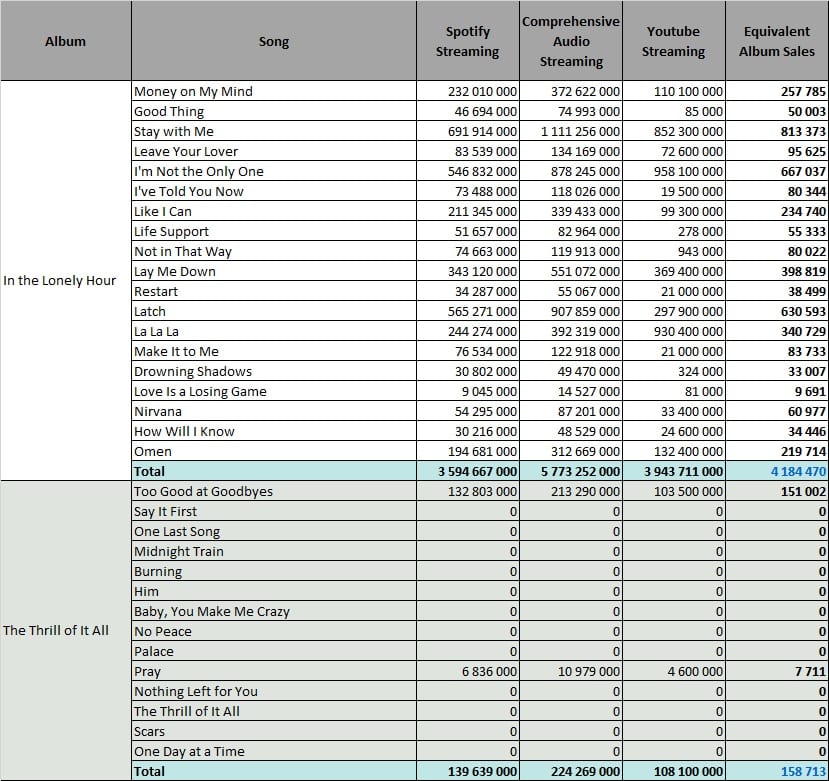 Having 3 singles over 200 million Spotify streams is great by 2017's standards, let alone having almost 8 with a 2014 set! Please note that songs which first promoted albums from other artists like Latch, La La La and Omen have been added alongside In the Lonely Hour. Two reasons for that, the first is that they were all a part of the Deluxe version of the LP and the second is that most streams happened after the breakthrough of Hour which is the reason they have been streamed so much.
All the figures are magnificent. Stay With Me is closing in on 700 million, an immense figure for a song from 2014. It has been even more successful on YouTube with over 850 million views. Combined, I'm Not The Only One is nearly as big. Latch manages to be higher on Spotify with 565 million streams while La La La is up to 930 million on YouTube. Money On My Mind, Lay Me Down and Like I Can all top 300 million audio streams with ease, while album tracks are now over 50 million on average on Spotify.
This all-round performance is somewhat absurd. So is the overall total of 4,2 million equivalent album sales from streaming, a figure very few albums can break. It is indeed very close to Drake's Views, although that album came out a full two years later when the format had doubled its strength. Obviously, Sam had more time to amass those streams but this is still truly mind-blowing.