John Lennon's albums and songs sales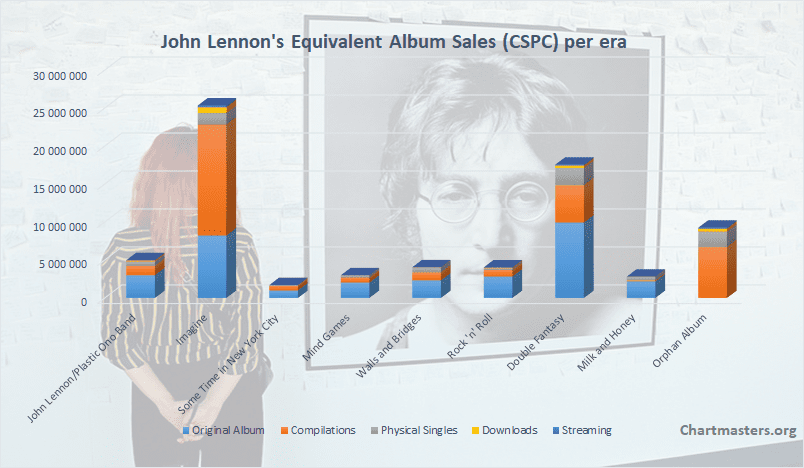 Beatles' achievements are widely covered by the press and Imagine was elected the greatest song in the past 100 years by polls from multiple countries at the turn of the millennium, yet John Lennon's sales are unknown by the general public. It's time to put them under the microscope!
Frictions inside the fab four led Lennon to release his first single in July 1969, only one month after the group issued The Ballad Of John And Yoko and before the release of both LPs Abbey Road and Let it Be. That single, Give Peace a Chance, remained 3 weeks at #2 in the UK, blocked by the Rolling Stones' Honky Tonk Women. Technically speaking, the song was credited to the Plastic Ono Band, a band made of Lennon and Yoko Ono, the woman he had married a few months before. This union was received very coldly by the public and nearly 50 years later Ono is still regarded as the main responsible of the Beatles' breakup.
These personal affairs are important since everything issued from that point to Lennon's point was impacted one way or another by Ono. Considering the awful public image the couple had it was difficult to get a warm reception with his new records as soon as she was involved. Lennon couldn't care less and continued working with his wife until the very end. Has time proved him right or wrong? How has his sales been impacted? How does Imagine and his remaining hits compete with the Beatles' recordings?
As usual, I'll be using the Commensurate Sales to Popularity Concept in order to relevantly gauge his results. This concept will not only bring you sales information for all Lennon's albums, physical and download singles, as well as audio and video streaming. In fact, it will also determine their true popularity.
If you are not yet familiar with the CSPC method, below is a nice and short video of explanations. I fully recommend watching it before getting into the sales figures. Of course, if you are a regular visitor feel free to skip the video and get into the numbers directly.
The Commensurate Sales to Popularity Concept (CSPC)
There are two ways to understand this revolutionary concept. In the first place, there is this Scribe video posted below. If you are unaware of the CSPC method, you will get the full idea within just a pair of minutes.
If you are a mathematical person, and want to know the full method as well as formulas, you can read the full introduction article.
Now let's get into the artist's sales figures in detail in order to apply this concept and define the act's true popularity!
John Lennon's Album Sales

Original Album Sales – Comments
1970 John Lennon/Plastic Ono Band – 2,990,000
1971 Imagine – 8,220,000
1972 Some Time in New York City – 980,000
1973 Mind Games – 2,010,000
1974 Walls and Bridges – 2,310,000
1975 Rock 'n' Roll – 2,820,000
1980 Double Fantasy – 9,920,000
1984 Milk and Honey – 2,170,000
The Beatles are the greatest selling act of all-time so by definition, nobody topped them. Still, some numbers of Lennon pale in comparison. The 1972 LP Some Time in New York City, released while classic rock was still massively popular, sold under a million. Maybe more disappointing are sales of Imagine at 8,2 million. While this is an obviously great number for a 1971 LP, the aura of the title song could have made us hope more. As many of you know though, sales of these old albums were often replaced by compilations so we have to wait for following section to see its comprehensive results.
Released 3 weeks before the tragic passing of the singer, Double Fantasy saw its sales explode. On its way to miss the Top 10 in both the US and the UK, the LP went to the top multiple weeks after the sad event. Although Imagine is a greater catalog seller for very long, the initial sales if Double Fantasy still make it Lennon's best result at almost 10 million.
John Lennon's songs sales

Physical Singles
As a reminder, the weighting is done with a 10 to 3 ratio between one album and one physical single.
After releasing several orphan songs (see following page), Lennon dropped his first LP and its singles in 1970. Power to the People was the most popular, climbing to #11 in the US. It sold over a million globally. A year later, Imagine came out, easily topping results of all singles issued before it.
Surprisingly, the single, often highlighted by its presence among the very best selling singles of all-time in the UK, wasn't released at first there, while hitting #3 in the US on the back of well over a million sales. The single started its story in the UK in 1975 when a delayed released went to #6, sticking 5 weeks inside the Top 10. In 1980, after Lennon's death, the song was reissued, topping charts for 4 weeks. It got one more release for Christmas 1999, reaching #3 and selling 280,000 copies in two weeks only. All told, physical releases of the song sold 1,5 million units in the UK, as much as in the US. The global total stands on a huge 4,84 million.
Nothing from the next two albums came even close to this song. All extracts from 1972 and 1973 albums failed to reach the Top 10 in both the US and the UK.
Whatever Gets You thru the Night was a US chart topper, although our experience and data suggests Lennon's Billboard rankings from this period were someway inflated by the high similarity of his target audience and the charts panel structure. The single sold over a million globally nevertheless.
Both (Just Like) Starting Over and Woman went through the roof after the murder of the artist. They sold over 3 million units each, hitting #1 in various countries.
Apart from these traditional singles, a few orphan songs did well too. His very first hit Give Peace a Chance sold nearly 1,5 million copies while Instant Karma! and the perennial Christmas hit Happy Xmas (War Is Over) sold over 2 million a piece.
Digital Songs
As a reminder, the weighting is done with a 10 to 1,5 ratio between one album and one digital single.
Expectedly, Imagine strongly dominates catalog sales in download formats of Lennon. With more than 4 million digital sales, it is responsible for a third of all downloads and ringtones of the artist.
An interesting conclusion comes from remaining songs. Early hits are mostly forgotten, but additional songs like Working Class Hero and Jealous Guy have been gaining traction through the years.
With sales closing in 2 million Happy Xmas is the easy runner up among Lennon's catalog. While not that big in the US, the song continues to do very well every year in Europe. Various songs around half a million songs follow. Among them are 4 songs from the album Double Fantasy, which has no huge classic but several relevant titles still.
Streaming
Streaming is made up of audio and video streams. Our CSPC methodology now includes both to better reflect the real popularity of each track. The main source of data for each avenue is respectively Spotify and YouTube. As detailed in the Fixing Log article, Spotify represents 157 million of the 272 million users of streaming platforms, while YouTube is pretty much the only video platform generating some revenue for the industry. Below is the equivalence set on the aforementioned article:
Audio Stream – 1500 plays equal 1 album unit
Video Stream – 11,750 views equal 1 album unit
Equivalent Albums Sales (EAS) = 272/157 * Spotify streams / 1500 + YouTube views / 11750
Streaming Part 1
With 132 million streams on Spotify and close to 200 million on YouTube, Imagine is far and away the best performer from this list. In all fairness, here too numbers are a bit disappointing. Imagine is only the 8th most streamed track from 1971. While it's ok to be topped by Led Zeppelin's Stairway To Heaven, to see songs like Don McLean's American Pie and America's A Horse With No Name is more surprising.
The classic status of Plastic Ono Band is visible through its consistency but the lack of hits limit its total at only 49,000 EAS. Scores of Some Time in New York City are dreadful, adding for barely 6,000 EAS.
Streaming Part 2
Stand by Me is the only song from these 3 albums that tops 10 million streams on Spotify. Naturally, EAS totals are fairly low at less than 80,000 combined for them.
Streaming Part 3
Time always puts everything in its right place. If (Just Like) Starting Over sold a stunning 3,5 million physical singles upon release, that number wasn't reflective of its organic popularity. Now that the effect of his death is no more a factor, the song is way down among his biggest songs, totaling only 12 million streams on Spotify. Watching the Wheels is now more popular at 20 million while Woman remains a decent performer at 36 million. The addition of these songs fuel the album to 103,000 EAS.
Milk and Honey is much weaker with 12,000 EAS in total. It lacks hits, or even relevant songs, since none of its tracks reach 3 million.
Streaming Part 4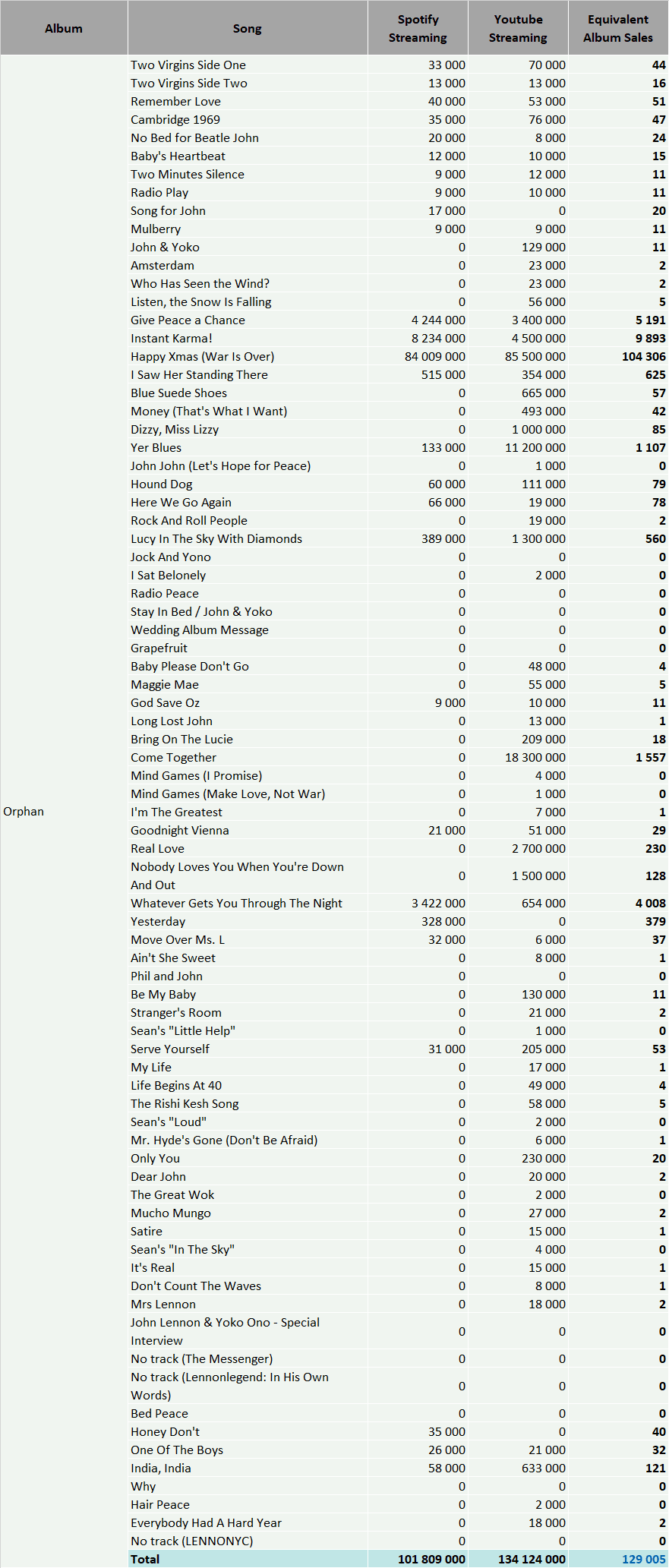 This list is mostly made of experimental songs / interview tracks or whatever. Mostly, but not entirely since it also includes Happy Xmas (War is Over), the second biggest digital hit of the iconic singer. The song is around 85 million on both Spotify and YouTube, good enough for 104,000 EAS.
John Lennon's compilations sales
It sounds fairly logical to add together weighted sales of one era – studio album, physical singles, downloads, streams – to get the full picture of an album's popularity. For older releases though, they also generate sales of various live, music videos and compilation albums.
All those packaging-only records do not create value, they exploit the value originating from the parent studio album of each of its tracks instead. Inevitably, when such compilations are issued, this downgrades catalog sales of the original LP. Thus, to perfectly gauge the worth of these releases, we need to re-assign sales proportionally to its contribution of all the compilations which feature its songs. The following table explains this method.
Part 1 – Major Compilations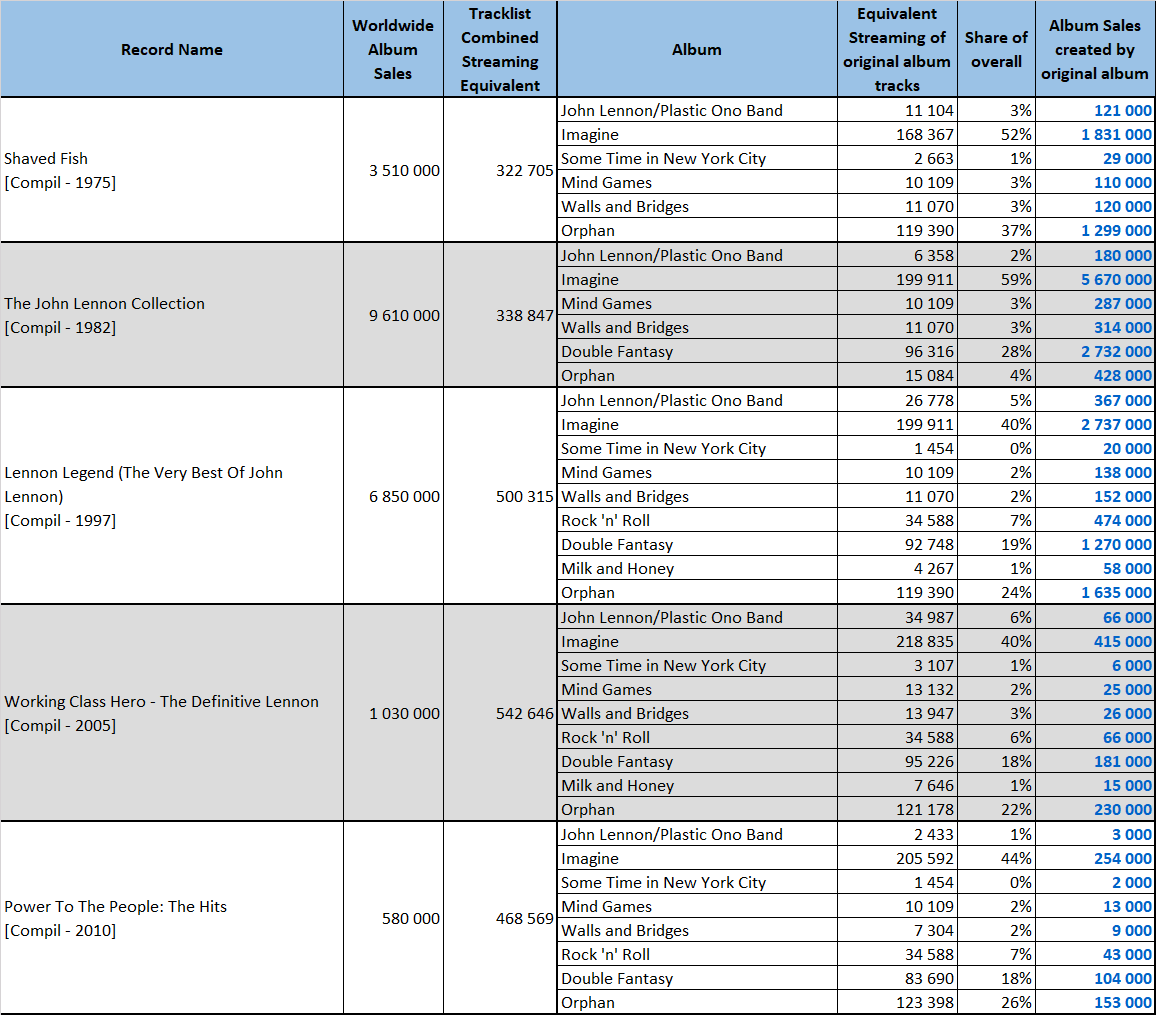 How to understand this table? If you check this example, these figures mean Shaved Fish sold 3,510,000 units worldwide. Then, the second statistics column means streams of all the songs included on this package add for 322,705 EAS.
The second part at the right of the table shows how many streams are coming from each original album as well as the share they represent. Thus, streaming figures tell us Imagine songs are responsible for 52% of the Shaved Fish tracklist attractiveness. In other words, it generated 1,831,000 of its 3,510,000 album sales. Eventually, we apply this methodology to all compilations.
The pattern of sales distribution is very clear and expected. Imagine is the main appeal provider for all compilations, with Double Fantasy and orphan songs coming next. Remaining albums contribute very little to these new packages.
Part 2 – Remaining Compilations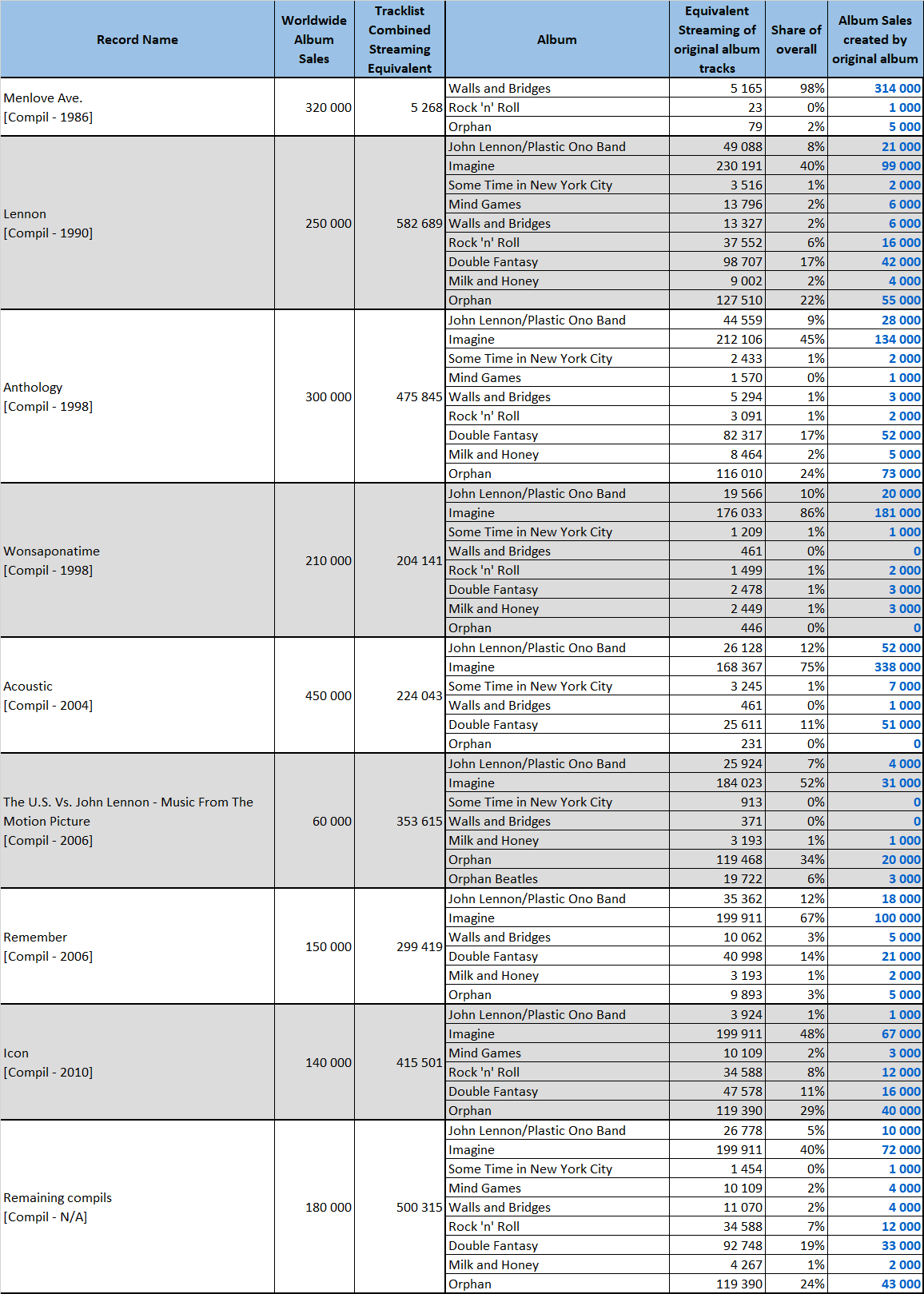 Part 3 – Remaining Albums
This section includes the 3 early experimental albums, most notably the highly controversial Two Virgins, a pair of live albums and a strong soundtrack. Distribution patterns depend on the release date: records pre-1971 are fueled by orphan songs, the ones after that date by Imagine.
We can notice the 'Orphan Beatles' line from Imagine Soundtrack. In fact, that album included various Beatles' songs that happen to be in general more popular than the ones from Lennon, with the only exception being the title track. These 1,1 million sales won't be assigned to the solo career of Lennon, but instead to the group.
Part 4 – Box sets
Most of these albums were original albums packaged together so sales are assigned just like that, with figures going to each album included into them.
Part 5 – Music Videos
Full Length related records Sales – Summary
Here is the most underestimated indicator of an album's success – the amount of compilation sales of all kinds it generated. Due to the dependency of sales of the original studio albums on these releases, they are a key piece of the jigsaw.
We were kind of disappointed so far by some numbers related to Imagine. They were great but didn't felt as massive as its status. Considering the title track was the only real hit from its parent LP, we can completely change our mind with these figures. Indeed, it generated a stunning 14,5 million sales of compilations of every kind. The only reason why it hasn't sold well over 10 million units on its own is because a compilation exploiting the same songs, Shaved Fish, came out as early as in 1975.
As a bonus, below are breakdowns of the main selling compilations.
Total Album (all types) Sales per Country
John Lennon Career CSPC Results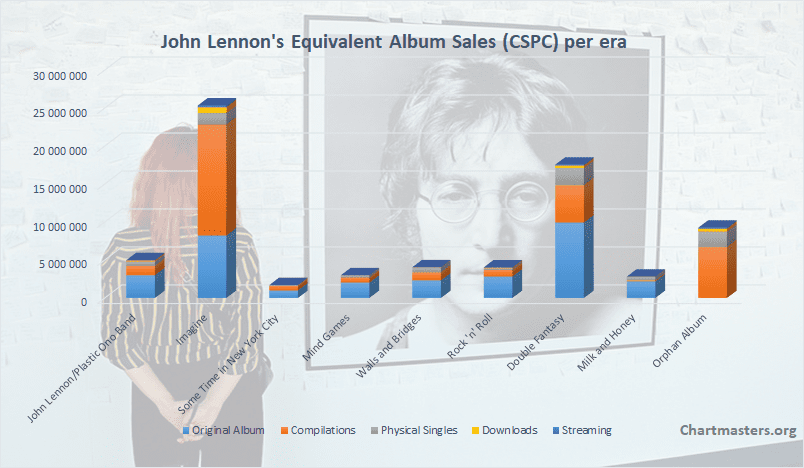 So, after checking all the figures, how many overall equivalent album sales has each album by John Lennon achieved? Well, at this point we hardly need to add up all of the figures defined in this article!
Albums CSPC results
In the following results table, all categories display figures in equivalent album sales. If different, pure sales are listed between parentheses.
| artist_spotify_id | # | Cover | Album | Studio albums (EAS) | sales_update_date | Other LPs (EAS) | Physical singles (units sold) | Digital singles (units sold) | Streams | Streams increase | Total EAS | valid_as_of | streams_updated_value | album_id |
| --- | --- | --- | --- | --- | --- | --- | --- | --- | --- | --- | --- | --- | --- | --- |
| 4x1nvY2FN8jxqAFA0DA02H | 1 | | John Lennon/Plastic Ono Band | 2,990,000 | 16.10.18 | 1,213,000 | 579,000(1,930,000) | 144,000(960,000) | 206,000 (09/27/23) | Av.: 90LD: 110 | 5,132,000 | 20,230,927 | 206,000 | 623 |
| 4x1nvY2FN8jxqAFA0DA02H | 2 | | Imagine | 8,220,000 | 16.10.18 | 14,591,000 | 1,518,000(5,060,000) | 777,000(5,180,000) | 995,000 (09/27/23) | Av.: 420LD: 470 | 26,101,000 | 20,230,927 | 995,000 | 624 |
| 4x1nvY2FN8jxqAFA0DA02H | 3 | | Some Time in New York City | 980,000 | 16.10.18 | 621,000 | 234,000(780,000) | 11,000(70,000) | 17,000 (09/27/23) | Av.: 10LD: 10 | 1,707,000 | 20,230,927 | 17,000 | 625 |
| 4x1nvY2FN8jxqAFA0DA02H | 4 | | Mind Games | 2,010,000 | 16.10.18 | 680,000 | 255,000(850,000) | 21,000(140,000) | 71,000 (09/27/23) | Av.: 30LD: 30 | 3,037,000 | 20,230,927 | 71,000 | 626 |
| 4x1nvY2FN8jxqAFA0DA02H | 5 | | Walls and Bridges | 2,310,000 | 16.10.18 | 1,048,000 | 630,000(2,100,000) | 30,000(200,000) | 66,000 (09/27/23) | Av.: 30LD: 30 | 4,084,000 | 20,230,927 | 66,000 | 627 |
| 4x1nvY2FN8jxqAFA0DA02H | 6 | | Rock 'n' Roll | 2,820,000 | 16.10.18 | 864,000 | 201,000(670,000) | 86,000(570,000) | 200,000 (09/27/23) | Av.: 90LD: 100 | 4,180,000 | 20,230,927 | 200,000 | 628 |
| 4x1nvY2FN8jxqAFA0DA02H | 7 | | Double Fantasy | 9,920,000 | 16.10.18 | 4,909,000 | 2,271,000(7,570,000) | 338,000(2,250,000) | 734,000 (09/27/23) | Av.: 350LD: 560 | 18,172,000 | 20,230,927 | 734,000 | 629 |
| 4x1nvY2FN8jxqAFA0DA02H | 8 | | Milk and Honey | 2,170,000 | 16.10.18 | 143,000 | 309,000(1,030,000) | 18,000(120,000) | 35,000 (09/27/23) | Av.: 10LD: 10 | 2,825,000 | 20,230,927 | 35,000 | 630 |
| 4x1nvY2FN8jxqAFA0DA02H | 9 | | Orphan | 0 | 16.10.18 | 6,690,000 | 1,788,000(5,960,000) | 399,000(2,660,000) | 129,000 (10/16/18) | N/A | 9,252,000 | 20,230,927 | 129,000 | 1,680 |
'Av.' stands for Average, 'LD' for Last Day.
As a reminder:
Studio Album: sales of the original album
Other Releases: sales of compilations generated thanks to the album
Physical Singles: sales of physical singles from the album (ratio 3/10)
Download Singles: sales of digital singles from the album (ratio 1,5/10)
Streaming: equivalent album sales of all the album tracks (ratio 1/1500 for Audio stream and 1/6750 for Video stream)
See where the artist ranks among remaining singers
Double Fantasy is the top selling album in pure units but once everything is considered Imagine is the obvious winner among Lennon's discography. At 25,3 million EAS, it is one of the most successful albums from 1971, only topped by Led Zeppelin's IV and Carole King's Tapestry and with similar numbers than the Doors' L.A. Woman. The release last week of the 6-discs Imagine – The Ultimate Collection
edition may solidify its case for the 3rd spot of that year.
The 1980 double album Double Fantasy remains a very strong effort with 17,5 million EAS through all formats. As it doesn't climb as fast as Imagine, the gap is going to get bigger and bigger in the future yet.
Apart from this strong top 2, the rest is quite weak for someone as famous as Lennon. Among the remaining 6 albums, 5 are in the same range at 3-5 million EAS a piece. That's not bad but fairly random. The orphan folder is bigger at over 9 million, strongly supported by songs like Give Peace A Chance, Instant Karma! and Happy Xmas.
All told, the legendary star stands on 72,65 million equivalent album sales to date. This puts him under much younger stars like Beyoncé and Taylor Swift. While that may sound weird, he hasn't issued that many albums in solo and he did so past his prime popularity wise which was precisely his Beatles years. He also did it pairing with his wife which wasn't regarded as positive by the general public. It must be noted that the track Imagine generated on its own a whopping 20,77 million EAS, more than anything ever released by his former group.
Singles CSPC results
The list is compiled in album equivalent sales generated by each song. Therefore, these figures are not merged units of singles formats. Instead, it includes weighted sales of the song's physical single, download, ringtone and streaming as well as its share among sales of all albums on which it is featured.
1. 1971 – John Lennon – Imagine [Imagine] – 20,770,000
2. 1980 – John Lennon – Woman [Double Fantasy] – 7,720,000
3. 1971 – John Lennon & Yoko Ono/Plastic Ono Band – Happy Xmas (War Is Over) [Orphan] – 4,260,000
4. 1980 – John Lennon – Watching the Wheels [Double Fantasy] – 3,950,000
5. 1975 – John Lennon – Stand by Me [Rock 'n' Roll] – 3,450,000
6. 1980 – John Lennon – (Just Like) Starting Over [Double Fantasy] – 3,190,000
7. 1971 – John Lennon – Jealous Guy [Imagine] – 2,960,000
8. 1969 – Plastic Ono Band – Give Peace a Chance [Orphan] – 2,080,000
9. 1973 – John Lennon – Mind Games [Mind Games] – 2,060,000
10. 1974 – John Lennon – #9 Dream [Walls and Bridges] – 1,690,000
11. 1970 – John Lennon – Instant Karma! [Orphan] – 1,470,000
12. 1980 – John Lennon – Beautiful Boy (Darling Boy) [Double Fantasy] – 1,410,000
13. 1970 – John Lennon – Mother [John Lennon/Plastic Ono Band] – 1,120,000
14. 1974 – John Lennon – Whatever Gets You thru the Night [Walls and Bridges] – 1,090,000
15. 1970 – John Lennon – Working Class Hero [John Lennon/Plastic Ono Band] – 1,060,000
If you feel inspired by this list, we just created this CSPC John Lennon playlist on Spotify!
Discography results
Thanks to our new ASR (Artist Success Rating) concept, we know that his sales represent 28,99 million times the purchase of his entire discography. Coupled with his total sales, it translates into an ASR score of 260. This puts him below other legends like David Bowie and Bob Dylan. The ranking of all artists studied so far is available too at this link.
Records & Achievements
At 25,339,000 EAS, Imagine is among the Top 40 most successful albums from the 70s.
At 25,339,000 EAS, Imagine is the 3rd most successful album from 1971.
At 17,541,000 EAS, Double Fantasy is just under the Top 20 most successful albums from 1980.
At 20,770,000 EAS, Imagine is among the Top 10 most successful songs from the 70s.
At 20,770,000 EAS, Imagine is the 2nd most successful song from 1971.
Woman replaced Imagine at the top of the UK singles chart in 1981, Lennon was the second artist to do so after the Beatles in 1963.
Lennon wrote 33 UK #1 hits, tied first with Paul McCartney.
NB: EAS means Equivalent Album Sales.
You may be interested in…
… best-selling artists, albums, and singles
To improve your navigation we created several amazing cross-artists lists posted inside the CSPC: Data Collector article. Click on it to see the full listing of all CSPC results compiled so far!
… similar artists
To put figures from this article into perspective, click on the images below to reach career breakdowns of similar artists:
As usual, feel free to comment and / or ask a question!
Sources: IFPI, Spotify, YouTube, Discogs.