Robbie Williams albums and songs sales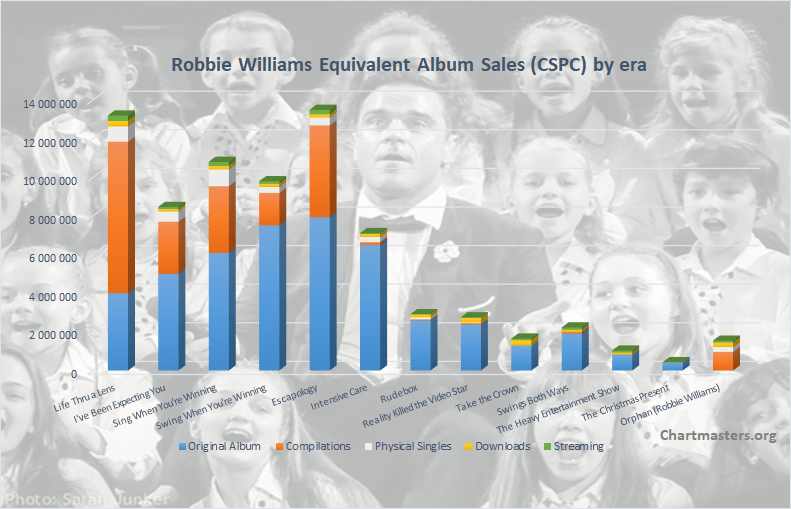 During the first part of his career, Robbie Williams sold so extremely well so effortlessly in several regions that we tend to forget how much of a superstar he is.
Now 45, in the UK the singer managed to crush records of Pink Floyd and the Rolling Stones with his group Take That, before shattering sales numbers of the likes Michael Jackson and Madonna during his solo career.
He doesn't seem to be slowing down either as his new album has already topped charts in the UK, Germany, Australia, Austria, Switzerland. Learn everything about the biggest British artist of his generation.
Who is Robbie Williams?
Robbie Williams is a British singer, born in 1974, who broke over the main audience as part of the teen pop band Take That in 1991. He then started a highly successful solo career in 1996.
What's his kind of music?
Robbie Williams is a pure UK pop singer, known for his catchy tunes and iconic ballads. He cleverly switches time to time to classier albums of Swing or Christmas music.
Is it true that he never broke over in America?
Yes, numbers we post here show that while he did sell some records in the US, his success there is pretty irrelevant in comparison to his monstrous fame in Europe or in Latin America.
There is no rule about singers from bands going solo. Many of them did wonders like Michael Jackson, Paul McCartney, Beyoncé and Phil Collins to name a few, but a lot also completely missed it, ask Nick Carter, Thom Yorke, Billy Corgan, Vince Neil or Jordan Knight.
Arguably, it's harder to get successful when you weren't the main attraction of your group. This is the case of Robbie Williams who was only 15 when he embarked into the Take That story, a story primarily written by 3-years older Gary Barlow.
This difference of status was visible when both debuted solo in 1996. The first two singles of the latter topped UK charts, following the route of Take That.
Robbie Williams' first two both went #2. By single 4, they were both already struggling to hit the top 10, failing to be as strong as their former band.
The 5th single is the pivotal one. The one of Barlow peaked at #16, the next one at #24 and then his career was gone for 10 years. The 5th one of Williams though was Angels.
It debuted at 7, a good showing for him in a chart massively fan base-driven back then. When songs used to collapse instantly though, Angels held a Top 10 placing for an impressive 12 weeks, ultimately hitting #4 while selling over a million.
The rest is history. From that point, the singer became an unstoppable sales beast, getting hits after hits.
As usual, I'll be using the Commensurate Sales to Popularity Concept in order to relevantly gauge his results. This concept will not only bring you sales information for all Robbie Williams' albums, physical and download singles, as well as audio and video streaming, but it will also determine their true popularity.
If you are not yet familiar with the CSPC method, the next page explains it with a short video. I fully recommend watching the video before getting into the sales figures. Of course, if you are a regular visitor feel free to skip the video and get into the figures.
The Commensurate Sales to Popularity Concept (CSPC)
There are two ways to understand this revolutionary concept. The first is the Scribe video posted below. If you are unaware of the CSPC method, you will get the full idea within just a few minutes.
If you are a mathematical person, and want to know the full method as well as formulas, you can read the full introduction article.
Now let's get into the artist's sales figures in detail in order to apply this concept and define the act's true popularity!
Robbie Williams Albums Sales

Original Album Sales – Comments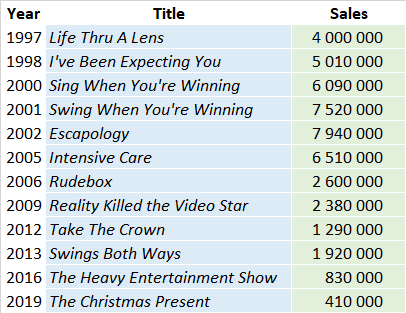 It's difficult to argue with the numbers. The career of Robbie Williams replicated perfectly the one of Take That, but with even bigger numbers.
That is, it started with a huge success, Life Thru A Lens at 4 million, and then new albums which sold more and more thanks to larger and larger success abroad.
I've Been Expecting You sold 5 million units, 2 million of which outside of the UK.
Sing When You're Winning raised the bar to 6 million and 3.5 million, respectively.
Swing When You're Winning climbed even higher with 7.5 million sales including nearly 5 million outside of the UK. It notably shifted over 1.5 million copies in Germany.
By the time Escapology came out, Robbie Williams was hands down the biggest pop star in most of the World, although he was still failing to do well in the US, Japan and France.
Escapology made him big in the latter country as well as in Latin America while destroying charts all over Europe. It sold almost 8 million units globally in spite of only 2.14 million in the UK.
Then came Intensive Care, the first album not to out-do all its predecessors, which still sold a whopping 6.5 million.
Rudebox was a brutal flop. Of course, selling 2.6 million copies is respectable, but after a string of 6 albums which sold over 6 million units each, plus a compilation which did miracles, it was a huge step down.
The superstar went from breaking the World record for most concert tickets sold in a day at 1.6 million to see one million unsold copies of his fresh new disc sent in China to pave roads.
While he never recovered in full after this severe backlash, Robbie Williams managed to retain a very decent level of popularity in the long run.
He returned 3 years later with Reality Killed The Video Star that sold nearly as much as Rudebox.
Take The Crown hasn't done too well but by 2012 standards, already way past the artist's prime, 1.29 million is definitely not shabby.
In 2013 he released Swings Both Ways, following the highly successful concept album he released 12 years earlier. This worked to perfection with nearly 2 million sales.
The Heavy Entertainment Show was his first album to miss the million mark. In 2016, with no contribution from the US and Japan, this had to be expected.
New album The Christmas Present, out for 3 weeks, has an estimated net shipment to date at 410,000, a figure which will likely end the year a bit higher. That's already a lot, and this number is poised to keep climbing for a long time.
These sales add up for 46.5 million studio album sales to date – and as you know, that's only one part of the story.
By the way, these numbers do not include The Ego Has Landed, the album issued in 1999 aiming to break through the US market, since it contains songs from the first two studio albums.
This set sold 1.28 million globally, including 650,000 units in the US, 125,000 in Canada and a massive 175,000 in New-Zealand.
Robbie Williams Songs Sales

Physical Singles Sales

As a reminder, the weighting is done with a 10 to 3 ratio between one album and one physical single.
Stand-alone single Freedom, a 400,000 units seller, gave the opportunity to the singer to record and release a full album.
At first, it seemed the opportunity was kinda wasted. Old Before I Die did enter at 2 in the UK but it collapsed quickly.
The success was weaker at each new single with Lazy Days peaking at 8 and South Of The Border at 14.
That's when the album came out. Life Thru A Lens debuted at 11 and left the top 100 after a mere 4 weeks, proof that singles failed to gained momentum among the general public.
This is exactly what Angels did. With it, the album moved from #158 all the way up to #1 while popping up on charts of multiple countries.
The single itself did large numbers on its own, selling almost 2 million units.
He then entered on a roll with all his singles going Top 10 in the UK. In fact, he got there 21 times in a row. It took the arrival of downloads, more democratic and less axed around fan base purchases, to see him miss this target.
With his base of sales from the UK, it was easy to shift in 6 digits with all his singles.
The ones that got to #1 or bigger abroad sold upwards half a million, that's the case of Millennium, She's The One, Rock DJ, Feel and Tripping.
Although the market was going down, the lack of hits from Rudebox is quite obvious. The only rebound afterwards has been made by Bodies.
Up to date, the singer is close to 12 million physical singles sold.
Digital Songs

As a reminder, the weighting is done with a 10 to 1,5 ratio between one album and one digital single.
Obviously, Angels is the top performer among deep catalog songs of the singer.
The classic song remains very popular in the UK. Elsewhere, while it may not be as massive, it remains a pretty relevant hit, including in the US.
This boosts it to 1.4 million downloads and ringtones.
At its scale, Let Me Entertain You continues to be hot in the UK although not so much globally.
Millennium and She's The One are also great performers nationally with diverse fortunes in remaining markets.
It would be wrong to believe that the expect inflates scores of all songs from Robbie Williams.
A good example is Better Man, mostly unknown there but among his top tracks in places like Australia.
For Supreme, it's his popularity in South Korea and France that supports it well.
Rock DJ and Feel add for other a million sales combined thanks to decent catalog sales in every continent.
Tripping was the first single to come out after the introduction of iTunes. The song was huge in Europe, especially in France where it was the 2nd highest seller of 2005.
Once the digital market exploded, the pop star kinda lost it, failing to record new hits to fully enjoy this new sales avenue.
Bodies still did well in 2009 while Candy was quite big in both the UK and Germany in 2012.
This success added to the much better context place it at the very top among his top digital sellers with 1.55 million units.
Songs like Love My Life and Goin' Crazy performed extremely well in downloads in the UK for their era, but that isn't enough to bring sizable sales nowadays.

Streaming
Streaming is made up of audio and video streams. Our CSPC methodology includes both to better reflect the real popularity of each track. The main source of data for each avenue is respectively Spotify and YouTube.
To factor in the growing impact of multiple Asian countries where these platforms aren't always the go-to site for music streaming, more sources have been added.
In order to account for their real popularity in each relevant country, the below sources have been used along with the mentioned ratios that reflect the market share of each area.
Audio Streams
– South Korea : Genie streams * 3.05 (consistent with Gaon streaming numbers)
– Japan : AWA streams * 100/5.5 (AWA has 5.5% of the Japanese streaming market)
– Elsewhere : Spotify streams * (370 – 8.5 – 9.5 – 33 – 9) / 207 (370 million global subscribers minus 8.5 million from South Korea minus 9.5 million from Japan minus 33 million from China divided by the number of Spotify only users minus 9 million more Asian users) + Genie streams * 3.05 (uses Genie rather than Spotify to extrapolate markets like Taiwan, Thailand and Vietnam)
Video Streams
– China* : Xiami streams * 125/6.5 (Xiami has just over 5% of the Chinese streaming market)
– Elsewhere : Youtube views
*since 96.4% of Chinese streaming platforms are free users, that paid-for users pay less than $2 a month and that they are also used as video streaming platforms, their streams are weighted in par with YouTube streams.
Audio Stream value – 1500 plays equal 1 album unit
Video Stream value – 11,750 views equal 1 album unit
Equivalent Albums Sales (EAS) = ( Spotify * 310/207 + Genie * 3.05*2 + AWA * 100/5.5 ) / 1500 + ( Xiami * 125/6.5 + YouTube ) / 11750
Top Hits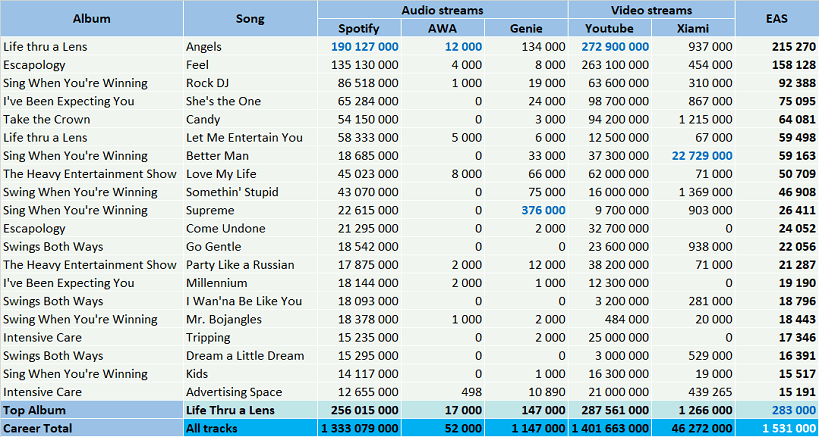 While the top position occupied by Angels is no surprise, there is a lot of interesting information in this table.
Starting with Angels, the song is on its way to hit 200 million streams on Spotify. It's the top song of the singer in Japan too, although with a ridiculously low number.
In the rest of Asia, it's nowhere near the top, which shows well that he boomed later on there.
Feel is a very solid runner up with 158,000 EAS from streams. The top 2 is quite strong once we consider the lack of plays from several key markets.
Rock DJ and She's The One are 3rd and 4th to complete a quartet of expected catalog hits.
Candy is the first relatively recent song to appear, at 5 with 64,000 EAS. That means that his 5 biggest hits to date come from 5 distinct albums which is the trademark of a great consistency.
The first shocker comes at 6. Better Man emerges there although it was never released as a single in the UK nor Germany.
The song was a huge hit in Australia where it lasted 29 weeks inside the top 50. Its heavy streams come from elsewhere still.
In China, the song adds for nearly as many streams as his complete catalog. At 22 million streams on Xiami, it's still a hugely popular hit there. It also leads with ease on QQ.
Another song from Sing When You're Winning, Supreme, does very well in South Korea. There, album cut It's Only Us from I've Been Expecting You is the pop star's second biggest song.
Full catalog breakdown
If you are familiar with the artist's catalog and want to check details of each and every song, you can access to all of them right here.
Keep yourself up to date
Our website provides you a fantastic tool which fetches updated Spotify streams as you request them, use it to watch these results grow day after day!
Robbie Williams compilations sales
It sounds fairly logical to add together weighted sales of one era – studio album, physical singles, downloads, streams – to get the full picture of an album's popularity. For older releases though, they also generate sales of various live, music videos and compilation albums.
All those packaging-only records do not create value, they exploit the value originating from the parent studio album of each of its tracks instead. Inevitably, when such compilations are issued, it downgrades catalog sales of the original LP.
Thus, to perfectly gauge the worth of these releases, we need to re-assign sales proportionally to its contribution of all the compilations which feature its songs. The following table explains this method.
The distribution process

How to understand this table? If you check this example of Greatest Hits, these figures mean it sold 8,780,000 units worldwide. The second statistics column means all versions of all the songs included on this package add for 681,203 equivalent album sales from streams of all types.
The second part on the right of the table shows how many equivalent streams are coming from each original album, plus the share it represents on the overall package.
Thus, streaming figures tell us songs from Life Thru A Lens are responsible for 37% of the Greatest Hits tracklist attractiveness, which means it generated 3,286,000 of its 8,780,000 album sales, and so on for the other records.
Compilations sales figures listing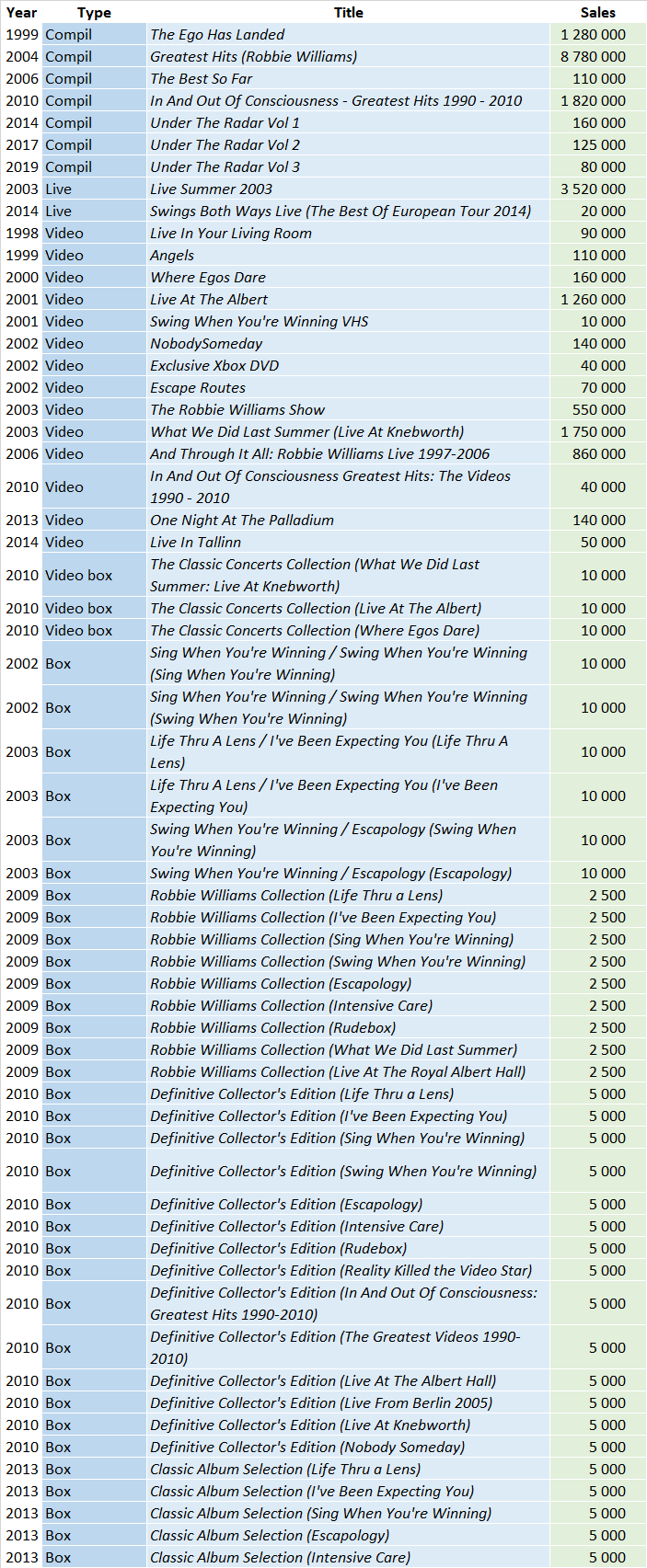 Full Length related records Sales – Summary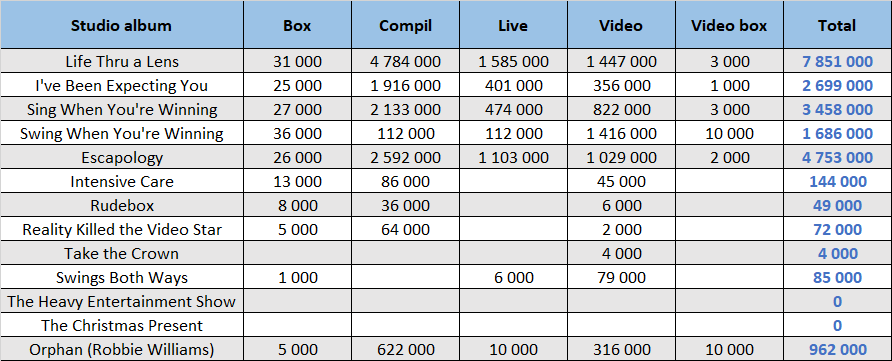 Here is the most underestimated indicator of an album's success – the amount of compilation sales of all kinds it generated. Due to the dependency of sales of the original studio albums on these releases, they are a key piece of the jigsaw
These numbers are obtained by applying the method from the section The distribution process to all packages listed under Compilation sales figures listing category.
The massive success of Greatest Hits from 2004 plus outstanding sales of music videos provide large gains to each of the first 5 albums, up to nearly 8 million for Life Thru A Lens.
As a bonus, please find below the top selling compilations.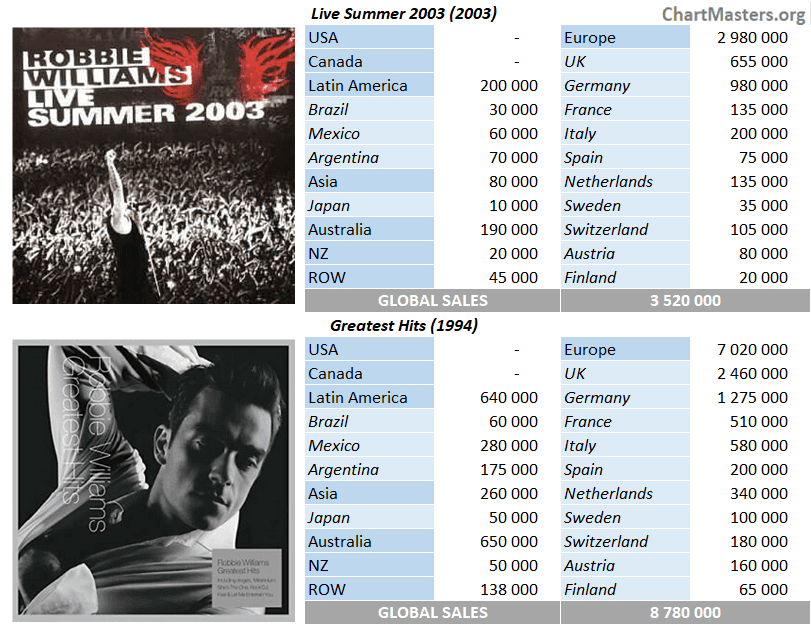 Total solo Album (all types) Sales per Country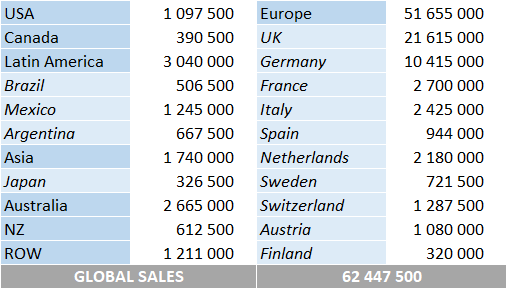 Please note country-specific numbers may miss sales of some minor releases, although continental and global totals are complete.
Robbie Williams Career CSPC Results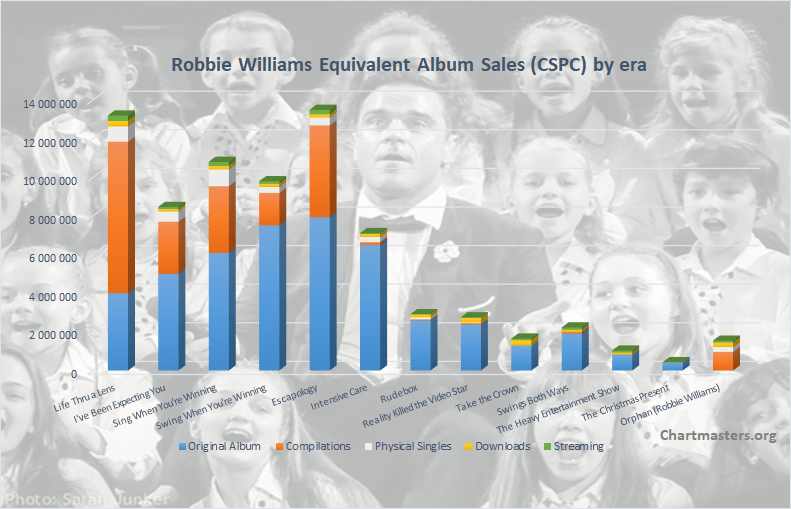 So, after checking all the figures, how many overall equivalent album sales has each album by Robbie Williams achieved? Well, at this point we hardly need to add up all the figures defined in this article!
In the following results table, all categories display figures in equivalent album sales. If different, pure sales are listed between parentheses.
| artist_spotify_id | # | Cover | Album | Studio albums (EAS) | sales_update_date | Other LPs (EAS) | Physical singles (units sold) | Digital singles (units sold) | Streams | Streams increase | Total EAS | valid_as_of | streams_updated_value | album_id |
| --- | --- | --- | --- | --- | --- | --- | --- | --- | --- | --- | --- | --- | --- | --- |
| 2HcwFjNelS49kFbfvMxQYw | 1 | | Life Thru a Lens | 4,000,000 | 15.12.19 | 7,851,000 | 664,000(2,214,000) | 278,000(1,850,000) | 735,000 (09/20/23) | Av.: 330LD: 380 | 13,661,000 | 20,230,920 | 735,000 | 354 |
| 2HcwFjNelS49kFbfvMxQYw | 2 | | I've Been Expecting You | 5,010,000 | 15.12.19 | 2,699,000 | 531,000(1,771,000) | 114,000(760,000) | 297,000 (09/20/23) | Av.: 130LD: 140 | 8,652,000 | 20,230,920 | 297,000 | 355 |
| 2HcwFjNelS49kFbfvMxQYw | 3 | | Sing When You're Winning | 6,090,000 | 15.12.19 | 3,458,000 | 624,000(2,080,000) | 177,000(1,180,000) | 571,000 (09/20/23) | Av.: 260LD: 300 | 11,169,000 | 20,230,920 | 571,000 | 356 |
| 2HcwFjNelS49kFbfvMxQYw | 4 | | Swing When You're Winning | 7,520,000 | 15.12.19 | 1,686,000 | 303,000(1,010,000) | 161,000(1,070,000) | 288,000 (09/20/23) | Av.: 110LD: 120 | 9,955,000 | 20,230,920 | 288,000 | 357 |
| 2HcwFjNelS49kFbfvMxQYw | 5 | | Escapology | 7,940,000 | 15.12.19 | 4,753,000 | 369,000(1,230,000) | 162,000(1,080,000) | 578,000 (09/20/23) | Av.: 250LD: 340 | 13,850,000 | 20,230,920 | 578,000 | 358 |
| 2HcwFjNelS49kFbfvMxQYw | 6 | | Intensive Care | 6,510,000 | 15.12.19 | 144,000 | 264,000(880,000) | 155,000(1,030,000) | 122,000 (09/20/23) | Av.: 50LD: 60 | 7,195,000 | 20,230,920 | 122,000 | 359 |
| 2HcwFjNelS49kFbfvMxQYw | 7 | | Rudebox | 2,600,000 | 15.12.19 | 49,000 | 108,000(360,000) | 134,000(890,000) | 42,000 (09/20/23) | Av.: 10LD: 10 | 2,935,000 | 20,230,920 | 42,000 | 360 |
| 2HcwFjNelS49kFbfvMxQYw | 8 | | Reality Killed the Video Star | 2,380,000 | 15.12.19 | 72,000 | 36,000(120,000) | 224,000(1,490,000) | 58,000 (09/20/23) | Av.: 10LD: 10 | 2,773,000 | 20,230,920 | 58,000 | 361 |
| 2HcwFjNelS49kFbfvMxQYw | 9 | | Take the Crown | 1,290,000 | 15.12.19 | 4,000 | 6,000(20,000) | 263,000(1,750,000) | 217,000 (09/20/23) | Av.: 100LD: 110 | 1,783,000 | 20,230,920 | 217,000 | 362 |
| 2HcwFjNelS49kFbfvMxQYw | 10 | | Swings Both Ways | 1,920,000 | 15.12.19 | 85,000 | 4,000(12,000) | 96,000(640,000) | 176,000 (09/20/23) | Av.: 40LD: 40 | 2,281,000 | 20,230,920 | 176,000 | 363 |
| 2HcwFjNelS49kFbfvMxQYw | 11 | | The Heavy Entertainment Show | 830,000 | 15.12.19 | 0 | 0(0) | 93,000(620,000) | 172,000 (09/20/23) | Av.: 50LD: 40 | 1,095,000 | 20,230,920 | 172,000 | 364 |
| 2HcwFjNelS49kFbfvMxQYw | 12 | | The Christmas Present | 410,000 | 15.12.19 | 0 | 0(0) | 3,000(20,000) | 15,000 (12/15/19) | N/A | 428,000 | 20,230,920 | 15,000 | 365 |
| 2HcwFjNelS49kFbfvMxQYw | 13 | | Orphan | 0 | 15.12.19 | 962,000 | 257,000(856,000) | 222,000(1,480,000) | 103,000 (12/15/19) | N/A | 1,544,000 | 20,230,920 | 103,000 | 1,726 |
'Av.' stands for Average, 'LD' for Last Day.
As a reminder:
Studio Album: sales of the original album
Other Releases: sales of compilations generated thanks to the album
Physical Singles: sales of physical singles from the album (ratio 3/10)
Download Singles: sales of digital singles from the album (ratio 1,5/10)
Streaming: equivalent album sales of all the album tracks (ratio 1/1500 for Audio stream and 1/6750 for Video stream)
See where the artist ranks among remaining singers
The discography of Robbie Williams is unique in that it is impossible to point out one or even two signature albums.
If you look at album sales, physical singles sales, downloads or streaming, there is as many as 5 albums with similar numbers in all metrics.
Thanks to the traction brought by Feel and Angels, respectively, Escapology and Life Thru A Lens lead at over 13 million equivalent album sales each.
Sing When You're Winning is closing in 11 million, completing a trio of albums in 8 digits.
Very close from this milestone is Swing When You're Winning, while I've Been Expecting You is at 8.5 million.
Intensive Care was massive upon release, but it hasn't been facing the test of time as well, while not contributing to big selling live albums and compilations from 2003/2004.
That explains why it is a bit lower at 7.1 million and increasing very slowly.
The 2005 album concludes a streak of 6 albums in 8 years which generated 63 million sales combined.
While the artist himself won't lie about how much he would have wanted to break over the US market, it's no lie either to say that these are numbers that many American big stars can only dream about.
The madness slowed down a lot with Rudebox, which ends up at 2.9 million. The next 3 records performed similarly with an average of 2.2 million.
As both his popularity and the physical market are going down, he is less and less promoted outside of his main selling areas.
Thus, The Heavy Entertainment Show and The Christmas Present are both great performers in the UK and in Germany but their lack of appeal in too many markets is limiting their numbers.
Whatever, Robbie Williams is up to the eye-catching total of 75.5 million equivalent albums sold.
Singles CSPC results
The list is compiled in album equivalent sales generated by each song. Therefore, these figures are not merged units of singles formats. Instead, it includes weighted sales of the song's physical single, download, ringtone and streaming as well as its share among sales of all albums on which it is featured.
1. 1997 – Robbie Williams – Angels [Life thru a Lens] – 10,160,000
2. 2002 – Robbie Williams – Feel [Escapology] – 9,820,000
3. 1998 – Robbie Williams – She's the One [I've Been Expecting You] – 5,350,000
4. 2000 – Robbie Williams – Rock DJ [Sing When You're Winning] – 4,860,000
5. 2001 – Robbie Williams & Nicole Kidman – Somethin' Stupid [Swing When You're Winning] – 3,100,000
6. 2005 – Robbie Williams – Tripping [Intensive Care] – 2,770,000
7. 1997 – Robbie Williams – Let Me Entertain You [Life thru a Lens] – 2,630,000
8. 2000 – Robbie Williams – Better Man [Sing When You're Winning] – 2,350,000
9. 2005 – Robbie Williams – Advertising Space [Intensive Care] – 2,270,000
10. 2002 – Robbie Williams – Come Undone [Escapology] – 1,500,000
10. 2001 – Robbie Williams – Mr. Bojangles [Swing When You're Winning] – 1,500,000

If you feel inspired by this list, we just created this CSPC Robbie Williams playlist on Spotify!
Discography results
Thanks to our new ASR (Artist Success Rating) concept, we know that his sales represent 19.42 million times the purchase of his entire discography. Coupled with his total sales, it translates into an ASR score of 217.
Records & Achievements
At 10,160,000 EAS, Angels is among the 10 most successful songs from 1997.
At 9,820,000 EAS, Feel is the 2nd most successful song from 2002.
At 13,506,000 EAS, Escapology is among the 10 most successful albums from 2002.
At 21,615,000 solo albums sold, Robbie Williams is the 7th highest selling artist of all-time in the UK.
Robbie Williams is one of the 5 persons with more than 30 million albums sold in the UK, the remaining 4 are the Beatles' members.
At 6, Robbie Williams is the artist with the most 2 million selling albums in the UK. He has 2 more as part of Take That.
Robbie Williams is one of the 3 international male singers with over 10 million album sales in Germany.
At 45, Robbie Williams is the youngest artist which sold more than 50 million albums in Europe.
At 13, Robbie Williams is second to the Beatles among the artists with the most UK #1 albums.
At 12, Robbie Williams has the most German #1 albums among international artists.
In the Netherlands, Robbie Williams held the top 4 best-selling international male albums of the 00.
In Australia, Greatest Hits was the 9th top seller of the 00s, it was the only compilation to feature inside the top 30.
At 18, Robbie Williams won the most Brit Awards of all-time.
At 1.6 million, Robbie Williams has the record for the most concert tickets sold in one day.
NB : EAS means Equivalent Album Sales
You may be interested in…
… best-selling artists, albums, and singles
To improve your navigation we created several amazing cross-artists lists posted inside the CSPC: Data Collector article. Click on it to see the full listing of all CSPC results compiled so far!
… similar artists
To put figures from this article into perspective, click on the images below to reach career breakdowns of similar artists: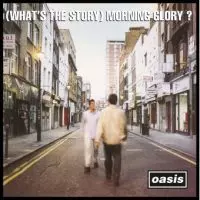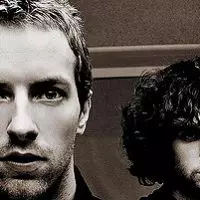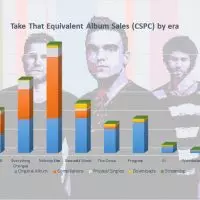 As usual, feel free to comment and / or ask a question!
Sources: IFPI, Spotify, YouTube, Discogs.