Björk's albums and songs sales
Everything seems so special about Björk. Her persona, her look, her origins, her music, her lyrics, her videos, her career. Commercially speaking though, being so unique and different, usually provides a handicap to mainstream acceptance and popularity, rather than an advantage. So, given all this context about her, just how much has the Icelandic singer managed to sell?
I said her career is special, quite simply because, she's kind of had 4 different starts to it.. Her first came in 1977, when she was barely 12 years old. Mostly a cover album of traditional songs, she herself doesn't consider it to be part of her discography. From 1986 to 1992, she led the rock band the Sugarcubes, who released a trio of studio albums. All of them made the UK Top 20 and the US Top 100. While they failed to go fully mainstream, they were huge stars of the underground indie scene. This flirt with Indie stardom, was enough to see them tagged as "the biggest Icelandic band of all-time".
In-between, in 1990, the singer, under her full name Björk Guðmundsdóttir, dropped the Jazz album, Gling-Gló, in collaboration with the Tríó Guðmundar Ingólfssonar. While it didn't have the global impact of the Sugarcubes', it sold immense numbers in Iceland and gained a cult status abroad, years later.
Then in 1993 came the album that opened the career of the diva we know, appropriately titled Debut. We will mainly focus on studying her discography from this release. As Björk 1977 and Gling-Gló 1990 are credited to her, they will also be listed inside her remaining albums section.
As usual, I'll be using the Commensurate Sales to Popularity Concept in order to relevantly gauge her results. This concept will not only bring you sales information for all Björk's albums, physical and download singles, as well as audio and video streaming. In fact, it will also determine their true popularity.
If you are not yet familiar with the CSPC method, below is a nice and short video of explanations. I fully recommend watching it before getting into the sales figures. Of course, if you are a regular visitor feel free to skip the video and get into the numbers directly.
The Commensurate Sales to Popularity Concept (CSPC)
There are two ways to understand this revolutionary concept. In the first place, there is this Scribe video posted below. If you are unaware of the CSPC method, you will get the full idea within just a pair of minutes.
If you are a mathematical person, and want to know the full method as well as formulas, you can read the full introduction article.
Now let's get into the artist's sales figures in detail in order to apply this concept and define the act's true popularity!
Björk's Album Sales

Original Album Sales – Comments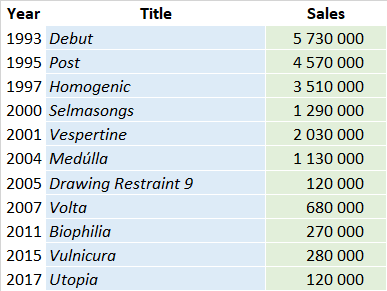 Her solo adult career couldn't have had a better start, with Debut building her a strong fanbase from the very first era. The record went Top 10 in Scandinavia but also in the UK and Australia, a sign that her music was managing to cross over to the masses. It was more of an underground hit in the US, with a modest peak of #64, although it still went Platinum thanks to consistent catalogue sales. The album was also strong in other territories, helping push it to a healthy 5.7 million sales worldwide.
Post solidified her fanbase and was as critically acclaimed as its predecessor. In most countries it had results similar to Debut, ultimately moving over 4.5 million units. Homogenic sold only half of Post's sales in the US and the UK combined but performed just as well outside of English-speaking markets. It has sold over 3.5 million units to date. Widely ranked among the best pop LPs of the 90s, this trio of albums also provided her with a good amount of commercial success, although they are obviously not A-League sellers.
From 2000, she started to struggle to retain the interest of the general public, even in Europe, traditionally her most successful region. Her sales dropped to 2 million, to 1.1 million, to under 700k, to under 300k, between 2001 and 2011, while her soundtracks Selmasongs and Drawing Restraint 9, even under performed her studio albums. Overall, a total of nearly 20 million is still very respectable for an artist of her profile. In some markets, like France (over 2.6 million) and Japan (1.6 million), she recorded sales in line with many of musics truly solid international sellers.
Björk's songs sales

Physical Singles

As a reminder, the weighting is done with a 10 to 3 ratio between one album and one physical single.
Just like many artists praised by critics, Björk is considered an album artist. There is no doubt that sales-wise, her albums did better overall than her singles, but she still sold a bit in this latter format.
Interestingly, her solo name was first used on a track she featured. It's all the more surprising since features were rare in 1991. She participated on Ooops, a track from electronic music British group 808 State. A minor hit in the UK where it went Top 50, the song sold a modest 70,000 globally. The parent album which also contains a second collaboration from the diva made #4 in the US though.
The era Debut came next. This album was home for as many as 5 singles. Human Behaviour was the kick off hit, reaching #36 in the UK. From an Icelandic singer, this is already an amazing performance, but she was no stranger to UK charts back then, since she made the Top 100 Singles list with 8 songs with the Sugarcubes, although only Hit made the Top 50, peaking at #17.
She came closer to this result with sophomore release Venus as a Boy. It went #29 in the UK. Both songs sold slightly over 100,000 units thanks to their global reach. In fact, while they charted in very few countries, they've got a physical release in most markets including the US and Japan where fans picked their copies.
Third single Play Dead brought her a career peak by going to #12 in the UK, where it sold in 6 digits. Not released in the US, the song got some buyers in markets like Germany and Japan too. It was her first Top 10 in Sweden with a #7 peak. This was enough for a career peak in sales too with 230,000 sales globally.
Big Time Sensuality confirmed the trend, failing to go mainstream but still convincing more and more underground music followers to go after it. A #17 hit in the UK, the song also went Top 20 on Maxi-Singles Sales charts from the US where it charted for 10 weeks. The song was also her first to make the Hot 100 at #88. The last single of the era Violently Happy did well too, going to #13 in the UK while becoming her first Top 50 hit in France (#31).
The lead single of Post was already way more anticipated. Army Of Me became the artist's first Top 10 in the UK (#10), her first Top 25 in France (#22) and her first Top 40 in Australia (#35). At 140,000 copies sales remained modest especially with a lack of US release, but the fanbase of collectors kept growing. Isobel peaked at a lower #23 in the UK, but third single It's Oh So Quiet became at last the first cross-over hit of the diva.
A #4 hit in the UK where it retained a Top 10 placing for 8 weeks, the song went on to sell nearly 500,000 units there. It also made the Top 10 in Ireland and Australia, selling a total of 620,000 units globally. It was the first but also the last UK mainstream single of Björk. After that, she returned to singles mostly selling to her fans who used to collect her records. That fanbase was getting bigger and bigger though which sent Hyper-Ballad to a #8 debut in the UK while follow up Possibly Maybe started and peaked at #13. I Miss You made it to #36 nearly 2 years after the release of the album. That's a total of 11 Top 40 hits out of 2 albums, an impressive showing for an artist focusing on promoting full albums.
With the era Homogenic things got more complicated. New songs weren't as well received in both the US and the UK, major markets for 90s physical singles, and the evolving market mechanics led her label to often go to limited releases. That's why only Bachelorette sold over 100,000 copies, and even this one was limited in the US and not issued in Japan.
By the time of Vespertine, the situation was clearly identified. Björk was unlikely to ever become a major cross over artist, but her cult following was more and more consistent. The strategy of releasing collectors rather than proper singles was thus used to death. That's how a single like Hidden Place wasn't widely available, but at the same time got a release in markets like Taiwan and Mexico where international artists hardly ever dropped physical singles. It was also issued as a DVD single in both the US and Japan, a product clearly targeted to fans.
These collectors never really stopped. For this reason, even some of her 2017 singles still got a physical release with some decent quantities sold. The trend was even more obvious with Vulnicura's era that got nearly all its songs issued in a format or another. In total, the singer has moved over 2.6 million physical singles.
Digital Songs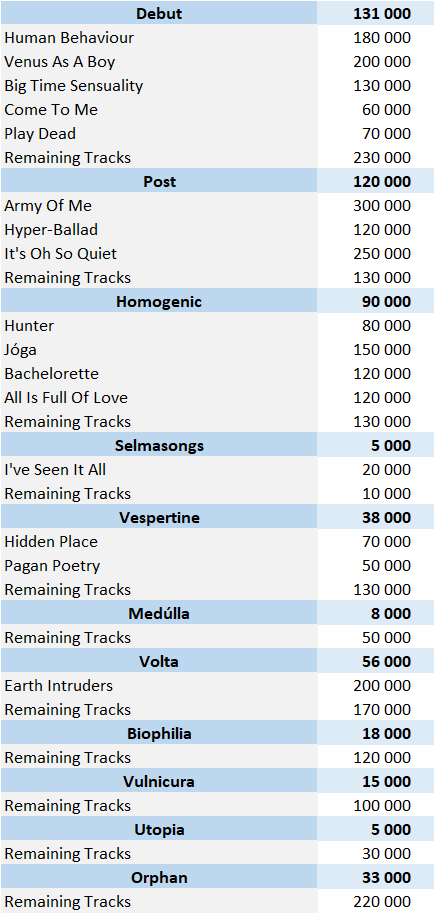 As a reminder, the weighting is done with a 10 to 1,5 ratio between one album and one digital single.
Björk has a cult following rather than a widespread popularity in countries where downloads sold the most like the US and South Korea. She has also been out of the spotlight since iTunes exploded in late 00s. These two contextual elements strongly limit her possible impact with this format.
Several of her early songs still get a nice recognition from many. Venus As A Boy, Human Behaviour, and Big Time Sensuality, all sold over 100,000 downloads. That's nothing really impressive, but at least these songs aren't forgotten. Album cuts and the last two singles Violently Happy and Play Dead also sold a bit, bringing the total of the era to 870,000 units.
Army Of Me and It's Oh So Quiet from Post perform better, shifting 550,000 units among them. Both remain among her top tracks in most countries, adding to these consistent numbers. Hyper-Ballad also does ok at 120,000 while the remaining tracks, including former singles Isobel, Possibly Maybe, and I Miss You are fairly modest performers. Along with deeper cuts, they add only 130,000 units. That concludes on a total slightly below its predecessors as all its songs add for 800,000 copies.
Homogenic shows similar patterns to the previous two albums, actually doing relatively speaking better than in remaining formats. It has 4 tracks with decent numbers, led by Jóga and Bachelorette. The later is especially strong in France, while the former does ok everywhere. The total of 600,000 copies for all songs from this LP is quite nice.
Albums issued from 2000 to 2005 post similar drops in this format as they did in pure album sales. The difference comes from 2007 since iTunes was already around. Earth Intruders led the arrival of the album Volta back then. The song got 16,000 downloads in its first week in the US, prompting it to become her second Hot 100 hit (#84) but after the hot reaction of the diva's fans it quickly plummeted. After this failure of becoming big in downloads, subsequent singles someway reproduced results of 90s physical products, selling modest but steady amounts everywhere thanks to fans without ever breaking over the main audience. Her career total also happens to be quite modest at 3.46 million sales.
Streaming
Streaming is made up of audio and video streams. Our CSPC methodology now includes both to better reflect the real popularity of each track. The main source of data for each avenue is respectively Spotify and YouTube. As detailed in the Fixing Log article, Spotify represents 157 million of the 272 million users of streaming platforms, while YouTube is pretty much the only video platform generating some revenue for the industry. Below is the equivalence set on the aforementioned article:
Audio Stream – 1500 plays equal 1 album unit
Video Stream – 11,750 views equal 1 album unit
Equivalent Albums Sales (EAS) = 272/157 * Spotify streams / 1500 + YouTube views / 11750
Top Hits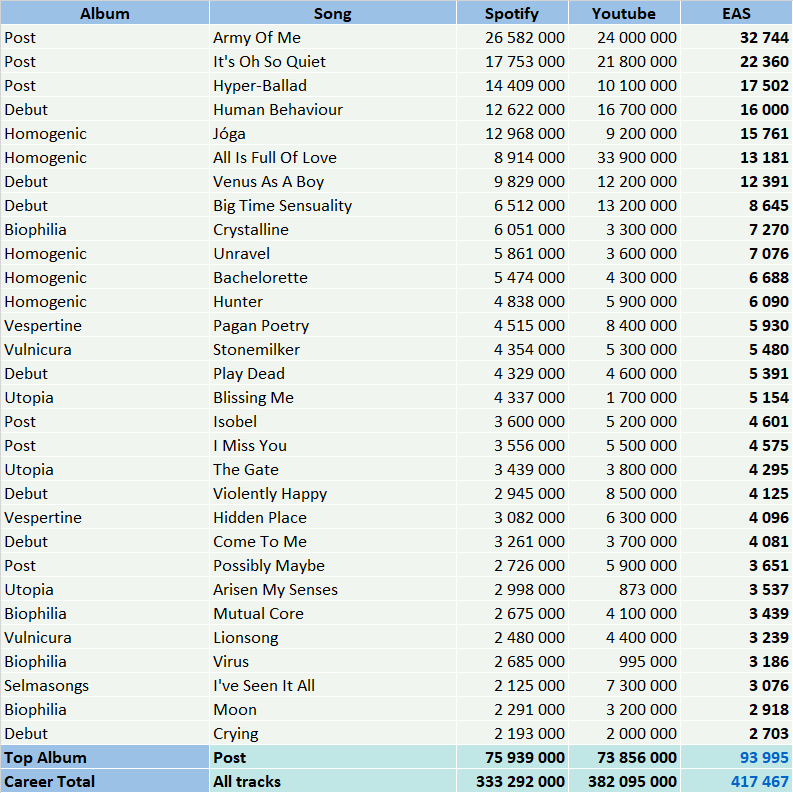 If we compare Björk's streaming results to top selling singers, they definitely pale. If we keep in mind she never got convinced the general public nor she has been doing well in recent years, they almost come as a positive surprise.
We can see nothing really crossed over since her top song has only about 25 million streams on each Spotify and YouTube. That's decent, enough to be part of the Top 10 of much bigger artists, but clearly limited to a restricted audience. None of her songs is popular enough to be added into the largest playlists, which is logical considering her profile.
Then, she still has fans. Her #30 song has almost 10% as many streams as her #1. Her #10 hit tops that #30 by less than 3 to 1. Basically, many of her songs are very close, the illustration of a fanbase that continues to listen to her entire catalog.
Of course, her first 3 albums remain easily her strongest. They are responsible for her entire Top 8. Singles from Post actually register an impressive take over of the podium. Army Of Me comes on top, followed by It's Oh So Quiet and Hyper-Ballad. Naturally, this album is also her top performer with a total coming close to 100,000 EAS. It's more than 2% of the record's pure album sales, which is a fairly good ratio for 90s albums.
Overall there is very little surprises at the top of the ranking. We can notice that the futurist video of All Is Full Of Love does wonders on YouTube. While the track is out of her Top 5 on Spotify, it leads the video platform thanks to 34 million streams. The song is especially liked in Asia.
The first unexpected song appears to be Crystalline, easily the most popular song of her recent catalog. While they were released with a very favorable context, songs of 2017's Utopia did very poorly. The highest is Blissing Me, ranking only #16.
Full catalog breakdown
If you are familiar with the artist's catalog and want to check details of each and every song, you can access to all of them right here.
Björk's compilations sales
It sounds fairly logical to add together weighted sales of one era – studio album, physical singles, downloads, streams – to get the full picture of an album's popularity. For older releases though, they also generate sales of various live, music videos and compilation albums.
All those packaging-only records do not create value, they exploit the value originating from the parent studio album of each of its tracks instead. Inevitably, when such compilations are issued, this downgrades catalog sales of the original LP. Thus, to perfectly gauge the worth of these releases, we need to re-assign sales proportionally to its contribution of all the compilations which feature its songs. The following table explains this method.
The distribution process
How to understand this table? If you check for example the Greatest Hits, these figures mean it sold 1,450,000 units worldwide. The second statistics column means all versions of all the songs included on this package add for 153,859 equivalent album sales from streams of all types.
The second part on the right of the table shows how many equivalent streams are coming from each original album, plus the share it represents on the overall package. Thus, streaming figures tell us songs from the Post album are responsible for 38% of the Greatest Hits track list attractiveness. This means it generated 551,000 of its 1,450,000 album sales and so forth for the other records. We then apply this process to all compilations present on below table.
Compilations sales figures listing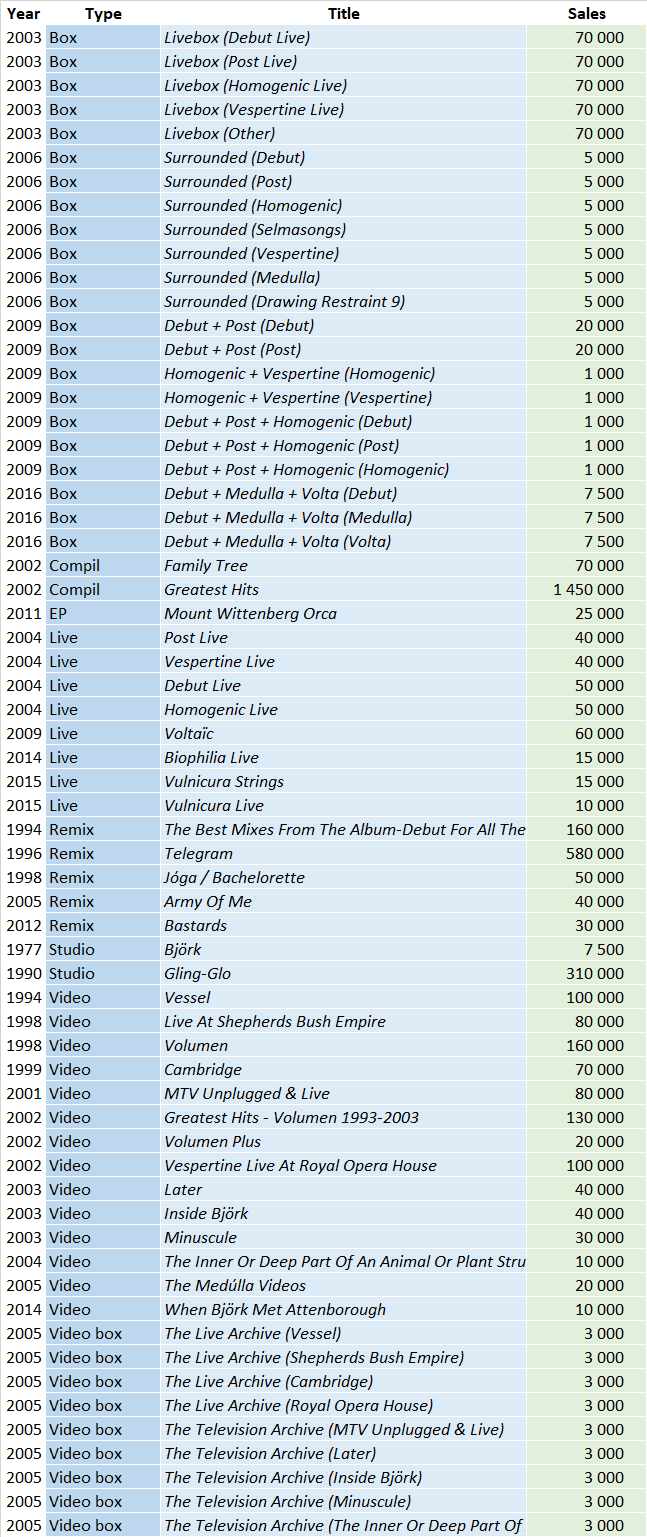 The method to milk efficiently the catalog of an artist who enjoys a strong base of collectors is always the same: release as many different products as possible. Indie tiny label of the singer One Little Indian did just like that. It started very early with her first album getting a remix version in 1994 with The Best Mixes From The Album-Debut For All The People Who Don't Buy White-Labels. Sophomore LP Post also got its remix version with the strong selling Telegram. It moved 580,000 units on its own and that doesn't even include units that have been merged to the original Post as it happened in the UK.
It isn't only about remix albums since her catalog also got a whopping 8 live sets plus 15 videos (VHS/DVD). Of course, there has also been compilation, including the aforementioned Greatest Hits. Selling from 125,000 to 220,000 copies in each the US, Japan, the UK, Germany, and France, this 2002 package is easily her top seller in this category. In the more negative side, it largely limited catalog sales of Debut, Post, Homogenic, and Vespertine. These original albums have since been exploited back thanks to various 2/3 (or more) CDs boxes.
Lastly, this table also includes the 2 studio albums that haven't been accounted for so far, Björk and Gling Gló. While sales of the latter are very hard to track, they are conservatively estimated on 310,000 copies so far. The complete lack of info on this release was compensated by our discogs-axed method.
Full Length related records Sales – Summary

Here is the most underestimated indicator of an album's success – the amount of compilation sales of all kinds it generated. Due to the dependency of sales of the original studio albums on these releases, they are a key piece of the jigsaw. These numbers are obtained by applying the method from the section The distribution process to all packages listed under Compilation sales figures listing category.
It was expected to see the first 3 albums dominated this list since their hits are easily the most remembered of the singer. They are the ones which built her fanbase and received the best reviews. Debut and Post enjoy a solid lead over Homogenic, mostly thanks to their respective remix albums. They also fueled an impressive number of video sales. Her cult live performances added to her unique videos made this segment very strong for the artist.
Total Album (all types) Sales per Country
Please note that country-specific numbers may miss sales of a few minor releases, although totals are complete.
Björk Career CSPC Results
So, after checking all the figures, how many overall equivalent album sales has each album by Björk achieved? Well, at this point we hardly need to add up all of the figures defined in this article!
Albums CSPC results
In the following results table, all categories display figures in equivalent album sales. If different, pure sales are listed between parentheses.
| artist_spotify_id | # | Cover | Album | Studio albums (EAS) | sales_update_date | Other LPs (EAS) | Physical singles (units sold) | Digital singles (units sold) | Streams | Streams increase | Total EAS | valid_as_of | streams_updated_value | album_id |
| --- | --- | --- | --- | --- | --- | --- | --- | --- | --- | --- | --- | --- | --- | --- |
| 7w29UYBi0qsHi5RTcv3lmA | 1 | | Debut | 5,730,000 | 23.12.18 | 1,225,000 | 195,000(650,000) | 131,000(870,000) | 256,000 (09/25/23) | Av.: 110LD: 150 | 7,570,000 | 20,230,925 | 256,000 | 586 |
| 7w29UYBi0qsHi5RTcv3lmA | 2 | | Post | 4,570,000 | 23.12.18 | 1,548,000 | 273,000(910,000) | 120,000(800,000) | 296,000 (09/25/23) | Av.: 120LD: 150 | 6,856,000 | 20,230,925 | 296,000 | 587 |
| 7w29UYBi0qsHi5RTcv3lmA | 3 | | Homogenic | 3,510,000 | 23.12.18 | 825,000 | 105,000(350,000) | 90,000(600,000) | 157,000 (09/25/23) | Av.: 60LD: 90 | 4,699,000 | 20,230,925 | 157,000 | 588 |
| 7w29UYBi0qsHi5RTcv3lmA | 4 | | Selmasongs | 1,290,000 | 23.12.18 | 17,000 | 0(0) | 5,000(30,000) | 16,000 (09/25/23) | Av.: 10LD: 10 | 1,328,000 | 20,230,925 | 16,000 | 589 |
| 7w29UYBi0qsHi5RTcv3lmA | 5 | | Vespertine | 2,030,000 | 23.12.18 | 251,000 | 12,000(40,000) | 38,000(250,000) | 107,000 (09/25/23) | Av.: 50LD: 80 | 2,471,000 | 20,230,925 | 107,000 | 590 |
| 7w29UYBi0qsHi5RTcv3lmA | 6 | | Medúlla | 1,130,000 | 23.12.18 | 49,000 | 12,000(40,000) | 8,000(50,000) | 27,000 (09/25/23) | Av.: 10LD: 10 | 1,226,000 | 20,230,925 | 27,000 | 591 |
| 7w29UYBi0qsHi5RTcv3lmA | 7 | | Drawing Restraint 9 | 120,000 | 23.12.18 | 5,000 | 0(0) | 0(0) | 1,000 (12/23/18) | N/A | 126,000 | 20,230,925 | 1,000 | 592 |
| 7w29UYBi0qsHi5RTcv3lmA | 8 | | Volta | 680,000 | 23.12.18 | 13,000 | 16,000(50,000) | 56,000(370,000) | 10,000 (12/23/18) | N/A | 774,000 | 20,230,925 | 10,000 | 593 |
| 7w29UYBi0qsHi5RTcv3lmA | 9 | | Biophilia | 270,000 | 23.12.18 | 50,000 | 3,000(10,000) | 18,000(120,000) | 27,000 (12/23/18) | N/A | 368,000 | 20,230,925 | 27,000 | 594 |
| 7w29UYBi0qsHi5RTcv3lmA | 10 | | Vulnicura | 280,000 | 23.12.18 | 21,000 | 4,000(13,000) | 15,000(100,000) | 21,000 (12/23/18) | N/A | 341,000 | 20,230,925 | 21,000 | 595 |
| 7w29UYBi0qsHi5RTcv3lmA | 11 | | Utopia | 120,000 | 23.12.18 | 0 | 7,000(20,000) | 5,000(30,000) | 24,000 (12/23/18) | N/A | 155,000 | 20,230,925 | 24,000 | 596 |
| 7w29UYBi0qsHi5RTcv3lmA | 12 | | Fossora | 0 | | 0 | 0(0) | 0(0) | 21,000 (09/25/23) | Av.: 0LD: 0 | 21,000 | 20,230,925 | 21,000 | 0 |
| 7w29UYBi0qsHi5RTcv3lmA | 13 | | Orphan | 0 | 23.12.18 | 368,000 | 34,000(113,000) | 33,000(220,000) | 15,000 (12/23/18) | N/A | 450,000 | 20,230,925 | 15,000 | 1,629 |
'Av.' stands for Average, 'LD' for Last Day.
As a reminder:
Studio Album: sales of the original album
Other Releases: sales of compilations generated thanks to the album
Physical Singles: sales of physical singles from the album (ratio 3/10)
Download Singles: sales of digital singles from the album (ratio 1,5/10)
Streaming: equivalent album sales of all the album tracks (ratio 1/1500 for Audio stream and 1/6750 for Video stream)
See where the artist ranks among remaining singers
No, there is no 20, 30, or 50 million sellers in this table. Not even an album at 10 million. As stated all over this article though, a unique, atypical artist is never going to appeal a mass audience. We can't ask monster sales to an artist who records songs that fit in no radio format at all.
Some may call it creativity, others extravaganza, what's safe is that sales of her 90s albums are definitely impressive once we take into account their style. They are also very solid. Debut has a slight edge over Post, both stand around 7 million equivalent album sales. At 4.6 million Homogenic is lower but still strong.
It's hard to tell if numbers of Vespertine are good or bad. They are no doubt still relevant, but also surely below its predecessors – the soundtrack Selmasongs apart. Many say she lost her magic after 3 albums, others after 4, these numbers confirm the in-between status of Vespertine.
To be special isn't an excuse for every figure though. The decline between each of her recent albums is quite dramatic. With Utopia, Björk dropped down to a mere 155,000 equivalent album sales. The worst part is that its streams don't even top the ones of Biophilia and Vulnicura, themselves lackluster albums, while coming nowhere near numbers of her early records. These very poor figures show that even her long-time fans are slowly but surely living the boat.
In the meantime, she still created a truly impressive career considering where she started and how she handled her career. Up to date, she stands on 25.8 million equivalent album sales, a very respectable tally.
Singles CSPC results
The list is compiled in album equivalent sales generated by each song. Therefore, these figures are not merged units of singles formats. Instead, it includes weighted sales of the song's physical single, download, ringtone and streaming as well as its share among sales of all albums on which it is featured.
1. 1995 – Björk – Army Of Me [Post] – 2,420,000
2. 1993 – Björk – Human Behaviour [Debut] – 2,060,000
3. 1995 – Björk – It's Oh So Quiet [Post] – 1,440,000
4. 1993 – Björk – Venus As A Boy [Debut] – 1,400,000
5. 1997 – Björk – Jóga [Homogenic] – 1,370,000
6. 1995 – Björk – Hyper-Ballad [Post] – 1,340,000
7. 1997 – Björk – All Is Full Of Love [Homogenic] – 1,060,000
8. 1993 – Björk – Big Time Sensuality [Debut] – 1,030,000
If you feel inspired by this list, we just created this CSPC Bjork playlist on Spotify!

Discography results
Thanks to our ASR (Artist Success Rating) concept, we know that her sales represent 5.63 million times the purchase of his entire discography. Coupled with her total sales, it translates into an ASR score of 68. This puts her below Fergie and Ariana Grande, but ahead of Aaliyah and Lana Del Rey. The ranking of all artists studied so far is available too at this link.
Records & Achievements
Björk is the most successful music artist of all-time coming from Iceland.
Björk has sold over 5 million pure albums in the US with no hit ever going higher than #84.
Björk has got 20 Top 40 hits in the UK without ever making the Top 3.
Björk has sold more albums in France (2.63 million) than in the UK (2.61 million), a rare feat for an English-language singer.
Björk has the most wins (4) and nominations (9) on the Brit Award for International Female Solo Artist.
At 15, Björk is the female artist with the most nominations with no wins at the Grammy Awards.
Debut, Post, Homogenic, and Vespertine all led Best Album of the Year lists of at least one major publication. Post and Homogenic came at #1 and #2 among 90s best albums for Slant Magazine ahead of Radiohead's OK Computer and Nirvana's Nevermind.
You may be interested in…
… best-selling artists, albums, and singles
To improve your navigation we created several amazing cross-artists lists posted inside the CSPC: Data Collector article. Click on it to see the full listing of all CSPC results compiled so far!
… similar artists
To put figures from this article into perspective, click on the images below to reach career breakdowns of similar artists:
As usual, feel free to comment and / or ask a question!
Sources: IFPI, Spotify, YouTube, Discogs.