Dua Lipa albums and songs sales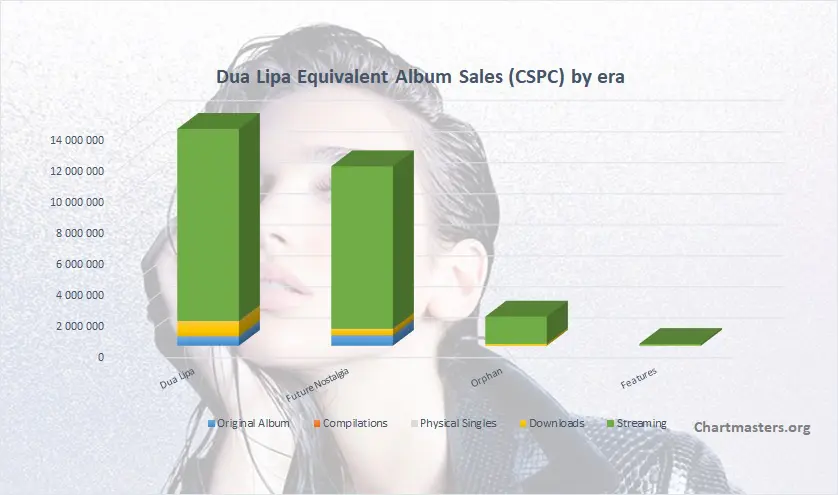 We tend to consider that today's music scene is all about urban artists, but pop singer Dua Lipa came out of nowhere to superstardom in a mere 3 years.
If at first only her songs were recognized by the general public, she is now a household name. Is she selling well though?
Dua Lipa is a British singer born in London in 1995. After signing with Warner Bros in 2015, she quickly started to drop singles to radio stations.
Be The One was her breakthrough, hitting #1 in Belgium in early 2016. It was the first of many hits to come.
Among them are songs like New Rules, One Kiss, Don't Start Now, Levitating, or Cold Heart. She currently stands at 12 UK Top 10 smashes.
Historically, female pop hit makers have been North American artists, we can mention Madonna, Jennifer Lopez, Rihanna, Katy Perry and Ariana Grande to name a few.
Can Dua Lipa reverse this trend and become the first pure pop female from the UK to dominate global charts?
As usual, I'll be using the Commensurate Sales to Popularity Concept in order to relevantly gauge her results.
This concept will not only bring you sales information for all Dua Lipa's albums, physical and download singles, as well as audio and video streaming. In fact, it will also determine their true popularity.
If you are not yet familiar with the CSPC method, below is a nice and short video of explanations. I fully recommend watching it before getting into the sales figures. Of course, if you are a regular visitor feel free to skip the video and get into the numbers directly.
The Commensurate Sales to Popularity Concept (CSPC)
There are two ways to understand this revolutionary concept. The first is the Scribe video posted below. If you are unaware of the CSPC method, you will get the full idea within just a few minutes.
If you are a mathematical person, and want to know the full method as well as formulas, you can read the full introduction article.
Now let's get into the artist's sales figures in detail in order to apply this concept and define the act's true popularity!
Dua Lipa Album Sales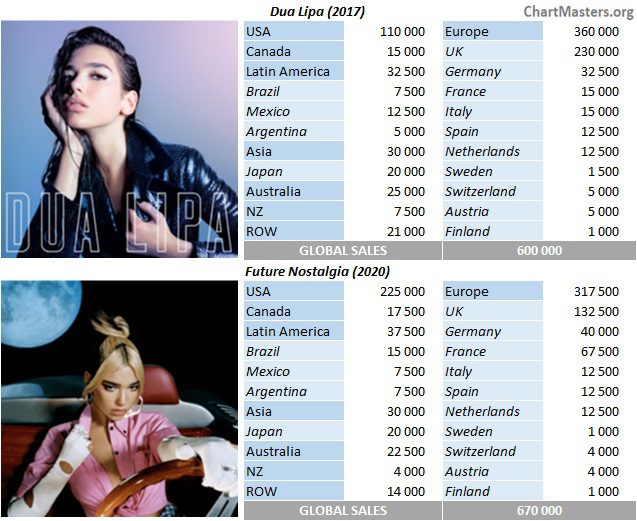 Original Album Sales – Comments
Expectedly, Dua Lipa pure album sales are not huge. It's the norm for the large majority of artists who debuted after the collapse of pure sales.
The fact that she also sells less in the US isn't helping, but overall she is really gaining traction in this format.
Once you consider that her debut peaked at #44 inside the sales chart with only 2 weeks top 100 in the US, its sales are quite good.
It means the album has got strong legs. In fact, it is still selling steadily new copies week after week.
On its side Future Nostalgia caught up in spite of a much worse market as well as a release during the first European lockdown. It has now moved ahead at 670,000 units.
Combined, these two albums sold 1.27 million units, having moved over a million in 2021.
Dua Lipa songs sales
Below, we list down results from the artist through physical sales, digital sales and streaming.
Please be aware that when the artist is regarded as the lead act, he is rewarded with 100% of these units, while featured acts share among them a 50% piece of the totals.

Physical Singles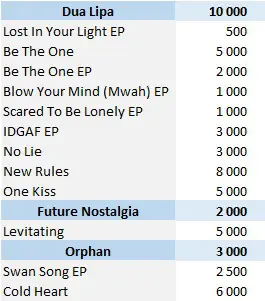 As a reminder, the weighting is done with a 10 to 3 ratio between albums and digital singles.
Obviously, physical singles have been a collector item for many years.
Sales in this format are marginal, but the fact that Dua Lipa has multiple releases there is a positive sign of a building fanbase.
Digital Songs
As a reminder, the weighting is done with a 10 to 1.5 ratio between albums and digital singles.
With a career barycenter around 2019, even downloads were mostly dead during Dua Lipa's era.
For example, One Kiss was the most successful song of 2018 in the UK, yet it sold only 244,000 copies for the year.
Add to that smaller success in the US in her first years and a South Korean market which switched to streaming lately, you get no truly big seller for the singer from London.
Most if not all of her singles have been hits through, so they still combine for interesting volumes.
New Rules is the top seller at 1.6 million, with One Kiss cracking a million too.
Countless of singles came out during a 3 years span, with all of them entering the deluxe version of Dua Lipa.
There, IDGAF, Scared to Be Lonely, and Be The One are over half a million sales. No Lie, Blow Your Mind, Hotter Than Hell and Electricity are over 200,000 apiece.
In the meantime, the market continues to go down, with 2022 units reaching ridiculously low amounts.
Don't Start Now was possibly her largest global hit up to that point, but this context limited it at 825,000 units sold so far.
Then both Levitating and Cold Heart felt just as big if not bigger, yet they combine for only 1.35 million.
A pair of singles stand around 250,000 each from Future Nostalgia, they are Physical and Break My Heart.
Her career total is in 8 digits at over 10.3 million sales in digital formats.
Streaming
Streaming is made up of audio and video streams. Our CSPC methodology includes both to better reflect the real popularity of each track. The main source of data for each avenue is respectively Spotify and YouTube. To factor in the growing impact of multiple Asian countries where these platforms aren't always the go-to site for music streaming, more sources have been added.
In order to account for their real popularity in each relevant country, the below sources have been used along with the mentioned ratios that reflect the market share of each area.
Audio Streams
– South Korea: Genie streams * 2.20 (consistent with Gaon streaming numbers)
– Japan: AWA streams * 68 / 4 (AWA has 4% of the Japanese streaming market, and 32% are already considered through Spotify's extrapolation)
– Arabic world: Anghami streams
– Sub-Saharan Africa: Boomplay + Audiomack streams
– Elsewhere: Spotify streams * 649 / 406 (649 million subscribers of global platforms like Spotify, Apple Music, Amazon Music, YouTube Music, Deezer, etc. against 406 million from Spotify itself) + Genie streams * 2.20 (uses Genie rather than Spotify to extrapolate markets like Taiwan, Thailand and Vietnam)
Video Streams
– China* : QQ video streams * 50 if the song is available for audio stream, QQ video streams * 5 elseway (scale built based on known figures for several major artists)
– Elsewhere : Youtube views increased by 10% to account for various local platforms
*since Chinese streaming platforms are mostly video streaming platforms, their streams are weighted on par with YouTube streams.
Audio Stream value – 1,500 plays equal 1 album unit
Video Stream value – 6,750 views equal 1 album unit
Equivalent Albums Sales (EAS) = ( Spotify * 649/406 + Genie * 2.20 * 2 + AWA * 68 / 4 + Anghami + Boomplay + Audiomack ) / 1500 + ( QQ views* 50(or 5) + YouTube * 1.1 ) / 6750
Top Hits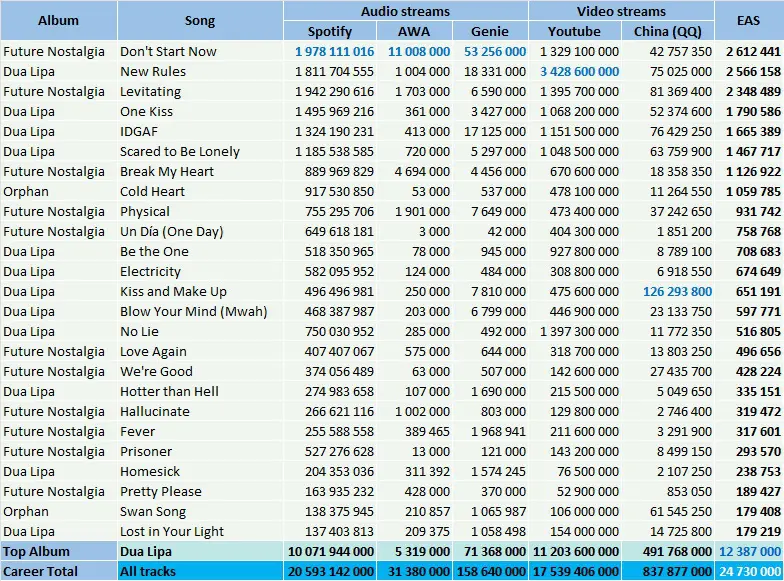 With only two albums issued so far, Dua Lipa manages the incredible feat of reaching 1 billion streams on Spotify with 6 different songs.
Don't Start Now leads on both Spotify (1.98 billion), Genie (53 million) and AWA (11 million). In the former, it recently moved ahead of New Rules which used to be #1. The track amassed 2.61 million EAS to date.
Speaking about New Rules, it's a solid runner up with 2.57 million EAS, with an especially impressive total on YouTube (3.43 billion).
Levitating is growing fast, now up to the 3rd spot, with soon the highest score from Spotify (1.94 billion). This trio of songs belong to the very biggest league of hits, with over 7 million EAS from streams among them.
One Kiss, IDGAF, Scared to Be Lonely, Break My Heart and Cold Heart are the remaining songs with sales in excess of 1 million EAS. The last one remains recent and seems poised to climb up the ladder in the future.
As many as 7 songs, almost 8, register more than half a million EAS from streams. On top of singles from her self-titled debut, both 2020 songs Break My Heart and Physical are up there.
Both No Lie and Prisoner have their total halved due to their featuring status.
In terms of albums, Dua Lipa scores a stunning 12.4 million EAS. It's the most streamed female album of all-time.
Future Nostalgia has now got time to reach this magnitude of streams as well, posting 10.48 million EAS. Both are among the most successful streaming albums of all-time.
Full catalog breakdown
If you are familiar with the artist's catalog and want to check details of each and every song, you can access to all of them right here.
Keep yourself up to date
Our website provides you a fantastic tool which fetchs updated Spotify streams as you request them, use it to watch these results grow day after day!
Dua Lipa compilations sales
In this day and age, less and less compilations or music videos are released, especially when someone is as early in her career as Dua Lipa.
She has 3 releases with from 1,500 to 10,000 sales, they are 2017 EPs The Only EP and Live Acoustic along with 2020 remix album Club Future Nostalgia.
Total Album (all types) Sales per Country
Please note country-specific numbers may miss sales of a few minor releases, although totals are complete.
Dua Lipa Career CSPC Results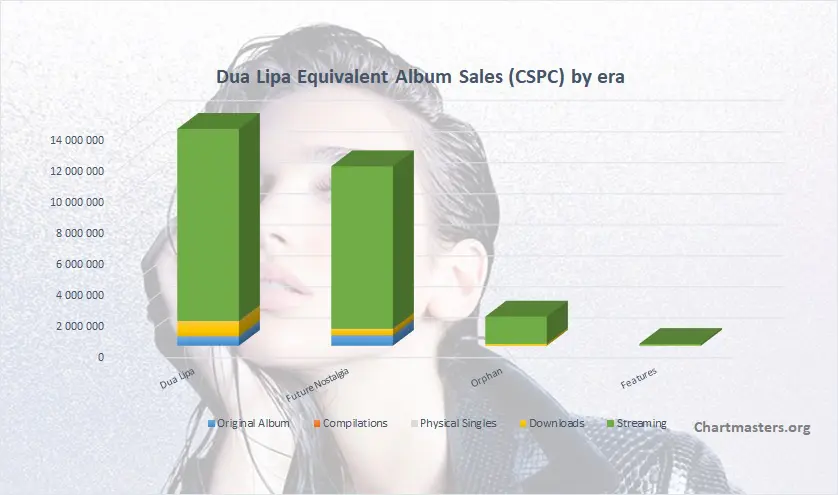 So, after checking all the figures, how many overall equivalent album sales has each Dua Lipa album achieved? Well, at this point we only need to add up all of the figures defined in this article!
Albums CSPC results
In the following results table, all categories display figures in equivalent album sales. If different, pure sales are listed between parentheses.
| artist_spotify_id | # | Cover | Album | Studio albums (EAS) | sales_update_date | Other LPs (EAS) | Physical singles (units sold) | Digital singles (units sold) | Streams | Streams increase | Total EAS | valid_as_of | streams_updated_value | album_id |
| --- | --- | --- | --- | --- | --- | --- | --- | --- | --- | --- | --- | --- | --- | --- |
| 6M2wZ9GZgrQXHCFfjv46we | 1 | | Dua Lipa | 600,000 | 21.05.22 | 3,000 | 8,000(28,000) | 1,010,000(6,740,000) | 15,973,000 (12/01/23) | Av.: 5,490LD: 5,320 | 17,046,000 | 20,231,201 | 15,973,000 | 153 |
| 6M2wZ9GZgrQXHCFfjv46we | 2 | | Future Nostalgia | 670,000 | 21.05.22 | 9,000 | 2,000(5,000) | 414,000(2,760,000) | 14,797,000 (12/01/23) | Av.: 7,200LD: 6,370 | 15,589,000 | 20,231,201 | 14,797,000 | 154 |
| 6M2wZ9GZgrQXHCFfjv46we | 3 | | Orphan | 0 | 21.05.22 | 0 | 2,000(6,000) | 119,000(790,000) | 1,754,000 (05/21/22) | N/A | 1,876,000 | 20,231,201 | 1,754,000 | 1,655 |
| 6M2wZ9GZgrQXHCFfjv46we | 4 | | Features | 0 | 21.05.22 | 0 | 0(0) | 13,000(90,000) | 108,000 (05/21/22) | N/A | 113,000 | 20,231,201 | 108,000 | 10,000,013 |
'Av.' stands for Average, 'LD' for Last Day.
As a reminder:
Studio Album: sales of the original album
Other Releases: sales of compilations generated thanks to the album
Physical Singles: sales of physical singles from the album (ratio 3/10)
Download Singles: sales of digital singles from the album (ratio 1,5/10)
Streaming: equivalent album sales of all the album tracks (ratio 1/1500 for Audio stream and 1/6750 for Video stream)
Artist career totals
| All-Time Rank | Studio albums (EAS) | Other LPs (EAS) | Physical singles (units sold) | Digital singles (units sold) | Streams | Total EAS |
| --- | --- | --- | --- | --- | --- | --- |
| 140 | 1,270,000 | 12,000 | 40,000 | 10,370,000 | 35,542,000 (12/01/23) | 37,321,000 |
See where the artist ranks among remaining singers
Of course, pure sales are not enormous. These days are over, and more for pop stars who rely on general public appeal rather than fandom.
It takes off nothing from the amazing success of both Dua Lipa albums. Combined, they hit 25.5 million, with the second far from being done.
The debut album posts 14 million sales, one of the most successful albums in recent years.
Future Nostalgia is on its way to get there as well, now up to 11.5 million.
The total to date of Dua Lipa is at 27.53 million equivalent album sales. She still has a lot of work to do to join the all-time top performers or even of the last 15 years, but she has undoubtedly a very successful career in the making.
Singles CSPC results
The list is compiled in album equivalent sales generated by each song. Therefore, these figures are not merged units of singles formats. Instead, it includes weighted sales of the song's physical single, download, ringtone and streaming as well as its share among sales of all albums on which it is featured.
1. 2017 – Dua Lipa – New Rules [Dua Lipa] – 2,930,000
2. 2019 – Dua Lipa – Don't Start Now [Future Nostalgia] – 2,900,000
3. 2020 – Dua Lipa ft. DaBaby – Levitating [Future Nostalgia] – 2,610,000
4. 2018 – Calvin Harris & Dua Lipa – One Kiss [Dua Lipa] – 2,040,000
5. 2017 – Dua Lipa – IDGAF [Dua Lipa] – 1,830,000
6. 2017 – Martin Garrix & Dua Lipa – Scared to Be Lonely [Dua Lipa] – 1,630,000

If you feel inspired by this list, we just created this CSPC Dua Lipa playlist on Spotify!
Discography results
Thanks to our new ASR (Artist Success Rating) concept, we know that her sales represent 15,05 million times the purchase of her discography. Coupled with her total sales, it translates into an ASR score of 115.
The ranking of all artists studied so far is available too at this link.
Records & Achievements
At 13,978,000 EAS, Dua Lipa is the 2nd most successful album from 2017.
At 12,387,000 EAS from streams, Dua Lipa is the 3rd most streamed album of all-time, 1st among female albums.
At 10,480,000 EAS from streams, Future Nostalgia is the most streamed album from 2020, 3rd of all-time among female albums.
Levitating is the longest running female song ever inside the US Hot 100 chart (77 weeks) and its top 10 (41 weeks).
At 6, Dua Lipa has the most songs with over 1 billion streams on Spotify among females.
NB: EAS means Equivalent Album Sales.
As usual, feel free to comment and / or ask a question!
Sources: IFPI, Spotify, YouTube, Discogs, Billboard.
You may be interested in…
… Dua Lipa's streaming masters analysis
… checking out the upcoming artists or even voting for them!
… best-selling artists, albums, and singles
We have created amazing cross-artists tops. Click to see all CSPC and raw sales results compiled so far!
… similar artists
To put Dua Lipa's figures into perspective, click to reach career breakdowns of pop star divas: