Brazil best sellers since 2003
This week, we injected over 17,000 shipment codes from Brazil amounting to 162 million sales to our Receipts Database. As it happens, they reflect perfectly album sales in the country since their introduction in 2003. So let's dig into them to reveal the best local and foreign sellers in Brazil.
An amazing culture
A big country in both size and population, with diverse origins from multiple continents, the Brazilian music culture is very rich.
Each region is full of local genres, with specific instruments, and traditions dating back to a century or more.
Two genres are commonly known worldwide, Samba and Bossa Nova. Several local singers are legends internationally like Caetano Veloso, João Gilberto, Antõnio Carlos Jobim and Gilberto Gil.
Samba is obviously related to Brazil's Carnavals in popular culture abroad. As for Bossa Nova, it is seen as a more noble movement.
In 1965, the iconic song Garota de Ipanema went on to win the 7th Grammy award for Record of the Year while its parent album from João Gilberto & Stan Getz won the Album of the Year.
On top of these two genres which are still incredibly successful, many more sounds emerged in Brazil through the years.
The most popular styles nowadays is Sertanejo, the Brazilian equivalent to country. It has been flooding airwaves for several decades.
While not as successful nowadays, the most renowned sound remains MPB, a term standing for Musica Popular Brasileira. It encapsulates all musics which do not belong to well defined genres.
It is a variation of Samba with strong influences from Jazz and Rock music.
It works both ways as Brazil also owns a buoyant local music scene for international genres like pop, rock and rap.
A strong and loyal market
At its peak in late 90s, the Brazilian music market was worth over 100 million pure album sales per year. This is roughly 10 times less than the US.
While very few artists have multiple albums over 10 million sales there, many Brazilian singers scored million plus sellers in quick succession.
Many local stars got their top seller 10, 20 or even 30 years into their career. The loyalty of the Brazilian market is unique.
This helped several of them to amass tens of millions of sales.
Since 2003, a system which prints shipment batches is shown on CDs and DVDs.
By that point, slightly over 50 million albums were sold per year after a huge downfall from 2001 to 2003. Music videos were selling at a pace of 15 million every year.
They remained somewhat consistent until 2015 when 36 million CDs and 15 million videos were sold. The table below from the last IFPI report shows how the physical market virtually disappeared in recent years.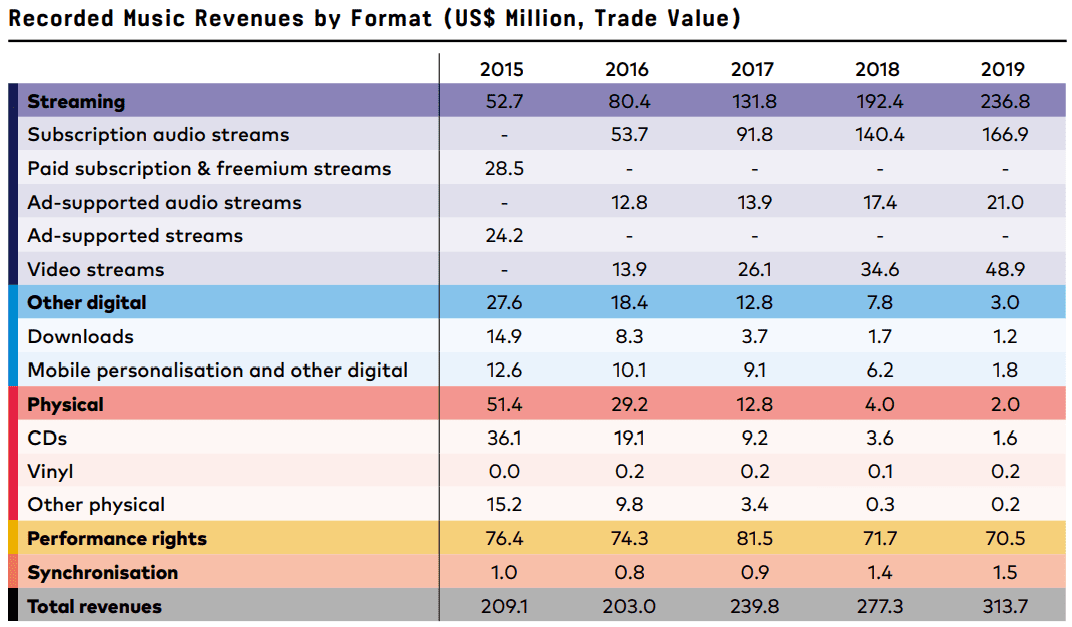 The shipment codes can be found online thanks to chart boards or by looking at sales from websites like mercadolivre and enjoei.
On top of combining everything available online, we also dug these numbers numerous times as part of our researches to complete discographies of both local and foreign singers.
These receipts, over 17,000 in total, have been added to our database. You can look for your favorite artist sales thanks to this link.
Even if they start in 2003, these numbers are highly relevant to picture the most popular singers in this country. We review them in this article.
Brazil best sellers since 2003
#1 – Padre Marcelo Rossi – 9.81 million
It may come as a surprise for foreigners, but the strength of religious music is outstanding in Brazil. Padre Marcelo Rossi is the flagship of these Catholic Priests smashing the market.
He released his first album through a music label in 1998 with Músicas Para Louvar Ao Senhor.
The year was not over that the album was already certified for 3 million shipments. It is often listed as the greatest selling album ever at 3.3 million, although several albums are claimed at similar sales.
The hype quickly slowed down. His 1999 album still shifted over a million, but his albums 3, 4 and 5 stalled at Platinum level (250,000).
His 6th album, the soundtrack of Maria Mãe Do Filho De Deus, came out in August 2003, his first output to be issued during the coding system.
It continued the patterns of its predecessors. It shipped 101,100 units upon release and added at least 130,000 more copies up to date as shown by code receipts.
This was still nothing in comparison to the 2006 hurricane Minha Benção. Shipping 35,000 units in first place, the passion was renewed around the priest, fueling sales to over 1.02 million sales tracked.
It is worth noting that tracked figures we will mention in this article reflect only units covered by identified codes.
In the case of Minha Benção, we have been able to retrieve only 18 codes out of at least 54 since this artist is poorly followed online.
It doesn't mean the album sold 3 times more though. Naturally, the largest codes will be the easiest ones to track.
In fact, this record took 3 years to be certified for a million sales. Below we review available codes to understand how to interpret this data.
AA 35000
AC 50000
AD 50000
AF 50000
AG 20000
AI 100000
AJ 100000
AK 70000
AL 100000
AM 50000
AN 180000
AS 105000
AU 40000
AV 50000
AY 10000
BF 10000
BZ 500
CB 500
We can see that 14 codes are available through the first 22 letters, against only 4 for the next 32. It highlights the aforementioned point: larger codes are easier to track.
With the same logic, a code like AH, sandwiched between AG20000 and AI100000 is likely closer to the former value, if not lower.
If we consider missing codes up to AV are worth 15,000 units in average, 5,000 for the ones from AW to BF and 1,000 for codes from BG to CB, it adds 180,000 copies sold.
If these assumptions are correct, it means a third of codes are worth over 80% of total sales.
The next 3 albums from Padre Marcelo Rossi were released in quick succession, with codes adding for 1.65 million units through CD and DVD versions.
2011 was one more outstanding peak for the singer. Despite a decreasing market, Ágape Musical initial shipment amounted to half a million copies. After the first 5 batches, it was up to 1.45 million, ultimately coming close to 1.7 million.
At the end of its era, a live release titled Ágape Amor Divino came out, itself selling at least 853,000 copies.
In 2013, the EP Já Deu Tudo Certo was another unreal seller, topping 2.05 million with 6 shipments only. It sold 200,000 more copies as part of a pack along with Mega Hits. O Tempo de Deus from 2014 went all the way up to 1.35 million.
At last, even Padre Marcelo Rossi started to suffer from the market downfall. His 2017 release Imaculada (Ao Vivo) shifted 400,000 units across CD and DVD formats, while his 2020 album sold a mere 3,000 copies.
While the priest singer did release compilations which sold decently, they do not compete with the magnitude of sales of his studio releases.
With a total of 9.81 million sales tracked since 2003, he is the highest selling artist as far as sales identified are concerned. Amazingly, he sold a similarly impressive number of books.
With sales poorly tracked in general, more Catholic acts have done incredibly well. We can mention Diante do Trono (3.04 million), Padre Fábio de Melo (3.03 million), Padre Alessandro Campos (1.42 million) and Aline Barros (1.41 million).
#2 – Roberto Carlos – 8.38 million
The legend tells Roberto Carlos sold 140 million records to date. Chart fans can only be skeptical about this figure as no non-English singer ever sold that much.
Often seen as the Brazilian Elvis Presley, the singer is closer to Frenchman Johnny Hallyday in that he kept releasing blockbusters year after year from the 60s to the 10s.
In 1965, a TV show named Jovem Guarda (translated Young Guard) became immensely popular.
It reflected a new spirit among the youth of the country. It impacted music, ideas, fashion and more. The culture phenomenon was directly related to rock music as it happened elsewhere during the 60s.
The TV host of the show was no other than Roberto Carlos who used to perform on it very often.
Helped in part by this exposure, his LPs started to shift over 300,000 copies apiece in late 60s. By this point, he was already in a league of his own.
He topped the all-time record for sales with a LP multiple times. He was the first to hit a million and the first to hit 2 million sales.
While it would require a deeper analysis to detail exactly his career sales, pure album sales in Brazil alone are safely past 50 million.
Turning 80 in April this year, the singer has been logically less prolific for 15 years.
He dropped several live records, an album of covers and an EP, but 2003 Pra Sempre remains his only production made of new songs since codes were introduced.
A tribute to his late wife, Pra Sempre sold over 1.5 million copies. 2012 EP Esse Cara Sou Eu, which features a couple of new songs, moved a massive 2.1 million.
This reveals fairly well the insane selling power of a Roberto Carlos who cracked a million sales more often than not from 1977 to 2012.
A simple remix EP from 2013 topped 900,000 sales. Remaining releases since 2003 are under half a million tracked units.
Most of his live releases moved 300,000 plus. The gap is still big to reach 8.38 million.
The singer back catalog is unbelievable though. His 38 pre-2003 studio albums received 20-30 shipment batches each. His 1974 effort (most of his albums have no proper title) moved 44,500 copies with 3 codes only.
On top of the original releases, countless of compilations are selling. Also, many box sets have been issued.
In 2005, one box set was released per decade, each of which included all releases from the decade. 60s and 70s boxes got 30,000 pre-orders each.
We need to point out that on mercadolivre, Padre Marcelo Rossi has 1,507 results inside the music category. Roberto Carlos has 12,911.
Of course, we haven't been able to look for every entry for him unlike the remaining top sellers, so we focused on post-2003 releases plus some codes from discogs.
Had we access to 100% of codes, we would most likely find out that Roberto Carlos is indeed the leading seller since 2003.
#3 – Banda Calypso – 6.77 million
International music is mostly made of solo singers or bands of 3 members or more. In Brazil, duos are everywhere.
The top selling pair in recent years is Banda Calypso. As their name suggests, the duo has strong influences from Caribbean rhythms.
Singers of brega, a poorly rated genre popular in Northeast Brazil, they managed to defy odds and become a top selling act all over the country.
They debuted in 1999 and got successful quite fast. They kept improving up to their Volume 8 which shipped 1.1 million units based on its 4 shipment batches available.
Many of the following albums haven't gone much deeper than the AA code. Their initial impact has been massive though. Their Volume 9 shipped 500,000 units upon release in both CD and DVD format.
Thanks to catalog sales for their early albums during their hey-days, the group shifted roughly a million units of all their albums up to this 9th release.
Sales went down to half a million with Volume 10 and then decreased with each new album.
The couple broke up in 2015 which led to the end of the band.
While claims of 20 million plus sales are inflated, the duo still moved over 10 million albums in their career, among which feature 6.77 million post-2003 tracked units.
#4 – Ivete Sangalo – 5.38 million
The nation's Queen. Ivete Sangalo is the prototype foreigners imagine when they think about a Brazilian female singer.
Gorgeous, charismatic, powerful vocalist, full of energy and immense performer, the singer is also one of the most awarded on top of a massive seller.
Her music genre is Axé, another Brazilian genre with influences from Afro-Caribbean music. It involves a heavy rhythmic section added to fast paced and powerful vocals.
She already dominated the genre during the 90s as part of her group Banda Eva.
After successful albums in their region of Bahia, they crossed over the national audience with their 1996 and 1998 albums.
The strength of the diva is most visible with her live recordings. The band's Ao Vivo (which means Live) from 1997 went through the roof, quickly topping a million sales.
After total sales of 4 million units, she started her solo career with an eponymous album in 1999.
Her first 4 releases sold a combined 1.1 million units by 2004. Just like with her former band, her real strength was going to do wonders thanks to live releases.
That year, MTV Ao Vivo was released. Its songs have been extensively used on Carnavals, soccer games and parties through the country ever since.
Our tracking identified 659,500 CD sales with enough room to be safe it sold over 800,000 copies. The DVD broke several records, with codes adding for 344,500 units.
In 2007, she made it again. Multishow Ao vivo no Maracanã became the global top selling DVD during a semester on the back of Brazilian sales alone.
Identified sales stand at 566,000 CDs and an unbelievable 716,500 DVDs.
The 2010 live release Multishow Ao vivo no Madison Square Garden was another blockbuster with 100,000 stand-alone CDs, 368,000 DVDs, 300,000 CD+DVD packs and 20,000 Blu-Rays, a total cracking 1 million discs for the 3rd time in a row.
Worth mentioning is the smash single Cadê Dalila?. While physical singles haven't been selling in Brazil for many decades, there are still promotional releases.
Named Carnaval song of the year in 2009, a partnership with Garnier saw 1 million units shipped and given away. This million is not added to her total of 5.38 million, nor her back catalog sales from years with Banda Eva.
#5 – Xuxa – 3.65 million
There are a trio of artists (see below) with an average of 4 million tracked sales, topping Xuxa's total of 3.65 million.
The real story is that she is easily among the top 5 sellers since 2003 yet.
The life of Xuxa is one of a kind. She debuted as a model, started a career as an actress and became a well-known public figure when she dated football legend Pelé in early 80s, and then embarked in a TV host career.
Her popularity exploded with her children's TV shows getting insane ratings. Her hypnotic presence did wonders on screen, but also on record.
In fact, in 1986 she released her debut album with music for kids too. Xou da Xuxa broke all existing sales records.
New volumes of Xou da Xuxa popped up every year until the 7th release in 1992. The first 4 moved roughly 12 million units combined, all of them remain among the Brazil best sellers of all-time.
The next albums, more mature, weren't as successful, even if they were still great sellers in absolute terms with Sexto Sentido topping a million.
In 2000, she started a new series, Xuxa Só Para Baixinhos which can be translated by "Xuxa only for the small ones", once again targeting the children market.
Sales started to climb in dramatic fashion once again. When the 4th volume was issued, the first during the coding system, initial orders were 200,000 units in each CD, CD+VHS and DVD formats, a total of 800,000 discs.
As years passed and volumes continued to be released – she is up to the 13th – people kept purchasing these albums, especially the videos, as one would complete a Disney movies collection.
Tons of 2, 4, 8, 12 DVD boxes emerged too. New packaging's were used to include the new volumes.
Her label used a single code sequence through all these boxes. The incredible lasting appeal of these records on top of these releases led them to go very deep in the alphabet.
Outside of Xuxa, only 3 discs (2 DVDs and one CD) reached D* codes, which mean at least 79 shipment batches.
Incredibly, Xuxa Só Para Baixinhos 1 DVD reached the code GM, in other words it got 169 shipments (plus 4 from another edition), although it was already a catalog release when codes were first introduced!
Since these codes came through a lot of boxes, they are harder to identify online. Only 23 are available out of 173, they add for already 87,500 units.
Volume 4, the best covered, has 784,000 sales tracked through 25 codes with at least 131 more missing. It is very easily a million seller.
It comes as no surprise as in 2006 a commemorative edition celebrated 6 million sales from the series. Volumes issued up to that point got 100+ shipment batches each since, which just shows how much they sold.
That's why in spite of the only 3.65 million sales confirmed, we are confident she sold more likely at least twice this number since 2003.
Her unique success shows how specific the Brazilian market is, with 2 of the top sellers not defining themselves as singers (Padre Marcelo Rossi and Xuxa), both performing in genres outside of the pure musical spectrum.
Extra # – Sertanejo superstars
It's almost an anomaly that none of the fab five sellers since 2003 are from the Sertanejo family. The genre has been dominant for quite some time.
In the 80s, Chitãozinho & Xororó upgraded its profile from a successful regional genre to a popular sound nationwide thanks to romantic melodies and lyrics which led them to a string of top selling albums, at times hitting a million.
Soon, popular pairs singing romantic Sertanejo invaded airwaves.
The bonanza reached its peak in early 90s with two more pairs of brothers, Leandro & Leonardo and Zezé Di Camargo & Luciano.
Both acts where on a roll during the decade, selling at least half a million units of all their releases with a pace of one album per year.
The 1990 effort by Leandro & Leonardo was up to 2.1 million sales by 1998, before the release of Um Sonhador. The latter remained their last album, selling over a million too, as Leandro tragically passed away at only 36 that year.
Leonardo, now solo, got back to back million sellers in 1999 and 2000. In spite of many missing codes, his tracked sales add for 1.81 million since 2003.
The latter duo, Zezé Di Camargo & Luciano, were even stronger sellers during the 90s and kept doing well lately.
From 1991 to 2000, they registered 10 consecutive million sellers. Their 2001 and 2002 releases felt short but were strong sellers still.
Codes confirm 690,000 units for their 2003 effort, then their 2005 and 2008 ones dropped just below half a million. They also have many great selling live albums.
Their catalog continues to sell large amounts too. Early 90s albums are up to roughly 50 shipment batches each, with some individual ones climbing to 12,000 units.
In 2004, no less than 7 compilations were released, each covering 2 years of career (and rarities for the last one). Codes suggest well past 100,000 copies sold per album.
In total, their tracking since 2003 adds for 3.68 million sales, an impressive number considering it is quite incomplete and covers their less productive and less successful years.
The 00s also saw an 80s duo at last cross over, Bruno & Marrone. Their 2000 and 2001 live albums became top sellers, getting certified for 500,000 and a million sales, respectively, as early as in 2001.
These two albums continue to do wonders with 320,000 sales combined from codes in spite of 150+ batches missing.
The duo released many more live albums. 2004's Ao Vivo has 721,000 tracked sales while 2006, 2007 and 2009 sets have over 400,000 sales apiece.
Codes add for 725,000 sales for 2003 studio record Inevitável with at least 16 worthy codes missing. 2005's Meu Presente é Você is over half a million.
In later years, their physical sales went down along with the market but their post-2003 total still climbs as high as 4.44 million.
The 00s also brought the last evolution of the genre, Sertanejo Universitário, a more up-tempo version with simpler lyrics.
A famous example is Michel Telo with the global smash hit Ai Se Eu Te Pego!. It was #1 for 6 to 16 weeks in France, Italy, Spain, Germany, and the Netherlands, among others.
Many artists have done very well in this genre, with the highest peak coming maybe from Paula Fernandes, often nicknamed the Brazilian Taylor Swift.
Her live effort Ao Vivo was bigger than Earth with the CD and DVD adding for 1.66 million with at least 27 missing codes, knowing that 50 out of the 52 available receipts reflect shipments of 10,000 copies or more.
Multishow Ao Vivo: Um Ser Amor (714,000), Pássaro de Fogo (486,000) and Meus Encantos (412,000) are also monster sellers.
She totals 3.85 million sales tracked, the highest total among artists debuting after the start of the coding system.
Sertanejo Universitário popular artists also include Victor & Leo (3.39 million) and Luan Santana (2.05 million).
Top 20 Brazilian Artists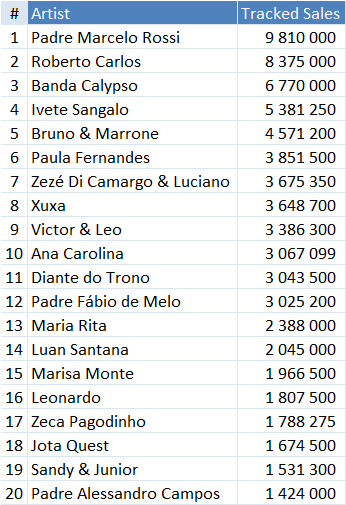 Please keep in mind that these numbers only reflect tracked sales. More artists with a large catalog or sales spread over many codes since they are mainly catalog artists would likely make this list.
These includes historical legends like Chitãozinho & Xororó, Chico Buarque, Djavan, Caetano Veloso, Elis Regina, Rita Lee and Maria Bethânia as well as rock icons like Legião Urbana and Os Paralamas Do Sucesso.
With the collapse of physical sales in recent years we can notice the absence of today's superstars , among who Anitta, Gusttavo Lima, Marília Mendonça and Ze Neto & Cristiano.
Top 50 International Artists
While local artists naturally dominate the scene, many international artists do well in Brazil.
Before starting to mention names, I must point out that international artists are much better tracked than local ones. For some, there are near no code missing, with often over 90% of sales covered.

Michael Jackson is far and away the leader, especially if we focus among English-speaking stars.
His figure should be seen with an asterisk as his top selling album since 2003 has been an unofficial release.
The immense love for live recordings from Brazilians, the perception of Michael Jackson as a top performer with no live album yet, and the high price of foreign records, brought them to pick The Best of Michael Jackson Live in priority after the artist passing.
It's still a huge failure for Sony to let an unofficial release take off 620,000 sales from them. This is also a good showing that physical records piracy was still a big problem in Brazil until streaming arrived.
Without these sales the singer would continue to claim the title of top selling foreigner though. This is incredible since he released no new album since 2003 with the exception of posthumous albums.
Thriller is unreal at 349,000 units. Among English language studio sets, only Adele's 21 sold more since 2003. The 1982 record outsells totals of artists like Maroon 5 or Taylor Swift.
Number Ones stands at 316,710 units, the pair of History videos add for 407,000, while the two Dangerous related videos total 240,000 sales.
Off The Wall, Bad and Dangerous stand around 100,000 tracked units each, same as King Of Pop at 113,000.
Runners up are Mexican band RBD. The teenager's sensation destroyed Latin American charts during the second half of the 00s. Their telenovela made them TV superstars and their records sold extremely well.
Their total sales should also be interpreted with an asterisk as their Spanish language albums were also translated and recorded in Portuguese, without these albums in local language their total goes down to 1.71 million.
Their eponymous debut sold well in both versions, Spanish (188,300 tracked units) and Portuguese (331,500). Follow up Nuestro Amor adds for 245,000 and 222,000, respectively.
They also issued live sets, Tour Generación En Vivo recorded at least 214,500 sales while Live In Hollywood did even better at 449,000 plus.
Their third album Celestial got 101,000 shipments per language upon release but failed to get lasting appeal, while follow ups suffered a fast-decreasing trend.
Beyoncé completes the top 3 thanks to over 1.5 million sales. She peaked thanks to the super smash era I Am… Sasha Fierce. The album sold over 337,000 units.
It also fueled previously released music video The Beyoncé Experience Live to over 300,000 sales.
Both I Am… live albums also shifted 234,000 units combined, while Dangerously In love, 4 and Beyoncé are around 100,000 each.
Madonna used to be a tremendous seller in Brazil. She has got no super seller since 2003, with The Immaculate Collection leading the way at 152,500 with both CD and DVD formats.
She has many albums, both old and new, with relevant numbers though. As many as 24 of her releases hit 10,000 tracked units.
After the 80s King and Queen, the largest group from this era comes 5th with U2 at 1.22 million.
2004 album How To Dismantle An Atomic Bomb is their strongest asset at 308,000 units.
After this release, their numbers are close to those of Madonna, with no other release over 120,000 units but 24 at 10,000 or more.
Speaking about artists with a large catalog that keeps selling, Queen own nothing less than 36 albums with tracked sales over 10,000 units.
Only Queen Rock Montreal (157,500) and Collection (126,000) crack the 6 digits level. The latter is a local – and official – compilation. The second volume of Collection moved a minimum of 65,000 copies.
Adele also tops 1 million sales on the back of receipts alone. Surprisingly from a foreigner point of view, her top seller isn't 21.
In fact, the live albums obsession shots Live at Royal Albert Hall to 450,000 sales, ahead of 21 at 394,500.
25 got a massive 170,000 units first shipment, the highest since 2003 among foreign albums. It took years to sell them, but it has now added 2,000 more units.
The last international artist with 1 million sales tracked by receipts is AC/DC.
Australian rock legends own only one album over 100,000 (Black Ice at 129,000) but 9 over 50,000 thanks to their healthy catalog sellers.
Below the million mark we can mention One Direction, each of their 7 releases sold from 61,000 to 165,000 units, and Amy Winehouse who sold 619,300 copies with Back To Black and the subsequent live effort.
Shakira at 720,740 units shows that smashing Brazil is far from easy for Latin music artists.
Lower down in the top 50 we can notice that divas, teenager's music and rock legends perform greatly.
Rod Stewart is impressive at 690,800, Iron Maiden and the Bee Gees outdo the Beatles, while Demi Lovato sold more than the likes Katy Perry, Taylor Swift and Norah Jones.
US urban artists perform poorly in general with top artist Eminem registering a mere 176,700 sales.
Would you like to see the entire breakdown of an artist or results of someone not listed? Search for him!