The Doors' albums and songs sales
The Doors are arguably one of the most iconic rock bands of all-time. Their lead singer, Jim Morrison, is still regarded as a demigod by many some 47 years after his passing but if we look at their chart history, we notice that none of their studio albums even made the UK Top 10. So, just how successful is this band?
From their breakthrough to the passing of their singer, the career of the Doors lasted a mere 4 years. During this time frame they barely broke into the mainstream in most markets. They were hugely successful from the off in the US, with their first two albums The Doors and Strange Days both sitting inside the Top 5 at the same time. Their early hit Light My Fire was a #1 smash in the US and pretty soon after, Hello, I Love You followed it to that position.
Their performance abroad has always been less successful, never scoring a Top 5 hit in the UK, Australia, Germany, France or Japan, as well as many other territories. Their albums likewise performed moderately to poorly on the whole and have spent far more time off the charts, than on them. This, along with a career of only 4 years and success mainly concentrated to the US, at a time when the market was low, all point to a less than stellar sales total…but that's not the full picture. If you want to find out what the full picture does look like, once everything is painted, then please read on.
As usual, I'll be using the Commensurate Sales to Popularity Concept in order to relevantly gauge their results. This concept will not only bring you sales information for all Doors' albums, physical and download singles, as well as audio and video streaming. In fact, it will also determine their true popularity.
If you are not yet familiar with the CSPC method, below is a nice and short video of explanations. I fully recommend watching it before getting into the sales figures. Of course, if you are a regular visitor feel free to skip the video and get into the numbers directly.
The Commensurate Sales to Popularity Concept (CSPC)
There are two ways to understand this revolutionary concept. In the first place, there is this Scribe video posted below. If you are unaware of the CSPC method, you will get the full idea within just a pair of minutes.
If you are a mathematical person, and want to know the full method as well as formulas, you can read the full introduction article.
Now let's get into the artist's sales figures in detail in order to apply this concept and define the act's true popularity!
The Doors' Album Sales

Original Album Sales – Comments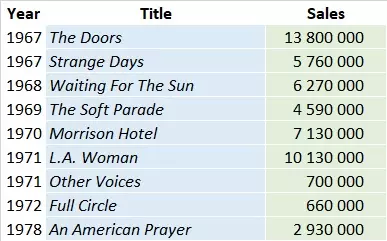 We have already encountered many huge bands from the late 60s to early 70s, such as the Beatles, Led Zeppelin, Creedence Clearwater Revival and the Rolling Stones and when looking at their biggest albums, a pattern emerges. The biggest LPs from this era, albums which managed to sell 20m plus copies through retail, clubs etc are traditionally the ones that didn't face competition from a compilation for many years, while the albums that did, are often more around the 5m to 10m mark.
With this in mind and knowing that from 1970 a relevant compilation came out nearly every year for the Doors, these sales appear to be extraordinary. The Doors does the best with a stunning 13.8 million sales to date. They have been achieved thanks to steady catalogue sales over the past 50 years. The best illustration of that is the UK, where the album sold over a million without even hitting charts in first place, ultimately debuting and peaking during 1991 thanks to The Doors movie, at a modest #43. This is all the more impressive once we consider that the UK is one of the worst markets for the band, relatively speaking.
In France for example, no Beatles studio album has sold more than 425,000 units to date. The 6 legitimate Doors studio albums, average an insane 565,000 units, with both The Doors and L.A. Woman close to a million, a figure that no pre-1972 album ever reached there, local releases included.
L.A. Woman is their second biggest album at 10.1 million. While it only managed around half the sales of The Doors' in the US, it is just as strong in Europe with both records around 4.7 million sales. The remaining 4 releases from 1967 to 1970 all moved similar numbers, from 4.6 million to 7.1 million globally, with the classic Morrison Hotel leading the way.
Both Other Voices and Full Circle pale in comparison to their predecessors, which is expected, as they were recorded and released without the contribution of Jim Morrison, who was dead by this point. Unable to sell without their former leader, the remaining members went on to use spoken word recordings of his poems, adding instrumentals to them. This gave us An American Prayer in 1978, an album which has sold nearly 3 million copies to date. It seems as clear as water, without the face of the legendary Morrison, the most known public image of the group, the Doors remained firmly closed to the general public.
The Doors' songs sales

Physical Singles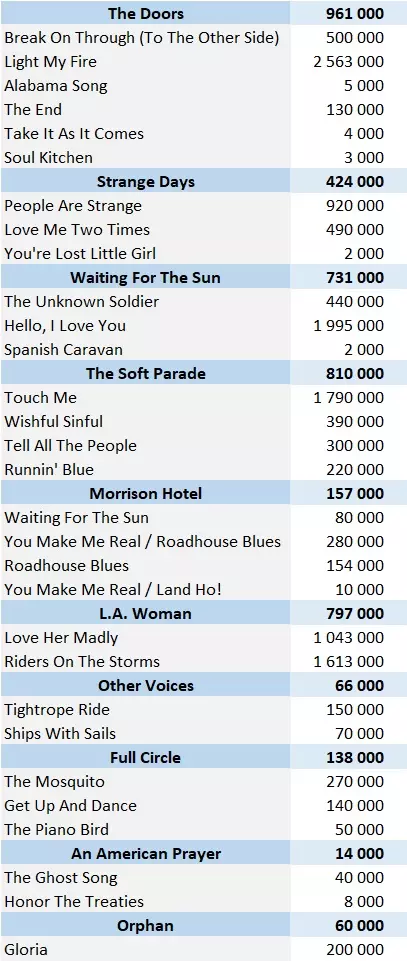 As a reminder, the weighting is done with a 10 to 3 ratio between one album and one physical single.
The lack of international success for the band during their active years, obviously limited the sales of their physical singles. They had a mere 3 top 50 singles in the UK, none getting higher than #15, with even weaker performances in Germany and France.
Because of this, their early singles sold as much as 80% of their global units in North America. They did wonders there, with Light My Fire, Hello I Love You and Touch Me all hitting Gold, for one million copies shipped. None of them made it to 2 million worldwide though, because of the low numbers abroad.
Catalogue sales are almost exclusively restricted to albums, but the Doors somehow managed to do it with a few singles. Light My Fire for example, has been re-issued more than 20 times, some were limited and most concerned only a few countries but they ultimately add large numbers. In the UK, the song multiplied its initial sales by 6, most notably thanks to a #7 peak in 1991. In the US, up to 1990 the song was reissued 6 times with significant sales. That's how the song built a total of more than 2.5 million copies globally when everything is said and done.
Break On Through is one of the most recognisable songs of the band but it did poorly upon release and has received far fewer re-releases than others, to add to its unimpressive total of half a million units. As many as 4 more songs from The Doors received a release in later years, that were not originally singles back in 1967.
From Strange Days, both People Are Strange and Love Me Two Times sold decently. They peaked at #12 and #25 in the US, respectively but little elsewhere.
Their next big hit was Hello, I Love You. The US #1 song was their largest seller during their active career at 1.84 million but the lack of successful reissues enabled Light My Fire to move ahead.
Touch Me was equally strong. It stands at 1.79 million sales to date. Both songs sold over 150,000 units in Japan, a tremendous figure for this market. Its parent album, The Soft Parade, had as many as 4 proper singles while none of its predecessors had more than 2. Wishful Sinful, Tell All The People, and Runnin' Blue added their piece to the bands' legacy but haven't reach the big numbers.
The same can be said about Morrison Hotel, the only legitimate album of the band that got has real hit. In the US, You Make Me Real was the lone single and it peaked at a poorly #50. Waiting For The Sun came out in Europe and Australia with minimal impact. It was the third song from the album, Roadhouse Blues, that has gained the most attention through the years. This track is now one of the most popular by the band and also gained a few physical singles sales thanks to later releases.
They returned to sizeable hits with Love Her Madly and Riders On The Storms, both US Top 15 songs. The former sold just over a million while the latter is now well past 1.5 million, in good part thanks to nearly 350,000 sales of its reissues.
Digital songs
As a reminder, the weighting is done with a 10 to 1,5 ratio between one album and one digital single.
The Doors have mixed results with their downloads. Big classic rock hits tend to be in the multi-million range by now. It's not the case with the Doors as their top seller is at only 1.2 million. They do manage a great consistency through their catalogue though.
Their biggest seller is no other than Light My Fire from their self-titled debut LP. Surprisingly, Break On Through is very close behind, also over a million. The iconic status of the album led most of its cuts to be fairly popular as well. The strongest is The End at 320,000 sales but songs like Soul Kitchen and Alabama Song have got similar scores.
The track list of Strange Days isn't as strong but still does well. People Are Strange is the expected leader at 600,000 units, followed by Love Me Two Times at 350,000.
Waiting For The Sun is definitely more disappointing. Former #1 hit Hello, I Love You is now quite forgotten with only 250,000 digital sales, less than some of their album cuts. There is no song to compensate this low number, although small but not irrelevant sales of multiple tracks add to 800,000 copies in total for the album.
The pattern is roughly the same for The Soft Parade. Its former smash single Touch Me is now way more modest at 380,000 sales. Remaining songs are poor performers overall, adding in only 180,000 units.
One of their most consistent efforts is no doubt Morrison Hotel with 1.1 million downloads and ringtones cumulatively, in spite of no song higher than 410,000. This number refers to the performance of Roadhouse Blues. Peace Frog also became a fan favourite of the band and has enjoyed 280,000 purchases to date.
The album L.A. Woman is home for the third million seller of the band, Riders On The Storm. At near 1.2 million the hit is on a virtual tie with Light My Fire. Both the title track and Love Her Madly also record nice numbers.
Streaming
Streaming is made up of audio and video streams. Our CSPC methodology now includes both to better reflect the real popularity of each track. The main source of data for each avenue is respectively Spotify and YouTube. As detailed in the Fixing Log article, Spotify represents 157 million of the 272 million users of streaming platforms, while YouTube is pretty much the only video platform generating some revenue for the industry. Below is the equivalence set on the aforementioned article:
Audio Stream – 1500 plays equal 1 album unit
Video Stream – 11,750 views equal 1 album unit
Equivalent Albums Sales (EAS) = 272/157 * Spotify streams / 1500 + YouTube views / 11750
Top Hits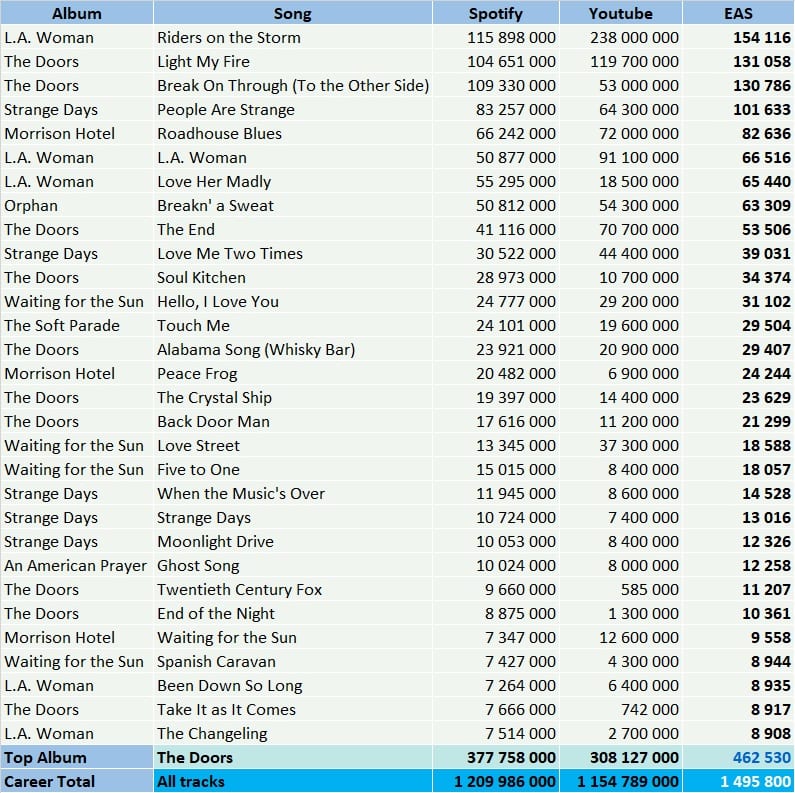 Unlike most artists the Doors have no signature song, instead their catalogue is led by 3 equally strong tunes. Riders On The Storm, Light My Fire, and Break On Through (To The Other Side) each have 105-115 million streams on Spotify, while the former is the best performer on YouTube at 238 million. Their streams are equal to 130,000-155,000 equivalent album sales for each song.
The fourth most successful song isn't that far behind as People Are Strange is in 6 digits too. Then, Roadhouse Blues, L.A. Woman, Love Her Madly, the 2012 Skrillex remix Breakn' a Sweat, and The End, are all over 50,000 EAS. It's very rare to see an artist with a gap under 3 to 1 between its top performer and its 9th biggest song.
In terms of albums, both The Doors and L.A. Woman record 3 entries inside the band's top 10. Strange Days has 2 while Morrison Hotel catches one. In the other side, the top songs from Waiting For The Sun and The Soft Parade are only #12 and #13, respectively. As far as EAS are concerned, The Doors is the biggest out of all with 463,000 units so far.
Full catalog breakdown
If you are familiar with the artist's catalog and want to check details of each and every song, you can access to all of them right here.
The Doors' compilations sales
It sounds fairly logical to add together weighted sales of one era – studio album, physical singles, downloads, streams – to get the full picture of an album's popularity. For older releases though, they also generate sales of various live, music videos and compilation albums.
All those packaging-only records do not create value, they exploit the value originating from the parent studio album of each of its tracks instead. Inevitably, when such compilations are issued, this downgrades catalog sales of the original LP. Thus, to perfectly gauge the worth of these releases, we need to re-assign sales proportionally to its contribution of all the compilations which feature its songs. The following table explains this method.
The distribution process

How to understand this table? In the example of Best Of The Doors, these figures mean it sold 10,410,000 units worldwide. The second statistics column means all versions of all the songs included on this package add for 980,817 equivalent album sales from streams of all types.
The second part on the right of the table shows how many equivalent streams are coming from each original album, plus the share it represents on the overall package. Thus, streaming figures tell us songs from the The Doors album are responsible for 35% of the Best Of The Doors track list attractiveness. This means it generated 3,598,000 of its 10,410,000 album sales and so forth for the other records. We then apply this process to all compilations present on below table.
NB: please notice all these figures refer to the 1985 compilation Best Of The Doors. Equally titled 1973 and 2000 packages are listed separately.
Compilations sales figures listing
We often fail to realise how large a catalogue is, when countless compilations are released, with very little promotion and often similar titles. Through the years, dozens and dozens of compilations of the Doors have flooded the shelves of retailers but under the radar they built an immense number of sales.
Starting with compilations, the band have as many as 18 which sold in 6 digits. A pair of them are well ahead of the pack. They are the 1985 LP Best Of The Doors at 10.4 million and Greatest Hits at 8.6 million. There is 5 more compilations with over 2 million sales on average, 13, Weird Scenes Inside The Gold Mine, 1973's Best Of The Doors, 2000's Best Of The Doors, and 2007's Very Best Of The Doors. The most impressive fact is that most of these compilations replaced each other, yet they combine for a huge 30 million sales.
It's not all, the soundtrack The Doors also sold 3.6 million, while live sets Absolutely Live, Alive She Cried and In Concert add for 7 million. The group is a specialist too at selling box sets containing 2-6 of their studio albums having sold roughly 2 million units of them. As it wasn't enough, they moved 2.8 million music videos and over 400,000 EPs.
As a bonus, below is the breakdown of their top selling live set.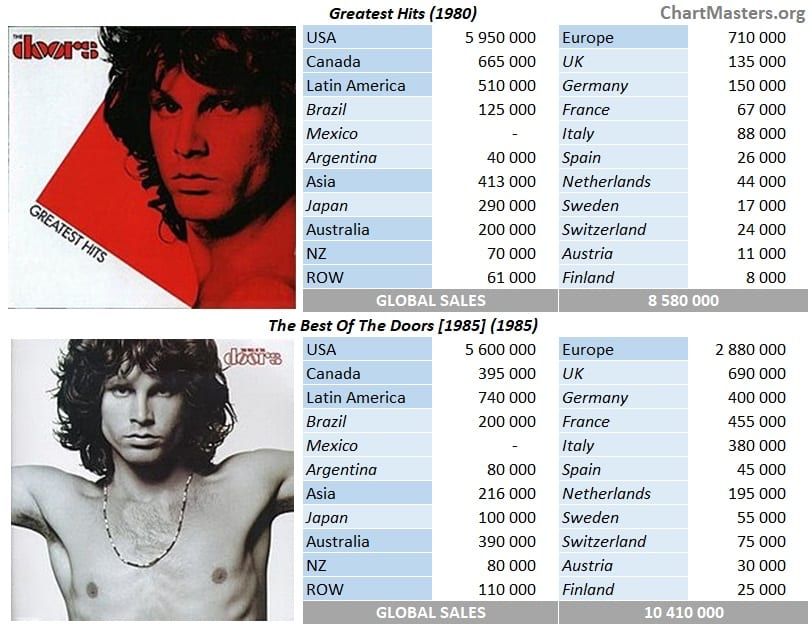 Full Length related records Sales – Summary
Here is the most underestimated indicator of an album's success – the amount of compilation sales of all kinds it generated. Due to the dependency of sales of the original studio albums on these releases, they are a key piece of the jigsaw. These numbers are obtained by applying the method from the section The distribution process to all packages listed under Compilation sales figures listing category.
On top of their already huge studio album sales, the Doors' albums also powered plenty of compilation sales. The self-titled LP is the best at this game. It is responsible for sales of more than 23 million albums. L.A. Woman is a very strong runner up at 12 million while Strange Days did its work too provoking 8 million sales of compilations.
Total Album (all types) Sales per Country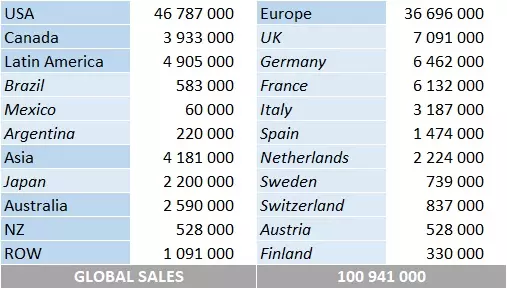 Please note country-specific numbers may miss sales of a few minor releases, although totals are complete.
The Doors Career CSPC Results
So, after checking all the figures, how many overall equivalent album sales has each album by the Doors achieved? Well, at this point we hardly need to add up all of the figures defined in this article!
Albums CSPC results
In the following results table, all categories display figures in equivalent album sales. If different, pure sales are listed between parentheses.
| artist_spotify_id | # | Cover | Album | Studio albums (EAS) | sales_update_date | Other LPs (EAS) | Physical singles (units sold) | Digital singles (units sold) | Streams | Streams increase | Total EAS | valid_as_of | streams_updated_value | album_id |
| --- | --- | --- | --- | --- | --- | --- | --- | --- | --- | --- | --- | --- | --- | --- |
| 22WZ7M8sxp5THdruNY3gXt | 1 | | The Doors | 13,810,000 | 03.03.19 | 23,154,000 | 960,000(3,201,000) | 548,000(3,650,000) | 1,391,000 (09/20/23) | Av.: 560LD: 690 | 39,864,000 | 20,230,920 | 1,391,000 | 536 |
| 22WZ7M8sxp5THdruNY3gXt | 2 | | Strange Days | 5,760,000 | 03.03.19 | 8,325,000 | 423,000(1,410,000) | 216,000(1,440,000) | 674,000 (09/20/23) | Av.: 280LD: 480 | 15,399,000 | 20,230,920 | 674,000 | 537 |
| 22WZ7M8sxp5THdruNY3gXt | 3 | | Waiting for the Sun | 6,270,000 | 03.03.19 | 3,978,000 | 731,000(2,437,000) | 120,000(800,000) | 333,000 (09/20/23) | Av.: 130LD: 160 | 11,432,000 | 20,230,920 | 333,000 | 538 |
| 22WZ7M8sxp5THdruNY3gXt | 4 | | The Soft Parade | 4,590,000 | 03.03.19 | 1,832,000 | 627,000(2,090,000) | 84,000(560,000) | 224,000 (09/20/23) | Av.: 100LD: 160 | 7,540,000 | 20,230,920 | 224,000 | 539 |
| 22WZ7M8sxp5THdruNY3gXt | 5 | | Morrison Hotel | 7,130,000 | 03.03.19 | 5,107,000 | 149,000(497,000) | 164,000(1,090,000) | 619,000 (09/20/23) | Av.: 280LD: 360 | 13,177,000 | 20,230,920 | 619,000 | 540 |
| 22WZ7M8sxp5THdruNY3gXt | 6 | | L.A. Woman | 10,130,000 | 03.03.19 | 12,330,000 | 797,000(2,656,000) | 347,000(2,310,000) | 981,000 (09/20/23) | Av.: 390LD: 410 | 24,585,000 | 20,230,920 | 981,000 | 541 |
| 22WZ7M8sxp5THdruNY3gXt | 7 | | Other Voices | 700,000 | 03.03.19 | 54,000 | 66,000(220,000) | 3,000(20,000) | 8,000 (03/03/19) | N/A | 831,000 | 20,230,920 | 8,000 | 542 |
| 22WZ7M8sxp5THdruNY3gXt | 8 | | Full Circle | 660,000 | 03.03.19 | 66,000 | 138,000(460,000) | 6,000(40,000) | 10,000 (03/03/19) | N/A | 880,000 | 20,230,920 | 10,000 | 543 |
| 22WZ7M8sxp5THdruNY3gXt | 9 | | An American Prayer | 2,930,000 | 03.03.19 | 141,000 | 12,000(40,000) | 18,000(120,000) | 132,000 (09/20/23) | Av.: 50LD: 70 | 3,235,000 | 20,230,920 | 132,000 | 544 |
| 22WZ7M8sxp5THdruNY3gXt | 10 | | Orphan | 0 | 03.03.19 | 493,000 | 60,000(200,000) | 159,000(1,060,000) | 108,000 (03/03/19) | N/A | 820,000 | 20,230,920 | 108,000 | 1,743 |
'Av.' stands for Average, 'LD' for Last Day.
As a reminder:
Studio Album: sales of the original album
Other Releases: sales of compilations generated thanks to the album
Physical Singles: sales of physical singles from the album (ratio 3/10)
Download Singles: sales of digital singles from the album (ratio 1,5/10)
Streaming: equivalent album sales of all the album tracks (ratio 1/1500 for Audio stream and 1/6750 for Video stream)
See where the artist ranks among remaining singers
Kinda mind blowing. The Doors 1967 album emerges as the most successful album of its year, impressively beating the mythical Beatles' LP Sgt. Pepper's Lonely Hearts Club Band. With an all-around total of almost 39 million units, it isn't only the biggest album from 1967, but the biggest out of every album released until 1969 and the Beatles' strongest, Abbey Road.
L.A. Woman is a logical second with almost 24 million sales, through all avenues. It's on par with massive classics like Led Zeppelin's I and the Beatles' Revolver. Strange Days, Morrison Hotel, and Waiting For The Sun are all comfortably over 10 million. The Soft Parade is their only proper album to fall under that mark.
Maybe one of the most incredible results is the average of 18.2 million equivalent album sales per studio release, at least while Jim Morrison was part of the band. At their end, the 3 posthumous releases add very little with under 5 million units combined.
The final total is of 114.8 million album sales for the Doors, a monstrous success for a catalogue covering a mere 4 years.
Singles CSPC results
The list is compiled in album equivalent sales generated by each song. Therefore, these figures are not merged units of singles formats. Instead, it includes weighted sales of the song's physical single, download, ringtone and streaming as well as its share among sales of all albums on which it is featured.
1. 1967 – The Doors – Light My Fire [The Doors] – 14,150,000
2. 1971 – The Doors – Riders on the Storm [L.A. Woman] – 12,710,000
3. 1967 – The Doors – Break On Through (To the Other Side) [The Doors] – 12,460,000
4. 1970 – The Doors – Roadhouse Blues [Morrison Hotel] – 8,270,000
5. 1967 – The Doors – People Are Strange [Strange Days] – 7,680,000
6. 1971 – The Doors – L.A. Woman [L.A. Woman] – 5,020,000
7. 1968 – The Doors – Touch Me [The Soft Parade] – 4,340,000
8. 1971 – The Doors – Love Her Madly [L.A. Woman] – 4,320,000
9. 1968 – The Doors – Hello, I Love You [Waiting for the Sun] – 4,110,000
10. 1967 – The Doors – The End [The Doors] – 3,870,000
11. 1967 – The Doors – Love Me Two Times [Strange Days] – 3,510,000
12. 1967 – The Doors – Soul Kitchen [The Doors] – 2,110,000
13. 1968 – The Doors – Five to One [Waiting for the Sun] – 2,010,000
14. 1967 – The Doors – Alabama Song (Whisky Bar) [The Doors] – 1,870,000
15. 1967 – The Doors – Back Door Man [The Doors] – 1,550,000
If you feel inspired by this list, we just created this CSPC The Doors playlist on Spotify!

Discography results
Thanks to our new ASR (Artist Success Rating) concept, we know that their sales represent 42.62 million times the purchase of their entire discography. Coupled with their total sales, it translates into an ASR score of 396. That's more than Metallica, Dire Straits, and Aerosmith. The ranking of all artists studied so far is available too at this link.
Records & Achievements
At 38,936,000 EAS, The Doors is the most successful album issued before 1969.
At 38,936,000 EAS, The Doors is the 2nd most successful album from the 60s.
At 14,931,000 EAS, Strange Days is the among the 10 most successful albums from 1967.
At 23,936,000 EAS, L.A. Woman is the 4th most successful album from 1971.
At 53,870,000 EAS, The Doors' 1967 catalog is the 14th most profitable annual catalog of all-time.
At 1,120,000 pure sales in the UK, The Doors is one of the highest selling albums ever to never make the Top 40.
At 945,000 pure sales, The Doors is the highest selling album among pre-1968 releases in France.
At 970,000 pure sales, L.A. Woman is the highest selling album among pre-1972 releases in France.
At 18,184,000 EAS per album, The Doors have the 6th highest average of all-time (post-Morrison albums excluded) among acts with at least 5 albums.
NB: EAS means Equivalent Album Sales.
You may be interested in…
… best-selling artists, albums, and singles
To improve your navigation we created several amazing cross-artists lists posted inside the CSPC: Data Collector article. Click on it to see the full listing of all CSPC results compiled so far!
… similar artists
To put figures from this article into perspective, click on the images below to reach career breakdowns of similar artists:
As usual, feel free to comment and / or ask a question!
Sources: IFPI, Spotify, YouTube, Discogs.