2Pac albums and songs sales
Tupac Amaru Shakur, known as 2Pac, is a legend among legends, enjoying a near mythical status among rap fans and more. With each his life, his music career and his death worth a TV series, there are a lot to say about the New York City artist.
Killed 18 months after his real breakthrough in the US, and spending nearly half of this time in jail, 2Pac claims no less than 10 platinum albums in his homeland.
How is it possible? How many records have the late rap icon really sold?
On surface, 2Pac was one of many, a black kid raised by a single mother with addictions. Afeni Shakur may have gone through a lot of difficult times, and had next to no money for most of her life, she also had strong beliefs.
In fact, both parents of the singer – his biological father never lived with him – were significant members of the Black Panthers Party in their youth.
He grew up infused with self confidence and very clear ideas about social justice, developing himself as a bigger-than-life charisma and a natural born leader.
Obviously, he was also surrounded by criminals, the only ones who cared about him when he needed it as he said himself. He was no angel, he knew all the codes of the thug life that he defined so well on his songs.
Unlike the remaining gangsta rap pioneers though, his main point wasn't about portraying an image full of machismo.
One of his first hits, Keep Ya Head Up, was a feminist anthem shooting at absent fathers and misogyny. Then he got his first Hot 100 top 10 single with Dear Mama, a tribute to his mother, not something to expect from a gangsta rap singer back then.
This is what made him different. Apart from his obvious bright mind and talent, 2Pac was a complex person, as we all are, who never hesitated at shown every parts of him. He made no compromise, no adjustment to look better or more gangsta, he was 100% him, day in, day out.
His songs reflected this, written with a disconcerting sincerity, using precise details of his personal life if it serves the message of his text. While these days it has become the norm, in the early 90s it made him stand out of the pack.
Selling over 200,000 copies in a week of Me Against the World in 1995, the singer had a chance to move on from the harshest parts of a street life.
Hopes were gone though when Suge Knight, Death Row Records co-founder and CEO, but also a murderer who got all his deals off intimidations and violence, took 2Pac off prison by paying his bail of $1.4 million to get his signing to the label in exchange.
The following months were an escalation of violence. The singer was already shot 5 times a year earlier, surviving his injuries. He wasn't going to survive the next attempt in September 1996 yet.
West coast against East coast, 2Pac against Notorious B.I.G., the Bloods against the Crips, tensions were just too high, as illustrated by the legendary diss track Hit 'Em Up. A quarter of its release, 2Pac was dead. Notorious B.I.G. was himself killed six more months later. Notorious B.I.G. and Suge Knight remain prime suspects in financing and organizing the respective crimes, although nothing has ever been proved.
2Pac left behind a discography made of 5 studio albums, including Volume 1 released with his crew Thug Life.
Amazingly prolific, he had hundreds more tracks recorded not yet released, starting with the album The Don Killuminati: The 7 Day Theory that he had finished. It was released less than 2 months after his passing.
This legitimated many more posthumous releases. Until 2006, at least one major release came out every year, most of which were studio albums. If no new material came since, there are still unheard material available for release.
Now dead for longer than he was alive, the rapper's aura has not diminished. Time to dive into his sales figures to see if his commercial success matches his fame.
As usual, I'll be using the Commensurate Sales to Popularity Concept in order to relevantly gauge his results. This concept will not only bring you sales information for all 2Pac albums, physical and download singles, as well as audio and video streaming. In fact, it will also determine their true popularity.
If you are not yet familiar with the CSPC method, below is a nice and short video of explanations. I fully recommend watching it before getting into the sales figures. Of course, if you are a regular visitor feel free to skip the video and get into the numbers directly.
The Commensurate Sales to Popularity Concept (CSPC)
There are two ways to understand this revolutionary concept. In the first place, there is this Scribe video posted below. If you are unaware of the CSPC method, you will get the full idea within just a pair of minutes.
If you are a mathematical person, and want to know the full method as well as formulas, you can read the full introduction article.
Now let's get into the artist's sales figures in detail in order to apply this concept and define the act's true popularity!
2Pac Album Sales

Original Album Sales – Comments
All Eyez On Me, often regarded as the greatest rap album of all-time, logically takes the top spot, selling 10.6 million pure copies to date.
As the album is certified 10xPlatinum by the RIAA, some may be surprised positively or negatively. The latter, because with 10 million US sales, one would expect more than 10.6 million global units.
The album is a double album yet, while the RIAA certifies every disc, effectively confirming 5 million sales of the album rather than 10 million.
With this in mind, the total impresses positively. In fact, it sold way more than that in the US up to now, with sales well past 7 million. Music club sales, very relevant during the 90s, weren't accounted for on its last certification. It's also a great seller abroad for a 90s rap album, adding over 3 million more sales.
Both The Don Killuminati and Me Against the World have similar results. Around 6 million sales each, both sold over 4 million in the US.
Elsewhere, the big story is the amazing consistency of sales from posthumous releases. Strictly 4 My N.I.G.G.A.Z… topped 3 million sales thanks to its initial impact plus catalog sales, but it was hard to imagine multiple posthumous releases would do this kind of numbers.
They did though. R U Still Down?, Still I Rise, Until the End of Time, Better Dayz, Resurrection, Loyal to the Game, they all managed to secure at least 2.15 million sales, even up to 8 years after his passing once the hype was way behind. It's a fairly unique situation where an artist built a real post-life discography, with new hits banking in new fans.
The only disappointment has been the last album, Pac's Life, which failed to gain momentum and closes counts under a million.
Career wise these studio sets add for 46.3 million sales, an amazing tally considering how fast they were recorded.
2Pac Songs Sales

Physical Singles
As a reminder, the weighting is done with a 10 to 3 ratio between one album and one physical single and a 2 to 1 ratio between one album and one EP, and a 10 to 3.5 ratio when the single got relevant releases both as a single and a maxi-single.
2Pac's first Hot 100 hit was I Get Around, which almost made it to the top 10 by peaking at 11.
It also closed the year as the 29th top selling single, easily topping half a million units. Its total is in fact over 900,000 copies.
Almost exactly the same can be said about Keep Ya Head Up, a #12 hit which sold a bit more than its predecessor.
It could have been very frustrating to never make the top 10 after peaking at 11 and 12, but Dear Mama soon fixed this by hitting #9.
It also eclipsed the million mark. Up to that point, the singer's sales were still almost exclusively from the US, although this single was reissued in 1999 to promote Greatest Hits in several places including the UK.
So Many Tears and Temptations also sold their share of units even if they haven't match the success of previous singles.
The monster How Do U Want It / California Love smash came out in 1996. The chart topping single cracked 2 million units shipped in the US, being the 2nd top seller of the year, only behind the iconic hit Macarena by Los Del Rio.
California Love wasn't a double-A single in all markets, also selling well on its own, especially in Europe. In total, this song sold 3.2 million units.
The remaining tracks weren't widely available as singles, most have been issued as collector items recently. After that lead track, the promotion focused on the album format.
Smile, a Scarface single with 2Pac featured, sold over 500,000 units in the US in 1997.
The next single to be released at least in both the US and the UK was Do For Love. At that point, the rapper had passed away for well over a year. The song became a hit, selling over 700,000 units.
Following its foot steps was Changes. Recorded in 1992, the song was released as the lead single of Greatest Hits in late 1998.
The track went to #1 in the Netherlands, Norway, #2 in the Germany, Belgium, Switzerland, #3 in the UK, New-Zealand, Sweden, etc.
In the US, it peaked at #32. It may seem surprising, but it was one of the first tracks allowed to enter after the Hot 100 rules changes which allowed airplay-only songs to chart. In fact, Changes got no physical release in the US.
This is why its sales are capped, although it still moved nearly a million units.
Hits kept coming even as years passed. Until The End Of Time went to #4 in the UK, Runnin' made the top 20 on both the US andthe UK, while Ghetto Gospel, a 2Pac–Elton John mash up from Eminem shockingly topped charts in the UK and Australia.
Digital songs
As a reminder, the weighting is done with a 10 to 1,5 ratio between one album and one digital single.
Many rap icons have several well remembered songs and 2Pac is obviously no exception.
Keep Ya Head Up, now almost 30 years old, is over 1.4 million units. It still resonates among today's youth.
I Get Around and Me Against the World slowed down a bit, both at 300,000 sales. They aren't as favored as Keep inside TV documentaries and the likes.
A key track while telling the story of 2Pac is Dear Mama, and this one is definitely not forgotten.
With nearly 2 million downloads and ringtones sold, it's the 3rd biggest track of the artist's catalog.
Digital units of songs from All Eyez On Me are stunning. No less than 10 (!) songs crack 350,000 downloads, with 6 of them over 950,000.
California Love is far and away the biggest at 4.8 million sales, an incredible number for a 90s song. The title track, Ambitionz Az a Ridah, 2 of Amerikaz Most Wanted, How Do You Want It and I Ain't Mad at Cha are either not too far from a million or over the mark.
The combined total for the album stands at 13.6 million, another amazing number for a 90s release.
From The Don Killuminati, the strongest hit is Hail Mary, another million seller for the rapper.
4 out of the next 7 posthumous releases top a million downloads and ringtones, which shows that they haven't sold only on the back of emotion, instead they did get real hit songs.
The first one is Do For Love, which is at half a million units. Until the End of Time does about the same.
Deeper cuts also register notable digital sales as both parent albums R U Still Down and Until the End of Time move over 1.2 million units with only 400,000 plus from their top tracks.
Also around the 400,000-500,000 sales ballpark are Thugz Mansion, from Better Dayz, and Runnin' (Dying to Live), from Resurrection.
Among these late posthumous releases no song challenges Ghetto Gospel yet. The 2004 track totals 1.6 million sales so far, with great numbers upon release but also great catalog movement.
Still I Rise along with Pac's Life are the only albums with no relevant single, although the latter sold more in absolute terms thanks to its 2006 release when both formats downloads and ringtones were already selling.
As for orphan songs, the two obvious high notes are Changes and Hit 'Em Up.
The former is nearly as strong as California Love in some markets, even if the US gap concludes on lower global sales. It's still very healthy at 3 million plus sales.
Hit 'Em Up stands at over 1.5 million, one of 11 million sellers. A very impressive tally for a legacy catalog.
The career total of 2Pac stands at 38 million downloads and ringtones.
Streaming
Streaming is made up of audio and video streams. Our CSPC methodology now includes both to better reflect the real popularity of each track. The main source of data for each avenue is respectively Spotify and YouTube.
To factor in the growing impact of multiple Asian countries where these platforms aren't always the go-to site for music streaming, more sources have been added.
In order to account for their real popularity in each relevant country, the below sources have been used along with the mentioned ratios that reflect the market share of each area.
Audio Streams
– South Korea : Genie streams * 3.05 (consistent with Gaon streaming numbers)
– Japan : AWA streams * 100/5.5 (AWA has 5.5% of the Japanese streaming market)– Elsewhere : Spotify streams * (370 – 8.5 – 9.5 – 33 – 9) / 207 (370 million global subscribers minus 8.5 million from South Korea minus 9.5 million from Japan minus 33 million from China divided by the number of Spotify only users minus 9 million more Asian users) + Genie streams * 3.05 (uses Genie rather than Spotify to extrapolate markets like Taiwan, Thailand and Vietnam)
Video Streams– China* : QQ video streams * 50 if the song is available for audio stream, QQ video streams * 5 elseway (scale built based on known figures for several major artists)– Elsewhere : Youtube views
*since 96.4% of Chinese streaming platforms are free users, that paid-for users pay less than $2 a month and that they are also used as video streaming platforms, their streams are weighted on par with YouTube streams.
Audio Stream value – 1500 plays equal 1 album unit
Video Stream value – 11,750 views equal 1 album unit
Equivalent Albums Sales (EAS) = ( Spotify * 310/207 + Genie * 3.05*2 + AWA * 100/5.5 ) / 1500 + ( QQ views* 50(or 5) + YouTube ) / 11750
Top Hits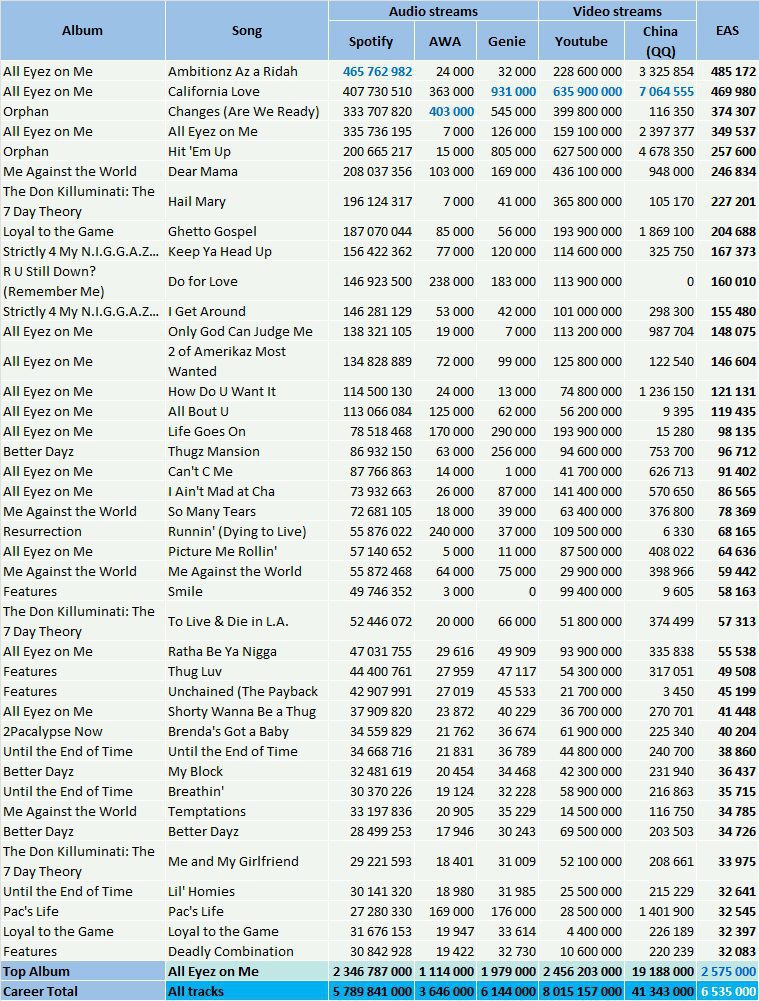 The leading streaming track of 2Pac is somewhat of a surprise.
While Ambitionz Az a Ridah is a very popular song, it was a dark horse competing against California Love and Changes, yet it takes over the crown.
Ridah shots to nearly half a million equivalent album sales thanks to huge audio streams, namely 465 million on Spotify alone.
Very close behind with a 3% difference is California Love. The song happens to lead on South Korean platform Genie, Chinese's QQ, and YouTube, but falls short once conversion rates are applied.
It was also a close race between Changes and All Eyez On Me for the third spot. The latter leads sligthly on Spotify, but a sizable global on YouTube gives the edge to the former.
The top 4 is very healthy with 350,000 EAS or more for each song.
It's not like numbers drop sharply outside the top 4 either, as 4 more tracks top 200,000, and 5 others are close or over 150,000 units.
Among them, the iconic diss track Hit 'Em Up, which is runner up on both Genie, QQ, and YouTube. It's currently the rapper's most streamed track on Spotify and seems poised to climb up the ladder.
Early songs also perform well with Dear Mama (247,000), Keep Ya Head Up (167,000) and I Get Around (155,000) posting comfortably 6-digits totals.
While the songs' list is close, All Eyez On Me crushes the competition in the album front.
The 1996 classic contains 3 of 2Pac's top 4, and I Ain't Mad at Cha is barely the 10th strongest track from the album with an outstanding 87,000 units total.
In total, the album scores over 2.5 million equivalent album sales from streams.
Full catalog breakdown
If you are familiar with the artist's catalog and want to check details of each and every song, you can access to all of them right here.
Keep yourself up to date
Our website provides you a fantastic tool which fetches updated Spotify streams as you request them, use it to watch these results grow day after day!
2Pac compilations sales
It sounds fairly logical to add together weighted sales of one era – studio album, physical singles, downloads, streams – to get the full picture of an album's popularity. For older releases though, they also generate sales of various live, music videos and compilation albums.
All those packaging-only records do not create value, they exploit the value originating from the parent studio album of each of its tracks instead. Inevitably, when such compilations are issued, this downgrades catalog sales of the original LP.
Thus, to perfectly gauge the worth of these releases, we need to re-assign sales proportionally to its contribution of all the compilations which feature its songs. The following table explains this method.
The distribution process

How to understand this table? In the example of Greatest Hits, these figures mean it sold 10,870,000 units worldwide. The second statistics column means all versions of all the songs included on this package add for 2,954,309 equivalent album sales from streams of all types.
The second part on the right of the table shows how many equivalent streams are coming from each original album, plus the share it represents on the overall package.
Thus, streaming figures tell us songs from the All Eyez On Me album are responsible for 46% of the Greatest Hits appeal. This means it generated 4,178,000 of its 10,870,000 album sales and so forth for the other records. We then apply this process to all compilations present on below table.
Compilations sales figures listing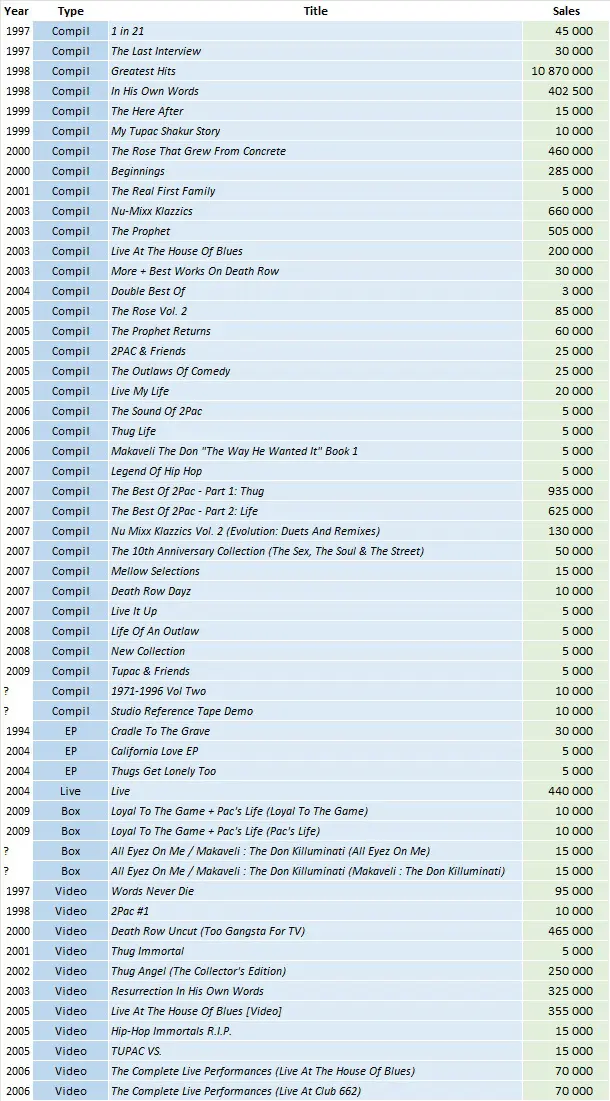 Greatest Hits, which contained the new track Changes, sold strongly in its first months as well as a catalog item.
For nearly a decade, it had no competition inside the discography of the rapper, except All Eyez On Me itself.
The release of the two-parts The Best Of in 2008 diminished its yearly sales rate, but it kept moving upwards, now up to 10.87 million pure sales.
While nothing else comes close to this magnitude of sales, the remaining records combine for nearly 7 million sales.
As a bonus, below is the breakdown of the top selling record.
Full Length related records Sales – Summary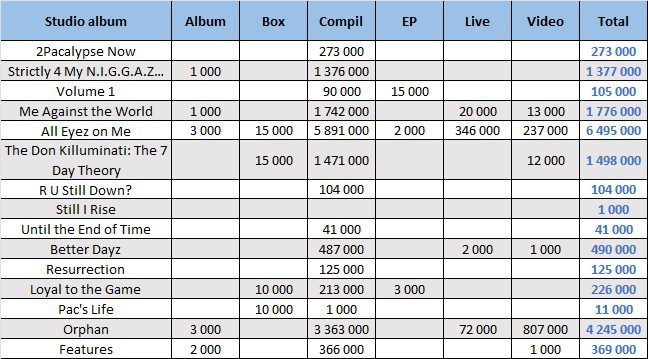 Here is the most underestimated indicator of an album's success – the amount of compilation sales of all kinds it generated. Due to the dependency of sales of the original studio albums on these releases, they are a key piece of the jigsaw.
These numbers are obtained by applying the method from the section The distribution process to all packages listed under Compilation sales figures listing category.
Total Album (all types) Sales per Country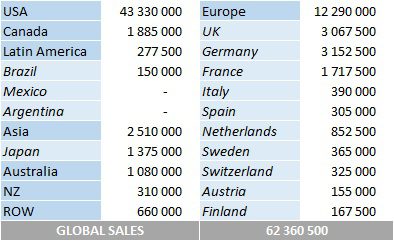 Please note country-specific numbers may miss sales of a few minor releases, although totals are complete.
2Pac Career CSPC Results
So, after checking all the figures, how many overall equivalent album sales has each album by 2Pac achieved? Well, at this point we hardly need to add up all of the figures defined in this article!
Albums CSPC results
In the following results table, all categories display figures in equivalent album sales. If different, pure sales are listed between parentheses.
| artist_spotify_id | # | Cover | Album | Studio Album* | sales_update_date | Other LPs* | Physical Singles* | Digital Singles* | Streams | Daily Increase | Total CSPC | valid_as_of | streams_updated_value | album_id |
| --- | --- | --- | --- | --- | --- | --- | --- | --- | --- | --- | --- | --- | --- | --- |
| 1ZwdS5xdxEREPySFridCfh | 1 | | 2Pacalypse Now | 1,680,000 | 22.01.22 | 273,000 | 118,000(66,000) | 35,000(230,000) | 109,000 (03/21/23) | Av.: 40LD: 40 | 2,214,000 | 20,230,321 | 109,000 | 1,868 |
| 1ZwdS5xdxEREPySFridCfh | 2 | | Strictly 4 My N.I.G.G.A.Z... | 3,075,000 | 22.01.22 | 1,377,000 | 749,000(1,865,000) | 263,000(1,750,000) | 484,000 (03/21/23) | Av.: 290LD: 700 | 5,947,000 | 20,230,321 | 484,000 | 1,869 |
| 1ZwdS5xdxEREPySFridCfh | 3 | | Volume 1 | 1,020,000 | 22.01.22 | 105,000 | 16,000(50,000) | 77,000(510,000) | 118,000 (03/21/23) | Av.: 90LD: 100 | 1,335,000 | 20,230,321 | 118,000 | 1,870 |
| 1ZwdS5xdxEREPySFridCfh | 4 | | Me Against the World | 5,675,000 | 22.01.22 | 1,776,000 | 777,000(1,658,000) | 495,000(3,300,000) | 710,000 (03/21/23) | Av.: 370LD: 500 | 9,433,000 | 20,230,321 | 710,000 | 1,871 |
| 1ZwdS5xdxEREPySFridCfh | 5 | | All Eyez on Me | 10,615,000 | 22.01.22 | 6,495,000 | 1,338,000(3,397,000) | 1,847,000(12,310,000) | 3,328,000 (03/21/23) | Av.: 1,780LD: 2,070 | 23,622,000 | 20,230,321 | 3,328,000 | 1,872 |
| 1ZwdS5xdxEREPySFridCfh | 6 | | The Don Killuminati: The 7 Day Theory | 6,195,000 | 22.01.22 | 1,498,000 | 47,000(88,000) | 375,000(2,500,000) | 552,000 (03/21/23) | Av.: 350LD: 390 | 8,667,000 | 20,230,321 | 552,000 | 1,873 |
| 1ZwdS5xdxEREPySFridCfh | 7 | | R U Still Down? (Remember Me) | 3,600,000 | 22.01.22 | 104,000 | 356,000(720,000) | 77,000(510,000) | 384,000 (03/21/23) | Av.: 290LD: 450 | 4,520,000 | 20,230,321 | 384,000 | 1,874 |
| 1ZwdS5xdxEREPySFridCfh | 8 | | Still I Rise | 2,630,000 | 22.01.22 | 1,000 | 21,000(60,000) | 42,000(280,000) | 53,000 (03/21/23) | Av.: 30LD: 30 | 2,747,000 | 20,230,321 | 53,000 | 1,875 |
| 1ZwdS5xdxEREPySFridCfh | 9 | | Until the End of Time | 3,470,000 | 22.01.22 | 41,000 | 221,000(310,000) | 104,000(690,000) | 304,000 (03/21/23) | Av.: 170LD: 230 | 4,139,000 | 20,230,321 | 304,000 | 1,876 |
| 1ZwdS5xdxEREPySFridCfh | 10 | | Better Dayz | 2,775,000 | 22.01.22 | 490,000 | 157,000(48,000) | 78,000(520,000) | 367,000 (03/21/23) | Av.: 200LD: 240 | 3,867,000 | 20,230,321 | 367,000 | 1,877 |
| 1ZwdS5xdxEREPySFridCfh | 11 | | Resurrection | 2,595,000 | 22.01.22 | 125,000 | 211,000(520,000) | 62,000(410,000) | 146,000 (03/21/23) | Av.: 90LD: 100 | 3,138,000 | 20,230,321 | 146,000 | 1,878 |
| 1ZwdS5xdxEREPySFridCfh | 12 | | Loyal to the Game | 2,150,000 | 22.01.22 | 226,000 | 269,000(545,000) | 239,000(1,590,000) | 414,000 (03/21/23) | Av.: 180LD: 190 | 3,297,000 | 20,230,321 | 414,000 | 1,879 |
| 1ZwdS5xdxEREPySFridCfh | 13 | | Pac's Life | 810,000 | 22.01.22 | 11,000 | 9,000(29,000) | 135,000(900,000) | 154,000 (03/21/23) | Av.: 70LD: 70 | 1,119,000 | 20,230,321 | 154,000 | 1,880 |
| 1ZwdS5xdxEREPySFridCfh | 14 | | Orphan | 0 | 22.01.22 | 4,245,000 | 402,000(940,000) | 692,000(4,610,000) | 769,000 (01/22/22) | N/A | 6,107,000 | 20,230,321 | 769,000 | 1,881 |
| 1ZwdS5xdxEREPySFridCfh | 15 | | Features | 0 | 22.01.22 | 369,000 | 301,000(1,000,000) | 251,000(1,670,000) | 310,000 (01/22/22) | N/A | 1,230,000 | 20,230,321 | 310,000 | 1,882 |
'Av.' stands for Average, 'LD' for Last Day.
As a reminder:
Studio Album: sales of the original album
Other Releases: sales of compilations generated thanks to the album
Physical Singles: sales of physical singles from the album (ratio 3/10)
Download Singles: sales of digital singles from the album (ratio 1,5/10)
Streaming: equivalent album sales of all the album tracks (ratio 1/1500 for Audio stream and 1/6750 for Video stream)
See where the artist ranks among remaining singers
With almost 23 million equivalent album sales from all sales avenues, All Eyez On Me isn't only 2Pac's prime commercial success, it's no less than one of the best selling rap albums of all-time.
Its streaming numbers are so big that one may expect it to fly over 23, 24 or even 25 million sales in a not too far future.
Both Me Against the World and The Don Killuminati stand around 9 million units a piece to complete a strong podium.
Maybe even more impressively, especially for an artist who passed away at 25, is the amount of multi-million sellers.
2Pac records 9 albums at 3.1 million or more, with Still I Rise as his 10th top seller at 2.7 million.
His 3 weakest releases, his debut, his last posthumous effort and the side project Volume 1, are all still over a million.
All these numbers are obtained despite the fact that two of his most famous tracks, Changes and Hit 'Em Up, belong to the Orphan folder, which itself adds for over 6 million sales.
The career total of 2Pac stands at 79.7 million sales as I'm writing down these lines. Considering the strength of his catalog on streaming platforms, it's only a matter of weeks until he tops 80 million.
Singles CSPC results
The list is compiled in album equivalent sales generated by each song. Therefore, these figures are not merged units of singles formats. Instead, it includes weighted sales of the song's physical single, download, ringtone and streaming as well as its share among sales of all albums on which it is featured.
1. 1995 – 2Pac ft. Dr. Dre & Roger Troutman – California Love [All Eyez on Me] – 6,480,000
2. 1996 – Makaveli ft. Outlawz & Prince Ital Joe – Hail Mary [The Don Killuminati: The 7 Day Theory] – 5,040,000
3. 1995 – 2Pac – Dear Mama [Me Against the World] – 4,520,000
4. 1996 – 2Pac – Ambitionz Az a Ridah [All Eyez on Me] – 3,150,000
5. 1993 – 2Pac ft. Dave Hollister – Keep Ya Head Up [Strictly 4 My N.I.G.G.A.Z…] – 2,940,000
6. 1998 – 2Pac ft. Talent – Changes (Are We Ready) [Orphan] – 2,690,000
7. 1997 – 2Pac ft. Eric Williams) – Do for Love [R U Still Down? (Remember Me)] – 2,640,000
8. 1993 – 2Pac ft. Digital Underground – I Get Around [Strictly 4 My N.I.G.G.A.Z…] – 2,420,000
9. 1996 – 2Pac ft. Big Syke – All Eyez on Me [All Eyez on Me] – 2,240,000
10. 2004 – 2Pac ft. Elton John – Ghetto Gospel [Loyal to the Game] – 2,150,000
11. 2003 – 2Pac ft. The Notorious B.I.G. – Runnin' (Dying to Live) [Resurrection] – 1,950,000
12. 1998 – 2Pac ft. Outlawz – Hit 'Em Up [Orphan] – 1,750,000
13. 1996 – 2Pac ft. Snoop Dogg – 2 of Amerikaz Most Wanted [All Eyez on Me] – 1,740,000
14. 1996 – 2Pac ft. K-Ci & JoJo – How Do U Want It [All Eyez on Me] – 1,630,000
15. 1995 – 2Pac – So Many Tears [Me Against the World] – 1,510,000

If you feel inspired by this list, we just created this CSPC 2Pac playlist on Spotify!
Discography results
Thanks to our new ASR (Artist Success Rating) concept, we know that his sales represent 16.12 million times the purchase of his entire discography. Coupled with his total sales, it translates into an ASR score of 203.
It is similar to the score of artists like Oasis and Janet Jackson. The ranking of all artists studied so far is available too at this link.
Records & Achievements
At 79,715,000 EAS, 2Pac is among the 5 most successful rappers of all-time. He leads among rappers who debuted before 1995.
At 22,869,000 EAS, All Eyez on Me is among the 5 most successful rap albums of all-time.
At 22,869,000 EAS, All Eyez on Me is the 3rd most successful album from 1996.
At 2,575,000 EAS, All Eyez on Me is the 6th most successful album from the 90s.
All Eyez On Me is the only pre-2000 album with 7 songs at 110 million streams or more on Spotify
At 11, 2Pac is tied 1st as the rapper with the most multi-million selling albums.
NB: EAS means Equivalent Album Sales.
As usual, feel free to comment and / or ask a question!
Sources: IFPI, Spotify, YouTube, Discogs.
You may be interested in…
… 2Pac's streaming masters analysis
… checking out the upcoming artists or even voting for them!
… best-selling artists, albums, and singles
We have created amazing cross-artists tops. Click to see all CSPC and raw sales results compiled so far!
… similar artists