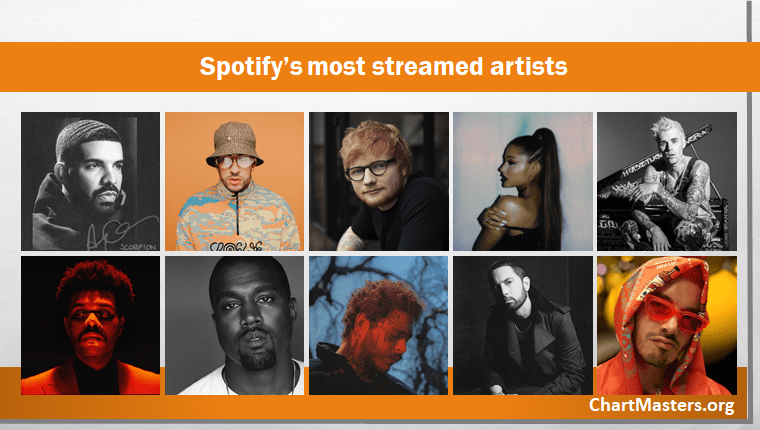 This ranking presents the most streamed artists on Spotify based on tracks available inside sections Albums, Singles and Compilations of his personal page.
While the highest part of the list is comprehensive, as we go down artists may be missing.
If you notice an omission, just use our streaming search tool to look for the related artist and if he scored enough streams he will automatically and instantly appear here.
Numbers are continuously updated as you search for them. As soon as new daily data is in for an artist, this will be reflected in this overall ranking.
As the Spotify database is tricky, we can't guarantee you there won't be occasional data glitches, even if we developed several controls to grant data consistency. If an issue appears in spite of these controls, manual fixes will be performed.
| # | Artist Name | Lead Streams | Featured Streams | Tracks | 1b+ | 100m+ | 10m+ | 1m+ | Last Update |
| --- | --- | --- | --- | --- | --- | --- | --- | --- | --- |
| 1 | Drake | 42,165,374,193 | 16,310,282,968 | 248 | 4 | 111 | 241 | 244 | 10/22/21 |
| 2 | Ed Sheeran | 31,324,367,546 | 2,305,746,062 | 189 | 7 | 56 | 145 | 170 | 10/22/21 |
| 3 | Ariana Grande | 27,504,428,500 | 1,773,869,057 | 179 | 4 | 63 | 123 | 171 | 10/22/21 |
| 4 | Bad Bunny | 26,589,969,869 | 5,979,744,428 | 137 | 2 | 75 | 130 | 136 | 10/22/21 |
| 5 | The Weeknd | 26,312,445,949 | 3,295,984,675 | 147 | 6 | 58 | 123 | 139 | 10/22/21 |
| 6 | Justin Bieber | 25,754,877,441 | 6,713,500,775 | 218 | 4 | 51 | 162 | 190 | 10/22/21 |
| 7 | Post Malone | 25,604,272,529 | 2,278,478,700 | 66 | 8 | 52 | 64 | 65 | 10/22/21 |
| 8 | Eminem | 25,107,972,865 | 2,819,501,478 | 276 | 2 | 56 | 217 | 256 | 10/22/21 |
| 9 | Taylor Swift | 22,271,713,345 | 315,357,915 | 287 | 1 | 66 | 210 | 277 | 10/22/21 |
| 10 | J Balvin | 21,931,581,074 | 8,721,323,070 | 226 | 2 | 59 | 128 | 210 | 10/22/21 |
| 11 | BTS | 21,037,250,410 | 152,775,319 | 250 | 1 | 81 | 190 | 249 | 10/22/21 |
| 12 | Kanye West | 19,497,234,461 | 4,799,966,451 | 229 | 0 | 51 | 185 | 208 | 10/03/21 |
| 13 | Billie Eilish | 18,934,569,254 | 0 | 63 | 3 | 40 | 57 | 61 | 10/22/21 |
| 14 | Ozuna | 18,406,364,596 | 6,722,076,868 | 205 | 1 | 46 | 141 | 185 | 10/21/21 |
| 15 | Khalid | 18,351,781,443 | 2,602,080,173 | 95 | 6 | 35 | 83 | 92 | 10/20/21 |
| 16 | XXXTENTACION | 18,110,016,908 | 2,269,498,000 | 130 | 5 | 37 | 99 | 116 | 10/20/21 |
| 17 | Juice WRLD | 17,992,306,239 | 2,687,026,156 | 96 | 1 | 52 | 94 | 95 | 10/22/21 |
| 18 | Coldplay | 17,915,227,671 | 0 | 292 | 2 | 30 | 159 | 269 | 10/22/21 |
| 19 | Rihanna | 17,556,143,199 | 7,130,641,297 | 272 | 1 | 43 | 106 | 197 | 10/22/21 |
| 20 | Travis Scott | 17,496,746,043 | 7,989,284,267 | 110 | 3 | 42 | 88 | 103 | 10/20/21 |
| 21 | Imagine Dragons | 17,360,121,873 | 56,683,718 | 143 | 4 | 32 | 96 | 124 | 10/20/21 |
| 22 | Dua Lipa | 16,986,585,390 | 280,247,345 | 191 | 5 | 31 | 74 | 154 | 10/22/21 |
| 23 | Maroon 5 | 16,974,309,816 | 16,479 | 239 | 3 | 28 | 101 | 193 | 10/22/21 |
| 24 | Shawn Mendes | 16,274,675,694 | 103,441,013 | 123 | 4 | 28 | 92 | 117 | 10/19/21 |
| 25 | David Guetta | 15,775,583,951 | 1,014,888,735 | 635 | 1 | 40 | 126 | 349 | 10/20/21 |
| 26 | Calvin Harris | 15,572,205,860 | 381,002,903 | 217 | 2 | 28 | 81 | 172 | 10/20/21 |
| 27 | Daddy Yankee | 15,110,259,928 | 4,700,361,157 | 344 | 3 | 38 | 84 | 198 | 10/21/21 |
| 28 | Sam Smith | 14,546,205,340 | 258,777,323 | 138 | 3 | 29 | 77 | 125 | 10/22/21 |
| 29 | Bruno Mars | 14,462,913,226 | 3,307,527,481 | 71 | 4 | 28 | 52 | 66 | 10/22/21 |
| 30 | Queen | 13,949,581,520 | 28,151,849 | 558 | 3 | 23 | 87 | 394 | 10/22/21 |
| 31 | The Chainsmokers | 13,937,995,313 | 370,971,846 | 173 | 3 | 23 | 72 | 148 | 10/20/21 |
| 32 | Kendrick Lamar | 13,912,483,816 | 7,499,312,055 | 102 | 1 | 30 | 90 | 96 | 10/22/21 |
| 33 | Beyoncé | 13,038,764,890 | 1,833,197,856 | 339 | 1 | 30 | 149 | 244 | 10/22/21 |
| 34 | Chris Brown | 13,011,500,991 | 6,973,212,360 | 392 | 0 | 35 | 182 | 320 | 10/22/21 |
| 35 | One Direction | 12,923,222,765 | 909,288 | 124 | 0 | 38 | 99 | 116 | 10/20/21 |
| 36 | Future | 12,909,204,408 | 7,687,676,233 | 456 | 1 | 25 | 197 | 332 | 10/14/21 |
| 37 | Sia | 12,818,267,970 | 2,755,817,824 | 312 | 3 | 26 | 103 | 221 | 10/22/21 |
| 38 | Nicki Minaj | 12,787,501,925 | 9,902,691,940 | 160 | 1 | 31 | 111 | 153 | 10/22/21 |
| 39 | Lady Gaga | 12,414,468,649 | 82,684,821 | 304 | 1 | 26 | 103 | 181 | 10/22/21 |
| 40 | Halsey | 12,344,947,986 | 2,078,917,048 | 152 | 3 | 23 | 84 | 124 | 10/18/21 |
| 41 | Selena Gomez | 12,294,537,897 | 1,852,149,301 | 135 | 3 | 22 | 76 | 120 | 10/22/21 |
| 42 | J. Cole | 12,112,404,768 | 2,750,079,766 | 150 | 1 | 31 | 106 | 133 | 10/22/21 |
| 43 | Anuel AA | 11,600,452,578 | 3,959,193,141 | 135 | 0 | 29 | 107 | 126 | 10/22/21 |
| 44 | The Beatles | 11,523,897,076 | 0 | 780 | 0 | 28 | 169 | 413 | 10/22/21 |
| 45 | Maluma | 11,441,300,652 | 5,159,275,056 | 179 | 0 | 31 | 114 | 170 | 10/18/21 |
| 46 | Twenty One Pilots | 11,413,280,292 | 0 | 83 | 3 | 32 | 72 | 82 | 10/19/21 |
| 47 | Kygo | 11,195,604,536 | 1,037,463,874 | 100 | 1 | 27 | 82 | 99 | 10/19/21 |
| 48 | Marshmello | 11,082,528,797 | 482,822,182 | 140 | 4 | 17 | 83 | 130 | 10/11/21 |
| 49 | Avicii | 10,992,283,976 | 475,842,251 | 249 | 1 | 17 | 86 | 157 | 10/20/21 |
| 50 | Linkin Park | 10,966,743,633 | 43,583,793 | 346 | 1 | 26 | 105 | 275 | 10/22/21 |
| 51 | Lil Uzi Vert | 10,854,567,333 | 5,190,507,725 | 127 | 1 | 28 | 112 | 126 | 10/19/21 |
| 52 | Katy Perry | 10,603,401,568 | 1,054,717,536 | 180 | 0 | 28 | 80 | 138 | 10/08/21 |
| 53 | Adele | 10,073,748,322 | 28,006,569 | 59 | 2 | 21 | 46 | 58 | 10/22/21 |
| 54 | Camila Cabello | 9,904,476,333 | 1,974,664,213 | 54 | 2 | 23 | 40 | 49 | 10/22/21 |
| 55 | Farruko | 9,809,443,824 | 5,738,806,758 | 329 | 0 | 28 | 110 | 256 | 10/19/21 |
| 56 | Jason Derulo | 9,727,041,153 | 577,909,393 | 189 | 0 | 25 | 63 | 128 | 10/14/21 |
| 57 | Lana Del Rey | 9,705,583,582 | 608,126,595 | 159 | 0 | 25 | 102 | 136 | 10/22/21 |
| 58 | Nicky Jam | 9,110,416,354 | 7,985,255,132 | 229 | 0 | 27 | 87 | 146 | 10/20/21 |
| 59 | Red Hot Chili Peppers | 9,102,448,994 | 3,096,453 | 246 | 0 | 15 | 109 | 199 | 10/22/21 |
| 60 | Shakira | 8,790,661,857 | 987,061,460 | 227 | 0 | 21 | 83 | 191 | 10/22/21 |
| 61 | Arctic Monkeys | 8,774,978,280 | 2,209,469 | 133 | 1 | 16 | 85 | 133 | 10/22/21 |
| 62 | Demi Lovato | 8,682,881,603 | 1,222,066,913 | 214 | 0 | 20 | 74 | 168 | 10/22/21 |
| 63 | Martin Garrix | 8,295,382,362 | 77,399,606 | 180 | 1 | 16 | 76 | 144 | 09/06/21 |
| 64 | G-Eazy | 8,163,368,106 | 2,149,396,973 | 224 | 0 | 15 | 110 | 198 | 10/14/21 |
| 65 | Major Lazer | 8,138,417,855 | 556,343,421 | 259 | 3 | 14 | 64 | 169 | 10/17/21 |
| 66 | Miley Cyrus | 8,132,055,073 | 805,265,179 | 175 | 0 | 14 | 82 | 153 | 10/22/21 |
| 67 | OneRepublic | 8,115,315,662 | 199,455,228 | 143 | 1 | 24 | 70 | 125 | 10/22/21 |
| 68 | Panic! At The Disco | 8,101,877,704 | 594,932,498 | 136 | 1 | 20 | 79 | 128 | 10/15/21 |
| 69 | Michael Jackson | 8,088,953,937 | 493,283,210 | 342 | 0 | 21 | 88 | 233 | 10/22/21 |
| 70 | Pitbull | 7,962,726,776 | 2,322,288,434 | 385 | 0 | 20 | 80 | 206 | 10/08/21 |
| 71 | Rauw Alejandro | 7,921,738,140 | 1,406,282,714 | 160 | 0 | 25 | 83 | 124 | 10/15/21 |
| 72 | Ellie Goulding | 7,870,854,060 | 623,428,538 | 164 | 1 | 16 | 67 | 130 | 10/21/21 |
| 73 | Harry Styles | 7,854,272,945 | 82,843 | 25 | 1 | 22 | 24 | 24 | 10/22/21 |
| 74 | Cardi B | 7,837,778,813 | 5,611,825,965 | 65 | 1 | 16 | 48 | 62 | 10/22/21 |
| 75 | Charlie Puth | 7,779,811,059 | 200,919,042 | 97 | 3 | 11 | 52 | 84 | 10/19/21 |
| 76 | KAROL G | 7,752,352,240 | 472,644,946 | 77 | 1 | 22 | 52 | 73 | 10/22/21 |
| 77 | Lil Wayne | 7,707,133,991 | 12,104,409,604 | 465 | 0 | 18 | 108 | 295 | 10/22/21 |
| 78 | Wiz Khalifa | 7,686,313,302 | 5,907,761,859 | 391 | 1 | 19 | 103 | 284 | 10/22/21 |
| 79 | Sebastian Yatra | 7,669,685,705 | 1,538,456,140 | 99 | 0 | 26 | 71 | 91 | 09/17/21 |
| 80 | DaBaby | 7,464,743,678 | 3,885,608,237 | 130 | 2 | 14 | 74 | 116 | 10/14/21 |
| 81 | Young Thug | 7,431,599,057 | 7,921,501,868 | 351 | 0 | 17 | 118 | 214 | 10/21/21 |
| 82 | Logic | 7,397,161,521 | 1,731,062,142 | 163 | 1 | 13 | 120 | 161 | 10/14/21 |
| 83 | Migos | 7,374,232,873 | 3,113,964,491 | 277 | 0 | 15 | 80 | 179 | 10/19/21 |
| 84 | Alan Walker | 7,354,379,758 | 1,616,399,695 | 136 | 1 | 16 | 60 | 106 | 10/15/21 |
| 85 | Fall Out Boy | 7,314,691,965 | 35,304,467 | 191 | 0 | 15 | 92 | 164 | 09/20/21 |
| 86 | 21 Savage | 7,288,664,520 | 4,617,819,356 | 151 | 0 | 17 | 80 | 121 | 10/14/21 |
| 87 | Diplo | 7,275,258,857 | 1,460,536,064 | 354 | 0 | 21 | 80 | 191 | 09/04/21 |
| 88 | Tyga | 7,256,815,235 | 3,382,667,833 | 294 | 1 | 19 | 97 | 249 | 09/04/21 |
| 89 | John Mayer | 7,183,113,526 | 449,638,230 | 196 | 0 | 15 | 112 | 171 | 10/12/21 |
| 90 | Sech | 7,135,011,726 | 2,332,284,915 | 114 | 0 | 21 | 60 | 100 | 10/02/21 |
| 91 | Lil Baby | 7,117,195,618 | 6,403,520,382 | 164 | 0 | 16 | 104 | 152 | 10/19/21 |
| 92 | Macklemore | 7,067,430,446 | 78,759,240 | 100 | 1 | 13 | 58 | 92 | 10/19/21 |
| 93 | Metallica | 7,058,091,451 | 8,802,884 | 798 | 0 | 13 | 97 | 265 | 09/22/21 |
| 94 | P!nk | 7,041,404,755 | 520,783,740 | 237 | 0 | 20 | 78 | 158 | 10/22/21 |
| 95 | ZAYN | 7,022,446,795 | 222,739,846 | 85 | 2 | 14 | 63 | 84 | 10/22/21 |
| 96 | DJ Snake | 7,000,580,472 | 1,823,325,367 | 139 | 2 | 10 | 48 | 97 | 10/21/21 |
| 97 | Mac Miller | 6,993,863,353 | 579,388,672 | 207 | 0 | 16 | 112 | 188 | 10/21/21 |
| 98 | Lauv | 6,931,300,562 | 117,710,906 | 95 | 1 | 20 | 60 | 89 | 10/21/21 |
| 99 | Pop Smoke | 6,862,649,524 | 654,238,139 | 97 | 0 | 16 | 76 | 95 | 10/19/21 |
| 100 | Doja Cat | 6,840,017,324 | 1,228,516,210 | 80 | 0 | 18 | 55 | 71 | 10/22/21 |
| 101 | Zedd | 6,821,665,000 | 904,487,124 | 136 | 1 | 13 | 36 | 94 | 09/04/21 |
| 102 | Little Mix | 6,764,863,535 | 7,336,568 | 203 | 0 | 17 | 96 | 150 | 10/22/21 |
| 103 | James Arthur | 6,758,910,383 | 65,832,362 | 122 | 1 | 13 | 52 | 106 | 10/10/21 |
| 104 | AC/DC | 6,755,255,916 | 0 | 309 | 0 | 10 | 75 | 237 | 10/22/21 |
| 105 | Lil Peep | 6,731,987,699 | 269,497,077 | 92 | 0 | 17 | 80 | 92 | 10/22/21 |
| 106 | Myke Towers | 6,712,142,601 | 3,462,900,656 | 154 | 0 | 21 | 83 | 143 | 10/18/21 |
| 107 | 5 Seconds of Summer | 6,511,322,487 | 472,893,389 | 158 | 1 | 12 | 89 | 155 | 10/22/21 |
| 108 | Trippie Redd | 6,503,349,331 | 2,495,396,435 | 184 | 0 | 20 | 113 | 170 | 10/22/21 |
| 109 | A$AP Rocky | 6,486,956,830 | 4,521,442,774 | 79 | 0 | 16 | 67 | 73 | 10/18/21 |
| 110 | A Boogie Wit da Hoodie | 6,479,226,753 | 2,642,197,417 | 119 | 0 | 15 | 95 | 117 | 10/19/21 |
| 111 | Kodak Black | 6,476,700,855 | 1,513,664,246 | 209 | 0 | 13 | 78 | 189 | 10/11/21 |
| 112 | Robin Schulz | 6,455,681,610 | 297,810,977 | 207 | 0 | 14 | 47 | 136 | 09/27/21 |
| 113 | NF | 6,349,101,124 | 118,422,041 | 81 | 1 | 14 | 81 | 81 | 10/20/21 |
| 114 | Justin Timberlake | 6,312,323,554 | 1,825,465,825 | 167 | 1 | 13 | 64 | 110 | 10/22/21 |
| 115 | DJ Khaled | 6,226,921,541 | 174,180,481 | 165 | 1 | 12 | 55 | 120 | 10/14/21 |
| 116 | Green Day | 6,184,045,897 | 435,835 | 357 | 0 | 11 | 75 | 293 | 10/10/21 |
| 117 | Frank Ocean | 6,183,720,961 | 1,965,619,838 | 45 | 0 | 20 | 45 | 45 | 10/18/21 |
| 118 | Zara Larsson | 6,173,808,641 | 474,685,086 | 83 | 2 | 12 | 42 | 77 | 10/22/21 |
| 119 | Romeo Santos | 6,145,602,110 | 986,293,143 | 107 | 0 | 18 | 74 | 100 | 09/09/21 |
| 120 | Metro Boomin | 6,141,985,883 | 186,001,242 | 118 | 0 | 14 | 72 | 92 | 09/20/21 |
| 121 | Clean Bandit | 6,134,437,801 | 22,410,137 | 147 | 2 | 9 | 35 | 111 | 09/23/21 |
| 122 | Bob Marley & The Wailers | 6,118,075,117 | 45,406,095 | 521 | 0 | 12 | 71 | 302 | 10/18/21 |
| 123 | Anne-Marie | 6,029,432,256 | 729,928,400 | 128 | 3 | 9 | 40 | 91 | 10/20/21 |
| 124 | Bebe Rexha | 5,945,101,385 | 3,548,460,065 | 110 | 2 | 12 | 51 | 89 | 10/22/21 |
| 125 | Tiësto | 5,939,391,588 | 1,054,455,192 | 600 | 0 | 13 | 73 | 278 | 10/17/21 |
| 126 | Enrique Iglesias | 5,928,105,876 | 310,418,709 | 278 | 0 | 13 | 68 | 172 | 10/20/21 |
| 127 | Lil Nas X | 5,921,264,891 | 63,393,428 | 33 | 2 | 9 | 29 | 32 | 10/22/21 |
| 128 | Lewis Capaldi | 5,912,732,113 | 0 | 49 | 2 | 9 | 28 | 42 | 10/22/21 |
| 129 | Gunna | 5,854,152,412 | 3,702,728,047 | 154 | 0 | 9 | 88 | 141 | 10/21/21 |
| 130 | Luis Miguel | 5,827,595,915 | 1,109,365 | 312 | 0 | 12 | 108 | 264 | 10/22/21 |
| 131 | Elton John | 5,814,501,489 | 283,976,637 | 873 | 0 | 14 | 52 | 228 | 10/20/21 |
| 132 | Pink Floyd | 5,801,524,186 | 0 | 432 | 0 | 11 | 92 | 256 | 10/18/21 |
| 133 | YoungBoy Never Broke Again | 5,800,782,478 | 971,679,026 | 314 | 0 | 6 | 147 | 291 | 10/22/21 |
| 134 | Black Eyed Peas | 5,764,172,544 | 65,161,865 | 209 | 0 | 13 | 41 | 122 | 10/22/21 |
| 135 | Luis Fonsi | 5,753,031,427 | 365,160,299 | 171 | 2 | 9 | 35 | 114 | 10/17/21 |
| 136 | BLACKPINK | 5,722,086,720 | 458,700,220 | 99 | 0 | 16 | 43 | 99 | 10/14/21 |
| 137 | blackbear | 5,721,416,033 | 1,209,608,993 | 156 | 0 | 8 | 93 | 136 | 08/18/21 |
| 138 | The Rolling Stones | 5,672,353,281 | 5,707,355 | 991 | 0 | 12 | 61 | 348 | 10/21/21 |
| 139 | Nirvana | 5,666,731,063 | 858,730 | 293 | 1 | 11 | 55 | 230 | 10/19/21 |
| 140 | Ty Dolla $ign | 5,651,128,814 | 9,189,211,823 | 180 | 0 | 14 | 72 | 150 | 10/09/21 |
| 141 | Flo Rida | 5,646,199,592 | 1,471,338,945 | 219 | 0 | 11 | 41 | 93 | 09/04/21 |
| 142 | Fleetwood Mac | 5,533,429,590 | 503,189 | 766 | 0 | 10 | 42 | 225 | 10/21/21 |
| 143 | Michael Bublé | 5,526,815,306 | 266,489,211 | 220 | 0 | 15 | 84 | 180 | 10/12/21 |
| 144 | Tyler, The Creator | 5,515,528,637 | 1,078,477,788 | 153 | 0 | 14 | 90 | 109 | 10/19/21 |
| 145 | JAY-Z | 5,492,961,398 | 4,563,480,560 | 303 | 0 | 11 | 69 | 224 | 07/22/21 |
| 146 | Russ | 5,469,982,037 | 104,807,917 | 337 | 0 | 12 | 100 | 229 | 10/17/21 |
| 147 | Jonas Blue | 5,467,927,650 | 96,251,650 | 138 | 0 | 9 | 32 | 87 | 05/25/21 |
| 148 | Guns N' Roses | 5,433,712,633 | 0 | 134 | 1 | 10 | 44 | 105 | 10/21/21 |
| 149 | Machine Gun Kelly | 5,428,847,775 | 789,926,221 | 114 | 0 | 10 | 86 | 105 | 10/21/21 |
| 150 | Olivia Rodrigo | 5,418,794,691 | 1,473,505 | 37 | 1 | 12 | 21 | 33 | 10/22/21 |
| 151 | Bastille | 5,401,601,553 | 141,654,659 | 177 | 1 | 10 | 68 | 138 | 10/17/21 |
| 152 | Britney Spears | 5,391,503,033 | 518,287,488 | 288 | 0 | 13 | 55 | 171 | 10/22/21 |
| 153 | SZA | 5,341,846,046 | 2,030,566,424 | 39 | 0 | 15 | 32 | 38 | 10/19/21 |
| 154 | Childish Gambino | 5,333,247,795 | 532,682,467 | 85 | 0 | 11 | 61 | 82 | 09/30/21 |
| 155 | Skrillex | 5,242,396,447 | 1,517,779,451 | 145 | 0 | 12 | 69 | 130 | 10/18/21 |
| 156 | Big Sean | 5,229,675,922 | 5,056,946,074 | 145 | 0 | 14 | 66 | 121 | 07/11/21 |
| 157 | Alessia Cara | 5,187,238,528 | 1,486,533,589 | 130 | 0 | 8 | 38 | 75 | 10/21/21 |
| 158 | $uicideboy$ | 5,166,561,775 | 186,597,463 | 299 | 0 | 7 | 110 | 296 | 10/21/21 |
| 159 | Anitta | 5,162,415,087 | 1,125,431,403 | 150 | 0 | 18 | 75 | 137 | 10/22/21 |
| 160 | 2Pac | 5,152,063,113 | 283,114,704 | 325 | 0 | 14 | 70 | 236 | 10/22/21 |
| 161 | Lorde | 5,096,587,971 | 264,578,057 | 53 | 0 | 17 | 37 | 49 | 10/22/21 |
| 162 | Usher | 5,087,009,423 | 2,813,193,125 | 251 | 0 | 15 | 51 | 162 | 10/21/21 |
| 163 | Reik | 5,079,388,879 | 246,613,573 | 160 | 0 | 13 | 65 | 135 | 08/10/21 |
| 164 | Kid Cudi | 5,056,253,816 | 1,109,920,856 | 140 | 0 | 10 | 80 | 136 | 10/22/21 |
| 165 | David Bowie | 5,030,024,568 | 28,413,224 | 1,196 | 0 | 11 | 58 | 288 | 10/21/21 |
| 166 | Gorillaz | 5,001,892,822 | 1,214,933 | 279 | 0 | 7 | 89 | 193 | 10/22/21 |
| 167 | 50 Cent | 5,001,322,546 | 2,216,448,607 | 213 | 0 | 12 | 56 | 141 | 10/22/21 |
| 168 | Camilo | 4,970,433,933 | 689,654,145 | 37 | 0 | 17 | 32 | 34 | 10/18/21 |
| 169 | Hozier | 4,946,505,249 | 0 | 61 | 1 | 13 | 40 | 60 | 10/14/21 |
| 170 | Becky G | 4,899,581,169 | 1,190,948,482 | 88 | 0 | 11 | 48 | 85 | 10/21/21 |
| 171 | French Montana | 4,873,054,883 | 3,046,541,784 | 555 | 1 | 11 | 50 | 128 | 05/26/21 |
| 172 | The Killers | 4,847,589,120 | 279,462 | 205 | 1 | 8 | 66 | 135 | 10/16/21 |
| 173 | Foo Fighters | 4,816,351,161 | 0 | 236 | 0 | 11 | 73 | 160 | 10/15/21 |
| 174 | blink-182 | 4,797,770,205 | 52,065,199 | 185 | 0 | 10 | 83 | 172 | 10/22/21 |
| 175 | Meek Mill | 4,797,464,611 | 1,799,693,516 | 438 | 0 | 7 | 86 | 188 | 10/21/21 |
| 176 | Tory Lanez | 4,792,221,603 | 2,099,200,775 | 216 | 0 | 13 | 76 | 183 | 09/24/21 |
| 177 | Mariah Carey | 4,774,209,712 | 323,205,011 | 633 | 0 | 10 | 63 | 227 | 10/22/21 |
| 178 | Banda MS de Sergio Lizárraga | 4,767,048,535 | 1,067,799 | 208 | 0 | 13 | 86 | 185 | 07/29/21 |
| 179 | U2 | 4,715,389,763 | 258,026,947 | 500 | 0 | 7 | 74 | 293 | 10/21/21 |
| 180 | Meghan Trainor | 4,683,292,274 | 921,651,714 | 135 | 0 | 10 | 52 | 102 | 10/21/21 |
| 181 | Daft Punk | 4,682,411,741 | 2,903,060,511 | 181 | 0 | 9 | 74 | 134 | 10/05/21 |
| 182 | Led Zeppelin | 4,668,889,511 | 0 | 239 | 0 | 11 | 62 | 186 | 10/21/21 |
| 183 | Rae Sremmurd | 4,667,478,950 | 505,975,065 | 60 | 0 | 12 | 41 | 59 | 10/06/21 |
| 184 | John Legend | 4,648,570,518 | 2,157,615,349 | 242 | 1 | 6 | 60 | 179 | 09/21/21 |
| 185 | Rita Ora | 4,635,265,701 | 673,985,048 | 125 | 0 | 12 | 37 | 81 | 10/22/21 |
| 186 | 6ix9ine | 4,631,738,380 | 1,013,988,007 | 58 | 0 | 16 | 36 | 53 | 10/22/21 |
| 187 | The 1975 | 4,592,043,444 | 136,470,283 | 132 | 0 | 10 | 75 | 129 | 10/22/21 |
| 188 | Gucci Mane | 4,585,783,915 | 4,640,030,214 | 2,175 | 0 | 5 | 74 | 292 | 09/17/21 |
| 189 | Mumford & Sons | 4,581,748,564 | 14,628,830 | 121 | 0 | 8 | 66 | 109 | 09/16/21 |
| 190 | Manuel Turizo | 4,561,050,167 | 1,972,111,153 | 56 | 0 | 15 | 40 | 56 | 10/12/21 |
| 191 | Ava Max | 4,548,169,202 | 177,804,838 | 95 | 1 | 11 | 31 | 65 | 10/22/21 |
| 192 | Marília Mendonça | 4,520,765,164 | 1,158,416,004 | 111 | 0 | 12 | 79 | 100 | 10/21/21 |
| 193 | Luke Combs | 4,503,847,693 | 122,702,931 | 55 | 0 | 10 | 53 | 55 | 09/20/21 |
| 194 | Jack Johnson | 4,464,351,377 | 26,277,507 | 180 | 0 | 6 | 76 | 164 | 10/01/21 |
| 195 | System Of A Down | 4,463,282,722 | 415,087 | 83 | 0 | 9 | 67 | 78 | 10/22/21 |
| 196 | Muse | 4,455,655,051 | 0 | 242 | 0 | 10 | 81 | 175 | 10/22/21 |
| 197 | Elvis Presley | 4,450,478,560 | 4,944,379 | 2,158 | 0 | 8 | 67 | 345 | 10/22/21 |
| 198 | Radiohead | 4,447,073,294 | 1,587,812 | 221 | 0 | 6 | 85 | 195 | 10/18/21 |
| 199 | The Neighbourhood | 4,437,489,439 | 320,051 | 90 | 1 | 7 | 60 | 89 | 09/29/21 |
| 200 | Polo G | 4,416,313,925 | 1,161,988,394 | 60 | 0 | 11 | 58 | 60 | 10/18/21 |
| 201 | Roddy Ricch | 4,406,550,774 | 2,685,470,499 | 39 | 1 | 12 | 31 | 38 | 09/20/21 |
| 202 | Bazzi | 4,391,026,336 | 58,360,988 | 37 | 0 | 12 | 32 | 37 | 10/08/21 |
| 203 | Hailee Steinfeld | 4,390,178,914 | 592,323,092 | 29 | 0 | 10 | 18 | 27 | 10/20/21 |
| 204 | Swae Lee | 4,373,135,949 | 4,988,467,269 | 57 | 1 | 10 | 29 | 54 | 09/22/21 |
| 205 | Snoop Dogg | 4,353,041,177 | 5,261,975,222 | 686 | 0 | 9 | 54 | 243 | 10/08/21 |
| 206 | The Notorious B.I.G. | 4,336,388,728 | 582,974,396 | 152 | 0 | 10 | 50 | 109 | 10/20/21 |
| 207 | Jorge & Mateus | 4,324,297,522 | 956,104,294 | 253 | 0 | 8 | 87 | 239 | 10/20/21 |
| 208 | Jess Glynne | 4,272,116,082 | 450,111,397 | 83 | 0 | 10 | 32 | 60 | 10/15/21 |
| 209 | Jhay Cortez | 4,260,114,542 | 642,880,692 | 76 | 1 | 7 | 37 | 74 | 10/19/21 |
| 210 | Felix Jaehn | 4,220,719,529 | 227,877,670 | 156 | 1 | 11 | 33 | 88 | 09/04/21 |
| 211 | Paramore | 4,215,674,544 | 521,643 | 113 | 0 | 9 | 66 | 99 | 10/21/21 |
| 212 | Frank Sinatra | 4,203,662,945 | 54,954,665 | 1,860 | 0 | 9 | 69 | 299 | 06/25/21 |
| 213 | Troye Sivan | 4,188,590,220 | 778,759,930 | 100 | 0 | 10 | 51 | 82 | 10/22/21 |
| 214 | Joji | 4,184,959,982 | 597,650,268 | 50 | 0 | 13 | 40 | 50 | 10/14/21 |
| 215 | Disclosure | 4,184,709,087 | 23,287,083 | 181 | 0 | 7 | 52 | 119 | 10/18/21 |
| 216 | The Kid LAROI | 4,180,270,939 | 600,098,974 | 48 | 0 | 12 | 36 | 46 | 10/21/21 |
| 217 | Fifth Harmony | 4,169,645,846 | 245,789,047 | 75 | 1 | 7 | 46 | 74 | 10/22/21 |
| 218 | Julia Michaels | 4,167,842,016 | 1,499,927,798 | 64 | 0 | 7 | 34 | 61 | 10/22/21 |
| 219 | Christina Aguilera | 4,159,271,147 | 2,227,733,017 | 264 | 0 | 8 | 51 | 158 | 10/03/21 |
| 220 | Cheat Codes | 4,152,898,452 | 270,403,576 | 130 | 0 | 7 | 37 | 81 | 09/03/21 |
| 221 | Oasis | 4,146,874,123 | 0 | 220 | 1 | 6 | 47 | 170 | 10/22/21 |
| 222 | Slipknot | 4,143,831,674 | 0 | 205 | 0 | 7 | 64 | 172 | 10/19/21 |
| 223 | Don Omar | 4,130,968,373 | 1,636,264,718 | 229 | 0 | 12 | 49 | 116 | 10/15/21 |
| 224 | Chance the Rapper | 4,086,189,331 | 3,879,522,975 | 101 | 0 | 11 | 46 | 84 | 10/11/21 |
| 225 | Florida Georgia Line | 4,075,078,150 | 2,231,147,781 | 113 | 0 | 12 | 64 | 97 | 09/25/21 |
| 226 | Bon Jovi | 4,070,828,171 | 1,223,687 | 321 | 0 | 9 | 34 | 170 | 10/14/21 |
| 227 | Dalex | 4,055,219,773 | 1,148,930,463 | 110 | 0 | 11 | 42 | 85 | 10/17/21 |
| 228 | Tame Impala | 4,041,219,572 | 135,563,404 | 94 | 0 | 8 | 55 | 82 | 10/18/21 |
| 229 | Tove Lo | 4,021,598,957 | 1,263,421,270 | 134 | 0 | 6 | 58 | 103 | 10/15/21 |
| 230 | Alicia Keys | 3,988,320,281 | 1,114,293,134 | 222 | 0 | 7 | 53 | 161 | 10/21/21 |
| 231 | The Lumineers | 3,983,713,331 | 0 | 72 | 0 | 8 | 47 | 66 | 09/23/21 |
| 232 | Kings of Leon | 3,983,550,315 | 0 | 121 | 0 | 5 | 64 | 106 | 09/06/21 |
| 233 | Luke Bryan | 3,976,979,274 | 367,135,310 | 158 | 0 | 12 | 62 | 130 | 09/16/21 |
| 234 | The Script | 3,976,071,334 | 1,281,985 | 94 | 0 | 7 | 50 | 84 | 10/17/21 |
| 235 | Zion & Lennox | 3,972,787,863 | 2,664,955,655 | 156 | 0 | 11 | 44 | 87 | 10/15/21 |
| 236 | Five Finger Death Punch | 3,970,173,481 | 0 | 136 | 0 | 8 | 88 | 132 | 10/09/21 |
| 237 | Melanie Martinez | 3,932,679,580 | 2,797,982 | 55 | 0 | 13 | 42 | 54 | 10/22/21 |
| 238 | 6LACK | 3,929,222,178 | 731,124,680 | 74 | 0 | 10 | 59 | 74 | 10/11/21 |
| 239 | Natti Natasha | 3,906,513,077 | 1,332,225,956 | 73 | 0 | 9 | 41 | 62 | 10/22/21 |
| 240 | Jason Mraz | 3,901,732,390 | 88,467,014 | 233 | 1 | 5 | 45 | 152 | 09/02/21 |
| 241 | Florence + The Machine | 3,894,016,842 | 211,529 | 133 | 0 | 8 | 74 | 123 | 10/15/21 |
| 242 | Megan Thee Stallion | 3,876,342,415 | 853,509,868 | 95 | 0 | 10 | 39 | 74 | 10/21/21 |
| 243 | Glee Cast | 3,863,044,030 | 0 | 723 | 0 | 0 | 89 | 596 | 09/24/21 |
| 244 | Lil Pump | 3,854,238,964 | 466,539,707 | 54 | 0 | 10 | 38 | 53 | 10/19/21 |
| 245 | Christian Nodal | 3,853,792,612 | 295,574,117 | 58 | 0 | 11 | 47 | 58 | 10/20/21 |
| 246 | Paulo Londra | 3,846,823,034 | 90,685,530 | 28 | 0 | 12 | 28 | 28 | 07/05/21 |
| 247 | Nickelback | 3,809,175,661 | 0 | 148 | 0 | 12 | 53 | 104 | 10/18/21 |
| 248 | Galantis | 3,807,413,195 | 70,377,430 | 223 | 0 | 8 | 45 | 140 | 10/04/21 |
| 249 | Justin Quiles | 3,796,788,470 | 3,301,910,411 | 155 | 0 | 10 | 60 | 120 | 09/25/21 |
| 250 | Creedence Clearwater Revival | 3,782,765,839 | 0 | 131 | 0 | 8 | 32 | 105 | 10/13/21 |
| 251 | Bruce Springsteen | 3,779,676,273 | 31,928,542 | 769 | 0 | 9 | 50 | 368 | 10/20/21 |
| 252 | Playboi Carti | 3,765,167,595 | 1,428,400,319 | 82 | 0 | 8 | 62 | 71 | 10/21/21 |
| 253 | Kehlani | 3,762,754,495 | 1,827,711,791 | 110 | 0 | 9 | 70 | 96 | 10/19/21 |
| 254 | Ne-Yo | 3,761,944,355 | 1,793,601,060 | 188 | 0 | 10 | 32 | 128 | 10/06/21 |
| 255 | Madonna | 3,754,656,226 | 119,455,344 | 703 | 0 | 7 | 64 | 310 | 10/22/21 |
| 256 | Bryson Tiller | 3,733,735,229 | 1,717,399,430 | 61 | 0 | 7 | 47 | 59 | 10/21/21 |
| 257 | Whitney Houston | 3,727,248,446 | 11,012,198 | 291 | 0 | 7 | 35 | 137 | 10/22/21 |
| 258 | Capital Bra | 3,727,177,405 | 585,566,255 | 233 | 0 | 7 | 78 | 180 | 10/11/21 |
| 259 | Kane Brown | 3,722,088,164 | 22,813,517 | 91 | 0 | 9 | 52 | 82 | 10/17/21 |
| 260 | Niall Horan | 3,721,601,976 | 325,106,768 | 70 | 0 | 9 | 38 | 64 | 10/09/21 |
| 261 | Zé Neto & Cristiano | 3,712,875,164 | 420,683,112 | 162 | 0 | 10 | 71 | 137 | 10/20/21 |
| 262 | Alesso | 3,706,666,440 | 152,497,716 | 106 | 0 | 9 | 33 | 79 | 08/24/21 |
| 263 | ABBA | 3,702,965,066 | 25,684 | 152 | 0 | 9 | 47 | 128 | 10/18/21 |
| 264 | Gusttavo Lima | 3,694,316,805 | 709,385,086 | 266 | 0 | 5 | 90 | 202 | 10/20/21 |
| 265 | Alok | 3,688,679,599 | 212,353,463 | 175 | 0 | 11 | 59 | 104 | 10/21/21 |
| 266 | Piso 21 | 3,685,044,883 | 54,983,912 | 74 | 0 | 11 | 27 | 60 | 05/26/21 |
| 267 | My Chemical Romance | 3,675,537,307 | 0 | 135 | 0 | 8 | 52 | 114 | 10/19/21 |
| 268 | Arcangel | 3,641,806,324 | 4,163,519,474 | 273 | 0 | 7 | 54 | 178 | 10/12/21 |
| 269 | Rammstein | 3,605,886,908 | 3,346,285 | 228 | 0 | 8 | 71 | 168 | 09/01/21 |
| 270 | Lenny Tavárez | 3,602,268,753 | 2,986,366,334 | 84 | 0 | 9 | 42 | 78 | 10/19/21 |
| 271 | Bring Me The Horizon | 3,598,615,867 | 637,221 | 134 | 0 | 10 | 62 | 121 | 10/19/21 |
| 272 | James Bay | 3,594,179,080 | 3,910,938 | 75 | 0 | 7 | 40 | 66 | 10/14/21 |
| 273 | Morat | 3,587,895,475 | 340,334,036 | 69 | 0 | 7 | 55 | 66 | 10/17/21 |
| 274 | Thomas Rhett | 3,570,841,348 | 196,189,924 | 93 | 0 | 13 | 50 | 93 | 09/28/21 |
| 275 | NAV | 3,569,566,517 | 1,682,578,336 | 113 | 0 | 10 | 66 | 113 | 09/10/21 |
| 276 | Labrinth | 3,567,683,826 | 326,316,513 | 125 | 0 | 10 | 37 | 90 | 06/03/21 |
| 277 | Vance Joy | 3,560,343,487 | 0 | 69 | 1 | 6 | 34 | 53 | 10/07/21 |
| 278 | YG | 3,551,013,571 | 2,246,418,959 | 194 | 0 | 8 | 63 | 130 | 09/03/21 |
| 279 | Henrique & Juliano | 3,549,520,949 | 688,545,267 | 148 | 0 | 8 | 93 | 141 | 08/31/21 |
| 280 | Jonas Brothers | 3,530,341,248 | 456,924,413 | 93 | 0 | 8 | 35 | 86 | 09/22/21 |
| 281 | Wisin | 3,520,148,199 | 4,992,869,607 | 114 | 0 | 10 | 38 | 95 | 10/12/21 |
| 282 | Kelly Clarkson | 3,514,245,225 | 192,951,920 | 322 | 0 | 8 | 40 | 138 | 10/22/21 |
| 283 | Disturbed | 3,507,099,735 | 1,976,285 | 170 | 0 | 6 | 65 | 144 | 09/16/21 |
| 284 | Aerosmith | 3,500,995,544 | 0 | 281 | 0 | 8 | 29 | 146 | 10/20/21 |
| 285 | Kevin Gates | 3,495,948,086 | 546,381,469 | 266 | 0 | 4 | 92 | 206 | 05/07/21 |
| 286 | Ryan Lewis | 3,486,320,761 | 0 | 33 | 1 | 6 | 28 | 32 | 06/04/21 |
| 287 | Jennifer Lopez | 3,482,501,075 | 958,402,760 | 227 | 0 | 8 | 46 | 117 | 10/21/21 |
| 288 | Flume | 3,477,893,543 | 72,525,427 | 125 | 0 | 7 | 51 | 117 | 09/07/21 |
| 289 | Avril Lavigne | 3,473,513,772 | 18,126,367 | 133 | 0 | 9 | 51 | 100 | 10/22/21 |
| 290 | Lil Skies | 3,445,093,149 | 709,788,156 | 51 | 0 | 7 | 44 | 51 | 10/18/21 |
| 291 | Amy Winehouse | 3,426,191,217 | 210,462,845 | 157 | 0 | 7 | 50 | 90 | 10/22/21 |
| 292 | Stevie Wonder | 3,396,794,575 | 233,950,935 | 582 | 0 | 8 | 45 | 147 | 08/29/21 |
| 293 | Tones And I | 3,391,620,905 | 0 | 29 | 1 | 4 | 13 | 18 | 10/15/21 |
| 294 | TWICE | 3,371,528,028 | 27,005,769 | 177 | 0 | 9 | 67 | 156 | 10/22/21 |
| 295 | Miguel | 3,369,113,836 | 1,902,566,777 | 136 | 0 | 5 | 46 | 109 | 09/03/21 |
| 296 | Hans Zimmer | 3,368,679,488 | 70,151,456 | 1,422 | 0 | 3 | 72 | 475 | 09/26/21 |
| 297 | Backstreet Boys | 3,335,343,914 | 160,356,542 | 133 | 0 | 8 | 37 | 123 | 10/22/21 |
| 298 | YNW Melly | 3,330,592,777 | 301,701,697 | 80 | 0 | 9 | 31 | 76 | 09/14/21 |
| 299 | Alejandro Fernández | 3,328,449,536 | 266,300,006 | 289 | 0 | 6 | 62 | 211 | 08/05/21 |
| 300 | Morgan Wallen | 3,326,026,761 | 332,071,191 | 56 | 0 | 10 | 55 | 56 | 10/20/21 |
| 301 | Fetty Wap | 3,321,899,161 | 1,492,928,236 | 118 | 0 | 7 | 36 | 69 | 01/07/21 |
| 302 | Sean Paul | 3,304,701,344 | 3,146,217,843 | 373 | 0 | 10 | 36 | 128 | 01/05/21 |
| 303 | Maná | 3,282,870,220 | 42,453,047 | 213 | 0 | 10 | 49 | 145 | 10/01/21 |
| 304 | Wisin & Yandel | 3,270,926,458 | 899,916,309 | 288 | 0 | 10 | 47 | 130 | 10/11/21 |
| 305 | Kesha | 3,263,212,820 | 1,943,366,586 | 139 | 0 | 8 | 39 | 102 | 09/24/21 |
| 306 | Yandel | 3,252,007,610 | 2,319,895,199 | 173 | 0 | 8 | 51 | 140 | 09/28/21 |
| 307 | Steve Aoki | 3,228,090,914 | 1,297,146,988 | 389 | 0 | 6 | 60 | 202 | 10/17/21 |
| 308 | Jeremih | 3,211,536,876 | 2,897,368,856 | 123 | 0 | 8 | 33 | 91 | 09/19/21 |
| 309 | Dr. Dre | 3,198,481,391 | 1,794,542,559 | 85 | 0 | 7 | 29 | 77 | 08/26/21 |
| 310 | Prince Royce | 3,197,914,038 | 1,250,251,740 | 122 | 0 | 8 | 52 | 112 | 10/10/21 |
| 311 | Three Days Grace | 3,175,630,822 | 586,512 | 84 | 0 | 8 | 55 | 82 | 10/22/21 |
| 312 | Phil Collins | 3,161,779,013 | 96,322,815 | 336 | 0 | 8 | 35 | 141 | 09/30/21 |
| 313 | Jason Aldean | 3,160,575,778 | 130,809,620 | 137 | 0 | 8 | 58 | 132 | 09/16/21 |
| 314 | Why Don't We | 3,153,762,831 | 86,038,587 | 92 | 0 | 10 | 53 | 82 | 08/08/21 |
| 315 | Seeb | 3,148,225,045 | 13,599,416 | 85 | 1 | 6 | 24 | 56 | 01/04/21 |
| 316 | Lil Tecca | 3,144,962,075 | 232,001,931 | 72 | 0 | 7 | 34 | 68 | 10/13/21 |
| 317 | George Ezra | 3,134,491,990 | 35,557 | 59 | 0 | 6 | 34 | 52 | 09/03/21 |
| 318 | Lil Tjay | 3,133,723,108 | 1,487,591,338 | 59 | 0 | 8 | 43 | 59 | 10/14/21 |
| 319 | Akon | 3,131,255,506 | 2,846,487,213 | 199 | 0 | 8 | 34 | 111 | 10/22/21 |
| 320 | Dan + Shay | 3,122,596,000 | 22,294,018 | 71 | 0 | 7 | 39 | 63 | 09/23/21 |
| 321 | Wesley Safadão | 3,121,201,802 | 555,937,674 | 267 | 0 | 4 | 54 | 244 | 10/18/21 |
| 322 | Jessie J | 3,107,842,052 | 57,987,616 | 119 | 0 | 6 | 32 | 95 | 10/22/21 |
| 323 | Billy Joel | 3,105,424,953 | 7,566,488 | 408 | 0 | 9 | 35 | 131 | 09/21/21 |
| 324 | Eagles | 3,104,628,533 | 0 | 193 | 0 | 5 | 36 | 114 | 10/13/21 |
| 325 | Pearl Jam | 3,089,500,881 | 1,253,096 | 399 | 0 | 7 | 47 | 226 | 03/19/21 |
| 326 | Trey Songz | 3,081,969,318 | 1,277,801,503 | 265 | 0 | 5 | 56 | 181 | 10/22/21 |
| 327 | benny blanco | 3,068,690,475 | 13,896,521 | 21 | 1 | 6 | 12 | 17 | 09/28/21 |
| 328 | Johnny Cash | 3,068,093,371 | 100,275,517 | 1,561 | 0 | 6 | 47 | 219 | 01/04/21 |
| 329 | Lil Mosey | 3,049,684,506 | 391,825,912 | 43 | 0 | 5 | 32 | 42 | 09/07/21 |
| 330 | Passenger | 3,047,211,461 | 1,798,813 | 216 | 1 | 2 | 44 | 177 | 09/29/21 |
| 331 | The Strokes | 3,035,560,945 | 2,116,233 | 82 | 0 | 6 | 63 | 73 | 10/10/21 |
| 332 | CNCO | 3,034,258,122 | 217,624,188 | 78 | 0 | 5 | 42 | 68 | 10/22/21 |
| 333 | Mark Ronson | 3,027,553,085 | 1,089,189,281 | 151 | 1 | 4 | 23 | 82 | 10/19/21 |
| 334 | Lin-Manuel Miranda | 3,014,041,417 | 189,578,224 | 85 | 0 | 9 | 37 | 59 | 08/16/21 |
| 335 | Lukas Graham | 3,005,994,250 | 158,206,429 | 60 | 1 | 3 | 25 | 49 | 09/21/21 |
| 336 | Avenged Sevenfold | 2,994,656,347 | 1,889,849 | 164 | 0 | 8 | 59 | 129 | 07/01/21 |
| 337 | Céline Dion | 2,985,000,942 | 43,733,565 | 493 | 0 | 3 | 52 | 239 | 10/22/21 |
| 338 | Lizzo | 2,984,561,772 | 49,148,791 | 64 | 0 | 6 | 25 | 48 | 10/11/21 |
| 339 | The Offspring | 2,981,916,869 | 0 | 160 | 0 | 7 | 41 | 122 | 08/19/21 |
| 340 | Nio Garcia | 2,979,010,114 | 102,148,941 | 116 | 0 | 7 | 24 | 84 | 09/03/21 |
| 341 | Matheus & Kauan | 2,969,746,466 | 551,195,947 | 160 | 0 | 7 | 68 | 141 | 07/08/21 |
| 342 | Ricky Martin | 2,963,075,070 | 380,493,233 | 266 | 0 | 6 | 47 | 131 | 10/17/21 |
| 343 | Train | 2,953,135,246 | 0 | 170 | 0 | 6 | 20 | 83 | 10/09/21 |
| 344 | 2 Chainz | 2,952,016,003 | 7,707,211,391 | 391 | 0 | 7 | 48 | 156 | 06/03/21 |
| 345 | Aventura | 2,938,863,725 | 271,684 | 132 | 0 | 10 | 37 | 106 | 10/12/21 |
| 346 | Foster The People | 2,914,530,104 | 28,653,784 | 90 | 1 | 6 | 36 | 68 | 09/03/21 |
| 347 | Jul | 2,909,575,254 | 769,206,426 | 522 | 0 | 0 | 63 | 494 | 10/21/21 |
| 348 | Bob Dylan | 2,907,341,173 | 190,548 | 1,302 | 0 | 6 | 41 | 302 | 10/08/21 |
| 349 | Ricardo Arjona | 2,895,999,257 | 7,840,502 | 337 | 0 | 2 | 67 | 258 | 09/03/21 |
| 350 | 24kGoldn | 2,887,437,854 | 118,073,681 | 52 | 1 | 6 | 18 | 45 | 10/04/21 |
| 351 | H.E.R. | 2,885,139,784 | 359,387,030 | 97 | 0 | 6 | 47 | 91 | 10/11/21 |
| 352 | Pablo Alborán | 2,884,818,657 | 195,281,676 | 167 | 0 | 8 | 58 | 155 | 10/16/21 |
| 353 | ScHoolboy Q | 2,878,619,690 | 1,304,426,537 | 103 | 0 | 7 | 50 | 98 | 01/19/21 |
| 354 | James Blunt | 2,858,174,256 | 16,816,870 | 160 | 0 | 6 | 42 | 103 | 10/09/21 |
| 355 | Daniel Caesar | 2,844,617,347 | 961,532,352 | 36 | 0 | 6 | 32 | 35 | 10/17/21 |
| 356 | Rudimental | 2,844,040,533 | 19,915,054 | 188 | 0 | 6 | 30 | 112 | 08/28/21 |
| 357 | Pentatonix | 2,825,904,306 | 3,644,612 | 185 | 0 | 2 | 87 | 161 | 09/13/21 |
| 358 | Marc Anthony | 2,814,469,761 | 1,516,100,682 | 187 | 0 | 5 | 53 | 131 | 09/02/21 |
| 359 | Lil Yachty | 2,804,347,588 | 4,296,091,228 | 175 | 0 | 6 | 50 | 145 | 10/19/21 |
| 360 | Macklemore & Ryan Lewis | 2,803,083,548 | 0 | 35 | 1 | 5 | 18 | 35 | 01/02/21 |
| 361 | Armin van Buuren | 2,795,922,270 | 189,205,318 | 2,179 | 0 | 4 | 43 | 288 | 09/04/21 |
| 362 | Duki | 2,765,913,906 | 710,338,456 | 122 | 0 | 5 | 45 | 110 | 10/18/21 |
| 363 | Alejandro Sanz | 2,760,377,767 | 459,738,027 | 362 | 0 | 5 | 49 | 195 | 04/30/21 |
| 364 | Jack Harlow | 2,757,532,542 | 196,495,173 | 81 | 0 | 6 | 22 | 75 | 10/22/21 |
| 365 | Bon Iver | 2,756,547,170 | 743,238,757 | 59 | 0 | 5 | 47 | 55 | 08/07/21 |
| 366 | Sam Hunt | 2,747,992,556 | 16,649,604 | 59 | 0 | 7 | 31 | 54 | 09/03/21 |
| 367 | Dire Straits | 2,745,386,315 | 1,066,153 | 100 | 0 | 5 | 38 | 95 | 10/14/21 |
| 368 | Liam Payne | 2,744,126,405 | 16,346,506 | 51 | 0 | 7 | 16 | 39 | 10/22/21 |
| 369 | Sigala | 2,741,489,245 | 49,758,671 | 100 | 0 | 9 | 28 | 67 | 10/18/21 |
| 370 | Bryan Adams | 2,714,849,291 | 128,622,453 | 350 | 0 | 6 | 32 | 122 | 10/14/21 |
| 371 | Nelly | 2,694,849,952 | 614,589,784 | 208 | 0 | 7 | 27 | 89 | 10/05/21 |
| 372 | Calibre 50 | 2,693,994,107 | 68,199,894 | 226 | 0 | 2 | 63 | 163 | 09/29/21 |
| 373 | Offset | 2,686,635,257 | 5,014,465,657 | 45 | 0 | 7 | 28 | 34 | 09/08/21 |
| 374 | Quavo | 2,678,158,454 | 9,315,768,902 | 76 | 0 | 5 | 43 | 63 | 10/07/21 |
| 375 | Blake Shelton | 2,666,227,910 | 203,529,989 | 197 | 0 | 7 | 39 | 124 | 10/20/21 |
| 376 | Zac Brown Band | 2,665,284,207 | 9,980,501 | 135 | 0 | 5 | 45 | 105 | 09/16/21 |
| 377 | Dean Lewis | 2,664,770,895 | 1,590,904 | 37 | 1 | 6 | 21 | 34 | 10/05/21 |
| 378 | BROCKHAMPTON | 2,664,137,176 | 0 | 112 | 0 | 4 | 67 | 106 | 09/26/21 |
| 379 | Don Toliver | 2,658,293,736 | 525,920,094 | 66 | 0 | 5 | 23 | 58 | 10/14/21 |
| 380 | The Vamps | 2,656,516,116 | 0 | 148 | 0 | 8 | 33 | 114 | 10/18/21 |
| 381 | Ski Mask The Slump God | 2,656,031,025 | 906,824,025 | 70 | 0 | 7 | 39 | 69 | 10/03/21 |
| 382 | Jhené Aiko | 2,647,104,673 | 2,283,011,730 | 113 | 0 | 7 | 62 | 90 | 10/17/21 |
| 383 | Cartel De Santa | 2,645,383,855 | 146,238,894 | 136 | 0 | 4 | 57 | 125 | 07/11/21 |
| 384 | Carlos Vives | 2,634,973,119 | 187,400,087 | 253 | 0 | 5 | 33 | 138 | 10/11/21 |
| 385 | Bee Gees | 2,634,071,016 | 48,814,344 | 447 | 0 | 5 | 32 | 104 | 10/15/21 |
| 386 | LANY | 2,632,975,533 | 254,183,100 | 77 | 0 | 7 | 52 | 76 | 10/18/21 |
| 387 | PARTYNEXTDOOR | 2,612,063,990 | 1,653,897,950 | 78 | 0 | 8 | 45 | 77 | 08/01/21 |
| 388 | The Black Keys | 2,610,642,075 | 0 | 151 | 0 | 5 | 48 | 135 | 09/25/21 |
| 389 | Charli XCX | 2,608,545,382 | 1,243,522,116 | 189 | 0 | 7 | 41 | 128 | 10/20/21 |
| 390 | Mike Posner | 2,606,726,952 | 261,138,704 | 179 | 1 | 3 | 19 | 67 | 09/03/21 |
| 391 | R3HAB | 2,599,363,557 | 1,031,797,301 | 278 | 0 | 3 | 60 | 177 | 04/01/21 |
| 392 | Jeremy Zucker | 2,586,904,266 | 130,361,817 | 89 | 0 | 6 | 31 | 78 | 10/02/21 |
| 393 | Skillet | 2,578,135,156 | 0 | 184 | 0 | 7 | 43 | 108 | 10/18/21 |
| 394 | Ninho | 2,575,029,540 | 1,180,632,700 | 129 | 0 | 2 | 84 | 110 | 08/26/21 |
| 395 | Birdy | 2,562,297,992 | 80,366,505 | 102 | 0 | 6 | 38 | 85 | 10/21/21 |
| 396 | The Police | 2,552,546,470 | 63,893 | 124 | 0 | 4 | 17 | 83 | 09/27/21 |
| 397 | Danny Ocean | 2,549,546,326 | 157,246,943 | 46 | 1 | 4 | 20 | 30 | 10/14/21 |
| 398 | Lil Durk | 2,549,445,798 | 1,769,149,190 | 301 | 0 | 2 | 45 | 213 | 10/12/21 |
| 399 | Marvin Gaye | 2,542,567,834 | 31,697,491 | 725 | 0 | 6 | 23 | 103 | 06/14/21 |
| 400 | ILLENIUM | 2,530,287,130 | 138,316,438 | 195 | 0 | 4 | 51 | 138 | 08/24/21 |
| 401 | Iron Maiden | 2,530,239,475 | 47,269 | 410 | 0 | 5 | 42 | 254 | 10/17/21 |
| 402 | Boyce Avenue | 2,527,510,203 | 172,556 | 414 | 0 | 0 | 59 | 325 | 03/09/21 |
| 403 | Lost Frequencies | 2,526,122,879 | 249,791,580 | 343 | 0 | 6 | 26 | 105 | 09/16/21 |
| 404 | T.I. | 2,505,264,423 | 2,375,139,213 | 452 | 0 | 6 | 37 | 199 | 10/11/21 |
| 405 | Maren Morris | 2,500,709,904 | 479,019,629 | 58 | 1 | 5 | 22 | 48 | 10/11/21 |
| 406 | The Doors | 2,495,672,622 | 21,036,766 | 699 | 0 | 7 | 43 | 133 | 10/13/21 |
| 407 | Carly Rae Jepsen | 2,493,120,951 | 59,616,218 | 137 | 0 | 5 | 31 | 97 | 10/20/21 |
| 408 | Tim McGraw | 2,487,273,067 | 57,458,469 | 265 | 0 | 5 | 50 | 125 | 09/04/21 |
| 409 | Bradley Cooper | 2,481,936,801 | 359,705 | 12 | 1 | 4 | 10 | 10 | 10/21/21 |
| 410 | Rise Against | 2,477,579,916 | 2,529 | 171 | 0 | 4 | 46 | 157 | 06/30/21 |
| 411 | Arijit Singh | 2,476,599,614 | 557,810,459 | 460 | 0 | 1 | 63 | 204 | 10/20/21 |
| 412 | John Williams | 2,473,267,821 | 12,238,904 | 2,125 | 0 | 2 | 27 | 321 | 04/25/21 |
| 413 | A$AP Ferg | 2,470,622,318 | 1,089,570,780 | 95 | 0 | 5 | 45 | 88 | 08/25/21 |
| 414 | Bibi Blocksberg | 2,454,680,653 | 76,626 | 5,166 | 0 | 0 | 1 | 367 | 10/09/21 |
| 415 | Juanes | 2,454,384,110 | 652,732,835 | 202 | 0 | 7 | 33 | 113 | 08/21/21 |
| 416 | Iggy Azalea | 2,453,113,075 | 999,892,506 | 95 | 0 | 7 | 26 | 65 | 08/01/21 |
| 417 | Glass Animals | 2,446,863,235 | 3,077,354 | 92 | 0 | 4 | 38 | 74 | 09/20/21 |
| 418 | Mau y Ricky | 2,432,621,523 | 230,971,943 | 60 | 0 | 5 | 30 | 57 | 10/17/21 |
| 419 | alt-J | 2,432,389,757 | 748,988 | 133 | 0 | 6 | 36 | 84 | 02/07/21 |
| 420 | Mabel | 2,426,748,906 | 6,466,820 | 121 | 0 | 6 | 20 | 70 | 10/22/21 |
| 421 | RAF Camora | 2,424,041,800 | 953,130,956 | 332 | 0 | 3 | 55 | 134 | 10/18/21 |
| 422 | Cage The Elephant | 2,419,280,961 | 0 | 107 | 0 | 5 | 36 | 82 | 07/05/21 |
| 423 | Anderson .Paak | 2,415,457,496 | 1,018,847,607 | 139 | 0 | 2 | 58 | 106 | 09/08/21 |
| 424 | Madison Beer | 2,414,030,930 | 117,713,668 | 52 | 0 | 10 | 26 | 45 | 10/14/21 |
| 425 | Weezer | 2,410,637,605 | 4,330,558 | 252 | 0 | 4 | 41 | 186 | 09/11/21 |
| 426 | Soda Stereo | 2,403,255,900 | 7,861 | 198 | 0 | 4 | 44 | 172 | 09/13/21 |
| 427 | Alec Benjamin | 2,398,141,593 | 1,151,623 | 31 | 0 | 5 | 27 | 30 | 08/09/21 |
| 428 | Nick Jonas | 2,391,622,288 | 49,934,337 | 95 | 0 | 8 | 26 | 73 | 10/12/21 |
| 429 | The Cure | 2,386,064,850 | 1,105,177 | 516 | 0 | 5 | 23 | 164 | 10/17/21 |
| 430 | Hillsong Worship | 2,382,405,691 | 13,420,180 | 830 | 0 | 1 | 59 | 273 | 04/17/21 |
| 431 | Noah Cyrus | 2,381,108,612 | 109,463,119 | 64 | 0 | 5 | 26 | 56 | 10/18/21 |
| 432 | Journey | 2,379,474,809 | 3,468 | 260 | 1 | 5 | 17 | 82 | 09/04/21 |
| 433 | Kenny Chesney | 2,379,335,824 | 130,548,443 | 277 | 0 | 3 | 48 | 178 | 09/16/21 |
| 434 | Eric Church | 2,378,969,879 | 249,659,793 | 249 | 0 | 4 | 48 | 115 | 09/16/21 |
| 435 | La Arrolladora Banda El Limón De Rene Camacho | 2,377,937,424 | 8,659,502 | 323 | 0 | 3 | 56 | 219 | 03/29/21 |
| 436 | Los Ángeles Azules | 2,372,052,568 | 67,465,206 | 311 | 0 | 5 | 53 | 113 | 10/19/21 |
| 437 | Lunay | 2,371,919,839 | 722,589,699 | 51 | 0 | 6 | 27 | 47 | 10/04/21 |
| 438 | Calum Scott | 2,366,671,092 | 29,199,387 | 58 | 0 | 5 | 19 | 48 | 10/18/21 |
| 439 | SAINt JHN | 2,364,724,064 | 110,607,019 | 52 | 1 | 1 | 28 | 52 | 09/03/21 |
| 440 | Rex Orange County | 2,362,465,362 | 278,794,678 | 46 | 0 | 6 | 31 | 38 | 07/05/21 |
| 441 | ROSALÍA | 2,361,789,647 | 1,494,955,009 | 36 | 0 | 5 | 26 | 36 | 10/22/21 |
| 442 | Norah Jones | 2,360,798,343 | 115,611,952 | 263 | 0 | 4 | 53 | 139 | 10/22/21 |
| 443 | Destiny's Child | 2,349,892,803 | 16,239,615 | 168 | 0 | 7 | 18 | 83 | 10/22/21 |
| 444 | MAGIC! | 2,336,632,865 | 192,399,336 | 66 | 0 | 3 | 17 | 53 | 01/13/21 |
| 445 | The xx | 2,334,576,947 | 7,809,950 | 75 | 0 | 5 | 36 | 65 | 08/23/21 |
| 446 | EXO | 2,330,247,058 | 0 | 310 | 0 | 6 | 51 | 157 | 10/21/21 |
| 447 | Jesse & Joy | 2,327,035,278 | 301,776,120 | 106 | 0 | 9 | 35 | 86 | 10/11/21 |
| 448 | Sam Feldt | 2,316,428,982 | 278,689,842 | 148 | 0 | 4 | 44 | 101 | 04/22/21 |
| 449 | JP Cooper | 2,313,756,992 | 41,450,367 | 110 | 0 | 4 | 26 | 78 | 03/29/21 |
| 450 | Simon & Garfunkel | 2,313,385,499 | 0 | 172 | 0 | 5 | 24 | 119 | 10/18/21 |
| 451 | Normani | 2,310,062,861 | 96,026,126 | 14 | 0 | 3 | 12 | 14 | 10/18/21 |
| 452 | Jon Bellion | 2,309,740,533 | 295,021,535 | 85 | 0 | 3 | 44 | 80 | 09/21/21 |
| 453 | Depeche Mode | 2,299,426,358 | 354,876 | 678 | 0 | 3 | 38 | 258 | 10/13/21 |
| 454 | Os Barões Da Pisadinha | 2,298,872,012 | 45,953,136 | 144 | 0 | 6 | 61 | 118 | 10/20/21 |
| 455 | Juan Gabriel | 2,298,030,902 | 88,525,686 | 476 | 0 | 1 | 52 | 219 | 08/28/21 |
| 456 | Eric Clapton | 2,297,376,676 | 432,236,066 | 641 | 0 | 6 | 23 | 201 | 09/22/21 |
| 457 | iann dior | 2,296,968,920 | 162,741,711 | 45 | 0 | 5 | 27 | 42 | 03/30/21 |
| 458 | Paul McCartney | 2,296,462,403 | 358,594,963 | 819 | 0 | 3 | 24 | 163 | 10/10/21 |
| 459 | Kid Ink | 2,294,713,265 | 2,561,501,342 | 186 | 0 | 5 | 38 | 130 | 09/03/21 |
| 460 | Becky Hill | 2,289,419,718 | 25,614,697 | 164 | 0 | 7 | 21 | 64 | 10/20/21 |
| 461 | Conan Gray | 2,285,079,786 | 0 | 24 | 0 | 3 | 23 | 24 | 10/18/21 |
| 462 | X Ambassadors | 2,282,213,890 | 1,096,162,310 | 117 | 0 | 4 | 31 | 84 | 09/25/21 |
| 463 | Rich The Kid | 2,278,565,527 | 1,654,547,449 | 150 | 0 | 4 | 40 | 111 | 07/22/21 |
| 464 | Ufo361 | 2,273,580,644 | 563,647,237 | 233 | 0 | 0 | 63 | 185 | 10/13/21 |
| 465 | Dimitri Vegas & Like Mike | 2,269,766,636 | 105,236,190 | 252 | 0 | 2 | 52 | 135 | 08/12/21 |
| 466 | Aminé | 2,267,361,394 | 135,565,474 | 60 | 0 | 4 | 37 | 59 | 10/03/21 |
| 467 | MEDUZA | 2,264,383,286 | 9,082,290 | 45 | 0 | 4 | 10 | 28 | 10/18/21 |
| 468 | Maiara & Maraisa | 2,261,348,593 | 641,646,043 | 147 | 0 | 6 | 42 | 137 | 10/20/21 |
| 469 | PNL | 2,258,890,802 | 0 | 72 | 0 | 1 | 64 | 72 | 10/16/21 |
| 470 | Chris Stapleton | 2,253,792,818 | 491,450,083 | 56 | 0 | 5 | 41 | 55 | 07/29/21 |
| 471 | Grey | 2,237,009,771 | 17,803,531 | 52 | 1 | 2 | 7 | 21 | 03/29/21 |
| 472 | AJR | 2,229,775,743 | 92,176,747 | 86 | 0 | 5 | 35 | 61 | 10/13/21 |
| 473 | Outkast | 2,220,310,296 | 77,417,373 | 163 | 0 | 4 | 23 | 120 | 01/03/21 |
| 474 | Breaking Benjamin | 2,220,298,523 | 10,693,695 | 102 | 0 | 3 | 51 | 97 | 08/25/21 |
| 475 | Måneskin | 2,219,234,475 | 2,758,558 | 31 | 0 | 4 | 24 | 29 | 10/22/21 |
| 476 | Matoma | 2,218,870,898 | 286,156,543 | 113 | 0 | 5 | 29 | 76 | 05/14/21 |
| 477 | Korn | 2,218,697,801 | 7,219,257 | 282 | 0 | 4 | 42 | 187 | 06/18/21 |
| 478 | B.o.B | 2,216,408,358 | 1,126,272,007 | 417 | 0 | 6 | 22 | 79 | 10/13/21 |
| 479 | Summer Walker | 2,214,080,139 | 814,712,099 | 68 | 0 | 5 | 43 | 54 | 10/20/21 |
| 480 | Hillsong UNITED | 2,213,882,439 | 117,014,211 | 345 | 0 | 2 | 55 | 221 | 07/06/21 |
| 481 | Sabrina Carpenter | 2,212,958,841 | 139,429,191 | 86 | 0 | 6 | 36 | 74 | 10/15/21 |
| 482 | NLE Choppa | 2,211,884,387 | 473,864,680 | 101 | 0 | 4 | 32 | 80 | 09/27/21 |
| 483 | Jimi Hendrix | 2,211,567,941 | 420,865 | 503 | 0 | 5 | 27 | 134 | 10/15/21 |
| 484 | The Beach Boys | 2,209,072,894 | 6,692,558 | 1,278 | 0 | 7 | 25 | 128 | 10/01/21 |
| 485 | R.E.M. | 2,206,985,274 | 270,936 | 682 | 0 | 5 | 18 | 123 | 10/17/21 |
| 486 | Imanbek | 2,202,218,740 | 17,589,546 | 49 | 1 | 1 | 15 | 35 | 10/09/21 |
| 487 | Jax Jones | 2,198,370,899 | 286,794,203 | 60 | 0 | 8 | 16 | 40 | 04/27/21 |
| 488 | The Game | 2,197,825,970 | 499,556,884 | 718 | 0 | 6 | 35 | 197 | 08/29/21 |
| 489 | Volbeat | 2,190,712,919 | 172,614 | 188 | 0 | 5 | 46 | 138 | 09/06/21 |
| 490 | Papa Roach | 2,186,301,108 | 29,615,688 | 219 | 0 | 3 | 33 | 136 | 04/03/21 |
| 491 | Rick Ross | 2,185,132,256 | 4,451,513,119 | 320 | 0 | 4 | 41 | 182 | 09/23/21 |
| 492 | George Michael | 2,170,212,592 | 25,871,389 | 190 | 0 | 3 | 31 | 118 | 10/22/21 |
| 493 | MARINA | 2,166,633,885 | 6,308,530 | 109 | 0 | 4 | 49 | 86 | 10/19/21 |
| 494 | DNCE | 2,154,397,216 | 288,985,200 | 31 | 1 | 4 | 17 | 30 | 09/03/21 |
| 495 | Robbie Williams | 2,150,770,809 | 18,579,742 | 395 | 0 | 5 | 36 | 189 | 10/20/21 |
| 496 | Bonez MC | 2,150,081,724 | 1,395,266,022 | 151 | 0 | 4 | 50 | 105 | 08/06/21 |
| 497 | Christina Perri | 2,145,930,404 | 60,118,995 | 76 | 0 | 3 | 15 | 50 | 06/22/21 |
| 498 | KYLE | 2,142,582,752 | 138,635,905 | 94 | 0 | 4 | 29 | 82 | 07/24/21 |
| 499 | Rag'n'Bone Man | 2,139,559,897 | 71,286,582 | 129 | 0 | 3 | 27 | 76 | 10/14/21 |
| 500 | The Fray | 2,138,584,073 | 4,002,648 | 98 | 0 | 5 | 22 | 60 | 09/05/21 |
| 501 | Years & Years | 2,136,276,288 | 71,667,883 | 87 | 0 | 7 | 28 | 65 | 07/18/21 |
| 502 | Juan Magán | 2,132,723,236 | 770,831,049 | 225 | 0 | 5 | 40 | 105 | 07/19/21 |
| 503 | Stormzy | 2,132,107,611 | 901,352,007 | 69 | 0 | 5 | 48 | 67 | 10/19/21 |
| 504 | Shinedown | 2,128,837,552 | 0 | 176 | 0 | 3 | 48 | 115 | 10/18/21 |
| 505 | Bizarrap | 2,122,821,288 | 363,308,367 | 76 | 0 | 5 | 46 | 73 | 10/19/21 |
| 506 | Van Morrison | 2,119,691,863 | 70,805,106 | 843 | 0 | 4 | 19 | 122 | 10/08/21 |
| 507 | Ludovico Einaudi | 2,116,061,503 | 2,128,695 | 507 | 0 | 3 | 38 | 221 | 06/29/21 |
| 508 | KHEA | 2,095,947,778 | 727,204,852 | 71 | 0 | 5 | 38 | 68 | 10/20/21 |
| 509 | bbno$ | 2,090,511,136 | 204,479,466 | 143 | 0 | 1 | 35 | 109 | 10/22/21 |
| 510 | All Time Low | 2,076,356,282 | 909,165 | 209 | 0 | 2 | 46 | 158 | 08/31/21 |
| 511 | Lynyrd Skynyrd | 2,074,293,000 | 242,455 | 354 | 0 | 4 | 15 | 72 | 09/29/21 |
| 512 | Rage Against The Machine | 2,062,437,666 | 444,029 | 109 | 0 | 3 | 29 | 78 | 10/14/21 |
| 513 | Hollywood Undead | 2,056,329,006 | 11,881,288 | 137 | 0 | 3 | 65 | 124 | 09/22/21 |
| 514 | The Smiths | 2,054,724,322 | 0 | 143 | 0 | 5 | 41 | 106 | 10/18/21 |
| 515 | Tate McRae | 2,051,250,125 | 3,041,424 | 38 | 0 | 5 | 21 | 36 | 10/22/21 |
| 516 | Earth, Wind & Fire | 2,049,724,576 | 74,980,903 | 419 | 0 | 3 | 19 | 64 | 09/01/21 |
| 517 | Of Monsters and Men | 2,044,333,886 | 2,899,928 | 54 | 0 | 5 | 28 | 52 | 08/24/21 |
| 518 | Axwell /\ Ingrosso | 2,043,412,175 | 2,161,352 | 47 | 0 | 4 | 17 | 38 | 07/03/21 |
| 519 | Keith Urban | 2,036,902,059 | 292,307,127 | 188 | 0 | 6 | 34 | 109 | 09/02/21 |
| 520 | A Day To Remember | 2,034,046,038 | 0 | 133 | 0 | 3 | 53 | 124 | 08/30/21 |
| 521 | Aya Nakamura | 2,031,956,646 | 129,093,316 | 67 | 0 | 5 | 31 | 67 | 10/22/21 |
| 522 | TOTO | 2,027,598,148 | 2,940,202 | 394 | 1 | 3 | 10 | 75 | 06/20/21 |
| 523 | Rels B | 2,026,937,993 | 16,906,675 | 91 | 0 | 2 | 54 | 88 | 05/26/21 |
| 524 | Daryl Hall & John Oates | 2,022,631,743 | 25,605 | 538 | 0 | 4 | 12 | 60 | 09/26/21 |
| 525 | GIMS | 2,021,005,298 | 249,518,397 | 176 | 0 | 2 | 44 | 151 | 10/22/21 |
| 526 | T-Pain | 2,019,245,987 | 2,684,115,398 | 205 | 0 | 6 | 26 | 101 | 07/04/21 |
| 527 | Brytiago | 2,018,605,361 | 1,732,372,521 | 76 | 0 | 5 | 34 | 68 | 10/18/21 |
| 528 | Andy Grammer | 2,013,708,497 | 4,496,550 | 74 | 0 | 5 | 21 | 69 | 09/03/21 |
| 529 | Vicente Fernández | 2,011,298,442 | 79,252,787 | 831 | 0 | 0 | 43 | 283 | 08/26/21 |
| 530 | Black Sabbath | 2,006,036,146 | 11,919,671 | 283 | 0 | 3 | 30 | 110 | 10/06/21 |
| 531 | Kodaline | 1,999,983,259 | 261,805,631 | 122 | 0 | 4 | 31 | 83 | 09/29/21 |
| 532 | PnB Rock | 1,998,775,196 | 1,562,296,149 | 97 | 0 | 4 | 32 | 85 | 07/29/21 |
| 533 | Dermot Kennedy | 1,989,932,199 | 0 | 65 | 0 | 4 | 34 | 55 | 09/05/21 |
| 534 | Prince | 1,988,889,846 | 3,275,375 | 826 | 0 | 4 | 29 | 160 | 10/20/21 |
| 535 | The Cranberries | 1,982,330,580 | 0 | 261 | 0 | 4 | 16 | 114 | 09/10/21 |
| 536 | The White Stripes | 1,982,166,424 | 0 | 172 | 0 | 3 | 18 | 108 | 09/11/21 |
| 537 | Scorpions | 1,980,827,575 | 1,628,754 | 344 | 0 | 5 | 16 | 139 | 06/21/21 |
| 538 | ODESZA | 1,980,615,898 | 114,604,652 | 157 | 0 | 2 | 48 | 124 | 09/04/21 |
| 539 | Melendi | 1,976,196,759 | 110,257,566 | 204 | 0 | 2 | 49 | 189 | 10/16/21 |
| 540 | Milky Chance | 1,973,421,615 | 5,656,583 | 55 | 0 | 4 | 27 | 51 | 06/14/21 |
| 541 | Sfera Ebbasta | 1,968,028,021 | 987,964,962 | 81 | 0 | 0 | 56 | 80 | 10/22/21 |
| 542 | Enya | 1,960,720,755 | 396,144,784 | 144 | 0 | 3 | 49 | 126 | 10/14/21 |
| 543 | Kali Uchis | 1,959,755,486 | 1,237,881,488 | 61 | 0 | 3 | 44 | 57 | 10/22/21 |
| 544 | Aretha Franklin | 1,958,068,431 | 12,274,388 | 917 | 0 | 4 | 27 | 129 | 10/17/21 |
| 545 | Sabaton | 1,953,615,847 | 984,475 | 258 | 0 | 0 | 63 | 150 | 10/21/21 |
| 546 | Bibi und Tina | 1,951,141,273 | 22,746,305 | 3,428 | 0 | 0 | 1 | 354 | 10/09/21 |
| 547 | Carrie Underwood | 1,950,310,662 | 335,489,665 | 157 | 0 | 3 | 35 | 108 | 10/22/21 |
| 548 | Mustard | 1,949,734,790 | 1,671,534,288 | 74 | 0 | 4 | 17 | 53 | 09/03/21 |
| 549 | Tainy | 1,946,553,010 | 1,251,603,662 | 39 | 0 | 3 | 13 | 29 | 10/01/21 |
| 550 | Pedro Capó | 1,944,751,418 | 125,128,429 | 69 | 0 | 3 | 11 | 41 | 07/25/21 |
| 551 | Rod Stewart | 1,944,279,343 | 415,547,570 | 719 | 0 | 4 | 36 | 205 | 10/14/21 |
| 552 | El Alfa | 1,936,293,752 | 394,695,018 | 171 | 0 | 5 | 35 | 110 | 07/17/21 |
| 553 | Van Halen | 1,935,463,127 | 23,824 | 188 | 0 | 4 | 24 | 108 | 08/09/21 |
| 554 | WALK THE MOON | 1,928,606,850 | 99,430,411 | 89 | 1 | 3 | 24 | 51 | 09/23/21 |
| 555 | Damso | 1,926,124,802 | 565,812,901 | 91 | 0 | 1 | 68 | 88 | 10/19/21 |
| 556 | Shaggy | 1,925,456,469 | 446,282,356 | 409 | 0 | 5 | 21 | 94 | 09/02/21 |
| 557 | gnash | 1,915,854,995 | 271,054,469 | 76 | 1 | 2 | 23 | 60 | 09/03/21 |
| 558 | C. Tangana | 1,911,769,813 | 135,981,350 | 77 | 0 | 5 | 40 | 75 | 10/20/21 |
| 559 | Hardwell | 1,904,378,051 | 239,216,545 | 412 | 0 | 0 | 45 | 157 | 09/04/21 |
| 560 | Don Diablo | 1,899,491,337 | 98,944,630 | 226 | 0 | 0 | 55 | 119 | 08/01/21 |
| 561 | Sublime | 1,894,724,388 | 113,822 | 211 | 0 | 3 | 26 | 109 | 06/22/21 |
| 562 | Samra | 1,888,933,794 | 260,729,243 | 95 | 0 | 3 | 45 | 82 | 04/30/21 |
| 563 | Sum 41 | 1,882,940,824 | 4,989,450 | 127 | 0 | 5 | 28 | 95 | 10/22/21 |
| 564 | Nacho | 1,876,674,626 | 120,940,363 | 113 | 0 | 6 | 24 | 50 | 09/16/21 |
| 565 | Two Door Cinema Club | 1,875,524,020 | 1,802,459 | 135 | 0 | 4 | 29 | 88 | 10/01/21 |
| 566 | Nelly Furtado | 1,872,920,042 | 230,882,608 | 210 | 0 | 6 | 13 | 54 | 10/05/21 |
| 567 | George Strait | 1,870,035,343 | 25,674,534 | 444 | 0 | 2 | 42 | 191 | 09/02/21 |
| 568 | Evanescence | 1,862,690,752 | 4,372,860 | 108 | 0 | 3 | 25 | 90 | 08/22/21 |
| 569 | Mac DeMarco | 1,858,140,582 | 41,504,498 | 158 | 0 | 4 | 43 | 111 | 08/23/21 |
| 570 | Ozzy Osbourne | 1,848,640,050 | 53,688,768 | 213 | 0 | 3 | 22 | 120 | 10/06/21 |
| 571 | Ella Mai | 1,846,702,210 | 279,339,801 | 37 | 0 | 5 | 32 | 36 | 10/15/21 |
| 572 | Noriel | 1,845,205,637 | 1,190,362,093 | 85 | 0 | 4 | 36 | 79 | 10/08/21 |
| 573 | De La Ghetto | 1,839,686,676 | 2,016,862,956 | 146 | 0 | 4 | 34 | 88 | 09/11/21 |
| 574 | Jorja Smith | 1,835,734,619 | 394,177,118 | 68 | 0 | 4 | 38 | 62 | 10/05/21 |
| 575 | MGMT | 1,830,535,713 | 754,577,286 | 86 | 0 | 4 | 18 | 58 | 06/18/21 |
| 576 | Dave | 1,829,989,579 | 100,469,085 | 58 | 0 | 4 | 39 | 58 | 10/18/21 |
| 577 | Colbie Caillat | 1,825,164,259 | 100,772,650 | 105 | 0 | 3 | 17 | 89 | 09/02/21 |
| 578 | Fergie | 1,824,083,843 | 176,011,407 | 78 | 0 | 6 | 10 | 45 | 10/15/21 |
| 579 | José José | 1,819,408,635 | 110,812,739 | 448 | 0 | 1 | 46 | 164 | 09/29/21 |
| 580 | Desiigner | 1,819,030,377 | 512,159,030 | 51 | 1 | 2 | 14 | 40 | 09/08/21 |
| 581 | R. Kelly | 1,818,765,772 | 369,434,506 | 360 | 0 | 2 | 27 | 195 | 09/02/21 |
| 582 | Bethel Music | 1,817,317,476 | 0 | 285 | 0 | 0 | 43 | 240 | 09/30/21 |
| 583 | Louis Tomlinson | 1,809,093,412 | 9,645,806 | 42 | 0 | 4 | 19 | 28 | 10/22/21 |
| 584 | Clairo | 1,808,849,595 | 603,319,044 | 25 | 0 | 7 | 25 | 25 | 10/22/21 |
| 585 | Cali Y El Dandee | 1,807,094,119 | 165,763,977 | 60 | 0 | 5 | 28 | 52 | 02/19/21 |
| 586 | Arizona Zervas | 1,805,159,677 | 11,365,330 | 30 | 1 | 2 | 14 | 29 | 10/11/21 |
| 587 | Rascal Flatts | 1,799,864,611 | 49,788,758 | 227 | 0 | 4 | 26 | 114 | 09/02/21 |
| 588 | 3 Doors Down | 1,797,344,386 | 576,524 | 145 | 0 | 3 | 16 | 101 | 09/02/21 |
| 589 | Gotye | 1,788,466,941 | 4,367,557 | 56 | 0 | 2 | 9 | 25 | 02/07/21 |
| 590 | RAYE | 1,780,694,564 | 516,958,403 | 80 | 0 | 4 | 20 | 51 | 09/28/21 |
| 591 | Astrid S | 1,776,939,827 | 116,767,544 | 100 | 0 | 4 | 34 | 76 | 07/06/21 |
| 592 | Marilyn Manson | 1,775,323,019 | 44,593,344 | 227 | 0 | 3 | 30 | 171 | 06/29/21 |
| 593 | Sido | 1,773,546,049 | 458,747,712 | 359 | 0 | 2 | 40 | 173 | 09/21/21 |
| 594 | Jaden | 1,771,986,347 | 1,294,841,613 | 110 | 0 | 2 | 37 | 93 | 10/22/21 |
| 595 | Stray Kids | 1,765,994,599 | 19,959,372 | 110 | 0 | 2 | 59 | 101 | 10/22/21 |
| 596 | OMI | 1,765,777,327 | 119,271,377 | 43 | 1 | 2 | 7 | 26 | 10/16/21 |
| 597 | MØ | 1,761,472,850 | 3,191,790,440 | 112 | 0 | 4 | 29 | 78 | 10/20/21 |
| 598 | MC Kevinho | 1,759,208,143 | 252,393,656 | 59 | 0 | 3 | 31 | 49 | 06/21/21 |
| 599 | Red Velvet | 1,756,222,023 | 11,275,803 | 115 | 0 | 5 | 24 | 103 | 10/22/21 |
| 600 | Luan Santana | 1,753,631,072 | 223,013,777 | 196 | 0 | 2 | 36 | 149 | 10/20/21 |
| 601 | Vampire Weekend | 1,751,496,226 | 0 | 74 | 0 | 1 | 45 | 67 | 09/21/21 |
| 602 | The Smashing Pumpkins | 1,751,426,436 | 0 | 418 | 0 | 5 | 23 | 130 | 10/08/21 |
| 603 | Joyner Lucas | 1,747,515,348 | 651,141,507 | 83 | 0 | 3 | 32 | 76 | 09/22/21 |
| 604 | The Clash | 1,745,279,506 | 0 | 236 | 0 | 3 | 21 | 92 | 10/03/21 |
| 605 | Luciano | 1,739,792,255 | 319,142,793 | 144 | 0 | 0 | 50 | 115 | 08/18/21 |
| 606 | Goodboys | 1,733,504,326 | 3,127,165 | 38 | 0 | 3 | 7 | 15 | 07/13/21 |
| 607 | Limp Bizkit | 1,729,420,743 | 2,809,309 | 114 | 0 | 5 | 21 | 93 | 02/22/21 |
| 608 | Ms. Lauryn Hill | 1,725,847,255 | 273,846,780 | 89 | 0 | 4 | 24 | 56 | 10/04/21 |
| 609 | M83 | 1,724,667,333 | 14,721,792 | 238 | 0 | 2 | 20 | 108 | 09/21/21 |
| 610 | Joan Sebastian | 1,722,021,223 | 0 | 470 | 0 | 2 | 32 | 188 | 10/31/20 |
| 611 | Annie Lennox | 1,720,968,638 | 7,891,814 | 322 | 0 | 3 | 20 | 78 | 10/08/21 |
| 612 | Mike WiLL Made-It | 1,719,563,002 | 238,152,584 | 135 | 0 | 5 | 27 | 68 | 05/08/21 |
| 613 | Pharrell Williams | 1,717,085,943 | 5,533,301,195 | 107 | 0 | 2 | 19 | 58 | 09/15/21 |
| 614 | Sleeping At Last | 1,715,283,824 | 90,559 | 275 | 0 | 3 | 37 | 162 | 07/30/21 |
| 615 | Thirty Seconds To Mars | 1,711,915,432 | 45,274,414 | 83 | 0 | 4 | 32 | 74 | 09/16/21 |
| 616 | The Kooks | 1,709,760,603 | 0 | 230 | 0 | 5 | 27 | 94 | 07/19/21 |
| 617 | Lord Huron | 1,706,099,834 | 0 | 75 | 0 | 3 | 20 | 66 | 09/25/21 |
| 618 | Portugal. The Man | 1,704,124,466 | 40,958,424 | 170 | 0 | 1 | 25 | 86 | 02/22/21 |
| 619 | Olly Murs | 1,697,526,985 | 26,746,459 | 179 | 0 | 4 | 23 | 108 | 09/14/21 |
| 620 | Stefflon Don | 1,692,884,847 | 289,527,958 | 75 | 0 | 6 | 18 | 56 | 08/27/21 |
| 621 | Lofi Fruits Music | 1,690,425,100 | 110,241,102 | 1,087 | 0 | 0 | 15 | 448 | 09/06/21 |
| 622 | Rod Wave | 1,689,840,184 | 40,846,675 | 110 | 0 | 3 | 42 | 106 | 10/17/21 |
| 623 | Jessie Reyez | 1,689,642,977 | 444,807,204 | 60 | 0 | 3 | 24 | 51 | 08/02/21 |
| 624 | El Fantasma | 1,689,393,864 | 43,098,880 | 183 | 0 | 2 | 47 | 136 | 08/18/21 |
| 625 | Westlife | 1,688,813,151 | 20,077 | 216 | 0 | 2 | 34 | 140 | 10/19/21 |
| 626 | Loud Luxury | 1,688,216,803 | 44,501,635 | 129 | 0 | 2 | 21 | 42 | 09/04/21 |
| 627 | Kacey Musgraves | 1,683,954,285 | 112,206,719 | 125 | 0 | 2 | 36 | 88 | 10/22/21 |
| 628 | Carlos Rivera | 1,677,781,599 | 386,789,341 | 203 | 0 | 3 | 33 | 123 | 06/11/21 |
| 629 | DMX | 1,674,111,302 | 225,072,717 | 301 | 0 | 4 | 22 | 91 | 10/22/21 |
| 630 | Joey Bada$$ | 1,668,775,774 | 624,051,990 | 111 | 0 | 3 | 43 | 90 | 09/12/21 |
| 631 | Kontra K | 1,667,863,518 | 175,041,048 | 224 | 0 | 0 | 49 | 146 | 05/15/21 |
| 632 | Tom Odell | 1,667,455,271 | 41,251,179 | 125 | 0 | 3 | 23 | 72 | 10/17/21 |
| 633 | Jay Wheeler | 1,665,237,797 | 320,364,146 | 99 | 0 | 2 | 28 | 75 | 10/09/21 |
| 634 | Nekfeu | 1,663,428,661 | 420,126,358 | 95 | 0 | 0 | 64 | 88 | 10/22/21 |
| 635 | Michael Silverman | 1,660,294,072 | 202,368 | 934 | 0 | 0 | 45 | 224 | 02/26/21 |
| 636 | Keane | 1,655,009,976 | 574,340 | 195 | 0 | 2 | 23 | 103 | 10/10/21 |
| 637 | Topic | 1,653,586,230 | 5,769,890 | 80 | 0 | 2 | 16 | 45 | 08/12/21 |
| 638 | Queens of the Stone Age | 1,653,412,930 | 0 | 142 | 0 | 2 | 39 | 106 | 07/11/21 |
| 639 | Owl City | 1,651,691,885 | 83,245,272 | 109 | 0 | 2 | 25 | 101 | 08/18/21 |
| 640 | Santana | 1,650,082,208 | 3,221,169 | 614 | 0 | 4 | 24 | 125 | 10/21/21 |
| 641 | Ha*Ash | 1,649,858,542 | 381,862,209 | 125 | 0 | 3 | 37 | 90 | 10/03/21 |
| 642 | TINI | 1,649,044,674 | 224,869,634 | 63 | 0 | 4 | 26 | 57 | 10/22/21 |
| 643 | Snow Patrol | 1,645,595,500 | 9,764,830 | 191 | 0 | 2 | 22 | 97 | 09/30/21 |
| 644 | Gerardo Ortiz | 1,642,590,276 | 411,753,848 | 233 | 0 | 1 | 36 | 170 | 02/12/21 |
| 645 | Swedish House Mafia | 1,641,850,031 | 1,825,989 | 36 | 0 | 5 | 16 | 30 | 10/18/21 |
| 646 | Dierks Bentley | 1,641,067,921 | 151,851,446 | 149 | 0 | 4 | 24 | 85 | 09/02/21 |
| 647 | SEVENTEEN | 1,629,447,549 | 0 | 132 | 0 | 1 | 42 | 119 | 10/22/21 |
| 648 | Kelly Rowland | 1,628,739,740 | 661,225,693 | 173 | 0 | 4 | 17 | 68 | 01/22/21 |
| 649 | Afrojack | 1,628,200,244 | 1,395,253,007 | 305 | 0 | 2 | 32 | 121 | 05/02/21 |
| 650 | Booba | 1,627,926,606 | 616,978,294 | 234 | 0 | 0 | 47 | 186 | 10/22/21 |
| 651 | Ben Howard | 1,627,134,346 | 389,016 | 60 | 0 | 3 | 27 | 50 | 10/04/21 |
| 652 | Moneybagg Yo | 1,626,289,193 | 788,972,819 | 246 | 0 | 0 | 40 | 181 | 10/18/21 |
| 653 | Danna Paola | 1,624,767,135 | 47,876,667 | 101 | 0 | 5 | 28 | 62 | 10/22/21 |
| 654 | Incubus | 1,624,593,194 | 0 | 229 | 0 | 3 | 28 | 128 | 09/02/21 |
| 655 | Gryffin | 1,624,514,140 | 414,715,959 | 120 | 0 | 6 | 24 | 72 | 04/23/21 |
| 656 | MAX | 1,621,199,905 | 167,174,319 | 138 | 0 | 4 | 26 | 76 | 10/19/21 |
| 657 | Apache 207 | 1,620,466,836 | 108,273,271 | 33 | 0 | 2 | 31 | 33 | 08/06/21 |
| 658 | Elevation Worship | 1,620,461,758 | 12,831,641 | 240 | 0 | 1 | 34 | 169 | 10/01/21 |
| 659 | Ciara | 1,618,098,438 | 402,341,317 | 155 | 0 | 4 | 23 | 86 | 09/23/21 |
| 660 | Powfu | 1,617,907,608 | 107,941,893 | 66 | 1 | 1 | 12 | 62 | 09/03/21 |
| 661 | Tee Grizzley | 1,617,436,989 | 139,751,443 | 129 | 0 | 3 | 24 | 109 | 05/12/21 |
| 662 | Lil Dicky | 1,616,460,233 | 114,899,323 | 22 | 0 | 5 | 16 | 22 | 09/03/21 |
| 663 | Yo Gotti | 1,612,651,009 | 1,174,641,342 | 479 | 0 | 2 | 27 | 130 | 07/04/21 |
| 664 | Los Tigres Del Norte | 1,612,543,190 | 141,929,772 | 629 | 0 | 0 | 34 | 233 | 09/06/21 |
| 665 | Ali Gatie | 1,612,409,670 | 1,734,846 | 34 | 0 | 3 | 18 | 30 | 06/07/21 |
| 666 | Natanael Cano | 1,609,539,849 | 153,202,923 | 116 | 0 | 2 | 38 | 107 | 10/05/21 |
| 667 | Gigi D'Agostino | 1,607,853,514 | 811,917 | 423 | 1 | 2 | 7 | 29 | 07/02/21 |
| 668 | Aloe Blacc | 1,607,469,913 | 221,208,510 | 189 | 0 | 3 | 17 | 58 | 04/10/21 |
| 669 | Sara Bareilles | 1,605,912,886 | 74,428,417 | 186 | 0 | 4 | 21 | 107 | 10/15/21 |
| 670 | Cosculluela | 1,602,713,772 | 854,087,172 | 125 | 0 | 4 | 23 | 82 | 02/15/21 |
| 671 | Trevor Daniel | 1,598,470,985 | 144,755,306 | 42 | 1 | 2 | 12 | 41 | 08/12/21 |
| 672 | Thalia | 1,597,865,344 | 264,382,858 | 305 | 0 | 2 | 29 | 124 | 10/22/21 |
| 673 | KISS | 1,597,372,365 | 0 | 411 | 0 | 3 | 15 | 128 | 06/09/21 |
| 674 | Quinn XCII | 1,592,676,323 | 0 | 69 | 0 | 3 | 41 | 69 | 11/14/20 |
| 675 | CHVRCHES | 1,591,449,210 | 5,074,935 | 116 | 0 | 2 | 30 | 83 | 10/12/21 |
| 676 | TKKG | 1,590,067,517 | 0 | 4,763 | 0 | 0 | 0 | 28 | 01/02/21 |
| 677 | Mötley Crüe | 1,588,883,158 | 0 | 225 | 0 | 4 | 21 | 87 | 10/15/21 |
| 678 | Beret | 1,586,857,502 | 43,424,522 | 48 | 0 | 3 | 40 | 47 | 10/04/21 |
| 679 | Kollegah | 1,584,591,974 | 94,663,622 | 551 | 0 | 0 | 39 | 289 | 10/14/21 |
| 680 | ANAVITÓRIA | 1,581,317,385 | 216,008,811 | 72 | 0 | 3 | 37 | 68 | 10/22/21 |
| 681 | Frédéric Chopin | 1,580,987,576 | 1,163,362 | 9,790 | 0 | 0 | 20 | 229 | 08/06/21 |
| 682 | Charlie Brown Jr. | 1,580,294,868 | 35,076,703 | 278 | 0 | 0 | 30 | 160 | 10/03/21 |
| 683 | Wale | 1,580,208,020 | 1,154,717,634 | 238 | 0 | 3 | 33 | 130 | 01/05/21 |
| 684 | Blueface | 1,578,666,919 | 506,759,991 | 88 | 0 | 4 | 25 | 69 | 09/26/21 |
| 685 | Wham! | 1,575,017,706 | 803,322 | 36 | 0 | 2 | 8 | 28 | 10/20/21 |
| 686 | Conor Maynard | 1,573,210,113 | 290,548,203 | 128 | 0 | 3 | 37 | 81 | 07/10/21 |
| 687 | Daya | 1,567,388,316 | 1,974,448,643 | 43 | 0 | 4 | 17 | 38 | 10/21/21 |
| 688 | Zoé | 1,566,169,419 | 8,309,495 | 188 | 0 | 3 | 38 | 109 | 01/29/21 |
| 689 | fun. | 1,563,903,413 | 179,922 | 26 | 0 | 3 | 16 | 25 | 09/22/21 |
| 690 | Gwen Stefani | 1,562,846,943 | 857,669,461 | 98 | 0 | 3 | 17 | 65 | 10/22/21 |
| 691 | Leona Lewis | 1,560,947,361 | 47,049,082 | 130 | 0 | 4 | 16 | 73 | 10/21/21 |
| 692 | Old Dominion | 1,558,080,029 | 2,210,265 | 74 | 0 | 6 | 25 | 51 | 09/03/21 |
| 693 | Bryant Myers | 1,555,580,281 | 1,572,871,706 | 92 | 0 | 4 | 39 | 83 | 03/11/21 |
| 694 | Willy William | 1,554,428,694 | 0 | 97 | 1 | 2 | 7 | 23 | 11/16/20 |
| 695 | Lady A | 1,553,890,200 | 123,565,129 | 220 | 0 | 2 | 24 | 120 | 09/03/21 |
| 696 | Gente De Zona | 1,552,539,697 | 1,252,561,307 | 111 | 0 | 3 | 20 | 76 | 09/23/21 |
| 697 | Martin Jensen | 1,550,508,031 | 248,746,085 | 68 | 0 | 3 | 19 | 41 | 01/11/21 |
| 698 | Nas | 1,546,917,718 | 652,936,327 | 302 | 0 | 2 | 32 | 163 | 01/06/21 |
| 699 | The Jackson 5 | 1,546,048,422 | 2,112,943 | 349 | 0 | 3 | 11 | 46 | 10/22/21 |
| 700 | Die drei !!! | 1,543,605,722 | 23,498,439 | 2,798 | 0 | 0 | 0 | 58 | 10/09/21 |
| 701 | La Oreja de Van Gogh | 1,537,931,919 | 55,794,617 | 182 | 0 | 2 | 33 | 160 | 08/21/21 |
| 702 | Sufjan Stevens | 1,537,720,483 | 30,503,692 | 388 | 0 | 1 | 26 | 170 | 08/07/21 |
| 703 | Dilsinho | 1,536,975,587 | 323,485,409 | 138 | 0 | 3 | 29 | 116 | 10/20/21 |
| 704 | John Lennon | 1,536,945,515 | 5,554,903 | 467 | 0 | 3 | 20 | 84 | 10/21/21 |
| 705 | Casper Magico | 1,532,557,006 | 158,823,124 | 80 | 0 | 2 | 17 | 54 | 01/02/21 |
| 706 | Chief Keef | 1,531,749,381 | 493,317,969 | 534 | 0 | 4 | 23 | 167 | 09/17/21 |
| 707 | Darell | 1,529,447,202 | 4,202,605,904 | 124 | 0 | 4 | 29 | 86 | 10/02/21 |
| 708 | Arcade Fire | 1,527,258,745 | 0 | 103 | 0 | 3 | 44 | 82 | 10/22/21 |
| 709 | David Bisbal | 1,516,626,351 | 609,850,259 | 242 | 0 | 2 | 29 | 116 | 10/19/21 |
| 710 | Niska | 1,516,560,541 | 532,738,249 | 92 | 0 | 1 | 43 | 89 | 09/16/21 |
| 711 | Guaynaa | 1,515,566,695 | 98,646,182 | 47 | 0 | 5 | 16 | 38 | 10/15/21 |
| 712 | Lee Brice | 1,514,026,248 | 12,190,065 | 94 | 0 | 6 | 14 | 65 | 09/03/21 |
| 713 | AJ Tracey | 1,510,753,733 | 125,930,745 | 98 | 0 | 4 | 28 | 83 | 10/18/21 |
| 714 | Jack Ü | 1,509,853,886 | 912,261 | 32 | 0 | 3 | 10 | 30 | 12/26/20 |
| 715 | Denzel Curry | 1,507,095,880 | 410,399,370 | 114 | 0 | 2 | 39 | 87 | 10/04/21 |
| 716 | Felipe Araújo | 1,507,060,178 | 144,991,670 | 97 | 0 | 5 | 18 | 64 | 09/03/21 |
| 717 | Bruno & Marrone | 1,499,184,205 | 204,065,915 | 411 | 0 | 1 | 29 | 185 | 08/31/21 |
| 718 | Sting | 1,498,664,690 | 216,365,401 | 465 | 0 | 3 | 20 | 184 | 09/08/21 |
| 719 | The Pussycat Dolls | 1,495,427,167 | 20,067,111 | 54 | 0 | 4 | 14 | 40 | 10/10/21 |
| 720 | Ice Cube | 1,494,097,969 | 176,529,482 | 265 | 0 | 3 | 20 | 145 | 01/28/21 |
| 721 | Neil Young | 1,492,248,289 | 17,581,131 | 856 | 0 | 3 | 22 | 131 | 09/02/21 |
| 722 | Paul Simon | 1,490,036,511 | 68,021,453 | 429 | 0 | 3 | 20 | 104 | 10/06/21 |
| 723 | Kevin Roldan | 1,489,016,332 | 399,120,073 | 126 | 0 | 2 | 29 | 89 | 06/11/21 |
| 724 | Taio Cruz | 1,487,977,887 | 23,439,157 | 95 | 0 | 4 | 13 | 41 | 09/05/21 |
| 725 | Internet Money | 1,487,270,931 | 240,760,241 | 40 | 0 | 3 | 10 | 23 | 09/08/21 |
| 726 | Mon Laferte | 1,486,387,667 | 270,499,251 | 128 | 0 | 3 | 28 | 105 | 10/20/21 |
| 727 | The National | 1,481,830,520 | 68,728,009 | 209 | 0 | 1 | 43 | 137 | 10/07/21 |
| 728 | Sean Kingston | 1,478,550,000 | 131,894,349 | 127 | 0 | 5 | 16 | 44 | 09/25/21 |
| 729 | Alan Jackson | 1,476,559,130 | 65,038,230 | 253 | 0 | 1 | 31 | 137 | 03/05/21 |
| 730 | Roxette | 1,475,994,431 | 299,275 | 382 | 0 | 3 | 17 | 85 | 09/30/21 |
| 731 | Martin Solveig | 1,474,236,399 | 1,215,667 | 247 | 0 | 5 | 16 | 60 | 02/12/21 |
| 732 | Shania Twain | 1,469,603,597 | 176,124,480 | 170 | 0 | 4 | 24 | 97 | 10/22/21 |
| 733 | MKTO | 1,469,541,117 | 10,444,447 | 29 | 0 | 1 | 14 | 28 | 09/03/21 |
| 734 | Stromae | 1,469,459,552 | 55,697,785 | 46 | 0 | 4 | 21 | 36 | 10/16/21 |
| 735 | Ezhel | 1,466,161,763 | 150,391,507 | 59 | 0 | 0 | 40 | 55 | 10/13/21 |
| 736 | Banda El Recodo | 1,464,524,587 | 1,277,033 | 550 | 0 | 1 | 36 | 155 | 02/24/21 |
| 737 | Aitana | 1,464,053,357 | 3,741,899 | 65 | 0 | 4 | 25 | 63 | 10/22/21 |
| 738 | Yusuf / Cat Stevens | 1,461,402,233 | 15,764,014 | 325 | 0 | 3 | 18 | 64 | 10/22/21 |
| 739 | Yellow Claw | 1,460,222,344 | 76,991,831 | 238 | 0 | 2 | 30 | 115 | 07/09/21 |
| 740 | Nat King Cole | 1,459,023,413 | 6,746,115 | 1,088 | 0 | 2 | 25 | 103 | 09/02/21 |
| 741 | Chayanne | 1,458,798,729 | 106,591,871 | 235 | 0 | 2 | 25 | 91 | 08/31/21 |
| 742 | Kiiara | 1,457,204,493 | 270,410,790 | 71 | 0 | 3 | 18 | 35 | 10/21/21 |
| 743 | League of Legends | 1,448,732,152 | 672,689,310 | 329 | 0 | 3 | 19 | 85 | 10/11/21 |
| 744 | Plan B | 1,448,270,585 | 0 | 62 | 0 | 4 | 19 | 52 | 11/15/20 |
| 745 | Simple Plan | 1,441,022,268 | 1,788,290 | 118 | 0 | 4 | 29 | 86 | 10/18/21 |
| 746 | John Newman | 1,439,605,622 | 331,748,009 | 82 | 0 | 3 | 12 | 53 | 03/24/21 |
| 747 | Nina Simone | 1,438,858,558 | 15,465,627 | 546 | 0 | 2 | 22 | 124 | 10/06/21 |
| 748 | Yung Gravy | 1,437,194,028 | 9,022,509 | 71 | 0 | 2 | 27 | 68 | 07/16/21 |
| 749 | Saweetie | 1,436,412,233 | 292,406,412 | 61 | 0 | 4 | 21 | 51 | 10/19/21 |
| 750 | Granular | 1,434,614,692 | 0 | 432 | 0 | 2 | 19 | 69 | 03/05/21 |
| 751 | Lionel Richie | 1,433,970,931 | 46,229,033 | 267 | 0 | 5 | 17 | 69 | 10/08/21 |
| 752 | Nipsey Hussle | 1,430,729,695 | 226,102,540 | 282 | 0 | 2 | 30 | 135 | 08/09/21 |
| 753 | Alex Rose | 1,427,992,828 | 417,963,769 | 61 | 0 | 3 | 24 | 56 | 07/07/21 |
| 754 | Chelsea Cutler | 1,426,164,636 | 432,991,241 | 78 | 0 | 3 | 28 | 65 | 07/16/21 |
| 755 | DJ Luian | 1,425,231,812 | 1,986,428,348 | 52 | 0 | 4 | 15 | 41 | 02/22/21 |
| 756 | Sade | 1,424,198,434 | 1,355,847 | 111 | 0 | 4 | 33 | 104 | 10/22/21 |
| 757 | Electric Light Orchestra | 1,422,261,000 | 22,736,509 | 235 | 0 | 3 | 16 | 111 | 01/04/21 |
| 758 | Los Temerarios | 1,420,543,713 | 0 | 322 | 0 | 0 | 46 | 128 | 10/05/21 |
| 759 | DENNIS | 1,419,916,276 | 117,580,197 | 305 | 0 | 4 | 30 | 120 | 06/20/21 |
| 760 | Calle 13 | 1,419,474,679 | 80,756,373 | 81 | 0 | 4 | 28 | 75 | 01/06/21 |
| 761 | *NSYNC | 1,418,268,782 | 18,953,024 | 92 | 0 | 5 | 15 | 70 | 10/22/21 |
| 762 | Lily Allen | 1,416,696,030 | 279,853,586 | 114 | 0 | 3 | 22 | 78 | 08/15/21 |
| 763 | Kylie Minogue | 1,416,431,644 | 106,243,198 | 869 | 0 | 2 | 28 | 157 | 10/20/21 |
| 764 | Tech N9ne | 1,413,659,255 | 538,028,931 | 451 | 0 | 0 | 27 | 219 | 10/08/21 |
| 765 | Marco Antonio Solís | 1,413,261,614 | 485,985,284 | 203 | 0 | 1 | 33 | 139 | 02/26/21 |
| 766 | Mambo Kingz | 1,409,982,433 | 1,796,968,260 | 36 | 0 | 5 | 11 | 14 | 02/26/21 |
| 767 | Bullet For My Valentine | 1,409,246,889 | 26,581 | 162 | 0 | 2 | 35 | 91 | 08/05/21 |
| 768 | Baby Lullaby Academy | 1,409,215,562 | 30,122,083 | 2,087 | 0 | 0 | 52 | 164 | 09/22/21 |
| 769 | Dolly Parton | 1,408,501,618 | 121,299,239 | 948 | 0 | 3 | 13 | 124 | 12/31/20 |
| 770 | Brad Paisley | 1,407,470,935 | 46,180,925 | 232 | 0 | 1 | 34 | 123 | 09/03/21 |
| 771 | girl in red | 1,407,188,043 | 3,765,618 | 29 | 0 | 5 | 19 | 28 | 10/18/21 |
| 772 | Chencho Corleone | 1,407,116,148 | 791,262,424 | 18 | 0 | 5 | 13 | 17 | 09/25/21 |
| 773 | deadmau5 | 1,406,999,842 | 88,245,746 | 433 | 0 | 1 | 27 | 188 | 07/24/21 |
| 774 | Bea Miller | 1,402,357,033 | 973,863,406 | 41 | 0 | 4 | 22 | 41 | 10/22/21 |
| 775 | Jowell & Randy | 1,402,083,663 | 746,943,451 | 169 | 0 | 3 | 22 | 86 | 10/18/21 |
| 776 | The Goo Goo Dolls | 1,396,855,854 | 279,713 | 248 | 0 | 2 | 13 | 69 | 03/23/21 |
| 777 | Jay Chou | 1,394,403,171 | 20,862,440 | 297 | 0 | 0 | 45 | 162 | 04/02/21 |
| 778 | Natalia Lafourcade | 1,394,097,618 | 770,522,828 | 173 | 0 | 3 | 28 | 112 | 10/21/21 |
| 779 | Mike Perry | 1,392,920,550 | 0 | 32 | 0 | 2 | 17 | 31 | 11/14/20 |
| 780 | Tom Walker | 1,391,545,813 | 90,387,030 | 82 | 0 | 3 | 20 | 54 | 09/20/21 |
| 781 | Ghostemane | 1,384,997,008 | 53,311,906 | 139 | 0 | 2 | 32 | 102 | 10/19/21 |
| 782 | will.i.am | 1,384,450,649 | 1,786,210,849 | 98 | 0 | 4 | 14 | 42 | 09/04/21 |
| 783 | Miranda Lambert | 1,381,442,715 | 304,376,138 | 156 | 0 | 1 | 26 | 120 | 10/21/21 |
| 784 | Ruth B. | 1,379,219,593 | 4,223,091 | 44 | 0 | 3 | 12 | 30 | 10/18/21 |
| 785 | Mr. Probz | 1,378,183,383 | 227,072,647 | 36 | 0 | 2 | 11 | 30 | 09/03/21 |
| 786 | Cigarettes After Sex | 1,378,174,690 | 2,126,632 | 30 | 0 | 3 | 28 | 30 | 10/17/21 |
| 787 | Ferrugem | 1,372,026,685 | 226,582,639 | 134 | 0 | 1 | 33 | 107 | 08/14/21 |
| 788 | James TW | 1,370,209,304 | 0 | 30 | 0 | 3 | 18 | 30 | 11/14/20 |
| 789 | YUNGBLUD | 1,367,258,954 | 366,326,991 | 77 | 0 | 2 | 32 | 60 | 10/17/21 |
| 790 | The Who | 1,365,701,719 | 0 | 776 | 0 | 6 | 12 | 81 | 12/26/20 |
| 791 | KSI | 1,365,648,160 | 24,295,898 | 113 | 0 | 0 | 36 | 84 | 10/22/21 |
| 792 | Olivia O'Brien | 1,365,047,441 | 1,318,584,669 | 51 | 0 | 3 | 19 | 40 | 10/15/21 |
| 793 | Greeicy | 1,359,734,419 | 41,529,941 | 52 | 0 | 2 | 26 | 46 | 10/13/21 |
| 794 | Dennis Lloyd | 1,359,049,478 | 0 | 33 | 0 | 2 | 17 | 29 | 06/20/21 |
| 795 | Rich Brian | 1,357,925,109 | 483,073,090 | 53 | 0 | 3 | 33 | 52 | 10/21/21 |
| 796 | Willie Nelson | 1,357,834,751 | 211,167,459 | 1,494 | 0 | 3 | 21 | 128 | 09/02/21 |
| 797 | Audioslave | 1,357,661,091 | 0 | 58 | 0 | 5 | 16 | 46 | 10/22/21 |
| 798 | Summer Cem | 1,357,000,399 | 264,671,653 | 177 | 0 | 2 | 31 | 105 | 02/05/21 |
| 799 | Lalo Ebratt | 1,355,512,932 | 54,847,249 | 44 | 0 | 6 | 14 | 34 | 01/22/21 |
| 800 | Angus & Julia Stone | 1,354,613,988 | 0 | 153 | 0 | 3 | 26 | 88 | 11/14/20 |
| 801 | Tears For Fears | 1,354,508,584 | 2,266,157 | 209 | 0 | 2 | 11 | 55 | 10/22/21 |
| 802 | Gavin James | 1,353,919,817 | 52,147,623 | 105 | 0 | 3 | 26 | 80 | 02/19/21 |
| 803 | Bing Crosby | 1,353,425,915 | 9,003,222 | 1,203 | 0 | 2 | 23 | 68 | 01/05/21 |
| 804 | Lil Kleine | 1,349,650,279 | 311,191,469 | 106 | 0 | 0 | 41 | 88 | 10/19/21 |
| 805 | Cyndi Lauper | 1,349,363,097 | 5,745,808 | 218 | 0 | 3 | 7 | 28 | 10/19/21 |
| 806 | Tina Turner | 1,348,774,854 | 20,232,033 | 239 | 0 | 5 | 15 | 69 | 10/19/21 |
| 807 | Oh Wonder | 1,346,137,068 | 548,943,890 | 57 | 0 | 5 | 30 | 54 | 08/11/21 |
| 808 | Brett Young | 1,338,387,761 | 14,250,724 | 49 | 0 | 4 | 18 | 40 | 09/03/21 |
| 809 | Tracy Chapman | 1,336,856,862 | 72,530,177 | 102 | 0 | 4 | 13 | 84 | 09/02/21 |
| 810 | Will Smith | 1,333,708,440 | 29,481,971 | 89 | 0 | 4 | 15 | 45 | 10/06/21 |
| 811 | Jack & Jack | 1,333,223,893 | 43,745,345 | 44 | 0 | 2 | 15 | 42 | 08/30/21 |
| 812 | Bill Withers | 1,332,850,466 | 37,292,559 | 119 | 0 | 4 | 10 | 58 | 04/05/21 |
| 813 | Surfaces | 1,332,266,175 | 0 | 64 | 0 | 1 | 16 | 50 | 09/03/21 |
| 814 | Dido | 1,328,523,318 | 3,836,236 | 198 | 0 | 3 | 14 | 80 | 09/02/21 |
| 815 | Selena | 1,328,509,154 | 2,120,116 | 177 | 0 | 2 | 24 | 87 | 10/17/21 |
| 816 | Jeezy | 1,327,116,650 | 1,246,803,557 | 599 | 0 | 1 | 26 | 179 | 08/29/21 |
| 817 | Wolfgang Amadeus Mozart | 1,323,952,565 | 4,758,138 | 11,669 | 0 | 0 | 14 | 180 | 09/13/21 |
| 818 | Sofía Reyes | 1,323,847,413 | 201,030,971 | 47 | 0 | 2 | 18 | 38 | 10/18/21 |
| 819 | Alina Baraz | 1,322,860,439 | 26,853,751 | 72 | 0 | 3 | 26 | 62 | 10/19/21 |
| 820 | Grupo Firme | 1,321,158,703 | 269,587,341 | 183 | 0 | 2 | 29 | 93 | 06/03/21 |
| 821 | LUDMILLA | 1,318,371,160 | 356,043,676 | 135 | 0 | 0 | 30 | 114 | 10/22/21 |
| 822 | Jasmine Thompson | 1,317,231,334 | 0 | 108 | 0 | 3 | 35 | 83 | 11/05/20 |
| 823 | Blur | 1,311,460,535 | 15,936 | 355 | 0 | 2 | 18 | 85 | 09/27/21 |
| 824 | Alvaro Soler | 1,307,458,976 | 26,316,017 | 90 | 0 | 2 | 16 | 60 | 10/09/21 |
| 825 | Ella Fitzgerald | 1,306,751,857 | 11,252,389 | 1,952 | 0 | 1 | 19 | 138 | 12/27/20 |
| 826 | Jon Pardi | 1,301,565,161 | 94,534,699 | 63 | 0 | 4 | 16 | 46 | 05/07/21 |
| 827 | Luísa Sonza | 1,300,404,889 | 1,710,278 | 58 | 0 | 3 | 24 | 45 | 10/22/21 |
| 828 | Tori Kelly | 1,299,945,135 | 448,044,146 | 94 | 0 | 3 | 23 | 72 | 10/21/21 |
| 829 | Lenny Kravitz | 1,299,154,929 | 48,115,127 | 269 | 0 | 4 | 17 | 93 | 09/02/21 |
| 830 | Genesis | 1,295,454,874 | 658,083 | 354 | 0 | 2 | 25 | 139 | 01/07/21 |
| 831 | Sin Bandera | 1,294,370,986 | 78,541,133 | 114 | 0 | 4 | 21 | 81 | 02/09/21 |
| 832 | TLC | 1,294,288,247 | 202,409,971 | 173 | 0 | 3 | 9 | 49 | 10/10/21 |
| 833 | Feid | 1,293,740,451 | 1,840,110,072 | 113 | 0 | 2 | 25 | 75 | 09/11/21 |
| 834 | Lil Xan | 1,291,482,211 | 15,144,315 | 74 | 0 | 3 | 17 | 55 | 09/08/21 |
| 835 | Mary J. Blige | 1,289,394,631 | 1,819,034,323 | 368 | 0 | 2 | 26 | 130 | 10/03/21 |
| 836 | Maria Becerra | 1,288,941,203 | 241,493,326 | 31 | 0 | 2 | 20 | 31 | 10/22/21 |
| 837 | Brantley Gilbert | 1,288,253,176 | 100,016,251 | 112 | 0 | 2 | 30 | 82 | 09/03/21 |
| 838 | ZZ Top | 1,286,794,372 | 0 | 266 | 0 | 3 | 14 | 88 | 09/02/21 |
| 839 | Ramin Djawadi | 1,286,775,894 | 12,413,030 | 885 | 0 | 0 | 26 | 244 | 02/26/21 |
| 840 | IU | 1,285,638,408 | 56,509,743 | 159 | 0 | 2 | 24 | 84 | 10/21/21 |
| 841 | Louis Armstrong | 1,285,502,051 | 12,982,577 | 1,476 | 0 | 3 | 18 | 109 | 01/04/21 |
| 842 | Snakehips | 1,284,895,360 | 87,512,393 | 64 | 0 | 3 | 17 | 45 | 02/27/21 |
| 843 | Natiruts | 1,284,627,208 | 17,687,599 | 211 | 0 | 1 | 33 | 147 | 08/30/21 |
| 844 | Bruno Martini | 1,284,419,429 | 17,263,864 | 94 | 0 | 2 | 15 | 33 | 10/07/21 |
| 845 | Oliver Heldens | 1,281,119,368 | 0 | 127 | 0 | 3 | 26 | 78 | 11/14/20 |
| 846 | Maggie Lindemann | 1,280,560,963 | 2,295,057 | 24 | 0 | 2 | 10 | 24 | 10/21/21 |
| 847 | Skepta | 1,280,472,588 | 1,177,727,240 | 146 | 0 | 1 | 31 | 105 | 08/24/21 |
| 848 | NEFFEX | 1,280,094,835 | 0 | 156 | 0 | 2 | 27 | 139 | 05/14/21 |
| 849 | Lupe Fiasco | 1,276,832,416 | 218,167,580 | 167 | 0 | 2 | 18 | 118 | 09/21/21 |
| 850 | Spice Girls | 1,274,115,759 | 604,486 | 106 | 0 | 2 | 11 | 36 | 10/22/21 |
| 851 | Cher | 1,272,610,763 | 11,874,362 | 397 | 0 | 2 | 17 | 67 | 10/22/21 |
| 852 | Dean Martin | 1,271,240,189 | 5,961,006 | 586 | 0 | 1 | 17 | 107 | 01/03/21 |
| 853 | The Head And The Heart | 1,271,155,866 | 0 | 77 | 0 | 3 | 21 | 64 | 07/30/21 |
| 854 | Benjamin Blümchen | 1,270,296,618 | 2,187,805 | 5,668 | 0 | 0 | 2 | 41 | 10/09/21 |
| 855 | Lykke Li | 1,267,977,654 | 88,501,825 | 96 | 0 | 2 | 24 | 69 | 09/20/21 |
| 856 | Tinie Tempah | 1,264,492,695 | 429,042,133 | 127 | 0 | 3 | 21 | 63 | 09/03/21 |
| 857 | Capo Plaza | 1,260,400,629 | 578,528,070 | 67 | 0 | 1 | 35 | 60 | 09/09/21 |
| 858 | Lil Jon | 1,259,193,098 | 1,536,589,891 | 142 | 0 | 3 | 15 | 49 | 09/02/21 |
| 859 | Toby Keith | 1,257,439,909 | 18,017,157 | 292 | 0 | 3 | 21 | 84 | 09/02/21 |
| 860 | Beck | 1,257,317,743 | 78,812,344 | 288 | 0 | 1 | 26 | 136 | 09/22/21 |
| 861 | Lauren Daigle | 1,254,131,254 | 150,419,068 | 67 | 0 | 1 | 32 | 60 | 09/03/21 |
| 862 | ZHU | 1,253,093,333 | 45,485,295 | 104 | 0 | 2 | 30 | 77 | 09/07/21 |
| 863 | Timbaland | 1,250,914,821 | 1,744,179,833 | 165 | 0 | 2 | 13 | 60 | 09/20/21 |
| 864 | Juicy J | 1,250,538,324 | 2,951,000,597 | 334 | 0 | 2 | 27 | 85 | 12/30/20 |
| 865 | Dynoro | 1,249,862,868 | 0 | 14 | 0 | 1 | 7 | 13 | 11/17/20 |
| 866 | Alice In Chains | 1,249,120,364 | 191,722 | 137 | 0 | 2 | 24 | 100 | 12/31/20 |
| 867 | Melim | 1,248,051,948 | 47,036,639 | 84 | 0 | 2 | 30 | 64 | 10/12/21 |
| 868 | The All-American Rejects | 1,248,015,633 | 0 | 86 | 0 | 4 | 8 | 61 | 10/22/21 |
| 869 | Chris Young | 1,247,645,486 | 0 | 92 | 0 | 3 | 20 | 68 | 11/14/20 |
| 870 | Gustavo Cerati | 1,244,552,421 | 161,088,257 | 160 | 0 | 1 | 29 | 103 | 08/31/21 |
| 871 | Salaam Remi | 1,244,052,119 | 274,416,805 | 174 | 1 | 1 | 2 | 10 | 08/05/21 |
| 872 | Tungevaag | 1,241,073,021 | 1,371,087 | 62 | 0 | 4 | 24 | 39 | 05/14/21 |
| 873 | Los Bukis | 1,238,840,274 | 6,645,445 | 245 | 0 | 0 | 43 | 100 | 09/24/21 |
| 874 | Kina | 1,237,030,469 | 2,962,492 | 31 | 0 | 2 | 9 | 21 | 05/29/21 |
| 875 | Vince Staples | 1,236,177,266 | 499,964,411 | 82 | 0 | 2 | 25 | 75 | 09/26/21 |
| 876 | Seether | 1,230,727,184 | 116,581 | 169 | 0 | 3 | 23 | 103 | 12/27/20 |
| 877 | Andrea Bocelli | 1,229,209,487 | 52,657,862 | 547 | 0 | 2 | 24 | 160 | 09/17/21 |
| 878 | Kris Kross Amsterdam | 1,227,717,300 | 9,661,668 | 29 | 0 | 2 | 11 | 20 | 01/25/21 |
| 879 | Max Richter | 1,225,348,164 | 33,749 | 904 | 0 | 0 | 18 | 161 | 02/26/21 |
| 880 | Leon Bridges | 1,224,196,478 | 0 | 55 | 0 | 3 | 27 | 55 | 11/14/20 |
| 881 | Brent Faiyaz | 1,223,680,356 | 538,478,146 | 45 | 0 | 2 | 22 | 45 | 07/28/21 |
| 882 | Showtek | 1,223,338,892 | 66,492,313 | 247 | 0 | 2 | 19 | 69 | 02/26/21 |
| 883 | Cash Cash | 1,222,618,389 | 88,365,145 | 133 | 0 | 3 | 22 | 63 | 02/26/21 |
| 884 | Timmy Trumpet | 1,221,086,680 | 73,893,196 | 149 | 0 | 1 | 25 | 81 | 02/26/21 |
| 885 | Intocable | 1,220,814,315 | 17,782,991 | 304 | 0 | 2 | 29 | 163 | 06/27/21 |
| 886 | Salmo | 1,220,205,309 | 561,519,339 | 149 | 0 | 1 | 28 | 93 | 10/17/21 |
| 887 | NCT 127 | 1,219,463,727 | 40,097,321 | 118 | 0 | 0 | 32 | 92 | 10/18/21 |
| 888 | Simone & Simaria | 1,219,222,815 | 207,451,224 | 113 | 0 | 4 | 20 | 74 | 10/19/21 |
| 889 | BØRNS | 1,218,774,629 | 16,653,608 | 44 | 0 | 2 | 17 | 40 | 06/24/21 |
| 890 | Supertramp | 1,218,664,114 | 30,706 | 119 | 0 | 3 | 16 | 81 | 10/13/21 |
| 891 | a-ha | 1,218,091,808 | 11,723 | 350 | 0 | 1 | 10 | 65 | 01/03/21 |
| 892 | Pabllo Vittar | 1,217,657,801 | 277,261,649 | 92 | 0 | 2 | 31 | 65 | 10/22/21 |
| 893 | Daughtry | 1,215,090,026 | 1,852,975 | 123 | 0 | 2 | 19 | 91 | 10/04/21 |
| 894 | AWOLNATION | 1,212,368,781 | 24,910,582 | 116 | 0 | 1 | 19 | 68 | 07/10/21 |
| 895 | Deftones | 1,210,056,453 | 550,159 | 140 | 0 | 1 | 30 | 118 | 09/11/21 |
| 896 | Camila | 1,210,015,690 | 45,300,205 | 98 | 0 | 3 | 20 | 69 | 02/26/21 |
| 897 | Pixies | 1,208,123,374 | 0 | 685 | 0 | 3 | 13 | 98 | 10/06/21 |
| 898 | Los Enanitos Verdes | 1,206,944,057 | 4,841,307 | 180 | 0 | 3 | 17 | 85 | 10/05/21 |
| 899 | Otis Redding | 1,202,718,503 | 96,674,731 | 273 | 0 | 2 | 16 | 85 | 12/17/20 |
| 900 | A R I Z O N A | 1,202,055,144 | 70,458,524 | 61 | 0 | 2 | 21 | 48 | 09/10/21 |
| 901 | Jacquees | 1,202,013,471 | 240,482,349 | 142 | 0 | 2 | 19 | 101 | 07/29/21 |
| 902 | Petit Biscuit | 1,199,615,143 | 18,677,227 | 84 | 0 | 1 | 20 | 51 | 04/07/21 |
| 903 | Foals | 1,196,124,320 | 1,309,562 | 162 | 0 | 2 | 31 | 76 | 09/14/21 |
| 904 | Emeli Sandé | 1,194,737,638 | 545,104,417 | 146 | 0 | 3 | 18 | 76 | 02/26/21 |
| 905 | Death Cab for Cutie | 1,191,747,257 | 30,736,945 | 197 | 0 | 1 | 29 | 115 | 10/06/21 |
| 906 | Diego & Victor Hugo | 1,190,246,824 | 8,547,493 | 115 | 0 | 5 | 18 | 71 | 10/18/21 |
| 907 | Jake Owen | 1,189,060,122 | 30,523,629 | 90 | 0 | 2 | 16 | 71 | 09/03/21 |
| 908 | Alanis Morissette | 1,188,196,497 | 3,432,473 | 295 | 0 | 3 | 16 | 99 | 10/13/21 |
| 909 | Dave Matthews Band | 1,187,540,696 | 12,441,432 | 1,002 | 0 | 1 | 23 | 150 | 10/18/21 |
| 910 | WILLOW | 1,187,406,742 | 210,175,831 | 73 | 0 | 3 | 13 | 65 | 10/19/21 |
| 911 | Wu-Tang Clan | 1,187,400,020 | 11,075,579 | 347 | 0 | 1 | 16 | 119 | 06/19/21 |
| 912 | Dadju | 1,185,762,627 | 366,887,717 | 89 | 0 | 0 | 32 | 88 | 06/10/21 |
| 913 | Craig David | 1,184,020,237 | 79,790,305 | 161 | 0 | 1 | 19 | 87 | 08/26/21 |
| 914 | Frenna | 1,183,949,855 | 307,185,737 | 131 | 0 | 0 | 37 | 102 | 09/09/21 |
| 915 | Gustavo Mioto | 1,183,601,360 | 66,339,851 | 80 | 0 | 4 | 21 | 60 | 07/13/21 |
| 916 | Missy Elliott | 1,183,433,606 | 1,152,793,513 | 135 | 0 | 4 | 20 | 60 | 10/04/21 |
| 917 | SCH | 1,181,907,951 | 493,840,869 | 109 | 0 | 0 | 40 | 108 | 10/18/21 |
| 918 | A Tribe Called Quest | 1,181,803,345 | 1,334,234 | 170 | 0 | 1 | 30 | 107 | 08/24/21 |
| 919 | Counting Crows | 1,181,632,427 | 3,786,266 | 193 | 0 | 3 | 12 | 68 | 07/09/21 |
| 920 | Pineapple StormTv | 1,181,094,407 | 119,381,866 | 191 | 0 | 1 | 25 | 87 | 06/29/21 |
| 921 | Foreigner | 1,180,377,331 | 251,313 | 287 | 0 | 4 | 11 | 53 | 09/26/21 |
| 922 | Grouplove | 1,180,340,182 | 3,672,342 | 110 | 0 | 2 | 15 | 66 | 07/22/21 |
| 923 | Megadeth | 1,179,502,849 | 586,697 | 401 | 0 | 1 | 18 | 170 | 10/09/21 |
| 924 | Dominic Fike | 1,179,310,058 | 92,678,762 | 28 | 0 | 2 | 17 | 28 | 09/22/21 |
| 925 | Cro | 1,176,297,892 | 135,230,980 | 136 | 0 | 0 | 27 | 102 | 05/06/21 |
| 926 | Sam Cooke | 1,172,537,664 | 384,104 | 356 | 0 | 3 | 11 | 73 | 09/15/21 |
| 927 | Hombres G | 1,172,100,715 | 57,228,169 | 275 | 0 | 2 | 14 | 110 | 10/21/21 |
| 928 | Beastie Boys | 1,170,723,253 | 631,275 | 293 | 0 | 3 | 17 | 145 | 02/11/21 |
| 929 | Talking Heads | 1,170,559,958 | 0 | 173 | 0 | 3 | 18 | 94 | 08/24/21 |
| 930 | KALEO | 1,170,023,281 | 24,451 | 21 | 0 | 3 | 15 | 17 | 03/31/21 |
| 931 | Gloria Trevi | 1,169,834,402 | 128,695,984 | 271 | 0 | 0 | 28 | 119 | 10/22/21 |
| 932 | Regard | 1,169,696,729 | 0 | 31 | 0 | 2 | 4 | 16 | 03/29/21 |
| 933 | Gemitaiz | 1,169,359,138 | 551,183,196 | 158 | 0 | 0 | 33 | 119 | 07/17/21 |
| 934 | Ludacris | 1,169,259,865 | 3,205,955,574 | 204 | 0 | 0 | 24 | 107 | 03/30/21 |
| 935 | Dustin Lynch | 1,168,422,327 | 8,116,031 | 74 | 0 | 3 | 15 | 60 | 09/03/21 |
| 936 | Oliver Tree | 1,166,497,385 | 36,945,706 | 45 | 0 | 2 | 23 | 42 | 10/05/21 |
| 937 | The Score | 1,166,473,185 | 804,340 | 57 | 0 | 2 | 24 | 56 | 09/06/21 |
| 938 | Burna Boy | 1,166,156,990 | 1,300,701,026 | 162 | 0 | 3 | 29 | 89 | 10/09/21 |
| 939 | Cole Swindell | 1,163,691,710 | 7,146,457 | 77 | 0 | 2 | 19 | 64 | 10/14/21 |
| 940 | Río Roma | 1,162,969,995 | 54,061,819 | 97 | 0 | 2 | 25 | 74 | 02/28/21 |
| 941 | The Temptations | 1,162,727,326 | 52,421,883 | 703 | 0 | 2 | 10 | 54 | 06/20/21 |
| 942 | Banda Los Recoditos | 1,159,835,788 | 11,518,962 | 233 | 0 | 2 | 23 | 111 | 02/26/21 |
| 943 | Matuê | 1,158,857,411 | 188,199,873 | 29 | 0 | 2 | 26 | 28 | 10/21/21 |
| 944 | Eurythmics | 1,158,311,287 | 11,388,127 | 190 | 0 | 1 | 11 | 37 | 10/16/21 |
| 945 | Grateful Dead | 1,157,947,195 | 0 | 3,119 | 0 | 0 | 16 | 132 | 10/14/21 |
| 946 | Kungs | 1,157,042,297 | 11,911,282 | 27 | 0 | 1 | 9 | 25 | 04/03/21 |
| 947 | TOMORROW X TOGETHER | 1,154,778,453 | 0 | 54 | 0 | 1 | 35 | 51 | 10/22/21 |
| 948 | Stone Sour | 1,154,389,161 | 209,472 | 137 | 0 | 3 | 16 | 102 | 06/28/21 |
| 949 | Brett Eldredge | 1,150,970,326 | 0 | 84 | 0 | 3 | 17 | 64 | 10/21/21 |
| 950 | AURORA | 1,147,888,353 | 320,396,301 | 82 | 0 | 1 | 25 | 59 | 10/22/21 |
| 951 | Two Feet | 1,147,628,660 | 20,047,600 | 38 | 0 | 3 | 17 | 35 | 02/26/21 |
| 952 | La Adictiva Banda San José de Mesillas | 1,145,624,117 | 31,641,132 | 87 | 0 | 2 | 23 | 59 | 02/26/21 |
| 953 | Lindsey Stirling | 1,145,451,263 | 221,724,907 | 104 | 0 | 0 | 41 | 99 | 10/20/21 |
| 954 | beabadoobee | 1,145,182,474 | 4,643,526 | 52 | 0 | 1 | 6 | 35 | 02/26/21 |
| 955 | Icona Pop | 1,144,480,058 | 189,837,410 | 113 | 0 | 2 | 16 | 55 | 05/03/21 |
| 956 | Empire of the Sun | 1,144,142,649 | 91,503,429 | 108 | 0 | 3 | 10 | 52 | 06/30/21 |
| 957 | Ultimo | 1,141,419,824 | 68,503,741 | 50 | 0 | 0 | 31 | 50 | 10/17/21 |
| 958 | Moby | 1,139,611,531 | 209,309,702 | 770 | 0 | 1 | 19 | 147 | 12/24/20 |
| 959 | MadeinTYO | 1,138,903,625 | 452,976,749 | 81 | 0 | 4 | 16 | 56 | 05/07/21 |
| 960 | Famous Dex | 1,138,688,989 | 150,148,632 | 149 | 0 | 2 | 9 | 57 | 05/05/21 |
| 961 | Tom Petty and the Heartbreakers | 1,136,844,304 | 2,619,823 | 230 | 0 | 3 | 15 | 78 | 06/30/21 |
| 962 | Official HIGE DANdism | 1,136,492,188 | 0 | 125 | 0 | 3 | 20 | 57 | 10/21/21 |
| 963 | Canserbero | 1,134,762,790 | 11,505,868 | 89 | 0 | 1 | 30 | 79 | 10/07/21 |
| 964 | Ella Eyre | 1,134,243,288 | 182,202,955 | 77 | 0 | 4 | 13 | 46 | 02/26/21 |
| 965 | Darius Rucker | 1,133,996,751 | 36,084,829 | 101 | 0 | 1 | 14 | 75 | 10/15/21 |
| 966 | ONE OK ROCK | 1,133,808,931 | 0 | 115 | 0 | 0 | 35 | 103 | 09/07/21 |
| 967 | LMFAO | 1,132,378,790 | 211,074,207 | 57 | 0 | 3 | 9 | 33 | 09/03/21 |
| 968 | RIN | 1,131,389,375 | 55,810,713 | 61 | 0 | 1 | 29 | 59 | 07/31/21 |
| 969 | Kelsea Ballerini | 1,130,406,973 | 549,576,426 | 74 | 0 | 1 | 22 | 58 | 09/18/21 |
| 970 | Gym Class Heroes | 1,128,430,812 | 0 | 72 | 0 | 2 | 6 | 28 | 09/02/21 |
| 971 | Ben&Ben | 1,128,332,219 | 13,333,168 | 50 | 0 | 3 | 22 | 41 | 10/19/21 |
| 972 | M.I.A. | 1,127,631,117 | 156,089,688 | 111 | 0 | 3 | 11 | 75 | 09/11/21 |
| 973 | Disciples | 1,123,799,838 | 45,002,553 | 74 | 0 | 1 | 12 | 33 | 02/26/21 |
| 974 | KSHMR | 1,121,737,570 | 140,390,298 | 115 | 0 | 1 | 31 | 80 | 05/05/21 |
| 975 | A Great Big World | 1,121,397,433 | 17,445,760 | 63 | 0 | 1 | 12 | 32 | 09/03/21 |
| 976 | Fat Joe | 1,121,148,790 | 405,211,372 | 224 | 0 | 3 | 18 | 60 | 09/13/21 |
| 977 | Phoenix | 1,121,055,870 | 1,572,724 | 109 | 0 | 3 | 20 | 66 | 06/30/21 |
| 978 | BIGBANG | 1,120,723,382 | 1,022 | 378 | 0 | 1 | 21 | 51 | 10/14/21 |
| 979 | KC Rebell | 1,120,353,473 | 295,392,571 | 243 | 0 | 0 | 31 | 112 | 05/26/21 |
| 980 | Roy Woods | 1,119,390,370 | 26,288,013 | 56 | 0 | 1 | 30 | 52 | 05/09/21 |
| 981 | EDEN | 1,118,764,138 | 21,484,200 | 56 | 0 | 3 | 22 | 55 | 08/18/21 |
| 982 | James Blake | 1,118,610,900 | 569,313,244 | 105 | 0 | 2 | 29 | 87 | 09/27/21 |
| 983 | Juan Luis Guerra 4.40 | 1,118,430,197 | 604,402,394 | 202 | 0 | 1 | 24 | 107 | 05/28/21 |
| 984 | Vintage Culture | 1,109,832,439 | 29,149,174 | 169 | 0 | 1 | 32 | 97 | 02/26/21 |
| 985 | Bunbury | 1,108,581,759 | 125,929,261 | 404 | 0 | 0 | 18 | 172 | 04/04/21 |
| 986 | No Doubt | 1,107,650,672 | 270,913 | 120 | 0 | 2 | 13 | 52 | 10/22/21 |
| 987 | Iron & Wine | 1,107,433,325 | 870,226 | 196 | 0 | 2 | 17 | 118 | 02/26/21 |
| 988 | James Taylor | 1,107,151,890 | 113,542,401 | 386 | 0 | 2 | 17 | 115 | 10/12/21 |
| 989 | Jamiroquai | 1,106,218,207 | 4,942,417 | 235 | 0 | 1 | 20 | 117 | 09/11/21 |
| 990 | Deep Purple | 1,106,150,659 | 4,039,988 | 813 | 0 | 2 | 14 | 72 | 10/19/21 |
| 991 | Marc E. Bassy | 1,104,434,431 | 470,988,921 | 95 | 0 | 2 | 20 | 71 | 10/19/21 |
| 992 | Digital Farm Animals | 1,104,014,283 | 607,180,505 | 70 | 0 | 1 | 15 | 45 | 09/06/21 |
| 993 | MC Kevin o Chris | 1,103,437,155 | 286,144,025 | 155 | 0 | 3 | 24 | 83 | 05/21/21 |
| 994 | UB40 | 1,099,893,951 | 1,383,276 | 396 | 0 | 3 | 14 | 72 | 02/26/21 |
| 995 | Zendaya | 1,099,508,705 | 1,338,078,198 | 40 | 0 | 3 | 7 | 28 | 10/12/21 |
| 996 | Smokepurpp | 1,099,377,977 | 333,002,703 | 113 | 0 | 2 | 23 | 82 | 09/26/21 |
| 997 | Wallows | 1,098,398,475 | 2,274,356 | 40 | 0 | 1 | 18 | 38 | 07/21/21 |
| 998 | Ricardo Montaner | 1,097,441,469 | 139,284,679 | 283 | 0 | 0 | 21 | 85 | 08/03/21 |
| 999 | Laura Pausini | 1,096,834,736 | 247,078,645 | 436 | 0 | 0 | 19 | 152 | 09/26/21 |
| 1000 | Thiaguinho | 1,094,321,128 | 133,032,487 | 227 | 0 | 0 | 36 | 160 | 04/01/21 |