CSPC: Bob Dylan Popularity Analysis
Streaming Sales
Below table lists Spotify streaming of all songs from the five albums we are studying. The Comprehensive Streaming is reached by multiplying Spotify figures by 68/26. In fact, as shown in IFPI 2015 Report, there were 68 million paying subscribers to all streaming platforms by the end of 2015. While the exact count of Spotify paying subscribers by the end of 2015 is unknown, that figure reached 20 million in June 2015 and 30 million in March 2016, thus an estimated 26 million is used as of the end of 2015.
The equivalent album sales is the division of the comprehensive streaming figure by 1500 as it is now the norm in the new industry model.
Streaming Part 1 – Blowin' In The Biz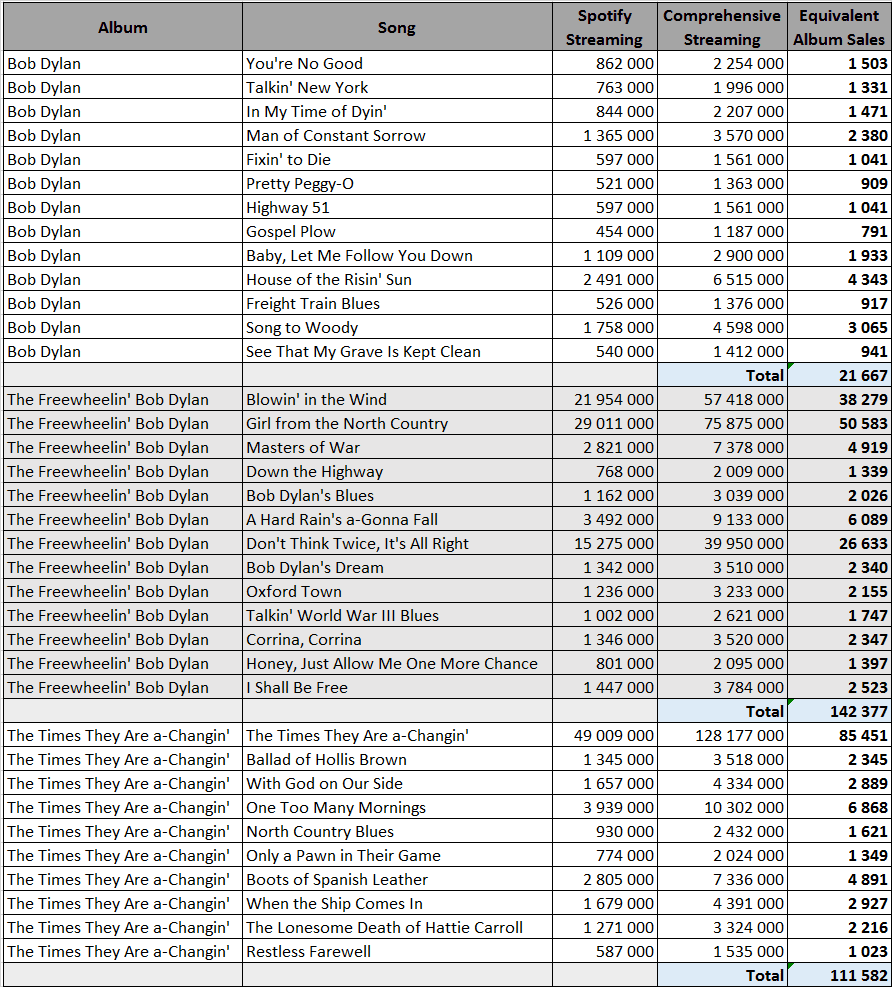 It has been widely reported how the singer debut album Bob Dylan moved less than 5,000 units when first released way back in 1962. More than 50 years later, it sold more copies in streaming album sales equivalent, talk about an irony! Although it had no hit, the fact all album tracks are near or over half a million plays is impressive.
The Freewheelin' Bob Dylan and The Times They Are A-Changin' are similar albums in a way that both are cult, both are never quoted among the artist Top 3 best albums though, but both contain some of the artist most well known songs. Very few 50+ years old songs made it to the 15 million streams level, still, The Freewheelin' Bob Dylan is home to three such hits, including Blowin' In The Wind, one of the most covered songs ever.
The last album contains the cult title track which is close to 50 million plays by now. Both latter albums add for almost 250,000 album sales equivalent, a strong addition within' a few years when you consider they sold 7 million units combined in album format with such a long period of availability.