Garth Brooks' albums and songs sales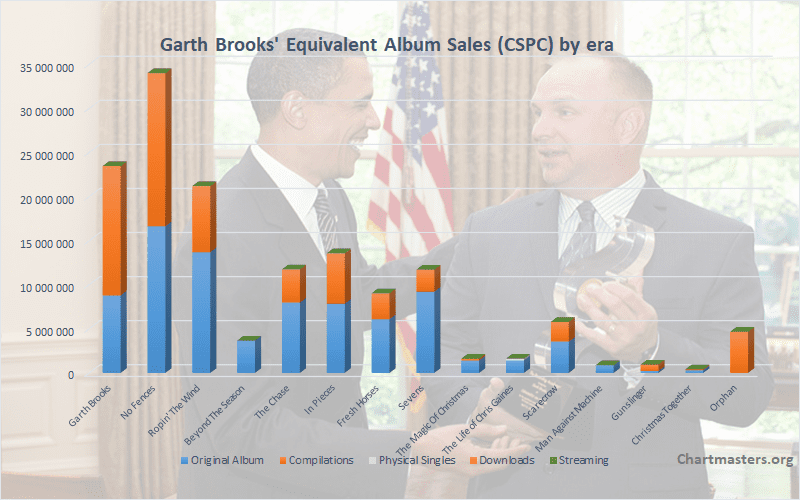 The Independent, Business Insider, Digital Music News, they all published "Best Selling Artists Ever" lists that placed Garth Brooks as the second best selling artist ever, number one among solo acts. One would expect these sources to be reliable. It sounds very hard to believe the country giant outsold the likes Elvis Presley and Michael Jackson yet. So, where is the truth?
There is a lot of controversy surrounding Brooks' sales. Owner of a MBA and also owner of the masters of his recordings, the singer knows how to perfectly handle his catalog. For 20 years now he has been using multiple tricks to make his numbers look bigger. He did so by playing with RIAA rules in order to get additional platinum awards out of the same sales. That all started in 1998 with the release of both the double set Double Live plus the 6CD box The Limited Series. These gimmicks sent him to the #2 spot of all-time on RIAA list of most certified artists in the US. Add the insane laziness of some journalists and you get "worldwide best selling solo artist ever" tags claimed here and there.
Wait! Yes, there is room to make your results look better through the RIAA process. You can't make up sales nor demand though. You can't hit 7 Diamond albums with no success. Also, while marketing strategies can exploit better a catalog than others, you still need a public to respond to them. Basically, while it's easy to bash Brooks for some of the manipulation he made, his success can't be overlooked. It's time to apply a fair and consistent approach to see at last how popular he truly is.
As usual, I'll be using the Commensurate Sales to Popularity Concept in order to relevantly gauge his results. This concept will not only bring you sales information for all Brooks' albums, physical and download singles, as well as audio and video streaming. In fact, it will also determine their true popularity.
If you are not yet familiar with the CSPC method, below is a nice and short video of explanations. I fully recommend watching it before getting into the sales figures. Of course, if you are a regular visitor feel free to skip the video and get into the numbers directly.
The Commensurate Sales to Popularity Concept (CSPC)
There are two ways to understand this revolutionary concept. In the first place, there is this Scribe video posted below. If you are unaware of the CSPC method, you will get the full idea within just a pair of minutes.
If you are a mathematical person, and want to know the full method as well as formulas, you can read the full introduction article.
Now let's get into the artist's sales figures in detail in order to apply this concept and define the act's true popularity!
Brooks' Album Sales
Original Album Sales – Comments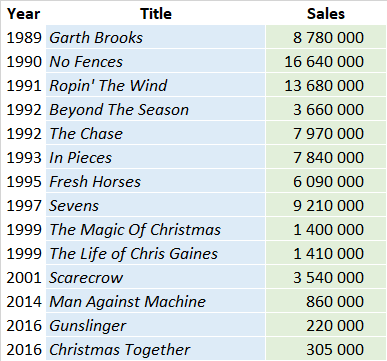 When you hear "7 Diamond Albums" everywhere, suggesting 7 10-million sellers in the US alone, you for sure can be disappointed with only 2 albums crossing this bar in worldwide sales. There is 3 reasons explaining this situation. The first one is that there is 3 compilations among these 7 Diamond awards, compilations that we are going to met later on this article. The second is that a pair of studio albums, namely Garth Brooks and Sevens, went Diamond thanks to an extra 2 million units sold through the box set The Limited Series from 1998. Our concept does account for them and reattribute these sales to the original albums, but that will be applied inside the compilation section too, this current table lists sales of the proper studio outputs only. The third reason of the lack of 10 million sellers is relatively low sales outside of the US, which can't overlap the 2 million units added by the RIAA that we are letting apart for now.
Speaking about these sales abroad, they are certainly not as bad as often stated. Of course, these albums sold an insane 73.5 million legitimate units in the US, a number so massive that one could expect wonders from elsewhere. Country music was just weak outside of the US in early 90s yet. Brooks is precisely the one that helped break it over, paving the way to someone like Shania Twain who made it so much bigger, but in sheer volume of sales that doesn't represent much in comparison to his local success.
He got big in Canada, with an impressive 6 studio albums over 500,000 units. He also destroyed the competition in Ireland with No Fences selling 110,000 copies, the equivalent of well over 3 million in the UK. While not so huge, he did got a nice following in markets like Norway, Australia, Germany, the Netherlands, Switzerland, Austria, the UK, and more surprisingly in Spain and in Japan. His 6 big albums from No Fences to Sevens average over 1 million sales outside of the US, which is definitely not shabby.
Of course, American sales are the ones which establish the ranking in-between these LPs. They make No Fences the biggest one, with total sales of 16.64 million. Ropin' The Wind is a strong second at 13.68 million and then Garth Brooks, The Chase, In Pieces, Fresh Horses, and Sevens, average nearly 8 million sales a piece. Once we consider their limited success abroad and their highly limited availability in the US for many years, these figures are mind-blowing.
If Scarecrow marked a real decline, it still managed to move some significant numbers with 3.54 million sales to date. The positive side of this result is that it was much higher than the rock alter-ego record credited to the fictional character Chris Gaines. This project bombed with a mere 1.41 million when the market was insanely high in 1999.
His retirement which started in 2001 and the extensive milking of his catalog from controversial deals and never-ending repackages led the general public to step back yet. His comeback Man Against Machine did very poorly with 860,000 sales while Gunslinger flopped even more as it did 4 times less.
Brooks' songs sales

Physical Singles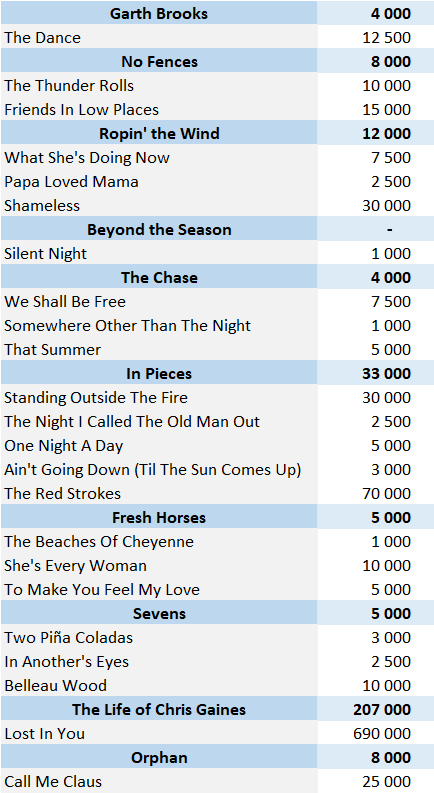 As a reminder, the weighting is done with a 10 to 3 ratio between one album and one physical single.
There isn't a record format where Brooks did it like everyone else. Physical singles are no exception. During most of his career, he refused to release them, always stating that for him studio albums were a comprehensive piece of art.
In fact, the only proper single that he issued with a CD in the US is the Chris Gaines-credited hit Lost In You. The hype was short lived but strong, leading the song to nearly 700,000 sales there.
Apart from this song, subsequent singles only added residual sales from releases elsewhere. The biggest is easily The Red Strokes, technically a double A single with Ain't Goin' Down, that sold 70,000 copies mostly thanks to its #13 peak in the UK. The whole irony of Brooks during his hey-days is that his singles chart history make him look bigger in the UK than in the US with 5 Top 75 hits in the former against none in the latter. In fact, the Hot 100 used to exclude airplay-only songs from charts until 1998, and the country icon never commercially issued a single before that year in the US.
Not much to comment apart from these general trends, except maybe that UK sales of double A The Dance / Friends In Low Places have been divided equally into both of them since the second track was also issued individually there.
In total the singer moved 950,000 physical singles: 675,000 US sales for Lost In You, 150,000 career units from the UK plus residual sales here and there through the years.
Digital Songs
Is there anybody out there? While iTunes did create a page for Brooks very early on, they are still waiting for his music. The only ones available are songs primarily sang by others which credit him since his voice is still present.
Has he really sold nothing with his personal catalog? The first attempt he made to digital sales came very late. At the end of 2014, he launched his own iTunes-like platform, GhostTunes. Hardly anybody heard about it yet. Downloads were already collapsing, iTunes was too big of a challenger, and the former star had been out of the spotlight for too long. The whole project was a complete failure and soon got absorbed by Amazon. Also, the site focused on promoting albums rather than singles, notably selling virtually the entire catalog of Brooks for $29.99. These sales are eligible for certifications and accounted for on estimates of studio album sales, but stand-alone tracks hardly sold a thing.
The story remained the same when in late 2016 he moved to Amazon as his exclusive partner for digital music. A few Soundscan lists leaked in following months, showing that songs from The Ultimate Hits, a 2-CD career retrospective including all his big songs, was getting from 1 to 5 sales of stand-alone tracks per week, not even good enough for one equivalent album sales. As per BuzzAngle, the compilation sold 506,967 pure units in 2016 and 507,105 once TEA (track equivalent album) and SEA (streaming equivalent album) are added. That's a dreadful difference of 138 units, coming from both sales and streams.
Recent albums Gunslinger and Christmas Together also had pure sales and total units (with TEA & SEA) perfectly in line according to Billboard, showing virtually no download single sale nor streams for them. A few marginal sales have been added to his biggest classics and his most recent albums to account for the units he sold from these avenues in the final table but they remain irrelevant among his comprehensive results.
Streaming
Streaming is made up of audio and video streams. Once again Brooks is the exception rather than the norm. As previously stated, his music wasn't available to stream until late 2016, and exclusively on Amazon. He also ferociously take every video containing his music off YouTube.
In order to apply our concept which distributes compilation sales into original albums proportionally to the strength of each song, we still need indicators to gauge them. Thus, we collected his streams on Last.fm and some of his videos that aren't deleted as of now. Since Last.fm users are more album-oriented and the availability of his videos is sparse on YouTube, with likely many more that have been removed in the past for which views are unavailable, this system isn't perfect. That's the best we can have considering the current data though and it does put his most well-known songs at the top. Ratios were manually adjusted to get EAS figures in line with known information.
Top Hits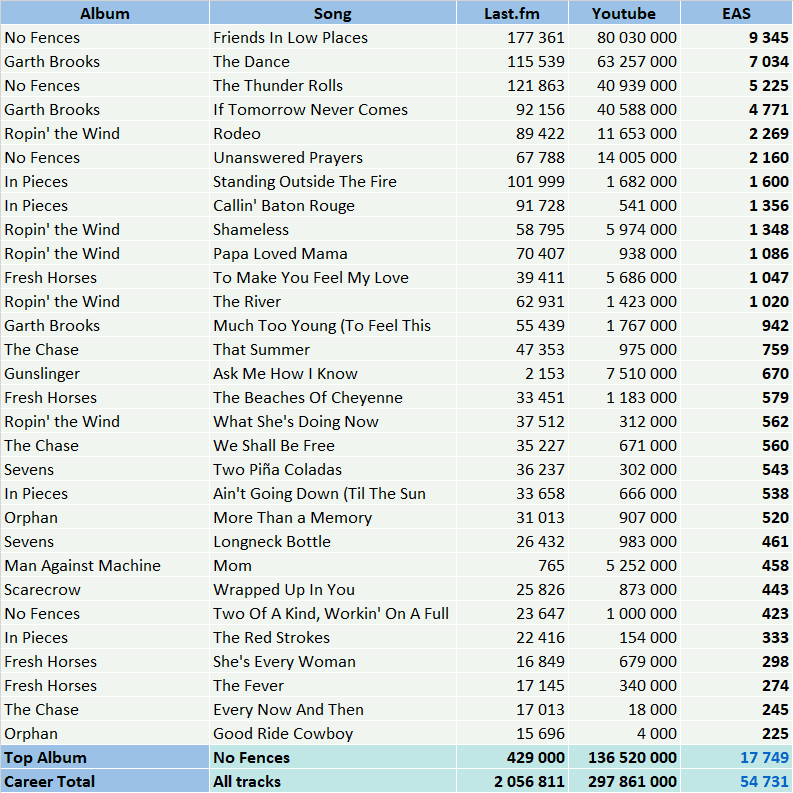 These numbers are naturally low. The artist has been fighting streaming so much for so long that it couldn't be otherwise. Thus, what matters the most is the ranking of songs rather than absolute numbers.
Friends In Low Places comes on top. The Dance, from his debut album, follows, while the third big one is The Thunder Rolls. It means the 1990 record No Fences owns his #1 and #3 song. The Top 4 is completed by If Tomorrow Never Comes, also from the debut LP. These hits have a sizable lead over remaining songs, which means these first two albums really dominate his back catalog. Ropin' The Wind was a mega seller back in the day, but his songs aren't as much praised nowadays with Rodeo coming at #5 and then Shameless and Papa Loved Mama closing the Top 10.
Interestingly, 5th album In Pieces sends a pair of songs inside the Top 10, his only album outside of his first 3 to be inside the top tier. Former hits of albums like The Chase, Fresh Horses, and Sevens are now mostly forgotten.
Brooks' compilations sales
It sounds fairly logical to add together weighted sales of one era – studio album, physical singles, downloads, streams – to get the full picture of an album's popularity. For older releases though, they also generate sales of various live, music videos and compilation albums.
All those packaging-only records do not create value, they exploit the value originating from the parent studio album of each of its tracks instead. Inevitably, when such compilations are issued, this downgrades catalog sales of the original LP. Thus, to perfectly gauge the worth of these releases, we need to re-assign sales proportionally to its contribution of all the compilations which feature its songs. The following table explains this method.
The distribution process

How to understand this table? If you check for example the The Hits, these figures mean it sold 12,430,000 units worldwide. The second statistics column means all versions of all the songs included on this package add for 41,068 equivalent album sales from streams of all types.
The second part on the right of the table shows how many equivalent streams are coming from each original album, plus the share it represents on the overall package. Thus, streaming figures tell us songs from the No Fences album are responsible for 42% of the The Hits track list attractiveness. This means it generated 5,192,000 of its 12,430,000 album sales and so forth for the other records. We then apply this process to all compilations present on below table.
Compilations sales figures listing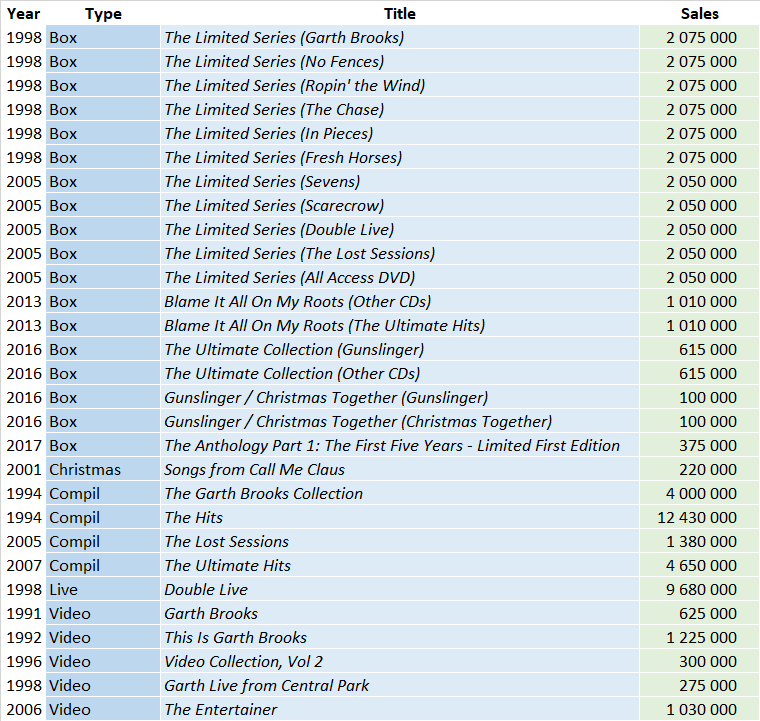 With 4 compilations, 1 Christmas-related reissue, 6 boxes, 5 music videos and 1 live album, the discography of Brooks doesn't look so special. These packages generated hundreds of articles covering the controversy surrounding their RIAA treatment though. Rather than simply commenting the – stunningly impressive – sales of these records, let's get into each of them to understand how they have been marketed, treated by the RIAA and how much they really sold. You will then be able to judge if his certifications are really rigged or simply logical. We will review them in chronological order.
The Garth Brooks Collection (1994)
The very first compilation of the artist was already a specific one. The Garth Brooks Collection was sold exclusively at McDonald's fast food restaurants during the last quarter of 1994. Its price was attractive ($5.99), so was its content. Back then, the star was at the top of the game so getting 10 of his songs for this price was a bargain. It helped even more to get the monster chain backing him, just like it was a bonus that $1 of each copy went to charity.
It's easy to call these sales cheating. Truth is, selling 3 million units in 3 weeks with album-cuts of Diamond-selling albums is just insane, no matter how we look at it. In fact, this collection doesn't include his top songs, none of his Top 10 biggest streaming tunes listed previously are featured into it although they were all released by then. Various popular artists from that time, like Elton John, Roxette, Selena and Tina Turner, also got their own album promoted by McDonald's. It was a large campaign which involved many artists. No one else came even close to Brooks' numbers in spite of his compilation being the only one that cleverly avoided the big hits.
The package was logically certified 3xPlatinum by the RIAA. While one may see as suspicious a 3xPlatinum award for an uncharted album, if someone was robbed that's Brooks himself since the album would have been a surefire #1 album if eligible to chart. He also lost several millions out of its Soundscan tally.
The Hits (1994)

There is really not that much to say about this Diamond selling album. Brooks understood from day one the cannibalization effect of compilations into studio albums, so he was against them. He also understands the logic of supply and demand. To create this demand while most of his target audience already owned his albums, he personally promoted the release with classic marketing effects. The first was to extensively announce the compilation as a 'limited' release. Then, he announced that "masters will be burnt" once the limit is reached. Basically, most people though it was the last chance to ever buy these hits.
In reality, 10 million copies were pressed in the US alone, enough to make it Diamond. The record went #1 for 8 weeks while also selling bucket loads in both BMG Music Club and Columbia House. Masters were then buried under his Hollywood Walk of Fame star. The trick is, he removed masters of the compilation, not the original masters of individual songs.
The Limited Series (1998)
As soon as a record reaches 100 minutes of playing time, the RIAA accounts for every disc as 1 sale. This rule is absolutely fundamental to understand Brooks' platinum discs.
At the start of 1994, all his 5 studio albums were still charting inside the Billboard Top 200. From 1995, none of them ever charted again. Of course, this is due to The Hits which killed their catalog appeal. This album was still Top 10 inside the Catalog Chart in September 1997. Then it quickly dropped out.
Isn't it surprising that the greatest hits of an artist so strong collapsed suddenly after 3 years of huge sales? The point is, Brooks made sure to keep some pressed copies of The Hits, but stopped sending them to retailers. He did the same with his studio albums. From late 1997, there was no more album from the artist available for retailers to order. This lack of supply ended up highlighting the demand. Also, album cuts, some of which are popular, have been hardly purchased for 4 years. The Limited Series arrived in this context.
It was a simple box set containing each of his first 6 albums, with only one additional track in each to convince his biggest fans to buy them anew. This kind of career box sets use to sell a few thousands, but the usage of what we called the Splash Strategy, preventing the sale of remaining products for some time to accumulate demand, shot The Limited Series to #1 in May 1998.
Just like The Hits, it was largely marketed as a limited item, although the limit was a huge 2 million units. These copies quickly sold out. Rather than certifying this package, which was done for Not really, tons of albums sold a few copies through multi-discs boxes, copies certified along with the main studio album. The only difference here is the volume. Can we really blame Brooks to have been so successful? Who else has been able to shift 2 million copies of a $40 box set containing albums which sold so much already? They weren't even reissues in a new format, they were CDs just like the original albums sold a few years before.
In August, once the box was milked, new copies of The Hits were (un)surprisingly served to retailers, sending it to #1 of the catalog chart for 12 consecutive weeks, enough to push it to the Diamond status.
Double Live (1998)

Ok, so now you have sold tons of units of your deep cuts through a box and tons of units of your big hits through a compilation. Both reached their limit. How can you sell them again? Get live versions out! It's even more a good idea that the live reputation of Brooks is legendary. To make the idea even better, let's make it a double album so that each sale count as 2 units for the RIAA.
While all this sounds really good, we still can't hope that much from songs that have been sold so many times, especially since live albums aren't usually that strong in the US. It's where the selling power of the singer is really amazing. Double Live debuted with over 1 million soundscan sales, the first album to ever break this mark. To get the biggest debut ever with a pricy double set of live recordings is pretty insane.
Marketing gimmicks were all over the place once again: the first thousands signed by himself, a new cover and photos at every million sales, different artwork for each format and for each version issued on clubs. If that works, why not doing it? The album scanned 6 million units while hitting 21xPlatinum, so many call it a fraud. Let's be real, 6 million is already an enormous success for this kind of product, so this album must be seen as a blockbuster whatever happens. Then, it's only what it scanned. On top of that, it also sold very well on clubs, at WalMart from 2005, and on GhostTunes from 2014. Multiply all sales by 2, and you get already a very high award, indeed a 17xPlatinum certification, already much closer than the 21xPlatinum level certified. Where do the last 4 million units come from though?
The Limited Series (2005)
Following the pattern he created in 1998, Brooks issued a new 5 CD / 1 DVD box set with his albums Sevens, Scarecrow and Double Live, plus a disc of outtakes The Lost Sessions. The price of $25 made the box almost worth it for the outtakes album. It was the first record issued by WalMart only after the artist signed a much buzzed exclusivity deal. This resulted in over 1 million sales reached during its second week. Once again, the pack was limited to 2 million units. Sales were added to original albums for certification purpose, which means that Double Live got an extra 4 platinum discs since it represented 2 CDs out of this box.
One year into his exclusive deal, WalMart reported nearly 20 million sales for the artist. As these sales weren't reported to Soundscan, one more time many people received the information with a lot of suspicion. The claim is 100% valid yet, although it's needed to carefully read what is being said. "With nearly 20 million discs sold at Wal-Mart". One should read discs, not albums. The Limited Series sold 2 million units with 6 discs, and the week this press release came out 1 million units of the 5-DVD box The Entertainer had been delivered, that's already 17 million discs. Then, The Lost Sessions also sold a million copies in a stand-alone form, putting the total of newly released products at 18 million.
The press releases uses the word nearly, so his back catalog shipped less than 2 million units during that time frame. These are sales of his 8 studio albums to that point plus Double Live, the only releases that were available there. The latter is the most owned of all at discogs, with 25% of 2005 remasters coming from it. That was the closest product to a compilation and his top seller in early 00s according to Soundscan, so this isn't surprising. It also gained 6 Platinum awards during the first year at WalMart with only 400,000+ sales scanned since the last certification, suggesting over 500,000 copies shipped at the giant chain (plus 4 million through the box set). That's 1 million plus discs, letting about 800,000 sales cumulatively for his former studio albums. This extra push gave to a few of them a new Platinum disc in November 2006, notably pushing the debut album Garth Brooks to Diamond.
The Ultimate Hits (2007)

Once you milked the deep catalog, you can get the general public to buy your main hits again. Just like The Beatles have been going for remasters – big compilation – remasters – big compilation for decades, Brooks applies the same winning strategy. In 2007 he dropped a career-spanning compilation The Ultimate Hits. Of course, to make platinum awards more accessible, he released a double-disc. While non-WalMart visitors had seen no album of him in a pair of years, this record marked the end of their contract together, so the compilation was able to flood all retailers and to meet the general public again.
Never underestimate the business skills of the star though, he still had plenty of ideas. In January 2008, the album went 5xPlatinum, 2.5 million copies shipped. That appeared very surprising since it scanned 1.33 million units in 2007 and weekly sales dropped below 30,000 when 2008 started. A part of the gap can be explained by copies remaining on shelves, but in January most retailers start to return copies they haven't been able to sell during the holiday rush. Since his first Limited Series yet, Brooks got the habit to sign a very specific deal with retailers. He accepts to reduce his royalty rate, rumored to be a discount of 50% among the industry, in exchange of guaranteed shipments, in other words of a no-returns condition.
What happens is that once the retailer realizes he won't sell all units, the only solution is to drastically reduce the selling price. That's why Ultimate Hits, the kind of products that tend to drop fast after the Christmas rush, held into the Top 10 Billboard chart until February. Retailers sold it for a bargain to move the million plus copies they were left with. On his side, Brooks consolidates his platinum total at the RIAA with copies that will never be returned.
If patient retailers with a lot of room for stock can slowly sell copies at a very cheap price for years, others simply throw these copies away. Thus, once the album was reissued in 2014, a new count started, with 2.5 million past copies entirely secured in the eye of the RIAA no matter how many of them got destroyed in-between.
In all fairness, most units were truly sold to consumers with the record climbing to 2.4 million soundscan sales by 2012. Since then, the official Soundscan total climbed to 2.86 million but that leaves out the 2014 reissue which has been tracked separately and brings the real total to over 3.2 million sales to date, good enough for nearly 7xPlatinum. Wait, it is 10xPlatinum already!
Blame It All On My Roots (2013)
He did it again! In 2013, Brooks returned with a new 6 CDs / 2 DVDs box set. Again, it was very cheap at only $29.98. He used the same tricks as previously, but went even deeper to make his results look even better. The box's 6 CDs were 4 CDs of entirely new recordings, covers of famous songs that the artist called his roots. The last 2 CDs are actually the set Ultimate Hits from 2007.
For this release too the singer managed to get a 1-million no-return clause, securing a platinum award per disc. It did so with a partnership with his old friend WalMart. This instantly fueled Ultimate Hits with 2 new awards, climbing from 7xPlatinum to 9xPlatinum. It closed the Diamond race just after the 2016 deal with Amazon was announced. Coincidence? Hard to believe, considering how he always handled his catalog, we can be sure the agreement included a certain amount of units of this best of to be sold with no returns possible, enough to make it eligible for Diamond.
Back to Blame It All On My Roots, the record did perform extremely well, eventually selling nearly all its million copies. As every release added one new trick, this one had the good idea to place titles to every standalone disc, "Country Classics", "Melting Pot", "Rock Classics", "Blue-Eyed Soul". He was then able to claim a platinum record for all these albums, although they really are only one huge album of covers. It's worth noting that while in our CSPC approach we do assign sales of each disc into original albums when they are sold through a box, these 4 CDs only represent one new release so there is no reason to multiply their sales by 4.
The Ultimate Collection (2016)
The process is now very well defined: discount royalties a lot, as you are already rich and you secure revenues to your authors, get in exchange a solid no-returns clause, and get able to sell a large package at a bargain price from day one. The Ultimate Collection applied the formula in even bigger proportions as it was now a 10-CD set sold for a mere $29.99. The price was so cheap (under $3.49 per disc) that the album wasn't allowed to chart even if it was the top selling record of the week. As you can't sell the same songs again and again, you need to add a carrot. After covers of classics, here this package came out with an entirely new studio album, Gunslinger, before the studio album even came out! If ordered before the release, the fully new Christmas Together album was also given away for the same price! Since these new albums have been independently issued by the singer, he can easily sell them way under usual prices as their is no label to pay.
It went on to scan 565,000 units, a solid number in our day and age. For the first time though, a no-return clause strongly backlashed. In fact, Target agreed to sell 1 million copies of the package, but they are left with nearly half of them on their hands.
This album shows that the schema went too far. It was still a winning strategy for the singer who got 10 new Platinum awards for 9 new albums (8 discs had a unique naming and the last two were titled The Road part 1 & 2, this album thus went 2xPlatinum) out of half a million fans barely wanting to pick his new studio album. This is a 18 to 1 ratio between the certified amount and the number of consumers. The CSPC way isn't hit by this inflation though. We stick to valid net shipments. As we are no accounting firm, we don't really care about how retailers got a no-returns clause. Copies thrown away aren't sales, end of story. Also, since the first 9 discs have never been issued before in that way, they are regarded as one big compilation, they do not package together already existing discs, so that's worth 1 sale only, plus a second sale for the album of original material Gunslinger. Ultimately, this grants a real consistency with remaining artists even if Brooks handled his career very differently.
No Fences Silver Edition (Abandoned)
Previous examples make cheating the RIAA system look easy. In reality, there is always need to be demand to be able to provide a supply, which is certified by the association. Brooks has been able to get all these marketing tricks out because he is a tremendous seller, this fact can't be overlooked. Even with all gimmicks, one still has to sell half a million times a $30 set of mostly old tunes, not everyone can do that, especially nowadays.
As an evidence of that, let's highlight the reissue of No Fences scheduled for its 25th anniversary in 2015. This is the biggest album of his catalog, and also the one which contains his signature song, Friends In Low Places. The singer wanted to use this strength to sell it in large quantities again. To do so, he recorded a new version of his classic with a star-studded lineup featuring George Strait, Jason Aldean, Florida Georgia Line and Keith Urban.
Here too, he wanted to get an exclusive deal with a retailer ready to purchase 1 million units of it, and here too he wanted to do it by negotiating heavily discounted rates. The issue is that he never managed to convince remaining parties and this remastered album never came out. Just a little example showing it isn't only pressing a button to get new Platinum discs. It involves work, tunes liked by many plus notorious marketing and management skills.
Inflated total?
Scarecrow sold 3 million units but is certified 5xPlatinum. This extreme example suggests Brooks' total of platinum awards is inflated. It isn't a valid argument yet. Most multi-discs sets are certified by themselves rather than into original albums, but this is still a mere translation of sales from one disc to another. That units of Limited Series got certified under that name or under Scarecrow doesn't change at all the number of platinum discs certified.
The irony is that if Brooks hadn't been able to certify his box sets into the original albums, his all-time record of 7 Diamond albums would still be true. Garth Brooks, Sevens, and The Ultimate Hits would all drop from 10xPlatinum to 8xPlatinum. No Fences, Ropin' The Wind, The Hits, and Double Live would remain 10xPlatinum or more. Then, both Limited Series from 1998 and 2005 would be 12xPlatinum and 10xPlatinum, respectively. This latter plateau would also be reached by The Ultimate Collection that shipped 1 million units with 10 discs. The Ultimate Hits would be a strong contender to become the 8th Diamond album once he will have TEA & SEA to be added in.
So, they are only Diamond thanks to multi-discs packages? Yes, but it's the same for everyone, the Beatles' Red, Blue, and White albums, are all over the Diamond mark, thanks to their 2-disc nature, the same again with Led Zeppelin, Physical Graffiti and the Led Zeppelin Box Set, both over, thanks to being multi disc sets. In fact, all 3 artists only have 3 proper Diamond albums, that sold over 10m copies. Three studio sets from Zeppelin and two studio sets and one compilation, from the Beatles' and Brooks.
The only real inflation on his catalog is the one of The Ultimate Collection which got 10 Platinum awards with over 40% of units left unsold. These 10 discs would be Gold instead, so his total would be 143 million instead of 148 million, still a mind-blowing number.
As for comparing his near 73 million soundscan sales to his 148 million units certified to claim half of his sales are manipulation only, here too we have to be a bit more professional in the way we interpret data. He sold nearly 5 million units before Soundscan kicked in, he got well over 3 million sales at McDonald's excluded, his over 6 million WalMart sales have been ignored too, so were about 19 million club sales out of 11 releases. That's 33 million 100% valid sales which involve no multi-discs counting which occurred outside of the Soundscan panel. Thus, sticking to this 73 million number with no additional analysis is just as wrong as quoting 148 million album sales with no further clarification.
Full Length related records Sales – Summary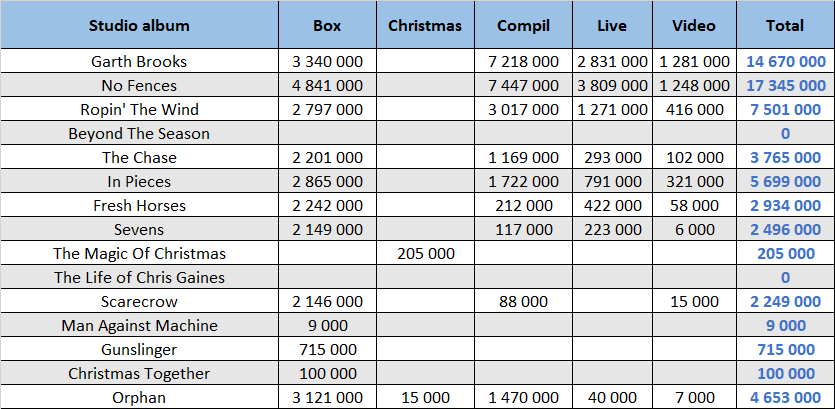 Here is the most underestimated indicator of an album's success – the amount of compilation sales of all kinds it generated. Due to the dependency of sales of the original studio albums on these releases, they are a key piece of the jigsaw. These numbers are obtained by applying the method from the section The distribution process to all packages listed under Compilation sales figures listing category.
Once we sum up everything, we realize how massive Brooks really is. It sounds like an easy trick to drop an extensive box, but this table shows how much the same tracks have been exploited again and again, and how much they have still been able to sell. The best showing comes from No Fences, an album which sold already over 15 million traditional units in the US and went on to fuel over 17 million compilation sales, most of them in the US too. How huge is that?
Logically, all albums involved into 2-million selling Limited Series boxes enjoy at least 2 million sales from there, but most have totals much higher. Garth Brooks stands over 14 million, Ropin' The Wind is at 7.5 million, In Pieces at 5.7 million, etc. Also impressive is how he got tons of sales in pure studio albums sales and then in nearly every album type, boxes, live sets, compilations, and music videos.
Total Album (all types) Sales per Country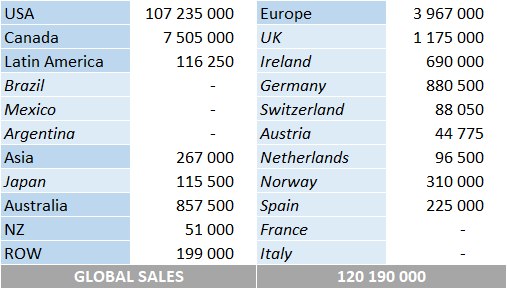 Please note that country-specific numbers may miss sales of a few minor releases, although totals are complete.
Garth Brooks Career CSPC Results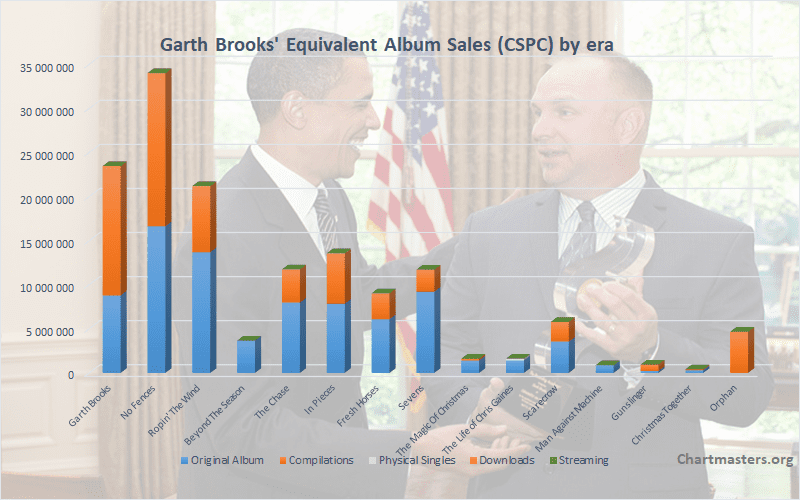 So, after checking all the figures, how many overall equivalent album sales has each album by Brooks achieved? Well, at this point we hardly need to add up all of the figures defined in this article!
Albums CSPC results
In the following table, all categories display figures that way, e.g. in equivalent album sales. For example, singles from Ropin' The Wind released in physical format sold the equivalent of 12,000 albums – 40,000 units with a 10 to 3 weighting.
As a reminder:
Studio Album: sales of the original album
Other Releases: sales of compilations generated thanks to the album
Physical Singles: sales of physical singles from the album (ratio 3/10)
Download Singles: sales of digital singles from the album (ratio 1,5/10)
Streaming: equivalent album sales of all the album tracks (ratio 1/1500 for Audio stream and 1/11750 for Video stream)
144,300,000 equivalent album sales in his career. Like him or not, the success of Brooks is out of this world. To sell this number almost exclusively in North America is a complete madness. His trajectory is unique, absolutely incredible.
His peak is arguably No Fences. Once everything is factored in, it emerges at 34 million sales. This is easily the most successful album from 1990. Outputs from 1989 and 1991 also do wonders as Garth Brooks and Ropin' The Wind are well over 20 million.
The sequence of albums from The Chase to Sevens is impressively consistent with numbers averaging 11.5 million. The rest of his discography is much more hit and miss. His Christmas efforts sold over 5 million collectively, a great number but not that impressive for him, Scarecrow broke that mark too which is very nice but then subsequent albums drop below 2 million comprehensive sales.
Interestingly, Gunslinger does better than Man Against Machine in spite of 4 times less traditional sales. These figures make it fairly obvious that his fans barely bought The Ultimate Collection first, which is why the standalone disc hasn't sold that much on its own.
At the end of the day, even taking off most dubious tricks to inflate RIAA totals, we still get this stunning 144 million total. Brooks is far and away the most successful country singer of all-time. As for his business skills, we never stop complaining about artists being cheated by labels, how poorly they are promoted, how their sales could have been possibly better, how we would like to see them having more control over their recordings. Thus, can we really blame an artist for being clever enough to get rid of that system and use it to his advantage? Rather than hoping he would have never sold so many units out of the same recordings, we would better hope all artists would be able to exploit their catalog as efficiently as the country star did.
Singles CSPC results
The list is compiled in album equivalent sales generated by each song. Therefore, these figures are not merged units of singles formats. Instead, it includes weighted sales of the song's physical single, download, ringtone and streaming as well as its share among sales of all albums on which it is featured.
1. 1990 – Garth Brooks – Friends In Low Places [No Fences] – 18,260,000
2. 1989 – Garth Brooks – The Dance [Garth Brooks] – 11,580,000
3. 1990 – Garth Brooks – The Thunder Rolls [No Fences] – 9,840,000
4. 1989 – Garth Brooks – If Tomorrow Never Comes [Garth Brooks] – 7,850,000
5. 1991 – Garth Brooks – Rodeo [Ropin' the Wind] – 6,950,000
6. 1993 – Garth Brooks – Standing Outside The Fire [In Pieces] – 5,350,000
7. 1993 – Garth Brooks – Callin' Baton Rouge [In Pieces] – 4,350,000
8. 1991 – Garth Brooks – Shameless [Ropin' the Wind] – 4,140,000
9. 1990 – Garth Brooks – Unanswered Prayers [No Fences] – 3,910,000
10. 1992 – Garth Brooks – That Summer [The Chase] – 3,900,000
11. 1991 – Garth Brooks – Papa Loved Mama [Ropin' the Wind] – 3,440,000
12. 1989 – Garth Brooks – Much Too Young (To Feel This Damn Old) [Garth Brooks] – 3,420,000
13. 1997 – Garth Brooks – Two Piña Coladas [Sevens] – 3,400,000
14. 1995 – Garth Brooks – To Make You Feel My Love [Fresh Horses] – 3,350,000
15. 1991 – Garth Brooks – The River [Ropin' the Wind] – 3,120,000
16. 1992 – Garth Brooks – We Shall Be Free [The Chase] – 2,920,000
17. 1997 – Garth Brooks – Longneck Bottle [Sevens] – 2,880,000
18. 2001 – Garth Brooks – Wrapped Up In You [Scarecrow] – 1,940,000
19. 1995 – Garth Brooks – The Beaches Of Cheyenne [Fresh Horses] – 1,850,000
20. 1993 – Garth Brooks – Ain't Going Down (Til The Sun Comes Up) [In Pieces] – 1,720,000
Discography results
Thanks to our ASR (Artist Success Rating) concept, we know that his sales represent 36.09 million times the purchase of his entire discography. Coupled with his total sales, it translates into an ASR score of 409. This puts him just ahead of his personal idol Billy Joel and rock icon Bruce Springsteen. The ranking of all artists studied so far is available too at this link.
Records & Achievements
At 144,300,000 EAS, Garth Brooks is the most successful country artist of all-time.
At 23,469,000 EAS, Garth Brooks is the 3rd most successful album from 1989.
At 34,014,000 EAS, No Fences is the most successful album from 1990.
At 21,201,000 EAS, Ropin' The Wind is the 10th most successful album from 1991.
At 107,235,000 pure album sales, Garth Brooks is the second best selling solo artist ever in the US.
At 1,085,000 pure album sales, Double Live was the highest selling album ever in its first week in the US according to Soundscan.
In 1992, Garth Brooks had the biggest domination ever over US album charts with 3 albums in the annual sales Top 7 (Ropin' The Wind #2, No Fences #6, The Chase #7), the top catalog album (Garth Brooks) and the top Christmas album (Beyond the Season).
At nearly 73 million album sales, Garth Brooks is the #1 seller of the Soundscan era over their panel.
At 7, Garth Brooks has the most RIAA certified Diamond albums.
At 18 weeks, Ropin' The Wind is the longest running #1 album in the US for a male artist from the last 30 years.
At #6 of all-time, Ropin' The Wind is the best charting album of the decade in the US according to Billboard.
At 52 weeks, Garth Brooks has the most weeks at #1 of the US album chart since the Beatles in spite of 3 top sellers excluded from charts (Collection, Limited Series 2005, and Ultimate Collection).
Garth Brooks has 3 albums over 100,000 sales in Ireland.
NB: EAS means Equivalent Album Sales.
You may be interested in…
… best-selling artists, albums, and singles
To improve your navigation we created several amazing cross-artists lists posted inside the CSPC: Data Collector article. Click on it to see the full listing of all CSPC results compiled so far!
… similar artists
To put figures from this article into perspective, click on the images below to reach career breakdowns of similar artists:
As usual, feel free to comment and / or ask a question!
Sources: IFPI, Last FM, YouTube, Discogs., Billboard, Guardian, GarthBrooks.com, GhostTunes, iTunes, BuzzAngle.