Ozzy Osbourne albums and songs sales
After his years singing for Black Sabbath, Ozzy Osbourne was already a rock legend.
In 1980, he gave his solo career a go, dropping the LP Blizzard Of Ozz, an album that became a classic on its own.
After 10 years since his last album, 40 since his solo debut and 50 since he first started with his former band, the Prince of Darkness his back with another LP, Ordinary Man.
Who is Ozzy Osbourne?
Ozzy Osbourne is a British heavy metal singer, born in 1948 in Birmingham. He came to fame in 1970 as part of the iconic band Black Sabbath.
I never head about this singer, is it normal?
The impact of heavy metal music is very different from one country to another. Depending on your nationality, there are chances that Ozzy Osbourne isn't that much well known, especially outside of the rock fans community.

In other markets, like in the US, he is a popular face of the music industry. Apart from his successful career, he starred in the MTV reality show based on his daily life, The Osbournes, from 2002 to 2005. The show went on to become the most successful program in the history of the channel.
Fired from Black Sabbath because of drug problems in 1979 and after a pair of albums with disappointing sales, nobody expected that much from Ozzy Osbourne solo career.
Many decades later, he is still well alive, continuing to release new material up to this day.
Each of his first 6 albums failed to go top 5 in the US, yet all of them are multi-platinum.
This illustrates how tough it is for heavy metal music to cross over the general public, but also how each of his albums managed to get very good legs, selling well in the long run rather than thanks to short lived hype.
His former band moved over 78 million equivalent album sales, including 64 million from their records with Ozzy Osbourne.
Has the iconic singer sold more than 100 million through both his solo and group careers? Has he sold more than his former band? It's time to answer these questions.
As usual, I'll be using the Commensurate Sales to Popularity Concept in order to relevantly gauge his results. This concept will not only bring you sales information for all Ozzy Osbourne's albums, physical and download singles, as well as audio and video streaming, but it will also determine their true popularity.
If you are not yet familiar with the CSPC method, the next page explains it with a short video. I fully recommend watching the video before getting into the sales figures. Of course, if you are a regular visitor feel free to skip the video and get into the figures.
The Commensurate Sales to Popularity Concept (CSPC)
There are two ways to understand this revolutionary concept. The first is the Scribe video posted below. If you are unaware of the CSPC method, you will get the full idea within just a few minutes.
If you are a mathematical person, and want to know the full method as well as formulas, you can read the full introduction article.
Now let's get into the artist's sales figures in detail in order to apply this concept and define the act's true popularity!
Ozzy Osbourne Albums Sales
Original Album Sales – Comments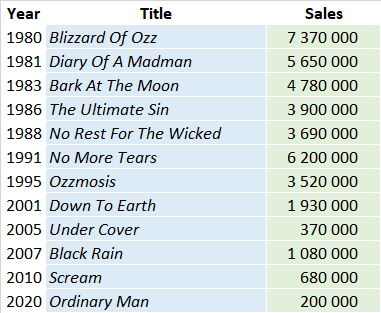 One could think Ozzy Osbourne sold well from day one thanks to his popularity previously acquired.
In reality, Blizzard Of Ozz debuted at #140 in the US charts, entering the top 50 in its 5th week until peaking at #21 on its 17th frame.
The singer built his fan base back from zero, and did so impressively well.
The LP went on to remain two entire years on charts. Ultimately, it sold well over 7 million units in the world.
Diary of a Madman peaked at #16 in its 5th week, and Bark At The Moon at #19 on its 8th. They, too, ended up selling very well, adding for more than 10 million units.
The story repeated itself again and again, with the next 4 albums selling over 3.5 million pure units each.
He registered an uptick with No More Tears, in good part thanks to the title track.
It must be noted that by the time Ozzmosis came out in 1995, Ozzy Osbourne was 47, with 25 years into the game. To sell that much so deep into a career is impressive.
Down To Earth hasn't done as well although near 2 million units is nothing to be ashamed of.
Under Cover was seen as a complete bomb. It debuted and peaked at #134, while the previous album went to #4.
This anomaly was due to two reasons. The first is that it is a cover album, way less appealing than a set of new songs. The second is that his songs were already part of the box set Prince Of Darkness which was released earlier in 2005.
Black Rain, the natural follow up of Down To Earth, sold over a million.
Sales of more recent albums are, logically, struggling more and more considering the context for pure sales.
Ordinary Man is doing very well under these circumpstances, providing the singer his career peaks in most countries and already up to 200,000 units.
Ozzy Osbourne Songs Sales

Physical Singles Sales

As a reminder, the weighting is done with a 10 to 3 ratio between one album and one physical single.
One of his classics, Crazy Train appears with a tiny sales figure of 150,000 units – and this includes reissues.
As incredible as it seems, the track missed the Hot 100 back in the day, charting only inside the bubbling under.
So Tired, at #20 in the UK, was his first top 20 hit in any country. Some 3 years later, Shot In the Dark repeated this peak while entering the Hot 100, peaking at #68, the singer's only solo hit of the 80s in the US.
In 1988, he featured in the #8 US hit Close My Eyes Forever, a 600,000 units seller.
Both No More Tears and Mama, I'm Coming Home were successful. Their numbers in physical single format were so-so yet, with their main impact being to fuel the album sales.
Down to Earth's Dreamer became a huge hit in Germany. It peaked at #2 while lasting 11 weeks inside the top 10. It was top 10 in Austria, Switzerland and Denmark as well, selling near half a million units in the process.
In 2003, Changes, a song the star first sang in 1972 with Black Sabbath, was newly recorded and released, this time as a duet with his daughter Kelly.
The song was a surprising UK #1 smash, selling over 470,000 units there out of 630,000 in total.
Career-wise, Ozzy Osbourne adds for 3.8 million units sold in this format.
Digital Songs

As a reminder, the weighting is done with a 10 to 1,5 ratio between one album and one digital single.
Through the years Crazy Train status raised more and more. It reached a point where some call it the greatest hard rock song from a solo performer ever released.
Its legendary guitar riff continue to be red hot nowadays, as shown by its 6.5 million downloads and ringtones sold.
The runner up single is quite far away, but with over 1.5 million sales Mama, I'm Coming Home remains popular.
In a lower scale, the same is true for songs like Mr. Crowley, Bark at the Moon and No More Tears, all with more than half a million sales.
I Don't Wanna Stop, Let Me hear You Scream and Take What You Want, this last as a guest for Post Malone, sold decently upon release.
Overall, these figures total more than 15 million units sold.

Streaming
Streaming is made up of audio and video streams. Our CSPC methodology includes both to better reflect the real popularity of each track. The main source of data for each avenue is respectively Spotify and YouTube.
To factor in the growing impact of multiple Asian countries where these platforms aren't always the go-to site for music streaming, more sources have been added.
In order to account for their real popularity in each relevant country, the below sources have been used along with the mentioned ratios that reflect the market share of each area.
Audio Streams
– South Korea : Genie streams * 3.05 (consistent with Gaon streaming numbers)
– Japan : AWA streams * 100/5.5 (AWA has 5.5% of the Japanese streaming market)
– Elsewhere : Spotify streams * (370 – 8.5 – 9.5 – 33 – 9) / 207 (370 million global subscribers minus 8.5 million from South Korea minus 9.5 million from Japan minus 33 million from China divided by the number of Spotify only users minus 9 million more Asian users) + Genie streams * 3.05 (uses Genie rather than Spotify to extrapolate markets like Taiwan, Thailand and Vietnam)
Video Streams
– China* : Xiami streams * 125/6.5 (Xiami has just over 5% of the Chinese streaming market)
– Elsewhere : Youtube views
*since 96.4% of Chinese streaming platforms are free users, that paid-for users pay less than $2 a month and that they are also used as video streaming platforms, their streams are weighted in par with YouTube streams.
Audio Stream value – 1500 plays equal 1 album unit
Video Stream value – 11,750 views equal 1 album unit
Equivalent Albums Sales (EAS) = ( Spotify * 310/207 + Genie * 3.05*2 + AWA * 100/5.5 ) / 1500 + ( Xiami * 125/6.5 + YouTube ) / 11750
Top Hits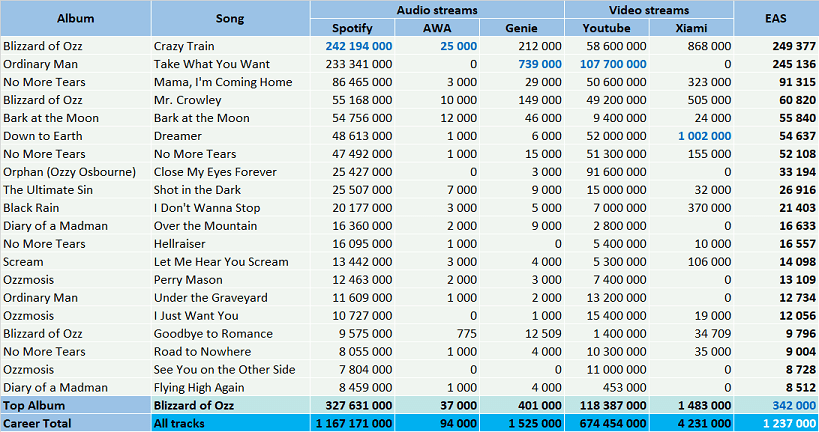 Crazy Train was expected to be the leader as the ultimate classic of the singer.
It is indeed really strong with 242 million streams on Spotify and almost 250,000 EAS.
Take What You Want, freshly released last September, uses the unstoppable streaming machine named Post Malone to challenge the 1980 classic.
It is already hot on its wheels, it's only a matter of days until it jumps ahead.
Behind, while songs like Mama, I'm Coming Home, Mr. Crowley, Bark at the Moon, Dreamer and No More Tears are still relevant, all with over 50,000 EAS, they don't take streaming platforms by storm either.
In this context, songs from Ordinary Man aren't doing bad at all. Apart from Take What You Want, Under the Graveyard and the title track are climbing decently, at the moment at #16 and #21 of his personal ranking.
One more positive results is that most of his albums are represented in this top 20, which explains why they are all great sellers, they all contain hits, at least in their target audience.
Full catalog breakdown
If you are familiar with the artist's catalog and want to check details of each and every song, you can access to all of them right here.
Keep yourself up to date
Our website provides you a fantastic tool which fetches updated Spotify streams as you request them, use it to watch these results grow day after day!
Ozzy Osbourne compilations sales
It sounds fairly logical to add together weighted sales of one era – studio album, physical singles, downloads, streams – to get the full picture of an album's popularity. For older releases though, they also generate sales of various live, music videos and compilation albums.
All those packaging-only records do not create value, they exploit the value originating from the parent studio album of each of its tracks instead. Inevitably, when such compilations are issued, it downgrades catalog sales of the original LP.
Thus, to perfectly gauge the worth of these releases, we need to re-assign sales proportionally to its contribution of all the compilations which feature its songs. The following table explains this method.
The distribution process

How to understand this table? If you check this example of The Ozzman Cometh, these figures mean it sold 3,720,000 units worldwide.
The second statistics column means all versions of all the songs included on this package add for 1,098,335 equivalent album sales from streams of all types.
The second part on the right of the table shows how many equivalent streams are coming from each original album, plus the share it represents on the overall package.
Thus, streaming figures tell us songs from Blizzard of Ozz are responsible for 29% of the The Ozzman Cometh tracklist attractiveness, which means it generated 1,084,000 of its 3,720,000 album sales, and so on for the other records.
We notice that this compilation, as well as all best selling live and compilation sets of the singer, include material from Black Sabbath.
Compilations sales figures listing
Full Length related records Sales – Summary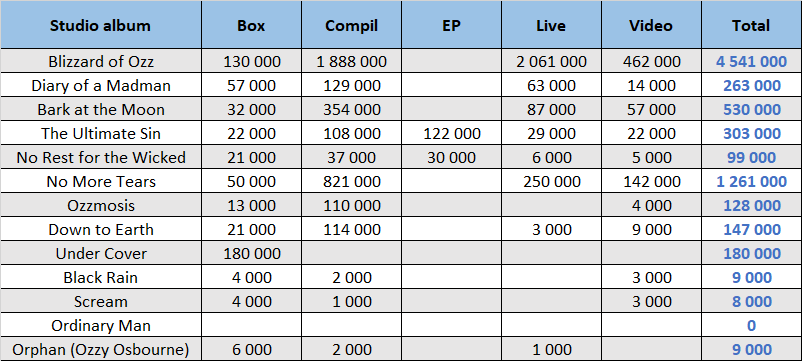 Here is the most underestimated indicator of an album's success – the amount of compilation sales of all kinds it generated. Due to the dependency of sales of the original studio albums on these releases, they are a key piece of the jigsaw
These numbers are obtained by applying the method from the section The distribution process to all packages listed under Compilation sales figures listing category.
The most important fact in this table is that these sales add for 7.5 million out of the 17.6 million sold by the artist.
The remaining 10.1 million have in fact been assigned to Black Sabbath album, as songs like Paranoid and War Pigs are still the main drivers of consumers going after Ozzy Osbourne's compilations.
As a bonus, please find below the breakdown of the top selling compilation.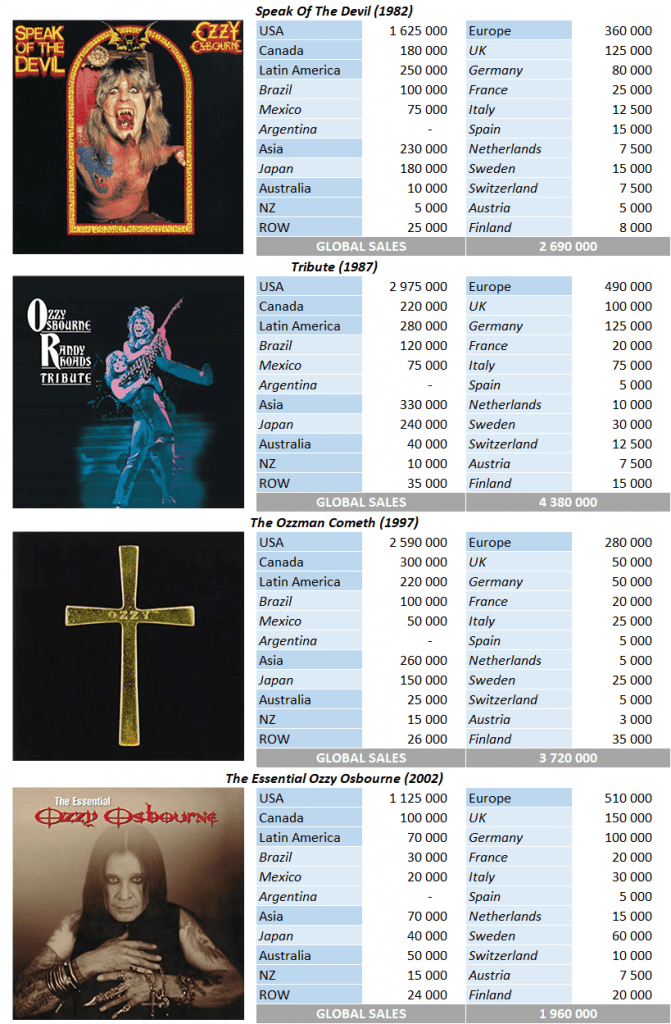 Total solo Album (all types) Sales per Country
Please note country-specific numbers may miss sales of some minor releases, although continental and global totals are complete.
Ozzy Osbourne Career CSPC Results
So, after checking all the figures, how many overall equivalent album sales has each album by Ozzy Osbourne achieved? Well, at this point we hardly need to add up all the figures defined in this article!
In the following results table, all categories display figures in equivalent album sales. If different, pure sales are listed between parentheses.
| artist_spotify_id | # | Cover | Album | Studio albums (EAS) | sales_update_date | Other LPs (EAS) | Physical singles (units sold) | Digital singles (units sold) | Streams | Streams increase | Total EAS | valid_as_of | streams_updated_value | album_id |
| --- | --- | --- | --- | --- | --- | --- | --- | --- | --- | --- | --- | --- | --- | --- |
| 6ZLTlhejhndI4Rh53vYhrY | 1 | | Blizzard of Ozz | 7,370,000 | 12.03.20 | 4,543,000 | 16,000(55,000) | 183,000(1,220,000) | 918,000 (12/07/23) | Av.: 420LD: 530 | 14,009,000 | 20,231,207 | 918,000 | 302 |
| 6ZLTlhejhndI4Rh53vYhrY | 2 | | Diary of a Madman | 5,650,000 | 12.03.20 | 273,000 | 19,000(62,000) | 65,000(430,000) | 109,000 (12/07/23) | Av.: 50LD: 60 | 6,160,000 | 20,231,207 | 109,000 | 303 |
| 6ZLTlhejhndI4Rh53vYhrY | 3 | | Bark at the Moon | 4,780,000 | 12.03.20 | 528,000 | 59,000(196,000) | 105,000(700,000) | 156,000 (12/07/23) | Av.: 60LD: 70 | 5,678,000 | 20,231,207 | 156,000 | 304 |
| 6ZLTlhejhndI4Rh53vYhrY | 4 | | The Ultimate Sin | 3,900,000 | 12.03.20 | 303,000 | 93,000(310,000) | 102,000(680,000) | 117,000 (12/07/23) | Av.: 50LD: 80 | 4,538,000 | 20,231,207 | 117,000 | 305 |
| 6ZLTlhejhndI4Rh53vYhrY | 5 | | No Rest for the Wicked | 3,690,000 | 12.03.20 | 99,000 | 15,000(50,000) | 21,000(140,000) | 39,000 (12/07/23) | Av.: 20LD: 20 | 3,864,000 | 20,231,207 | 39,000 | 306 |
| 6ZLTlhejhndI4Rh53vYhrY | 6 | | No More Tears | 6,200,000 | 12.03.20 | 1,257,000 | 162,000(540,000) | 393,000(2,620,000) | 488,000 (12/07/23) | Av.: 220LD: 380 | 8,500,000 | 20,231,207 | 488,000 | 307 |
| 6ZLTlhejhndI4Rh53vYhrY | 7 | | Ozzmosis | 3,520,000 | 12.03.20 | 127,000 | 30,000(100,000) | 54,000(360,000) | 95,000 (12/07/23) | Av.: 40LD: 50 | 3,826,000 | 20,231,207 | 95,000 | 308 |
| 6ZLTlhejhndI4Rh53vYhrY | 8 | | Down to Earth | 1,930,000 | 12.03.20 | 147,000 | 141,000(470,000) | 42,000(280,000) | 138,000 (12/07/23) | Av.: 50LD: 50 | 2,404,000 | 20,231,207 | 138,000 | 309 |
| 6ZLTlhejhndI4Rh53vYhrY | 9 | | Under Cover | 370,000 | 12.03.20 | 180,000 | 3,000(10,000) | 15,000(100,000) | 12,000 (03/12/20) | N/A | 580,000 | 20,231,207 | 12,000 | 310 |
| 6ZLTlhejhndI4Rh53vYhrY | 10 | | Black Rain | 1,080,000 | 12.03.20 | 9,000 | 0(0) | 120,000(800,000) | 112,000 (12/07/23) | Av.: 50LD: 90 | 1,321,000 | 20,231,207 | 112,000 | 311 |
| 6ZLTlhejhndI4Rh53vYhrY | 11 | | Scream | 680,000 | 12.03.20 | 8,000 | 0(0) | 90,000(600,000) | 68,000 (12/07/23) | Av.: 20LD: 30 | 846,000 | 20,231,207 | 68,000 | 312 |
| 6ZLTlhejhndI4Rh53vYhrY | 12 | | Ordinary Man | 200,000 | 12.03.20 | 0 | 0(0) | 42,000(280,000) | 806,000 (12/07/23) | Av.: 380LD: 360 | 1,048,000 | 20,231,207 | 806,000 | 313 |
| 6ZLTlhejhndI4Rh53vYhrY | 13 | | Patient Number 9 | 0 | | 0 | 0(0) | 0(0) | 68,000 (12/07/23) | Av.: 0LD: 0 | 68,000 | 20,231,207 | 68,000 | 0 |
| 6ZLTlhejhndI4Rh53vYhrY | 14 | | Orphan | 0 | 12.03.20 | 9,000 | 480,000(1,525,000) | 78,000(520,000) | 55,000 (03/12/20) | N/A | 622,000 | 20,231,207 | 55,000 | 1,714 |
'Av.' stands for Average, 'LD' for Last Day.
As a reminder:
Studio Album: sales of the original album
Other Releases: sales of compilations generated thanks to the album
Physical Singles: sales of physical singles from the album (ratio 3/10)
Download Singles: sales of digital singles from the album (ratio 1,5/10)
Streaming: equivalent album sales of all the album tracks (ratio 1/1500 for Audio stream and 1/6750 for Video stream)
Artist career totals
| All-Time Rank | Studio albums (EAS) | Other LPs (EAS) | Physical singles (units sold) | Digital singles (units sold) | Streams | Total EAS |
| --- | --- | --- | --- | --- | --- | --- |
| 114 | 39,370,000 | 7,483,000 | 3,760,000 | 15,180,000 | 3,465,000 (12/07/23) | 53,747,000 |
See where the artist ranks among remaining singers
Unlike his former band, Ozzy Osbourne doesn't own one utterly dominant album.
Blizzard of Ozz is still a healthy leader with over 13.4 million equivalent album sales to date.
Healthy is also the word for the rest of his discography. Near 3.8 million aren't enough for Ozzmosis to be the weakest seller of his first 20 years of solo career.
Factoring in his albums with Black Sabbath, Ozzmosis is indeed only his 12th most successful LP, which is quite impressive at this level of sales.
Back to his solo efforts, No More Tears performs strongly with 8.2 million units, while Diary of a Madman shots to 3rd overall at 6 million. Bark at the Moon is close behind at 5.6 million.
Post-2000 albums are weaker, but for now the singer has secured at least half a million copies by release.
It was tough to do it with Ordinary Man, but its critical acclaim and the success of Take What You Mean is making it almost easy, 1 million when all is said and done doesn't look impossible for this new era.
Cumulatively, Ozzy Osbourne scores 51,516,000 equivalent album sales with his solo material. If we look at his complete career total, he is now past 115 million units.
To gauge this number, this is more than George Michael & Wham! and also more than NSYNC plus Justin Timberlake.
Singles CSPC results
The list is compiled in album equivalent sales generated by each song. Therefore, these figures are not merged units of singles formats.
Instead, it includes weighted sales of the song's physical single, download, ringtone and streaming as well as its share among sales of all albums on which it is featured.
1. 1980 – Ozzy Osbourne – Crazy Train [Blizzard of Ozz] – 10,040,000
2. 1983 – Ozzy Osbourne – Bark at the Moon [Bark at the Moon] – 4,580,000
3. 1991 – Ozzy Osbourne – Mama, I'm Coming Home [No More Tears] – 4,150,000
4. 1986 – Ozzy Osbourne – Shot in the Dark [The Ultimate Sin] – 2,980,000
5. 1991 – Ozzy Osbourne – No More Tears [No More Tears] – 2,360,000
6. 1981 – Ozzy Osbourne – Over the Mountain [Diary of a Madman] – 2,300,000
7. 1980 – Ozzy Osbourne – Mr. Crowley [Blizzard of Ozz] – 2,290,000
8. 2001 – Ozzy Osbourne – Dreamer [Down to Earth] – 1,950,000
9. 1981 – Ozzy Osbourne – Flying High Again [Diary of a Madman] – 1,390,000
10. 1988 – Ozzy Osbourne – Miracle Man [No Rest for the Wicked] – 1,160,000
If you feel inspired by this list, we just created this CSPC Ozzy Osbourne playlist on Spotify!
Discography results
Thanks to the ASR (Artist Success Rating) concept, we know that the singer's sales represent 14.85 million times the purchase of his entire discography. Coupled with his total sales, it translates into an ASR score of 157.
Records & Achievements
Ozzy Osbourne is one of only 8 singers with over 50 million EAS under two distinct acts.
At 30 years and 3 months, Ozzy Osbourne has the longest gap ever between US Hot 100 top 10 hits (1988-2019, Close My Eyes Forever and Take What You Want)
At 13,431,000 EAS, Blizzard of Ozz is the among the 20 most successful albums from 1980.
NB : EAS means Equivalent Album Sales
You may be interested in…
… best-selling artists, albums, and singles
To improve your navigation we created several amazing cross-artists lists posted inside the CSPC: Data Collector article. Click on it to see the full listing of all CSPC results compiled so far!
… similar artists
To put figures from this article into perspective, click on the images below to reach career breakdowns of similar artists:
As usual, feel free to comment and / or ask a question!
Sources: IFPI, Spotify, YouTube, Discogs.