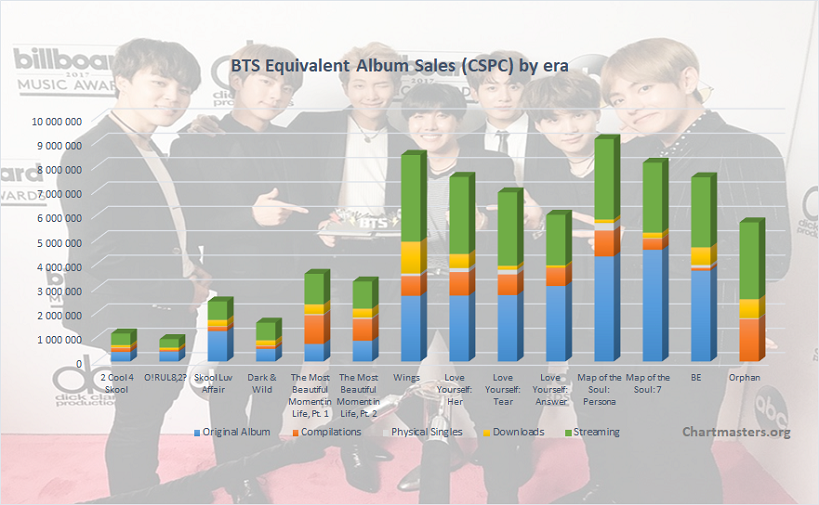 They are back. BTS, the unknown Korean group made biggest stars on Earth in no time return with a new song, Butter, their second English-language tune.
The first one, Dynamite, has been destroying charts for 9 months, pushing every day higher the total sales of the band.
Nearly a year has passed since we last updated the sales and streams of the biggest boy band in the world. How much have they increased after releasing the best-selling album of the year so far? We'll find out shortly!
Who are BTS?
They are a music boy band of seven members. They are superstars of Korean pop, a genre known as K-Pop. They were formed in Seoul in 2013.
Who are their members?
Their members are RM, Suga, Jin, Jimin, Jungkook, J-Hope and V. The former is their leader but they are all active vocalists and provide artistic input as well. They are all in their 20s.
Are they as popular as often claimed?
Yes, they were the #1 top selling artists in the World in 2020, ahead of both Taylor Swift and Drake. They dominate social media possibly even more than they do on charts and sales.
The question about them is often are their hype due to their sales, or are they over represented thanks to their unparalled following on social media?
And that's the thing. Among the 30 most retweeted tweets of all-time, they own as many as 19 of them, more than anyone else.
In a world where a view is money, getting the Korean icons speak about you means profit. You don't even need to hit the group as their ARMY, as is named their fan base, will no doubt extensively share every positive article about their idols.
This ARMY is the reason why they are more retweeted than anyone in spite of having over 35 million followers while Obama, Katy Perry and Justin Bieber are well over 100 million.
That's why major US media started to talk about the group, to benefit from this highly valuable target audience.
This often leads to uninspiring articles. Short ones, that use anything that can be called a record as a clickbait, with a content that is truly pointless. Quick, cheap coverage of a hyped product.
At the other end of the spectrum, there are various boards and sites specialized on K-Pop that list absolutely every detail. They strongly lack context yet and appear to be near impossible to understand for casual readers.
At the end of the day, are BTS really popular? If yes, how big are they? How do they compare with international stars?
As usual, I'll be using the Commensurate Sales to Popularity Concept in order to relevantly gauge their results. This concept will not only bring you sales information for all BTS albums, physical and download singles, as well as audio and video streaming. In fact, it will also determine their true popularity.
If you are not yet familiar with the CSPC method, below is a nice and short video of explanations. I fully recommend watching it before getting into the sales figures. Of course, if you are a regular visitor feel free to skip the video and get into the numbers directly.
The Commensurate Sales to Popularity Concept (CSPC)
There are two ways to understand this revolutionary concept. In the first place, there is this Scribe video posted below. If you are unaware of the CSPC method, you will get the full idea within just a pair of minutes.
If you are a mathematical person, and want to know the full method as well as formulas, you can read the full introduction article.
Now let's get into the artist's sales figures in detail in order to apply this concept and define the act's true popularity!
BTS Album Sales

Original Album Sales – Comments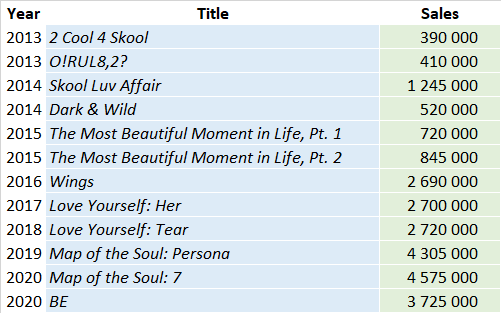 In this day and age, the pure album sales of BTS are simply out of this world.
Their last album BE is already up to 3.7 million in just 6 months. Unlike its predecessors, it hasn't enjoy multiple covers and similar techniques to fuel fan purchases, which makes his score even more impressive.
Both Map of the Soul volume are insanely big at 8.9 million combined. No need to say no one is recording similar sales at the moment.
In fact, Persona was the biggest seller globally for 2019, although a data glitch from their label was responsible for it being listed at #3 only on IFPI's official list.
Including their new material, the boy band is up to a massive 24.8 million studio album sales in just a short few years.
The irony is that these figures represent only a part of their sales. While most recent acts issue no compilations, BTS dropped tons of reissues and best of albums, along with music videos.
While these records will be listed under the compilation section, they add a million straigth away with below sales from You Never Walk Alone, which is nothing else than a reissue of Wings.

Due to its nature of side project, BTS World: Original Soundtrack has been added to the remaining LP section.
In the other side, Love Yourself: Answer which is regarded as a compilation, has been added to studio albums.
It contains 8 new songs, and most fans bought it for these ones instead of the songs they already purchased through Love Yourself: Her and Love Yourself: Tear.
A little disclaimer about their 24.8 million sales of studio albums. Totals are accurate.
Since most of their albums have been issued almost exclusively from Gaon, an official chart provider that accounts for sales of all Korean releases even when they are exported, the margin of error is close to 0.
That being said, it's very tricky to know exactly how many sales really happened in South Korea. Hanteo, another local chart provider, is supposed to list them but it's hardly reliable.
You will notice that several numbers on these breakdown indeed fail to fit with Hanteo numbers, simply because they don't match with official data available.
While Hanteo figures mean something, they still include a healthy number of exports. These are also excluded / allowed back frequently, making them hardly trustable.
Thus, take the breakdown by country with a pinch of salt rather than at face value. Numbers for some markets may be a little higher in reality, others a little lower.
BTS songs sales

Physical Singles
As a reminder, the weighting is done with a 10 to 3 ratio between one album and one physical single.
Physical singles is one more dead format that BTS still continue to enjoy.
In fact, the amazing success of the band in the last market caring about this format, Japan, brings them healthy numbers from it.
Here too, sales gradually increased release after release. The last pair of songs, both from Love Yourself campaigns, topped half a million sales and Boy with Luv from Persona even topped the million mark.
Their dedicated fan base helps here too since a solid share of these sales were actually exports to plenty of places from around the world.
While most of these singles came out in CD to exploit the Japanese market, both ON and Dynamite recently came out in LP and then Cassette formats. This reflects their growing fanbase in Western markets. Life Goes On got a LP release as well.
Overall the band is up to 3.63 million units sold in this format, not something you'd expect from an artist who's career started in 2013.

Digital songs

As a reminder, the weighting is done with a 10 to 1,5 ratio between one album and one digital single.
When you look at sales from a completely different genre of music, you also need to keep in mind that the whole market may be completely different.
In South Korea, tons of downloads at low price have been sold through the years.
For most international singers, these downloads replaced a former healthy CD album market.
BTS manage to still register strong album sales. Naturally, their downloads aren't that massive in comparison to their popularity, since their fans buy physical formats.
It's all relative though and even if they aren't as dominant in download sales as they are in album sales, their numbers add for insane numbers once again.
One of the reasons is that while the group is a fresh new act in the eye of the foreign public, they have been registering countless of relevant hits through the years in South Korea.
Singles from their first two albums took time to hit sales in 6 digits, with Boy in Luv being their first Top 50 hit in South Korea with now over 660,000 sales globally to date.
Later, it's I Need U that was their true breakthrough. A #5 sales smash the song moved over a million units in their homeland. At a lower scale Dope did well too.
With fans being more numerous each day, their deep cuts have also been purchased a lot. They add for more than half a million copies for tracks of The Most Beautiful Moment in Life Part 1.
The Part 2 did almost the same. Run sold 900,000 units, Butterfly did well and cuts were strong with a lot of Korean fans downloading the entire album.
The Young Forever release that packaged both albums together included also Fire, Save Me, and Young Forever, songs that got individually purchased well over 2 million times combined.
With Wings, they stepped up one more time. Blood Sweat & Tears made them superstars in their native country. A #1 hit, the song has now moved past 1.8 million units globally making it their most downloaded song to date.
They got back to back chart toppers thanks to Spring Day. The song is arguably a very strong seller with over 1.6 million units.
The entire Wings era was incredibly successful with many album tracks topping 180,000 sales. In total, songs of the extended version of the record add for 8.6 million units.
After that, nothing slowed them down. All their singles, DNA, MIC Drop, Go Go, Fake Love moved sizable amounts. Their deeper cuts usually sell nearly as well.
Singles from BTS World sold good amounts thanks to strong sales in the Chinese streaming platform Net Ease.
Songs from Map of the Soul: 7 have accumulated a solid 1.5 million downloads, more than tracks from Map of the Soul: Persona.
Their first English single Dynamite is up to a massive 3.9 million units. It sold absurd numbers like 1.5 million in the US, 1.3 million in China and over 400,000 in Japan. It's their best-selling single overall.
More 2020 songs like Life Goes On and Stay Gold shifted solid amounts too. Expectations are high for their new song Butter.
It must be noted that all figures include South Korea downloads up to the end of 2017, when the system switches to a streaming based method which best reflects the current situation.

Streaming
Streaming is made up of audio and video streams. Our CSPC methodology includes both to better reflect the real popularity of each track. The main source of data for each avenue is respectively Spotify and YouTube. To factor in the growing impact of multiple Asian countries where these platforms aren't always the go-to site for music streaming, more sources have been added.
In order to account for their real popularity in each relevant country, the below sources have been used along with the mentioned ratios that reflect the market share of each area.
Audio Streams
– South Korea : Genie streams * 3.05 (consistent with Gaon streaming numbers)
– Japan : AWA streams * 100/5.5 (AWA has 5.5% of the Japanese streaming market)
– Elsewhere : Spotify streams * (370 – 8.5 – 9.5 – 33 – 9) / 207 (370 million global subscribers minus 8.5 million from South Korea minus 9.5 million from Japan minus 33 million from China divided by the number of Spotify only users minus 9 million more Asian users) + Genie streams * 3.05 (uses Genie rather than Spotify to extrapolate markets like Taiwan, Thailand and Vietnam)
Video Streams
– China* : QQ video streams * 50 if the song is available for audio stream, QQ video streams * 5 elseway (scale built based on known figures for several major artists)– Elsewhere : Youtube views
*since 96.4% of Chinese streaming platforms are free users, that paid-for users pay less than $2 a month and that they are also used as video streaming platforms, their streams are weighted in par with YouTube streams.
Audio Stream – 1500 plays equal 1 album unit
Video Stream – 11,750 views equal 1 album unit
Equivalent Albums Sales (EAS) = ( Spotify * 310/207 + Genie * 3.05*2 + AWA * 100/5.5 ) / 1500 + ( QQ views* 50(or 5) + YouTube ) / 11750
Top Hits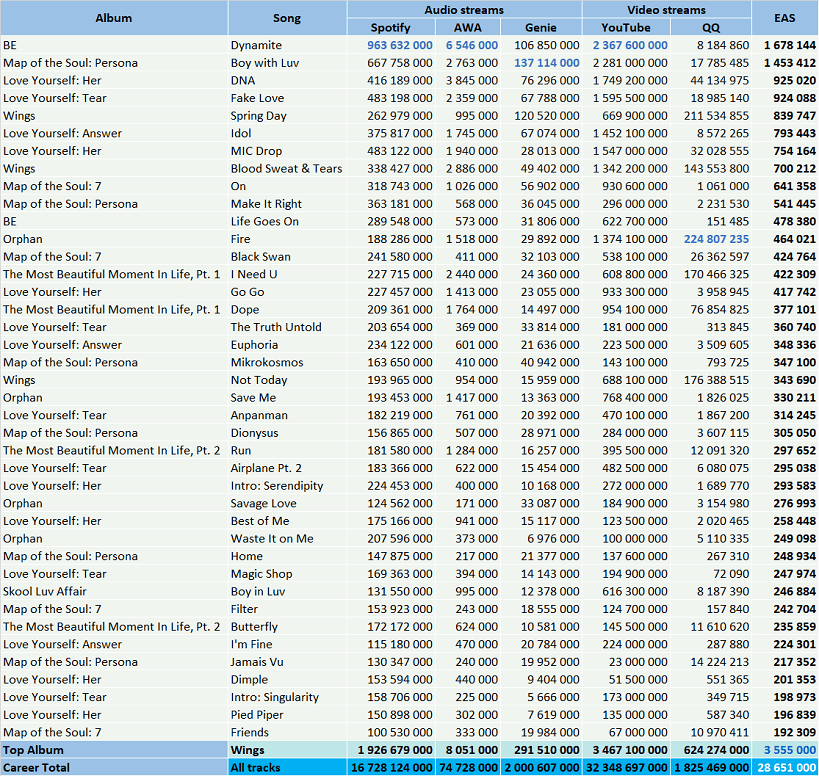 For years it was claimed on K-Pop boards that BTS never had a true big hit. The truth is, they have just way too many to point out a single one.
A pair of years ago we pointed out that they had no signature song. This remains true today with most of the songs in their personal Top 20 having incredibly similar numbers, even if Dynamite is pulling ahead.
This song will be their first to hit 1 billion streams on Spotify. It already cleared the 2 billion level on YouTube and the 100 million plateau on South Korean's Genie.
Boy with Luv was poised to take over the crown last year, only to see Dynamite pass it from behind. Will Butter dislodge Dynamite too? Sounds very difficult, but sky is the limit for BTS.
The insane numbers of Boy with Luv and Dynamite are worth nothing less than 3.1 million equivalent album sales. Wow.
At near 1 million EAS are both DNA and Fake Love which also looked like their new peak back then.
Every single song in this list has no less than 100 million streams on Spotify, and that's a top 40!
Let's remember that the platform has barely been deployed in their native South Korea some weeks ago.
In South Korea, Boy with Luv and Spring Day are both massive at over 100 million streams each, they top Dynamite to complete their top 3.
In Japan, Dynamite has taken the lead already with many songs on similar numbers behind like DNA and Blood Sweat & Tears.
In China, their tracks are made available after a download-only restriction period, which is why Boy with Luv and Dynamite remain so low while their Wings-era songs are huge.
Their biggest album remains this very one, 2016's Wings with over 3.5 million EAS.
Full catalog breakdown
If you are familiar with the artist's catalog and want to check details of each and every song, you can access to all of them right here.
Keep yourself up to date
Our website provides you a fantastic tool which fetchs updated Spotify streams as you request them, use it to watch these results grow day after day!
BTS compilations sales
It sounds fairly logical to add together weighted sales of one era – studio album, physical singles, downloads, streams – to get the full picture of an album's popularity. For older releases though, they also generate sales of various live, music videos and compilation albums.
All those packaging-only records do not create value, they exploit the value originating from the parent studio album of each of its tracks instead. Inevitably, when such compilations are issued, this downgrades catalog sales of the original LP. Thus, to perfectly gauge the worth of these releases, we need to re-assign sales proportionally to its contribution of all the compilations which feature its songs. The following table explains this method.
The distribution process

How to understand this table? In the example of Face Yourself, these figures mean it sold 640,000 units worldwide. The second statistics column means all versions of all the songs included on this package add for 4,604,315 equivalent album sales from streams of all types.
The second part on the right of the table shows how many equivalent streams are coming from each original album, plus the share it represents on the overall package.
Thus, streaming figures tell us songs from the Wings album are responsible for 41% of the Face Yourself track list attractiveness. This means it generated 262,000 of its 640,000 album sales and so forth for the other records. We then apply this process to all compilations present on below table.
Compilations sales figures listing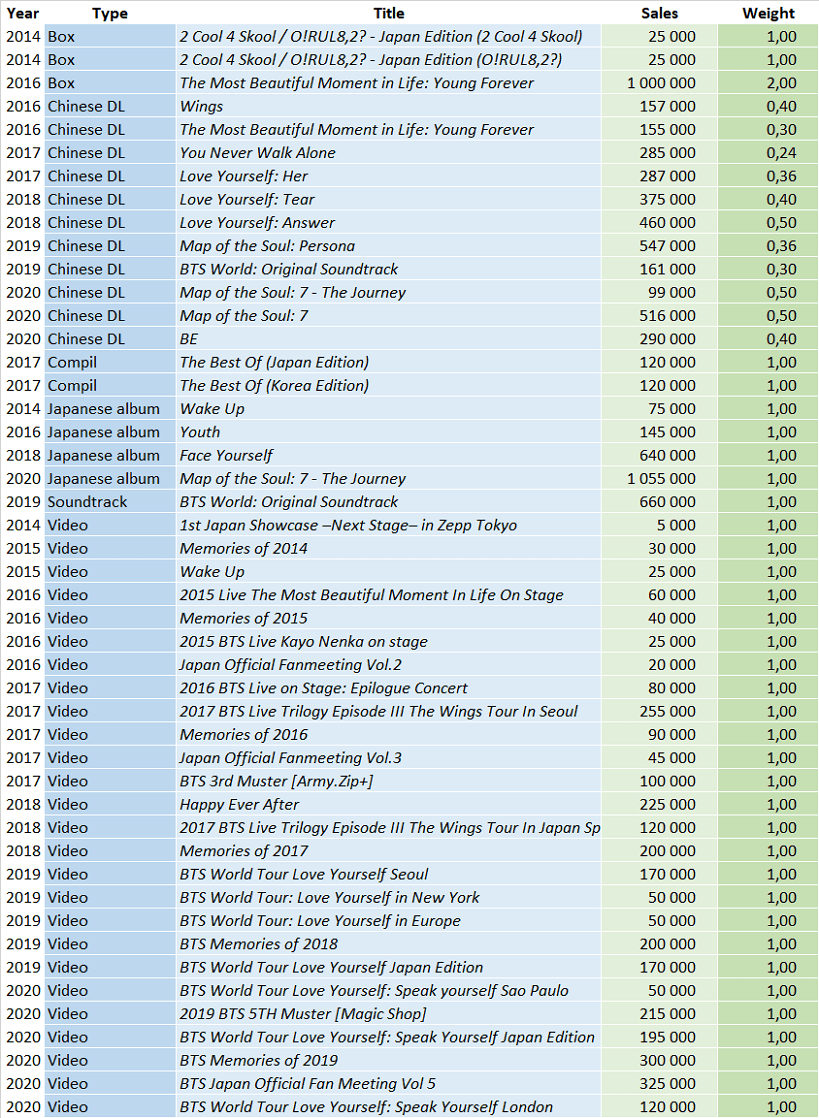 Please note that over 2 million DVD sales are excluded as they include no music.
Inside the studio album section, we already listed sales of these products. We focused on both physical sales and traditional downloads from markets like the US.
Chart followers know that downloads have been fast developping in China lately.
They also know these downloads are very cheap and unregulated, with the market being idol-heavy. It means numbers are in part results of bulk buying.
Ultimately, these volumes inflate the role of this market among the global music industry. For example, the album BE was issued with a price of 20 yuans, a mere $3.11 while it is sold at around $40 in the US.
To stick with meaningful indicators, we incorporated these sales with a Price / 50 weight. In our example, a Chinese download of BE is then worth 0.4 EAS (20/50).
In the other side, the box Young Forever contains virtually entire track lists of parts 1 and 2 of The Most Beautiful Moment In Life. Our methodology assigns sales of these packages to each original album. As it also contains a few new songs, we instead gave it a weight of 2, then its sales are dispatched according to the streaming distribution.
Full Length related records Sales – Summary

Here is the most underestimated indicator of an album's success – the amount of compilation sales of all kinds it generated.
Due to the dependency of sales of the original studio albums on these releases, they are a key piece of the jigsaw.
These numbers are obtained by applying the method from the section The distribution process to all packages listed under Compilation sales figures listing category.
Most artists who emerged in the 10s issued close to 0 compilation, same with music videos. The incredibly dedicated fanbase of BTS implies a completely different catalog management yet.
They drop as many as 5 music videos per year, Japanese albums, boxes, compilations, etc. Their release schedule is the busiest we have seen in decades.
Why wouldn't they do otherwise: these products sell like crazy. In total, we are talking about over 9 million units.
Total Album (all types) Sales per Country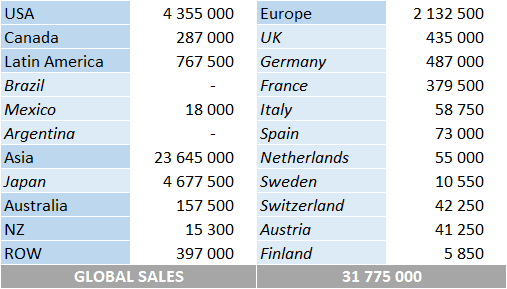 Please note country-specific numbers may miss sales of a few minor releases, although totals are complete.
BTS Career CSPC Results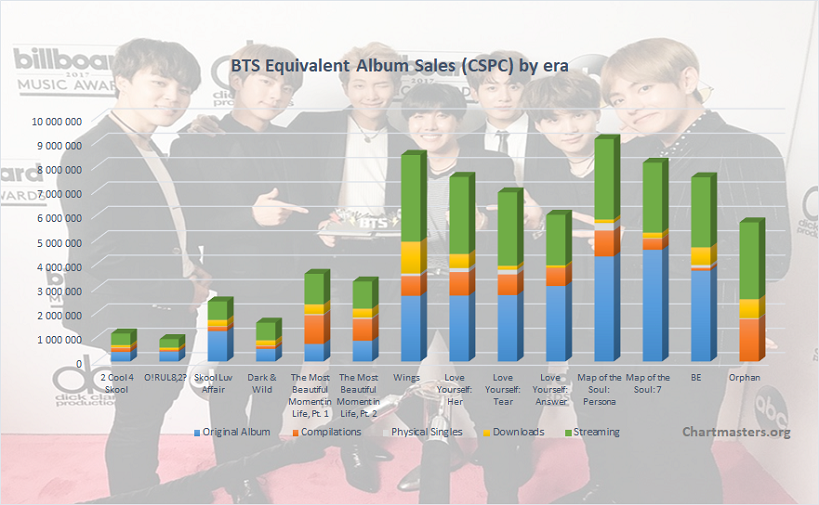 So, after checking all the figures, how many overall equivalent album sales has each album by BTS achieved? Well, at this point we hardly need to add up all of the figures defined in this article!
Albums CSPC results
In the following results table, all categories display figures in equivalent album sales. If different, pure sales are listed between parentheses.
#
Cover
Album
Total CSPC
Sales*
Streams
Total CSPC
Studio Albums
Other LPs
Physical Singles
Digital Singles
Last verified
Auto update
Daily Increase
1
2 Cool 4 Skool
1,362,000
390,000
168,000
15,000(50,000)
98,000(650,000)
475,000 (05/21/21)
691,000 (05/19/22)
Av.: 590LD: 760
1,362,000
2
O!RUL8,2?
1,039,000
410,000
63,000
0(0)
92,000(610,000)
347,000 (05/21/21)
474,000 (05/19/22)
Av.: 350LD: 410
1,039,000
3
Skool Luv Affair
2,768,000
1,245,000
182,000
20,000(65,000)
258,000(1,720,000)
753,000 (05/21/21)
1,063,000 (05/19/22)
Av.: 850LD: 940
2,768,000
4
Dark & Wild
1,839,000
520,000
120,000
21,000(70,000)
206,000(1,370,000)
722,000 (05/21/21)
972,000 (05/19/22)
Av.: 690LD: 780
1,839,000
5
The Most Beautiful Moment in Life, Pt. 1
3,962,000
720,000
1,178,000
44,000(145,000)
396,000(2,640,000)
1,255,000 (05/21/21)
1,624,000 (05/19/22)
Av.: 1,020LD: 1,040
3,962,000
6
The Most Beautiful Moment in Life, Pt. 2
3,610,000
845,000
899,000
55,000(180,000)
365,000(2,430,000)
1,113,000 (05/21/21)
1,447,000 (05/19/22)
Av.: 920LD: 1,000
3,610,000
7
Wings
9,567,000
2,690,000
810,000
108,000(360,000)
1,302,000(8,680,000)
3,555,000 (05/21/21)
4,657,000 (05/19/22)
Av.: 3,040LD: 3,010
9,567,000
8
Love Yourself: Her
8,512,000
2,700,000
964,000
165,000(545,000)
578,000(3,850,000)
3,158,000 (05/21/21)
4,106,000 (05/19/22)
Av.: 2,610LD: 2,770
8,512,000
9
Love Yourself: Tear
7,974,000
2,720,000
847,000
195,000(650,000)
156,000(1,040,000)
3,014,000 (05/21/21)
4,056,000 (05/19/22)
Av.: 2,870LD: 3,030
7,974,000
10
Love Yourself: Answer
6,707,000
3,090,000
748,000
0(0)
101,000(670,000)
2,072,000 (05/21/21)
2,768,000 (05/19/22)
Av.: 1,920LD: 1,990
6,707,000
11
Map of the Soul: Persona
10,249,000
4,305,000
1,063,000
305,000(1,015,000)
147,000(980,000)
3,296,000 (05/21/21)
4,429,000 (05/19/22)
Av.: 3,120LD: 2,900
10,249,000
12
Map of the Soul: 7
9,387,000
4,575,000
460,000
20,000(65,000)
227,000(1,510,000)
2,866,000 (05/21/21)
4,105,000 (05/19/22)
Av.: 3,410LD: 3,180
9,387,000
13
BE
9,414,000
3,725,000
116,000
114,000(375,000)
722,000(4,810,000)
2,874,000 (05/21/21)
4,738,000 (05/19/22)
Av.: 5,130LD: 3,580
9,414,000
14
Orphan
5,699,000
0
1,743,000
33,000(105,000)
773,000(5,150,000)
3,151,000 (05/21/21)
N/A
N/A
5,699,000
*Pure sales figures updated on 05/21/21. 'Av.' stands for Average, 'LD' for Last Day.
As a reminder:
Studio Album: sales of the original album
Other Releases: sales of compilations generated thanks to the album
Physical Singles: sales of physical singles from the album (ratio 3/10)
Download Singles: sales of digital singles from the album (ratio 1,5/10)
Streaming: equivalent album sales of all the album tracks (ratio 1/1500 for Audio stream and 1/6750 for Video stream)
See where the artist ranks among remaining singers
It goes without saying that BTS is the best-selling act globally from their debut to date.
Factoring in every format, their pair of early albums 2 Cool 4 Skool and O!RUL8,2? sold around 1 million a piece. If we put this number in perspective with South Korean releases, it is already enormous.
Both Skool Luv Affair and Dark & Wild notably improved these results, both hitting a million with ease, with the former jumping over 2 million with a late 2020 reissue.
Then came both volumes of The Most Beautiful Moment In Life, both issued in 2015. They add for nearly 7 million equivalent album sales combined. With these scores, they rank among the most successful Korean efforts of all-time.
That's when it gets really amazing. Top selling Korean records happen to be the calm before the storm for the seven members group.
Wings, through its original version, its reissue, heavy usage on music videos, stunning downloads plus a consistent and massive streaming performance, broke the glass ceiling of Asian acts with a total of 8.5 million.
Love Yourself: Her made them noticed by major news outlets, hitting the Top 10 in the US. It was just one out of countless achievements that led it to 7.5 million sales.
Love Yourself: Tear is nearly as high at 6.9 million. These results do not even consider the success of Love Yourself: Answer since it was treated as an independent release. In fact, it did 6.0 million on its own.
Map of the Soul: Persona has been strong enough to surpass its predecessors at a stunning 9.1 million. The magical 10 million mark is only a matter of time.
If the success of Persona album was incredible enough, Map of the Soul: 7 is already up to 8.1 million units.
BE continues the golden years of the band at 7.55 million. While they are already moving to the next era, no doubt reissues and music videos using the monster smash hit Dynamite will keep this number climbing very fast.
So far, BTS have an album among the top 3 most successful albums from each year 2016, 2017, 2018, 2019 and 2020. They are definitely at the top of the game right now.
Along with these superb album results, they also issued several smash stand-alone hits, adding for another 5.7 million equivalent album sales.
The cumulative tally of BTS is up to 72.5 million equivalent album sales, an unbelievable figure figure in this day and age and in such a short amount of time.
They are up by 15.7 million since their last update less than 9 months ago. If a formula exists to crush the music industry, South Korea heroes definitely own the recipe.
To put things into perspective, they are already ahead of some of the most successful artists of the millennium such as P!nk, Ed Sheeran, Lady Gaga and Maroon 5. Yes, they are that big.
Singles CSPC results
The list is compiled in album equivalent sales generated by each song. Therefore, these figures are not merged units of singles formats. Instead, it includes weighted sales of the song's physical single, download, ringtone and streaming as well as its share among sales of all albums on which it is featured.
1. 2020 – BTS – Dynamite [BE] – 4,600,000
2. 2019 – BTS ft. Halsey – Boy with Luv [Map of the Soul: Persona] – 4,360,000
3. 2018 – BTS – Idol [Love Yourself: Answer] – 2,430,000
4. 2018 – BTS – Fake Love [Love Yourself: Tear] – 2,360,000
5. 2017 – BTS – DNA [Love Yourself: Her] – 2,260,000
6. 2016 – BTS – Spring Day [Wings] – 1,970,000
7. 2020 – BTS – On [Map of the Soul: 7] – 1,910,000
8. 2017 – BTS – MIC Drop [Love Yourself: Her] – 1,870,000
9. 2016 – BTS – Blood Sweat & Tears [Wings] – 1,790,000
10. 2019 – BTS ft. Lauv – Make It Right [Map of the Soul: Persona] – 1,440,000
11. 2015 – BTS – I Need U [The Most Beautiful Moment In Life, Pt. 1] – 1,360,000
12. 2020 – BTS – Black Swan [Map of the Soul: 7] – 1,300,000
If you feel inspired by this list, we just created this CSPC BTS playlist on Spotify!

Discography results
Thanks to our new ASR (Artist Success Rating) concept, we know that their sales represent 10.32 million times the purchase of their entire discography. Coupled with their total sales, it translates into an ASR score of 155.
It is similar to the score of artists like Ayumi Hamasaki and Katy Perry. The ranking of all artists studied so far is available too at this link.
Records & Achievements
At 72,459,000 EAS, BTS are the most successful act who debuted in 2010 or later.
At 72,459,000 EAS, BTS are the most successful Korean act of all-time.
At 8.465,000 EAS, Wings is among the 5 most successful albums from 2016.
At 7.564,000 EAS, Love Yourself: Her is among the 5 most successful albums from 2017.
At 6,932,000 EAS, Love Yourself: Tear is among the 5 most successful albums from 2018.
At 6,011,000 EAS, Love Yourself: Answer is among the 10 most successful albums from 2018.
At 9,116,000 EAS, Map of the Soul: Persona is the 2nd most successful album from 2019.
At 8,148,000 EAS, Map of the Soul: 7 is the most successful album from 2020.
At 7,550,000 EAS, BE is among the 5 most successful albums from 2020.
At 4.3 million and 2.13 million pure album sales in The US and Europe respectively, BTS are the first Korean act ever to cross 1 million pure sales there.
At 12,780,000 pure album sales, BTS are among the 5 best selling artists of all time in South Korea.
With 620,670 copies sold in its first week, Lights/Boy with Luv is the fastest selling K-pop single of all time in Japan.
At 10, BTS have the most million sellers of the decade.
BTS own 6 of the last 9 albums which sold over 2 million pure units globally.
NB: EAS means Equivalent Album Sales.
You may be interested in…
… best-selling artists, albums, and singles
To improve your navigation we created several amazing cross-artists lists posted inside the CSPC: Data Collector article. Click on it to see the full listing of all CSPC results compiled so far!
… similar artists
To put figures from this article into perspective, click on the images below to reach career breakdowns of similar artists: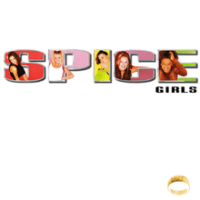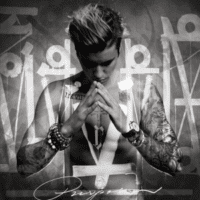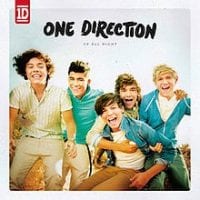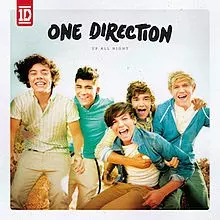 As usual, feel free to comment and / or ask a question!
Sources: IFPI, Spotify, YouTube, Discogs.