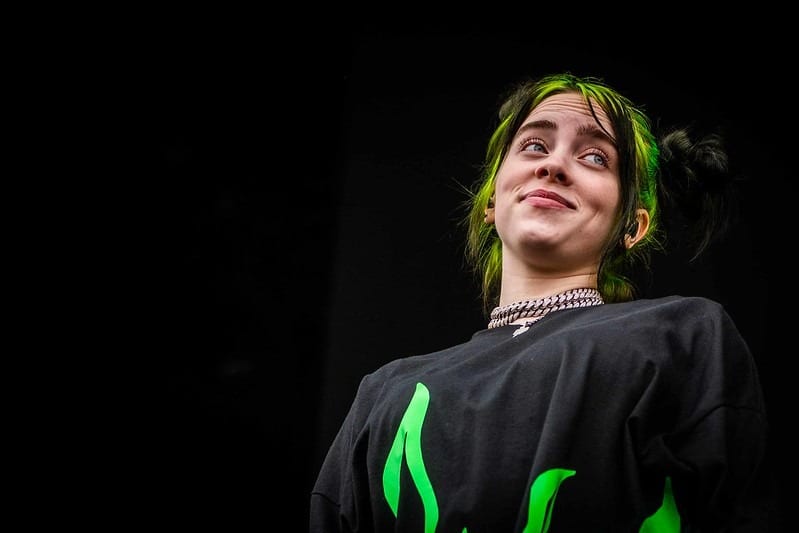 Billie Eilish is such a household name since one year and a half that it is hard to believe she is still only 18.
No matter how hyped they are, can artists really belong to the top sellers at this age and with a tiny discography?
Get to know Billie Eilish
Who is Billie Eilish?
Billie Eilish, real name Billie Eilish Pirate Baird O'Connell, is an American singer born, and raised, in Los Angeles on December 18, 2001.
When did she start recording?
Homeschooled, Billie Eilish and her older brother FINNEAS, who's her producer, digged into creative projects from a very young age.
She wrote the song Fingers Crossed at 11. It became her first upload on SoundCloud in September 2015, when she was 13. Ocean Eyes, one of her most popular hits, was then released a pair of months later.
How many albums has she released?
Technically speaking, Billie Eilish issued only one album, 2019's When We All Fall Asleep, Where Doo We Go?.
She issued various songs through her SoundCloud from 2015 though, most of which were assembled into the EP Don't Smile at Me. Several additions led this EP to ultimately home 11 songs.
In 2019, it was impossible to miss bad guy. The song even ended up as IFPI's biggest global single of the year.
She has hardly been dominating singles chart though. everytime i wanted, a #8 US hit, is her only remaining top 10 hit besides the aforementioned bad guy.
How has she been able to amass billions of streams with only 1 significant smash? We will review her discography in order to answer this question.
Another unknown refers to her pure albums and singles sales. With official figures mixing pure sales and streaming conversions these days, her real numbers are a mystery. We will fix this situation.
As usual, I'll be using the Commensurate Sales to Popularity Concept in order to relevantly gauge her results. This concept will not only bring you sales information for all Billie Eilish's albums, physical and download singles, as well as audio and video streaming, but it will also determine their true popularity.
If you are not yet familiar with the CSPC method, the next page explains it with a short video. I fully recommend watching the video before getting into the sales figures. Of course, if you are a regular visitor feel free to skip the video and get into the figures.
The Commensurate Sales to Popularity Concept (CSPC)
There are two ways to understand this revolutionary concept. The first is the Scribe video posted below. If you are unaware of the CSPC method, you will get the full idea within just a few minutes.
If you are a mathematical person, and want to know the full method as well as formulas, you can read the full introduction article.
Now let's get into the artist's sales figures in detail in order to apply this concept and define the act's true popularity!
Billie Eilish Albums Sales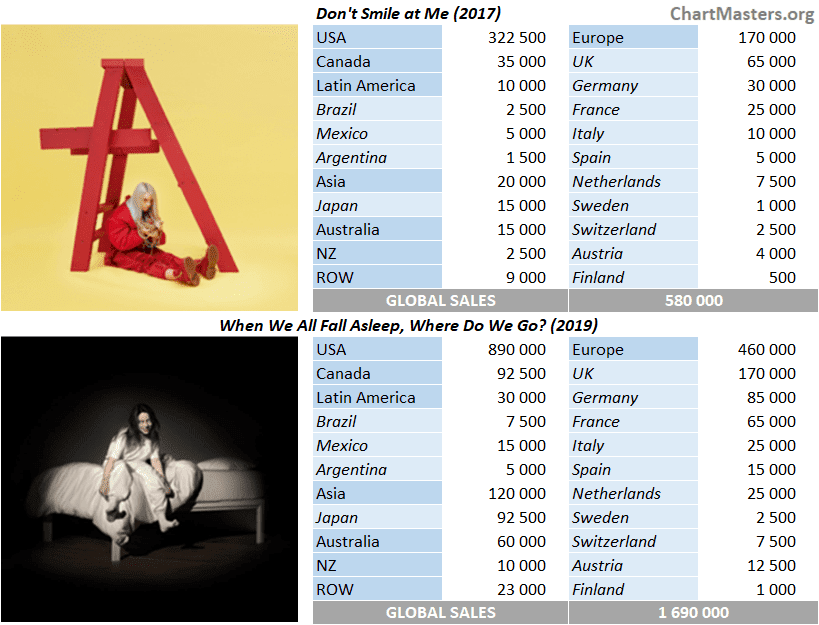 Original Album Sales – Comments
In a streaming world, sales figures are very low. They are even lower when you haven't been around for long enough to convert fans into collectors when physical records were still a thing.
When We All Fall Asleep, Where Do We Go? became an instant classic though. It became as mandatory for collectors to pick it up along with 60s biggest albums reissues.
As an illustration of this fact, it was the 2nd best selling album in vinyl format in 2019 in the US. It was the only LP inside the Top 10 that doesn't feature music recorded in 1983 or earlier.
65 weeks into its chart run, the album is still frequently rebounding inside Top 10 sales charts all around the World, so expect the already impressive tally of 1.69 million to continue to grow.
In the meantime, Don't Smile at Me enjoyed a continuous sales boost since 18 months, pushing its to date total to 580,000 copies.
Billie Eilish released next to no additional record, except a highly limited Live at Third Man Records which moved slightly over 1,000.
This live, a cult recording as we speak, will be pressed Record Store Day in August 29, 2020, copies will be limited to 17,000 units.
This volume reflects how popular the artist for collectors as it's the largest 1-day quantity expected among all releases this year, ahead of The Alternate Rumours by Fleetwood Mac.
Billie Eilish Songs Sales

Physical Singles Sales
As a reminder, the weighting is done with a 10 to 3 ratio between one album and one physical single.
Obviously, these numbers aren't representative of the popularity of the songs.
Up to date, 5 singles from Billie Eilish got physical versions. All of them were limited LP or cassette releases.
There aren't much more to tell about this format except that the artist is poised to continue dropping these kind of releases considering her success there.

Digital Songs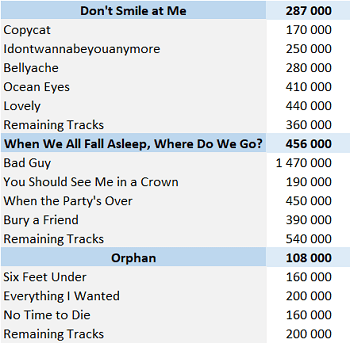 As a reminder, the weighting is done with a 10 to 1,5 ratio between one album and one digital single.
Downloads and ringtones are now just another dying formats.
Even the biggest global hit of the year can only sell 1.47 million copies, as it's the same of bad guy.
In recent years, there have been two wildcards for digital sales, South Korea and China.
South Korean post-2017 sales are excluded since they aren't traditional sales anymore. Chinese sales are still limited to specific releases. No Billie Eilish song came out in paid-for format there.
With this in mind, to hit 150,000 sales or more is already great these days, let alone 1.5 million.
Last year, only 1 song went on to sell over 1 million in the US, far and away the biggest market in the World, Old Town Road by Lil Nas X.
Strong ongoing sales for many months brought songs like Ocean Eyes, Lovely, When the Party's Over and Bury a Friend close to half a million sales each.
They were at first #84, #64, #29 and #14 hits in the US, respectively, which highlights their lasting appeal.
It's precisely this long lasting appeal of many of her tracks that pushes her career to date to near 6 million downloads in spite of making no big waves with most songs.

Streaming
Streaming is made up of audio and video streams. Our CSPC methodology includes both to better reflect the real popularity of each track. The main source of data for each avenue is respectively Spotify and YouTube.
To factor in the growing impact of multiple Asian countries where these platforms aren't always the go-to site for music streaming, more sources have been added.
In order to account for their real popularity in each relevant country, the below sources have been used along with the mentioned ratios that reflect the market share of each area.
Audio Streams
– South Korea : Genie streams * 3.05 (consistent with Gaon streaming numbers)
– Japan : AWA streams * 100/5.5 (AWA has 5.5% of the Japanese streaming market)
– Elsewhere : Spotify streams * (370 – 8.5 – 9.5 – 33 – 9) / 207 (370 million global subscribers minus 8.5 million from South Korea minus 9.5 million from Japan minus 33 million from China divided by the number of Spotify only users minus 9 million more Asian users) + Genie streams * 3.05 (uses Genie rather than Spotify to extrapolate markets like Taiwan, Thailand and Vietnam)
Video Streams
– China* : Xiami streams * 125/6.5 (Xiami has just over 5% of the Chinese streaming market)
– Elsewhere : Youtube views
*since 96.4% of Chinese streaming platforms are free users, that paid-for users pay less than $2 a month and that they are also used as video streaming platforms, their streams are weighted in par with YouTube streams.
Audio Stream value – 1500 plays equal 1 album unit
Video Stream value – 11,750 views equal 1 album unit
Equivalent Albums Sales (EAS) = ( Spotify * 310/207 + Genie * 3.05*2 + AWA * 100/5.5 ) / 1500 + ( Xiami * 125/6.5 + YouTube ) / 11750
Top Hits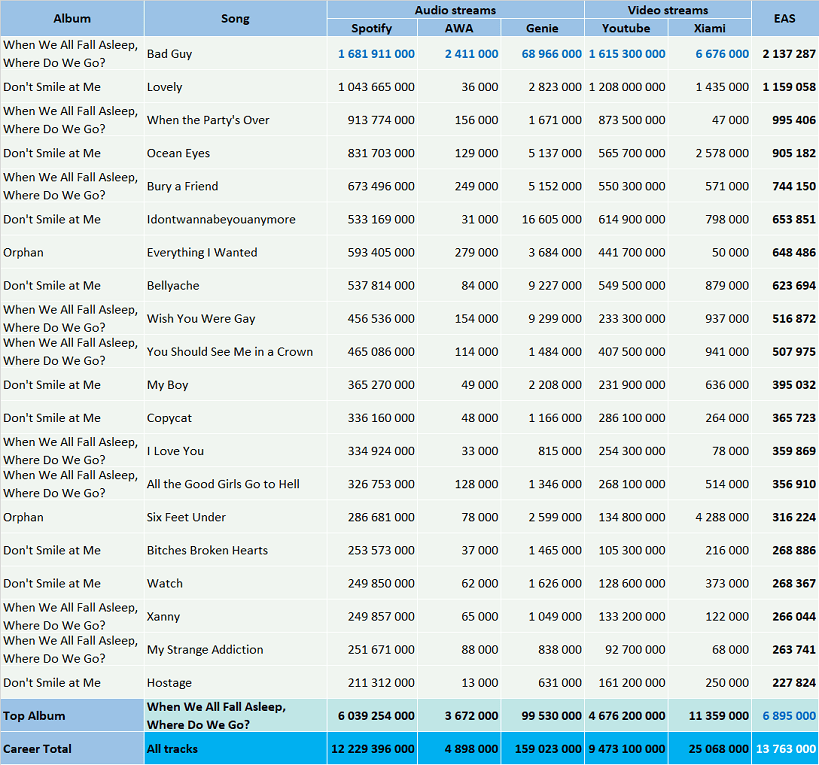 What can we say? All these numbers are mind-blowing.
Naturally, the leader is bad guy with near 1.7 billion streams on Spotify, nearly as much on YouTube and massive numbers in Asian platforms.
It all adds up to 2.1 million EAS. This is more than the pure sales of the album.
Lovely is a stunning runner up. The song never went higher than #24 on Spotify global weekly chart, yet it cumulates over 1 billion streams.
It continues to do wonders up to now as it is charted #74 on its 112th week inside the top 100.
Close to 1 million EAS is When the Party's Over, with once again healthy numbers on both Spotify and YouTube.
Ocean Eyes, the track uploaded online by the singer when she was 13, is next.
One more song which gets better with time, the track is over 800 million streams on Spotify… without ever making the Top 100 weekly chart.
The most amazing result on this table remains the insane consistency over Billie Eilish's discography.
Out of her 30 lead songs, 28 are at 145 million streams on Spotify or more. Her weakest tune is When I was Older which stands at 95 million, on its way to hit 100 million.
At this point, with nothing released for quite some time, she continues to gain 12 million streams every day, an average of 400,000 per track from her catalog.
bad guy was streamed 1.36 million times yesterday, so even a monster track like this one represents only 11% of her total streams.
These widespread heavy streams conclude on massive numbers for her albums.
Songs from When We All Fall Asleep, Where Do We Go? add for 6.9 million EAS, Don't Smile at Me is almost as strong at 5.2 million.
Full catalog breakdown
If you are familiar with the artist's catalog and want to check details of each and every song, you can access to all of them right here.
Keep yourself up to date
Our website provides you a fantastic tool which fetches updated Spotify streams as you request them, use it to watch these results grow day after day!
Billie Eilish Career CSPC Results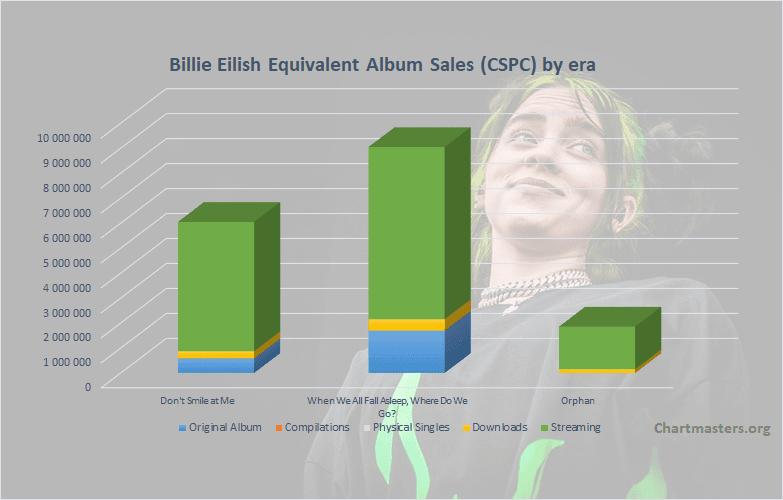 So, after checking all the figures, how many overall equivalent album sales has each album by Billie Eilish achieved? Well, at this point we hardly need to add up all the figures defined in this article!
In the following results table, all categories display figures in equivalent album sales. If different, pure sales are listed between parentheses.
#
Cover
Album
Total CSPC
Sales*
Streams
Total CSPC
Studio Albums
Other LPs
Physical Singles
Digital Singles
Last verified
Auto update
Daily Increase
1
Don't Smile at Me
8,950,000
580,000
1,000
1,000(2,000)
287,000(1,910,000)
5,180,000 (07/05/20)
8,081,000 (06/29/22)
Av.: 4,010LD: 4,010
8,950,000
2
When We All Fall Asleep, Where Do We Go?
12,474,000
1,690,000
1,000
2,000(6,000)
456,000(3,040,000)
6,895,000 (07/05/20)
10,325,000 (06/29/22)
Av.: 4,740LD: 4,740
12,474,000
3
Happier Than Ever
3,736,000
0
0
0(0)
0(0)
0 (N/A)
3,736,000 (06/29/22)
Av.: 0LD: 0
3,736,000
4
Orphan
1,853,000
0
0
0(1,000)
146,000(970,000)
1,707,000 (07/05/20)
N/A
N/A
1,853,000
*Pure sales figures updated on 07/05/20. 'Av.' stands for Average, 'LD' for Last Day.
As a reminder:
Studio Album: sales of the original album
Other Releases: sales of compilations generated thanks to the album
Physical Singles: sales of physical singles from the album (ratio 3/10)
Download Singles: sales of digital singles from the album (ratio 1,5/10)
Streaming: equivalent album sales of all the album tracks (ratio 1/1500 for Audio stream and 1/6750 for Video stream)
See where the artist ranks among remaining singers
With total sales still fairly low at the start of 2019, Billie Eilish keeps rising and rising every month.
Don't Smile at Me is now over 6 million units. The only way is up, and considering how well songs like Lovely and Ocean Eyes are still doing, expect it to reach 8 digits in the long run.
Then there is When We All Fall Asleep, Where Do We Go? at 9 million.
It's chart run in many countries has been so amazing than one could have expected it to be already over 10 million.
Streams take longer to become truly huge though. To be at 9 million is super great, and even if the album is 15 months old, it's only the beginning.
In fact, the artist is far and away the fastest growing artist right now.
The real question now is how high will it be by 2025, or by 2030? What is safe to say is that it will belong to the very top sellers of its era.
Career-wise, Billie Eilish is up to 16,946,000 equivalent album sales. Not bad for a 18 years old singer.
Singles CSPC results
The list is compiled in album equivalent sales generated by each song. Therefore, these figures are not merged units of singles formats.
Instead, it includes weighted sales of the song's physical single, download, ringtone and streaming as well as its share among sales of all albums on which it is featured.
1. 2019 – Billie Eilish – Bad Guy [When We All Fall Asleep, Where Do We Go?] – 2,880,000
2. 2018 – Billie Eilish & Khalid – Lovely [Don't Smile at Me] – 1,350,000
3. 2018 – Billie Eilish – When the Party's Over [When We All Fall Asleep, Where Do We Go?] – 1,310,000
4. 2015 – Billie Eilish – Ocean Eyes [Don't Smile at Me] – 1,070,000
5. 2019 – Billie Eilish – Bury a Friend [When We All Fall Asleep, Where Do We Go?] – 990,000
6. 2017 – Billie Eilish – Idontwannabeyouanymore [Don't Smile at Me] – 760,000
7. 2017 – Billie Eilish – Bellyache [Don't Smile at Me] – 740,000
8. 2019 – Billie Eilish – Everything I Wanted [Orphan] – 720,000
9. 2019 – Billie Eilish – Wish You Were Gay [When We All Fall Asleep, Where Do We Go?] – 660,000
9. 2018 – Billie Eilish – You Should See Me in a Crown [When We All Fall Asleep, Where Do We Go?] – 660,000
If you feel inspired by this list, we just created this CSPC Billie Eilish playlist on Spotify!
Discography results
Thanks to the ASR (Artist Success Rating) concept, we know that her sales represent 10.06 million times the purchase of her entire discography. Coupled with the total sales, it translates into an ASR score of 74.
Records & Achievements
At 9,044,000 EAS, When We Fall Asleep, Where Do We Go? is the most successful album from 2019.
At 6,049,000 EAS, Don't Smile at Me is among the 15 most successful albums from 2017.
In 2020, Billie Eilish became the first artist since 1981 and the youngest ever to collect all 4 main Grammy Awards the same year.
At over 200,000 units, When We Fall Asleep, Where Do We Go? is the highest selling vinyl of new recordings in the US since 2000.
At 1.68 billion on Spotify, bad guy is the 2nd most streamed female song ever.
At 68.97 million on Genie, bad guy is the 4th most streamed international song ever on South Korean platform.
At 1.04 billion on Spotify, Lovely is the most streamed song ever by an artist aged 18 or less.
At 1.04 billion on Spotify, Lovely is the most streamed song ever with a weekly chart peak below the Top 20.
At 831.7 million on Spotify, Ocean Eyes is the most streamed song ever by an artist aged 15 or less.
At 831.7 million on Spotify, Ocean Eyes is the most streamed 2010s song with a weekly chart peak below the Top 100.
NB : EAS means Equivalent Album Sales
You may be interested in…
… best-selling artists, albums, and singles
To improve your navigation we created several amazing cross-artists lists posted inside the CSPC: Data Collector article. Click on it to see the full listing of all CSPC results compiled so far!
… similar artists
To put figures from this article into perspective, click on the images below to reach career breakdowns of similar artists: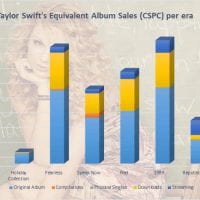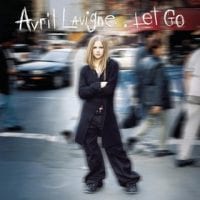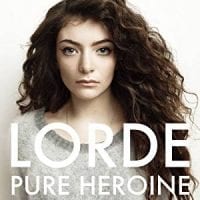 As usual, feel free to comment and / or ask a question!
Sources: IFPI, Spotify, YouTube, Discogs.