Spotify's All Time Top Album Debuts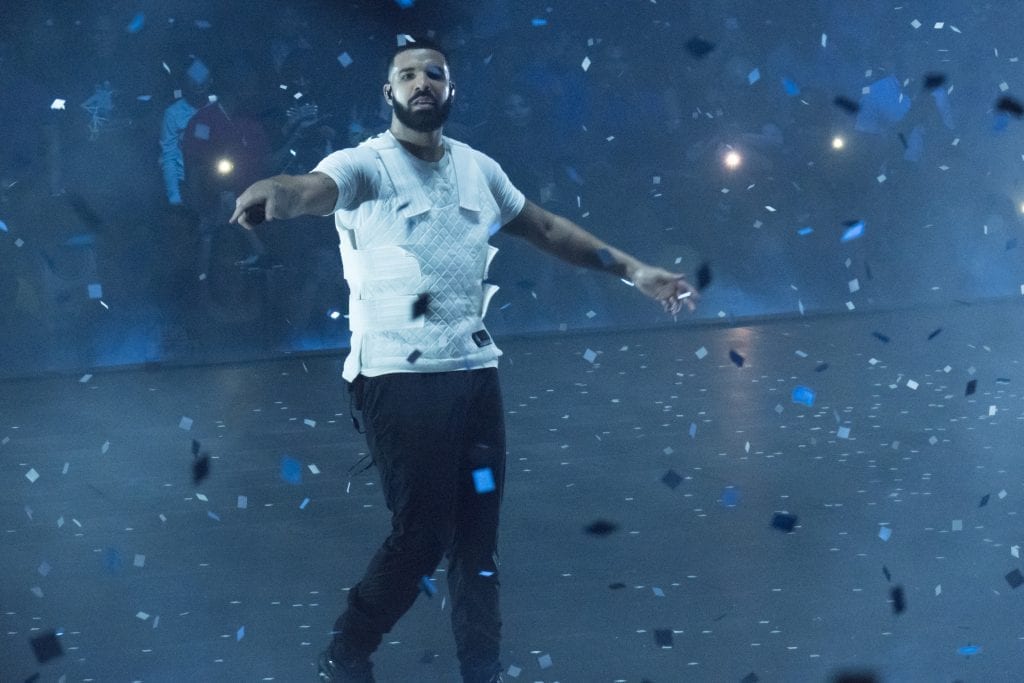 As you can expect, the likes Drake and Ariana Grande recorded several of the top album debuts on Spotify, but many more are performing incredibly well.
In fact, so far as many as 72 releases have broken the 100 million mark during their first week. Do you think your favorite artist is among them?
Since Spotify became a thing, you likely heard a lot of times how streaming was killing the album format. In truth, it's surely way more loyal to this artform than downloads ever where.
When you downloaded a single, you still had no right to take a look at the rest of the album. With streams, all you need to do is go to the album page and play it in full. On top of that, Spotify links to you these pages for new releases by artists you follow. You don't need to go to the album, it comes to you.
The first indication that long playing discs may do well in a streaming world came in November 2015. That month, two major teen pop stars, Justin Bieber and One Direction, clashed when they dropped their new efforts at the same time. The winner? Both of them.
Up to that point, no album had ever amassed 100 million streams on Spotify in its first week. The latter's Made In The A.M. reached that incredible milestone, while at the same time the former's Purpose went through the roof, topping 200 million.
By then, the platform had 88 million monthly active users, a number that has now increased to over 300 million. This led 300 million, 400 million, and 500 million first week streams barriers to be broken.
Spotify top album debuts

The list is obviously US-dominated, with 50 albums coming from the Hip Hop / R&B branch. It would be easy to jump on the conclusion that this genre is bigger in streaming.
This is not really the case, if we look at average US share of these streams it's slightly under 50%.
When we go deeper on numbers, we notice these records are often stronger thanks to high streams from the entire tracklist. Rap fans give more credit to the album format as a whole.
Naturally, the leader of urban music comes on top. Drake's Scorpion posted an insane 559 million streams on its first week 2 years ago.
It comes as no surprise. Nothing Was The Same, If You're Reading This It's Too Late, Views, and More Life all broke the US record for first week streams, showing that the Canadian rapper has been a monster force for many years.
He secured his spot once again as the king of streaming with Certified Lover Boy hitting nearly 500 million streams as well. 2nd to only his own Scorpion.
Post Malone makes a rather impressive feat as well with 2 albums inside the top 5.
As many as 3 pop albums feature inside the Top 10 with Ed Sheeran , Ariana Grande and recently released Sour by Olivia Rodrigo.
Perhaps the biggest outlier in the top 10 is Folklore by Taylor Swift which lies inside the indie genre.
The first time we updated this list there were no Latin albums to be seen on the list at all. By now things have changed though. Bad Bunny's YHLQMDLG reached #11 with close to 0 impact outside Spanish speaking countries. The follow up El Último Tour Del Mundo made the top 20 as well! A truly impressive feat.
J Balvin was able to reach past the 100 million mark with Colores too.
K-pop have upped its game as well with 4 albums by BTS and Blackpink inside the top 75. This is partly due to a big growth in users across Asian markets like India, Japan and Indonesia.
With the bar for the list set as high as 79 million are big consistent streams of the entire album needed in most cases to get so high numbers.
A few artists were still able to get a huge album debut on the back of mostly a massive hit or two. These includes DJ Khaled and Camila Cabello.
Lil Nas X and his 7 EP containing only 7 original tracks reached 102 million streams in its debut week. 57 million of these came from Old Town Road's two versions
The biggest EP debut belongs to The Weeknd though with My Dear Melancholy which contains just 6 original tracks
This leads us to wonder how does the list look like if we factor in the number of songs into the picture?
Spotify top album debuts by song average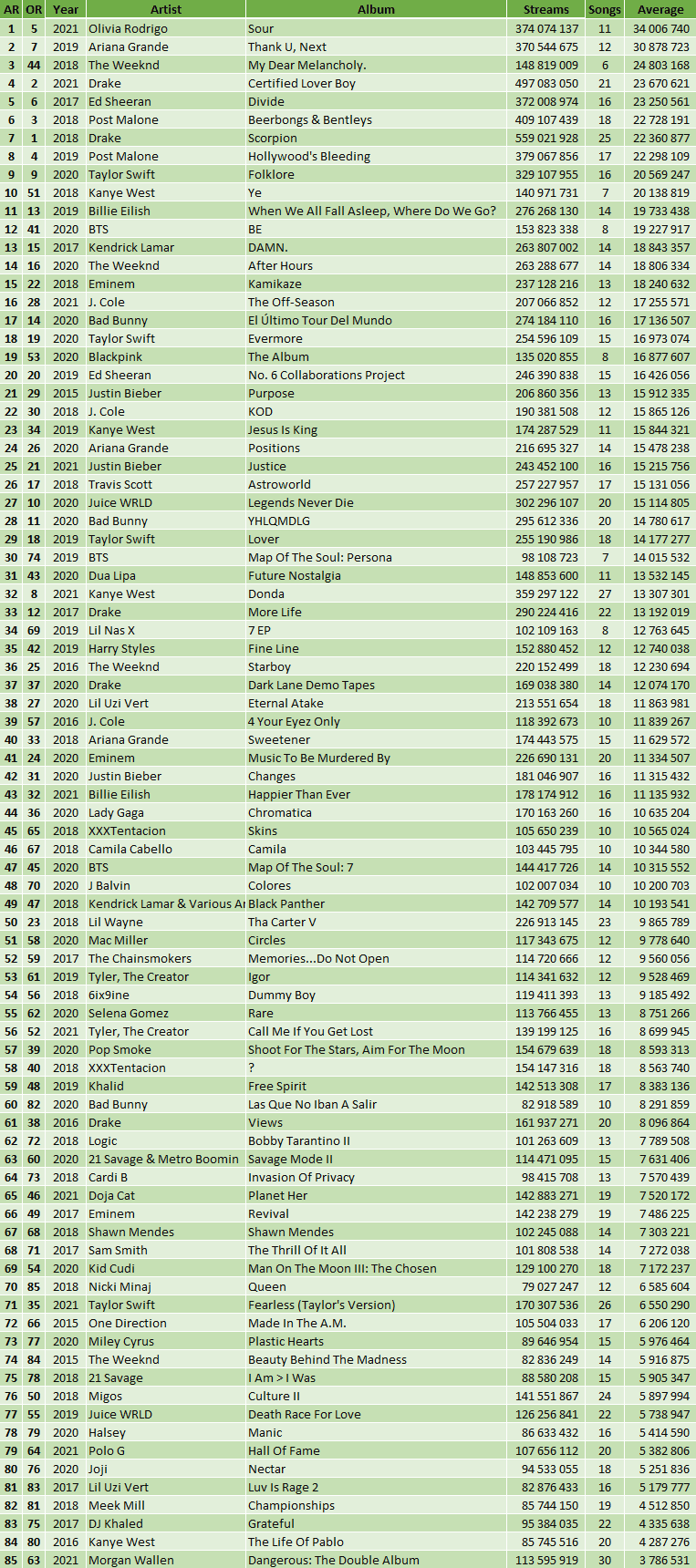 Interestingly, the list appears to be fairly different once we display an average per song. Certified Lover Boy, Scorpion, More Life, and Views by Drake all drop a lot of spots as they include from 20 to 25 songs.
Numbers behind streams of The Weeknd's My Dear Melancholy, Kanye West's Ye and Lil Nas X's 7 EP take another feel when we see that they are so short.
Of course, it's easier to repeat a 7-songs album than a 25-songs album, but it's still a worthy element to factor in.
Sour by Olivia Rodrigo shots to the top spot with this view. The album got a massive 34-million average per song.
Thank U, Next by Ariana Grande is the only other album over the 30-million threshold.
Speaking about relevant factors, another one is the number of MAU (Monthly Active Users) of Spotify. Sour was available to way more people than Purpose, for example. Let's add this information to the table.
Spotify top album debuts by streams per user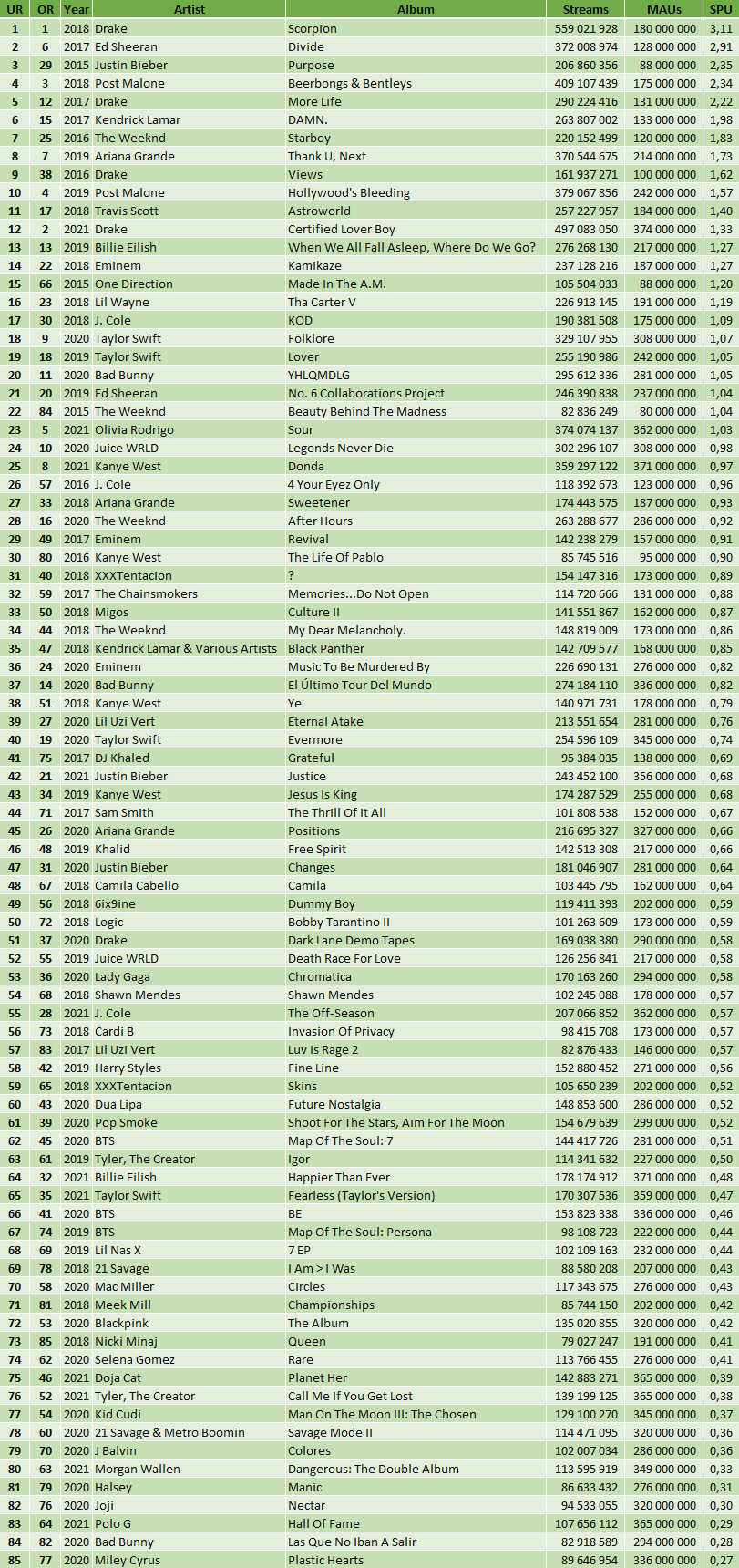 As you can guess, the MAU is the number of users by the time each album was released. With this view, Scorpion takes back its crown. On average, each Spotify user streamed slightly over 3 songs from the album during its first week.
Divide by British superstar Ed Sheeran is a close runner up with almost 3 streams per user. The record continues to be so strong on weekly charts today that we tend to miss the fact that Spotify had almost 200 million less users when it came out than now.
The one which impresses the most is maybe Purpose by Justin Bieber. The 2015 album jumps to the 3rd spot with 2.35 streams per user. It's one of only 5 albums which hit 2 SPU.
Just like older albums are higher on this list, the recent ones are lower. The bottom 5 are all releases from the last 2 years.
Then, what happens when we mix both factors, the number of songs by album and Spotify's MAU?
Spotify top album debuts by album reach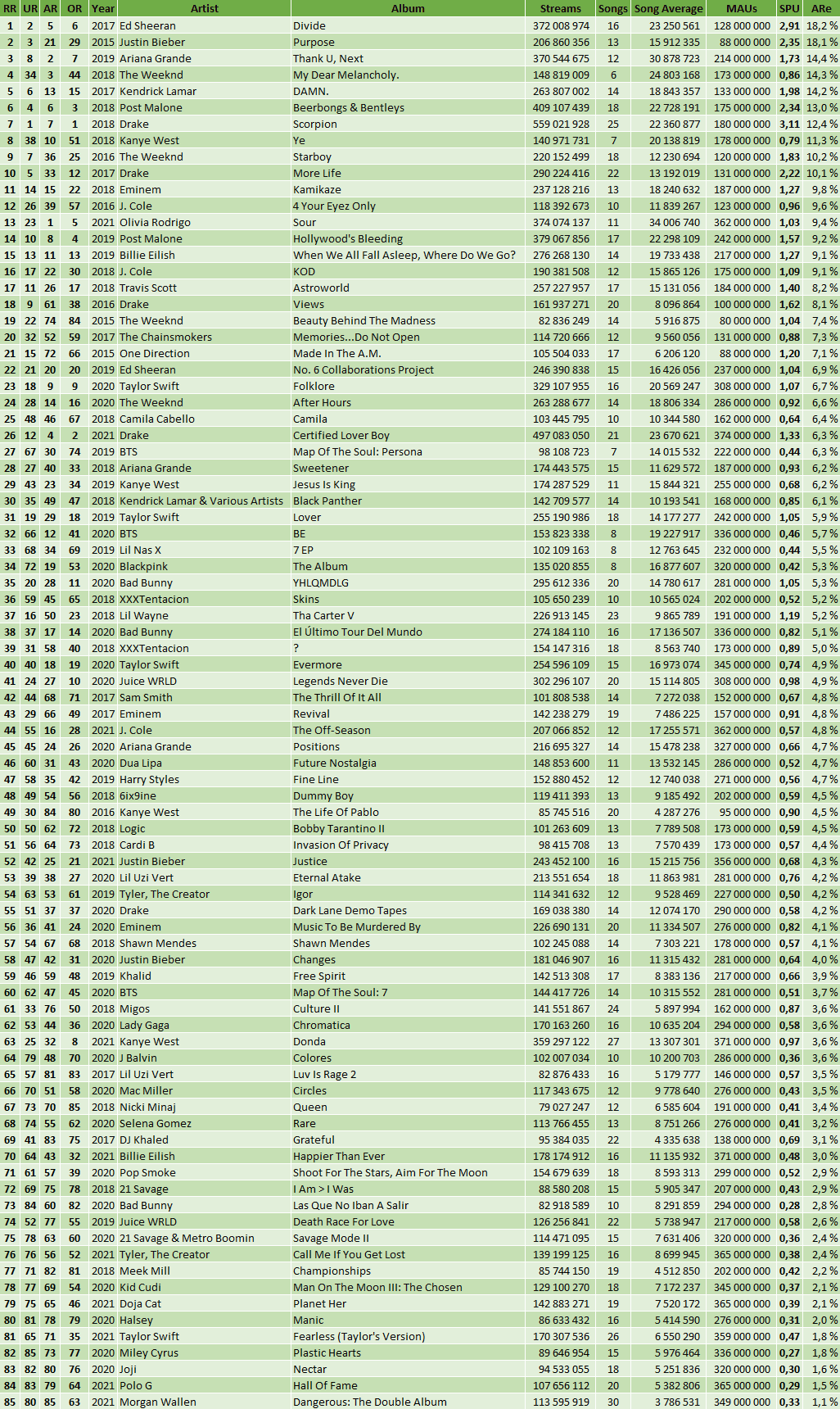 Divide takes a marginal lead here ahead of Purpose with 18.2% of Spotify's active users streaming it in full one time during it's debut week.
Thank U, Next confirms that no matter how you look at it, it did very well. Same for Scorpion as well as Post Malone's Beerbongs & Bentleys, they belong to the top 10 in every metric.
While we are getting results which are closer and closer to something truly meaningful, it's still arguably better to get 25 songs streamed one time by 12.4% of the users than 6 songs played by 14.3% of the users since that logically includes way more repeat streams.
Basically, longer albums have their raw streams inflated while shorter albums have their average streams inflate. We added a simple formula* to get an indicator in-between both views to get the top performing debuts of all-time on Spotify.
*ARe multiplied by (100 + 4 times the number of songs) divided by 100 and brought to a base 100.

While it topped none of the previous lists, Divide's debut was Top 3 in every ranking, so it's little surprise to see that once we account for everything it happens to be the top performer out of all.
Purpose and Scorpion are comfortably inside the Top 5, while Post Malone, Lamar and Grande record similar results one step behind, which was also expected.
This performance indicator has been applied only to the initial list of 85 albums. There are albums which got less than 79 million streams a long time ago that could have done well in a weighted list. None would have troubled the very top end of the ranking yet.
You may wonder if this list looks somewhat biased towards older releases since the highest 2020's release barely reach the top 20.
There are many factors why this is. The biggest is that more and more markets are getting into Spotify making it harder to be big everywhere.
Another factor is already established markets getting more and more closed off to International releases as their local scenes are booming.