Streaming Masters – Camila Cabello
Does Camila Cabello, who has left Fifth Harmony almost 2 years ago, have better results than her previous group on streaming platforms? The answer below!
Announcement
CSPC articles require time to compile. It may be frustrating to wait for them too long, especially when various new artists, and even more and more catalog acts, enjoy the large majority of their sales through streaming only these days. To make sure to provide you much more frequent updates, we are going to publish Streaming Masters sheets from now on, detailing the complete streaming section of artists.
Method
As detailed in the Fixing Log article, Spotify represents 157 million of the 272 million users of streaming platforms, while YouTube is pretty much the only video platform generating some revenue for the industry. Below is the equivalence set on the aforementioned article:
Audio Stream – 1500 plays equal 1 album unit
Video Stream – 11,750 views equal 1 album unit
Equivalent Albums Sales (EAS) = 272/157 * Spotify streams / 1500 + YouTube views / 11750
Results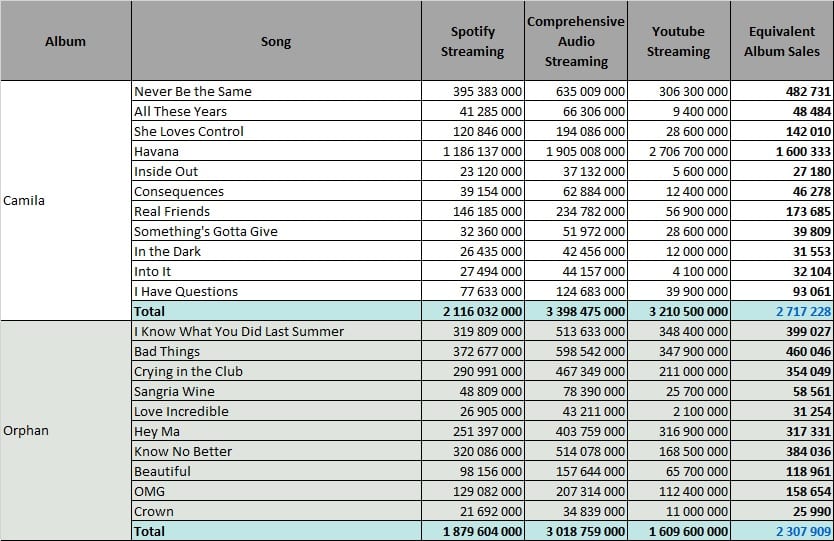 Total: 5,025,138 EAS
Most streamed tracks (EAS)
1. Havana [Camila] – 1,600,000
2. Never Be the Same [Camila] – 483,000
3. Bad Things [Orphan] – 460,000
4. I Know What You Did Last Summer [Orphan] – 399,000
5. Know No Better [Orphan] – 384,000
6. Crying in the Club [Orphan] – 354,000
7. Hey Ma [Orphan] – 317,000
8. Real Friends [Camila] – 174,000
9. OMG [Orphan] – 159,000
10. She Loves Control [Camila] – 142,000
11. Beautiful [Orphan] – 119,000
12. I Have Questions [Camila] – 93,000
13. Sangria Wine [Orphan] – 59,000
14. All These Years [Camila] – 48,000
15. Consequences [Camila] – 46,000
16. Something's Gotta Give [Camila] – 40,000
17. Into It [Camila] – 32,000
18. In the Dark [Camila] – 32,000
19. Love Incredible [Orphan] – 31,000
20. Inside Out [Camila] – 27,000