YouTube Most Streamed Artists of 2022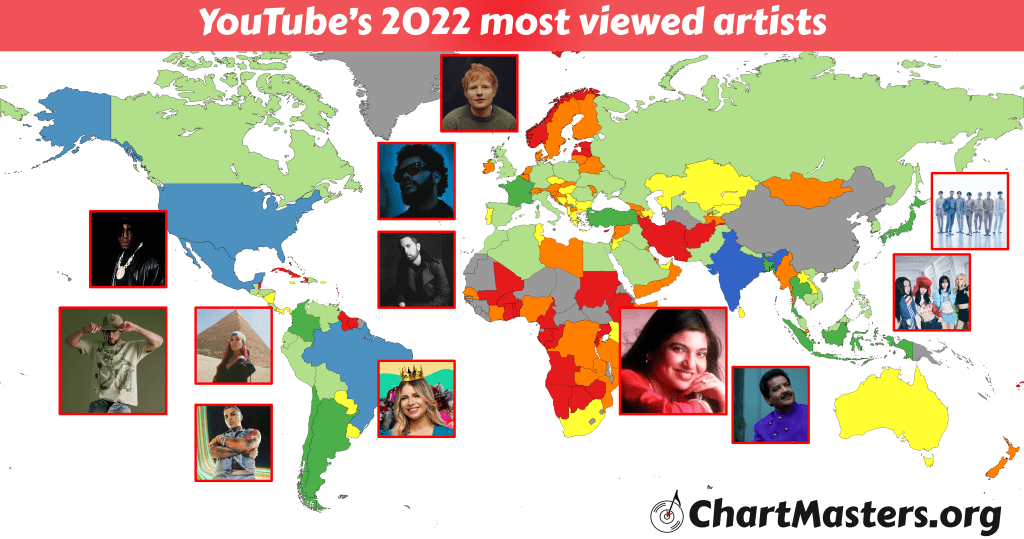 Bad Bunny, Taylor Swift, Harry Styles, BTS… these have been some of the biggest artists of the year, but who are YouTube most streamed artists of 2022?
While YouTube doesn't bring in as much money to the music industry as say Spotify or Apple Music, is it a major player nonetheless, and especially in certain markets.
A very diverse platform, artists from all around the world feature among the most streamed stars of the year 2022. Today, we will review them.
YouTube is no doubt the biggest music platform in the world in terms of pure numbers of active users.
YouTube Charts also posts very insightful data on artists worldwide and in specific markets. Here I'll rank 2022s major players both globally and domestically and compare the results to last year.
The number of markets covered has once again increased, this time it's as many as 170!
It's worth noting that numbers here include views of unofficial videos using content ID. Features also happen to be counted in most cases, but not all. Consequently, numbers shown might be slightly different from our Streaming Masters articles.
Lastly, all children's artists like BabyBus Nursery Rhymes, Pinkfong and Mundo Bita have been excluded since both the artists and their streams are of a completely different nature.
YouTube most streamed artists of 2022 by country
United States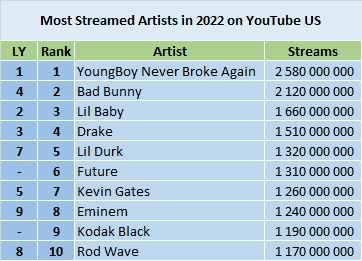 Bad Bunny had one incredible year on the Billboard charts. It wasn't enough to overthrow YoungBoy Never Broke Again's now 3+ year reign on YouTube though. This year he earned a whopping 2.58 billion streams.
As we've grown to expect is this ranking very hip hop oriented all the way down. Lil Baby, Drake and Lil Durk complete the top 5. The entire top 10 tops 1 billion views during the year.
Canada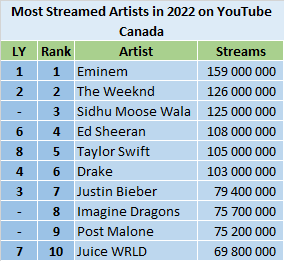 While YoungBoy can claim 3 years on top in the US can Eminem do the same in Canada at 159m streams. This ranking differs a lot from the US one with more pop leaning acts like The Weeknd, Ed Sheeran, Taylor Swift and Justin Bieber. They all remain top 10 just like last year.
However, the biggest shocker here might be late Punjabi rapper Sidhu Moose Wala soaring to the 3rd spot. It goes to show that a notable Indian diaspora can really affect these rankings.
Australia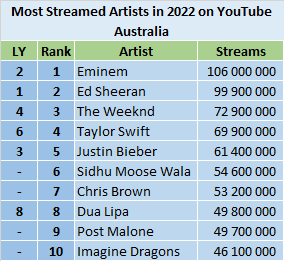 Eminem claims his 2nd top spot already at just over 100m streams down under. This ranking is very similar to the Canadian one with Ed Sheeran and The Weeknd completing the top 3.
The only different names here are Chris Brown and Dua Lipa, replacing both Drake and Juice WRLD.
United Kingdom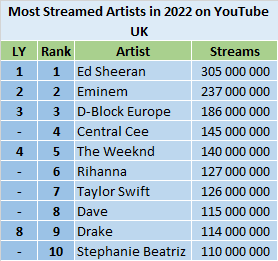 Ed Sheeran as expected is still incredibly popular in the UK at over 300m streams, he blocks Eminem from the top spot once again. UK rappers are only getting stronger with both D-Block Europe and Central Cee in the top 5, plus Dave at 8.
Stephanie Beatriz's 10th spot here is really showing the magnitude Disney soundtracks such as Encanto have on YouTube in some markets.
Germany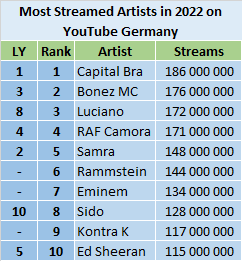 Capital Bra still in the lead in Germany at near 200m. Deutschrap is once again dominating here with local rappers filling the rest of the top 5.
This market's historical rock and metal leanings haven't faded entirely though as industry veterans Rammstein claims the 6th spot. They are followed by the top foreign artist, Eminem.
Poland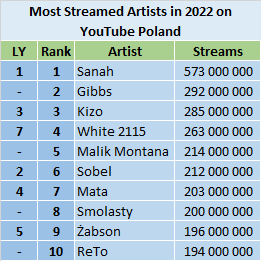 Warsaw based Singer Sanah stays on top in Poland at well over 500m, she is not slowing down anytime soon with 2 new albums last year.
Rapper Gibbs makes a big debut at #2, as usual is the rest of the top 10 reserved to local hip hop artists.
Russia
Local singer Islam Itlyashev takes the top spot in Russia this year as TikTok star Khabib collapses from 1-9.
The top 10 is very close, with the #10 less than 25% below the #2.
With a top 2 made of artists that weren't top 3 last year, and new entries at 3-4-5, it's easily one of the most volatile markets.
Romania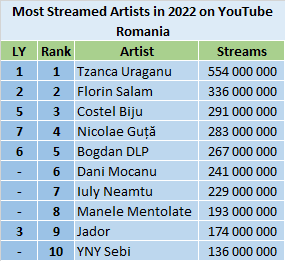 The manele genre, a local version of pop folk music, is very popular in Romania, floading the top 10.
Tzanca Uraganu perfectly reflects it, topping the list once again with no less than 554m views. That's almost 30 views per inhabitant!
Türkiye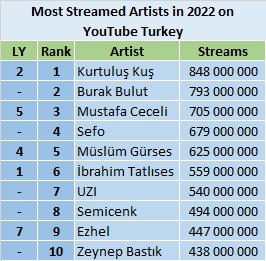 Kurtuluş Kuş rises to the top this year at 850m streams while İbrahim Tatlıses takes a step down from 1-6. More recent rappers like Sefo and UZI are also showing gains.
France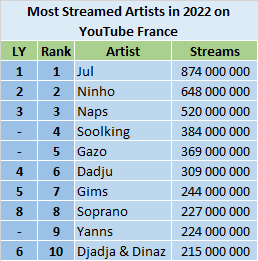 Jul refuses to leave the top spot once again in France, he's still leading by a considerable margin. In fact the top 3 is exactly the same as in 2021 as Ninho and Naps holds their spot well above the remaining ones.
Soolking ang Gazo debut in the top 5 due to their big new releases, while brothers Dadju and Gims are next to each other at 6 and 7, respectively.
Italy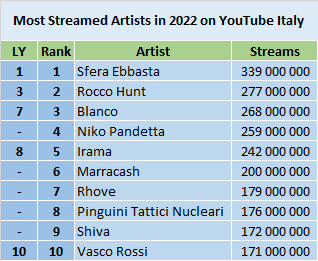 Another non-mover is Sfera Ebbasta in Italy where he sits at the top spot at 340m streams. Niko Pandetta is this year's biggest breakthrough as he debuts at #4.
Legendary Vasco Rossi holds his 10th position relying mostly on catalog tracks.
Spain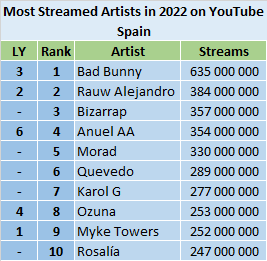 The US wasn't the only place where Bad Bunny dominated this year. He claims the #1 spot with ease in Spain at 635m streams. 2021's leader Myke Towers had a rough drop from 1-9. As usual is this list dominated by reggaetón acts from Latin America.
For the first time though are there artists from Spain in the top 10. These are Quevedo and Rosalía. The former was launched into global stardom this year thanks to his collaboration with Argentine DJ Bizarrap who debuts at #3 himself.
Mexico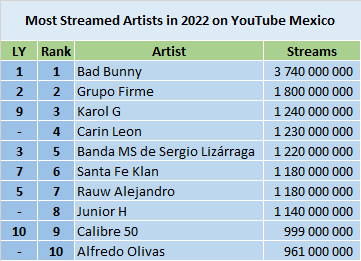 Bad Bunny's lead in Mexico is nothing new. What's new though is the gap as he gained a record breaking 3.74 billion streams. More than double that of the runner up, local banda Grupo Firme.
Speaking of regional Mexican acts. They claim half of the top 10 with the aforementioned Grupo Firme in the lead, followed by Carin Leon and Banda MS de Sergio Lizárraga.
Karol G is still the top female artist climbing to the 3rd spot overall while Santa Fe Klan remains the top hip hop act.
Colombia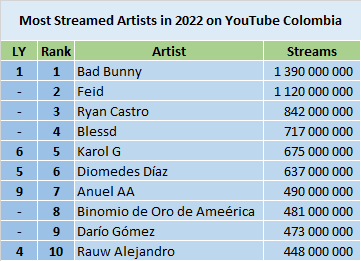 Bad Bunny's numbers are up in Colombia too at near 1.4 billion.
Local competition is brewing though with Feid in the lead. He is followed by Ryan Castro, Blessd and Karol G in the top 5.
Peru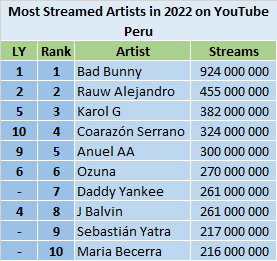 Also in Peru is Bad Bunny on top with near double the streams of the #2, Rauw Alejandro.
Karol G saw an increase here as well up to #3. She claims the highest rank among female artists in various Latin markets.
Chile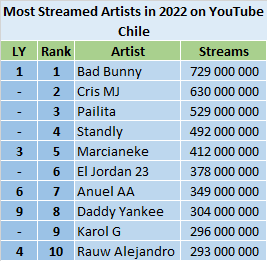 Is this getting repetitive? Bad Bunny leads in Chile too albeit with a narrower lead.
Like in Colombia is the local scene growing as Chileans occupy the rest of the top 5 with local rapper Cris MJ on top followed by Pailita and Standly.
Argentina
Arguably Bad Bunny's weakest Spanish speaking market is Argentina as he's "only" able to claim the third spot at just over 1 billion streams. 2021's leader María Becerra, only 22 still, remains on top with increasing numbers, this time over 1.5 billion.
Cuarteto group La K'onga are the biggest debut of the year at #2.
Brazil
Marília Mendonça was already immensely popular in Brazil, and her tragic death in late 2021 at only 26 increased her profile even more. Her views near 4 billion in 2022.
Sertanejo duets continue to be strong claiming 2nd, 6th and 10th spot. Henrique & Juliano remain the largest player there.
Gusttavo Lima, who rose to global stardom in 2011 with the song Balada Boa, never slowed down in his homeland, he is 3rd, completing an all-Sertanejo top 3.
Funk Carioca is the next big thing, with MC Ryan SP and MC Cabelinho debuting at 4 and 8, respectively.
Japan
It may say more about their earlier numbers, but BTS hold their top spot in Japan despite numbers being less than half of what they were in 2021. Faceless singer Ado got close though as she had no less than 2 huge albums in 2022.
As usual is this list dominated by local acts with some K-pop inputs high up like aforementioned BTS as well as Twice at 3.
South Korea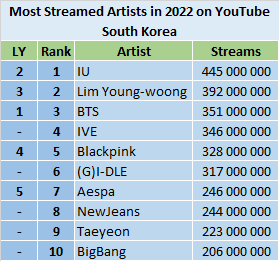 BTS numbers go down by over 50% in their native South Korea too where they fall to 3rd. They are surpassed by IU and Lim Young-woong at 1st and 2nd respectively.
The later, who exploded after winning the TV show Mr. Trot in 2020, is one more former youtuber who turned legitimate superstar in his country.
While BTS is still the top group here are several girl groups from Blackpink to viral newcomers IVE and NewJeans holding strong at the 4-8 spots. I'd keep an eye on the latter for next year's list.
Taiwan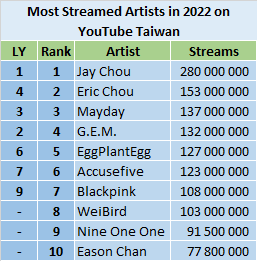 Jay Chou's domination in the Chinese speaking world continues. In 2022 he released an album and it's very noticeable as he goes from 185m in 2021 to 280m in 2022.
The ranking is still fairly stale though with many old names from both Taiwan and the mainland like Eric Chou and G.E.M.. Some newer acts such as WeiBird at #8 have gotten in though.
One K-Pop act sneaks in, and that's not BTS. Blackpink maintain their top 10, improving from 9 to 7.
Thailand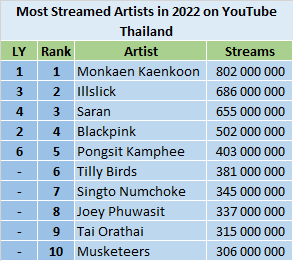 Monkaen Kaenkoon is really an unstoppable force on YouTube in Thailand. He once again stays on top for a 3rd time! He is followed by rapper Illslick who rises up to #2 this year.
The top international artist is to no one's surprise Blackpink at #4 while the top newcomers are Bangkok based rock band Tilly Birds at #6.
Vietnam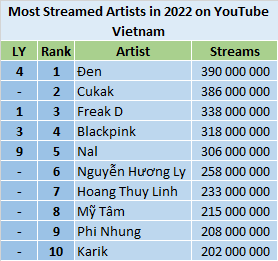 Đen Vâu has been growing in Vietnam for over a decade, at last hitting the top spot in 2022 with 390m views thanks to a special TV Documentary and several big hit songs from 2018-2021 who continue to be strong.
Producer Cukak, responsible of several viral remixes, shockingly shoots to #2, topping last year's leader Freak D.
International artists are once again represented by Blackpink who stand at 4.
Philippines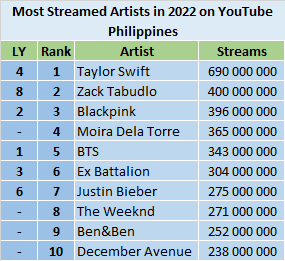 The love Taylor Swift is getting from the Philippines is already out of this world on services like Spotify. Viral older tracks and the newly released Midnights was enough to push her to the top on YouTube too this year at near 700m. This is a first for a western artist.
At 2nd, Zack Tabudlo as we expected continued his rise this year too. He is followed by Blackpink, Moira Dela Torre and BTS completing the top 5.
Indonesia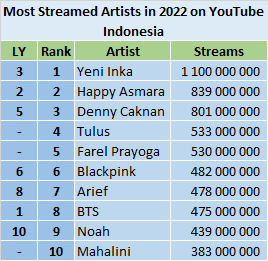 Indonesia is a monster market for YouTube, as shown by Yeni Inka who registers no less than 1.1b views for the year.
Virtually non-existent on Spotify, the 22-years old female is massive elsewhere. She has 1.3m followers on Instagram, and nearly 700,000 on YouTube itself. She floods the platform with live performances every 1-2 weeks, gaining millions of views with all of them.
Happy Asmara is very similar, she also never got a top 100 hit on Spotify Indonesia, but crushes the competition on YouTube.
On his side Tulus dominates Spotify, with several songs in excess of 100m streams. He does wonders on YouTube as well now, getting into the top 5 thanks to 533m views.
Malaysia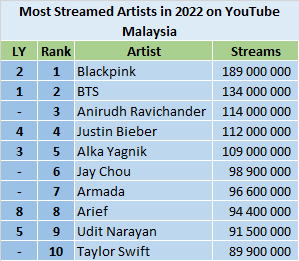 Malaysia is a very special market as it's where K-Pop, Bollywood, Chinese, Western and local stars meet together. It seems that only Latin artists are missing to the mix.
Hence, icons from all these genres are there, with Blackpink leading the way.
India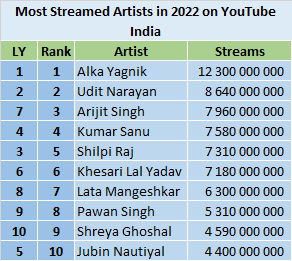 India is to YouTube what the US used to be for physical sales, the market which dominates others completely. It's so strong that being part of the most viewed artists there sends you to the most viewed artists in the world automatically.
As expected, Bollywood playback singers reign supreme. The same 10 singers from 2021 repeat presence in 2022. Alka Yagnik retains the top with an unbelievable total of 12.3b views. She kicked her career in 1979 and remains a unique force.
At 56, she may still have many great years in front of her. In fact, the most legendary voice of India, Lata Mangeshkar, also broke over as a teenager way back in 1942, and kept recording successful songs until her passing at 92 in early 2022.
After the legends, a bunch of artists in their mid-30s are building large discographies right now, they rank at 3, 6, 8, 9 and 10, with Arijit Singh leading the way for his generation.
Only 1 artist from this list is born after the 80s: indeed Shilpi Raj is from 2002. The female singer is only the largest star from the Bhojpuri region and language, which claim 3 spots in the top 10 with also Khesari Lal Yadav and Pawan Singh. Interestingly, this region has yet to adopt Spotify, with these big stars being relative unknowns there.
Bangladesh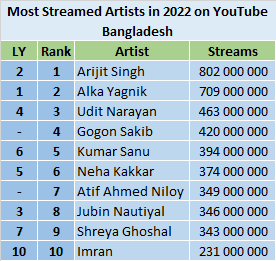 Bangladesh is mostly a reflection of India with a focus on Hindi and Bengali languages, with both Arijit Singh and Alka Yagnik enjoying comfortable leads over the rest of the pack.
Local talents who developed their popularity outside of the Bollywood spectrum also got a spot there, as shown by 22 years old YouTuber Gogon Sakib who enters at 4.
Pakistan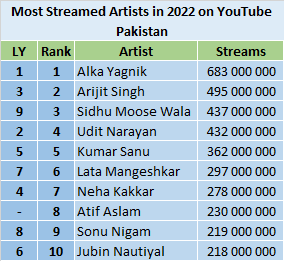 Pakistan's list is also very similar to the Indian one, with Punjabi singers having a larger role style. This is highlighted by the late Sidhu Moose Wala at 3.
It's worth noting that not all music from India is big in Pakistan. it's mainly artists like Alka Yagnik and Arijit Singh from the Hindi speaking Bollywood industry as well as Punjabi rappers.
It goes the other way too, Atif Aslam is from Pakistan but he's also huge in India with his Bollywood songs.
Saudi Arabia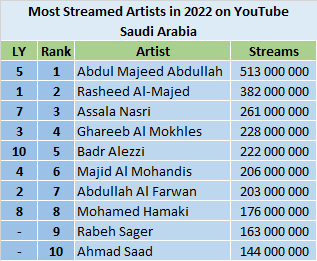 We change of region, making a first step in the Middle East through Saudi Arabia. There, the leader for 2022 has been Abdul Majeed Abdullah who enjoyed a terrific year with 513m views nearly 40 years into his career.
A conservative market just like India, the top 8 artists all made the list last year too, although they switch positions more dinamically.
At this game, Abdullah Al Farwan drops from 2 to 7 while Assala Nassri, the strongest female artist, goes the other way around from 7 to 3.
Iraq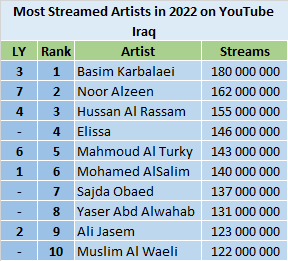 MENA is a region where every country has its own history, so few artists break over from one market to another.
Showing this is Basim Karbalei who leads in Iraq but will hardly ever break over, as it's not a pop singer but instead a Shi'ite eulogy reciter. This is the first religious singer that we met at the first ranking in a country.
The music scene is diverse still, with more FM friendly artists standing at 2 and 3, Noor Alzeen and Hussan Al Rassam.
The first female singer as well as the first foreigner is Lebanese superstar Elissa at 4.
Egypt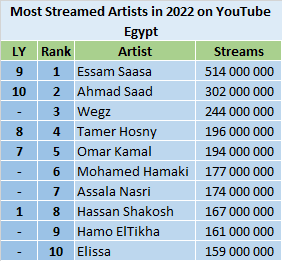 With over half a billion views, Essam Saasa catapults from 9 to 1 in Egypt. It's a meteoric rise for the singer, who debuted in late 2018 but already released nearly 300 songs, without ever issuing an album. On YouTube, he got the #1, #3 and #5 song for the year.
Confirmed star Ahmed Saad recorded a great year, kicked by the 2021 release of monster hit El Melouk. while Wegz also had a high point in his career with البخت.
Assala Nasri and Elissa, respectively the highest charting female singers in Saudi Arabia and Iraq, are also the lone female artists to feature the Egyptian top 10.
Algeria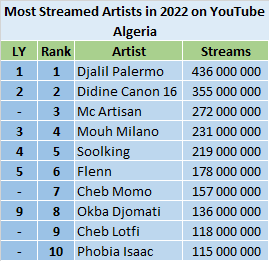 We conclude our ride through MENA with another strong market, Algeria.
Djalil Palermo continues his impressive run, topping the list with 436m views. A good indicator of his huge popularity, the singer claims 2m subscribers on Instagram without ever posting a thing since his entry picture.
A solid runner up once again, Didine Canon 16 records 355m views. Newcomer Mc Artisan, who debuted in 2020, is booming, making a flashy debut at 3.
French-Arabic crossover artist Soolking maintains his position inside the top 5, ironically lower than his place in France where the smash of Sans visa album shot him to 4.
Kenya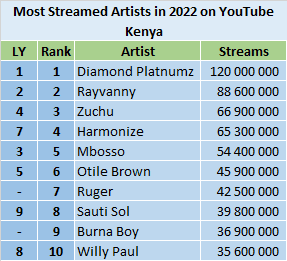 Our travel ends with the promising Sub-Saharan markets. Volume wise, the strongest so far is Kenya, thanks to its good smartphone penetration.
Tanzanian icon Diamond Platnumz repeats the 1st ranking with 120m views for the year. The ranking is fairly stable, with Rayvanny again at 2. Feel good track Tetema, which feature both artists, had some kind of a cross over, now over 30m streams on Spotify.
Zuchu is the prime female singer at 3. The highest entry is one-eye singer Ruger, who started uploading music in 2021, and already built an impressive resume. Next up among debuts is no other than Nigerian superstar Burna Boy…
Nigeria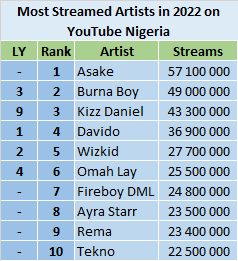 …speaking about Burna Boy, he climbs to the runner spot in his homeland, although he can't reach the last step. Surprisingly, it's none of the Big 3 who claims the throne, as Davido and Wizkid drop from 1-2 to 4-5.
More confirmed artists like Kizz Daniel or Fireboy DML had great years too, but they aren't at 1 either.
The leader is Asake, who has been growing a lot lately, and exploded in 2022 with the smash of his first album Mr. Money With The Vibe.
A couple of talents more exploded this year too. Female singer Ayra Starr started her career in 2021, but she has been a constant presence inside our Global Viral Ranking's top tier. The other one is Rema, who rose to global fame with the hit song Calm Down.
South Africa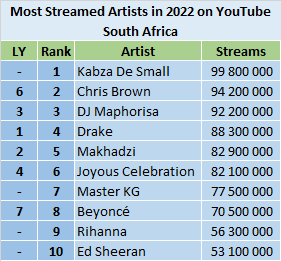 Among African markets, South Africa is naturally more open to international artists. Half of the top 10 is filled with them, with Chris Brown the highest at 2. Drake loses the top spot though, going down to 4.
In this country, the most popular genre is Amapiano, with ease. This kind of slowed down house music, with highly creative vocals, took over the South African market, as shown by Kabza De Small at 1 and DJ Maphorisa at 3.
Despite a 2 to 5 drop, Makhadzi remains the strongest female artist in her homeland.
The responsible of the 2020 global hit Jerusalema, Master KG, reenters at 7.
YouTube most streamed artists of 2022 – Global ranking
Even the ground breaking success of Bad Bunny hasn't been able to dislodge Alka Yagnik from the top spot. Both artists record an outstanding 15b views in a year, or about 40m per day, every day.
Indian artists occupy 4 spots in the top 5, 7 of the top 10, and 16 of the top 35, completely dominating the ranking.
It's all the more impressive to see Bad Bunny so high up, as even for international artists India ends up being a crucial market to perform well globally.
It's no surprise then to see K-Pop stars with great rankings, with BTS the highest at 6 with nearly 8b views, followed by Blackpink at 10. Many new artists from the genre are buzzing right now, but they are still light years behind these two as none other makes the top 50.
Better represented are Latin stars, with Karol G at 12, Rauw Alejandro at 15, Ozuna at 20 and 11 more in the 21-50 region.
They are still fairly lower, but western stars make gains in general still. The Weeknd is the strongest, up 21-13, Eminem goes 28-17, Ed Sheeran 26-22, Taylor Swift 40-26 and Imagine Dragons 41-33.
Decreasing are Justin Bieber (18-25), Ariana Grande (25-40), Doja Cat (31-44), Billie Eilish (34-45) and Bruno Mars (33-46).
Among western acts, there are entries from Coldplay at 38, Rihanna at 43 and YoungBoy Never Broke Again at 48. The highest newcomer is Indian yet, as the late Sidhu Moose Wala comes in at 29. Another Indian newcomer is Anirudh Ravichander, a composer working in the Tamil film industry. He is the only instrumental act featured in the top 50.
YouTube largest markets of 2022

India remains the top market by a longshot, representing roughly 1/4 of global YouTube views. Brazil, the US and Mexico completes an elite top 4 that are way ahead of other markets.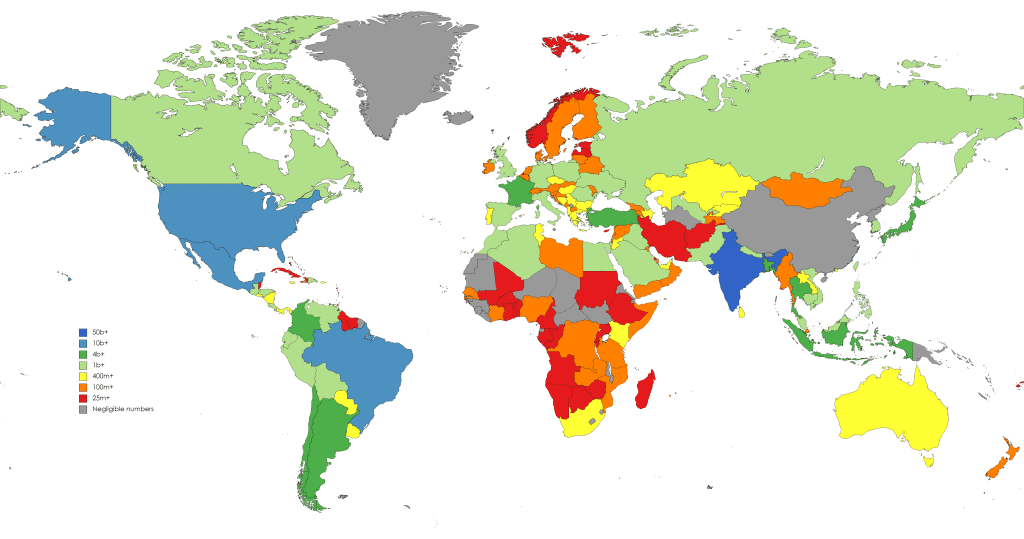 Markets shares by region are the following: Asia 45%, Latin America 28%, Europe 15%, North America 6,2%, Africa 4,2%, Oceania 0,4%
NB: market figures are not official and shouldn't be taken at face value as they only reflect the top 10 artist of each market.
More markets:
Wasn't your country or favourite artist listed above? Search here through rankings for over 170 markets.
| # | Views | Country | Artist |
| --- | --- | --- | --- |
| 6 | 317,000,000 | South Korea | (G)I-DLE |
| 7 | 14,400,000 | Sweden | 23 |
| 3 | 15,600,000 | New Zealand | 2Pac |
| 8 | 945,000 | Curaçao | 2sync |
| 5 | 1,820,000 | Brunei | 3 Pemuda Berbahaya |
| 1 | 9,190,000 | Estonia | 5MIINUST |
| 5 | 102,000,000 | Morocco | 7-TOUN |
| 3 | 92,100,000 | Tunisia | A.L.A |
| 7 | 53,700,000 | Jordan | A5rass |
| 7 | 17,700,000 | Lebanon | A5rass |
| 3 | 27,000,000 | Palestine | A5rass |
| 8 | 1,040,000 | Djibouti | Abdirisak Anshax |
| 4 | 8,690,000 | Ethiopia | Abdu Kiar |
| 4 | 47,300,000 | United Arab Emirates | Abdul Majeed Abdullah |
| 1 | 16,500,000 | Bahrain | Abdul Majeed Abdullah |
| 1 | 64,600,000 | Kuwait | Abdul Majeed Abdullah |
| 3 | 14,100,000 | Oman | Abdul Majeed Abdullah |
| 1 | 26,600,000 | Qatar | Abdul Majeed Abdullah |
| 1 | 513,000,000 | Saudi Arabia | Abdul Majeed Abdullah |
| 7 | 203,000,000 | Saudi Arabia | Abdullah Al Farwan |
| 4 | 9,560,000 | Yemen | Abdullah Al Farwan |
| 8 | 6,240,000 | Yemen | Abdullah Al Mokhles |
| 9 | 6,220,000 | Yemen | Abu Baker Salem |
| 5 | 8,100,000 | Yemen | Abu Handala |
| 6 | 123,000,000 | Taiwan | Accusefive |
| 10 | 15,300,000 | North Macedonia | Aco Pejović |
| 9 | 4,740,000 | Cameroon | Ada Ehi |
| 6 | 14,600,000 | Sweden | Adaam |
| 5 | 1,240,000 | Niger | Adam A. Zango |
| 2 | 828,000,000 | Japan | Ado |
| 4 | 1,460,000 | Niger | Ado Gwanja |
| 7 | 246,000,000 | South Korea | Aespa |
| 3 | 4,860,000 | Estonia | AG |
| 2 | 302,000,000 | Egypt | Ahmed Saad |
| 4 | 61,000,000 | Jordan | Ahmed Saad |
| 6 | 26,800,000 | Kuwait | Ahmed Saad |
| 5 | 25,800,000 | Palestine | Ahmed Saad |
| 10 | 144,000,000 | Saudi Arabia | Ahmed Saad |
| 9 | 340,000,000 | Japan | Aimer |
| 5 | 5,700,000 | Norway | Alan Walker |
| 10 | 50,500,000 | Albania | Alban Skënderaj |
| 3 | 28,000,000 | Belarus | Aleks Ataman |
| 4 | 284,000,000 | Russia | Aleks Ataman |
| 4 | 36,300,000 | Bosnia & Herzegovina | Aleksandra Prijović |
| 8 | 8,190,000 | Montenegro | Aleksandra Prijović |
| 6 | 68,700,000 | Serbia | Aleksandra Prijović |
| 10 | 961,000,000 | Mexico | Alfredo Olivas |
| 9 | 123,000,000 | Iraq | Ali Jasem |
| 4 | 104,000,000 | Morocco | Ali S Music |
| 7 | 17,000,000 | Tanzania | Alikiba |
| | | Country | Artist |