YouTube Most Streamed Artists of 2021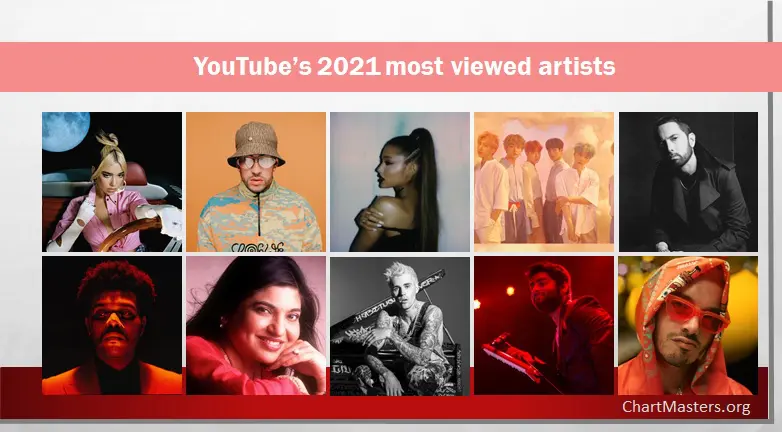 Drake, Adele, Ed Sheeran, Taylor Swift, BTS, Olivia Rodrigo… these have been some of the biggest artists of the year, but who are YouTube most streamed artists of 2021?
While YouTube doesn't bring in as much money to the music industry as say Spotify or Apple Music, is it a major player nonetheless, and especially in certain markets.
A very diverse platform, artists from all around the world feature among the most streamed stars of the year 2021. Today, we will review them.
YouTube is no doubt the biggest music platform in the world in terms of pure numbers of active users.
YouTube Charts also posts very insightful data on artists worldwide and in specific markets. Here I'll rank 2021s major players both globally and domestically and compare the results to last year.
The main difference from last year is that instead of charts for 25 countries, we'll cover as many as 140 this year!
It's worth noting that numbers here include views of unofficial videos using content ID. Features also happen to be counted in most cases, but not all. Consequently, numbers shown might be slightly different from our Streaming Masters articles.
Lastly, all children's artists like BabyBus Nursery Rhymes, Pinkfong and Mundo Bita have been excluded since both the artists and their streams are of a completely different nature.
YouTube most streamed artists of 2021 by country
United States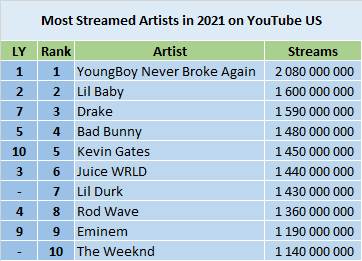 Not too many changes here as numbers are about the same as last year with Hip Hop remaining extremely dominant.
YoungBoy is still on top as well, albeit with a smaller lead at just over 2 billion. He is followed by Lil Baby and Drake.
Latin artists like Bad Bunny are doing wonders here too.
DaBaby and Future drop out of the top 10, making room for both Lil Durk and The Weeknd.
Canada
The Canadian ranking remains quite different from the US one, with a bigger lean towards pop artists.
Eminem maintains the lead still with 150m streams, he's followed by local icon The Weeknd. More Canadians like Justin Bieber and Drake naturally do very well here too.
While female artists completely miss the US top 10, Taylor Swift, Ariana Grande and Doja Cat occupy consecutive spots at 8-9-10.
Latin superstar Bad Bunny is replaced by South Korean heroes BTS, who are once again the biggest non-North American artists for the year.
Australia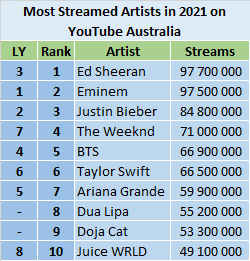 It seems like Ed Sheeran's new album was just enough to put him ahead of Eminem at the #1 spot in Australia, with a total just shy of 100m. His popularity down under is no surprise, back in 2018 he became the first artist to sell over a million tickets from a single tour in this country.
Although both countries could hardly be farer from each other, the listing is very close to the Canadian one. The only different name in the top 10 is Dua Lipa who replaces Drake.
Still no Aussies made the list.
United Kingdom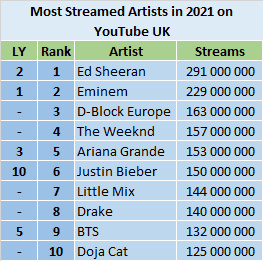 Also in the UK have Ed Sheeran been able to claim the #1 spot with 291m streams, also ahead of Eminem.
The #3 might be a surprise for people living outside of the UK. Local rap collective D-Block Europe is leading the way in the recent surge of local hip hop there.
On top of the usual suspects, Little Mix sneak in this very strong top 1 at 7, with numbers close to the #3.
Overall numbers appear to be going down here, most likely due to people switching over to audio streaming services.
Germany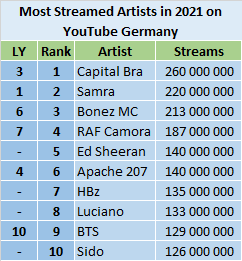 Local rap remains extremely dominant in Germany with Capital Bra on top with 260m streams. All the big names from this market are there including Samra, Bonez MC, RAF Camora and Apache 207. Since their respective debuts, these artists own from 9 to 25 chart topping singles plus albums each.
International acts like Ed Sheeran and BTS do well here still.
It's worth noting that just like in the UK are numbers going down here.
Poland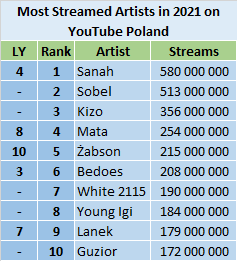 In Poland, local hip hop rules too. They make up 9 positions out of this top 10, in a very dynamic environment that concludes on 5 new entries, including Sobel and Kizo at 2 and 3. In the other side, last year's top 2, Tymek and Szpaku, drop off.
Still, the lone non-rapper from the list actually happens to top it. Pop star Sanah crushes the ranking with a massive 580m streams! She is also the only female artist to be featured.
Foreign music enjoys no exception though – it is completely absent from the top tier.
Russia
Local singer and prime TikTok star Khabib blasts to #1 in Russia with a massive lead at over 1b streams in total! He also got another 1.6b streams elsewhere, leading most Eastern Europe countries, making him by far the top Russian act of 2021.
Little Big moves down to #2 at 335m, with Niletto just behind.
Just like in Poland, no international star appears. This is going to be the norm in upcoming lists.
It goes on to show why albums like Adele's 21 can sell so much more than others: most people prefer music on their primary language, and even artists who seem big internationally can't compete with local stars. So, when someone manages to drop a song that really stands strong everywhere, the potential of sales is instantly much bigger.
Romania
I didn't cover Romania last year but it's hard to ignore now as local singer Tzanaca Uraganu got over 700m streams there during 2021. Not bad for a country with less than 20m people!
It's clearly another example of YouTube's strength in Eastern Europe and the Balkans, feel free to check numbers for Bulgaria and Serbia at the bottom of the article for more good examples.
Turkey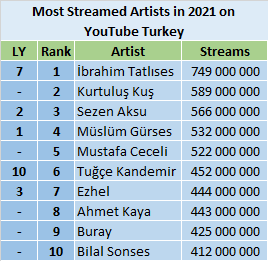 Arguably Europe's strongest market when it comes to YouTube streams, Turkish numbers remain huge like last year.
Local legend İbrahim Tatlıses moves to #1 there with 749m streams, he's been releasing music since the early 70's! Unlike most countries so far do local rap seem weaker here than on Spotify with Ezhel as far down as #7.
France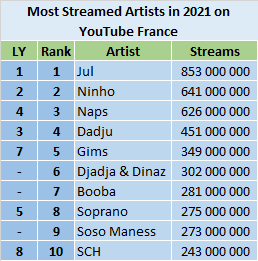 Jul stays on top in France with ease with over 850m streams. His 2 albums + 1 mixtape per year strategy continues to do wonders on its 8th year, with his popularity showing no sign of slowing down.
Congolese brothers Gims and Dadju continue to be incredibly successful, both featuring inside the top 5. Ninho, also with Congolese roots, is just as massive on YouTube as he is on Spotify, he ranks at 2 once again.
The top 10 is entirely made of hip hop singers. If the French football Clasico between PSG and OM is often won by the former team, in music Marseille reigns supreme. They land 5 artists in the list, aforementioned Jul along with Naps, Soprano, Soso Maness and SCH.
Paris-related rappers are only represented by the Congolese branch on top of the iconic Booba, while the likes PNL, Nekfeu, Gazo, MHD, Maes, Hornet La Frappe and many others will need to improve to be there in 2022.
Italy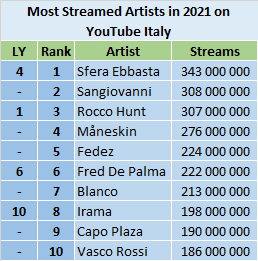 Rapper Sfera Ebbasta moves up to #1 from last year with 343m streams. He replaces another rapper, Rocco Hunt, who remains strong himself at #3.
In-between, newcomer pop singer Sangiovanni is over 300m streams as well. The 18-years old singer got the #1 song of the year on each Spotify, Apple Music, and Vevo with Malibu.
Eurovision stars Måneskin clearly had a surge following their win in the famous contest.
If both Ozuna and J Balvin managed to be top 10 last year, no Latin American charts in 2021.
Instead, legendary Vasco Rossi, a month away from his 70th birthday, shoots to the top 10 thanks to his immensely popular back catalog and the release of Siamo qui.
Spain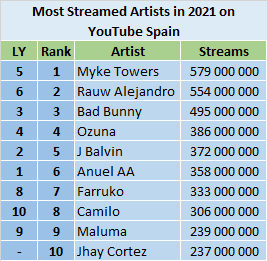 Reggaetón continues to rule in Spain with Myke Towers in the lead this year with 579m streams, pushing Anuel AA down to #6.
While artists switch of position, the names inside the top 6 are the same as in 2020 while 9 of last year's 10 repeat this year.
The only change? Jhay Cortez goes in, Daddy Yankee goes out.
Mexico
Bad Bunny claims another year on the top in Mexico with no less than 2.5 billion streams. Reggaetón remains very strong unsurprisingly with 5 artists top 9. It includes the only female singer, Karol G.
There are strong competition from Regional Mexican artists like Grupo Firme and Banda MS too. The former climb to #2 while the latter retain their #3 spot. Christian Nodal also sticks around at 8, while Calibre 50 enters at 10.
Local rap is also gaining some momentum with Santa Fe Klan at #7.
Colombia
Reggaetón is king in Colombia as well with Bad Bunny claiming his the #1 spot again at just over 1b streams. Local stars like J Balvin and Karol G unsurprisingly smash here too.
Some local genres like Vallenato remain hugely popular too with the late Colombian legend Diomedes Díaz in the lead.
Argentina
Bad Bunny couldn't go to #1 in Argentina though as the regional scene has become very strong recently. Local singer Maria Becerra takes the top spot. with 1.28b streams.
Local trap stars like Duki and Bizarrap are pulling huge numbers as well. The latter also contributed to the success of L-Gante thanks to their shared session.
Brazil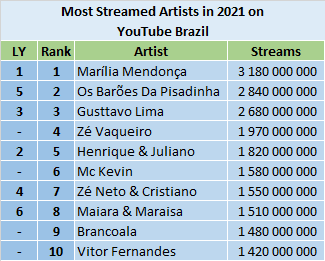 It's always a terrible news when a 26-years old passes away, more when the death is a tragic accident involving someone loved by millions.
Marília Mendonça needed no extra boost to top Brazilian charts in 2020, from now on she will always be remembered as a bright star who has left too soon.
Last year's 2-6 artists remain charted inside the top 8 this year, with Os Barões Da Pisadinha charted at #2.
The biggest breakthrough is Zé Vaqueiro, who continues his meteoric rise to fame.
Numbers are absolutely fantastic for the top 10, with 3 artists over 2.6b and the entire group topping 1.4b.
Japan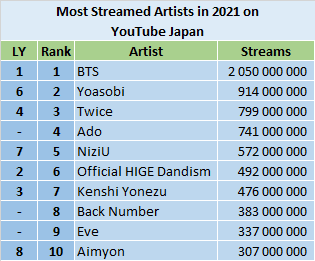 While their 2020 year was already superb in Japan, BTS have raised the bar even higher in 2021, more than doubling their previous best and the runner up's tally.
Composer-singer duet Yoasobi also concludes a terrific year, also doubling their former score.
The rest of the top 10 is just like the top 2: a combination of the strongest assets from both K-Pop and J-Pop. Incredibly, Twice are higher there than on their own country.
South Korea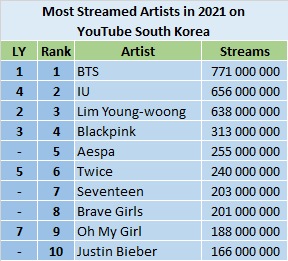 The #1 position of BTS is, at the same time, very unsurprising and a real achievement.
As they are the flagships of K-Pop globally one could expect them to be so much stronger than anyone else in their homeland.
The thing is, K-Pop is no international hype in South Korea, it's their local music, the one the general public listens daily. On this environment, BTS are one among others. They do need organic hits to do well, and they got just that this year again, repeating at the top.
IU and Lim Young-Woong are very strong behind, while Blackpink complete the same top 4 as last year, although quite far behind the top 3.
Ironically, after listing 13 countries where no international star made the top 10 at all, it's in K-Pop's kingdom that we see Justin Bieber showing up, a sign of his immense success over there.
Taiwan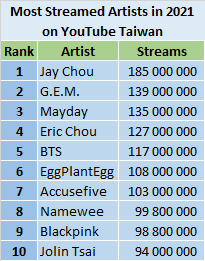 Taiwanese ranking is maybe the best reflection of what could be a Chinese ranking, even though considering the numbers their list is already very interesting by itself.
The biggest artist in China since his debut in 2000, Jay Chou actually comes from Taiwan, where he is also an absolute legend. Five years after his last studio album, he tops the list with a comfortable margin still.
Chinese G.E.M. has the honors as the biggest female artist of the year on YouTube in Taiwan, with legends Mayday, also with no new album since 2016, being the biggest group.
Both BTS and Blackpink enter the top 10, at 5 and 9, respectively.
Thailand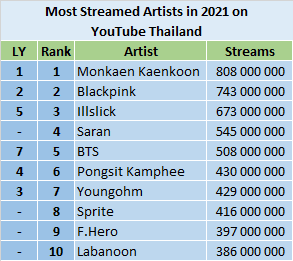 30 years into his career, traditional Thaï singer Monkaen Kaenkoon continues to reign supreme in his native country.
While Blackpink enjoy a widespread success in Asia, the presence of Thai member Lisa certainly helps them to do even better in Thailand. They retain their #2 position.
Illslick is one of the strongest rappers of the continent, ranking at 3 on his homeland.
Vietnam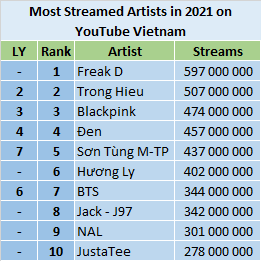 Young Freak D artist comes out of nowhere to claim the top spot in Vietnam, with nearly 600m streams.
He replaces EMD local star K-ICM who collapses from the list. This switch means that sex symbol Trong Hieu can't improve from last year runner up position, repeating at 2.
Once again, foreigners hitting the list are the two same ones: Blackpink and BTS.
Philippines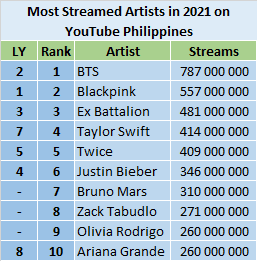 Speaking about these 2 K-Pop super groups, they sweep the first two positions in the Philippines.
Easily the most international market of the continent, Taylor Swift lands at 4, Twice at 5, Justin Bieber at 6, Olivia Rodrigo at 9 and Ariana Grande at 10.
Obviously, Bruno Mars is there as well at 7. With Philippines roots, the US icon is a legend in this country.
With so many foreigners, we almost forget about local singers. Just like last year, hip hop collective Ex Battalion performs the best at #3.
Zack Tabudlo, 20, is just getting started but he already charts at 8. As his catalog will grow, one can expect to see him higher next year.
Indonesia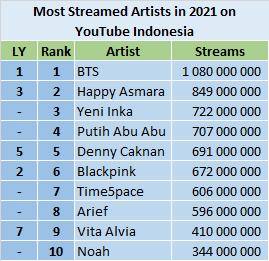 Indonesia follows patterns of most South East Asian countries, with Blackpink and BTS charting, the latter at 1 again, on top of the biggest local names.
The local scene has been invaded by YouTubers, with the prime example of Yeni Inka who has been surging lately.
Malaysia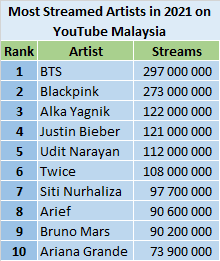 Although not as large as Indonesia, Malaysia posts some large numbers too as well as an interesting mix of artists in the top 10.
K-pop being huge there is a surprise to none as BTS and Blackpink claims the #1-2 spots with ease at over 500m streams combined. Twice also comes in at #6.
Western music is very popular there too with Justin Bieber, Bruno Mars and Ariana Grande present in the top 10.
Alka Yagnik at third might be a bigger surprise though. In fact the large Indian community there is streaming a lot of Bollywood music it seems.
Speaking of….
India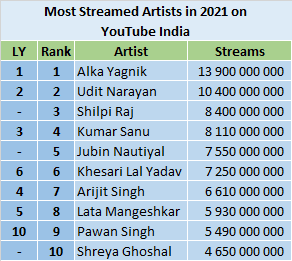 India is a very special market for YouTube. Firstly, because it's far and away the biggest of all as suggested by numbers in this top 10.
Secondly, because while in many markets YouTube is a cheap option to audio streaming platforms, thus prevailing among the youngest consumers, in India the target audience is the opposite, younger on audio platforms, older on YouTube thanks to its easy accessibility.
It ends up with 3 of the top 4 being singers aged 55 or more, Alka Yagnik, Udit Narayan, and Kumar Sanu. Lata Mangeshkar is the ultimate queen in this area. Ranking at 8 with nearly 6b views, she is the oldest name to appear on this page at 92!
There are still younger singers breaking over still, as highlighted by Shilpi Raj who has yet to turn 20.
The magnitude of streams required to make this top 10 pushes foreigners far away from the list.
Bangladesh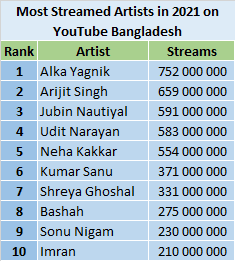 Expectedly, the ranking of Bangladesh is similar to the Indian one. Traditional singers are still not as strong, with the fresher artists Arijit Singh, Jubin Nautiyal and Neha Kakkar doing very well.
Pakistan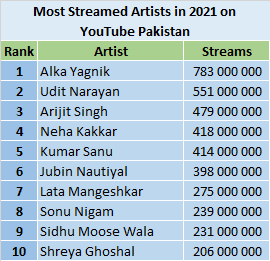 The list of Pakistan is almost exactly the same as the one of Bangladesh, with the same leader, Alka Yagnik, who sweeps the 3 countries, but also the same artists inside the top 6 and 8 out of the 10 repeating presence.
The only one not seen either on India or Bangladesh is Sidhu Moose Wala, an Indian Punjabi singer who happens to be especially big in Pakistan, although he is strong in his homeland too at 1.4b views for the year.
Saudi Arabia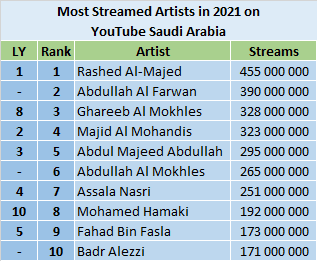 We continue our fly all around the world with Saudi Arabia ranking.
Bahrain-born Saudi legend Rashed Al-Majed continues to dominate. Active since the 80s, he isn't going anywhere soon.
Abdullah Al Farwan is much younger but nearly as successful. He makes an impressive entry at 2 with nearly 400 million views.
The rest of the list is not as dynamic with last year's top 5 still charting. One of them is Assala Nasri who's once again the only female charting.
It's worth noting that Saudi Arabia is reflective of its own tastes but also of most of the Middle East musical scene, as many of these singers are popular all over the region.
Egypt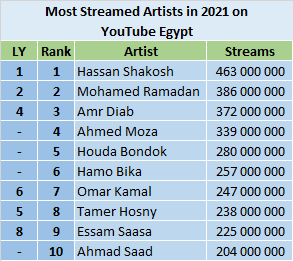 Even if there's a bridge between Middle East and Egyptian music, singers from the former region aren't as cross-over in the latter, and vice versa.
Hassan Shakosh for example would be top 40 in Saudi Arabia, while it's good it is not in the same success scale that he enjoys in Egypt where he stands at 1 again. The same leader and also the same runner up with Mohamed Ramadan at #2.
Both are mahraganat singers, a mix of EDM sounds and rap themes, it is by far the most popular genre in the country these days even if the government makes singing and performing this genre illegal.
Algeria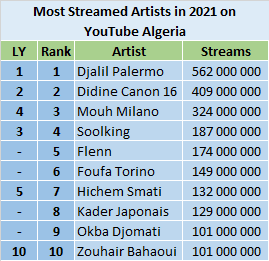 Local superstar Djalil Palermo, who recently topped a billion combined views, leads the Algerian ranking for the second year running.
Didine Canon 16, responsible for the hit Fi Hwak where Djalil Palermo features, retains the second position.
Maybe surprisingly, only one of these artists broke over in France so far, and he remains very strong in Algeria too, that's Soolking who lands at 4.
Kenya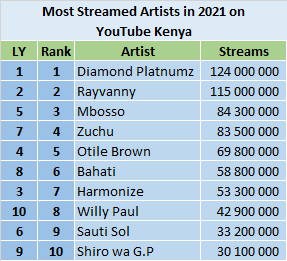 It's hard to get a ranking as static as the Kenian one. The top 10 is exactly the same as last year, with only a few ups and downs.
Tanzania singer Diamond Platnumz continues to dominate. Often presented as the one who introduced Nigerian icon Davido, he is massive on his own in Central and Eastern Africa.
Fellow Tanzanian collaborator Rayvanny is second once again, with Mbosso growing to #3. Zuchu is the first female singer at 4. She completes an all-Tanzanian quartet at the top, with the first Kenyan being Otile Brown at 5.
Nigeria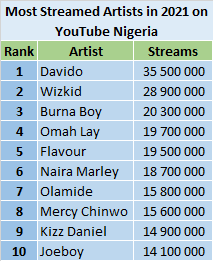 Although limited internet data access is still limiting numbers on markets like Nigeria, the biggest names are exactly the ones we were expecting.
Davido, Wizkid and Burna Boy have saw their reputation grow lately. The US and the UK rap scenes pay more and more tribute and attention to the Nigerian market, which led these stars to collaborate with some of the biggest names.
If we look at their global impact on Spotify, we can notice all 3 have just over 100,000 monthly listeners in Lagos, Nigeria's largest city, but they it isn't their biggest city still. In fact, they all shine the most in London, with from 3 to 9 million monthly listeners each.
Global sensation CKay, who's love nwantiti was one of the biggest global hits of the year and who's standing very high on our Viral chart for months, misses the top 10 as his catalog is not as strong as the other ones.
Speaking about viral artists, all 4 of them are featured inside the top 100 at the moment, with also Fireboy DML, Adekunle Gold, Ayra Starr, Joeboy, Mayorkun, Patoranking, Tems, Kizz Daniel, Olamide and Teni right there. A buzzing market no doubt.
South Africa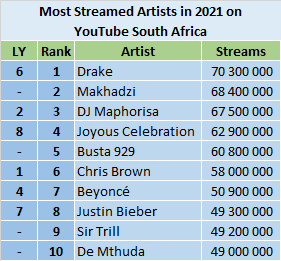 The love of South Africa for North American hip hop stars continues to be as strong as ever, with Drake topping the 2021 list. Chris Brown exchanges positions with him, dropping to 6.
Global superstars Beyoncé and Justin Bieber stand at 7 and 8, respectively.
The local scene has its share of stars as well with the impressive Makhadzi shooting to #2. She enjoyed an incredible year, just enough to push DJ Maphorisa down to 3 overall and 2 among South African artists.
YouTube most streamed artists of 2021 – Global ranking

While record sales have always been dominated by healthier Anglo-speaking countries, YouTube views are a completely different area, where popular western singers struggle to compete with other regions.
The main region is easily India-Pakistan-Bangladesh. Just like last year, leading there was easily enough to claim the global #1 spot for Alka Yagnik. Surely, not many people would guess that the most viewed singer in the world is a 55 years old Bollywood artist.
Indians also flood the entire top 50, notably occupying 7 out of the first 10 spots.
The second largest audience is Latin music consumers. Bad Bunny at #4, J Balvin at 11, Myke Towers at 12, Rauw Alejandro at 15, Ozuna at 16 and Farruko at 20 are prime examples.
Another competitive field if you manage to cross over the region is the combo East Asia-South East Asia. In truth, nobody has been able to unite the region for quite some time until the K-Pop phenomenon came along.
Now, the main stars of the genre record terrific numbers all over the region, while also enjoying heavy views elsewhere. This leads BTS to #2 in the World, but also Blackpink to 8 and Twice to 36.
Thus, what we used to call international stars represent only the 4th largest pool of successful artists.
Among them, Canadians Justin Bieber at 18 and The Weeknd at 21 lead the way, with Drake lower down at 48. The former has been the top western performer just like last year.
Americans are also there naturally with Ariana Grande at 25, Eminem at 28 and Doja Cat at 31. The latter is the biggest non-Indian newcomer of the year.
As for English stars, Ed Sheeran remains the flagship of his country, at 26 in the world. The only other English inside the top 50 is Dua Lipa at 35. If you wonder about Adele, she hasn't done bad at 2.24b for the year but it wasn't enough to be there.
The next big region is Brazil, with a small addition from Portugal. Marília Mendonça represents her homeland at 43 in the global ranking, with several others bubbling under.
YouTube largest markets of 2021

Speaking about the main pools of viewers, this table presents countries ranked according to the total streams of their top 10 artists.
After reading this article the #1 position of India was obvious. The lead is massive, with more streams for its top 10 than the one of the next 7 largest markets.
Brazil is a strong second, local artists miss higher positions on global lists only because their music isn't exported to the whole region, unlike Latin music stars who enjoy a shared Spanish language.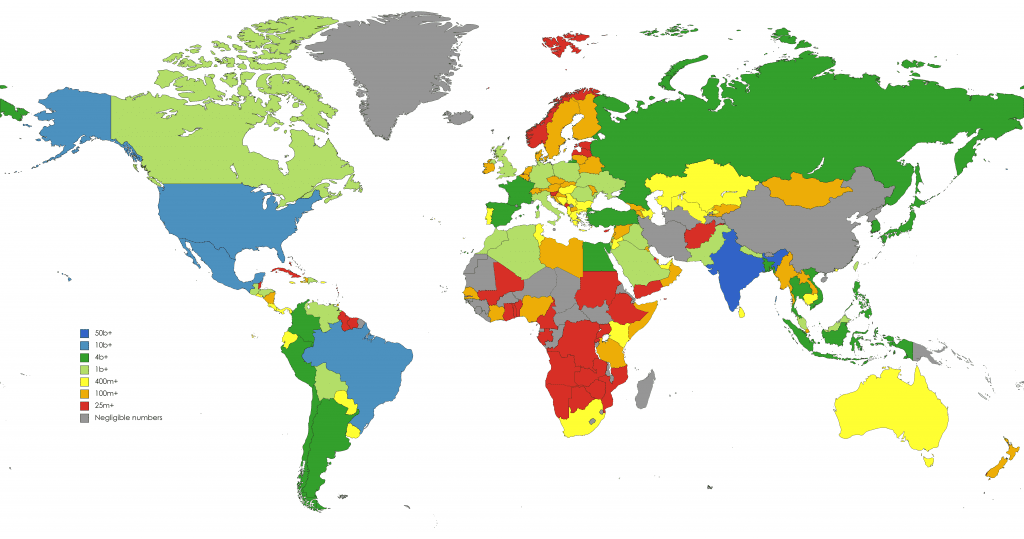 Mexico, Argentina, Colombia are all top 8 markets, granting a large target audience there. Combined, they easily top the total views from the US, Canada and the UK. There are also more large Spanish-language markets than English-language markets, as we can see even better with this map, which is inline with our previous conclusions.
Although they don't benefit from using the same language, no less than 5 East and Southeast Asian markets make the top 20, which illustrates how breaking over all these countries can do wonders.
YouTube most streamed artists of 2021 – additional markets