YouTube's Most Streamed Artists of 2020
While YouTube doesn't bring in as much money to the music industry as say Spotify or Apple Music, is it a major player nonetheless, and especially in certain markets.
A very diverse platform, artists from all around the world feature among the most streamed stars of the year 2020. Today, we will review them.
YouTube is no doubt the biggest music platform in the world in terms of pure numbers of active users.
YouTube Charts also posts very insightful data on artists worldwide and in specific markets. Here I'll rank 2020s major players both globally and domestically.
It's worth noting that numbers here include views of unofficial videos using content ID. Features also happen to be counted in most cases, but not all. Consequently, numbers shown might be slightly different from our Streaming Masters articles.
Lastly, all children's artists like BabyBus Nursery Rhymes, Pinkfong and Mundo Bita have been excluded since both the artists and their streams are of a completely different nature.
United States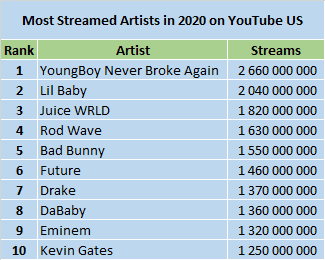 You might not have expected YougBoy Never Broke Again to take the top spot in the US, but he leads by a very good margin at 2.66 billion streams.
Rap is extremely dominant as a whole with no pop artist in the top 10 at all. Bad Bunny is huge too, a showing that Latinos use YouTube a lot. We'll get back to this later.
Canada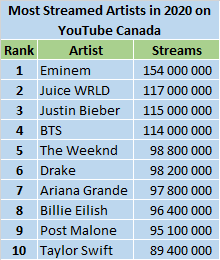 In Canada the ranking is surprisingly different from the US with a much more diverse list genre wise.
Eminem with 154m streams is the clear leader. Local stars like Justin Bieber and The Weeknd are naturally stronger as well.
Australia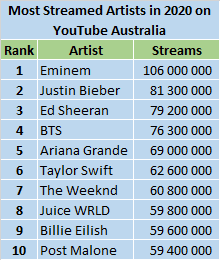 Australia seems to be very similar to Canada with many of the same artists in the top 10.
Eminem leads this market as well with 106m streams. Surprisingly, no Australian artist makes the list.
United Kingdom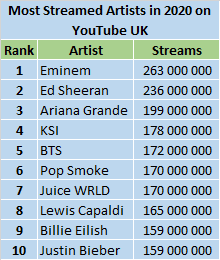 Eminem claims his 3rd #1 spot already with the UK at 263m.
Ed Sheeran is very high as well, unsurprisingly, at #2 with 236m streams. Among strong local acts we can mention both KSI and Lewis Capaldi.
Germany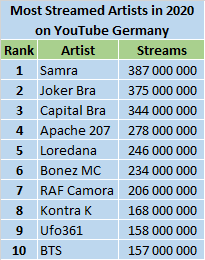 Let's move on to non-English speaking markets now. Germany has always been seen as very open to International artists but YouTube at least seems to disagree.
Local rappers are extremely dominant with Samra, Joker Bra and Capital Bra all over 300m.
BTS in the only non-German act hitting the top tier at #10.
Poland
In Poland we see a very similar situation to the one in Germany with local rappers dominating.
Although some non-rappers like Sanah chart, in this case at 4th.
Local rapper Tymek takes the top spot yet with 338m streams. Also notice how big numbers are in this country compared to Germany and the UK in spite of a fairly lower population.
Russia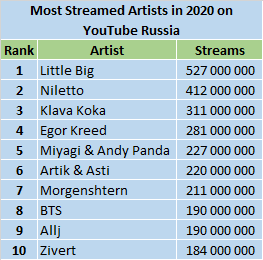 Let's move further east to a big one, Russia. Local band Little Big leads with 527m, a gap of over 100m from Niletto at #2.
There is a big difference from what's popular at audio platforms as Little Big has so far not even been close to the top 50 on Spotify on Russian's ranking.
BTS once again is the only international act of the list.
France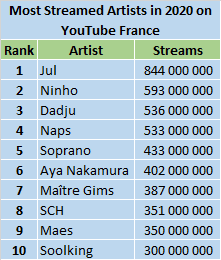 Did you expect France to have so much larger numbers than the UK or Germany?
Jul takes the top spot with a massive 844m streams. Just like Poland, there are no international artist to be seen.
Italy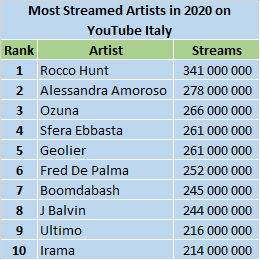 Italy too is very strong posting greater numbers than both Germany and the UK.
Rocco Hunt has a clear lead at 341m streams. Although there is no English speaking artist, are Latin stars like Ozuna and J Balvin doing wonders at 3 and 6, respectively.
Spain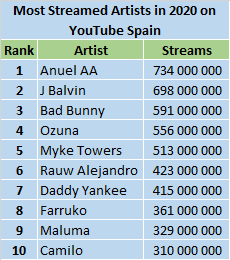 I mentioned Spanish speakers streaming a lot of YouTube earlier, does it seem clear now? Over 5 artists are over 500m streams in Spain with Anuel AA in the lead at 734m.
Mexico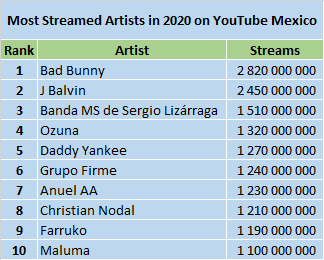 Let's look at the most populous Hispanic market to see if it's still holds true.
It indeed does, numbers in Mexico are almost as big as in the US despite a much lower population. Bad Bunny leads with 2.82 billion streams. Regional Mexican artists like Banda MS and Christian Nodal are strong as well.
Many other Hispanic countries like Colombia, Argentina and Peru have some really big numbers as well. But I decided to not go though them in detail as the artists big there are almost the same ones than in Spain and Mexico.
Brazil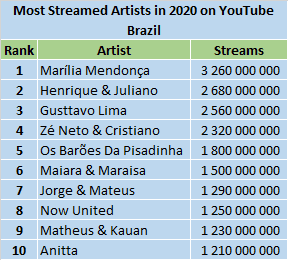 Is the case true for Brazil too? It surely looks like it. Marília Mendonça has had a massive year for sure. Her live stream in April reached 50m streams in it's first day there.
Sertaneja music is incredibly strong at the moment while funk artists like Anitta do very well too. Brazil is another market with no foreign act.
Japan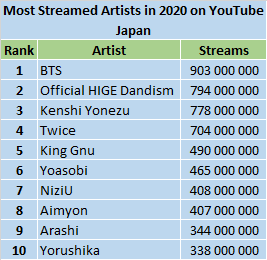 As we move to Asia is there probably a certain artist you're expecting high up.
BTS start off no lower than #1 in Japan with 903m streams, outdoing every local artist in the process. Other K-Pop artists like Twice are also really strong.
Of course are most artists here Japanese still with Official HIGE Dandism and Kenshi Yonezu over 750m each.
South Korea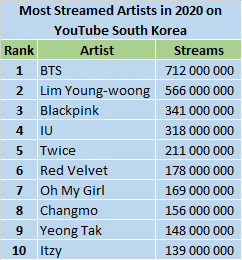 Let's look at the home of K-Pop now. While BTS lead unsurprisingly with 712m is K-pop not as dominant here as you might think.
Trot singer Lim Young-woong is in fact 2nd at 566m. Rapper Changmo makes the top 10 as well.
Thailand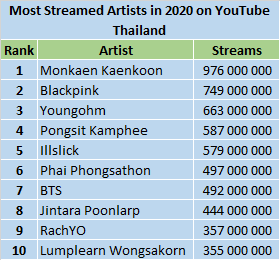 While we often see International stars chart high on Spotify in Southeast Asia YouTube appears to be much more used to listen to local artists as shown by Thailand chart.
Local singer Monkaen Kaenkoon has a big lead with close to a billion streams. Blackpink is incredibly big too at 749m streams.
They beat BTS with a big margin. No doubt, the fact that their rapper Lisa is from this country helps.
Vietnam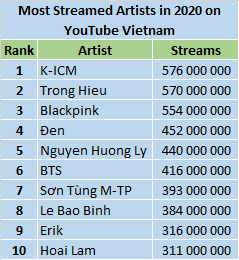 The pattern of local artists dominating continues in Vietnam with K-ICM, a local DJ, taking the top spot with 576m streams.
Vietnamese-German singer Trong Hieu is over 500m as well. Blackpink lead over BTS here too.
Philippines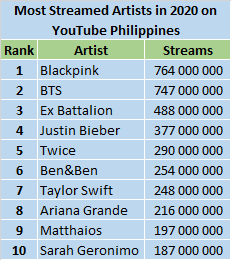 The Philippines is no doubt the Asian country that's the most open to International artists with Justin Bieber, Taylor Swift and Ariana Grande in the top 10.
K-pop is insanely popular too with Blackpink at the top with 764m streams. BTS is right behind. The top local artist is hip hop group Ex Battalion.
Indonesia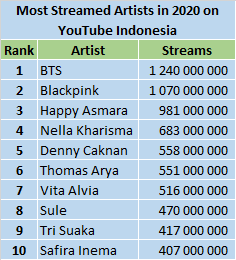 Let's move on to the most populous country in Southeast Asia, Indonesia.
The K-pop domination is verified once more with BTS on top with 1.24 billion streams. Blackpink take the 2nd spot at over a billion too.
Further down there are only local artists though. Happy Asmara leads among them with 981m streams.
South Africa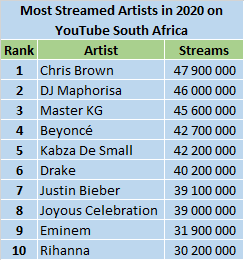 While numbers here aren't too impressive do I feel a need to cover Sub-Saharan Africa as well. South Africa is a good start.
We can see the country is very open to American stars, especially in genres like hip hop and R&B.
Chris Brown leads the list at 47.9m streams. Beyoncé is high up too. A lot of local artists are also getting good numbers like DJ Maphorisa and International sensation Master KG.
Kenya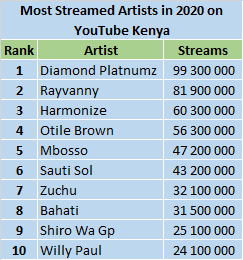 Although not as populous as Nigeria is Kenya 2nd to only South Africa in terms of YouTube streams in the region.
Regional artists dominate heavily with Diamond Platinumz and Rayvanny leading with 99.3m and 81.9m streams respectively. Both are from Tanzania.
If we look further into these numbers doesalmost all of their streams come from the capital, Nairobi. Most people outside the city has no internet or with little data.
This goes to show there's incredible potential in the future if this changes. The case is true for most of Sub-Saharan Africa.
Algeria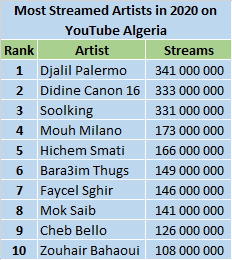 North of Sahara is the situation better thoough as Algeria along with it's neighbour Morocco posts some big numbers.
Local singer Djalil Palermo leads with 341m streams. Didine Canon 16 is just behind. Some of these local artists are also very popular in other French speaking countries. Soolking for example ranks #10 in France.
Egypt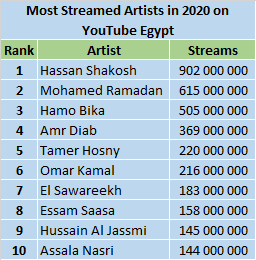 Egypt is utter massive too. Local singer Hassan Shakosh has over 900m streams there. Singer and actor Mohamed Ramadan is also huge at 615m.
Amir Diab, a legend within Arab music the past decades stands at 369m.
Saudi Arabia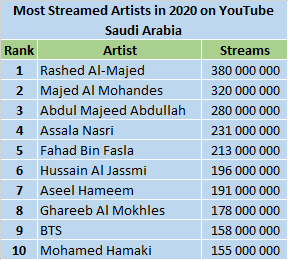 While both Saudi Arabia and Egypt are Arab countries we can see very different artists performing well in the two countries.
Some artists like Hussain Al Jassmi from the Emirates do well in both though. The leader in Saudi Arabia is Bahraini-Saudi singer Rasheed Al-Majed at 380m.
BTS is the only International act in the top 10 at 9th. It goes to show K-pop is very popular in the MENA region.
Turkey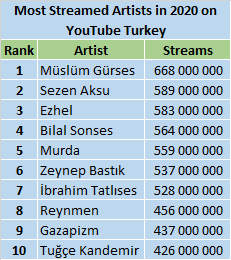 Turkey is another market with very big YouTube numbers. In fact bigger than any other European country.
Local artists rule with singer Müslüm Gürses at the top with 668m streams. Rapper Ezhel is the most streamed Turkish artist on Spotify yet he's not #1 in his homeland.
Yet another indicator that the two platforms do not have the same demographics.
India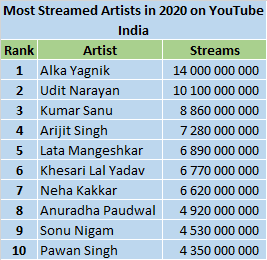 I had to save the biggest one for last. These numbers are just incredible.
Alka Yagnik leads with no less than 14 billion streams. In fact any of the artists in the top 10 here would be #1 in any other country with these numbers.
While India no doubt streams more YouTube than any other country there is a little catch though.
The usual Bollywood hit can have 5 or more artists on it, which translates to massive streams from the same song to all of them. This is certainly a big thing for US rappers and Latin starts as well. But not to the same degree.
The country shows love for their artists long past their prime too. Lata Mangeshkar for example is 91 years old!
Now let's see how these Bollywood stars compete against global artists.
Top 50 Artists on YouTube in 2020

While BTS show massive numbers pretty much everywhere wasn't it enough to beat Alka Yagnik. You might jump to the conclusion her streams are only coming from India, it isn't entirely true though.
The singer doesn't just boast over 500m in each of neighbouring Pakistan and Bangladesh but also 280m in Indonesia, 130m in Saudi Arabia, 80m in the US and over 60m in the UK.
It's clear that Indians outside their country still support their local stars, and non Indians are getting into Bollywood music too.
In total there are 16 Bollywood stars in the top 50. That's a tie with Spanish speaking artists at 16 as well.
J Balvin and Bad Bunny dominate among these at 4th and 5th respectively with over 10 billion streams each. Both had an incredible 2020 with their new releases. Ozuna is just shy of the top 10 too.
Korean acts are really getting there too with both BTS and Blackpink present in the top 10. The Former came close to 13 billion streams!
Now what about English speaking artists? You might find their results a bit low compared to Bollywood and Latin stars with only 14 present in the top 50. Justin Bieber is the best performer among these at 18th globally.
This shows YouTube is a much more global platform compared to Spotify or Apple Music with its user numbers more distributed in line with actual population numbers. And unlike these two the US is not that much needed to get massive numbers.
In fact, YoungBoy Never Broke Again as mentioned earlier was #1 in the US but misses the top 50 globally. Even most English speaking artists who make the list only get 10-25% of their streams from the US.
It's also worth highlighting that Audio streaming platforms are slowly take users away from YouTube.
If we have a look at Sweden and Norway, likely the most developed streaming markets in the world where over half of the population has a Spotify users.
YouTube streams there on the other hand are really low. Most people using it there are young children.
This different demographic is true for most countries to some degree as well.
Teens tend to lean towards audio platforms while YouTube is much more popular with young children and old people.
These demographics are much more into local artists which explains why they dominate pretty much everywhere.
With internet booming in Africa and India getting into audio streaming platforms among other changes, expect next year's list to be different. Who's your bet for the #1 spot?