Creedence Clearwater Revival albums and songs sales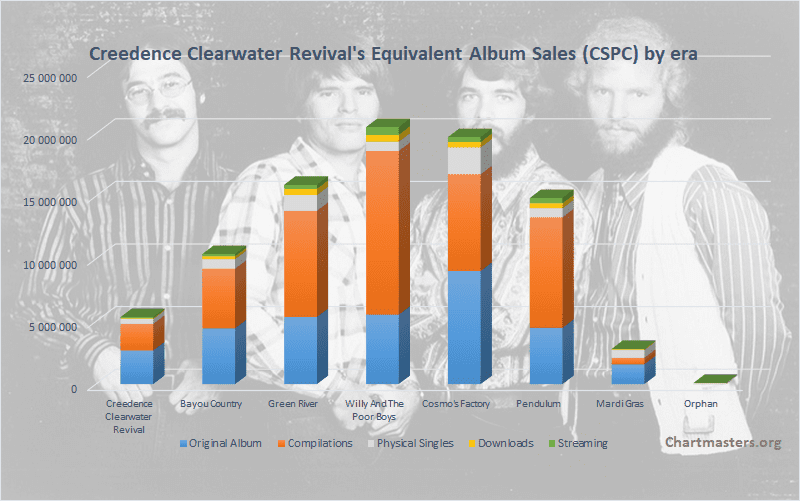 In 1970, the biggest band on Earth was no more the Beatles, nor it was Led Zeppelin. By then, the top selling rock group was Creedence Clearwater Revival, abbreviated CCR. Nowadays, they are nowhere near a household name as the former two though. So where is the truth, how much have they really sold? Are their songs as popular as they were upon release?
The band came and left as a comet. From mid-1968 to mid-1972 they dropped 7 studio albums and that was it. Their hey-days were even shorter since they amassed 5 long running Top 10 albums in the US over the curse of 17 months only. In a little more than 2 years, they smashed the Top 10 singles chart 9 times too.
The phenomenon wasn't only true in the US. The group's peak LP Cosmo's Factory shot to #1 there, but also in Canada, Australia, France, Germany, the UK, Sweden, Finland, among others. They got huge everywhere from Latin America to Asia to Russia to Zimbabwe.
Yet, the Billboard doesn't even list CCR among top 1970 artists. On Best Ever Albums, a critics-axed site which ranks incredibly high classic rock artists, no CCR album makes the all-time Top 200. While the likes Jimi Hendrix and the Doors always feature into Top 10 best rock acts, CCR are never there. Their name seems to be in good part forgotten in comparison to their contemporary artists, still their songs crush streaming platforms like very few do. How does this atypical situation reflect into equivalent album sales for the group?
As usual, I'll be using the Commensurate Sales to Popularity Concept in order to relevantly gauge their results. This concept will not only bring you sales information for all CCR's albums, physical and download singles, as well as audio and video streaming. In fact, it will also determine their true popularity.
If you are not yet familiar with the CSPC method, below is a nice and short video of explanations. I fully recommend watching it before getting into the sales figures. Of course, if you are a regular visitor feel free to skip the video and get into the numbers directly.
The Commensurate Sales to Popularity Concept (CSPC)
There are two ways to understand this revolutionary concept. In the first place, there is this Scribe video posted below. If you are unaware of the CSPC method, you will get the full idea within just a pair of minutes.
If you are a mathematical person, and want to know the full method as well as formulas, you can read the full introduction article.
Now let's get into the artist's sales figures in detail in order to apply this concept and define the act's true popularity!
Creedence Clearwater Revival's Album Sales

Original Album Sales – Comments
The popularity of the band grew album after album from their eponymous title to their career peak Cosmo's Factory. These LPs sold well over 5 million units in average with the latter closing at 9 million. By the time Pendulum came out tensions were already deconstructing the group. It was still a hit album with a very solid 4.5 million units sold mostly thanks to the smash Have You Ever Seen The Rain?.
Wait, I can already hear people stating these numbers are way under scores of the Beatles and Led Zeppelin albums from the same period. That's true if we look at up to date sales. Original albums of CCR failed to gain significant catalog sales since by 1972 the compilation Creedence Gold already destroyed their relevance, then the Diamond-selling 1976 best of Chronicle definitely ended their appeal. If we focus on sales during the promotional campaign, we would notice that Cosmo's Factory did just as well or better than the Beatles' Let It Be and Led Zeppelin's III. This highlights the magnitude of their success.
Then with the departure of Tom Fogerty and the acceptance of the real band force John Fogerty to step back, allowing the last two members to write songs on it, Mardi Gras flopped badly. The fact that nobody died young, that the band disintegrated by itself, may explain why they have never got that iconic aura many members of the Club 27 have.
Nevertheless, their total of over 33 million sales from 7 studio albums issued in such a short period is still highly respectable.
Creedence Clearwater Revival's singles sales

Physical Singles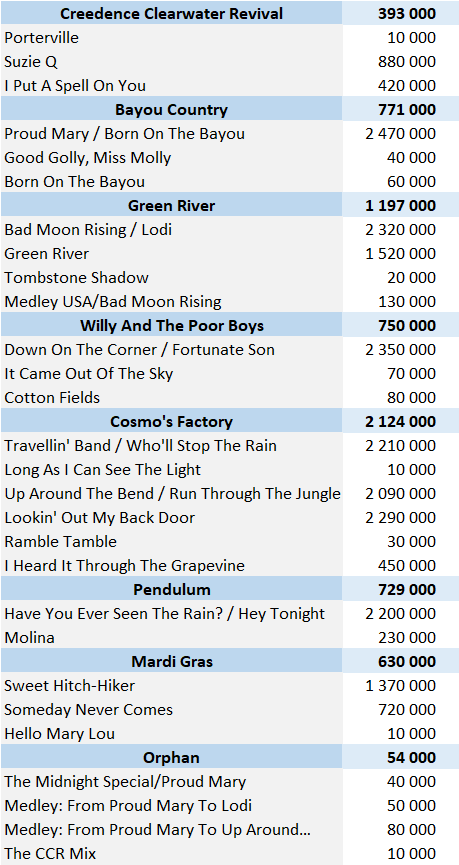 As a reminder, the weighting is done with a 10 to 3 ratio between one album and one physical single.
If the career of CCR was already intense albums-wise, you can imagine the madness in terms of singles. In 1969/1970, they've got 7 consecutive Top 4 hits in the US, 5 of which peaked at #2. While it's huge, their performances got limited by their proportionally low airplay. In both Cash Box and Record World, which weighted sales higher, they did got chart toppers, as many as 3 in the latter magazine.
Before that string of hits, they managed the #11 single Suzie Q in 1968, their first to become a popular song. It sold 880,000 units, 3/4th of which in the US. I Put A Spell On You couldn't go higher than #58 locally and did next to nothing abroad, but numerous later reissues, including in the Netherlands and in Japan, raised its total to a respectable 420,000 units sold.
If they got known with Suzie Q, their first huge crossover smash was undoubtedly Proud Mary. A #2 hit in the US / #1 according to Record World, it also topped charts in South Africa and Austria while going Top 10 in most other countries including the UK (#8), Australia (#5), and Germany (#4). It broke the million mark both nationally and abroad to reach 2.47 million worldwide. This was the only song issued from Bayou Country as Green River soon arrived. Minor releases came out for two more songs of the album in later years.
Green River was the first LP to receive a pair of proper singles, both of which smashed. Bad Moon Rising was their first (and last) UK #1 hit while hitting #2 in the US and Top 10 in almost all remaining markets from that time. It also made it past a million both in the US (1.3 million) and abroad. Then the title track did fairly less in the UK, stopped below a million in the US but got similar success elsewhere, ultimately selling over 1.5 million worldwide.
Double A single Down On The Corner / Fortunate Son kicked the next era perfectly with numbers in the same ballpark as Bad Moon Rising. It was their first Canadian #1 hit.
With one album coming out every 5 months a new LP immediately arrived, Cosmo's Factory. This LP was lucky enough to have time for 3 singles, all of which smashed. Who'll Stop The Rain, Up Around The Bend and Lookin' Out My Back Door all went to #1 in Canada, all made the Top 4 in the US while hitting Gold (although returns led Up Around The Bend to finish under a million US sales), all got to #1/Top 5 in most English speaking markets and all went Top 20 in places where they realized their worst performances. They moved over 2 million copies each.
Have You Ever Seen The Rain? may seem weaker than its predecessors. It broke the run of Top 5 hits in the US with a #8 peak. In truth, it peaked at #3 in both Cash Box and Record World. It shipped a million units, hitting Gold, although this single too failed to prove 1 million net sales when audited back in 1990. It was also a ground breaking hit in many countries, hitting the top in Germany, South Africa, Singapore, Malaysia, Zimbabwe, etc. It smashed in Latin America and in Scandinavia too. Incredibly enough, it hasn't got higher than #36 in the UK. It still sold 2.2 million globally, including a quarter million in Japan, their career best in this market.
Sweet Hitch-Hiker was their last traditional single. It was a very good Top 10 / 20 hit in most places, even if it sold a bit less than previous singles with 1.37 million copies. Songs Molina and Someday Never Comes were already issued after their initial run, same for I Heard It Through The Grapevine.
At the end of the story, the group moved more than 22 million singles in a little more than 3 years. All their real releases smashed hard, each selling from 1.5 to 2.5 million units. We can also highlight how most of their studio albums sold various millions in spite of promotional campaigns truncated to one single only.
After their break up there is also several EPs which came out, most notably in Japan and Russia. They add for over 240,000 units sold, including the top performer Bad Moon Rising, a Japanese release from 1973.
Digital Singles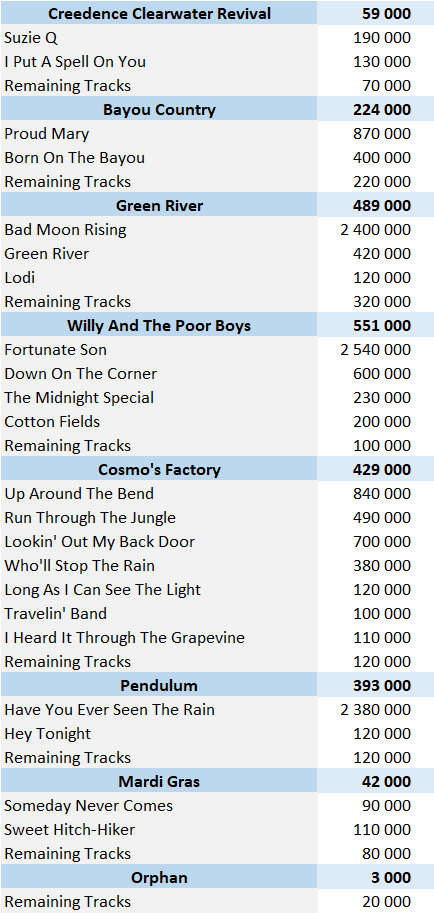 As a reminder, the weighting is done with a 10 to 1,5 ratio between one album and one digital single.
Suzie Q and I Put A Spell On You are both critics favorites but they haven't found that much lovers among music fans. They both top 6 digits in digital sales without going much higher.
The second album Bayou Country was arguably bigger than the debut record, so are its songs. Proud Mary is the fourth biggest song of the group in various markets although it isn't as strong in the US. With 870,000 downloads and ringtones, it is a solid performer. Born On The Bayou is fairly decent too at 400,000 sales.
The 3rd effort Green River includes the first huge digital hit of the band. It's Bad Moon Rising. It isn't their most popular in various regions of the world like in Asia, but in English-speaking countries this song is a stunning smash. All in all, it adds for 2.4 million sales. The 420,000 units of the title track pale in comparison.
A second big hit emerges inside Willy And the Poor Boys. That's the iconic protest song Fortunate Son with 2.54 million sales. Its usage in Forrest Gump cemented its catalog appeal that now shines nearly everywhere. Down On The Corner has sold 600,000 units on its side.
Ironically, Cosmo's Factory, CCR's top seller in original album format, fails to include one of the top 3 hits. It does include as many as 7 mid-range successes. Big ones are Up Around The Bend and Lookin' Out My Back Door. Former huge smash Who'll Stop The Rain is now nowhere near as strong yet.
Their trio of fantastic hits is completed by Pendulum's extract Have You Ever Seen The Rain?. Another title used again and again in movies and TV series, this song has been growing extensively since its first release. Back then, it wasn't so successful in some large markets, actually ending up as a step back in comparison to singles of Cosmo's Factory. Right now it's hard to deny its status of mega hit. The song also happens to be their biggest by far in most Asian countries.
Less well received upon release, Someday Never Comes and Sweet Hitch-Hiker do no miracle in downloads. The career total of the band falls just under 15 million downloads and ringtones, a respectable number although somewhat lower than expected. It has to be said that their catalog is very short with a mere 65 different titles available for download plus a few pre-CCR unknown songs.
Streaming
Streaming is made up of audio and video streams. Our CSPC methodology now includes both to better reflect the real popularity of each track. The main source of data for each avenue is respectively Spotify and YouTube. As detailed in the Fixing Log article, Spotify represents 157 million of the 272 million users of streaming platforms, while YouTube is pretty much the only video platform generating some revenue for the industry. Below is the equivalence set on the aforementioned article:
Audio Stream – 1500 plays equal 1 album unit
Video Stream – 11,750 views equal 1 album unit
Equivalent Albums Sales (EAS) = 272/157 * Spotify streams / 1500 + YouTube views / 11750
Top Hits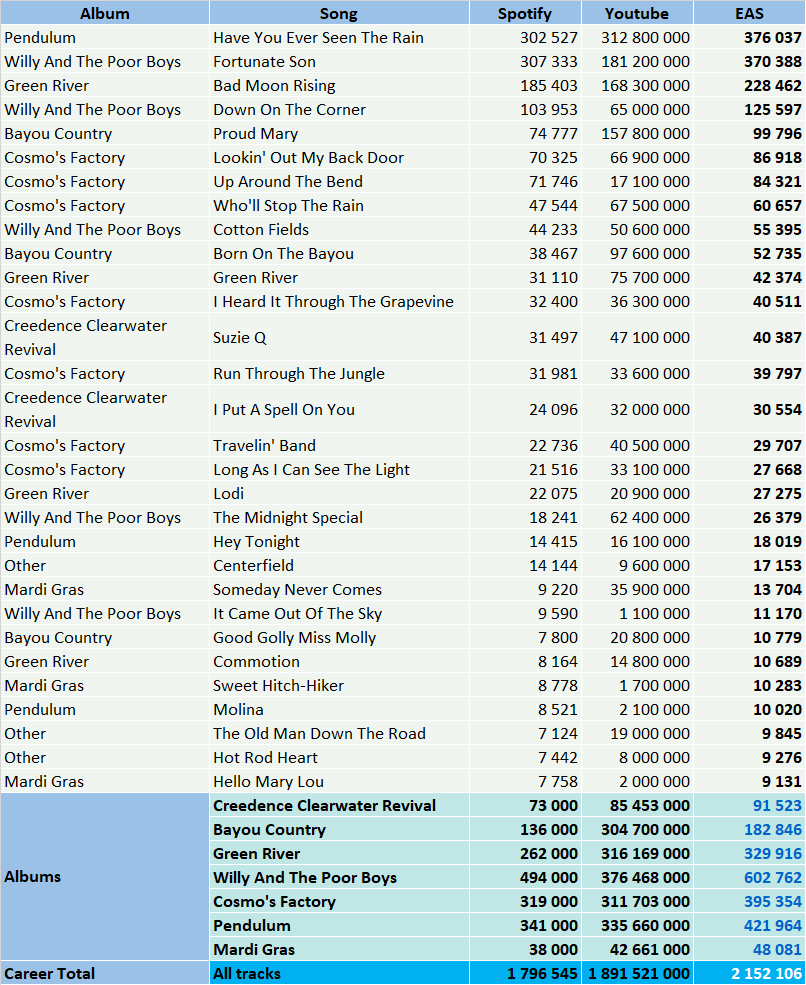 Bang! Now that's what I call a Top 3. CCR record 3 insanely successful songs in streaming platforms. It's a virtual tie between Have You Ever Seen The Rain and Fortunate Son. Both recently crushed past 300 million on Spotify while their YouTube views are also huge. They do give a slight edge to the former song. Bad Moon Rising would have been the biggest hit of many acts with its 228,000 EAS from streams but has to settle for #3. The magnitude of these hits explain why compilations of the band have been selling so well for so long.
Additional songs can't be overlooked either. Down On The Corner is also over 100 million on Spotify while Proud Mary tops this number on YouTube. It's a matter of time before it becomes the group's 5th song in 9 digits on Spotify too. Both Lookin' Out My Back Door and Up Around The Bend are just as high. They may all break 100 million during the year 2019.
After these leading songs there is a bulk of a dozen of singles with 20-50 million streams on Spotify a piece. That's huge, especially considering the tiny size of the group's catalog. Basically, a third of their songs are well remembered. A trademark of this consistency is the fact that 2 songs from each of their first 6 albums are charted inside their Top 20.
Logically, their albums also perform well once all tracks are added in. Willy And The Poor Boys leads the way with a very healthy 603,000 EAS, but Pendulum, Cosmo's Factory and Green River are all inside the 3-400,000 EAS range too.
Full catalog breakdown
If you are familiar with the artist's catalog and want to check details of each and every song, you can access to all of them right here.
Creedence Clearwater Revival's compilations sales
It sounds fairly logical to add together weighted sales of one era – studio album, physical singles, downloads, streams – to get the full picture of an album's popularity. For older releases though, they also generate sales of various live, music videos and compilation albums.
All those packaging-only records do not create value, they exploit the value originating from the parent studio album of each of its tracks instead. Inevitably, when such compilations are issued, this downgrades catalog sales of the original LP. Thus, to perfectly gauge the worth of these releases, we need to re-assign sales proportionally to its contribution of all the compilations which feature its songs. The following table explains this method.
The distribution process

How to understand this table? If you check for example the Chronicle, Vol 1, these figures mean it sold 15,130,000 units worldwide. The second statistics column means all versions of all the songs included on this package add for 1,763,145 equivalent album sales from streams of all types.
The second part on the right of the table shows how many equivalent streams are coming from each original album, plus the share it represents on the overall package. Thus, streaming figures tell us songs from the Willy And The Poor Boys album are responsible for 28% of the Chronicle, Vol 1 track list attractiveness. This means it generated 4,256,000 of its 15,130,000 album sales and so forth for the other records. We then apply this process to all compilations present on below table.
Compilations sales figures listing

The music genre of Led Zeppelin and the timeframe of their golden years was somewhat comparable to those of CCR, but the way both catalogs were exploited was and still is completely different. The former group had no best of issued whatsoever until the 90s which enabled their original albums to keep selling well and ultimately the general public to get familiar with various album cuts, something that gives them healthy streams nowadays.
For CCR, compilations arrived as soon as they disbanded. Gold came out in late 1972, a few months after the release of Mardi Gras, their last studio effort. More Gold followed a mere 6 months later. Wait again 5 months, and it was time for their live set In Europe to be available. This flood of compilations never ended, climbing to over 150 releases up to date.
Naturally, these albums killed catalog sales of the original LPs, but they also added millions between them. The prime example is the 15-million seller Chronicle. It is light years ahead of remaining compilations, especially since most of them were released in a limited number of markets.
The exploitation of their catalog took a surprising turn in 1995. That year, former members Stu Cook and Doug Clifford formed the band Creedence Clearwater Revisited. Please note how Revisited replaced Revival. The point was to do some shows here and there, with John Fogerty, former leader and main composer / songwriter of the band, refusing to join them back. The last member, Tom Fogerty, had passed away in 1990. Quickly, the success of their concerts prompted the new duo to make it a real business, extensively touring year after year.
In the meantime, Fogerty sued them because of the highly misleading band name, but legally speaking it was a new name, so Revisited got the green light to continue milking CCR's catalog. In 1998 they did a step further, issuing a live album promoted as a proper compilation of the former group, Recollection. Fogerty, who was refusing to play CCR music for long, saw how his own catalog was being exploited without his input and dropped Premonition, a live album containing various CCR renditions, the exact same day as Recollection. He continued to claim back his due with 2005's The Long Road Home, another CCR-axed live set. He then titled his new studio effort Revival. The group Revisited attacked back in 2010 with Extended Versions, then Fogerty again with new duet versions of the same songs too through the album Wrote A Song For Everyone. The Playlist series compilation of the group, issued in 2016, actually uses material of the group Revisited instead of the original CCR songs.
In total, these releases moved nearly 4 million units in the US alone. They have been included into CCR numbers. At the end of the day, they exploit the catalog of the group and they use misleading titles to sell on the back of the group's fame too. Also, plenty of rock bands changed of line up, or even slightly of name over years, so these recent live / reworked versions are no different than usual remix albums of other acts.
As a bonus, below is the breakdown of their top selling compilation.

Full Length related records Sales – Summary

Here is the most underestimated indicator of an album's success – the amount of compilation sales of all kinds it generated. Due to the dependency of sales of the original studio albums on these releases, they are a key piece of the jigsaw. These numbers are obtained by applying the method from the section The distribution process to all packages listed under Compilation sales figures listing category.
If Cosmo's Factory was easily the top seller back in the day thanks to good timing around the peak of their hype and multiple singles, Green River, Willy And The Poor Boys, and Pendulum appear to be doing just as well for their catalog, in fact they all do even better than the 1970 classic. Willy And The Poor Boys is the leader of the pack having fueled an impressive 13 million sales of compilations and live sets.
Total Album (all types) Sales per Country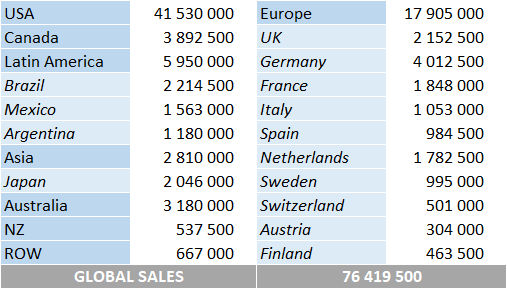 Please note country-specific numbers may miss sales of a few minor releases, although totals are complete.
Creedence Clearwater Revival Career CSPC Results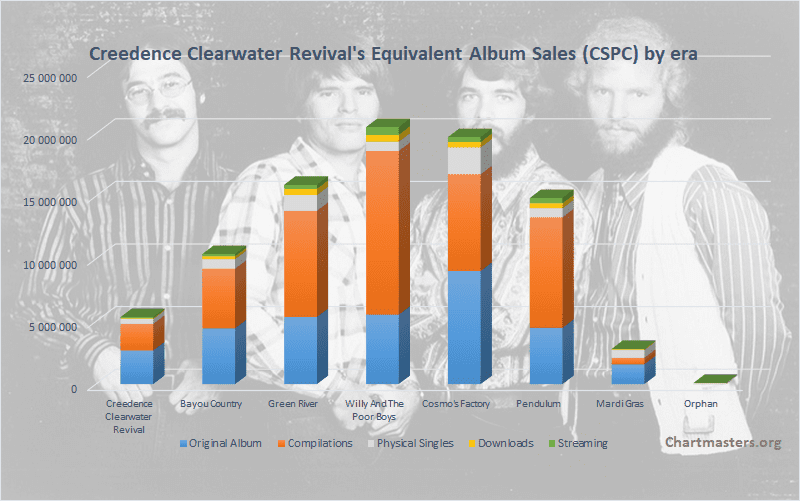 So, after checking all the figures, how many overall equivalent album sales has each album by CCR achieved? Well, at this point we hardly need to add up all of the figures defined in this article!
Albums CSPC results
In the following results table, all categories display figures in equivalent album sales. If different, pure sales are listed between parentheses.
| artist_spotify_id | # | Cover | Album | Studio albums (EAS) | sales_update_date | Other LPs (EAS) | Physical singles (units sold) | Digital singles (units sold) | Streams | Streams increase | Total EAS | valid_as_of | streams_updated_value | album_id |
| --- | --- | --- | --- | --- | --- | --- | --- | --- | --- | --- | --- | --- | --- | --- |
| 3IYUhFvPQItj6xySrBmZkd | 1 | | Creedence Clearwater Revival | 2,695,000 | 31.01.19 | 2,127,000 | 394,000(1,312,000) | 59,000(390,000) | 286,000 (09/30/23) | Av.: 110LD: 140 | 5,562,000 | 20,230,930 | 286,000 | 565 |
| 3IYUhFvPQItj6xySrBmZkd | 2 | | Bayou Country | 4,450,000 | 31.01.19 | 4,756,000 | 795,000(2,649,000) | 224,000(1,490,000) | 667,000 (09/30/23) | Av.: 280LD: 520 | 10,869,000 | 20,230,930 | 667,000 | 566 |
| 3IYUhFvPQItj6xySrBmZkd | 3 | | Green River | 5,360,000 | 31.01.19 | 8,465,000 | 1,270,000(4,235,000) | 489,000(3,260,000) | 1,305,000 (09/30/23) | Av.: 570LD: 1,130 | 16,891,000 | 20,230,930 | 1,305,000 | 567 |
| 3IYUhFvPQItj6xySrBmZkd | 4 | | Willy And The Poor Boys | 5,540,000 | 31.01.19 | 13,069,000 | 748,000(2,493,000) | 551,000(3,670,000) | 2,107,000 (09/30/23) | Av.: 880LD: 1,620 | 22,017,000 | 20,230,930 | 2,107,000 | 568 |
| 3IYUhFvPQItj6xySrBmZkd | 5 | | Cosmo's Factory | 9,030,000 | 31.01.19 | 7,722,000 | 2,142,000(7,140,000) | 429,000(2,860,000) | 1,403,000 (09/30/23) | Av.: 590LD: 1,290 | 20,728,000 | 20,230,930 | 1,403,000 | 569 |
| 3IYUhFvPQItj6xySrBmZkd | 6 | | Pendulum | 4,490,000 | 31.01.19 | 8,821,000 | 664,000(2,213,000) | 393,000(2,620,000) | 1,698,000 (09/30/23) | Av.: 750LD: 1,620 | 16,136,000 | 20,230,930 | 1,698,000 | 570 |
| 3IYUhFvPQItj6xySrBmZkd | 7 | | Mardi Gras | 1,570,000 | 31.01.19 | 522,000 | 630,000(2,100,000) | 42,000(280,000) | 161,000 (09/30/23) | Av.: 70LD: 80 | 2,926,000 | 20,230,930 | 161,000 | 571 |
| 3IYUhFvPQItj6xySrBmZkd | 8 | | Orphan | 0 | 31.01.19 | 7,000 | 72,000(240,000) | 3,000(20,000) | 12,000 (01/31/19) | N/A | 94,000 | 20,230,930 | 12,000 | 1,646 |
'Av.' stands for Average, 'LD' for Last Day.
As a reminder:
Studio Album: sales of the original album
Other Releases: sales of compilations generated thanks to the album
Physical Singles: sales of physical singles from the album (ratio 3/10)
Download Singles: sales of digital singles from the album (ratio 1,5/10)
Streaming: equivalent album sales of all the album tracks (ratio 1/1500 for Audio stream and 1/6750 for Video stream)
See where the artist ranks among remaining singers
A wave! The trajectory of CCR is really that, a big, intense wave that strikes you and disappears. Obviously, Fogerty issued many more albums afterwards, but the group's history was said and done by 1972.
Their debut album lacks a real hit, especially once competing with the super performers of their later efforts among compilations. Logically, it isn't their biggest force, although over 5 million EAS is nothing to be ashamed of, especially for an album that never made the Top 50 in the US.
The group gained traction with Bayou Country, their first Top 10 album which included the big hit Proud Mary. It sold over 4 million copies on its own, generated just as many compilation and added more sales from singles formats, enough to hit a very nice 10 million total.
Not all major selling acts have 10-million selling eras. CCR do, but they were still increasing their profile by then. The third album did in fact nearly 16 million EAS in total, a tremendous figure for 1969 standards. It places just behind the very top albums of that era, the big hit LPs of the top classic rock sellers.
CCR still managed to top themselves with follow up album Willy & The Poor Boys. All told, this record has now powered more than 20 million EAS. The band achieves the incredible feat of issuing 3 proper studio albums that each produced more than 10 million EAS in a single calendar year. Indeed, the group's 1969 catalog is responsible for over 46.8 million sales. Since the 50s to date, in only 18 years has a music artist released recordings as worthy as that, 5 of which were recorded by the Beatles. The fab four is precisely the top performing act from 1969 with 59.8 million sales generated, ahead of Led Zeppelin's 57.8 million. The figure of CCR would have been enough to be the #1 act of both 1968 and 1970 yet. Nevertheless, getting so close to these two giants' hey-days is very telling.
On top of that, they weren't done by 1969. In 1970, they smashed with back to back albums Cosmo's Factory, near 20 million EAS to date, and Pendulum, up to almost 15 million. This makes them the biggest artist of that year with 34.6 million. They edge out Simon & Garfunkel at 32.9 million, the Beatles at 26.5 million, Elton John at 22.9 million, and Led Zeppelin at 19.7 million. If we add both years together, in one of the most competitive periods of all-time, CCR close at 81.3 million, as incredible as it seem second only to the Beatles who are just ahead at 86.2 million.
Their career was so short that the cumulative total of 89.7 million EAS may make CCR look like one more rock band. Once we get into the details though, we can see how stunningly successful they have been while they lasted.
Singles CSPC results
The list is compiled in album equivalent sales generated by each song. Therefore, these figures are not merged units of singles formats. Instead, it includes weighted sales of the song's physical single, download, ringtone and streaming as well as its share among sales of all albums on which it is featured.
1. 1970 – Creedence Clearwater Revival – Have You Ever Seen The Rain [Pendulum] – 13,560,000
2. 1969 – Creedence Clearwater Revival – Fortunate Son [Willy And The Poor Boys] – 13,240,000
3. 1969 – Creedence Clearwater Revival – Bad Moon Rising [Green River] – 11,460,000
4. 1969 – Creedence Clearwater Revival – Proud Mary [Bayou Country] – 6,220,000
5. 1969 – Creedence Clearwater Revival – Down On The Corner [Willy And The Poor Boys] – 4,650,000
6. 1970 – Creedence Clearwater Revival – Lookin' Out My Back Door [Cosmo's Factory] – 4,590,000
7. 1970 – Creedence Clearwater Revival – Up Around The Bend [Cosmo's Factory] – 4,260,000
8. 1970 – Creedence Clearwater Revival – Who'll Stop The Rain [Cosmo's Factory] – 3,350,000
9. 1969 – Creedence Clearwater Revival – Born On The Bayou [Bayou Country] – 3,110,000
10. 1968 – Creedence Clearwater Revival – Suzie Q [Creedence Clearwater Revival] – 2,810,000
11. 1969 – Creedence Clearwater Revival – Green River [Green River] – 2,290,000
12. 1970 – Creedence Clearwater Revival – I Heard It Through The Grapevine [Cosmo's Factory] – 1,970,000
13. 1970 – Creedence Clearwater Revival – Run Through The Jungle [Cosmo's Factory] – 1,960,000
14. 1968 – Creedence Clearwater Revival – I Put A Spell On You [Creedence Clearwater Revival] – 1,740,000
15. 1970 – Creedence Clearwater Revival – Travelin' Band [Cosmo's Factory] – 1,680,000
If you feel inspired by this list, we just created this CSPC Creedence Clearwater Revival playlist on Spotify!

Discography results
Thanks to our new ASR (Artist Success Rating) concept, we know that their sales represent 40,8 million times the purchase of their entire discography. Coupled with their total sales, it translates into an ASR score of 343. This puts them just below bands like Nirvana and Metallica. The ranking of all artists studied so far is available too at this link.
Records & Achievements
At 46,814,000 EAS, Creedence Clearwater Revival's 1969 catalog is the 3rd most valuable of the year.
At 34,580,000 EAS, Creedence Clearwater Revival's 1970 catalog is the most valuable of the year.
Creedence Clearwater Revival released 5 10-million EAS performers in less than 2 years, the only act to ever do so.
At 307,333,000 streams on Spotify, Fortunate Son is the 3rd most played track of the 60s.
At 302,527,000 streams on Spotify, Have You Ever Seen The Rain? is the 10th most played track of the 70s.
Creedence Clearwater Revival is the only act to place a song among the Top 10 most streamed tracks of both the 60s and the 70s.
At 20,513,000 EAS, Willy And The Poor Boys is among the 10 most successful albums of 1969.
At 15,916,000 EAS, Green River is among the 10 most successful albums of 1969.
At 19,720,000 EAS, Cosmo's Factory is among the 10 most successful albums of 1970.
At 5, Creedence Clearwater Revival has the most Hot 100 #2s without ever reaching the top.
NB: EAS means Equivalent Album Sales.
You may be interested in…
… best-selling artists, albums, and singles
To improve your navigation we created several amazing cross-artists lists posted inside the CSPC: Data Collector article. Click on it to see the full listing of all CSPC results compiled so far!
… similar artists
To put figures from this article into perspective, click on the images below to reach career breakdowns of similar artists:
As usual, feel free to comment and / or ask a question!
Sources: IFPI, Spotify, YouTube, Discogs.