Cream albums and songs sales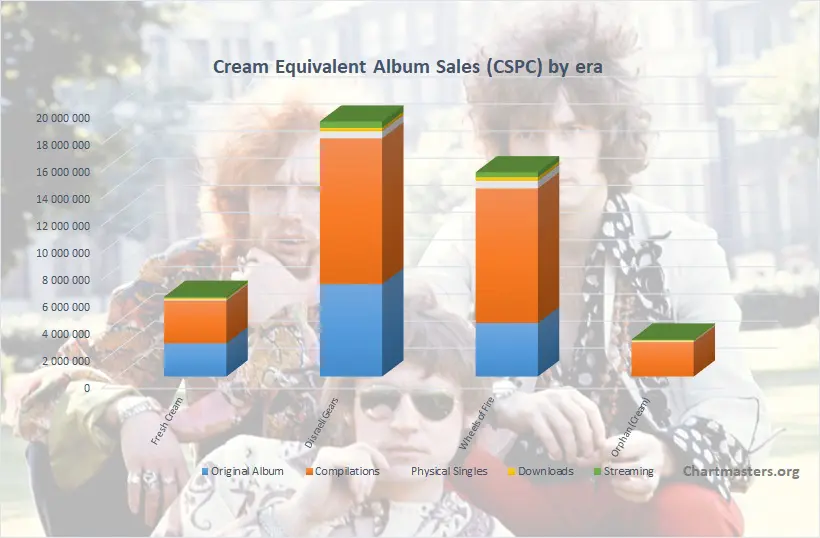 From 1966 to 1968, power trio Cream have been incredibly prolific and innovative with releases like Fresh Cream, Disraeli Gears, Wheels of Fire and Goodbye.
By the end of their run, their hype was massive, with their entire catalog charting high on both the US and the UK. As part of our Eric Clapton's career review, we study their sales figures in-depth from their debut to date.
Eric Clapton joined the Yardbirds in October 1963 and left in March 1965. After that first chapter, he joined John Mayall & the Bluesbreakers for two short stints from March 1965 to July 1966.
Once again, he left before the release of a hit record, this time the LP On Tour with Eric Clapton. A top 10 album in the UK, where the bassist was no other than future Fleetwood Mac member John McVie, the LP is also part of many critics' all-time top 500/1,000 albums lists. His replacement was also another future Fleetwood Mac member, Peter Green.
As it is explicitely credited to Clapton himself, we will dig into this album in his own CSPC article. That's why we jump to his third career page, Cream.
While not as famous as the guitarist, especially in the UK, bass player Jack Bruce and drummer Ginger Baker were also genius musicians, forming an impressive trio.
A few days after quiting their previous groups, they were already performing together, in 2 months and a half a single was out, and by early December 1966, their debut Fresh Cream was released as well.
Their definitive classic Disraeli Gears came out in November 1967, while Wheels of Fire, often quoted as the first ever double set to sell platinum, was released in June 1968.
By that point, the band had already decided to break up. A 4th set, Goodbye, promoted as a new album in early 1969, included only 3 new songs plus 3 live renditions from previous records. We are listing this release among side releases rather than proper studio efforts.
As usual, I'll be using the Commensurate Sales to Popularity Concept in order to relevantly gauge their results. This concept will not only bring you sales information for all Cream's albums, physical and download singles, as well as audio and video streaming. In fact, it will also determine their true popularity.
If you are not yet familiar with the CSPC method, below is a nice and short video of explanations. I fully recommend watching it before getting into the sales figures. Of course, if you are a regular visitor feel free to skip the video and get into the numbers directly.
The Commensurate Sales to Popularity Concept (CSPC)
There are two ways to understand this revolutionary concept. In the first place, there is this Scribe video posted below. If you are unaware of the CSPC method, you will get the full idea within just a pair of minutes.
If you are a mathematical person, and want to know the full method as well as formulas, you can read the full introduction article.
Now let's get into the artist's sales figures in detail in order to apply this concept and define the act's true popularity!
Cream Album Sales
Original Album Sales – Comments

Thanks to the #11 hit single I Feel Free, Cream debut album Fresh Cream was instantly successful in the UK, climbing to #6 in its first weeks.
In the US, the album took nearly 6 months to reach the Billboard 200 Album chart, 6 more months to get into the top 100, and it was almost 2 years old when it peaked at #39.
This reflects very well the growth of the band, which had members already seen as big ones in the UK, but had yet to convince rock fans in the US, something that they did in great fashion.
While Fresh Cream ended up as a nearly 2.5 million seller globally, Disraeli Gears was going to be their large scale breakthrough.
In the UK, the album quickly peaked at #5, and then went on to register 3 top 10 spells spread over 17 months. In the US, it climbed all the way to #7 after its release, and then re-peaked at #4 in the summer thanks to the success of Sunshine Of Your Love.
This LP was also more global, both in its early days and thanks to ongoing appeal, with heavy sales in Japan, and great success all over Europe. It sold 6.8 million copies to date.
The release of Wheels of Fire was kinda awkward, as the album was available through 3 formats: the double LP, and both discs issued individually, one with the live set and one with the studio songs.
Sales of almost 4 million units relate to the main double set, with separated discs listed lower down among compilations.
No need to say that 4 million for a double priced albums back then and with 1-LP discs available is very big. Despite the heavy competition of 1968, the record was #1 for 4 weeks in the US, while both the double disc and the studio set went top 10 in the UK, at #3 and #7, respectively.
They milked this outstanding popularity with the additional release Goodbye, a UK #1 and US #2 effort. This 2.4 million seller is listed among compilations.
All these numbers could have been higher, but only a few months later they were replaced on most shelves by their compilation The Best of Cream, which was another big hit (UK #6 and US #3).
Cream songs sales
Below, we list down results from the artist through physical sales, digital sales and streaming.
Please be aware that when the artist is regarded as the lead act, he is rewarded with 100% of these units, while featured acts share among them a 50% piece of the totals.

Physical Singles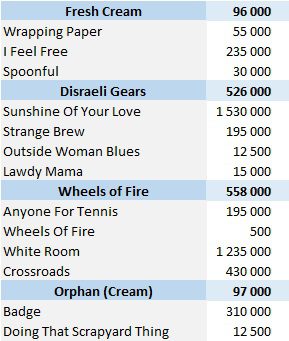 As a reminder, the weighting is done with a 10 to 3 ratio between one album and one physical single.
Cream issued their first UK single Wrapping Paper in October 1966, it was a moderate #34 hit.
I Feel Free went higher, at #11, while bubbling under the Hot 100 in the US. It sold 235,000 copies.
Surprisingly, this #11 peak remains the group's top performing single in their homeland.
Strange Brew went to #17 and did decently across Europe, while failing to chart in the US. It sold below 200,000 units.
To turn things around in the US, the band issued Sunshine of Your Love. It did well, peaking at #36 on a 14-weeks run.
By May 1968, half a year after the release of Disraeli Gears, they started to move forward, issuing the Anyone For Tennis, the theme of the movie The Savage Seven, again with a moderate impact (UK #40, US #64).
At that point, when the band had already broke up internally, Sunshine of Your Love got a second breath. Promoted back, the track went all the way up to #5 in the US during the summer of 1968, selling over a million in the process. In September, the song was issued at last in the UK, peaking at #25 while catapulting the album back up on charts.
At 1.5 million global sales, it remains their strongest seller in physical format. Eric Clapton did it again, quiting for the third time in a raw a project before it turned really successful.
In late 1968 / early 1969, White Room came out. It was another hit in the US, hitting #6, while stalling at #28 in the UK. There, their reputation inside the rock community led buyers to pick their albums instead of their singles. White Room also cracked the million mark.
Crossroads, at over 400,000 units, and Badge, at over 300,000 sales, completed their main releases.
The latter, which went to #18 in the UK, was a collaboration with George Harrison, who returned the favor to Eric Clapton after his iconic guitar playing on the Beatles' While My Guitar Gently Weeps.
In total, over the course of a mere 2 years they sold 4.25 million units with their singles.
Digital Songs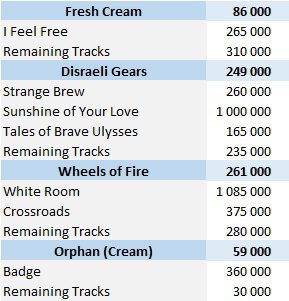 As a reminder, the weighting is done with a 10 to 1.5 ratio between one album and one digital single.
The most downloaded tracks from the band are in line with their initial impact in the US.
Both top 10 hits Sunshine of Your Love and White Room are million sellers, which is pretty solid for 60s songs.
In the 260,000-375,000 range are nearly all their remaining singles, I Feel Free, Strange Brew, Crossroads, and Badge.
Not to far behind is Tales of Brave Ulysses. Originally the b-side of Strange Brew, it became a popular song on its own.
At 4.4 million, the band sold slightly more downloads than physicals in single format.
Streaming
Streaming is made up of audio and video streams. Our CSPC methodology includes both to better reflect the real popularity of each track. The main source of data for each avenue is respectively Spotify and YouTube. To factor in the growing impact of multiple Asian countries where these platforms aren't always the go-to site for music streaming, more sources have been added.
In order to account for their real popularity in each relevant country, the below sources have been used along with the mentioned ratios that reflect the market share of each area.
Audio Streams
– South Korea: Genie streams * 2.20 (consistent with Gaon streaming numbers)
– Japan: AWA streams * 68 / 4 (AWA has 4% of the Japanese streaming market, and 32% are already considered through Spotify's extrapolation)
– Arabic world: Anghami streams
– Sub-Saharan Africa: Boomplay + Audiomack streams
– Elsewhere: Spotify streams * 649 / 406 (649 million subscribers of global platforms like Spotify, Apple Music, Amazon Music, YouTube Music, Deezer, etc. against 406 million from Spotify itself) + Genie streams * 2.20 (uses Genie rather than Spotify to extrapolate markets like Taiwan, Thailand and Vietnam)
Video Streams
– China* : QQ video streams * 50 if the song is available for audio stream, QQ video streams * 5 elseway (scale built based on known figures for several major artists)
– Elsewhere : Youtube views increased by 10% to account for various local platforms
*since Chinese streaming platforms are mostly video streaming platforms, their streams are weighted on par with YouTube streams.
Audio Stream value – 1,500 plays equal 1 album unit
Video Stream value – 6,750 views equal 1 album unit
Equivalent Albums Sales (EAS) = ( Spotify * 649/406 + Genie * 2.20 * 2 + AWA * 68 / 4 + Anghami + Boomplay + Audiomack ) / 1500 + ( QQ views* 50(or 5) + YouTube * 1.1 ) / 6750
Top Hits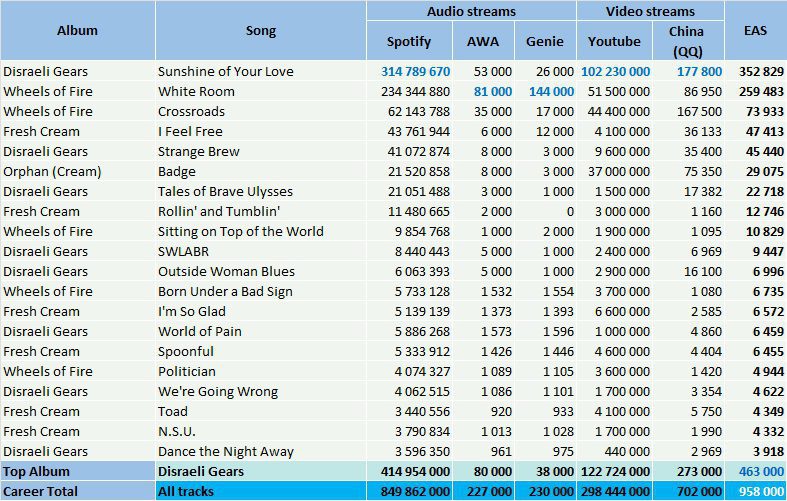 Sunshine of Your Love kicks with one of these guitar riffs that instantly strikes you, that you recognize from the very first note. It's no wonder to see its superb streaming results.
With 315 million streams on Spotify and over 100 million on YouTube, it's one of the earliest songs to reach this level of success on streaming platforms. This converts into over 350,000 equivalent album sales.
White Room is not too far behind, with impressive figures on its own too. The track stands at 234 million streams on Spotify and over 50 million on YouTube, while being Cream's top song in Japanese and Korean platforms.
Just like with downloads, the top 2 has a solid lead over remaining tracks.
There are still some consistent numbers. Crossroads records nearly 75,000 equivalent album sales, while both I Feel Free and Strange Brew are closing in 50,000 units.
The strongest album is Disraeli Gears with a total approaching half a million sales, while their career total is now close to a million.
Full catalog breakdown
If you are familiar with the artist's catalog and want to check details of each and every song, you can access to all of them right here.
Keep yourself up to date
Our website provides you a fantastic tool which fetchs updated Spotify streams as you request them, use it to watch these results grow day after day!
Cream compilations sales
It sounds fairly logical to add together weighted sales of one era – studio album, physical singles, downloads, streams – to get the full picture of an album's popularity. For older releases though, they also generate sales of various live, music videos and compilation albums.
All those packaging-only records do not create value, they exploit the value originating from the parent studio album of each of its tracks instead. Inevitably, when such compilations are issued, this downgrades catalog sales of the original LP. Thus, to perfectly gauge the worth of these releases, we need to re-assign sales proportionally to its contribution of all the compilations which feature its songs. The following table explains this method.
The distribution process
How to understand this table? In the example of Strange Brew – The Very Best Of Cream, these figures mean it sold 2,210,000 units worldwide. The second statistics column means all versions of all the songs included on this package add for 859,660 equivalent album sales from streams of all types.
The second part on the right of the table shows how many equivalent streams are coming from each original album, plus the share it represents on the overall package.
Thus, streaming figures tell us songs from the Disraeli Gears album are responsible for 50% of Strange Brew – The Very Best Of Cream track list attractiveness. This means it generated 1,107,000 of its 2,210,000 album sales and so forth for the other records. We then apply this process to all compilations present on the table.
Compilations sales figures listing

This list contains every compilation, live set, music video, EP that feature songs from Cream and aren't multi-artist packages.
Obviously, not all these sales are attributed to them. For example, on albums titled The Cream of Eric Clapton, only the share fueled by their songs are accounted into their sales, while the rest will be distributed among remaining acts like Blind Faith, or Eric Clapton himself.
Full Length related records Sales – Summary

Here is the most underestimated indicator of an album's success – the amount of compilation sales of all kinds it generated.
Due to the dependency of sales of the original studio albums on these releases, they are a key piece of the jigsaw.
These numbers are obtained by applying the method from the section The distribution process to all packages listed under Compilation sales figures listing category.
Numbers listed here are absolutely phenomenal.
The band owns no less than 6 live and compilations with sales over a million, but their catalog has also been used to push sales of Eric Clapton's own live and compilation releases, where their place is significant.
Had their catalog remained split, chances are that Cream prime compilations would be 5 to 10 million sellers rather than standing at 2 million. Thanks to the CSPC method, we can now reveal their real strength.
Fresh Cream is responsible for over 3 million sales, while orphan tracks, mainly Badge, powered 2.5 million units.
The biggies yet are both Disraeli Gears and Wheels of Fire, with unbelievable statistics as they secure 10.6 million and 9.8 million sales, respectively. Their initial chart success was no fluke, these are super popular albums.
Bonus: best-selling compilations' breakdowns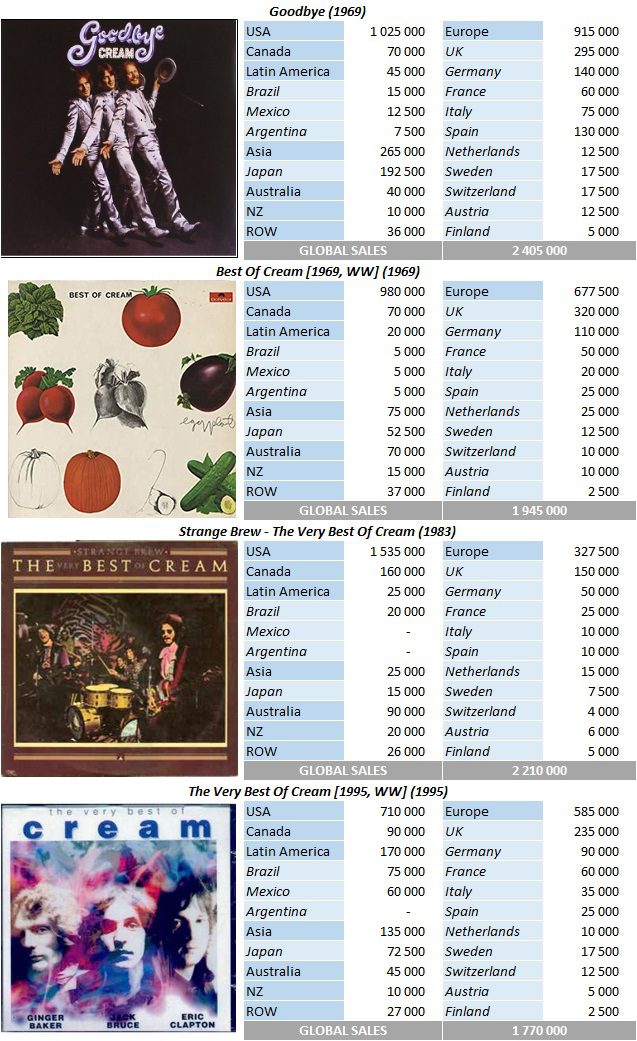 Total Album (all types) Sales per Country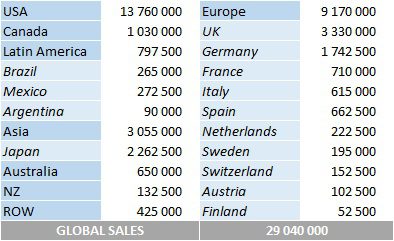 Please note country-specific numbers may miss sales of a few minor releases, although totals are complete.
Cream Career CSPC Results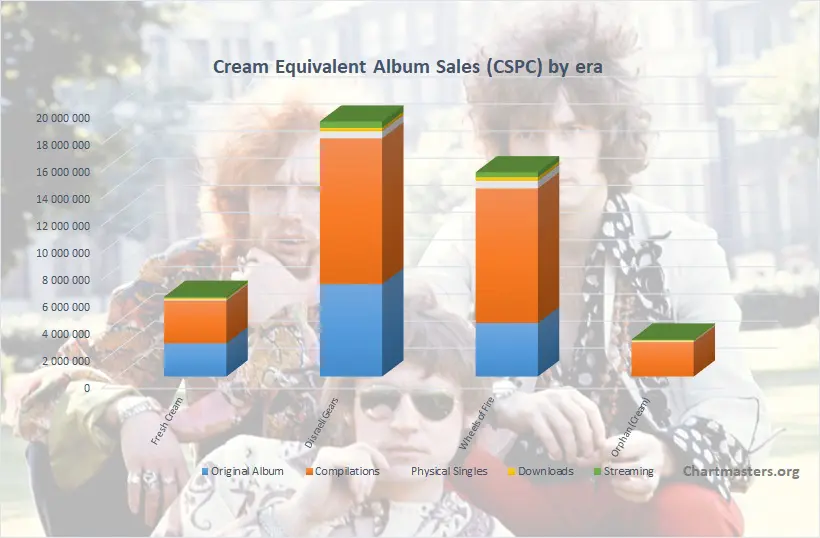 So, after checking all the figures, how many overall equivalent album sales has each album by Cream achieved? Well, at this point we hardly need to add up all of the figures defined in this article!
Albums CSPC results
In the following results table, all categories display figures in equivalent album sales. If different, pure sales are listed between parentheses.
| artist_spotify_id | # | Cover | Album | Studio albums (EAS) | sales_update_date | Other LPs (EAS) | Physical singles (units sold) | Digital singles (units sold) | Streams | Streams increase | Total EAS | valid_as_of | streams_updated_value | album_id |
| --- | --- | --- | --- | --- | --- | --- | --- | --- | --- | --- | --- | --- | --- | --- |
| 74oJ4qxwOZvX6oSsu1DGnw | 1 | | Fresh Cream | 2,445,000 | 21.09.22 | 3,130,000 | 71,000(235,000) | 86,000(580,000) | 111,000 (09/27/23) | Av.: 50LD: 90 | 5,868,000 | 20,230,927 | 111,000 | 2,020 |
| 74oJ4qxwOZvX6oSsu1DGnw | 2 | | Disraeli Gears | 6,810,000 | 21.09.22 | 10,610,000 | 518,000(1,725,000) | 249,000(1,660,000) | 564,000 (09/27/23) | Av.: 270LD: 280 | 18,759,000 | 20,230,927 | 564,000 | 2,021 |
| 74oJ4qxwOZvX6oSsu1DGnw | 3 | | Wheels of Fire | 3,945,000 | 21.09.22 | 9,823,000 | 500,000(1,665,000) | 261,000(1,740,000) | 429,000 (09/27/23) | Av.: 160LD: 180 | 15,016,000 | 20,230,927 | 429,000 | 2,022 |
| 74oJ4qxwOZvX6oSsu1DGnw | 4 | | Orphan (Cream) | 0 | 21.09.22 | 2,530,000 | 93,000(310,000) | 59,000(390,000) | 32,000 (09/21/22) | N/A | 2,718,000 | 20,230,927 | 32,000 | 2,023 |
'Av.' stands for Average, 'LD' for Last Day.
As a reminder:
Studio Album: sales of the original album
Other Releases: sales of compilations generated thanks to the album
Physical Singles: sales of physical singles from the album (ratio 3/10)
Download Singles: sales of digital singles from the album (ratio 1,5/10)
Streaming: equivalent album sales of all the album tracks (ratio 1/1500 for Audio stream and 1/6750 for Video stream)
See where the artist ranks among remaining singers
Cream followed their own template, with only 3 members, and last for barely 2 years. Yet, their catalog adds for 42.4 million equivalent album sales.
The trio managed to outdo by far results of their previous bands like the Yardbirds, John Mayall & the Bluesbreakers, Blues Incorporated, and The Graham Bond Organisation.
It all started with Fresh Cream, which now stands at 5.9 million units through every sales metric put together.
If the influence of the band and its members was already amazing, they joined elite sellers thanks to Disraeli Gears. Once everything is considered, the album climbs up to 18.7 million to make it one of the most successful album from the 60s.
They replicated this success with the follow up effort, Wheels of Fire, which records 15.0 million sales.
Tracks released outside of these albums combine for 2.7 million sales as well.
Singles CSPC results
The list is compiled in album equivalent sales generated by each song. Therefore, these figures are not merged units of singles formats. Instead, it includes weighted sales of the song's physical single, download, ringtone and streaming as well as its share among sales of all albums on which it is featured.
1. 1967 – Cream – Sunshine of Your Love [Disraeli Gears] – 15,390,000
2. 1968 – Cream – White Room [Wheels of Fire] – 9,690,000
3. 1968 – Cream – Crossroads [Wheels of Fire] – 3,660,000
4. 1969 – Cream – Badge [Orphan (Cream)] – 2,610,000
5. 1966 – Cream – I Feel Free [Fresh Cream] – 2,220,000
6. 1967 – Cream – Strange Brew [Disraeli Gears] – 1,440,000
7. 1966 – Cream – Rollin' and Tumblin' [Fresh Cream] – 1,330,000
If you feel inspired by this list, we just created this CSPC Cream playlist on Spotify!
Discography results
Thanks to our new ASR (Artist Success Rating) concept, we know that their sales represent 38.92 million times the purchase of their entire discography. Coupled with their total sales, it translates into an ASR score of 230.
The ranking of all artists studied so far is available too at this link.
Records & Achievements
At 18,658,000 EAS, Disraeli Gears is the 5th most successful albums from 1967.
At 14,956,000 EAS, Wheels of Fire is the 5th most successful album from 1968.
At 15,390,000 EAS, Sunshine of Your Love is the most successful song from 1967.
At 15,390,000 EAS, Sunshine of Your Love is the 7th most successful song from the 60s.
At 9,690,000 EAS, White Room is the 5th most successful song from 1968.
NB: EAS means Equivalent Album Sales.
Dynamic Spotify Key Performance Indicators
Please note that numbers below are retrieved automatically, so they will evolve day by day unlike previously listed data which is valid as of the publication date of the article.
Cream
Current followers count: 2,238,620
2,000,000 followers have been reached on 09/21/22
>> Daily breakdown
Current streams count: 984,999,904
100,000,000 streams have been reached on 08/28/23
>> Daily breakdown
Cream is #1765 among the most streamed artists of all-time Popularity Rating: /100
>> Visit our Top 1,000 most streamed artists ranking
>> Visit our Top 20 highest rated artists ranking
Current monthly listeners: 4,911,520
(Trend:
-82,588
)
Global chart position: N/A
The artist top 50 cities come from
19 distinct countries
>> Global impact breakdown
As usual, feel free to comment and / or ask a question!
Sources: IFPI, Spotify, YouTube, Discogs.
You may be interested in…
… our Eric Clapton series
… best-selling artists, albums, and singles
We have created amazing cross-artists tops. Click to see all CSPC and raw sales results compiled so far!
… similar artists
To put figures into perspective, click to reach career breakdowns of classic rock artists: