Go through music industry's amazing journey
THE NEW GLOBAL MAP
If there is one thing that never changed before streaming is the distribution of markets. The music industry remained dominated by English-speaking countries and then developed markets. Basically, the music industry got most of its revenues from North America, Europe and Japan. Streaming will completely changing this situation.
China to challenge the US?
Now that's the big question. China has always been a non-factor of the music industry. Their market is filled with piracy since decades. Internet connections and smartphones revolutionized their background though. Streaming is now bringing more and more revenues every year.
The increase of the market has been insane. From 21st market in the world in 2013, it increased to 19 to 14 to 12 to 10. It went from being behind Denmark to seriously challenge Brazil which is itself exploding. Gross-wise, that's a jump from $82,6 million to $273 million in 5 years. There is no slowing down as China improved by more than 35% in 2017.
Considering how populated the country is and how many people use smartphones, we can really wonder if China can challenge the US in the long run. That may seem ludicrous nowadays, but there is undoubtedly indicator going that way.
The example of the movie industry
The movies industry saw the same revolution from China lately. It isn't limited to local production as foreign movies are doing incredibly well. Below is a comparison of the Fast and Furious franchise in the US / China. All figures from Box Office Mojo.
Up to 2011, even international blockbusters weren't released in China, just like main CDs. The episode 6 of Fast and Furious from 2013 registered 28% as much money in China than in the US. In 2015, the movie's first market was already China. In 2017, the 8th episode performed 74% better there than in its homeland.
What seemed to be an exception is becoming the rule. Movies like Pacific Rim Uprising and Ready Player One also outgrossed the US total in China. In fact, it's not a few movies which did better, in the first quarter of 2018 it's the entire country that led the global market.
In music, the gap remains immense, the US market is ahead by 20 to 1. Don't rule out China though. What's safe to say if that if this latter country joins the very top global markets, it would be an incredibly positive news for the music industry.
The new market distribution
To highlight how much streaming is changing the balance of power of the music industry, below is an interesting graphic. It puts in base 100 the share of main regions in 1994, in dollar revenue, the distribution of Spotify users during the first quarter of 2018 and the current population of each region. The graphic focuses on Europe, North and Latin America since Asian markets use local software instead.
Back in 1994, North America represented more than 48% of the gross from these combined regions, Europe 44%. Latin America was down to a mere 7,5% in spite of its large population. Streaming reflects much better inhabitants of each region. Latin America represents a huge 23,6% of streaming users from these regions. As much as 21% of global users.
Apart from being fairer, the important meaning of this data is that music is more accessible to people with lower income. This is fundamental. Indeed, it impacts the repartition of users across the world, but also inside each market.
Lower income population best represented
During decades, we ignored that purchasing music wasn't cheap. To buy a mere 1 album per month, possibly over $150 per year was needed. An Hi-Fi Stereo was awfully expensive. Lower income households had less money than others to buy music.
In the US, this context downgraded a lot the influence of black and Hispanic communities to the music industry. The country is home for 60 million Hispanics, 40 million black / African Americans and 20 million Asians among its population of 320 million. Their income is very different though. In 2016, Asians household income was as high as $81,431, Caucasians won an average of $65,041, Hispanics $47,675 and Black people $39,490.
Music has a relatively low impact on Chinese culture, which is the first origin of Asian Americans. For Hispanics and African Americans though the music is of massive influence. In a sales environment, their share of the market was much lower than their share in population. Streaming reversed the situation as shown by this report.
[Listening to music] among all teens, blacks average 2:27 and Hispanics average 2:04 per day listening, compared with 1:44 among whites.
For tweens (8-12), the situation is the same. Black tweens listen to music 1:17 hours per day, Hispanics 1:00 and whites 44 minutes. If we compare household incomes with listening times per ethnicity the result is striking: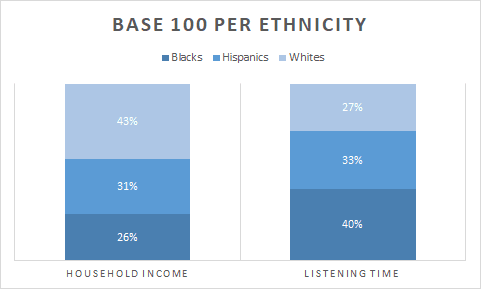 Basically, white Americans play much more console video and computer video games while black Americans spend more time watching TV and listening to music. They barely adjust their entertainment media to their income. Music appears to be a very affordable entertainment.
Thus, it's natural to see at last the music industry value much more communities with a lower income. Communities which do give more importance to music. The edge translating from white Americans to black Americans is obvious while looking at charts. Exactly 6 years ago, at the peak of downloads, the Hot 100 was led by Gotye, Maroon 5, Fun. and Carly Rae Jepsen. Today, the Hot 100's Top 4 is dominated by Childish Gambino's This Is America followed by a pair of Drake songs and then Post Malone featuring Ty Dolla $ign. No doubt, latin acts have also boomed since the transition to streaming has been done.
This example from the US is true everywhere. It is also valid for all minor ethnicities. Urban acts have been dominating streaming platforms of all markets. What would it take to see the balance evolve again? It will only take time. As years pass, gaps between distinct ethnicities get weakened. Black people will end up earning more too. Afterwards, all subsequent metrics will organically adjust too.
Sources: IFPI, Spotify, Billboard, Common Sense Media, Statista, Businesswire, Zobbel, Variety, Box Office Mojo.