Flashback: when a Japanese band recorded the fastest selling album ever globally
It has been 20 years since the cult Japanese band B'z stormed into their native country's album chart at #1 with more than 2,7 million retail sales in a week. By then, no album had even break 1 million in the US.
Two decades ago, the rock duo was up to 7 consecutive million selling studio albums, with a peak upwards 3 million. Their 5 EPs had all sold over a million while they broke that mark with 12 consecutive singles. This insane popularity resulted into the fastest selling album of all-time in May 1998.
In fact, the compilations The Best Pleasure opened with 2,709,530 retail sales on Oricon's chart dated June 1st, 1998. Shockingly, a sequel to this best was, The Best Treasure, started with over 2,5 million units a mere four months later. By November, both records were already 1st and 3rd among the highest selling Oricon albums of all-time. The runner up was Review by Glay, which was charting at #16 when the former B'z compilation first entered.
For the first time ever, we are publishing Oricon's entry of that chart online. The strength of the local music scene highly limited the impact of foreign albums. There is still 8 of them inside this Top 50, will you be able to spot them in spite of the Japanese characters?
Please notice that Japanese numerals just like Chinese numerals use to group large numbers by 10,000. On its book, Oricon displays them with a factor of 10. Columns should be read as below (in the example of Every Little Thing at #5):
5 = ranking of current week
3 = ranking of last week
2 = ranking two weeks ago
8,634 = 86,340 units sold this week
10,018 = 100,180 unis sold last week
Time to Destination = album title
Every Little Thing = artist name
288,349 = 2,883,490 units sold to date (remains the 10th top seller up to date at 3,52m)
1 = peak position
6 = number of weeks charted
4-15 = released in April 15th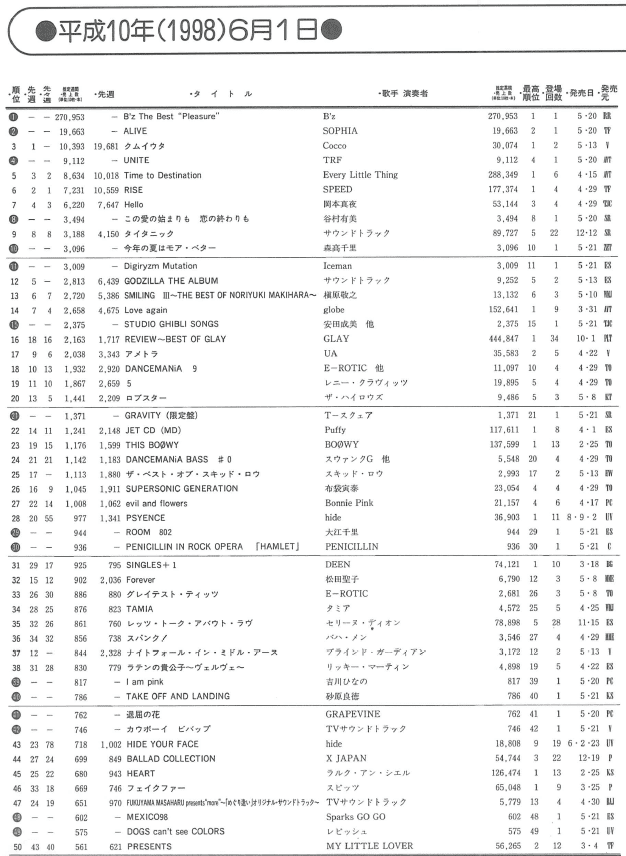 Source: Oricon.