Destiny's Child albums and songs sales
Their recording career lasted from 1998 to 2004, but this was enough to put the Destiny's Child among the Big 4 western female bands along with the Supremes, TLC and the Spice Girls.
To do so, the group from Houston smashed from day 1. Let's review their career in numbers.
It all started with No, No, No, a million selling single in the US which peaked at #3 inside the Hot 100 chart.
One year later, Bills, Bills, Bills provided them their first US #1 hit. Say My Name reproduced this feat soon after and in 2000 Independent Women Part I led the main chart for an impressive 11 weeks while also topping the UK list. During a span of 5 years, they never missed the Top 10 in their native country.
Their albums followed the way. The success wasn't limited to the US as they got strong hits in the UK, Australia, Germany, or even in Japan. While now they are mostly referred to as the former group of Beyoncé, their discography is worthy enough on its own to study it in detail.
As usual, I'll be using the Commensurate Sales to Popularity Concept in order to relevantly gauge their results. This concept will not only bring you sales information for all Destiny's Child's albums, physical and download singles, as well as audio and video streaming. In fact, it will also determine their true popularity.
If you are not yet familiar with the CSPC method, below is a nice and short video of explanations. I fully recommend watching it before getting into the sales figures. Of course, if you are a regular visitor feel free to skip the video and get into the numbers directly.
The Commensurate Sales to Popularity Concept (CSPC)
There are two ways to understand this revolutionary concept. In the first place, there is this Scribe video posted below. If you are unaware of the CSPC method, you will get the full idea within just a pair of minutes.
If you are a mathematical person, and want to know the full method as well as formulas, you can read the full introduction article.
Now let's get into the artist's sales figures in detail in order to apply this concept and define the act's true popularity!
Destiny's Child Album Sales
Original Album Sales – Comments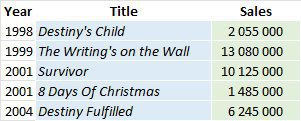 The four studio albums of the Destiny's Child plus one Christmas set combine for 33 million sales. Their back-to-back 10-million sellers at the turn of the century clearly helped them in building that total.
Both The Writing's on the Wall and Survivor feature among the biggest R&B albums of all-time.
Interestingly, despite containing one big hit in No, No, No their debut album never managed to really enjoy large catalog sales, a bit like 8 Days of Christmas which was quite short-lived for such a package.
Their widely hyped comeback fulfilled expectations with a solid 6.25 million sales.
Destiny's Child songs sales
Below, we list down results from the artist through physical sales, digital sales and streaming.
Please be aware that when the artist is regarded as the lead act, he is rewarded with 100% of these units, while featured acts share among them a 50% piece of the totals.

Physical Singles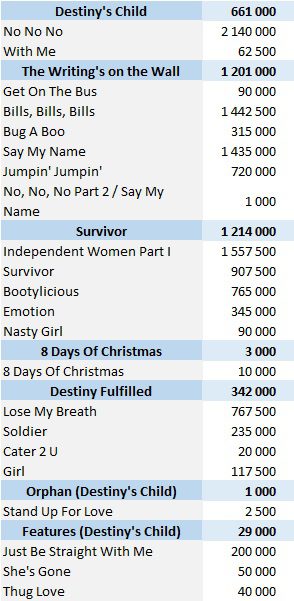 As a reminder, the weighting is done with a 10 to 3 ratio between one album and one physical single.
The career of Destiny's Child was pretty short in terms of time frame but the group still amassed 9 top 3 hits including 4 chart toppers in the US.
Survivor came close to be their 5th but it remained blocked 7 weeks at #2 by Janet Jackson's All For You.
While airplay is an important factor inside the US Hot 100 formula, the group did wonders sales-wise with these songs.
No, No, No cracks the 2 million global total, while Bills, Bills, Bills, Independent Woman Part I and Say My Name are all around 1.5 million.
From 700,000 to a million belong the aforementioned Survivor, but also Bootylicious, Jumpin' Jumpin' and Lose My Breath.
The physical sales market soon collapsed but they still had time to claim a grand total of 11.3 million units shifted in the format.
Digital Songs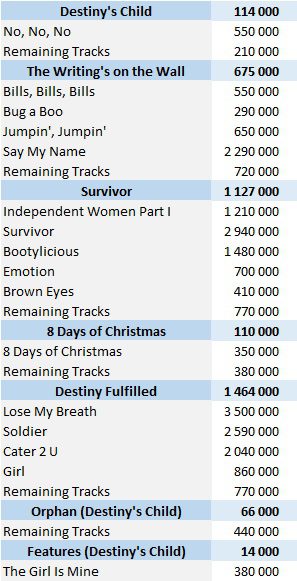 As a reminder, the weighting is done with a 10 to 1.5 ratio between one album and one digital single.
One of the interesting points in the Destiny's Child vs Beyoncé comparison is how they switched from group to solo at the same time as the industry moved from physical records to the digital world.
The group's last album Destiny's Fulfilled was the only one released after the start of the iTunes Store but the platform was still just getting started, sales were negligible.
As a result, this is their best performing era in that sector with nearly 10 million singles sold, half of which come from ringtones that were hot back in the day.
The stronger catalog appeal of songs from Survivor are pushing its total ever closer but the gap is still significant.
Among tracks, Lose My Breath leads the way at 3.5 million, with Survivor at 3 million.
Soldier, Say My Name and Cater 2 U, all over 2 million, complete their personal top 5.
All in all, the girls band sold 24.1 million downloads and ringtones.
Streaming
Streaming is made up of audio and video streams. Our CSPC methodology includes both to better reflect the real popularity of each track. The main source of data for each avenue is respectively Spotify and YouTube. To factor in the growing impact of multiple Asian countries where these platforms aren't always the go-to site for music streaming, more sources have been added.
In order to account for their real popularity in each relevant country, the below sources have been used along with the mentioned ratios that reflect the market share of each area.
Audio Streams
– South Korea: Genie streams * 2.20 (consistent with Gaon streaming numbers)
– Japan: AWA streams * 68 / 4 (AWA has 4% of the Japanese streaming market, and 32% are already considered through Spotify's extrapolation)
– Arabic world: Anghami streams
– Sub-Saharan Africa: Boomplay + Audiomack streams
– Elsewhere: Spotify streams * 649 / 406 (649 million subscribers of global platforms like Spotify, Apple Music, Amazon Music, YouTube Music, Deezer, etc. against 406 million from Spotify itself) + Genie streams * 2.20 (uses Genie rather than Spotify to extrapolate markets like Taiwan, Thailand and Vietnam)
Video Streams
– China* : QQ video streams * 50 if the song is available for audio stream, QQ video streams * 5 elseway (scale built based on known figures for several major artists)
– Elsewhere : Youtube views increased by 10% to account for various local platforms
*since Chinese streaming platforms are mostly video streaming platforms, their streams are weighted on par with YouTube streams.
Audio Stream value – 1,500 plays equal 1 album unit
Video Stream value – 6,750 views equal 1 album unit
Equivalent Albums Sales (EAS) = ( Spotify * 649/406 + Genie * 2.20 * 2 + AWA * 68 / 4 + Anghami + Boomplay + Audiomack ) / 1500 + ( QQ views* 50(or 5) + YouTube * 1.1 ) / 6750
Top Hits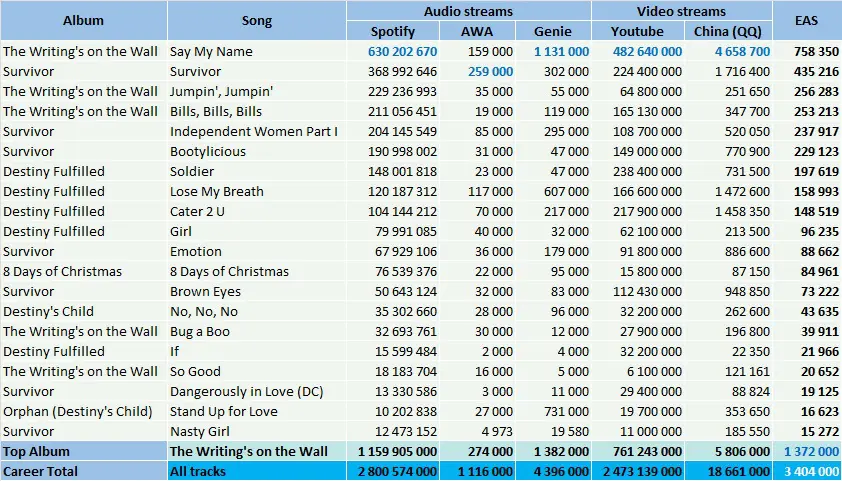 I mentioned already many times in the past how much streaming reveal the real popularity of songs. The low catalog sales of Destiny's Child debut album even during the huge eras that followed it has always been quite bizarre.
With its awful streaming results, we understand that its tracks were simply not popular at all and still aren't. In fact, even No, No, No, their largest seller ever in physical single format, has only 35 million streams on Spotify as of now, while no other track from the album has more than 2.3 million.
In total, the album adds for 61,000 EAS from streams.
The situation of The Writing's on the Wall is clearly different. Say My Name is still hugely popular, now over the 600 million plateau on Spotify, while it's coming for half a billion on YouTube.
At 440 million combined, Jumpin', Jumpin' and Bills, Bills, Bills remain 90s R&B favorites. Overall, the album sums up 1.37 million EAS from streaming which is a huge number for such a old record, and the biggest of the band.
Survivor also owns a trio of big hits, starting with the title track. With 369 million streams on Spotify and 224 million on YouTube, it is runner up on their ranking.
Both Independent Woman Part I and Bootylicious are now comfortably over 200,000 EAS. These two albums occupy all spots among their top 6.
Then, Destiny Fulfilled has the next 4. Soldier, Lose My Breath, Cater 2 U and Girl are all good mid-range hits, although not as strong as their predecessors.
Numbers go down very quickly after that, with very low results for every track outside of their top 15.
Full catalog breakdown
If you are familiar with the artist's catalog and want to check details of each and every song, you can access to all of them right here.
Keep yourself up to date
Our website provides you a fantastic tool which fetchs updated Spotify streams as you request them, use it to watch these results grow day after day!
Destiny's Child compilations sales
It sounds fairly logical to add together weighted sales of one era – studio album, physical singles, downloads, streams – to get the full picture of an album's popularity. For older releases though, they also generate sales of various live, music videos and compilation albums.
All those packaging-only records do not create value, they exploit the value originating from the parent studio album of each of its tracks instead. Inevitably, when such compilations are issued, this downgrades catalog sales of the original LP. Thus, to perfectly gauge the worth of these releases, we need to re-assign sales proportionally to its contribution of all the compilations which feature its songs. The following table explains this method.
The distribution process

How to understand this table? In the example of #1's, these figures mean it sold 4,365,000 units worldwide. The second statistics column means all versions of all the songs included on this package add for 3,101,437 equivalent album sales from streams of all types.
The second part on the right of the table shows how many equivalent streams are coming from each original album, plus the share it represents on the overall package.
Thus, streaming figures tell us songs from the The Writing's on the Wall album are responsible for 42% of the #1's track list attractiveness. This means it generated 1,844,000 of its 4,365,000 album sales and so forth for the other records. We then apply this process to all compilations present on the table.
Compilations sales figures listing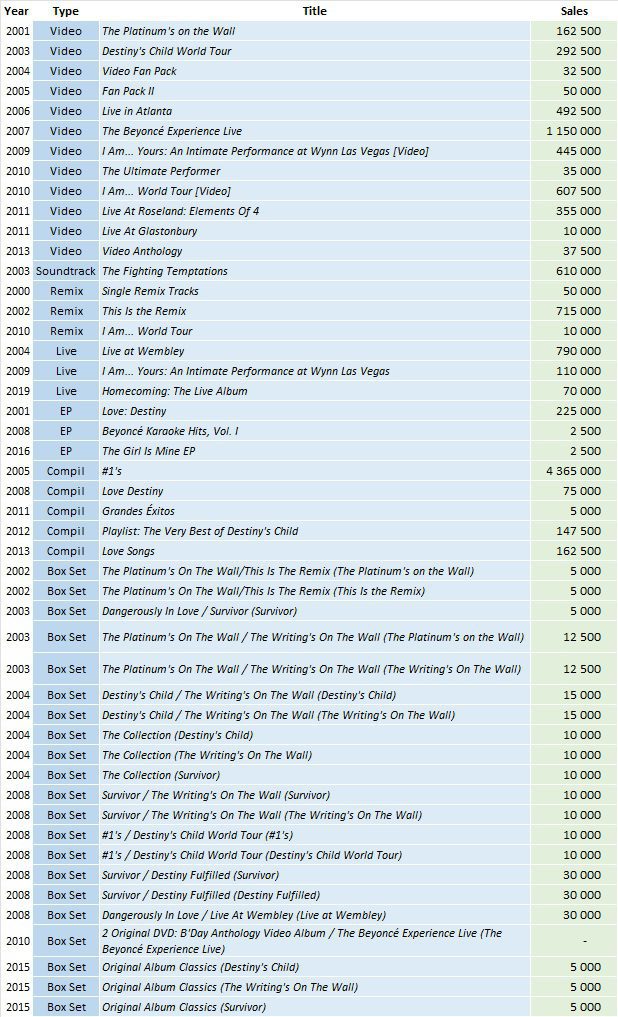 Even discographies which seem clean on paper are full of random releases when we dig into them.
During their prime time, the Destiny's Child already released several notable packages. The main one is #1's, at 4.37 million sales, while This Is The Remix was a successful album on its category too.
The girl group also did wonders with their videos, with Live In Atlanta shifting nearly half a million units.
Speaking about this live set, it contains multiple songs from the group's solo members. These sales are assigned to each of the singers, rather than the group.
The list also shows various releases from Beyoncé, obviously, only the band's songs are assigned to them. When focusing on these, these items add for 6.74 million units.
Bonus: best-selling compilations' breakdowns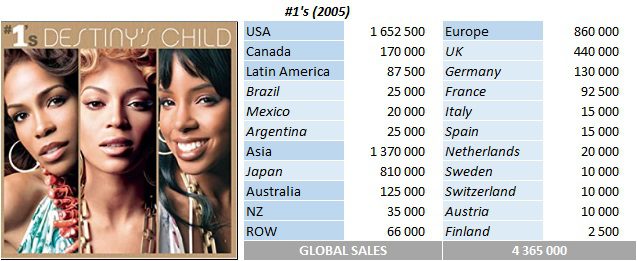 Full Length related records Sales – Summary
Here is the most underestimated indicator of an album's success – the amount of compilation sales of all kinds it generated.
Due to the dependency of sales of the original studio albums on these releases, they are a key piece of the jigsaw.
These numbers are obtained by applying the method from the section The distribution process to all packages listed under Compilation sales figures listing category.
Total Album (all types) Sales per Country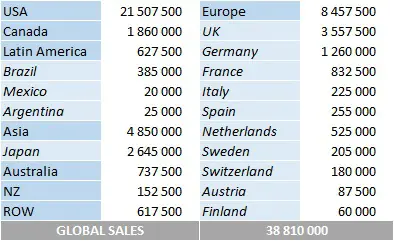 Please note country-specific numbers may miss sales of a few minor releases, although totals are complete.
Destiny's Child Career CSPC Results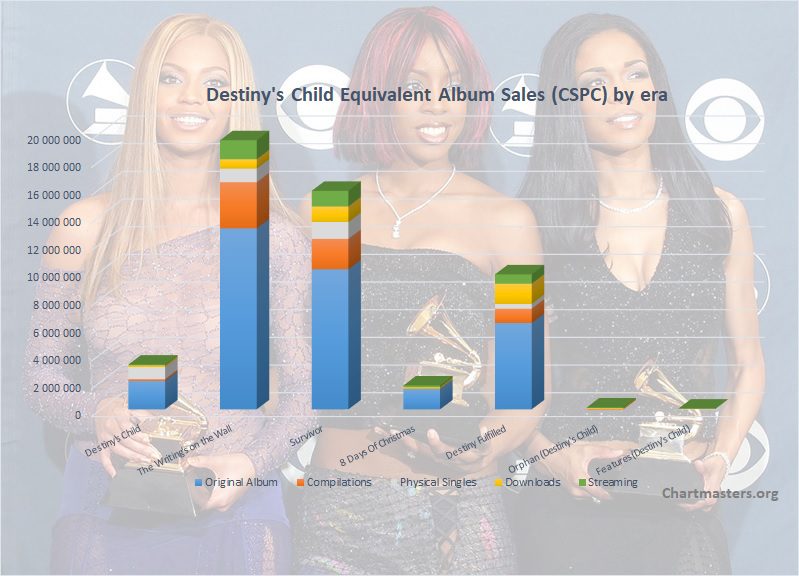 So, after checking all the figures, how many overall equivalent album sales has each album by Destiny's Child achieved? Well, at this point we hardly need to add up all of the figures defined in this article!
Albums CSPC results
In the following results table, all categories display figures in equivalent album sales. If different, pure sales are listed between parentheses.
| artist_spotify_id | # | Cover | Album | Studio albums (EAS) | sales_update_date | Other LPs (EAS) | Physical singles (units sold) | Digital singles (units sold) | Streams | Streams increase | Total EAS | valid_as_of | streams_updated_value | album_id |
| --- | --- | --- | --- | --- | --- | --- | --- | --- | --- | --- | --- | --- | --- | --- |
| 1Y8cdNmUJH7yBTd9yOvr5i | 1 | | Destiny's Child | 2,055,000 | 16.07.22 | 129,000 | 693,000(2,140,000) | 83,000(550,000) | 61,000 (07/16/22) | Av.: 0LD: -9,340 | 3,020,000 | 20,230,608 | 61,000 | 810 |
| 1Y8cdNmUJH7yBTd9yOvr5i | 2 | | The Writing's on the Wall | 13,080,000 | 16.07.22 | 3,338,000 | 1,309,000(3,913,000) | 567,000(3,780,000) | 1,372,000 (07/16/22) | Av.: 0LD: -227,760 | 19,666,000 | 20,230,608 | 1,372,000 | 811 |
| 1Y8cdNmUJH7yBTd9yOvr5i | 3 | | Survivor | 10,125,000 | 16.07.22 | 2,200,000 | 1,330,000(3,575,000) | 1,011,000(6,740,000) | 1,124,000 (07/16/22) | Av.: 0LD: -178,500 | 15,790,000 | 20,230,608 | 1,124,000 | 812 |
| 1Y8cdNmUJH7yBTd9yOvr5i | 4 | | 8 Days of Christmas | 1,485,000 | 16.07.22 | 3,000 | 61,000(10,000) | 53,000(350,000) | 125,000 (07/16/22) | Av.: 0LD: -16,830 | 1,726,000 | 20,230,608 | 125,000 | 813 |
| 1Y8cdNmUJH7yBTd9yOvr5i | 5 | | Destiny Fulfilled | 6,245,000 | 16.07.22 | 1,031,000 | 458,000(1,140,000) | 1,349,000(8,990,000) | 677,000 (07/16/22) | Av.: 0LD: -108,400 | 9,759,000 | 20,230,608 | 677,000 | 814 |
| 1Y8cdNmUJH7yBTd9yOvr5i | 6 | | Orphan | 0 | 16.07.22 | 33,000 | 1,000(3,000) | 66,000(440,000) | 36,000 (07/16/22) | N/A | 136,000 | 20,230,608 | 36,000 | 1,650 |
| 1Y8cdNmUJH7yBTd9yOvr5i | 7 | | Features | 0 | 16.07.22 | 1,000 | -14,000(290,000) | 57,000(380,000) | 9,000 (07/16/22) | N/A | 53,000 | 20,230,608 | 9,000 | 10,000,022 |
'Av.' stands for Average, 'LD' for Last Day.
As a reminder:
Studio Album: sales of the original album
Other Releases: sales of compilations generated thanks to the album
Physical Singles: sales of physical singles from the album (ratio 3/10)
Download Singles: sales of digital singles from the album (ratio 1,5/10)
Streaming: equivalent album sales of all the album tracks (ratio 1/1500 for Audio stream and 1/6750 for Video stream)
See where the artist ranks among remaining singers
If their first album produced a hit without becoming a smash by itself, its two follow ups were monsters.
The Writing's On The Wall is ever closer to 20 million equivalent album sales from all avenues. It includes over 1.37 million sales from streaming, an evidence of a continuous interest on its recordings.
Survivor is strongly successful on its own. At 10 million pure sales and nearly 16 million equivalent album sales in total, it would have been easily the career-peak of many popular artists. This one, too, tops a million from streaming alone.
Destiny Fulfilled ends on close to 10 million units overall, an impressive tally for a group of artists who had gone into solo careers already.
The career total of the group stands on 50.15 million equivalent album sales.
Singles CSPC results
The list is compiled in album equivalent sales generated by each song. Therefore, these figures are not merged units of singles formats. Instead, it includes weighted sales of the song's physical single, download, ringtone and streaming as well as its share among sales of all albums on which it is featured.
1. 1999 – Destiny's Child – Say My Name [The Writing's on the Wall] – 10,790,000
2. 2001 – Destiny's Child – Survivor [Survivor] – 6,120,000
3. 1999 – Destiny's Child – Bills, Bills, Bills [The Writing's on the Wall] – 3,770,000
4. 1999 – Destiny's Child – Jumpin', Jumpin' [The Writing's on the Wall] – 3,640,000
5. 2000 – Destiny's Child – Independent Women Part I [Survivor] – 3,460,000
6. 2001 – Destiny's Child – Bootylicious [Survivor] – 3,280,000
7. 2004 – Destiny's Child ft. T.I. & Lil Wayne – Soldier [Destiny Fulfilled] – 2,800,000
8. 2004 – Destiny's Child – Lose My Breath [Destiny Fulfilled] – 2,650,000
9. 1997 – Destiny's Child ft. Wyclef Jean – No, No, No [Destiny's Child] – 2,360,000
10. 2004 – Destiny's Child – Cater 2 U [Destiny Fulfilled] – 2,090,000

If you feel inspired by this list, we just created this CSPC Destiny's Child playlist on Spotify!

Discography results
Thanks to our new ASR (Artist Success Rating) concept, we know that their sales represent 23.18 million times the purchase of their entire discography. Coupled with the total sales, it translates into an ASR score of 193.
It is similar to the score of artists like Oasis and Tracy Chapman. The ranking of all artists studied so far is available too at this link.
Records & Achievements
At 139 weeks (from June 1999 to October 2001), the

Destiny's Child

used to held the longest streak of presence ever inside the Hot 100.

At 19,666,000 equivalent album sales, The Writing's on the Wall is one of the 10 most successful albums from 1999.
At 15,790,000 equivalent album sales, Survivor is the 4th most successful album from 2001.
At 9,759,000 equivalent album sales, Destiny Fulfilled is one of the 10 most successful albums from 2004.
At 10,790,000 equivalent album sales, Say My Name is one of the 5 most successful songs from 1999.
NB: EAS means Equivalent Album Sales.
Dynamic Spotify Key Performance Indicators
Please note that numbers below are retrieved automatically, so they will evolve day by day unlike previously listed data which is valid as of the publication date of the article.
Destiny's Child
Current followers count: 6,436,107
6,000,000 followers have been reached on 12/22/22 5,000,000 followers have been reached on 08/09/21 4,000,000 followers have been reached on 05/14/20
>> Daily breakdown
Current streams count: 3,092,264,452
3,000,000,000 streams have been reached on 02/18/23 2,000,000,000 streams have been reached on 02/15/21
>> Daily breakdown
Destiny's Child is #490 among the most streamed artists of all-time Popularity Rating: /100
>> Visit our Top 1,000 most streamed artists ranking
>> Visit our Top 20 highest rated artists ranking
Current monthly listeners: 0
(Trend:
0
)
Global chart position: N/A
The artist top 50 cities come from
0 distinct countries
>> Global impact breakdown
As usual, feel free to comment and / or ask a question!
Sources: IFPI, Spotify, YouTube, Discogs.
You may be interested in…
… the Destiny's Child's streaming masters analysis
… best-selling artists, albums, and singles
We have created amazing cross-artists tops. Click to see all CSPC and raw sales results compiled so far!
… similar artists