TLC's albums and songs sales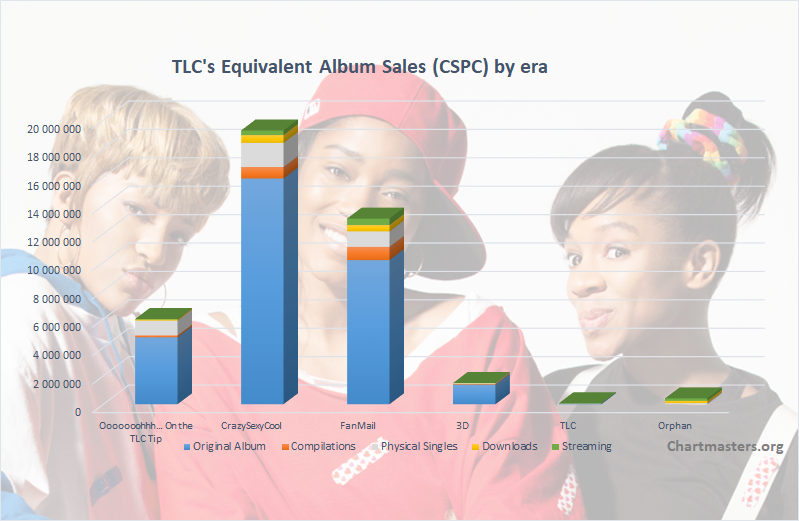 Who's the best selling girl group of all-time? This debate has been going on for decades. Among the most discussed contenders are the Spice Girls, the Destiny's Child, AKB48, the Supremes, and TLC. We studied the first two, with the former emerging at the top with a tiny edge, at 48.5 million equivalent album sales.
Isn't it the best moment to add to the mix the icons of the Contemporary R&B genre which exploded during the 90s, the TLC?
Through the entire 90s decade, they were unstoppable in the US. They've got 9 Top 10 singles, which combined lasted 123 weeks in this region. Among them, Creep, Waterfalls, No Scrubs, and Unpretty, were all #1 smashes that topped the Hot 100 for at least 3 weeks each.
The first pair came out of the classic album CrazySexyCool, quite simply the first US RIAA Diamond album ever by a girl group.
Obviously, urban music was nowhere near as global during the 90s as it is right now. TLC were no exception with no chart topper, nor single nor album, in either major market the UK, Canada, France, Germany, and Japan.
Their career was also ended abruptly in 2002 when the main creative force of the trio, Lisa "Left Eye" Lopes, died at 30 in a tragic car crash. The group then gained a cult aura, although the follow up album 3D was a massive bomb.
How much have they been able to sell with this context? Is it enough to challenge totals of the Spice Girls and the Destiny's Child?
As usual, I'll be using the Commensurate Sales to Popularity Concept in order to relevantly gauge their results. This concept will not only bring you sales information for all TLC's albums, physical and download singles, as well as audio and video streaming. In fact, it will also determine their true popularity.
If you are not yet familiar with the CSPC method, below is a nice and short video of explanations. I fully recommend watching it before getting into the sales figures. Of course, if you are a regular visitor feel free to skip the video and get into the numbers directly.
The Commensurate Sales to Popularity Concept (CSPC)
There are two ways to understand this revolutionary concept. In the first place, there is this Scribe video posted below. If you are unaware of the CSPC method, you will get the full idea within just a pair of minutes.
If you are a mathematical person, and want to know the full method as well as formulas, you can read the full introduction article.
Now let's get into the artist's sales figures in detail in order to apply this concept and define the act's true popularity!
TLC's Album Sales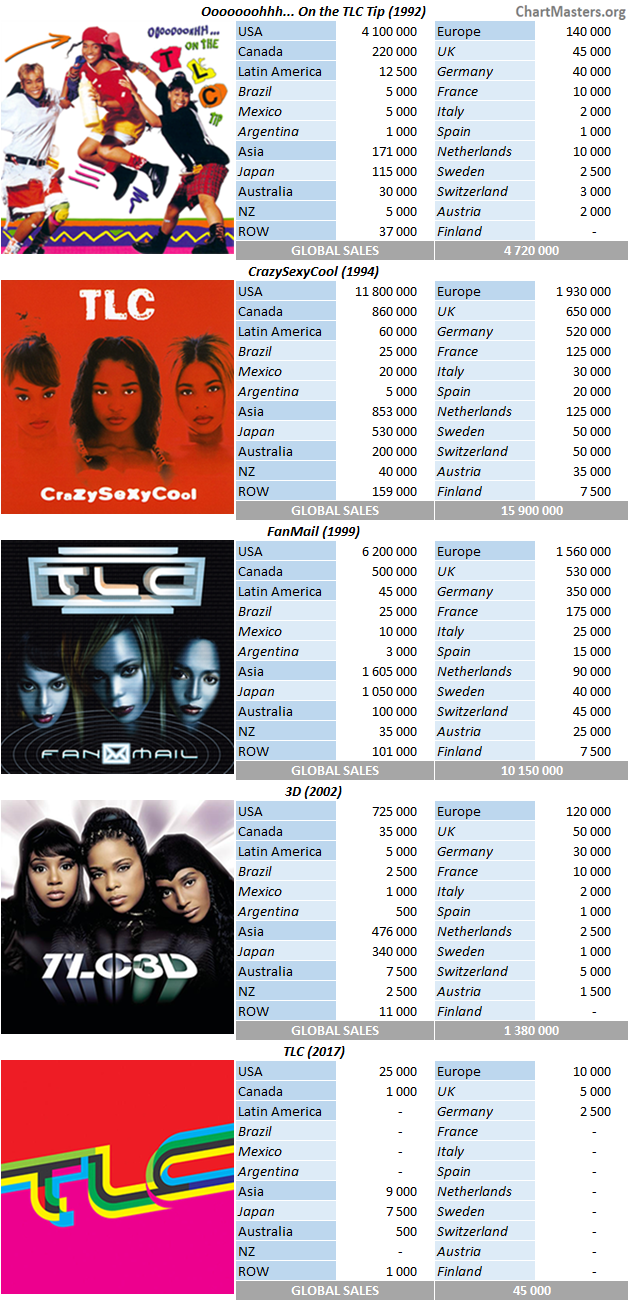 Original Album Sales – Comments
Ooooooohhh… On the TLC Tip was home to 3 Top 10 hits in the US, posting an impressive chart run thanks to them. In spite of never going higher than #14, it remained 51 weeks inside the Top 50 of the Billboard album list.
This success, added to later interest created by subsequent albums, led it to 4xPlatinum status in the US. It was hardly promoted elsewhere yet since R&B music was still prominently a US thing by 1992. A huge 91.5% of its 4.72 million sales to date thus come from North America alone.
Waterfalls broke several boundaries for the trio in 1995, catapulting CrazySexyCool to much better sales abroad. On top of selling a whopping 11.8 million copies in the US, it also shifted 4.1 million more units globally.
No Scrubs was even bigger in many places, although FanMail wasn't as consistent as its predecessor. It is still an immense seller, breaking the 10 million threshold in worldwide sales.
Even if she participated in its recording, the absence of Lisa Lopes impacted strongly, and negatively, the reception of 3D. The album also lacked of a solid single, ultimately selling a mere 1.38 million copies.
The attempt of the group to reform and release a new album in 2017 was a wild failure, closing in a dreadful 45,000 units.
TLC's songs sales

Physical Singles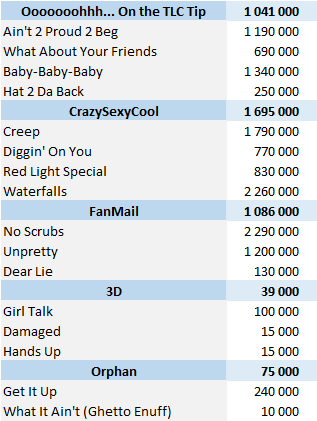 As a reminder, the weighting is done with a 10 to 3 ratio between one album and one physical single.
The string of US Top 10 hits in the US no doubt helped the TLC in amassing sizable physical singles sales during the 90s. By then, the format was still significant there, topping 100 million sales annually.
That's how both Ain't 2 Proud 2 Beg and Baby-Baby-Baby went on to surpass a million sales, almost exclusively from their native country where they got awarded Platinum.
What About Your Friends was a Gold recipient, selling less than the remaining pair of hits although it did well too. The era of their debut album was ended with a count of over 3.4 million physical singles sold.
Creep was already a huge smash, shifting nearly 1.5 million units in the US, plus residual sales in Europe and Oceania. It ended up selling well over 100,000 copies in the UK when it was newly issued after the success of Waterfalls.
In fact, we shouldn't get it wrong, the biggest hit of this LP is the latter. A 7-weeks #1 in the US, Waterfalls was also the group's first Top 10 hit in many countries, including the UK where it got to #4.
The song moved over 1.3 million units in the US, 725,000 in Europe and over 100,000 in Oceania. These numbers pushed it over 2 million in total.
Diggin' On You and Red Light Special sold less but still fairly well, both a bit under a million.
The lead single of FanMail, No Scrubs, managed to become their biggest hit globally. Sales of physical singles were already going down in the US (a sharp drop of 35% from 1997 to 1999), but the song moved over 800,000 units anyway. It went Platinum in the UK, en route for more than 1.3 million sales in Europe.
The status of the group at that point led Unpretty to also move past a million units, but subsequent singles completely failed to gain traction. While No Scrubs looked like the kick off of TLC's best years, it happened to be instead their final true hit.
Digital songs
As a reminder, the weighting is done with a 10 to 1,5 ratio between one album and one digital single.
If early hits of the group sounded very fresh in 1992, R&B got polished and perfected so much in later years that it now feels quite dated.
We can see it easily with their sales in digital formats. Downloads of Ain't 2 Proud 2 Beg, What About Your Friends and Baby-Baby-Baby all fail to hit 200,000 units.
Looking at these numbers, it seems hard to believe the latter was 6 weeks #2 in the US, blocked only by Boyz II Men's End Of The Road, the then longest running #1 hit of all-time.
The status of songs from CrazySexyCool is fully different. Waterfalls and Creep are R&B classics. They both crack a million combined sales of downloads and ringtones, with the former smashing at 1.77 million. It sold past a million downloads in the US alone.
No Scrubs, another US million seller, splashes out at 2.5 million units. It's their top selling catalog hit virtually everywhere. Unpretty comes nowhere near and happens to be mostly forgotten nowadays.
Forgotten is the word for songs from their last 2 albums. In all fairness, they have simply never been popular. They all register irrelevant sales.
There is still one recent song, from 2013, which sold good numbers. That's J. Cole single Crooked Smile on which they are featured. It sold nearly a million to date. It helps them to top 8 million cumulatively.
Streaming
Streaming is made up of audio and video streams. Our CSPC methodology now includes both to better reflect the real popularity of each track. The main source of data for each avenue is respectively Spotify and YouTube. As detailed in the Fixing Log article, Spotify represents 157 million of the 272 million users of streaming platforms, while YouTube is pretty much the only video platform generating some revenue for the industry. Below is the equivalence set on the aforementioned article:
Audio Stream – 1500 plays equal 1 album unit
Video Stream – 11,750 views equal 1 album unit
Equivalent Albums Sales (EAS) = 272/157 * Spotify streams / 1500 + YouTube views / 11750
Top Hits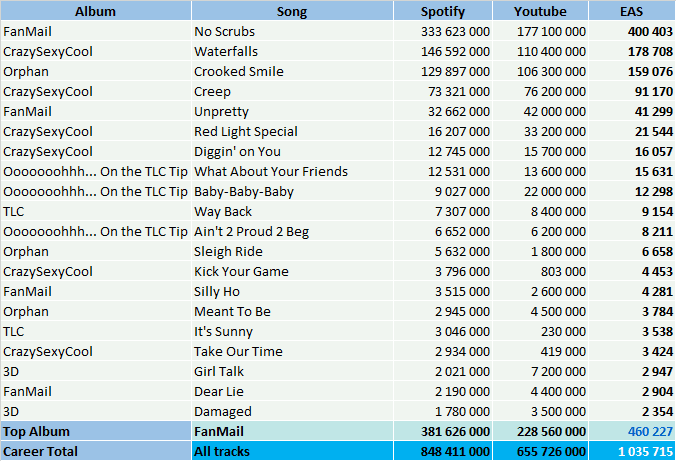 If the classic album of the TLC is CrazySexyCool, singles wise their catalog is led by 1999's smash No Scrubs. The song is a modern day favorite with a massive 333 million streams on Spotify while also flying high on YouTube. It has now moved past 400,000 EAS in this format.
Waterfalls is a distant but still very solid runner up. It breaks 100 million streams with ease on both platforms. The recent single Crooked Smile does too.
The issue comes behind with scores going down at fast pace. Creep does undoubtedly well with around 75 million on both sides, but Unpretty is already very fair from the top songs. For a big 1999 #1 hit, its streams are quite weak.
The same comment can be applied to every track below. They all do poorly. Way Back, their reunion single, has caotic results for a 2017 song.
Full catalog breakdown
If you are familiar with the artist's catalog and want to check details of each and every song, you can access to all of them right here.
TLC's compilations sales
It sounds fairly logical to add together weighted sales of one era – studio album, physical singles, downloads, streams – to get the full picture of an album's popularity. For older releases though, they also generate sales of various live, music videos and compilation albums.
All those packaging-only records do not create value, they exploit the value originating from the parent studio album of each of its tracks instead. Inevitably, when such compilations are issued, this downgrades catalog sales of the original LP. Thus, to perfectly gauge the worth of these releases, we need to re-assign sales proportionally to its contribution of all the compilations which feature its songs. The following table explains this method.
The distribution process

How to understand this table? In the example of Now and Forever: The Hits, these figures mean it sold 1,290,000 units worldwide. The second statistics column means all versions of all the songs included on this package add for 804,384 equivalent album sales from streams of all types.
The second part on the right of the table shows how many equivalent streams are coming from each original album, plus the share it represents on the overall package. Thus, streaming figures tell us songs from the FanMail album are responsible for 55% of the Now and Forever: The Hits track list attractiveness. This means it generated 715,000 of its 1,290,000 album sales and so forth for the other records. We then apply this process to all compilations present on below table.
Compilations sales figures listing
Full Length related records Sales – Summary
Here is the most underestimated indicator of an album's success – the amount of compilation sales of all kinds it generated. Due to the dependency of sales of the original studio albums on these releases, they are a key piece of the jigsaw. These numbers are obtained by applying the method from the section The distribution process to all packages listed under Compilation sales figures listing category.
Unsurprisingly, their near 2 million sales of compilations and music videos are almost entirely powered by their big albums, CrazySexyCool and FanMail. They are each responsible for nearly a million sales of compilations.
Total Album (all types) Sales per Country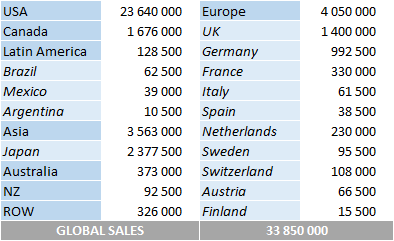 Please note country-specific numbers may miss sales of a few minor releases, although totals are complete.
TLC Career CSPC Results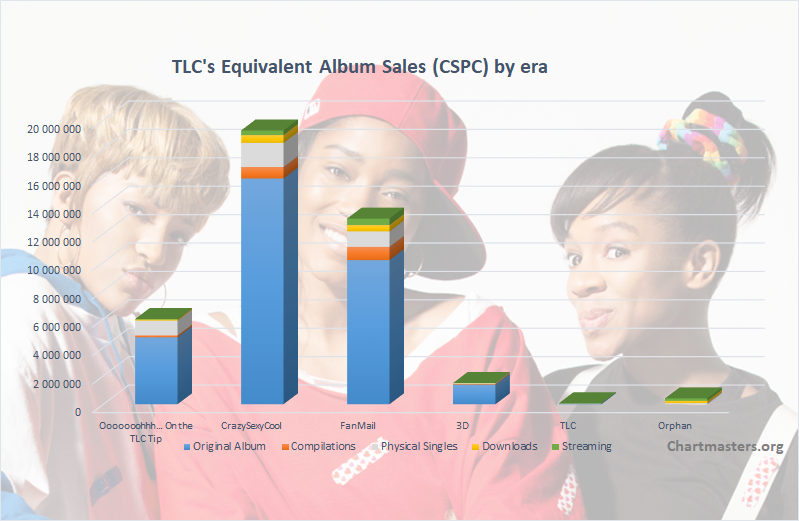 So, after checking all the figures, how many overall equivalent album sales has each album by Bryan Adams achieved? Well, at this point we hardly need to add up all of the figures defined in this article!
Albums CSPC results
In the following results table, all categories display figures in equivalent album sales. If different, pure sales are listed between parentheses.
| artist_spotify_id | # | Cover | Album | Studio albums (EAS) | sales_update_date | Other LPs (EAS) | Physical singles (units sold) | Digital singles (units sold) | Streams | Streams increase | Total EAS | valid_as_of | streams_updated_value | album_id |
| --- | --- | --- | --- | --- | --- | --- | --- | --- | --- | --- | --- | --- | --- | --- |
| 0TImkz4nPqjegtVSMZnMRq | 1 | | Ooooooohhh... On the TLC Tip | 4,720,000 | 07.04.19 | 127,000 | 966,000(3,220,000) | 75,000(500,000) | 107,000 (09/24/23) | Av.: 40LD: 30 | 6,070,000 | 20,230,924 | 107,000 | 517 |
| 0TImkz4nPqjegtVSMZnMRq | 2 | | CrazySexyCool | 15,900,000 | 07.04.19 | 805,000 | 1,695,000(5,650,000) | 549,000(3,660,000) | 824,000 (09/24/23) | Av.: 300LD: 370 | 19,773,000 | 20,230,924 | 824,000 | 518 |
| 0TImkz4nPqjegtVSMZnMRq | 3 | | FanMail | 10,150,000 | 07.04.19 | 933,000 | 1,047,000(3,490,000) | 443,000(2,950,000) | 1,227,000 (09/24/23) | Av.: 470LD: 610 | 13,839,000 | 20,230,924 | 1,227,000 | 519 |
| 0TImkz4nPqjegtVSMZnMRq | 4 | | 3D | 1,380,000 | 07.04.19 | 52,000 | 40,000(130,000) | 14,000(90,000) | 21,000 (09/24/23) | Av.: 10LD: 10 | 1,506,000 | 20,230,924 | 21,000 | 520 |
| 0TImkz4nPqjegtVSMZnMRq | 5 | | TLC | 45,000 | 07.04.19 | 0 | 0(0) | 8,000(50,000) | 21,000 (04/07/19) | N/A | 74,000 | 20,230,924 | 21,000 | 521 |
| 0TImkz4nPqjegtVSMZnMRq | 6 | | Orphan | 0 | 07.04.19 | 3,000 | 76,000(250,000) | 164,000(1,090,000) | 173,000 (04/07/19) | N/A | 415,000 | 20,230,924 | 173,000 | 1,747 |
'Av.' stands for Average, 'LD' for Last Day.
As a reminder:
Studio Album: sales of the original album
Other Releases: sales of compilations generated thanks to the album
Physical Singles: sales of physical singles from the album (ratio 3/10)
Download Singles: sales of digital singles from the album (ratio 1,5/10)
Streaming: equivalent album sales of all the album tracks (ratio 1/1500 for Audio stream and 1/6750 for Video stream)
See where the artist ranks among remaining singers
Nearly 20 million! CrazySexyCool was close to reach the level which separates strong sellers with super sellers. It may be a matter of time though. At 19.3 million EAS, that will take a few years, but the ongoing appeal of both the album and its primary singles will continue to bring in sales.
Considering their distant rivalry, it's also worth pointing out that CrazySexyCool edges a million ahead of The Writing's on the Wall, Destiny's Child's top selling era.
These huge sales imply that FanMail has to settle for number 2 even if it moved an impressive 13 million EAS on its own.
It's important to note that back then it was very difficult to create a following with urban music outside of the US. In spite of the success of its predecessor, FanMail debuted at #25 in the UK, #13 in Germany, #32 in France, #39 in Austria, #16 in Australia, etc.
It re-peaked afterwards in all these countries thanks to No Scrubs. To go on and sell again so many copies with a near non-existent fan base and general public interest is stunning.
This also means that once you fail to get a hit, you are in trouble. That's what happened with the last two albums which add next to nothing to their legacy.
In total, the TLC stand on 40.34 million equivalent album sales. That puts them a few millions below remaining super selling girl groups, but it's definitely a very worthy total, especially since it has been made on the back of almost exclusively 3 albums.
Singles CSPC results
The list is compiled in album equivalent sales generated by each song. Therefore, these figures are not merged units of singles formats. Instead, it includes weighted sales of the song's physical single, download, ringtone and streaming as well as its share among sales of all albums on which it is featured.
1. 1999 – TLC – No Scrubs [FanMail] – 11,130,000
2. 1994 – TLC – Waterfalls [CrazySexyCool] – 10,210,000
3. 1994 – TLC – Creep [CrazySexyCool] – 5,420,000
4. 1992 – TLC – What About Your Friends [Ooooooohhh… On the TLC Tip] – 2,090,000
5. 1992 – TLC – Baby-Baby-Baby [Ooooooohhh… On the TLC Tip] – 1,900,000
6. 1999 – TLC – Unpretty [FanMail] – 1,450,000
7. 1994 – TLC – Red Light Special [CrazySexyCool] – 1,420,000
8. 1992 – TLC – Ain't 2 Proud 2 Beg [Ooooooohhh… On the TLC Tip] – 1,350,000
If you feel inspired by this list, we just created this CSPC TLC playlist on Spotify!

Discography results
Thanks to our new ASR (Artist Success Rating) concept, we know that their sales represent 21.94 million times the purchase of their entire discography. Coupled with their total sales, it translates into an ASR score of 169. It is similar to the score of bands like Black Eyed Peas, Maroon 5 and Destiny's Child. The ranking of all artists studied so far is available too at this link.
Records & Achievements
At 19,279,000 EAS, CrazySexyCool is the 2nd most successful album of all-time by girl group.
At 19,279,000 EAS, CrazySexyCool is the 3rd most successful album from 1994.
At 13,072,000 EAS, FanMail is among the 20 most successful albums from 1999.
CrazySexyCool was the first album by a girl group to ever be awarded a Diamond album in the US.
NB: EAS means Equivalent Album Sales.
You may be interested in…
… best-selling artists, albums, and singles
To improve your navigation we created several amazing cross-artists lists posted inside the CSPC: Data Collector article. Click on it to see the full listing of all CSPC results compiled so far!
… similar artists
To put figures from this article into perspective, click on the images below to reach career breakdowns of similar artists:
As usual, feel free to comment and / or ask a question!
Sources: IFPI, Spotify, YouTube, Discogs.