CSPC: Justin Timberlake Popularity Analysis
Streaming Sales
Streaming is made up of two families – audio and video. Our CSPC methodology now includes both to better reflect the real popularity of each track. The main source of data for each avenue is respectively Spotify and YouTube. As detailed in the Fixing Log article, Spotify represents 132 million of the 212 million users of streaming platforms, while YouTube is pretty much the only video platform generating some revenue for the industry. Below is the equivalence set on the aforementioned article:
Audio Stream – 1500 plays equal 1 album unit
Video Stream – 11,750 views equal 1 album unit
Equivalent Albums Sales (EAS) = 212/132 * Spotify streams / 1500 + YouTube views / 11750
Streaming Part 1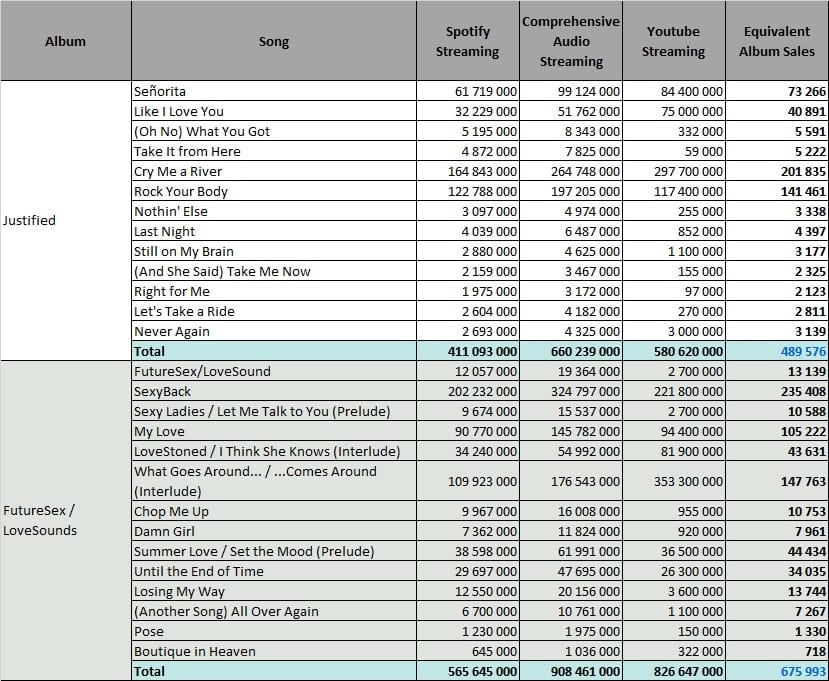 Streaming started well after the release of Justified and even FutureSex / LoveSounds but the appeal of their hits remains strong. They both include a pair of songs at more than 100 million streams on Spotify, all of which also top this total on YouTube. SexyBack is the biggest of them with more than 200 million on both sides, followed by Cry Me A River at 165 million.
The consistency of the latter album impresses. All the songs from the original tracklists are on 7 million or more while all the songs from Justified are at least up to 2 million. These great showings conclude on 490,000 equivalent album sales for the 2002 effort, while the 2006 blockbuster hits 676,000 units.