CSPC: Bee Gees Popularity Analysis
Streaming Sales
As seen with the example of the Beatles, today's weight of Spotify is steadily increasing, representing as much as 63,5% of overall streams on their platform. The Swedish giant recently announced they broke the 50-million barrier of paid subscribers.
We will keep the Spotify-All Audio Streaming services ratio updated as much as possible, especially when the next IFPI RIN comes out next month covering the 2016 Global market. For now, we will be sticking with this 63,5% rate.
What is this section about? Here we will be reviewing streams from all songs and all albums of the Bee Gees, converting each of them into equivalent album sales. The equivalent album sales is the division of the comprehensive streaming figure by 1500 as is now the norm in the new industry model.
Streaming Part 1 – New Australia Hit Makers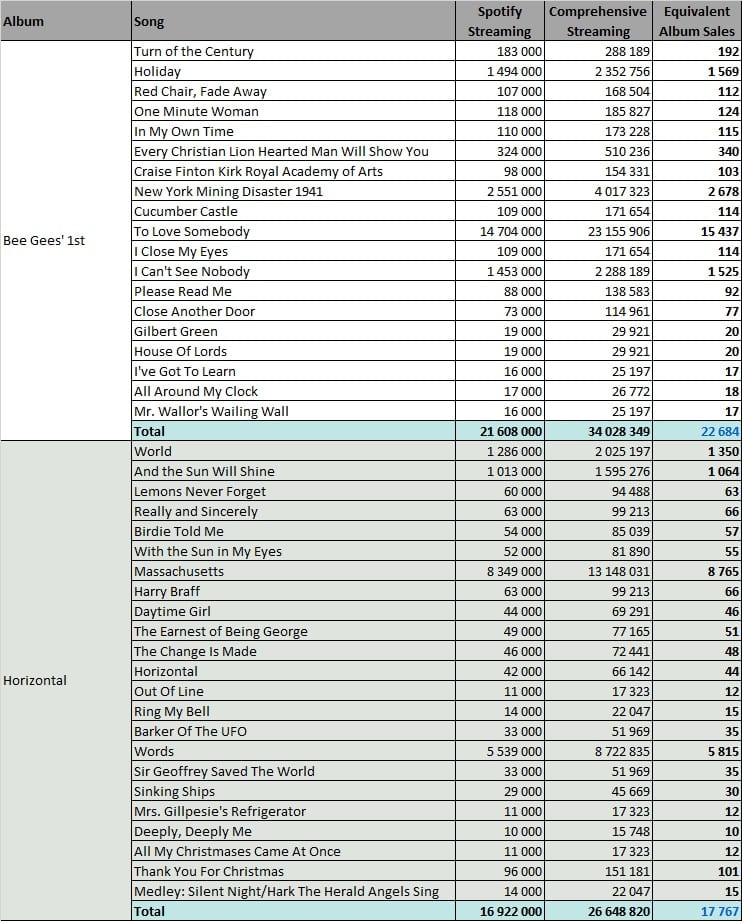 Streaming brings us an incredible amount of information. With those figures alone, we can guess pretty decently how big each hit has been. Not only that, but we can also see how the Bee Gees' label exploited their repertoire.
By quickly removing studio albums from print, their label killed completely the appeal of their non-single tracks. They would have hardly performed incredibly well in any case, but still less than 100,000 streams for most of them is very telling of how very few people were interested in them.
As for hits, they face mixed fortunes. They are mostly divided into two categories. Forgotten hits, which sit in the 1-2 million streams range. Then those that retained a decent level of appeal at 5+ million plays. To Love Somebody is the best example here at nearly 15 million, some 70% of their debut album's total. Obviously, equivalent album sales of those streaming plays aren't big at 23,000 and 18,000 units for Bee Gees' First and Horizontal respectively.